Cost To Eat at Gordon Ramsay Steak in Las Vegas (Menu & Prices)
(This article may contain affiliate links. If you click through and make a purchase, we will receive a small commission at no additional cost to you. )
Gordon Ramsay Steak at Paris Las Vegas is just one of the five restaurants owned by celebrity chef Gordon Ramsay in Las Vegas and it offers a variety of delicious appetizers and main courses. But does a high-end steak house come at a high-end price? How much does it cost to eat at Gordon Ramsay Steak?
On average, it costs roughly $115 to eat a three-course meal at Gordon Ramsay Steak. If money is no object, a single person can easily spend several hundred dollars for one meal. However, if you're frugal in your options, one person can spend as little as $72.
In this article, I'll tell you about the different appetizers, main courses, and dessert options offered at Gordon Ramsay Steak and their average prices. I'll also give you an example of an average-priced meal, an expensive meal, and a budget-friendly meal to give you an accurate idea of what your money can get you at this restaurant.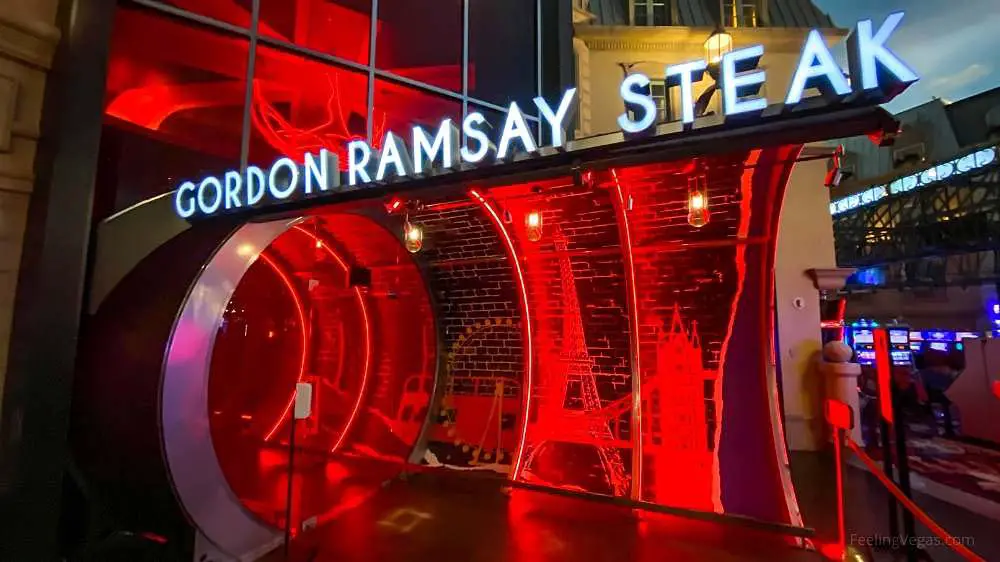 Appetizers at Gordon Ramsay Steak House
To start your meal, you'll want to try one of the delicious appetizers. There's a wide range of options for small plates at Gordon Ramsay Steak.
These options include:
Shrimp Cocktail
Oysters
British Style Onion Soup
Caesar Salad
Hamachi Crudo
Smoked Beef Tartare
American Wagyu Sliders
Seared Hudson Valley Foie Gras
Pork Belly
To order one of these plates, you can expect to spend about $24 per order on average. Appetizers start at $18-$19 for a soup or salad and go up to about $28 for a shrimp cocktail and the seared Hudson Valley foie gras.
There are a few other options I haven't yet mentioned that are the most expensive small plates on the menu.
These include:
Alaskan King Crab – $49.95
Scallops and English Pea Risotto – $54.95
Caviar – $225.95
If you want to be a little indulgent, you can't go wrong with one of these options.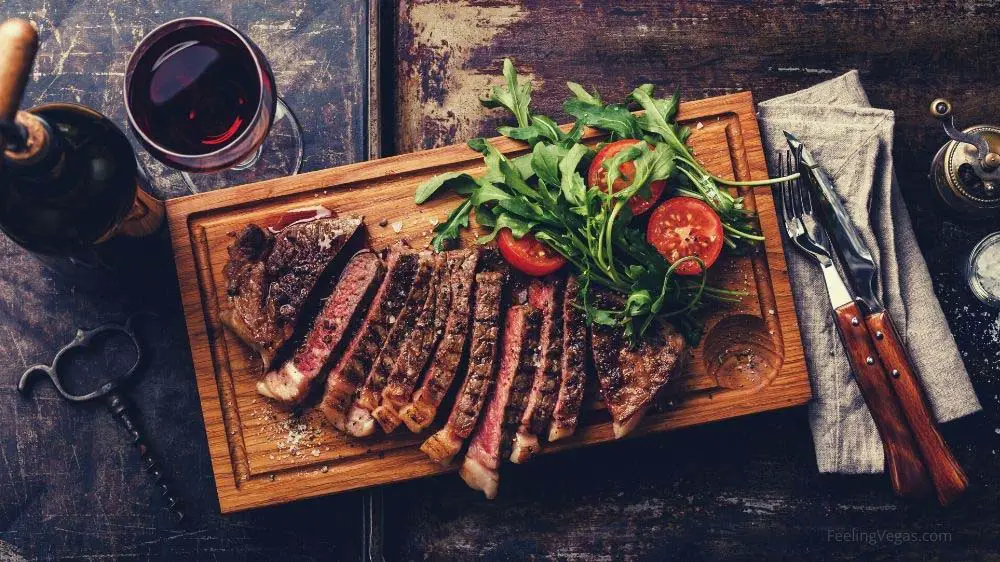 Gordon Ramsay Steak Main Dishes
Now let's talk about what you're really going to this restaurant for, the steak!
The price of your meal depends on the cut and the size of your steak. At Gordon Ramsay Steak, you can get anything from an 8 oz (226.80 g) American Wagyu Skirt steak ($54.95) to a Triple Seared Japanese A5 steak that'll cost $40.95 per ounce.
You can also choose to accompany your steak with pan-seared foie gras, lobster, or crab. These additions will cost you anywhere from $21 to $50. Adding a side to your steak will also add an extra $15 to your meal.
If you happen to be interested in something other than steak, you do have a few options, such as:
Signature Beef Wellington – $59.95
Jidori Chicken Breast – $38.95
Pacific Salmon – $45.95
Rack of Lamb – $58.95
Most of these meals also come with sides, so if you're trying to get more bang for your buck, one of these may be a good option.
Desserts at Gordon Ramsay Steak
The dessert menu at Gordon Ramsay steak is short and sweet. After your hearty meal, you can enjoy one of these treats:
Strawberry Scottish Shortbread
Mint and Chocolate Cake
Carrot Cake
Sticky Toffee Pudding
To indulge in a dessert, you can expect to pay about $15 for the first three choices and about $17 for the sticky toffee pudding.
Find out what you need to know about each of the five chef Gordon Ramsay restaurants in Las Vegas.
Gordon Ramsay Steak (Current Article)
Price of a Full Meal at Gordon Ramsay Steak
There are so many delicious options on this menu that it's hard to choose just one thing. Hopefully, you go with a group that encourages sharing so you can get a little taste of everything Gordon Ramsay Steak has to offer.
Of course, if you're going to one of the best restaurants in Las Vegas, you'll want to enjoy an appetizer, main course, and a dessert while you're there. So how much will a full meal cost?
Average Priced Meal
You can expect to spend an average of $115 per meal at Gordon Ramsay Steak. This price includes an average of $24 for an appetizer, $76 for the main course, and $15 for a dessert.
An example of an average priced meal would be:
Appetizer: Smoked Beef Tartare with truffle egg emulsion topped with a coriander vinaigrette and served with Yukon gold chips – $24.95
Main Course: 8 oz (226.80 g) American Wagyu skirt steak served with a side of potato puree – $69.90
Dessert: Carrot Cake with cream cheese mouse and served with an orange sorbet – $14.95
You are sure to leave Gordon Ramsay Steak full and satisfied with this $110 meal.
Most Expensive Meal
If you're looking to splurge completely, it's possible to spend up to $620 on a single meal at Gordon Ramsay Steak. Here's what you'd eat to have the most expensive meal on the menu:
Appetizer: Osetra Caviar with red onion, egg, chive, crème fraiche, and blini – $225.95
Main Course: 8 oz (226.80 g) triple seared Japanese A5 steak accompanied by Alaskan King crab legs – $377.55
Dessert: Sweet sticky toffee pudding served with brown butter ice cream – $16.95
As you can see, if you want to eat like a King, Gordon Ramsay Steak is the place to go.
Budget-Friendly Meal
However, you don't have to completely break the bank to enjoy a meal at one of the best restaurants in Las Vegas. If you want to save a little money on food so you can spend more at the casino, you can get an entire meal at Gordon Ramsay Steak for right around $72.
This meal includes:
Appetizer: British style onion soup with caramelized onion broth, gruyere, and Welsh rarebit – $17.95
Main Course: Jidori Chicken Breast with confit marble potatoes, braised baby leeks, and chicken jus – $38.95
Dessert: Strawberry Scottish shortbread served with vanilla ice cream, Harry's berries, and strawberry sorbet – $14.95
This meal is sure to make both you and your wallet happy. You can check out the complete Gordon Ramsay Steak dinner menu here.
Gordon Ramsay Steak Tasting Menu
Gordon Ramsay's restaurant also offers a five-course tasting menu. This meal costs $155 per person or $230 when paired with wine.
The tasting menu includes:
Amuse Bouche: A quail egg prepared with wine brised cabbage and pork sausage
First Course: Mushrooms and rice prepared with line aioli in a vinaigrette (miso)
Second Course: Tomato dolce served with charred asparagus and pea shoots
Third Course: Lobster and glazed vegetables served with a potato puree
Dessert: Pudding cake topped with a toffee sauce made from brown sugar and ice cream
If you add the optional wine pairing, a specially chosen wine is delivered with each course.
Recommended Reading: Best Vegas Restaurants with Views of Bellagio Fountains
Beverages: Gordon Ramsay Steak
Gordon Ramsay Steak also has an extensive drink menu and wine list if you're interested in adding a beverage to your meal.
They offer beer, wine, liquors, and signature cocktails. The prices on this menu vary significantly from $8 to $1,400+ for a single drink. With such a wide range of options, you are sure to find one that suits your pallet and your budget.
In case you're curious which drink will set you back over $1,400, it's a bottle of 2005 Louis Roederer, Cristal, Brut at $1,455!
Recommended Reading: A complete list of Las Vegas Buffets
Gordon Ramsay Steak: Location, Hours, Reservations, & Dress Code
If you're looking to get to Gordon Ramsay Steak, you'll find it right on the Strip at Paris Las Vegas (3655 Las Vegas Blvd). For directions from wherever you are, just click on this link on your mobile device to open google maps.
Gordon Ramsay's Las Vegas steakhouse is open every evening from 4:30 PM until 10:30 PM.
If you want to find an open table at this fine Las Vegas steakhouse, you'll want to be sure to make a reservation as seating is limited, and the restaurant can fill up quickly.
Finally, you will want to know that the dress code for Gordon Ramsay Steak is business casual.
Final Thoughts
Though Gordon Ramsay Steak is a very high-end restaurant with some pretty expensive options, you don't have to break the bank to eat a delicious meal that'll have you leaving the restaurant full and happy.
Next time you are in Las Vegas, be sure to stop by and try it out for yourself!