Visit The Pawn Stars Shop in Las Vegas, NV (What to Know)
If you're a fan of the Pawn Stars show on the History Channel, chances are you'd love to visit the show's filming location at the iconic Gold & Silver Pawn Shop in Las Vegas, NV. You'll have a blast seeing the shop in person but there are some things you'll need to know before you visit.
The Pawn Stars shop is located on Las Vegas Boulevard just north of the Strip. Whether you plan to buy, sell, or just visit you will need to get there early or find yourself waiting in a long line outside. For the complete behind-the-scenes experience, you will want to book a tour in advance.
Keep reading to find out everything you'll need to know to have a successful visit to the Pawn Stars shop in Las Vegas including directions, walking distances from nearby hotels, parking, and the best times to visit.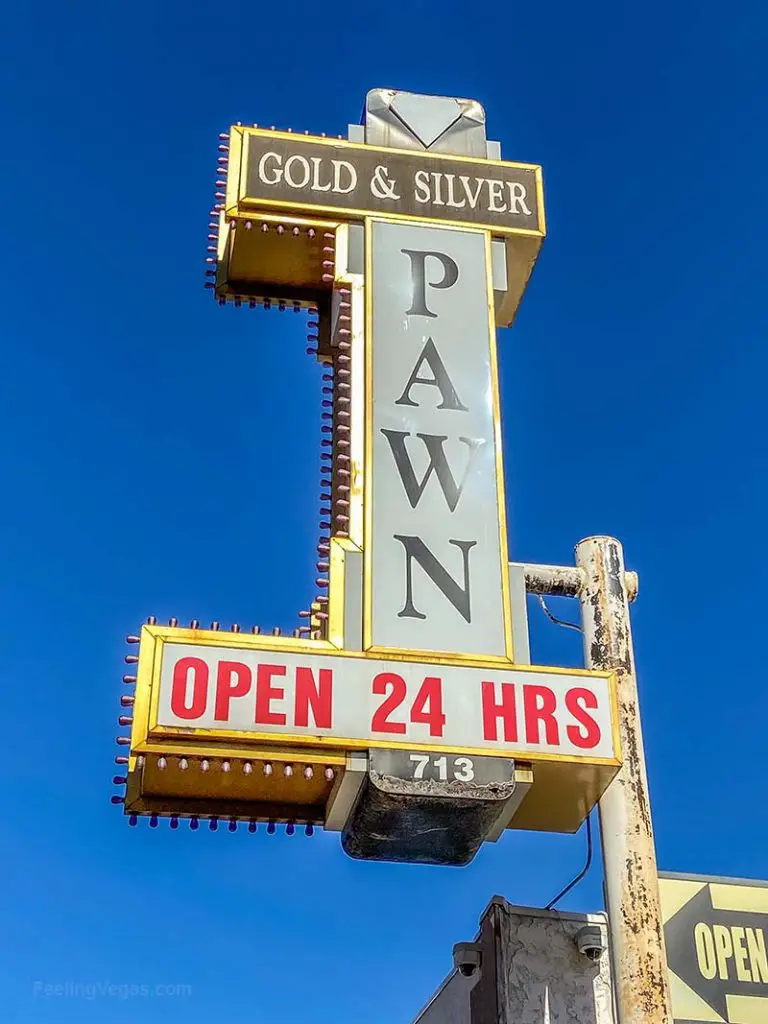 (This article may contain affiliate links, which means we might earn a small commission if you click and make a purchase. Thank you!)
Pawn Stars Location, Directions & Best Ways to Get There
Where is Pawn Stars in Las Vegas? The Pawn Stars Gold & Silver Pawn Shop is located at Pawn Plaza in downtown Las Vegas, Nevada at:
There are several convenient ways to get there depending on where you're starting from.
Walking to The Gold & Silver Pawn Shop
Technically the pawnshop is just north of the area known as the Las Vegas Strip and is within a reasonable walking distance from The STRAT Hotel & Casino (1.2 miles/25 minutes) on the far north end of the Strip. The shop is also within walking distance of Container Park and the Fremont Street Experience downtown (.7 miles/14 minutes).
From locations further south on the Strip, walking will get to be too far and you'll be better off either driving, taking an Uber or Lyft, or riding the Deuce bus.
Driving to The Pawn Stars Shop
Heading to the Gold and Silver Pawn Shop by car is a short and easy drive from almost anywhere that's close to the Strip or the downtown area. If you're driving yourself, there are two parking lots on either side of the building with plenty of free parking available.
If you don't have your own car or a rental, you're next best option will be to grab a rideshare from either Uber or Lyft. Note: You'll need to order one of these services while in a designated rideshare area near the front entrance to a casino as these services are not allowed to stop on Las Vegas Blvd. itself.
Ride The Deuce Bus to Gold and Silver Pawn
Another option is to ride the Deuce bus from a stop along Las Vegas Blvd. either downtown or on the Strip. This is a pretty convenient option and is much less expensive than a rideshare in most cases. The closest bus stop to the shop is the Bonneville Transit Center. From here you can walk to the store (under 10 minutes).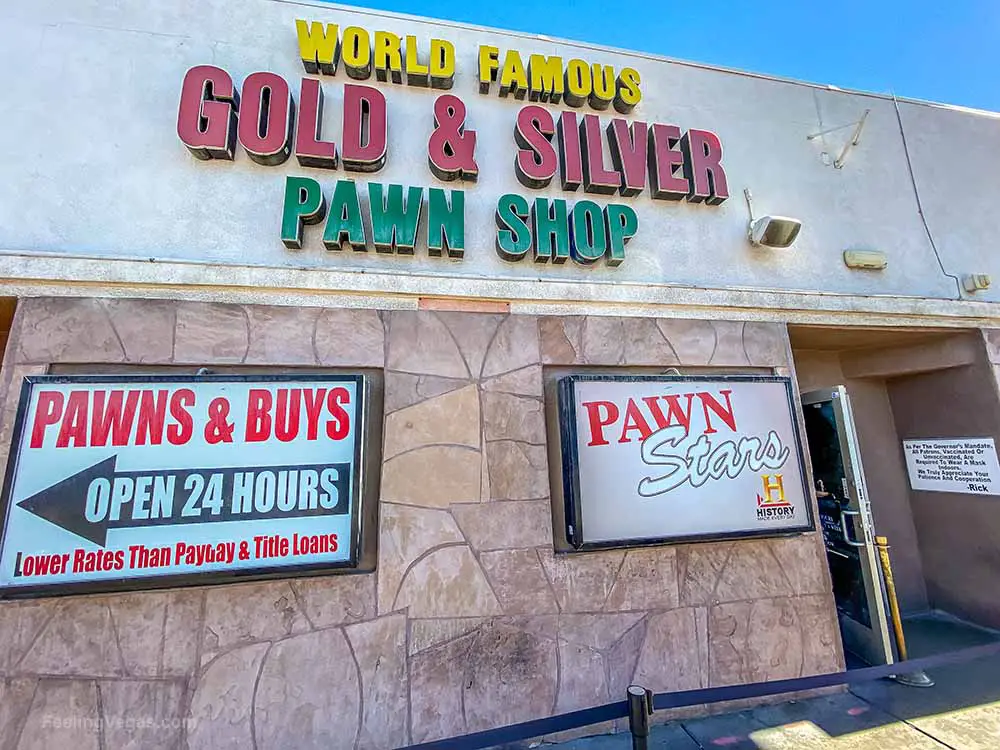 Pawn Stars Shop Hours
The Gold & Silver Pawn Shop is open every day from 10 AM to 5:30 PM (except Thanksgiving and Christmas). However, if you want to sell an item, they have a 24-hour window available if you'd like to sell or pawn something and receive a loan. It is open 24/7, and you can receive immediate cash for your items.
Plan Your Visit to The Pawn Stars Shop
Before you head on over to the Gold & Silver Pawn Shop, you'll want to plan your visit. You need to ask yourself some questions that will help you have the best experience visiting.
Are you going to buy?
Are you going to sell?
Are you looking for a walkthrough visit?
Do you want a specialty tour?
Are you from out-of-state, or are you a Nevada resident?
The answer to these questions will determine the best way to go about visiting. Let's look at them in detail.
RELATED: Best FREE Things to Do In Las Vegas [Ultimate Guide]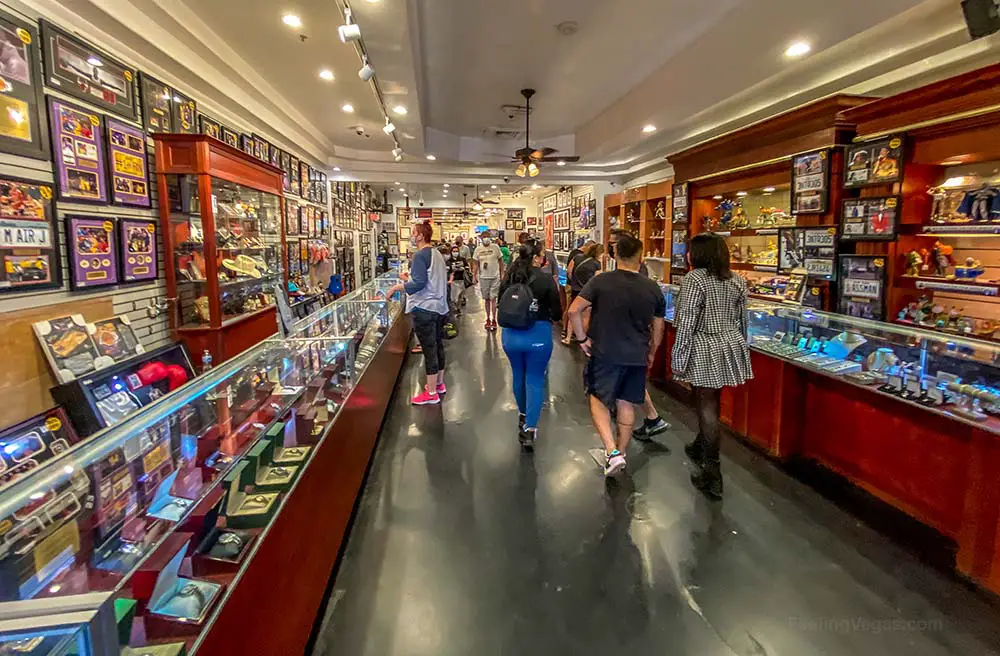 Are You Going To Buy?
If you want to buy something, you can arrive just like any other customer. You may have to wait in line to enter the store, as it is first-come, first-serve. You'll want to arrive early, otherwise, you'll be standing in a long line outside the shop waiting to get in.
Pro Tip: Plan to arrive within the first two hours of the shop opening (between 10 AM and noon). Later than that, you can expect a line. When it comes to weekends or big events in town, the earlier you go the better.
When you come to buy, it's a good idea to already know what you want. The crowded store can make it very difficult to shop. The best way to buy at the Pawn Star store is to check out their entire catalog of items for sale on their website beforehand.
This is especially important if you're looking to purchase a big-ticket item as you can check out the item and do your research online before you head to the store. You can even purchase, or make an offer for the item, online.
Here are some of the types of items you can expect to find at Gold & Silver Pawn:
Fine Art
Coins & Currency
Jewelry & Watches
Collectibles & Antiques
"As Seen on Pawn Stars" items
Branded Pawn Stars gear and swag
When you arrive at the shop be prepared to buy that day and have the money ready.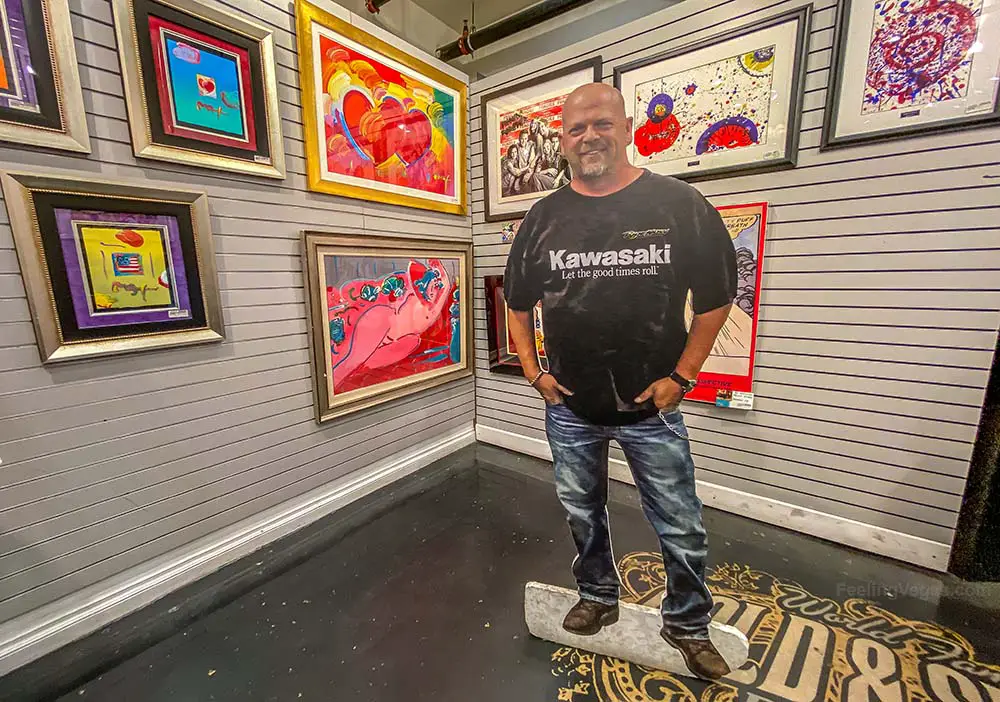 Are You Going To Sell?
If you're looking to sell something, you need to follow some specific guidelines.
First, you need to be aware of the items they will not buy. These include:
Furniture
Records and CD's
Beanie Babies
Designer purses, shoes, or sunglasses
Firearms
Once you're sure you've got something to sell in a category they're interested in, you'll want to bring the item with you to the store. They will not look at pictures you send them via email or allow you to ship them the item you have. All sales transactions must be done in person at the shop.
There are certain circumstances where they will come to you, but those are case by case and happen mostly for those with mobility impairments or very large expensive items.
Only approach them with your item if you're ready to accept a serious offer.
Hold off and plan your visit for another day if you aren't quite ready to make a deal and sell your item. You should also be prepared to haggle a bit and defend your item to get the best deal.
You need to bring your ID, the item, and any other documents of authenticity and relevance to the article you're selling. For example, if you have a verified celebrity signature, you need to prove that it has been certified by an authentication company.
The best part of selling your item to Gold & Silver Pawn is that you get to skip the line entirely. Just tell the door person that you're there to sell, and they will let you right in.
You can check out the shop's Pawn and Sell page for more info.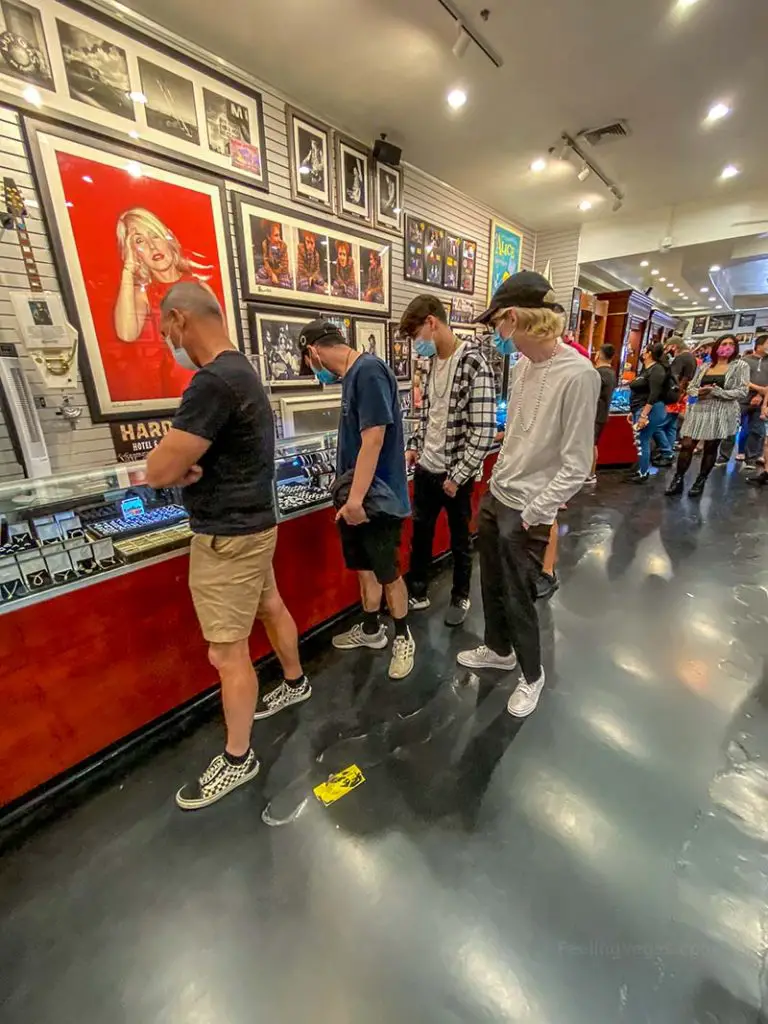 Are You Looking for a Walkthrough Visit?
If you're looking for a simple walkthrough visit so you can check out the shop firsthand, you'll need to be prepared to wait in line, as entry is on a first-come, first-serve system and the store can only accommodate so many people at a time.
It's free to visit the Pawn Stars shop, but remember to get there early to try and avoid a long wait in line.
You can also take a virtual tour where you can walk around the store from the comfort of your own home. This is an excellent option if you're not planning a trip to Las Vegas anytime soon.
Do You Want a Specialty Tour?
If you want to really see everything then Gold and Silver Pawn offers a couple of options for Pawn Stars tours.
They are all-access and give you a next-level look behind the scenes. The first one is a meet and greet tour where you'll get to meet one or more of the Pawn Stars in person, and the other is an all-inclusive tour that takes you to multiple Vegas-based reality show locations including Pawn Stars, Count's Kustoms, Shelby American, and more.
You'll get to see the sites and look around while learning all kinds of behind-the-scenes facts about each of these shows.
The Pawn Stars Meet and Greet tour will allow you to meet with a cast member and see many different sites. You can take photos with the cast member and have the chance for autographs. This is your chance to come face to face with one of the Pawn Stars themselves including:
Rick Harrison
Corey Harrison ("Big Hoss")
Austin Russell ("Chumlee")
Note: The guys from the show don't actively work at the shop on a day-to-day basis. So taking one of these tours is your best bet for seeing one of the Pawn Stars in person.
The Las Vegas Reality Show VIP Tour is a longer and more detailed tour that features visits to the Gold & Silver Pawn Shop as well as other Las Vegas reality television show locations including:
Gold & Silver Pawn Shop
Count's Kustoms (Counting Cars)
Tanked
Toy Shack
Shelby American
Allegiant Stadium (exterior)
Ultimate Sports Cards & Memorabilia
Each of these tours run between four and five hours long and are not recommended for infants or the elderly because they are long and require a lot of walking.
RELATED: AMAZING M&M Store on the Vegas Strip! (Location, Hours, & Parking)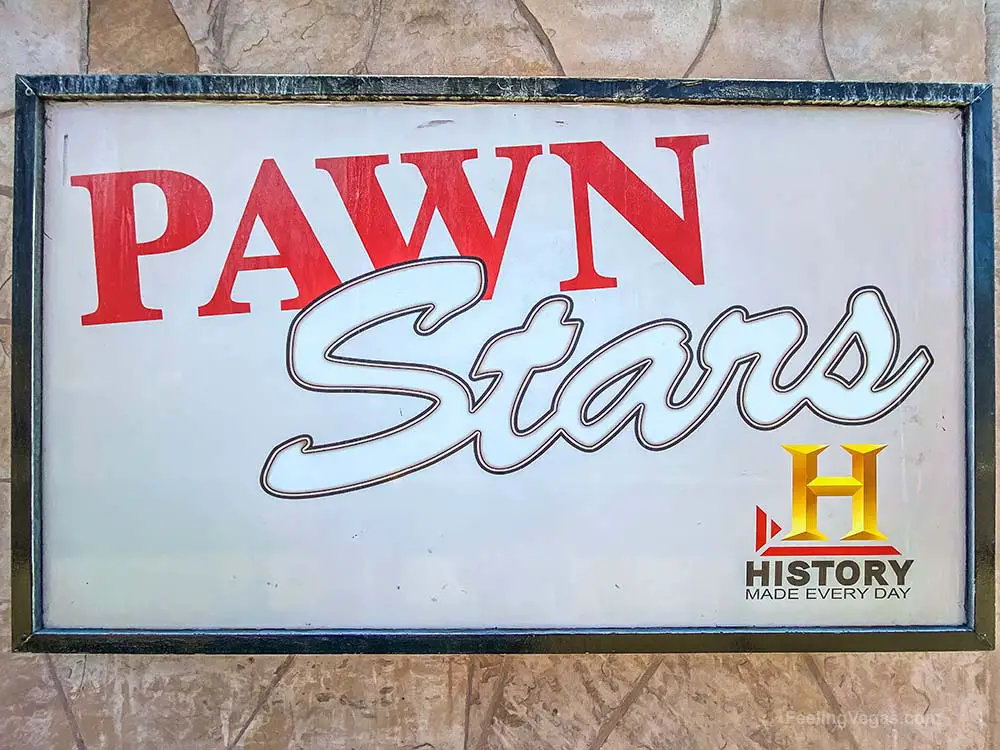 Are You a Nevada Resident?
Nevada residents rejoice as you have special perks and benefits at the Gold and Silver Pawn Shop and other associated businesses.
If you have proof of your residency (government-issued driver's license or ID), you can cut the line and get special discounts on everything in Pawn Star Plaza.
What Else Can You See at Pawn Plaza?
Pawn Plaza is a colorful, two-story shopping center made out of shipping containers that's home to Rick's Rollin Smoke BBQ, Chumlee's Candy on the Boulevard, as well as a few other casual eateries and shops.
So when you're visiting the Pawn Stars at Gold & Silver Pawn, be sure to step next door and check out what Pawn Plaza has to offer.
RELATED: 23 Best Museums in Las Vegas (Cool, Fun & Weird!)
Conclusion
Visiting any site where a national TV show is shot and produced can be a big deal for any fan. But, it's important to know what to expect so you're not disappointed.
I've laid out everything you need to know ahead of time to have a great visit to see the Pawn Stars at Gold & Silver Pawn Shop in Las Vegas.
Enjoy your visit!