Paris Las Vegas Parking Fee 2023 (Parking Garage Fees)
(This article may contain affiliate links. If you click through and make a purchase, we will receive a small commission at no additional cost to you. )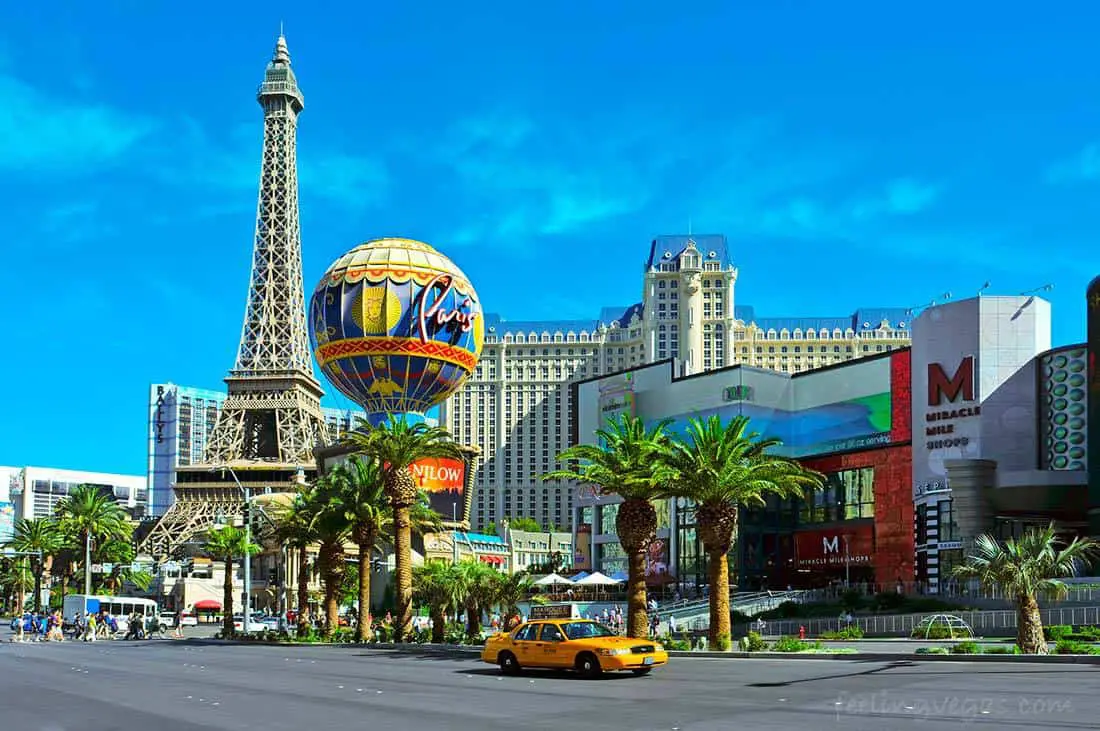 The Paris Hotel & Casino in Las Vegas, Nevada, does its best to maintain a theme centered around the city from which it derives its name. From its 540-foot replica of the Eiffel tower to its structural similarities to specific theatres, restaurants, and experiences, it's quite impressive.
But what's the parking situation like at Paris, and what does it cost to park?
If you want to park at Paris, you have a choice between valet or self-parking.
Self-Parking Fee at Paris Las Vegas
Monday thru Thursday, the self-parking fees at Paris are as follows:
| Hours Self-Parked (Mon-Thurs) | Parking Cost |
| --- | --- |
| 1st Hour | Free |
| 1 – 3 Hours | $15 |
| 3 – 24 Hours | $18 |
| Over 24 Hours | $18 a day or part thereof |
Friday thru Sunday, the Paris self-parking rates go up a bit and are as follows:
| Hours Self-Parked (Fri-Sun) | Parking Cost |
| --- | --- |
| 1st Hour | Free |
| 1 – 24 Hours | $23 |
| Over 24 Hours | $23 a day or part thereof |
Regardless of the day of the week, guests who have booked a room at Paris are charged $18 a day for parking. In addition, Nevada residents (with a valid Nevada driver's license) can park for the first three hours for free.
Valet Parking Rates at Paris Las Vegas
Paris Las Vegas also offers valet parking 24/7, and the fees are as follows:
Monday – Wednesday: $36
Thursday – Sunday – $40
Although the valet parking prices might seem high, they're actually pretty similar to other Vegas casino parking garages in town. There is a way to save money and get complimentary parking at Paris (keep reading).
There are even some free places to park near Paris we'll talk about below if you don't mind a bit of a walk.
(To find out where you can park for free all up and down the Las Vegas Strip check out our free parking guide and map here)
Paris Las Vegas
Paris Las Vegas has just over 95,000 square feet of casino space and around 2,900 rooms. Despite its smaller average capacity compared to some of the other big resorts in Las Vegas, it has a lovable charm and is one of the most popular properties in town owned by Caesars Entertainment.
The Paris shares a seven-story parking garage with another Caesars-owned Las Vegas property, Horseshoe Las Vegas. Guests who stay or visit either property have equal access to this parking structure based on their fixed rates for valet and self-parking.
When you stay at the Paris hotel, you can choose how, when, and where you want to park. Let's check out the best prices and deals for the next time you're visiting Paris in Las Vegas.
Compare and save! Check current Paris Las Vegas room rates at TripAdvisor.
Self-Parking Cost at the Paris Las Vegas Hotel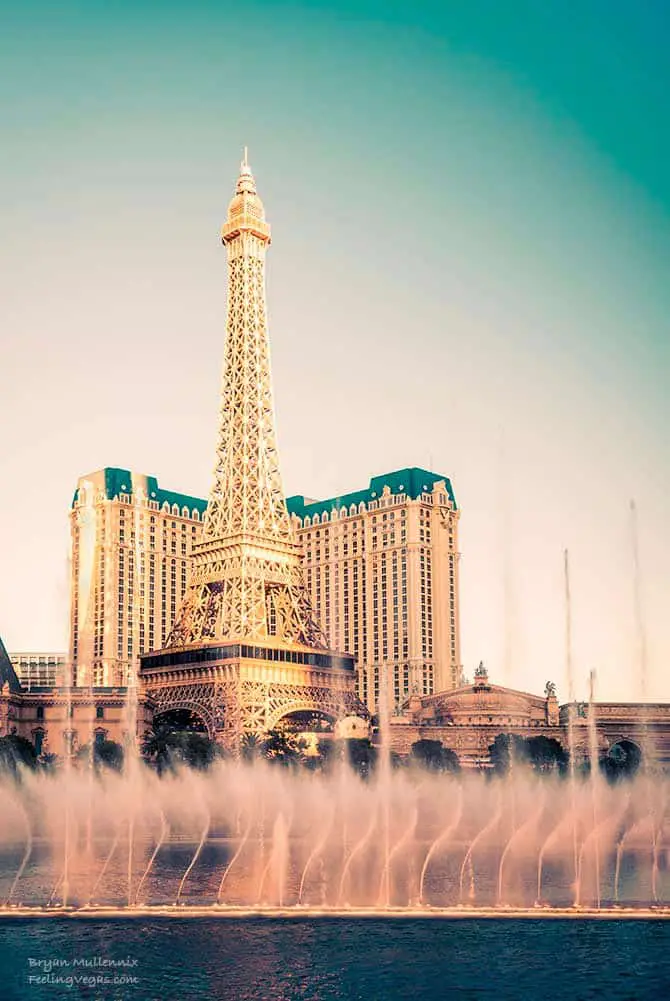 If you decide that you want to park your vehicle for an hour at the Paris parking garage, you can do so for free. However, it's unlikely that you'll get inside, explore, and be ready to leave in an hour.
If you're having a good time and you want to stay a little bit longer, you're going to have to pony up for parking. Again, here are the current self-parking prices for Paris, Las Vegas:
Weekday (Mon – Thurs) Self-Park Fee at Paris Las Vegas
1st Hour – Free
1 – 3 Hours – $15
4 – 24 Hours – $18
Every 24 hours after or part thereof – $15
Hotel guests – $18 a day
Nevada Residents with valid NV driver's license – First 3hrs free
Weekend (Fri – Sun) Self-Park at Paris Las Vegas
1st Hour – Free
1 – 24 Hours – $23
Every 24 hours after or part thereof – $23
Hotel guests – $18 a day
Nevada Residents with valid NV driver's license – First 3hrs free
Parking in the garage at the Paris hotel will cost almost everyone a fee. You can save money or completely cut out the price altogether if you look at the complimentary parking section later in this article!
The Self-Parking Garage at Paris, Las Vegas
You'll find the self park garage entrance near the big Paris hot air balloon when driving down the Las Vegas Boulevard.
The quickest way to find it is to click the google maps link after the address above on your phone and it'll take you right there. Keep in mind that prices might increase during busy times of the year in Vegas and are always subject to change, so call ahead if you're concerned about verifying current parking rates and conditions.
Fortunately, the parking lot is right next to the hotel, unlike many other hotels in Las Vegas. You can walk from your vehicle to the lobby in under five minutes. Consider using the valet parking service if you want to save even more of your precious Vegas time.
Tips for Self-Parking at Paris
If you haven't been to Las Vegas before, the traffic on Las Vegas Blvd. can get quite backed up at times. Vegas lives and breathes during the night, so you'll be able to enjoy clear traffic most days before 2 PM.
Even so, navigating the streets can be an adventure in itself. Don't worry, though; You'll be able to get through the parking and payment processes quickly by following a handful of suggestions and reminders.
Here are a few tips to keep in mind:
When you drive into the garage, you'll take a ticket from the machine. Take this ticket with you when you enter the hotel. Do not leave it on the dash.
Make sure not to lose your parking ticket, as you will be charged $30 or more in order to get out of the garage without a ticket proving how long you've been there.
If you're staying at the hotel, your parking fees will be charged automatically to your room bill.
You can also use your room key to access other Caesars Entertainment properties without extra charges, so long as it's for self-parking.
The hotel assesses its parking fees daily. Rates are subject to changes throughout the year, especially during holidays.
How to Get Free Parking at Paris, Las Vegas
If you plan on visiting Paris or other Caesars properties frequently, you should check out the Rewards Card. It'll save you money on all sorts of things, like the buffet, inside Caesars casinos, including parking costs.
This company owns quite a few hotels and casinos around Las Vegas. The card will make your stay at the Paris hotel much easier, and it'll also open up plenty of exciting new activities to try out.
One of the big benefits is free self-parking with your Rewards membership. Every dollar you spend at a Caesars property will add credit points to your card.
As your credits go up, so does your rewards level. In order to get free parking, you'll need to have reached one of the following membership tiers:
Platinum level
Diamond level
Seven Stars level
People who haven't reached one of these higher tiers will have to pay for self-parking.
The self-parking areas are located at the bottom levels of the garage to prevent traffic jams. The location also makes it easier for valet drivers to get around the area quicker.
How to Pay for Self-Parking at Paris Las Vegas
Remember the ticket you got when you entered through the garage's self-parking gate?
On the way into the parking garage from the casino, there will be a small kiosk area. Slip the ticket into the machine and wait until it prints out the total cost. Slide your debit or credit card and pay for the ticket at the machine before you head out to your car.
That's all there is to it! The Paris hotel parking lot is as easy as it gets for guests and visitors alike.
Paying For Valet Parking at Paris Las Vegas
After collecting your valet parking ticket in the valet area, you can hand over your car to the valet. Tipping before the valet leaves with your car is not a bad idea.
(Check out our complete Las Vegas Tipping Guide. Find out when to tip, who to tip, and how much to tip while in Vegas in our tipping guide here)
When you're ready to leave the hotel, your valet parking fees will be included in your room bill if you're a guest. Otherwise, you need to scan your ticket and pay via cash or card at the self-service kiosk or valet booth every time you take your car out of the hotel premises.
As with self-parking, people who are part of the Caesars Rewards program are offered complimentary valet parking if they are Platinum, Diamond, or Seven Stars members.
Free Parking Near Paris, Las Vegas
If you're okay with a longish walk, then you can enjoy a free place to park without any memberships at all. Here's a list of three parking lots at varying distances nearby that offer complimentary parking:
(Find out how to get no-cost parking at all of the MGM properties (Bellagio, Luxor, Aria, MGM Grand, etc.) in Las Vegas in our article here)
Parking Rates at Paris Las Vegas – Conclusion
The Paris Hotel in Las Vegas has some of the most spectacular views, paired with endless fun right on the Strip. Enjoy your vacation, knowing that you don't have to stress out about parking.
Valet and self-parking are easy to use, and the rates are not too expensive. If you want park for free at Paris Las Vegas resort, you'll need to join the Caesars Rewards program and start collecting points or park for free at one of the properties mentioned above and walk.
Parking Rates at Other Popular Las Vegas Hotels & Casinos