The Mirage on the famous Las Vegas Strips has a lot to offer its visitors. The hotel is packed with entertaining things to do and see; from Mirage's large casino to its shows, attractions, and impressive pool, guests to the resort will not be disappointed. But before one can truly experience The Mirage, they'll need to pay to park.
Parking fees at The Mirage cost between $15 and $18 for self-parking, while valet parking will run between $18 and $30 depending on the day of the week and length of stay. Both visitors and hotel guests alike will need to pay to park their car at The Mirage.
| The Mirage (Hours Parked) | Self-Parking Fee |
| --- | --- |
| 1st hour | Free |
| 1 – 4 hours | $15 |
| 4 – 24 hours | $18 |
| Every 24 hours thereafter | $18 |
(Self-parking rates at The Mirage)
Mirage parking costs depend on a variety of factors. In this article, we'll break it all down and tell you how it works. Additionally, I'll show you a way to get free parking at The Mirage, plus tell you about a couple of resorts nearby where you can park for free.
Self-Parking Costs at Mirage Las Vegas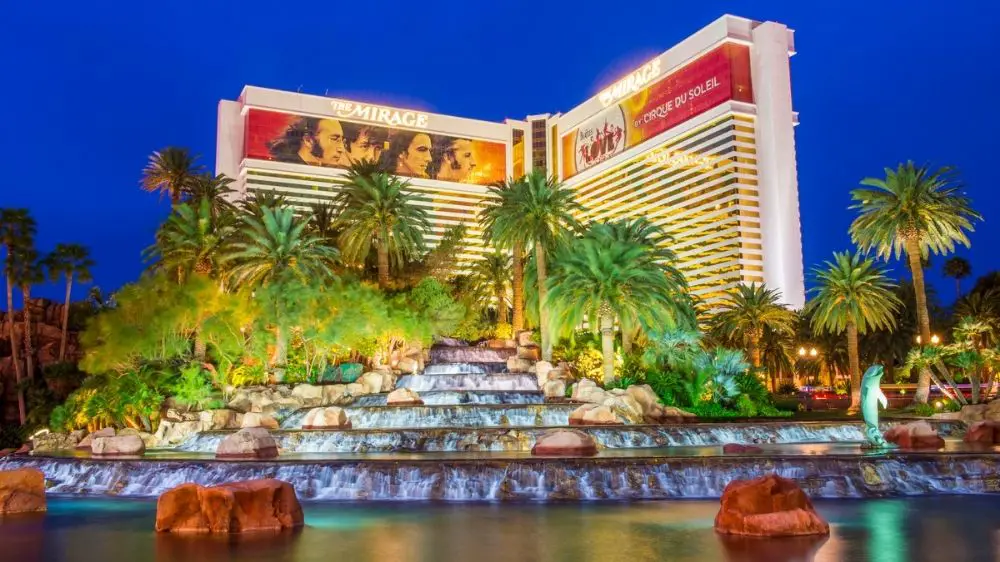 The Mirage is owned by MGM Resorts, which means visitors arriving by car will need to pay to park. Typically, hotel guests are granted complimentary parking for the duration of their stay, though that is not the case at MGM properties, including The Mirage. 
Hotel guests will have to pay the same rate as those who are just visiting. 
Self Parking Fees at The Mirage:
1st Hour – Free
1 – 4 Hours – $15
4 – 24 Hours – $18
Each additional 24 hours – $18
Self-parking at Mirage Las Vegas Explained
The Mirage has a large eight-level parking garage on-site. It's easy to find when driving down the Strip. Just look for the large 'Mirage' sign next to the artificial volcano.
Directions to The Mirage Parking Garage: Follow this link on google maps for precise directions from your current location.
You'll turn onto a road called Siegfried and Roy Drive, which splits into two. Turning left takes you to the main entrance and valet parking while heading off to the right will take you to the self-parking garage. This is all clearly marked with signs, so you won't make a wrong turn.
The garage is located next to the main Mirage complex, meaning it's not a far walk from the parking structure to the casino and resort property. There is a covered pedestrian walkway going straight into the resort from the fourth floor of the parking facility and another on the ground floor.
As is standard in Las Vegas, the parking facility at The Mirage uses tickets to determine parking charges. When you enter the garage, you'll pass through an entry gate that will print out a ticket for you, which you'll need to keep somewhere secure during your visit.
The ticket is time-stamped and will be used when you leave to determine how long you've stayed and thus how much you'll need to pay. Before leaving the parking facility, you'll need to take this ticket to a self-service parking machine and pay the fee determined by the length of your stay.
Small paper tickets can be pretty easy to lose, but try to keep yours safe as there is a $30 lost ticket fee for parking at The Mirage if you lose your ticket. Staff can try to determine the duration of your parking stay and thus your charge, but this isn't always possible, and the lost ticket fee will be charged.
Those staying in the hotel only need to keep track of their room keycard, as this is what they'll use to access the self-parking facility. The resort will then charge the parking fees straight to the hotel guests' room.
If you've reached one of the MGM Rewards (formerly M Life Rewards) member levels that comes with free self-parking, then you can use your membership card to move through the parking services. In this case, no ticket is required.
Free Parking at The Mirage (Here's How)
As with all other MGM-owned locations in Vegas, the only way to get free parking at The Mirage is to be a member of the company's loyalty program, called MGM Rewards. This players club has several levels, the majority of which give you access to complimentary self-parking.
The levels are Sapphire, Pearl, Gold, Platinum, and Noir. The only level that does not grant an MGM Rewards member free parking is "Sapphire," which is the default level. It takes time and money spent at an MGM resort's property to move up levels, so be prepared if you're a new MGM Rewards member.
There is, however, a shortcut to reaching the Pearl level and getting free parking. If you apply and get approved for an MGM Rewards Mastercard, it will automatically bump your Rewards card level to Pearl status (the first level where parking is free). We explain how to do this in detail in our post here.
The first hour of free parking is available to anyone who visits The Mirage or chooses to park there. The one hour of free parking is strictly monitored, so if you're aiming to take advantage of this, make sure you keep track of time.
Nevada residents get three hours of free parking at The Mirage, though they need to provide a suitable ID like a passport or a Nevada driver's license to access this perk.
Paying for self-parking at Mirage does come with a benefit if you plan on visiting other MGM properties in Las Vegas on the same day. For as long as you've paid for parking at Mirage, you'll have in-and-out privileges at all other MGM-owned venues in Las Vegas at no extra cost.
MGM owns several resort properties on the Las Vegas Strip including; Bellagio, ARIA, Luxor, MGM Grand, New York-New York, and Mandalay Bay. So being able to pay for parking at one and use it for parking at the others is quite convenient.
Valet Parking Rates at Mirage Las Vegas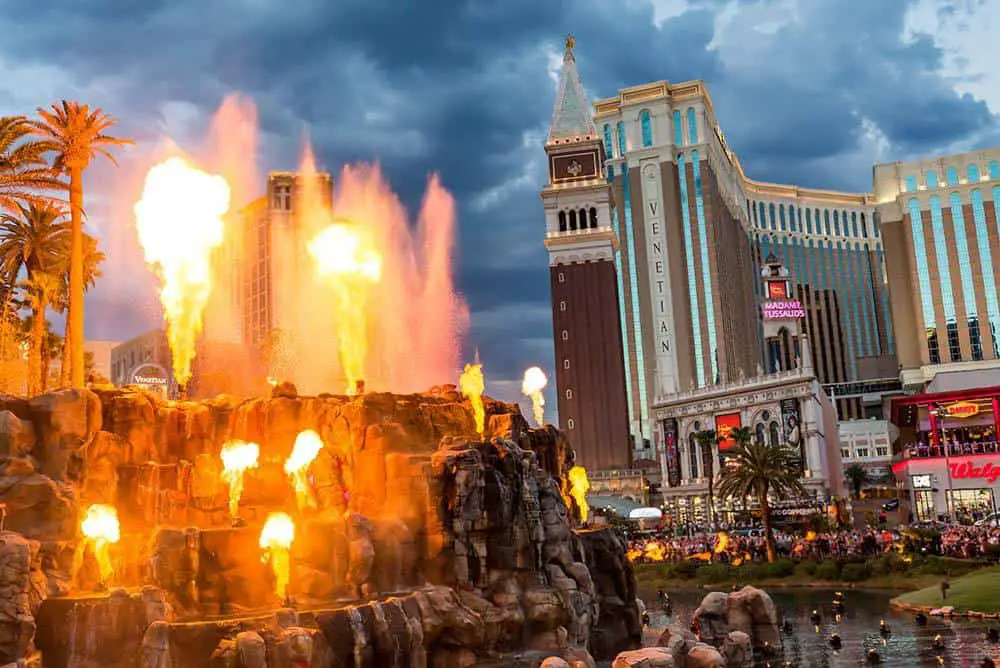 For those who would rather avoid the potential stress of finding a parking spot and then remembering where you parked, The Mirage offers a valet parking service. Understandably, this comes at a higher cost to self-parking though it can be worth it if you're short on time when arriving.
The rates for valet parking vary depending on when and for how long you use the service.
Valet Parking Rates at Mirage
Monday – Thursday
0 – 2 Hours – $18
2 – 4 Hours – $22
4 – 24 Hours – $26
Each additional 24 hours – $26
Friday – Sunday
0 – 2 Hours – $20
2 – 4 Hours – $24
4 – 24 Hours – $30
Each additional 24 hours – $30
These rates are in line with most other MGM properties, though it's worth remembering that tipping is universally expected and encouraged in Las Vegas, so factor this into the valet parking costs as well. Check out our Las Vegas Tipping Etiquette Guide here.
Free valet parking is only available to MGM Rewards members at the Gold, Platinum, and Noir levels. The Sapphire and Pearl levels are not included here, so anyone in those brackets will need to pay the rates listed above.
Valet Parking at Mirage Las Vegas Explained
There are two valet parking kiosks within The Mirage's complex. The first is located at the main entrance lobby and is clearly marked with signs guiding you to the area. 
The second is called the North Valet and is easier to access from either Spring Mountain Road or S. Industrial Boulevard. But, again, there are plenty of signs directing you to either one. 
All you need to do is give your car keys to a staff member at the valet kiosk, and they'll do the rest. You'll be handed a ticket in return. Then, when you go to have your car collected, just hand over the ticket so staff can find your vehicle and bring it around.
Hotel guests don't need to pay for valet parking upfront as it will be added to their room bill, while MGM Rewards members at the appropriate levels just need to prove their membership status to receive free valet parking.
Is There Free Parking Near Mirage?
Fortunately, there is another way to avoid parking fees while visiting The Mirage. Right next door to The Mirage sits Treasure Island Hotel and Casino. Treasure Island offers free parking to all visitors, regardless of where they're going, and is a convenient place to park if you want to end up at The Mirage.
Once you are parked at Treasure Island, head inside the resort, where you'll find a complimentary, air-conditioned tram that will take you over to The Mirage.
Alternatively, you can head across the Strip and park at the Venetian/Palazzo, where there are also free self-parking options. This alternative, however, will require a bit more of a walk (approx. 6 minutes).
Recommended Reading: Where to Park for Free on the Las Vegas Strip – List & Map
Mirage Las Vegas History
The Mirage was perhaps one of the most important construction projects in Las Vegas' history. Throughout the 1970s, the city had suffered a downturn in tourism as Las Vegas became a less attractive destination and the state of New Jersey legalized gambling, leading to visitors frequenting Atlantic City instead.
So, developer Steve Wynn set about creating a brand new hotel-casino that would inject life back into the Las Vegas Strip, and so The Mirage was born. Construction went over budget and ended up costing $630 million, making it the most expensive hotel in the world at the time, but the hefty price tag was worth it. 
After it opened in 1989, the resort became extremely popular, and new hotels began to pop up all over Vegas. The Mirage has 3,044 rooms and boasts a Polynesian theme throughout its interior and exterior, with palm trees and bright colors all over.
The complex played host to the world-famous Siegfried & Roy show before it closed in 2003. However, there is now a dolphin sanctuary, and tiger habitat called the Siegfried & Roy Secret Garden within the massive complex.
The resort also has an enormous artificial volcano out front on the Strip, which "erupts" several times each evening. There is also a popular nightclub and a poolside lounge within The Mirage, making it one of the most exciting venues in Las Vegas.
Cirque du Soleil also has a permanent show at The Mirage titled 'LOVE,' which features music from the Beatles. 
Final Thoughts on Parking Fees at The Mirage
The Mirage is one of the most important hotel-casino resorts in Las Vegas history and to this day continues to attract hordes of visitors. So, if you're looking to park in the complex, then hopefully, this guide has been helpful. 
The Mirage charges various parking rates depending on when you visit and for how long, but if you'd rather not have to pay to park your car at all, then there are some great free options nearby.
Parking Guides For Other Las Vegas Hotels & Casinos
Source: