(Updated: May 6, 2022)
The LINQ Hotel & Casino in Las Vegas is a 2256-room, four-star hotel located on the Las Vegas Strip (Las Vegas Blvd). If you've been thinking of choosing Linq as your preferred form of accommodation for your next Vegas trip, here's everything you'll need to know about the parking fees that you can expect. 
Parking fees at the LINQ Las Vegas can range from $15 to $23 for self-parking and from $30 to $36 for valet parking. If you are a Las Vegas resident, have a Caesars Reward member card, or park your vehicle for less than an hour, you can receive some or all of your self-parking free of charge. 
In this article, you can find a thorough breakdown of The LINQ Las Vegas parking fees you can expect to pay.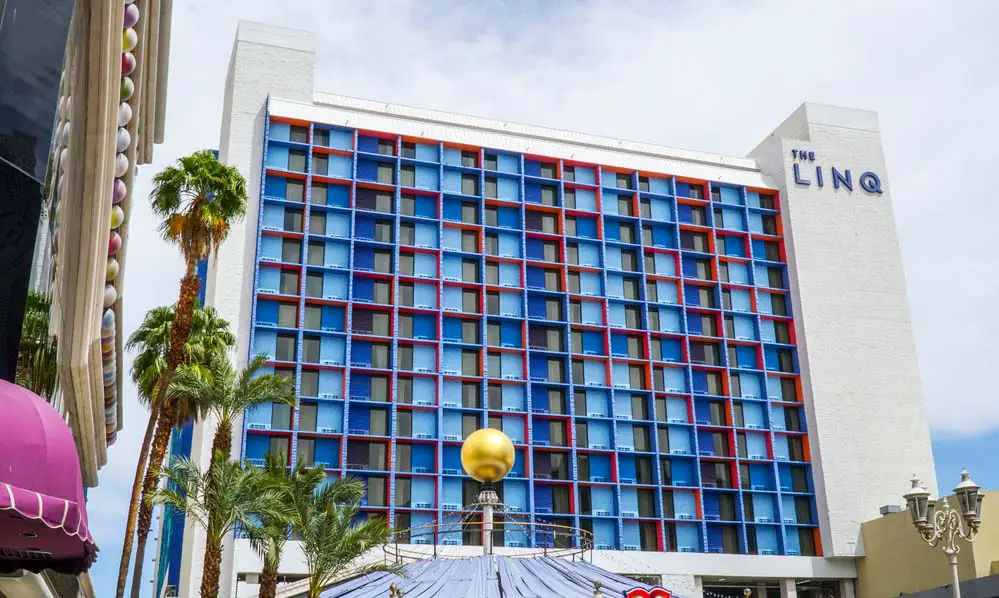 Self-Parking Fees at The LINQ Las Vegas
Monday thru Thursday the self-parking rates at The LINQ are as follows:
| LINQ Self-Parking (Mon-Thurs) | Parking Cost |
| --- | --- |
| 1st Hour | Free |
| 1 – 3 Hours | $15 |
| 3 – 24 Hours | $18 |
| Over 24 Hours | $18 a day or part thereof |
| Caesars Palace Hotel Guests – 24 Hours | $18 |
| Caesars Rewards (Platinum or above) | Free |
| Nevada Residents (first 3 hours) | Free |
Friday thru Sunday LINQ's self-parking rates go up a few dollars:
| LINQ Self-Parking (Fri-Sun) | Parking Cost |
| --- | --- |
| 1st Hour | Free |
| 1 – 24 Hours | $23 |
| Over 24 Hours | $23 a day or part thereof |
| Caesars Palace Hotel Guest | $18 |
| Caesars Rewards (Platinum or above) | Free |
| Nevada Residents (first 3 hours) | Free |
Every visitor to LINQ (including registered hotel guests) can use the self-parking facility inside the resort. Paying for this service will provide you with in-and-out access to every Caesars Entertainment-owned property on the Strip (Las Vegas Boulevard) for the time you've paid. 
As a registered hotel guest, you can use your room key to access the parking garage. 
Self-parking is available 24/7, meaning that no matter the day of the week or time of day, you'll be able to use LINQ's self-parking service. The rates you'll see on the table above can be subject to unexpected changes, especially in the case of a special event. 
Event parking tends to be pricier due to increased demand. During a special occasion, the fees can go up significantly, so if you're planning to visit the LINQ during a major event, keep in mind that you'll have to pay around $25 for up to 24-hour parking. 
On the other hand, if you're a Caesars Rewards member at the Platinum, Diamond, or Seven Star level, you can access the facility for free, no matter if there's an event being held in the hotel or not. Likewise, some specific categories, such as veterans, may receive special discounts in parking fees. 
Therefore, make sure to have an identifying document on you if you want to take advantage of these discounts.  
How To Take Advantage Of Free Parking at LINQ
Although LINQ used to offer free parking to any hotel guest up until a couple of years ago, this is no longer the case. This is a widespread phenomenon among many of the most coveted Las Vegas hotels on the Strip.
With that said, some categories still can benefit from free self-parking: 
Locals can park for free for up to 3 hours. If you're a Las Vegas resident and present the kiosk upon entering the parking structure with an NV driver's license or ID, you'll be able to use the parking facilities free of charge for up to 3 hours. Afterward, you will be subject to standard self-parking rates. 
Caesars Rewards Members: Parking is complimentary for all Platinum, Diamond, or Seven Stars card rewards members. If you're at a qualifying level during your visit, you'll be able to use your card to receive free self-parking. Remember that you'll have to present your Caesars rewards card when you enter the parking garage to benefit from this advantage. 
Veterans: If you are part of this demographic, you can apply for a Veteran's Card, which will allow you to receive several complimentary services for free, including the use of the self-parking facility at the LINQ. 
Free Parking Up to 60 Minutes For All LINQ Visitors
Parking your vehicle for up to 60 minutes is entirely free for all hotel visitors. This is good if you just have a quick errand to run. If you're planning to spend time exploring and enjoying the LINQ resort property, an hour won't even be close to enough.
Beyond an hour you can expect to pay the following prices:
LINQ Self-Parking Fee: 1 to 3 Hours (Monday – Thursday)
Parking for 1 to 3 hours will run you $15 Monday thru Thursday. However, this might be acceptable when you consider the costs of parking elsewhere in the area. On the weekends, parking for 1 to 24 hours will cost $23.
LINQ Self-Parking Fee: 3 to 24 Hours (Monday – Thursday)
Using the self-parking facility for 3 to 24 hours will cost $18. These fees are comparable to other parking fees at other hotels or lots nearby. You might find cheaper parking in a few other parking garages, but they won't be anywhere close by so you may need to settle for this price.
LINQ Self-Parking Fee: Over 24 Hours (Monday – Thursday)
If you're planning a multiple-day stay and you'll need to park your vehicle for more than 24 hours, you'll be looking at a fee of $18 each additional day. Keep in mind that any fraction of an extra day, no matter how small, is charged as a whole. 
Therefore, even if you use the service for 25 hours (one additional hour over 24), you'll still be charged with the rate of an entire additional day. 
LINQ Self-Parking Fee: 1 to 24 Hours (Friday – Sunday)
So what happens to the LINQ's parking fees on the weekends? Unfortunately, they go up by about $5. Self-parking at the LINQ is $23 for any time parked in the self-parking lot over 1 hour all the way to 24 hours. Parking more than 24 hours during these days is another $23.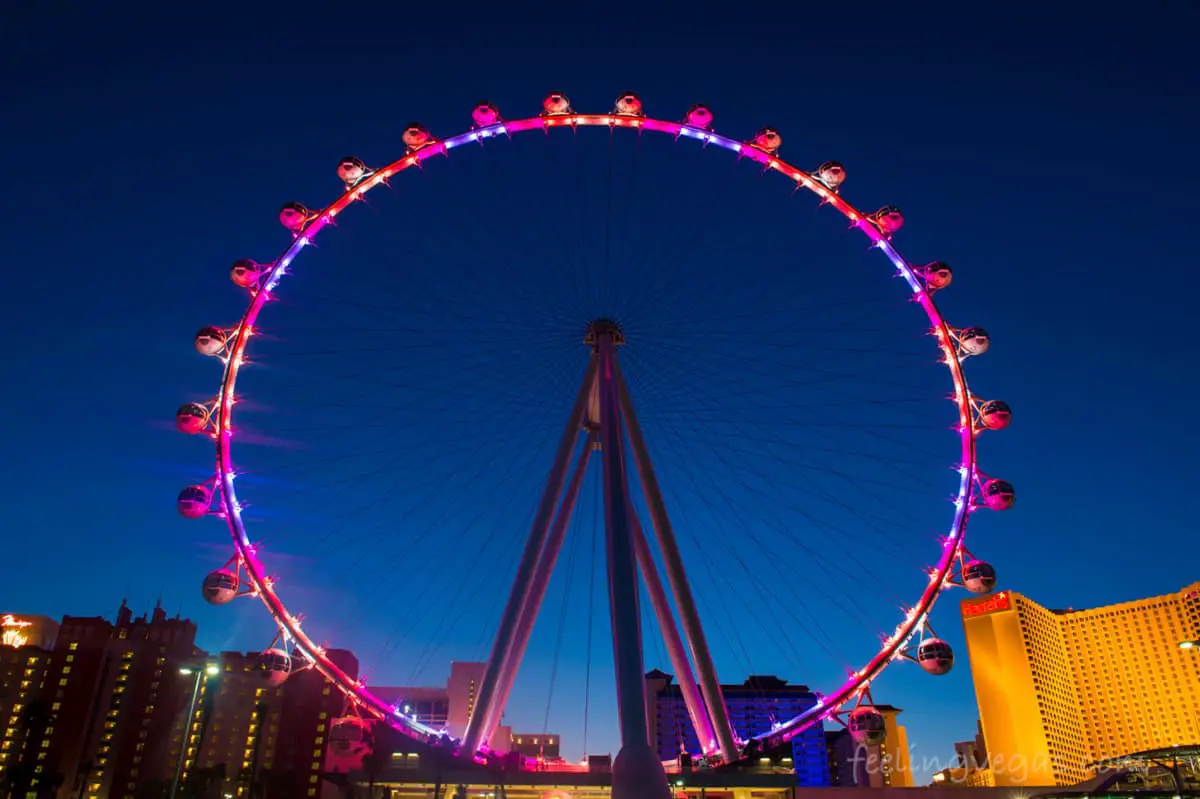 Note: The LINQ and The LINQ Promenade is where you'll find the High Roller observation wheel in Las Vegas.
Valet Parking Fees at The LINQ
Note: Valet Parking at the LINQ is currently not available. We'll update this section when it is open again.
| LINQ Valet Parking (Hours Parked) | Valet Parking Fee |
| --- | --- |
| 0 – 4 hours | $30 |
| 4 – 24 hours | $36 |
| Event (Flat rate) | $36 |
The Linq Las Vegas also offers valet parking services 24/7 to both hotel guests and visitors. To pay for valet parking as a hotel guest, just use your room key, and the charges will be added to your room bill. Tips, however, are only given in cash so make sure you have some on hand. 
Alternatively, if you're not a hotel guest, you can pay the bill at a self-serve kiosk. The valet parking fees follow an hourly range, the same as with self-parking. 
If you're traveling with an oversized vehicle, keep in mind that you'll be charged an additional $20 fee. You can find access to the LINQ's valet parking services at the back of the resort, which you can reach following LINQ Lane (google maps). From there, you'll find signage that will direct you to the valet facilities. 
Note: There is free valet parking available for all Platinum, Diamond, and Seven Stars members.
Related Reading: Here's How Much to Tip Your Valet in Las Vegas (Explained)
0 to 4 Hours
If you want to use valet services anywhere from 0 to 4 hours, you're looking at a rate of $30.
4 to 24 Hours
Valet-parking for 4 to 24 hours is priced at $36. Considering the much lower cost of self-parking, you might decide to deal with the inconvenience of finding your own parking spot.
Over 24 Hours
Using valet facilities for over a day will cost you $36 for any additional day or fragment. The same pricing technique that I described in the self-parking section applies here. Over the 24-hour mark, days will automatically be charged as a whole, no matter how many hours of the day you use the service. 
Therefore, if planning to use the facility for a day + a fraction, you can opt to check your car out of the valet service if possible and return using a separate charge.
Key Takeaways
When thinking about booking a room at The LINQ Las Vegas, you'll need to consider the resort's parking charges, as apart from some of the exceptions mentioned above, the service is not free. 
Self-parking options range from $15 to $23 depending on the day and how long parked. Valet parking can cost anywhere from $30 to $36, which vary according to the same factors. 
Whether you choose to self-park or use a valet, set a budget and plan ahead regarding the time you'll need to use the facility, as this process can help you better navigate your choices. 
More From FeelingVegas
Source: