Does The LINQ Have an Airport Shuttle? (Las Vegas Airport Transportation)
(This article may contain affiliate links. If you click through and make a purchase, we will receive a small commission at no additional cost to you. )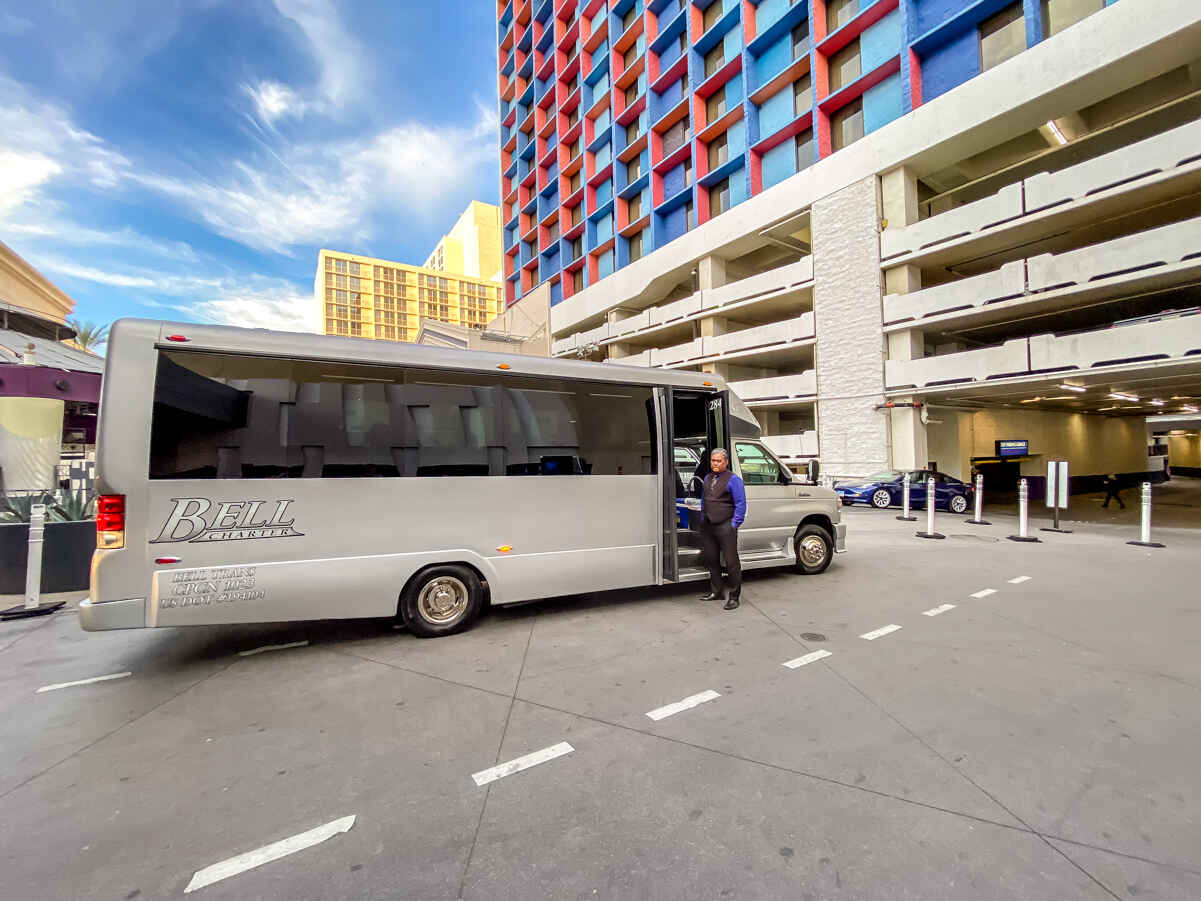 Are you planning a trip to Las Vegas and staying at The Linq? If so, you're probably wondering about the best way to get to and from the Las Vegas Airport (LAS). Transportation can be a major headache for tourists, but don't worry – we've got you covered. 
The Linq Hotel + Experience on the Las Vegas Strip does not have its own airport shuttle. However, you can use a 3rd party commercial airport shuttle to get to The Linq. Additionally, Linq hotel guests may choose from taxis, town cars, or rideshare services, depending on their preferences and budget.
In this article, we will discuss the various options for travel between The Linq and Harry Reid International Airport (formerly McCarran Airport), as well as their respective benefits and drawbacks.
Armed with this information, visitors can confidently plan their Las Vegas trip and enjoy a seamless, stress-free travel experience.
Compare and save! Check current LINQ room rates at TripAdvisor.
The Linq Hotel Airport Shuttle Service Options
If you want to catch an airport shuttle to The Linq Hotel + Experience there are a couple of reputable commercial shuttle services to choose from. They are:
Bell Trans – Bell Trans is a low-cost transportation service in Las Vegas that provides airport shuttle services from and to Harry Reid International Airport and resort corridor hotels on Las Vegas Blvd and the Downtown area. The cost is $15 each way or $30 for a round trip.
SuperShuttle – SuperShuttle is a nationwide airport shuttle that offers service in Las Vegas. They offer flexible transportation options to and from the Las Vegas Airport in vans and shuttle buses. SuperShuttle charges $16.25 for a one-way trip.
In the case of both services, passengers are grouped together and transported to hotels on and around the Strip. Direct transportation to your hotel is NOT guaranteed, meaning that you may have to make several stops before arriving at your hotel. You can expect an airport shuttle ride in Las Vegas to take about 1 hour on average.
Payment and Confirmation Details
Once you have selected your desired shuttle service, online booking services will guide you through the payment process. You can expect to receive a confirmation email after successfully completing the booking.
This email will contain important details such as meeting instructions, your booking reference number, and transportation details.
ALSO SEE: Las Vegas Airport Shuttle To Hotels (Airport Shuttle Easy Guide)
The Linq From The Airport (More Transportation Options)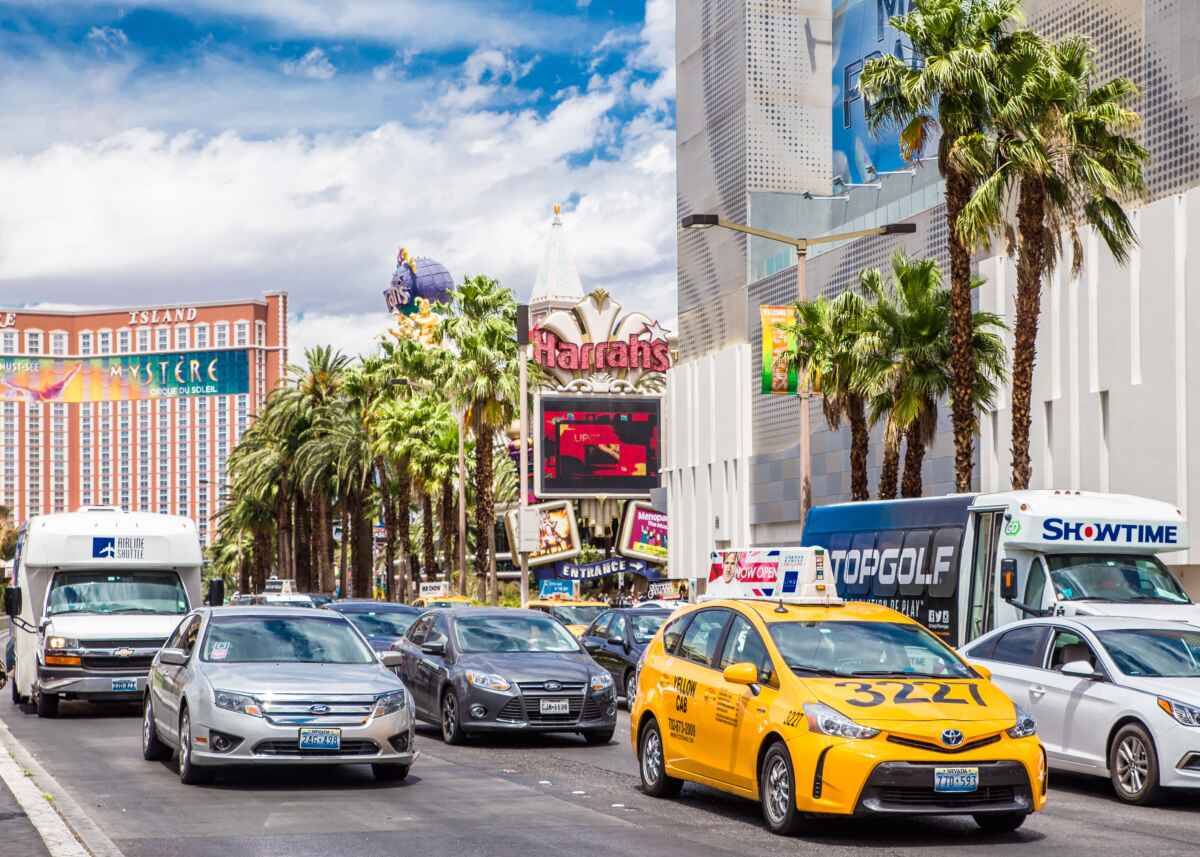 Taxi and Rideshare
Taxis and rideshare services offer a convenient alternative for transportation between the Las Vegas Airport (LAS) and The Linq Hotel. Apps like Uber and Lyft can be used to book rides directly from the airport, and taxis are readily available outside the airport terminal. The travel time is approximately 15 minutes, making this a quick option for getting to your accommodation.
RECOMMENDED: Las Vegas Taxi Fare Guide & Uber From the Las Vegas Airport to the Strip
Private Transfers and Limos
For a more luxurious and personalized option, guests can opt for private transfers or limousines. Companies like Jayride specialize in private transfers and offer a variety of vehicles to choose from, including town cars and limousines. The cost for private transfers ranges from $22 – $130, depending on the vehicle and level of service you choose.
When traveling to The Linq Hotel, guests have a variety of transportation options to meet their needs and preferences. Whether using a shuttle service, taxis and rideshares, or private transfers and limousines, travelers can enjoy a comfortable and efficient journey between the airport and their Las Vegas stay.
RELATED: Las Vegas Airport to The Strip in a Limo (How Much?)
Choosing the Right Transport Option
When deciding on the best transportation option from the Las Vegas Airport to The Linq, consider factors such as travel times, cost, and convenience. Some options include:
Bus: RTC Southern Nevada operates a bus service that connects Harry Reid International Airport, Zero Level, to The Linq. This is an affordable option, and reservations are not necessary.
Taxi: Taxis are readily available at the airport and can provide a quick, one-way trip to The Linq. Though more expensive compared to buses, taxis offer convenience and faster travel times.
Towncar: For a more luxurious option, consider booking a town car. These can be more expensive than taxis, but they offer a comfortable and private way to travel to The Linq.
Airport Shuttle: Airport shuttles are a good budget option for one person and can be booked either one way or round trip. It's important to note, however, that taking airport shuttles can be time-consuming, and are a more expensive option when traveling with multiple people. For instance, the cost of a taxi or Uber will be less expensive per person than an airport shuttle.
Walking: For those who prefer to stretch their legs after a flight, walking from Las Vegas Airport to The Linq is an option, although it takes about 1 hour and 13 minutes. Having said that, this is not an ideal way to begin a Las Vegas vacation for most people and can be downright inadvisable if the weather is hot.
In conclusion, travelers should consider their preference for travel times, cost, and convenience when selecting their transport route. With numerous options, planning your trip to The Linq Hotel should be a stress-free and enjoyable experience.
For more information about Las Vegas airport transportation you can read: Getting to the Strip From the Las Vegas Airport (7 Ways)
Find the best room deals at The LINQ and save big with TripAdvisor!
Frequently Asked Questions
How do I get to Linq hotel from the airport?
There are several ways to get from the Las Vegas Airport (LAS) to The Linq. One way is taking an RTC Southern Nevada bus, which operates hourly from the airport to the hotel vicinity, costing $6 and taking about 28 minutes. Another option is hiring a taxi, which will take you directly to The Linq hotel.
Is there a complimentary shuttle from the airport to the Linq?
No, The Linq hotel does not offer a complimentary shuttle service from the airport. However, several commercial shuttle buses are available 24 hours outside Harry Reid Airport's baggage claim area. These shuttles depart every 15-20 minutes, with one-way ticket prices at $15 per person and round-trip fares at $30 (prices subject to change).
How far is Linq hotel from the airport?
The Linq hotel is approximately 3.2 miles (5 kilometers) away from the Las Vegas Airport and depending on traffic takes approximately 15 minutes to get to by car.
Can I use Uber from the airport to Linq hotel?
Yes, Uber is available for pick-ups and drop-offs at the Las Vegas Airport. You can use the Uber app to request a ride from the airport to the Linq hotel. Rideshares operate from a specific pickup point at the airport. Just follow the "rideshare" signs from baggage claim to find your ordered ride.
Are taxis available from Linq hotel to the airport?
Yes, taxis are readily available for transportation from The Linq to the airport. You can request a taxi at the hotel or hail one from the taxi stand outside the hotel.
Why don't Las Vegas Strip hotels have their own airport shuttles?
Hotels on the Las Vegas Strip are not allowed by law to operate their own private airport shuttles. This law attempts to keep the Strip free of the additional traffic congestion that would be caused if each hotel had its own shuttle.
Do other Vegas hotels have airport shuttles?
While some off-Strip Las Vegas hotels offer complimentary airport shuttles, it's best to check directly with each hotel for their specific shuttle services and schedules. Keep in mind that commercial shuttle buses and taxis are available for transportation between the airport and most casino hotels in Las Vegas.