Can You Walk Everywhere in Las Vegas? (What You Need to Know)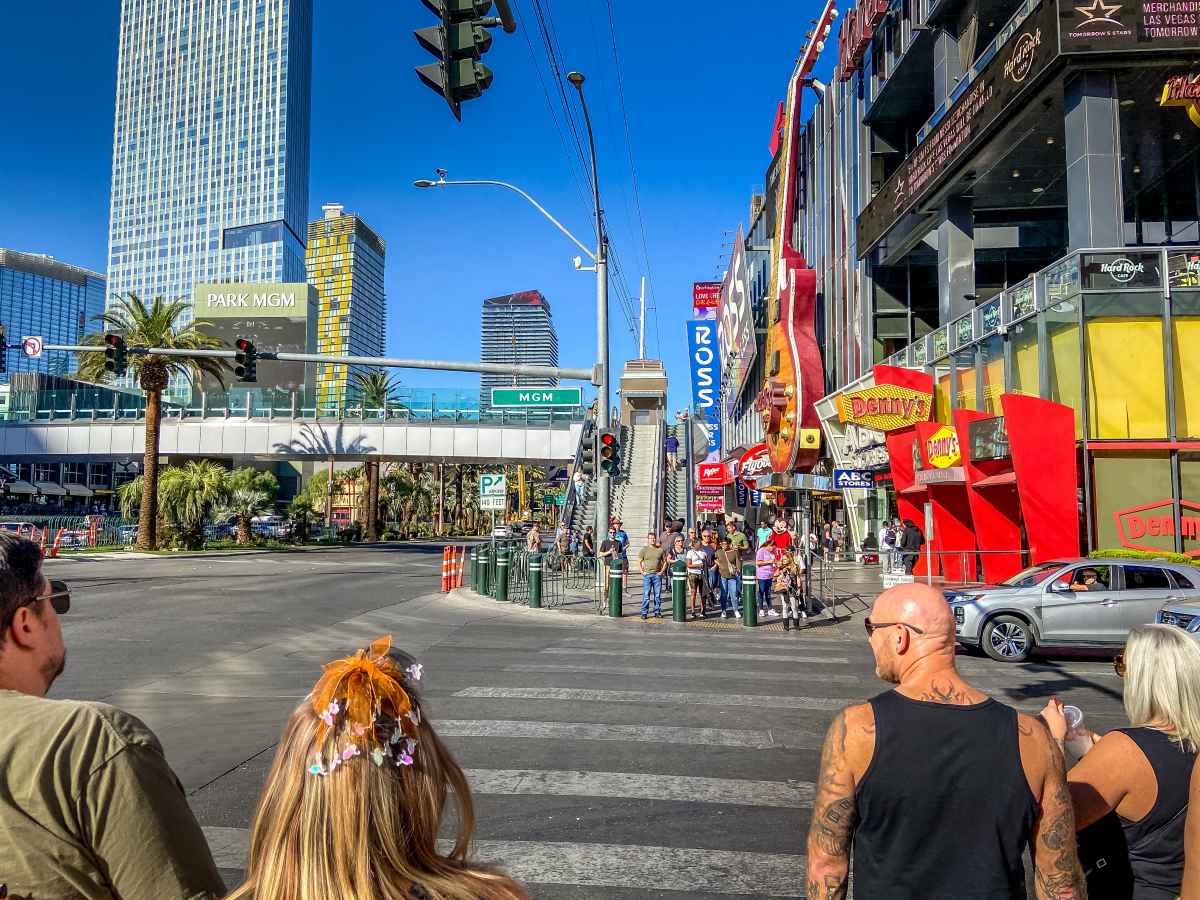 (This article may contain affiliate links, which means we might earn a small commission if you click and make a purchase. Thank you!)
On the Las Vegas Strip, you'll find multiple casino resorts or hotels on nearly every block. With so many places to stay, it's easy to think that you can explore the entire Strip on foot. But is that really the case?
You can walk almost everywhere on the Las Vegas Strip. The Strip is just a little over four miles long, and with the right planning, it is possible to walk the entire length. With wide sidewalks and numerous pedestrian bridges, the biggest tourist destination in Las Vegas can be explored by walking.
In this article, I'll give you a few considerations, tips, and recommendations before you start exploring the Las Vegas Strip on foot.
Can You Walk the Entire Vegas Strip?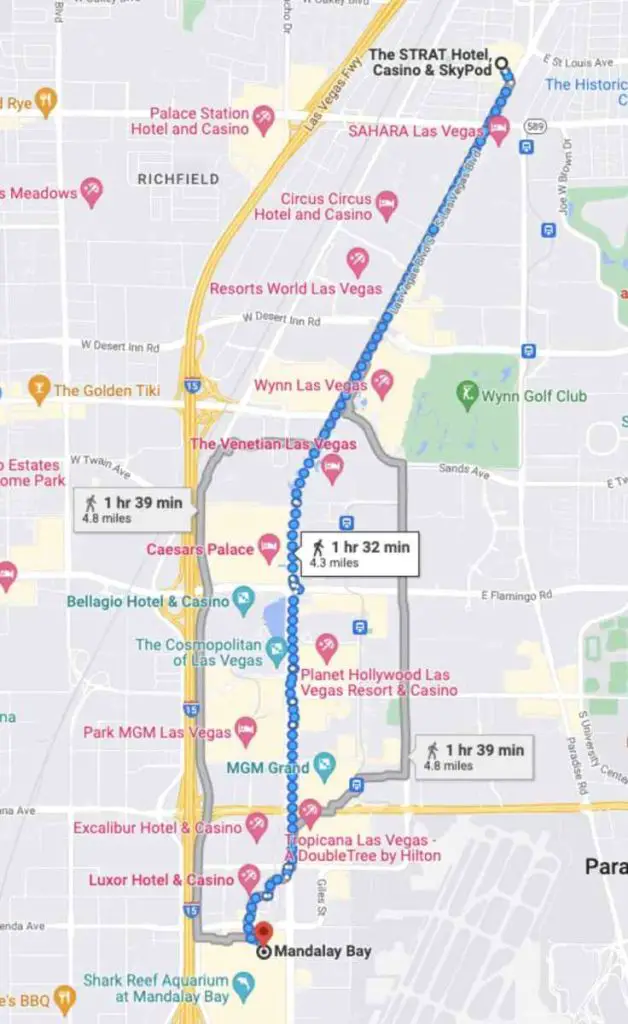 You can explore the entire Las Vegas Strip without a car, but be prepared for a long stroll. If you're determined to make the over 4-mile (6.44-km) walk, I suggest you start early in the morning to avoid the dry heat and the crowds.
As you walk the entire Vegas Strip, there are plenty of things to experience along the way. You can stop for a bite or a drink, take in some of the shows or attractions, or just people-watch.
Here are some tips on making the most of your long walk:
Wear comfortable shoes. You'll be doing a lot of walking (not just on the Strip but inside the resorts found along the Strip), so wear shoes that won't give you blisters or make your feet ache.
Stay hydrated. It's important to drink plenty of hydrating fluids, especially in the hot desert climate of Las Vegas.
Take your time. There's no need to hurry when walking the Strip – take your time and enjoy the vibrant city's sights and sounds.
Start early. If you want to avoid the heat and crowds, start your walk early in the morning. A morning walk is a refreshing way to start your day.
Take breaks. If you get tired, there's no shame in taking a break – there are plenty of benches and cafes along the way where you can rest your feet.
Depending on how fast you walk, it takes between 60-90 minutes to walk the whole Vegas Strip. Read my guide to learn more about factors affecting the time you need to spend walking the Vegas strip.
Can You Walk Through Casinos in Vegas?
In Las Vegas, you'll find plenty of casinos to explore. Whether you're looking for gambling, entertainment, or simply want to window shop, these casinos have it all. But did you know that it's possible to walk through all the casinos on the Las Vegas Strip?
Believe me when I say that Las Vegas casinos along the Strip are more than happy to welcome you inside for a look around. Know, however, that the casinos on Las Vegas Boulevard are HUGE, and you can walk for miles inside each resort property itself.
So, while walking the 4.2 miles of the Strip may not sound like too much walking, add in all the miles you will be clocking inside the resorts, and there is a substantial distance to cover.
I've created a free Las Vegas Strip walking guide with maps, routes, and a list of not to miss attractions. Check it out.
Is Las Vegas a Walkable City?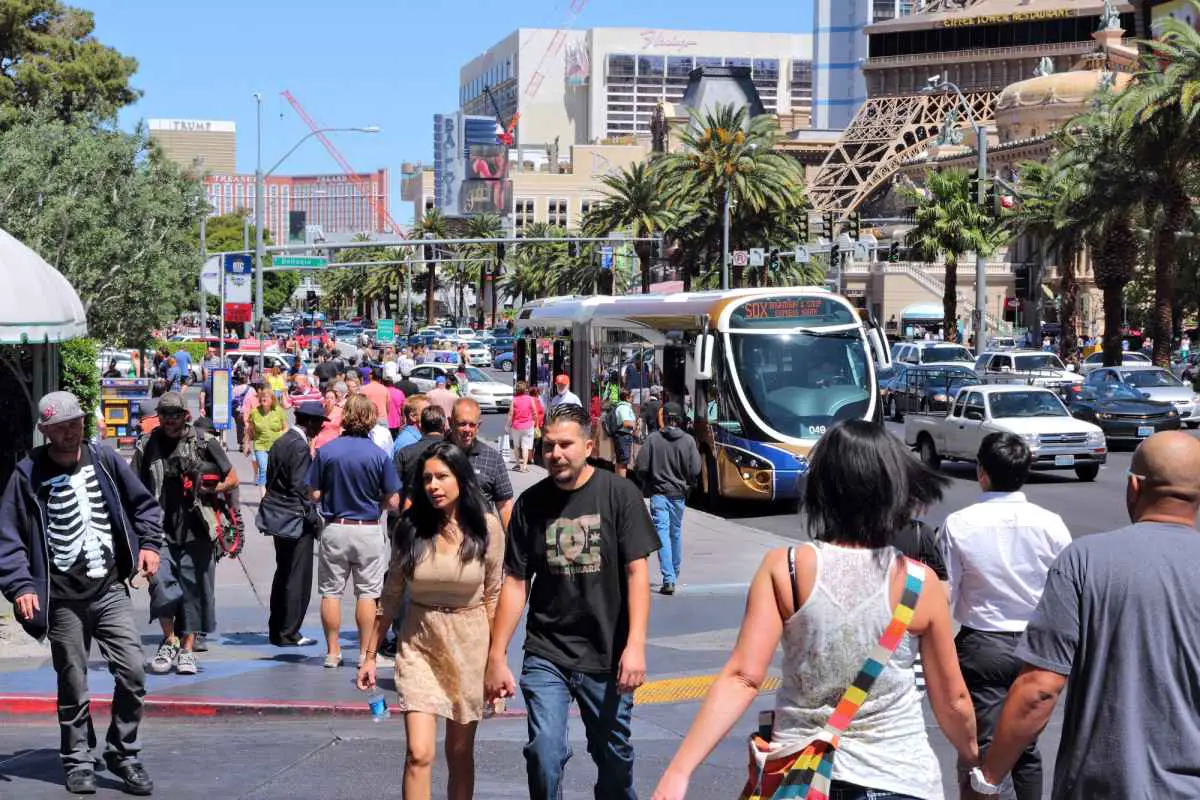 While many Las Vegas visitors realize that most of the major hotels and casinos on the Strip are within walking distance of each other, what they don't realize when looking at a map, is just how far each of these hotels can be from one another.
In this way, a Las Vegas Strip Map can be deceiving. The massive resorts look deceptively close to each other.
My recommendation is that you walk the Strip in sections. Pick an area you'd like to explore and walk around for a day or afternoon, seeing everything there is to see. The following day, pick a different area to visit.
Traveling by foot is a great way to see some of the fantastic sights and sounds Las Vegas has to offer, and although you probably don't want to walk the entire Strip in one day, you should definitely spend some time each day of your visit walking on Las Vegas Blvd. 
Getting Around Las Vegas
With so many things to explore in Las Vegas, getting around can be daunting. Here are a few tips to get you started.
If you're staying on the Strip, the best way to get around is by foot. Walking is a great way to see the sights and take in all the action. And when you're ready for a break, there's no shortage of cabs and Uber cars to whisk you away.
However, if you're staying off the Strip, your best bet is to rent a car. Las Vegas is spread out, so having your own wheels will make getting around much more manageable. Just be sure to avoid driving during rush hour if you can!
You can also move around Las Vegas by public transportation. Bus lines operate several bus routes throughout the city, making it easy to get around without a car. In addition, several trams operate between the major hotels and casinos on the Strip.
Walking around Vegas is safe as long as you're in the tourist areas. If you're traveling alone, prepare for your trip and don't forget to bring a travel guide. Click on the link to read my guide on safety tips for Vegas travelers, especially solo ones.
How Many Days Is Enough To Explore Las Vegas?
To decide how many days you'll need for your Las Vegas adventure, you must first think about what you really want to check out in the city.
Las Vegas is known for its casinos, hotels, nightlife, and restaurants. However, there is much more to this city than that. There are also many museums, parks, and other attractions that are worth visiting.
If you are only interested in visiting the casinos and hotels on the Strip, then a few days may be sufficient. However, if you want to experience all Las Vegas offers, you may need a week or more.
Read my full guide here for more info that will help you determine how long to stay in Vegas.
The Best Stops on Las Vegas Strip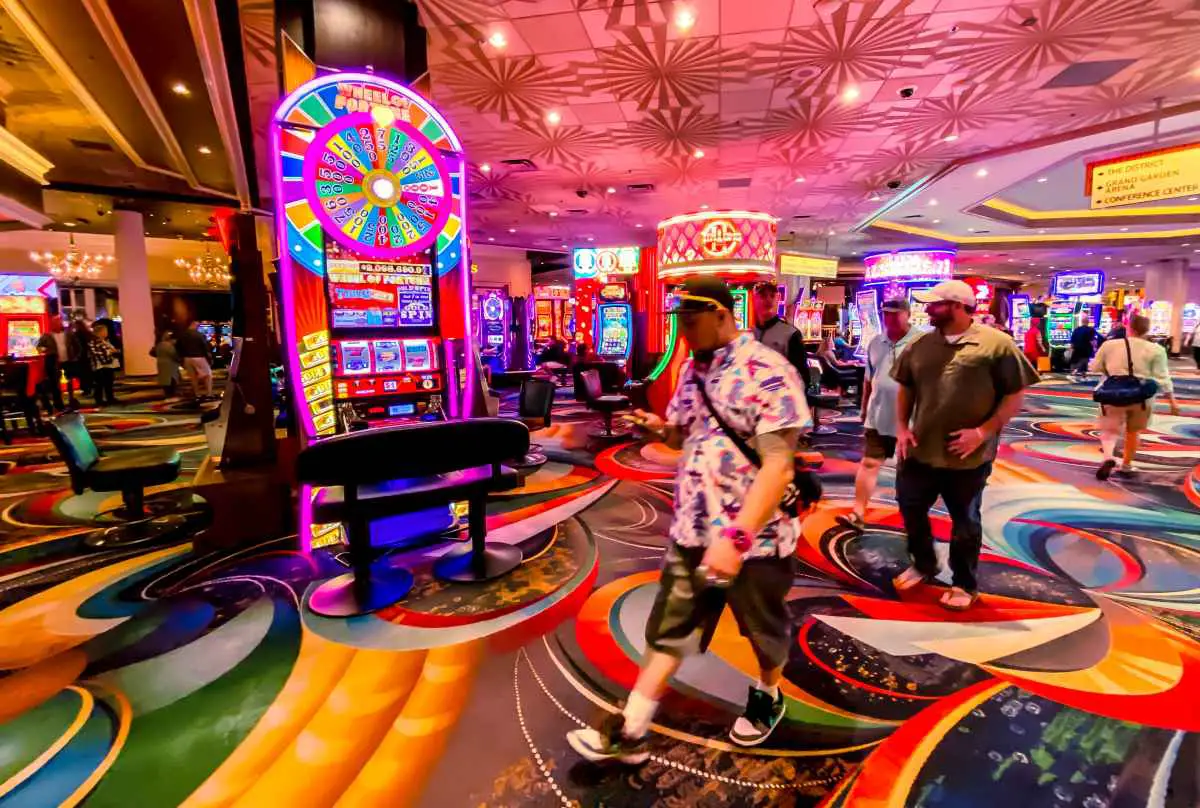 From world-famous casinos to incredible shows and restaurants, there's something for everyone on the Strip. Here are a few stops you can make when walking: 
Casinos
There's no denying that casinos are a big part of what makes Las Vegas so unique. With world-famous properties like Caesars Palace, The Venetian, and MGM Grand, there's no shortage of options when it comes to gambling. If you want to try your hand at winning some money, make sure to check out one of the many iconic casinos on the Strip. 
Find all of our casino-related articles here.
Shows
Las Vegas is known for its incredible performances, and there's no better place to see them than on the Strip. From Cirque du Soleil to Wayne Newton, there's something for everyone regarding entertainment. If you want a show that will leave you awe-struck, check out one of the many top-rated shows on the Strip.
Restaurants
Las Vegas is known for its impressive food options, and that doesn't just apply to casinos. There are plenty of great restaurants located all over the Strip, from fast food chains to high-end establishments.
Check out one of my top picks for restaurants with a view of the Bellagio Fountains if you're looking for someplace special to eat. I've also listed the best Japanese restaurants on the Vegas strip that you shouldn't miss in another guide.
Can You Walk Everywhere in Las Vegas? – Conclusion
With its sprawling streets and a seemingly endless array of casinos, hotels, and attractions, Las Vegas can seem like an overwhelming place to visit. But don't let its size fool you – the tourist areas of Las Vegas are very walkable, and it's possible to see most of the incredible sights just by strolling down the Strip.
RELATED: Walking to Bellagio From MGM Grand, Vdara, Aria, & Mandalay Bay