Can You Go Into Any Casino in Las Vegas? (Answered)
(This article may contain affiliate links, which means we might earn a small commission if you click and make a purchase. Thank you!)
Casinos in Las Vegas are truly a marvel! Amazing sights, sounds, architecture, and entertainment. I'm going to share with you why you should visit every casino and hotel you possibly can on your trip to Vegas.
Can you go into any casino in Vegas?
Yes, absolutely! You can go into any casino in Las Vegas for free. Hotels and casinos in Las Vegas love visitors and really like when you spend time in their properties.
When my wife and I drive across town to the Las Vegas Strip, we love to visit and explore the casino and hotels. There are always new things to do and see. While you're welcome to visit any and all of the casino/hotels, there are some restrictions on hotel amenities and rules regarding specific ages. Read on, and I'll tell you all about it.
Visiting Casinos in Las Vegas
Visiting a casino in Las Vegas is as easy as walking through the front door.
I've seen questions online from people wondering if you are allowed to visit casinos if you aren't staying at the associated hotel. The answer is that regardless of whether you are staying in a room on the property or not, you are still welcome to visit, explore, shop, play, and eat at any of the 101 casinos now operating in Las Vegas.
Of the 101 casinos, there are currently 39 casinos operating on the Las Vegas Strip. These casinos are the fanciest of the fancy, and it's here where you'll get to see the biggest displays of over-the-top extravagance in Las Vegas.
Once you get inside, any of The Strip's huge casinos feel like complete cities unto themselves. When you walk into a casino, most people would expect to see the gaming floor, including slot machines, video poker, table games, bars, and the like. In the early days of Las Vegas (I've written an article here about How Las Vegas Got Started), that may have been about all you would have seen.
In today's Las Vegas, walking through just the casino floor barely scratches the surface of what's inside. Each big casino on The Strip nowadays is like a giant palace of earthly delights.
There are waterfalls, lights, giant aquariums, amusement park rides, tattoo parlors, nightclubs, animals, gogo dancers, movie theaters, and show venues.
Whew….wait, there's more….golf driving ranges, bowling alleys, displays of huge piles of money, monorails, dolphins, tigers, life-like animatronic characters, and arcades.
There is food, food, and more food in the form of buffets, cafes and high-end restaurants manned by famous chefs.
Several of the biggest properties even contain entire shopping malls.
Like to drink? You'd be hard-pressed to walk more than a few feet without passing a bar with some type of over-the-top theme. There are country bars, a Russian-themed bar, an ice bar, a bourbon bar, a leatherneck bar, sports bars, French-themed bars, and even a giant chandelier bar (the bar is actually inside a giant crystal chandelier).
(Do the bars ever close in Las Vegas? Find out in our article here).
So inside Las Vegas casinos is all this and much, much more, and it's all wrapped in a glittering, flashy, luxurious neon package! It doesn't matter how many times I go to The Strip there is always more to do and see. It's complete sensory overload…in a good way!
Are Minors Allowed in Las Vegas Casinos
Yes, absolutely minors are allowed in Las Vegas casinos. Modern Las Vegas is a much more family-friendly place than it used to be, and there are tons of things for little ones all the way up to teenagers to do, see and enjoy.
In addition, many, if not all, of the casinos have Kid's Clubs. If you've ever been on a cruise and seen or had children participate in the Kids Club, you'll know what I'm talking about. It's basically daycare with games and activities for the younger children. Of course, it's done in Vegas-style, so these areas of the casino are much cooler than your average daycare center.
If you'd like to keep the kids with you, that's no problem. Kids can go with you just about anywhere in a casino property. There is, however, one area in a casino where there are some rules for minors, and that is on the gaming floor.
Anywhere where gambling is taking place is not a place to hang out with the kids. It's completely okay to walk through the gambling area with minors, but you shouldn't stop to look too long or wander into the rows of gaming machines. It is against Nevada state gambling laws to do anything other than pass through the gaming area with minors.
Also, there's one other thing I'd like to mention. While minors are allowed at many of the Las Vegas shows. There are a lot of Vegas shows with questionable content for young children. So before you take the kids to a show, be sure you've checked out the content.
As I've talked about, however, casino properties on The Strip are huge, and there is much more to do and see than just the gaming, so feel free to bring the children and have a good time.
Can You Go Into a Casino at 18 in Las Vegas
Yes, 18-year-olds can go into Las Vegas casino properties. Of course, that's not really what you were wondering, is it? Here's the deal, if you're over 18 but not yet 21, the rules are pretty much the same as for the minors. The drinking and gambling age in Nevada is 21 years old.
So while those activities are not available for the under-21 crowd, there are still a bunch of things to see and do if you're 18 in Las Vegas.
Shows
18+ Clubs
Pool Parties
Fremont Street
Red Rock Canyon
Pinball Hall of Fame
Honestly, that's just a few ideas, and it's barely a start. There is so much fun stuff to do and see in Las Vegas beyond drinking or gambling.
Must See Casinos in Vegas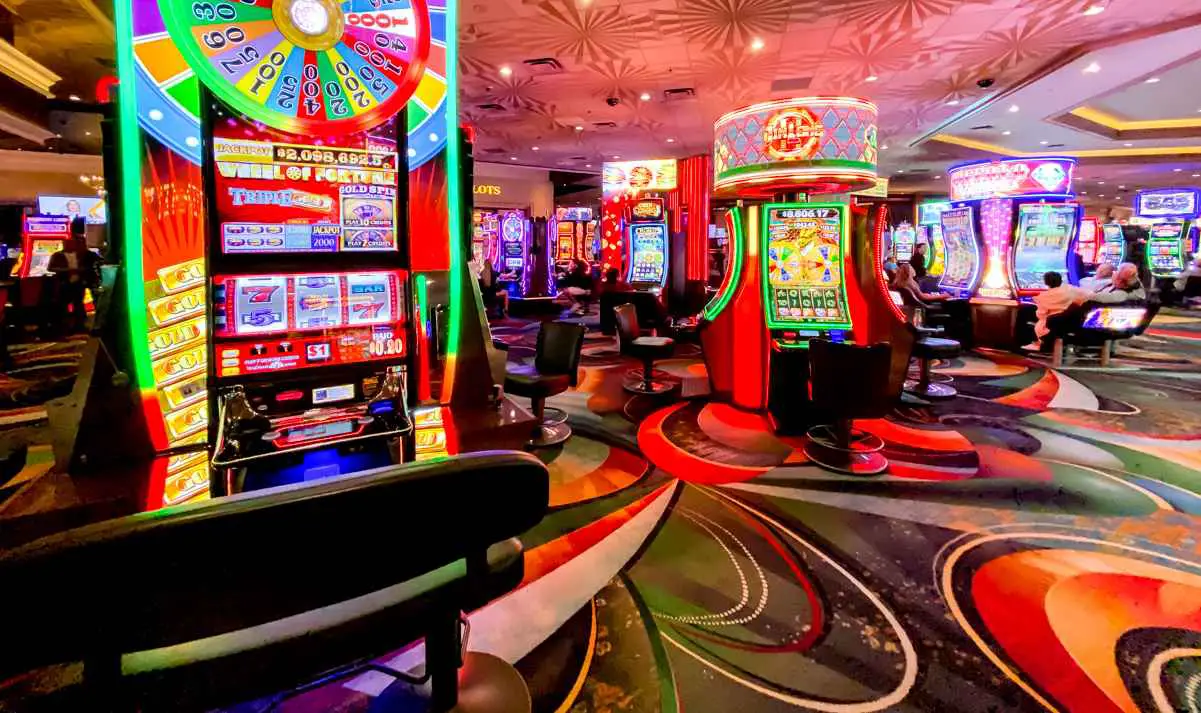 Every casino in Las Vegas, big or small, has something to offer. Each casino has a theme, gimmick, or attraction (the big ones have several) that make a visit worthwhile, but if you want to know what the must-see casinos in Las Vegas are, I've compiled a list for you.
Whether you spend 5 minutes or 5 hours in one of these properties, it will be worth it. Each one of these casinos is among the biggest and best in Las Vegas. The following casinos are all located on the Las Vegas Strip, and many of them are fairly close to each other.
Aria Resort and Casino
Luxor Hotel and Casino
Mandalay Bay Resort and Casino
New York New York Hotel and Casino
The Cosmopolitan of Las Vegas
The Mirage Hotel and Casino
Check room rates at the Top Ten Vegas hotels on our website here.
Can You Go Into Any Hotel in Las Vegas
While this is a somewhat similar question to the one I've been talking about, the hotel side of things is a little different. First off, yes, you can go into any hotel in Las Vegas.
While you can pretty much go anywhere on the casino side of a hotel/casino property if you're not staying there, the hotel side of the property is more restrictive.
Most casinos have many floors, and you can take the elevators to bars and attractions on different levels, but there are usually separate elevators for hotel guests that access the rooms and amenities of the hotel. You cannot use these without an active room key.
For instance, you can't go to the hotel's fitness room or business center if you're not staying in the hotel. The hotel guests have paid a resort fee as part of their stay for these features. You can see my article about resort fees for a full explanation here.
What about the pool?
Generally, you will need to be a hotel guest to have access to the hotel's pool. Having said that, many of the big hotel and casino properties on The Strip have absolutely giant pools that you can pay for day pass access to the pool. Day passes range between $10-$70. These are not your average pools…they are spectacular and worth checking out!
Now that you know you can go into any casino in Las Vegas don't be shy. Just pick a casino, walk through the front doors, and prepare to be amazed!
Related Questions
Can you go into a casino with an expired ID? Yes, there is no problem going into a casino with an expired ID. Casinos in Las Vegas don't require any kind of ID to enter or play. You will run into a problem, though if you win any significant amount of money, as a current ID is required to cash out your winnings for tax purposes.
Can you check into a hotel at 18 in Las Vegas? Yes, you can legally check into a hotel room at 18 in Las Vegas. However, the majority of hotels in Vegas require their guests to be 21 and over. Most hotels that allow registration for guests under 21 are located off of The Strip.
Do Las Vegas casino chips expire? Yes, Vegas casino chips can and do expire. We have an article on our website that will tell you everything you need to know about it.