Drone Flying in Las Vegas: What You Need to Know
(This article may contain affiliate links. If you click through and make a purchase, we will receive a small commission at no additional cost to you. )
If you're visiting Las Vegas and would like to capture some great photos and videos by flying a drone over the city, you might want to first consider the regulations regarding flying a drone in Vegas. The rules are more stringent than you might expect.
If you're bringing a drone with you for either commercial or recreational purposes, you'll need to understand the aviation laws and guidelines regarding your ability to fly a drone in the State of Nevada and Las Vegas in particular. You'll need to be in compliance with both federal and state laws.
Yes, what happens in Vegas stays in Vegas, but not if you get a fine or are charged with a federal crime that will follow you home.
Drone Flying in Las Vegas: What Do You Need to Know?  To fly a drone in Las Vegas, you need to know the following:
Understanding Drone Laws for Nevada
Registering Your Drone
Recreational vs. Commercial Uses
Best Places to Fly a Drone in Las Vegas
Places You Can Not Fly a Drone in Las Vegas
Regulations & Aviation Law
It is not complicated information, but it is absolutely necessary to educate yourself if you plan to bring your drone on vacation with you. We want you to stay compliant with Nevada's requirements so you can have a safe, peaceful, and law-abiding vacation.
Being charged with a Federal crime for flying a drone can and has happened in Las Vegas. Recently a drone pilot set down their aircraft at Harry Reid Airport (formerly McCarran Airport) after losing control and was fined $20,000! (source)
You can avoid a situation like that by reading this quick guide on flying a drone in Vegas!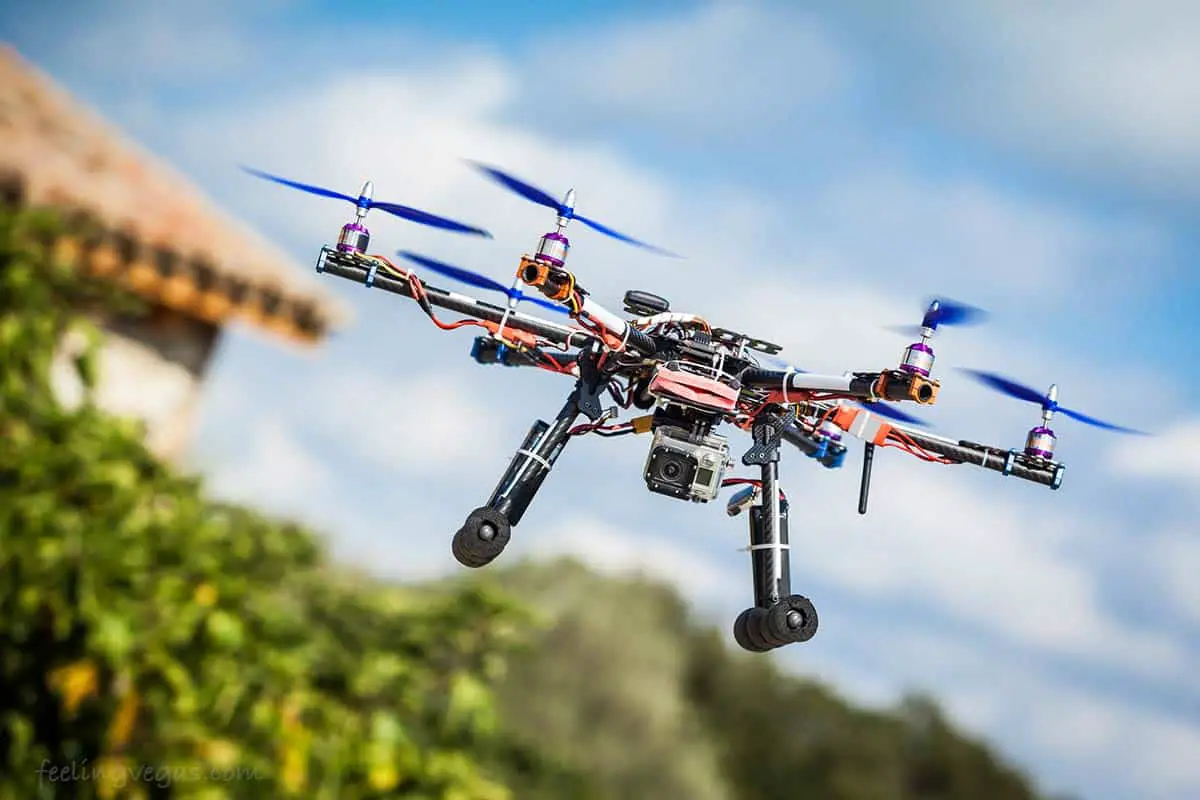 Drone Flying in Las Vegas: What You Need to Know
We'll cover several necessary sections, but the most important things to know are the basics.
The following list contains the key things that you'll need to be aware of. These are based on Federal Aviation Administration (FAA) regulations and pertain to drone flying in the State of Nevada specifically as the laws of the state are somewhat different than the national guidelines.
Do not fly over 400 feet in altitude.
Do not fly over highly populated areas (crowds, concerts, sporting events, festivals, etc.)
Do not fly any aircraft while consuming alcohol or under the influence of drugs.
Do not fly near emergency situations of fires, hurricane relief efforts, chemical spills, over police or SWAT teams, or any secured premises.
Do not fly over private premises or residential homes.
Do not fly a drone over any factories, utilities, manufacturing plants, or power lines.
Do not fly without checking the FAA's website for any 'Temporary Flight Restrictions.'
Do not fly near aircraft which have people in them – (therefore flying a drone near the airport is not legal, often requiring 5-10 miles of distance between your drone and any airport).
Do not allow your drone to be 'out-of-sight' and keep any unmanned aircraft under your full attention.
Do not fly your drone from inside of your car or a covered shelter that could inhibit your view of the flight.
Do not fly in bad weather, fog, rain, or above clouds where the drone will be removed easily from your line of vision.
Registering Your Drone – Is It Necessary?
Yes, all drones must be registered. There was a time when this wasn't the case, but because of the increased use of drones flying and the increased accidents and safety concerns that come with drones, the FAA has stepped in and adopted new regulations.
There are a few exceptions to this.  The most common one is when the drone is smaller than the size of your hand. This is more of a toy than an official drone, but to clarify with photographic examples, reference this PDF from the FAA on unmanned aircraft that Do and Do Not require registration.
Please do not try to fly your drone without getting it properly registered, or you are taking a huge risk that could cost you a fortune and stick you with a federal charge.
Failure to Register Your Drone – This needs to be taken seriously because the punishment can be severe if you are caught with a drone in an unpermitted area (or even permitted fly-zone), and it is not registered with the FAA.
Once reported to the FAA, they will assess if this is a civil or criminal-worthy penalty, which means you could be charged a fee of between $27,500 and $250,000, not to mention the potential for imprisonment for a maximum of three years.
It is not worth the risk for such a simple and straightforward registration process that can be done easily online or by mail.
How to Register a Drone with the Faa
The process required by the FAA for all drones goes as follows:
You can register your drone here as either a public aircraft or recreational aircraft.
Next, you will need to follow the guidelines on the image below to label your drone properly with your new registration number. The registration part of the process will cost a mere $5 per aircraft and will be good for three years.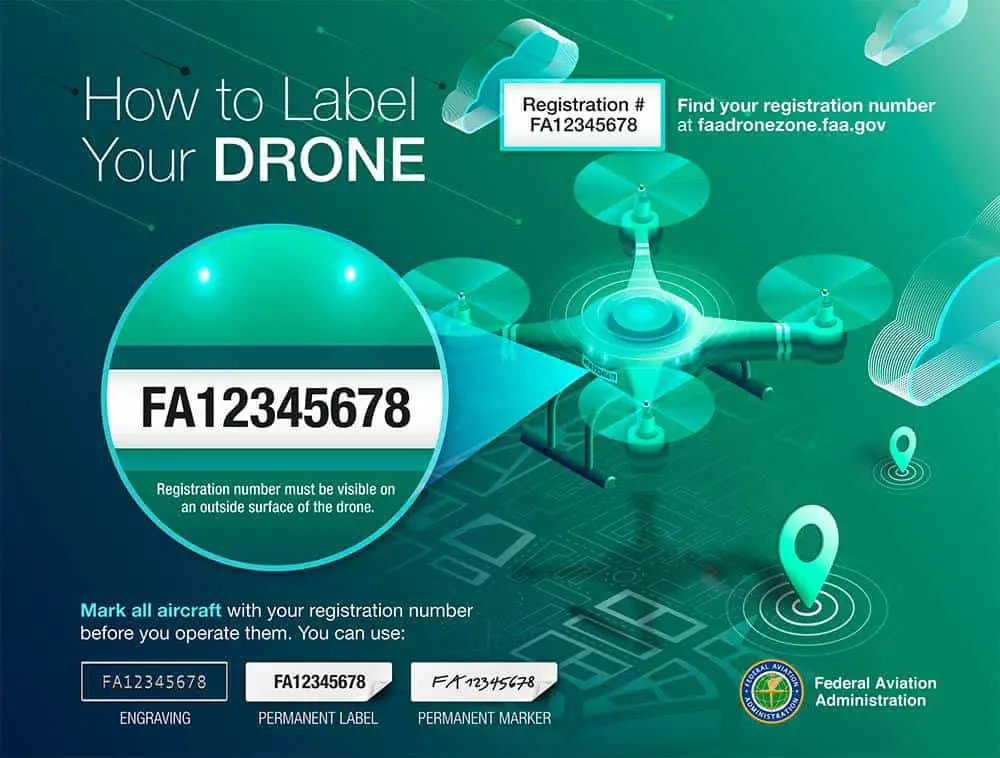 When registering, the information you will need to have on hand includes:
Your email address
A payment method/credit card
Mailing address
The make and model of your drone (referred to by the FAA as an unmanned aircraft)
After you register and label your drone properly you will be ready to fly but there is more you will need to know to fly safely and legally in Las Vegas. I'll get into the specifics below.
ALWAYS remember to carry your registration papers with you in case you are stopped while flying. You will need to carry proof on you for verification and to avoid any trouble.
Consider it just like a driver's license. You wouldn't want to get pulled over and not have your driver's license on you. Treat your drone registration documents the same way.
Are You Flying a Drone Recreationally or Commercially?
When flying in any American city, you are considered by the Federal Aviation Administration to be either utilizing your drone for recreational or commercial purposes.
To break these down, here are the definitions of each:
Recreational Drones – You can be considered a recreational drone operator if you fly your drone only for fun and there is no commercial purpose involved.
Recreational users fall under the FAA's model aircraft regulations, so following the registration tips advised above will usually be the entire process.
Commercial Drones – You are considered a "Commercial Operator" if you fly your drone for any type of compensation including payment, trade/barter, or simply in support of a business.
This is where things get more complicated. If you are flying for any business purpose at all you will be considered a commercial operator even if you're not thinking of it that way at the time.
For instance, if you shoot a cool aerial photo or video for fun and later decide you want to try and license it, either yourself or through a stock photo agency, it is considered a commercial use once you upload it online and place it for sale even if that wasn't your original intent.
Another example would be if you shoot from a drone and place the footage on Youtube. That's totally fine, but if your Youtube channel is currently monetized or later becomes monetized, that is considered a commercial use.
Commercial operation of a drone falls under a different category, which is called the 'FAA's Part 107 Regulations.' This requires an assessment of the pilot to test their aptitude. Essentially, it requires you to become an FAA-Certified Drone Pilot. This is not required for recreational use.
If you are registering commercially, you will follow the instructions of your employer, police force, local government or corporation that is requesting the drone registration.
You will fall under an operating class of B, C, D, or E in controlled airspace. This requires you to request FAA Airspace Authorization.
You will then either study and take the Part 107 test on your own or enroll in some kind of FAA-Approved Drone Pilot School that allows you to become commercially registered.
Also, if your drone use falls under the commercial category, you will likely go through the process with the help of an employer that will be advising your progress throughout. Do not fret about the details if you fall under commercial-use as you will generally not be alone or without guidance.
But! Since you are probably coming to Vegas for recreational purposes, I will assume most of you fall under the recreational classification for drone flying and are not on a covert commercial mission.
This is the easier of the two and requires jumping through fewer hoops on your part.
Here are a few important pieces of information for registering within the bounds of 'recreational-use' for your unmanned aircraft:
You will select that you want to be registered as a 'modeler.'
You are a class G under recreational-use
You will need to be a minimum of 13 years of age to register your own drone. If under the age of 13, have an adult register for you.
Your drone cannot weigh more than 55 pounds.
You must be a U.S. Citizen to register.
There was a new law passed by Congress (you can read all 462 pages of it here if you really want to 😊 ) that sets forth more in-depth information on recreational flying that you can reference as well.
Where to Fly a Drone in Las Vegas
Now that you understand the importance of registering your drone properly, let's get your drone airborne. Below I'll tell you about some of the best places you can fly your drone in Las Vegas.
Locations were selected because they are accessible, fall within FAA-regulations, don't have airspace restrictions and simply have great views.
Important Note: Ultimately it is always the legal responsibility of the operator of an unmanned aircraft to check for current regulations at these locations as rules (or interpretation of the rules) sometimes change. Neither myself nor FeelingVegas.com can be held legally or liablely responsible for your decisions/actions when it comes to when, where or how you fly your drone.
The best places to fly your drone in Vegas will include but are not limited to the following locations:
Seven Magic Mountains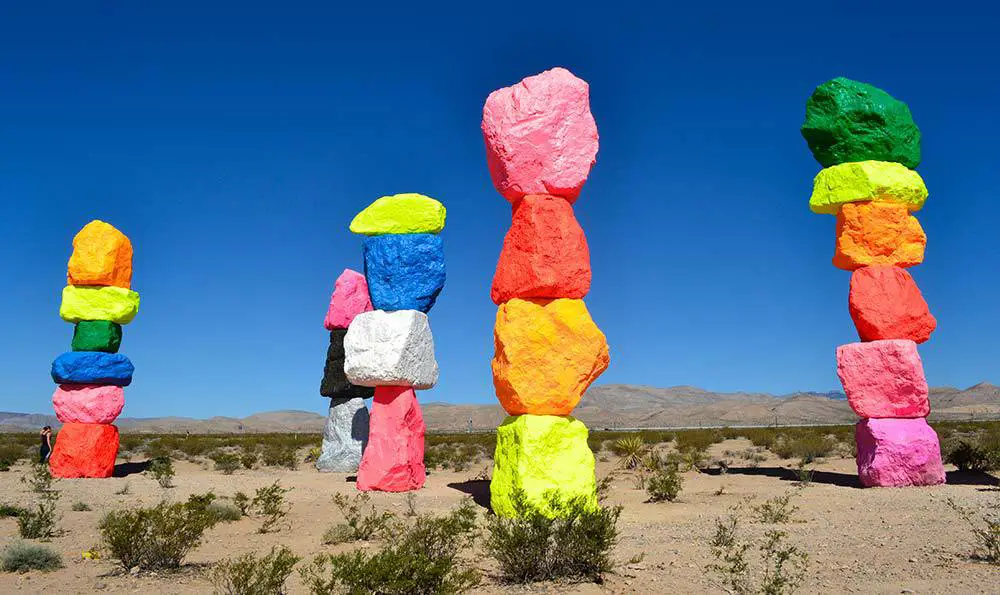 The Seven Magic Mountains is a beautiful site just outside of Las Vegas in the desert that has been transformed into an art exhibit. The natural installation includes seven columns of boulders that have been stacked and painted by Swiss artist Ugo Rondiones. Each boulder is painted a different vibrant neon color and the art piece really stands out against the natural hues of the desert landscape.
The exhibition was intended to be taken down years ago, but due to the reception of the piece, people asked for it to stay up. Ugo Rondiones fully supported preserving the work of art, and it has been issued a three-year permit of extension by the Bureau of Land Management (BLM).
This means that the exhibit will be around until the Winter of 2021, so you had better get out there before it's gone!
Located near Jean Dry Lake along Interstate 15, this location is a great place to get out of the city for a bit without having to drive for hours. Located only 10 miles south of Las Vegas, it is a wonderful place to fly a drone.
Address: S Las Vegas Blvd, Las Vegas, NV 89054 (google maps)
Lake Las Vegas
This 320-acre lake is manmade but nonetheless, stunning and relaxing. Located in Henderson, Nevada, it holds a whopping three billion gallons of water and is surrounded by mountains to create a valley effect that is spectacular.
You will see from the Lake Las Vegas website that this has become a very ritzy part of town. With many high-end homes being built here, you can live on Lake Las Vegas or just stay in one of the luxurious resorts right on the lake.
Two of the best hotels to stay at on the lake are:
But you don't need to stay there in order to enjoy a visit and get in some quality air time with your drone.
Address: 20 Costa Di Lago, Henderson, NV 89011 (google maps)
Red Rock Canyon
If you're in Vegas and want to get away from the mayhem on the Strip for a bit, head to Red Rock Canyon. This is a 501c3 nonprofit organization focused on the conservation of this beautiful land. Not only this, but they allow drones to be flown around the spectacular red rocks.
The red rocks and wildlife surrounded by desert views are absolutely breathtaking both on the ground and from the air, and you can capture some beautiful bird's-eye drone shots from here.
If you've been flying drones for a while you know that most natural areas (ie. state and national parks) are off-limits to drones. So it's amazing that an area this beautiful and this close to Las Vegas allows you to fly your drone in the park. Take advantage of it!
Important to note – you may not launch or land your drones in the wilderness areas that have a higher concentration of trees. These include the La Madre Mountain Wilderness Area & Rainbow Mountain Wilderness Area. Just check at the visitors center when you arrive and they can advise you where to launch your aircraft.
Besides that, have at it! They offer guided walks, educational programs, as well as specialty youth programs throughout the year. It will be a great day out for the whole family.
(You also may want to check out our full article about visiting Red Rock Canyon here)
As they are a non-profit, please consider supporting them while there to aid in conservation efforts. It's very affordable to visit (between $5-15), so a small additional donation seems appropriate to enjoy their drone-approved landscape.
Address: 1000 Scenic Loop Dr, Las Vegas, NV 89161 (google maps)
Lake Mead Drone Flying
Lake Mead is a beautiful spot where the mountain-tops touch the clouds, and the valley seeps into a gorgeous lake. While here, you can spend the day swimming, biking, camping, fishing, and much more, all while soaking in the beautiful surroundings and getting some amazing photos and video from the camera on your drone.
It is illegal to fly drones in many if not most national parks and conservation areas, so do not make the mistake of thinking that drones are generally permissible in these areas.  However, having said that, Lake Mead does allow drone pilots to fly here legally.
There is no FAA prohibition for airspace; however, there is a National Park Service (NPS) prohibition of Small Unmanned Aircraft Systems (sUAS) operations (which means you are not allowed to take off or land on park service land) within the Lake Mead National Recreational Area.
Confusing, but essentially this means that you can fly your drone over the Lake Mead Recreational Area but you are not allowed to take off or land within the park boundaries. You have to be outside of the park boundaries for takeoffs and landings to stay safely within regulation.
Lake Mead actually provides an area for the take-off and landing of "model aircraft."
You can find it here on google maps and see an image of the area here.
Potosi Mountain
The Potosi Mountain is a wonderful spot to do some nature-exploration and drone flying! These rugged cliffs sometimes get ignored over the more popular Red Rock Canyon and Northern Spring Mountain peaks, but this spot is very unique.
While at Potosi, you can explore the wide-open range or hike up to the peak for a magnificent view of the surrounding countryside. It may feel far removed from the overall vibe of Vegas, but if you love to explore rugged natural areas, this should be added to your bucket list.
Important to note – as I mentioned earlier in this article, you will ALWAYS need to keep your eye on your drone while flying it and not allow it to wander out of sight.
If you're following responsible drone-piloting guidelines, then this shouldn't be a problem, but there are radio towers and power lines on the South end of this mountain that you will need to be aware of.
Climb to the top of the 8,517 foot peak and have your drone snap a picture of you on top of the world!
Location: Clark County, Nevada, 89161 (google map)
Lastly, you can also check out the AMA Club Flying Sites in Las Vegas website as a place to get started with fellow drone and model aircraft lovers.
Places You Can Not Fly a Drone in Las Vegas
Perhaps more important than where you CAN fly your drone recreationally is where you CANNOT fly your drone in Las Vegas.
This is the part that will probably break your heart as a drone enthusiast because these no-fly areas include the spots you were probably thinking of when you decided to bring your drone to Las Vegas in the first place.
The question you all want to know, and probably the most important thing in this article that I want to stress, is you cannot fly a drone recreationally under any circumstances in the following locations:
The Las Vegas Strip
It is illegal to fly a drone over the Las Vegas Strip. There…I said it. The Strip is so cool and would be visually stunning from above but it is highly illegal to pilot a drone anywhere near Las Vegas Blvd.
You'll see people doing it illegally in videos online, and some may be approved by the FAA for commercial use, but recreationally – it is not permitted.
This is because the Strip is so highly populated and very busy, which could result in an injury if flown too low or improperly landed. It is also due to the fact that a large majority of the Strip is under 5 miles from the airport.
On top of that, the Strip is a non-stop fly zone for helicopters. Helicopters filled with tourists are flying overhead constantly day and night.
If you're determined to see what you can get away with and break the law, that's your own business, but do read the punishment section below where I cover drone-penalties for misuse more in-depth.
Hoover Dam
This may seem like a tricky one because you will find many aerial drone shots of Hoover Dam online.
Although it's clear that many have risked it before, but it is not legal. Unfortunately, the law is sort of ambiguous on this topic and leaves people confused.
"FAA bans drone flights near Hoover Dam, and other US landmarks. The Federal Aviation Administration is banning drone flights within 400 feet of several national landmarks, including the Statue of Liberty and Hoover Dam."

Las Vegas Review Journal
What this may signal to some people is, "Oh, okay, so I just need to fly my drone more than 400 feet in the air to get shots of Hoover Dam."
But please remember the first basic regulation I mentioned in this article. You may not fly your drone over 400 feet into the air.
Drone laws are always changing and are often written using vague wording. In short, the wrong interpretation of a drone law may leave you in big trouble.
In this case, you would need commercial approval or to be guided by a government employee that works for the landmark to supervise with permission. Not something an everyday recreational drone pilot will be able to do.
Do not risk it as you may be charged with civil penalties or at the very worst, criminal charges.
Valley of Fire State Park 
Open 365-days a year, the Valley of Fire State Park is a truly remarkable location that I recommend you visit during your trip to Vegas. However, you'll need to leave the drone in your hotel room.
This site is 40,000 acres of beautiful red sandstone. This nearby natural area is a great place to hike, explore, and immerse yourself in the unique rock formations of the southwest.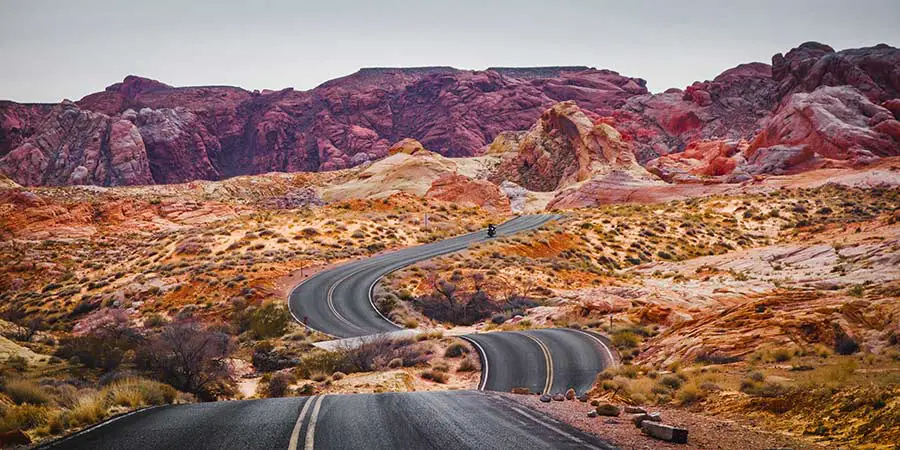 BUT, According to the Nevada National Parks website, "Use of drones is prohibited in Nevada State Parks unless in an area designated for that use by a park supervisor, and a commercial use permit is in effect. All applicable FAA regulations apply."
So this will also include Death Valley National Park, The Grand Canyon (nearby in Arizona), and most other national parks unless written request from the superintendent is approved. 
This leaves the Valley of Fire State Park as a no drone flight zone.
Drone Laws & Penalties in Nevada
Here are the basic penalties you'll encounter if you're caught flying your drone illegally:
Unmanned aircraft will be subject to whatever laws pertain to the given state you are located in, not the laws of your hometown state; therefore, it does not matter if you're a visitor.
The penalties for flying your drone in a prohibited location, according to the FAA, can leave you facing civil and criminal penalties of up to $250,000 and/or up-to three years in federal prison.
Flying a drone near the airport or within 5 miles of any manned aircraft violates Nevada statute NRS 493.109 which states that you will be charged with a misdemeanor of up to $1,000 in fines and/or up-to 6 months in jail, as well as potential criminal charges if any manned aircraft or pilot is harmed because of your negligence. If someone dies because of your actions, it could be manslaughter.
As far as trespassing or flying your drone in a location that is deemed a 'private area,' this could be a civil offense. This includes flying less than 250 feet away from a person's home and rooftops. It is not a crime in Nevada, but you could be required to pay up to triple their cost of damages or injury to the home/home-owner. Not to mention legal fees and an attorney, this mistake could be an expensive one. You could also be charged under the NRS 200.603 which is basically an invasion of privacy law, which could further your charges depending on the severity of the case against you.
Flying over a military base or nationally protected defense area could result in 1 year in Federal prison and a fine of up to $250,000. There are several areas near Las Vegas including the Naval Air Station Fallon, Stead Air Force Base, Tonopah Test Range, The Nevada National Security Site, Nellis Air Force Base, and Hawthorne Army Depot.
Before flying your drone – ALWAYS check the FAA List of Temporary Flight Restrictions. This site will let you know where there may be a fire, chemical spill, or other scenes that you cannot fly your drone over. Even if it is usually legal to fly there, do not assume it will be on the day you want to go. There could be a temporary flight restriction set on a legal-site, which would now make it illegal to fly there. It is extremely dangerous to the professionals working on-site and could result in Federal and criminal charges against you.
Here is a list of Basic Drone Laws in Nevada and for more information, you can search the FAA website here.
Conclusion & Important Takeaways:
In conclusion, what happens in Vegas actually never stays in Vegas. We've learned this from the movies by now, right?
You don't want to head to the Strip for a little "innocent" drone flying and come home charged with a federal crime. ALL because you couldn't be a responsible drone-pilot.
I hope this guide has been useful in outlining the importance of following regulations set by the FAA and understanding how not worth it it really is.
I know you want that killer aerial shot of the Strip (I do too ;), but is it really worth the risk?
Overview and important takeaways of this article:
Never fly your drone near highly public or crowded areas.
Never fly your drone near an airport or other aircraft manned aircraft.
Do not try to fly it over the Vegas Strip (probably the biggest fine of all).
Do not try to fly it over the Hoover Dam.
Do not try to fly it at most National Parks and reference this guide for the national landmarks you can fly a drone within.
Always research where you are going and simply google, 'can I take my drone here?' to be certain. It's absolutely not worth 1 year or more in jail or a quarter of a million dollars in fines.
Do not take your eyes off of your drone while flying it.
ALWAYS check the FAA List of Temporary Flight Restrictions, even if the site you're going to is usually a legal fly-zone, it might not be that day for some reason.
If you have further questions, I would recommend utilizing The Federal Aviation Administration's website to be certain you are within compliance.
Final words of wisdom
Drones are supposed to be for fun and for sport. Now that you've taken the time to educate yourself, go out and enjoy what these bad-boys have to offer!
Just remember the following unwritten Vegas rules–don't gamble your rental car away, don't take someone on a first date to the Little White Wedding Chapel, and DON'T fly a drone over the Las Vegas Strip!
Have an awesome trip!