When Is Monsoon Season in Las Vegas? (What to Know)
(This article may contain affiliate links. If you click through and make a purchase, we will receive a small commission at no additional cost to you. )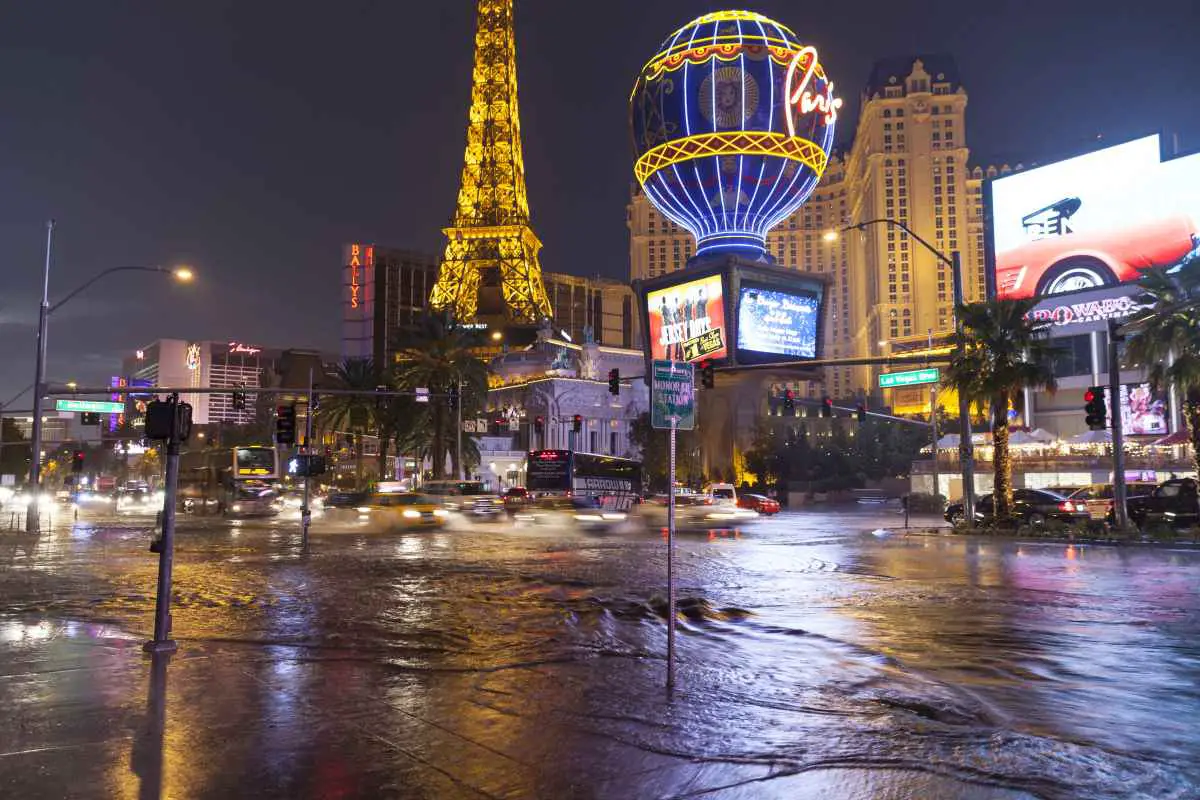 Hundreds of years ago, Las Vegas, Nevada, was once a wet marshland, but the water dried up, and Vegas eventually became the dry, arid place it is today. That doesn't mean, however, that Las Vegas can't get wet. Monsoon season rains can make things very wet in Las Vegas quickly and can cause extreme flash flooding and other issues.
The monsoon season in Las Vegas generally falls between the end of June and the middle of September. At these times, Las Vegas can experience heavy rain and thunderstorms. Driving during a monsoon storm can be dangerous, especially in flooded areas, as the water flows very fast.
In this article, I will discuss the monsoon season in Las Vegas and some things you should know when you're in the area during a monsoon event.
Does Vegas Have a Monsoon Season?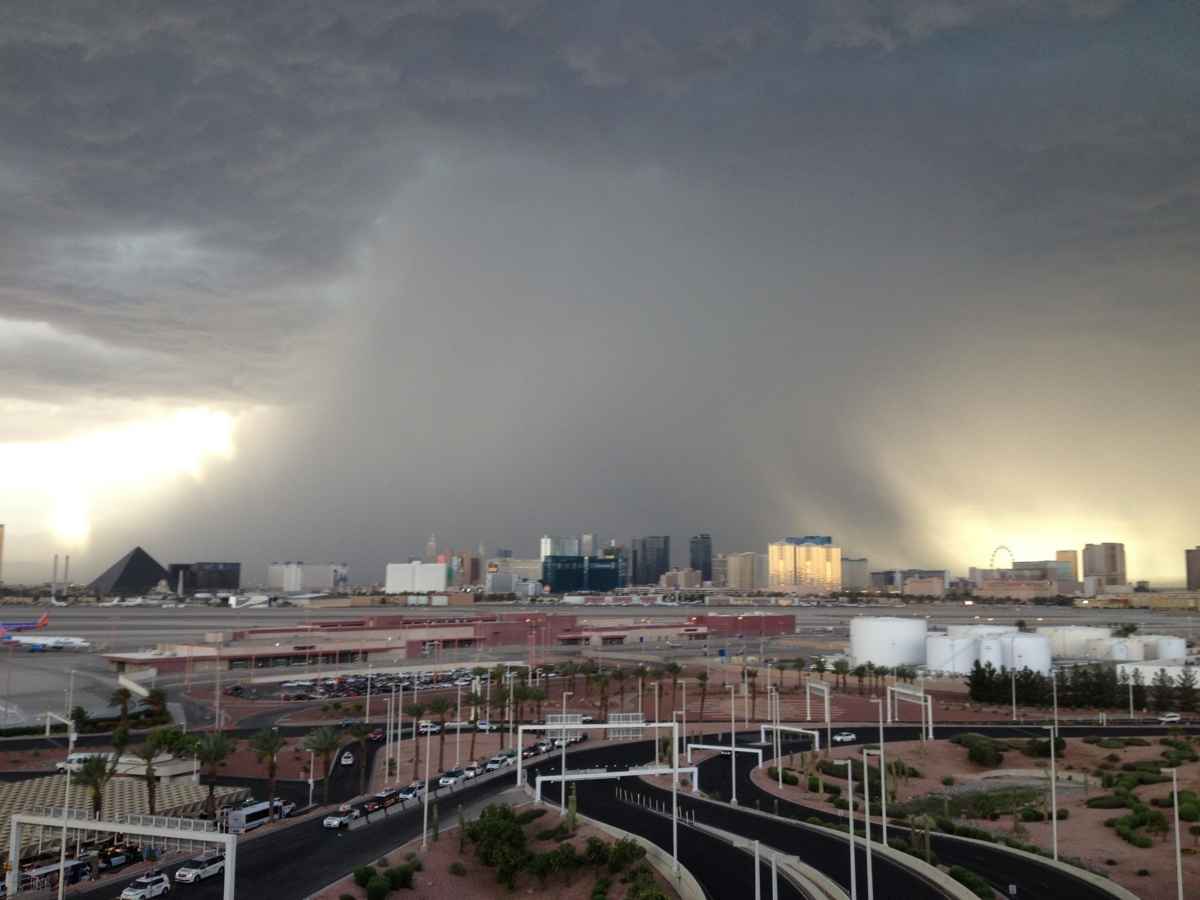 Despite being a generally sunny and arid landscape, Las Vegas isn't always dry. While Vegas weather is typically beautiful most of the time, the area can get a lot of rainfall over short periods during certain times of the year.
Las Vegas does, in fact, have a monsoon season. That means the area experiences a seasonal change of weather that can bring extremely heavy rain, lightning, and strong wind, usually occurring in the afternoon.
The monsoon season in Las Vegas lasts for a few months during the late summer months. Typically from the end of June to the middle of September.
Having said that, every year is different, and many monsoon seasons in Las Vegas don't amount to much more than thunderhead clouds appearing during summer afternoons. But it's best to be prepared if planning a trip to Vegas during monsoon season, as the weather can be quite unpredictable at times.
Las Vegas Monsoons Can Cause Heavy Flooding
During a Las Vegas monsoon storm, heavy rain can start suddenly and quickly saturate an area within just a few minutes. This can lead to intense and rapid flooding.
Roads and intersections can quickly be under several feet of rapidly moving water, and fast-flowing rivers can instantly form in the desert, creating dangerous conditions in both areas.
The Rain Can Stop As Quickly as It Starts
Those who have been in Las Vegas during the monsoon season may already know how severe the weather conditions can get. The rain can start and stop on a dime and can be anything from a light sprinkle to a forceful downpour.
Sometimes it can even slowly rain big fat wet drops, yet the ground stays dry due to the overall low humidity and heat of summer.
Weird as it may seem, this is what one can expect from a Las Vegas monsoon season. So if it starts raining in summer due to a monsoon storm, just wait somewhere safe and dry for a few minutes, and it will likely pass quickly.
Las Vegas Experiences Heavy Localized Monsoon Rain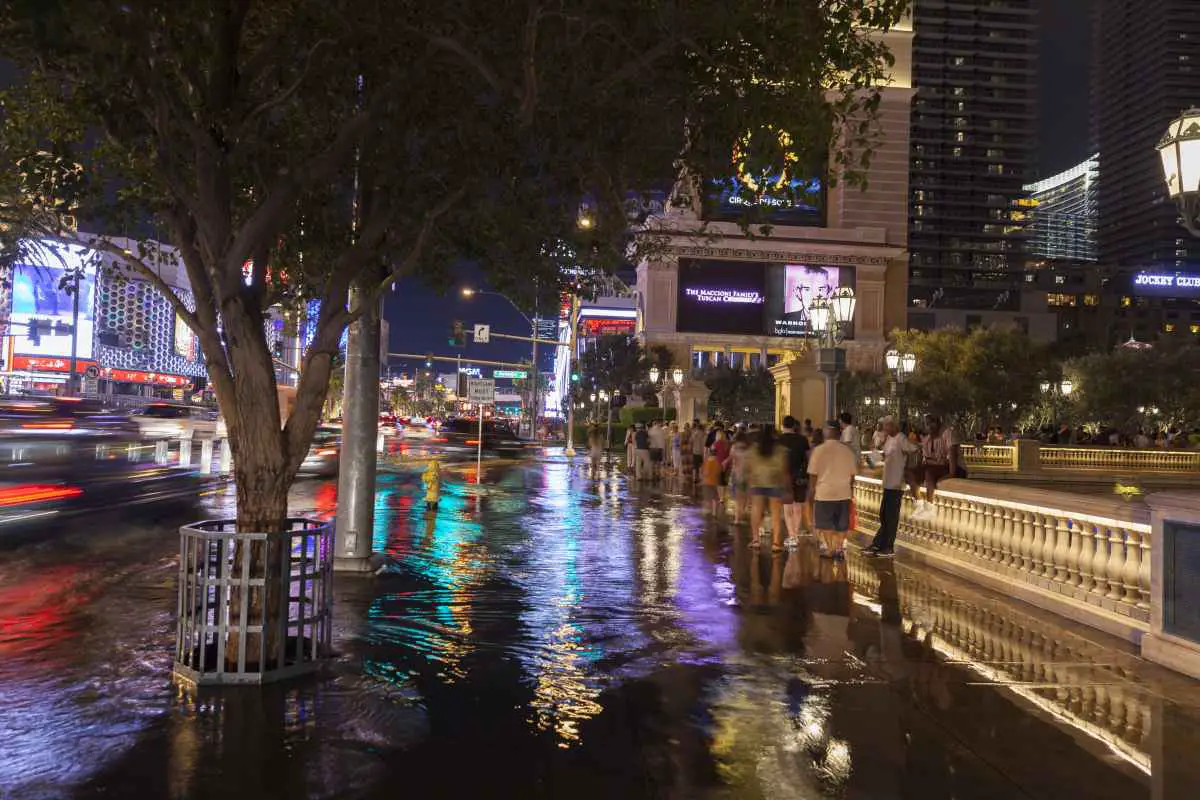 Another thing to know about the monsoon season in Las Vegas is that monsoon rains tend to be highly localized. By that, I mean it may be raining heavily and flooding in one area of the city and still be sunny and beautiful a few miles away.
I tend to think of it as patchy rain. It only takes one dark rain-filled cloud to dump half an inch of rain or more on a spot in just a few minutes while completely avoiding the rest of Las Vegas. Sometimes we'll hear about rain and flooding on the west side of the Las Vegas valley, while the east side of the city (where we live) doesn't see a drop of rain.
On most summer days, we spend the afternoon floating around in the pool, watching as the thunderheads begin to form. It almost never interrupts our pool time unless we see lightning or a strong wind starts blowing, then we get the heck out of there.
What Causes Monsoon Season in Las Vegas?
The monsoon season in Las Vegas is caused when cool, humid air from the Pacific Ocean or the Gulf of Mexico runs into the intense heat coming up from the ground in the desert areas in and around Las Vegas.
When this happens, tall thunderhead clouds form, potentially causing intense rain, wind, and lightning.
As I've said before, some Las Vegas monsoon seasons can bring a bunch of precipitation, while other years barely bring even a drop.
Is Monsoon Season in Las Vegas Dangerous?
Generally speaking, the monsoon season in Las Vegas is not particularly dangerous for either locals or tourists.
It might sound bad on the surface. However, in reality, it's typically not. But don't let your guard down, as things can get severe and dangerous very quickly if you're not prepared or do the wrong thing.
As discussed earlier, the monsoon season in Las Vegas comes with occasionally intense downpours of rain. If you're in the wrong place at the wrong time, monsoons can indeed be very dangerous to people.
Flooding, lightning, and wind can each cause dangerous situations, while power outages due to monsoon events can cause problems of their own.
Severe Las Vegas Thunderstorms Can Cause Flash Floods
In 2022, Las Vegas experienced its wettest monsoon season in ten years. The city managed to pick itself back up after the storms. Unfortunately, the monsoon season claimed two lives that year.
Casinos (such as Planet Hollywood and the Flamingo) experienced severe leaks, which caused water to pour onto tables on the casino floor. The sportsbook floor at Circa Resort in downtown was completely flooded.
Underground parking garages were badly affected as well, causing damage to vehicles parked there.
Tourists on the Strip weren't the only ones who were affected by the flood. Locals in several areas were also affected—they were trapped in their cars and needed to escape the rising water. 
Lightning Can Cause Electrocution in Wet Conditions
The lighting that sometimes comes with a Vegas monsoon thunderstorm can be spectacular to watch, but it can be dangerous as well.
While I'm not aware of any recent fatalities due to lighting in Las Vegas, there have been multiple instances of injuries due to lightning strikes.
A couple of years ago, three Las Vegas construction workers were injured when lighting hit the ground five feet away from them as they sat eating their lunches during September monsoon weather. (source)
Monsoon Winds Can Sometimes Get Very Violent
The monsoon season in Las Vegas can cause the city to become even windier than usual. During severe monsoon activity, Las Vegas wind gusts can reach 70 mph or more. During extreme wind of this type, the chance of being hit by flying debris is high if you're wandering around outside.
So staying indoors somewhere safe is paramount. During severe weather, the wind is often strong enough to blow big or heavy objects into anybody's way, even if you're in a car.
RELATED: Does Las Vegas Have Tornadoes? Natural Disasters in Vegas!
Accidents Can Easily Happen During the Monsoon Season
Where there's rain, there are wet or slippery surfaces. You'll want to be extra careful, especially when driving. Accidents can easily happen due to slippery roads and potentially hazardous objects affected by strong winds and rain.
You'll also want to be careful with your vehicle. If you must drive to Las Vegas during the monsoon season, or if you live in the area, you'll want to know how to avoid trouble (more on that below).
Hot Weather Can Trigger a Wildfire
Summer is HOT and dry in Las Vegas, even during the monsoon season. While the monsoon season doesn't always cause a lot of moisture due to rain, there can still be a lot of lighting. The mixture of hot, dry conditions and lighting can sometimes cause area brush fires.
Dust Storms Can Make Driving or Walking Challenging
If driving in heavy rain isn't challenging enough, try driving in a dust storm during the monsoon season in Las Vegas; it can be just as challenging and dangerous. Dust can cause major visibility problems when driving or walking. 
Staying Safe in Las Vegas During the Monsoon Season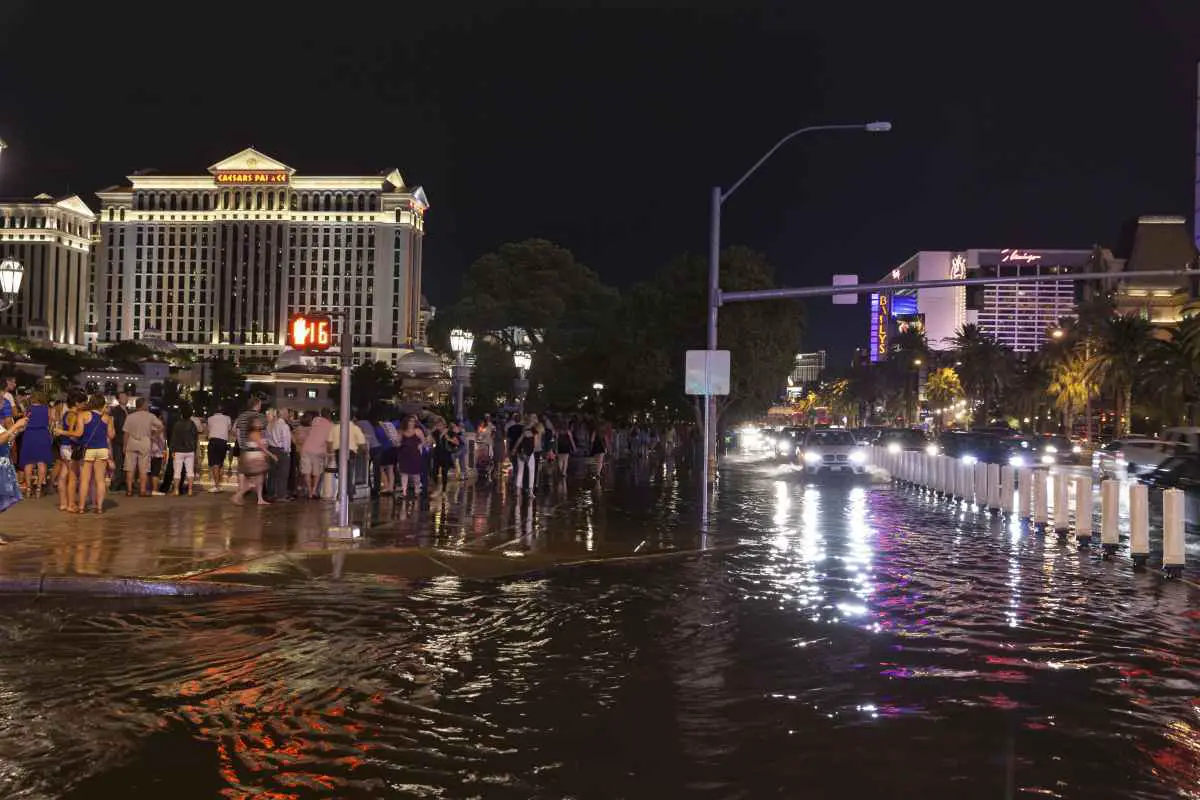 Now that I've outlined some of the dangers of monsoon season here in Las Vegas, I want to talk about the specific actions you need to take to avoid a minor inconvenience from becoming a truly dangerous situation.
The following discusses some tips on staying safe in Las Vegas during the monsoon season:
Do Not Drive Through Flooded Areas
Attempting to drive down a flooded road or through a flooded intersection is the number one cause of injury and death due to the Las Vegas monsoon season. Don't do it! Roadways can become a raging river in a matter of moments.
It seems like common sense, but every time it floods, multiple people make the bad decision to try and drive through a flooded intersection. They get out into the middle of it, and their car engine dies while the fast-flowing water level continues to rise around them.
If they're lucky, only their car is destroyed.
Stay on Top of The Weather Forcast When in The Las Vegas Desert
If you're out in the desert hiking, off-roading, or enjoying any other outdoor activity, you want to be wary of the weather and the possibility of monsoon rain. The deserts surrounding Las Vegas are filled with dry washes, and when it rains, these can instantly become raging rivers.
Even if it's sunny and nice weather where you are, you need to be aware of thunderstorm clouds in the distance. Rain pouring in the nearby mountains could drive a flash flood of mud, rock, and debris your way before you know it.
Pull Over When Driving if The Wind or Rain Becomes Too Severe
When driving, particularly out in the desert, don't hesitate to pull over if the wind, dust, or rain becomes too severe. It's much better to have your trip delayed by 20 or 30 minutes than to not get where you're going at all.
If conditions get so bad that you are having a hard time seeing the road in front of you, find a place where you can safely pull off the road. I'd also recommend that you keep your car lights turned on so that someone else pulling off the road in bad weather has a chance of seeing you before you collide.
Stay at Home When the Weather Is Expected To Be Bad
One of the best ways to know about the weather is to keep tabs on the local forecast. Weather forecasts are easily accessible today. You can quickly get your weather news from the TV or the Internet, and the National Weather Service in Las Vegas is a good resource for checking on extreme conditions in and around the city.
Stay at home (or your hotel) if the weather is expected to be bad and could be dangerous for your planned activity.
Last year during monsoon season, we had an off-roading trip planned out in the desert with some friends that we were really looking forward to. The monsoons kicked up, and as badly as we wanted to go, we instead decided to cancel the trip. Better safe than sorry.
Keep Monsoon Essentials With You
Have essentials like an umbrella, a first-aid kit, a poncho, or a rain jacket in your car during the monsoon season. It would help to have rubber boots as well. But any shoes with good grips will do. Having water bottles is also a good idea. They can be a lifesaver when you're caught in a monsoon emergency.
When Does the Monsoon Season in Las Vegas End?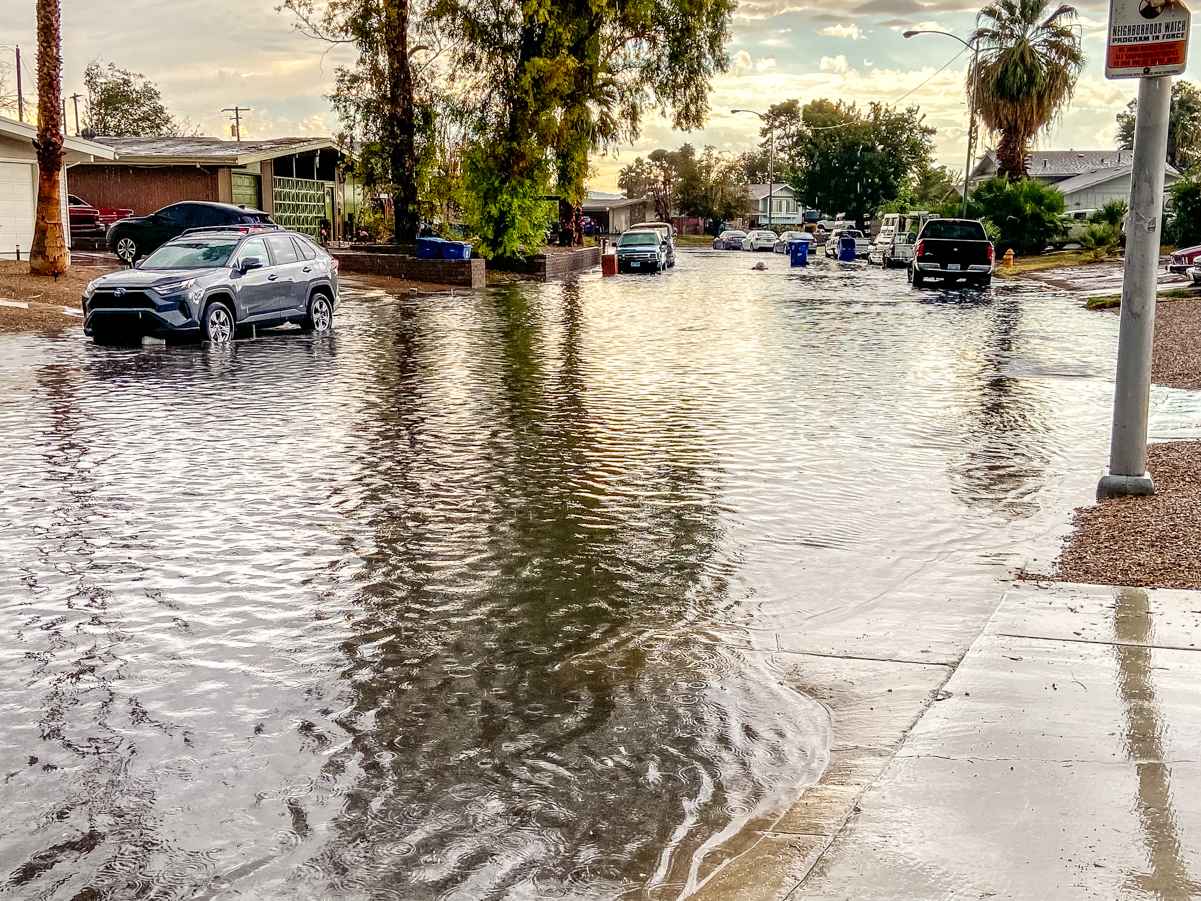 The monsoon season in Las Vegas generally ends in the middle of September. Typically, the weather cools somewhat, and the likelihood of monsoon conditions appearing is slim.
Rain can appear at any time of year in Las Vegas, but rain caused by monsoon weather patterns only happens in mid to late summer.
RELATED: Find out how often it rains in Las Vegas throughout the rest of the year.
Should You Avoid Monsoon Season in Las Vegas?
If you're planning a trip to Las Vegas, you may be wondering if you should just avoid monsoon season altogether. The answer is probably not. Las Vegas is a great place to visit year-round, and vacationing during monsoon season probably will have no effect on your trip whatsoever.
The only reason I would recommend skipping monsoon season is if your Las Vegas trip includes a lot of hiking or other outdoor activity. Not only will monsoon weather have a small chance of causing problems with your itinerary, but it's way too hot to be playing in the desert in August.
Las Vegas Monsoon Season – Final Thoughts
In Las Vegas, Nevada, monsoon season starts in mid-June and runs through mid-September.
Monsoon season is unlikely to greatly affect anyone's plans in Las Vegas around this time, but it is always a good idea to be aware of potential issues and act to stay safe in the event weather-related problems arise.