Vegas With a Baby: How To Get Around & Have a Great Time!
(This article may contain affiliate links. If you click through and make a purchase, we will receive a small commission at no additional cost to you. )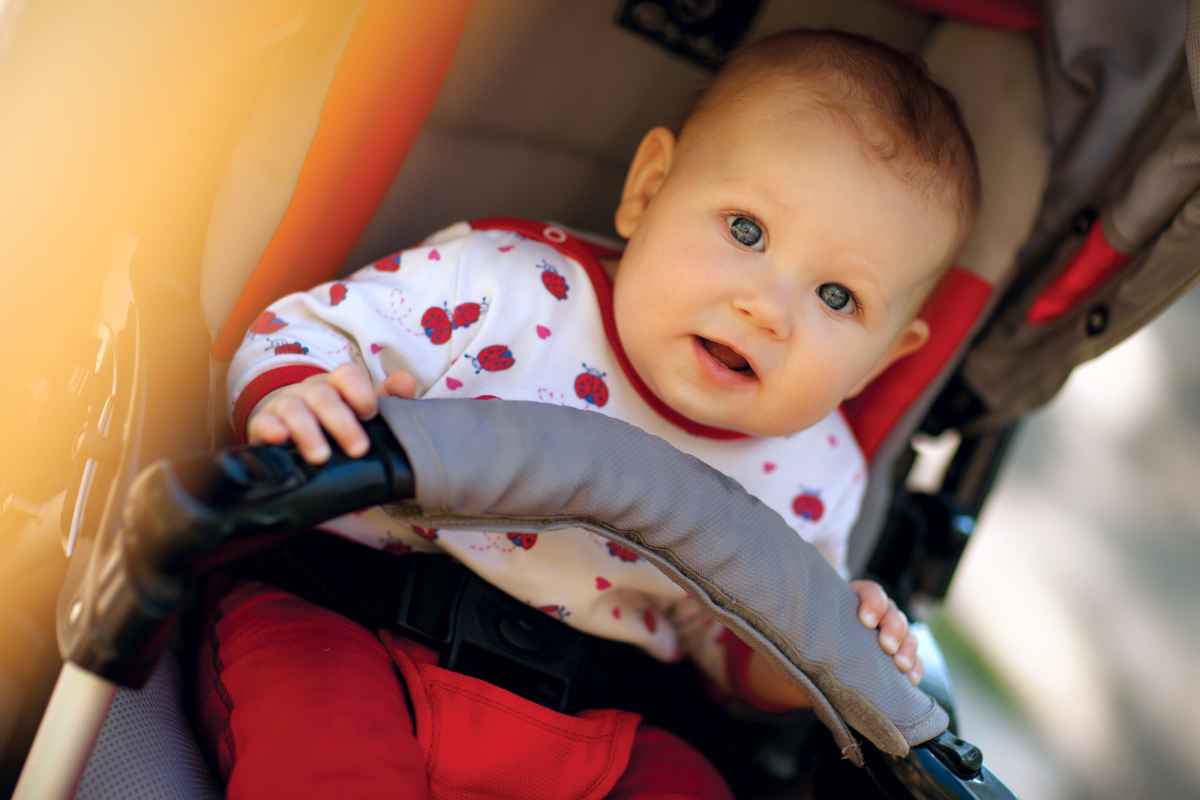 Traveling with a baby can be tricky, and if you're heading to Las Vegas with a little one, you may be wondering how to navigate the city with a baby and still have a great time. The atmosphere in Las Vegas can get a little hectic, and popular spots such as the Strip can get very crowded. So, what's the best way to get around Vegas with a baby?
The best way to get around with a baby in Vegas is by driving instead of walking. However, if you'd prefer to walk, a stroller is a must. Also, plan to stay at and visit family-friendly hotels and restaurants, avoid no-baby zones such as casinos and Vegas shows, and consider hiring an in-hotel babysitter.
In this article, I will explore how you can get around with a baby in Las Vegas. Plus, I'll share some of the best places for you and your family to visit while you're here. Let's dive right in! 
1. Drive or Use a Car Service Instead of Walking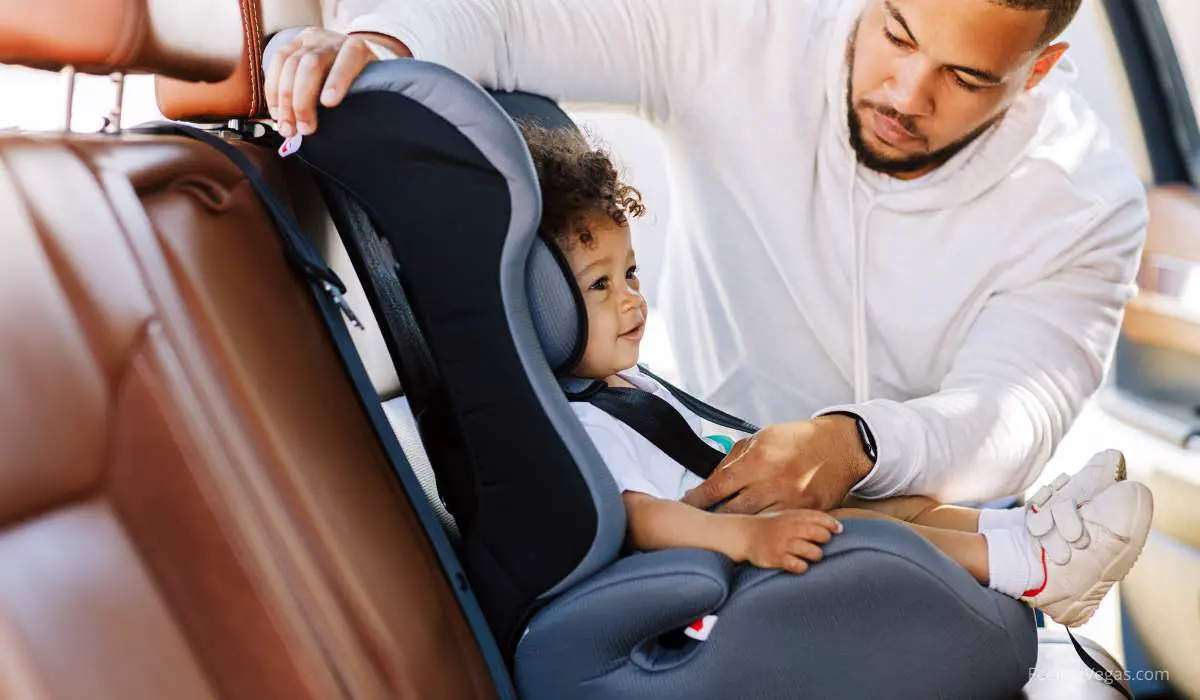 It may seem like walking with a baby is a good option for getting around in Las Vegas, but the Strip can get busy and packed with people. You may, therefore, want to avoid having your baby around them as you walk around.
Instead of walking, consider renting a car or using a car service to make traveling with a baby in Vegas easier. This can save you time, get you and your baby safely to your desired destination, and help you avoid crowds.
You can book a car rental and pick it up at the airport once you land in Las Vegas. There are a few companies to choose from, such as Enterprise or Hertz. However, ensure you bring a baby car seat along on the trip because renting one can be costly. 
A car service such as Uber or Lyft is widely available in the Las Vegas area, although it's not the safest option since they don't provide car seats. In this case, you'll need to bring your own and take care to secure your baby while riding.
Some companies provide car services dedicated to those traveling with a baby, such as Kid Moto. They offer vehicles with pre-installed baby car seats, so you don't have to worry about bringing your own on a trip. Kid Moto services Las Vegas and the surrounding area.
RELATED: 3 Things to Think About Before Renting a Car in Las Vegas
2. Use a Stroller or Baby Carrier if You Must Walk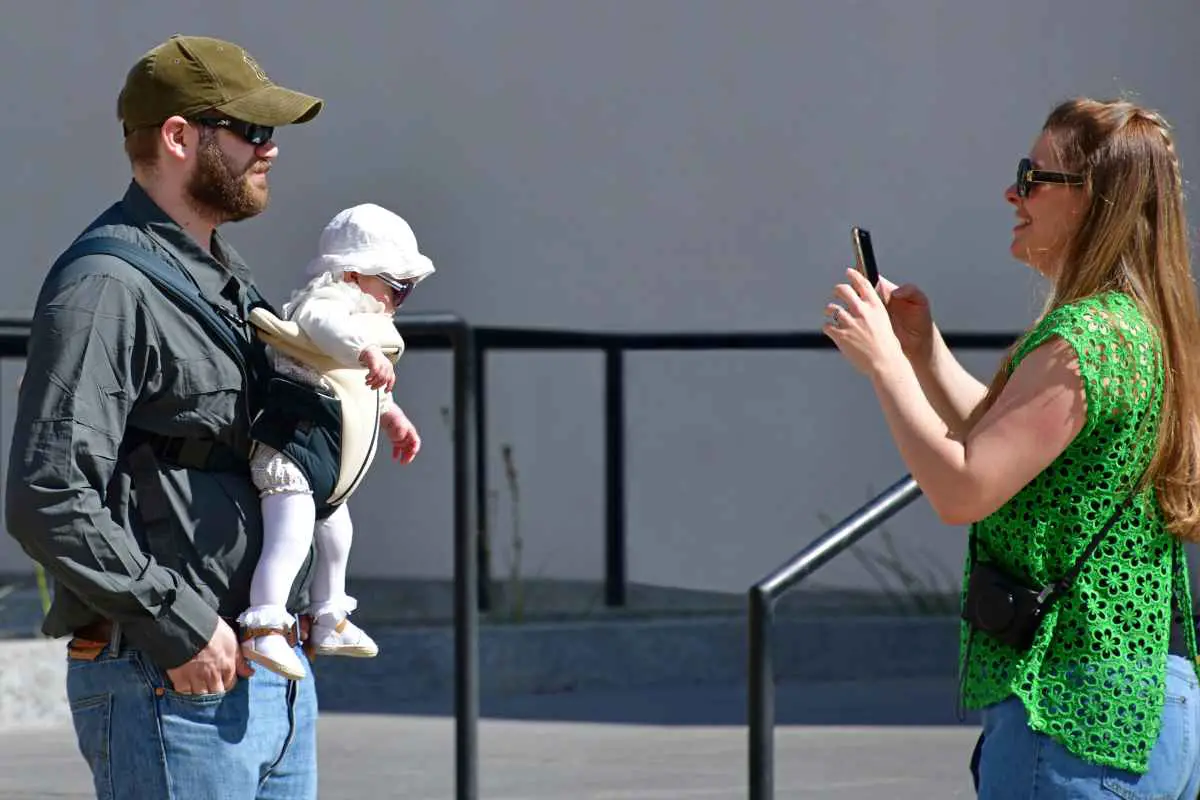 If you want to get around Las Vegas with a baby while walking, you can still do so with a stroller or while carrying your baby.
A stroller may be a more comfortable option, but make sure it's lightweight, so you don't have to carry anything heavy while moving around the city.
If you can't bring your own stroller, you can always rent one in Las Vegas, and there are plenty of stroller rental companies to choose from, including:
Baby Quip
Traveling Baby
Babies Getaway
Alternatively, using a baby carrier (Amazon) is a great way to get around Las Vegas with your baby while walking the Strip. It will make navigating the Vegas streets and moving around groups of people much more manageable.
A baby carrier will also make your baby happier, especially if it's forward-facing, and it will help them enjoy the sites while you're carrying them.
Lastly, if you're traveling with a group of family and friends, you can share the workload of pushing the baby in a stroller or carrying the baby.
3. Book a Vegas Hotel Nearby Your Most Desired Area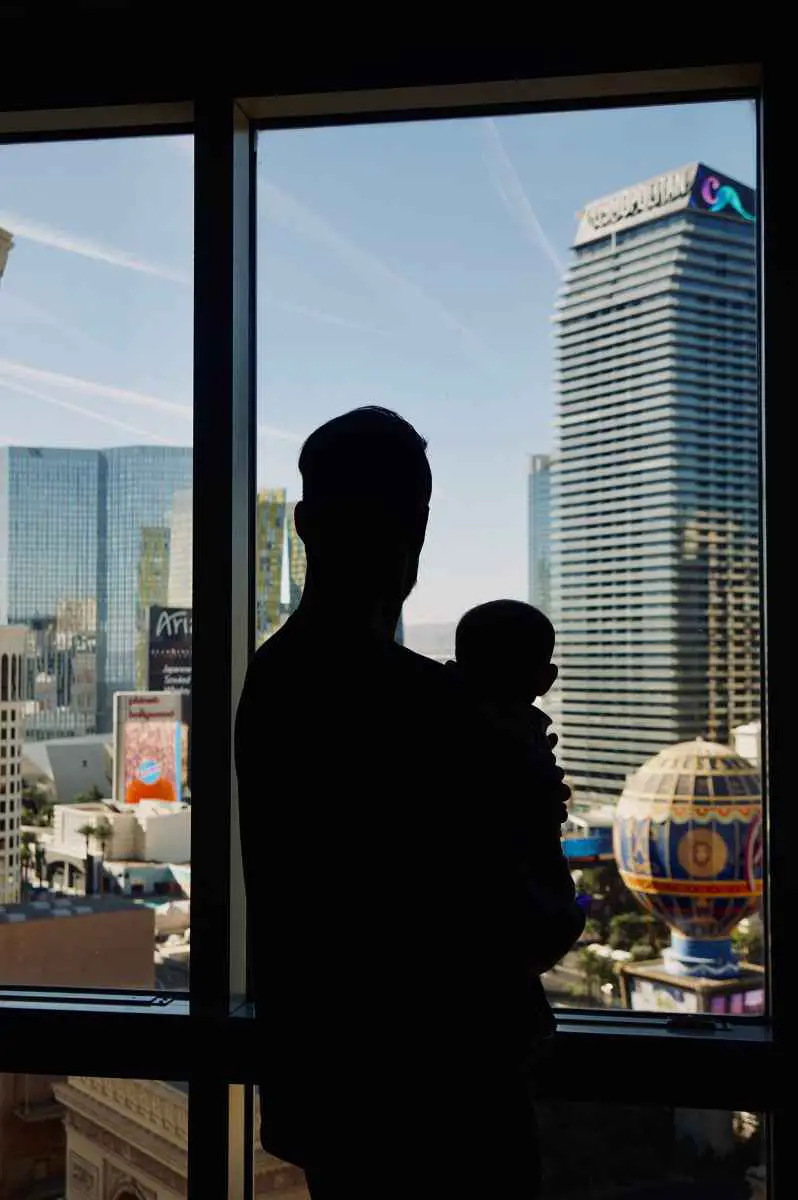 It's best to book a hotel close to the area you want to be in if you're trying to get around with a baby in Las Vegas.
Try to book a hotel with just a few minutes to walk to and from when you're attending an event that may take up a large portion of your day, such as a wedding.
A baby can be on a different schedule, so this will help with things like:
Sleep schedule
Feeding time
Changing time
Nap time
Also, you don't want to travel too far from your hotel when your baby is cranky or you've forgotten something important like a baby bottle, diapers, or a change of clothing.
If you need help choosing the right hotel in Las Vegas, check out this article on our site.
4. Keep Dining Reservations Simple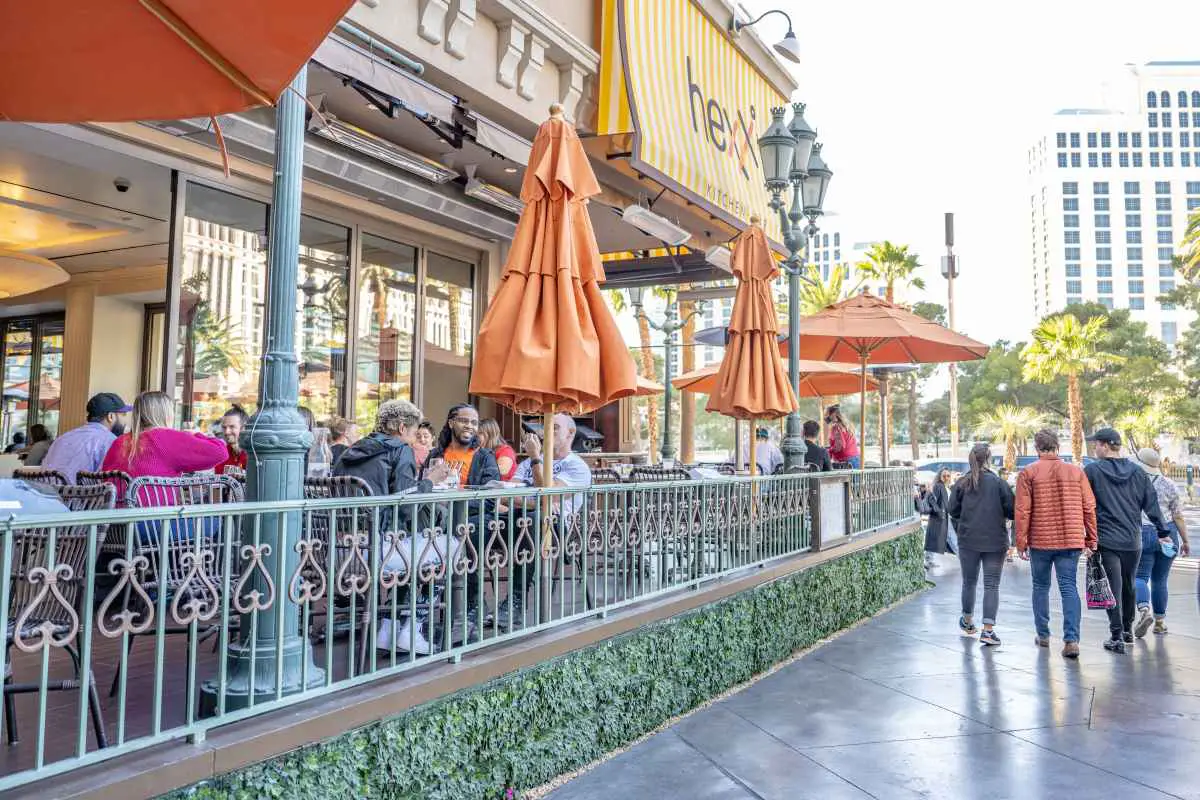 If you're planning to get around Las Vegas with a baby, you should keep your dining options and reservations simple. This includes avoiding upscale restaurants and sticking to more casual and family-friendly choices.
A few unique kid-friendly restaurant options to take your baby to include but aren't limited to:
Sugar Factory
Rainforest Café
Honey Salt
Additionally, consider eating outdoors with your baby if the weather is nice. You can visit the playground at Downtown Container Park on famous Fremont Street, where you'll find various takeout options for food, such as:
Pinches Tacos
No.1 Boba
Waffelato
As a last resort, you can always consider ordering room service at your hotel to stay in with your baby. If you have a hotel with fantastic city views, why not enjoy dining in for added comfort? 
You can plan ahead to book your stay on a high floor at a Las Vegas hotel to get the best views while staying in the hotel room with your baby.
One hotel option could be the Wynn Las Vegas, where you can get views overlooking the Strip or Mountains. If you are looking for pool views or a unique view, like the Eiffel Tower replica in Las Vegas, then Paris Hotel and Casino is a great option as well.
If you plan to visit an upscale restaurant, it's best to find an in-hotel babysitter rather than take your baby with you.
5. Find an In-Hotel Babysitter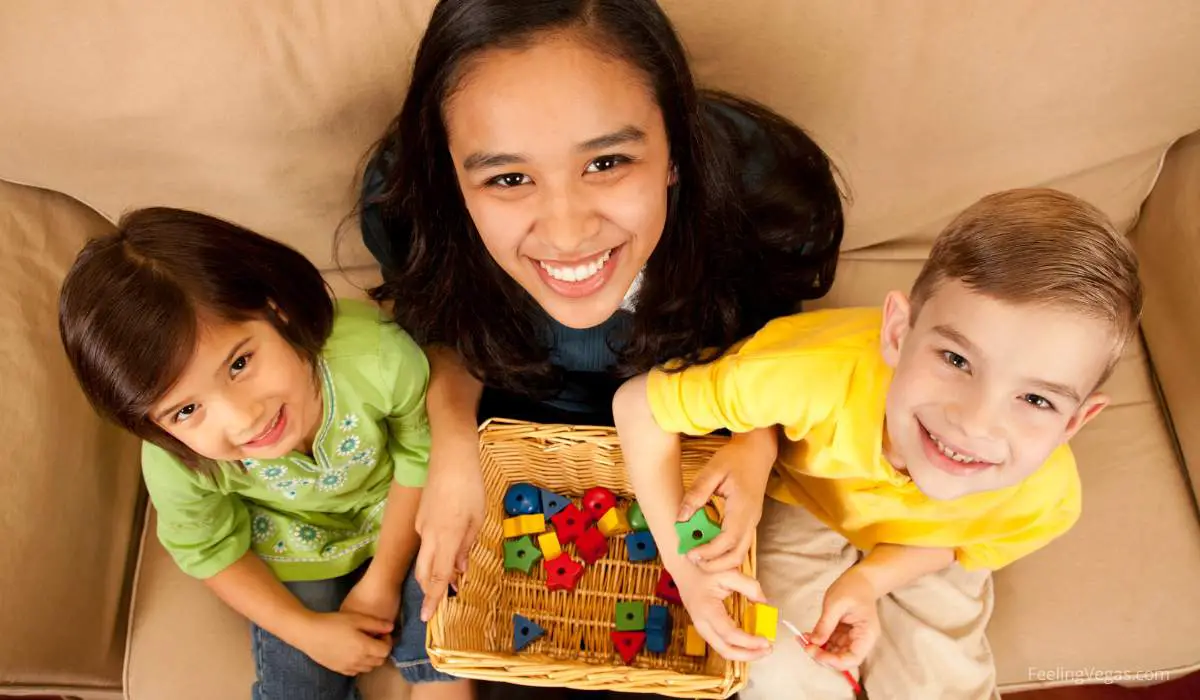 Getting around with a baby in Las Vegas can sometimes be challenging, so you may want to consider opting for an in-hotel babysitter. This is a great idea if you're planning to go to events that aren't kid-friendly.
Remember, some locations, such as casinos, don't allow babies. Also, you should avoid bringing your baby to an upscale romantic restaurant to avoid ruining the ambiance for your fellow diners. 
Additionally, there are kid-friendly shows in Las Vegas, but you may want to avoid these for your baby due to the loud noises. [Which Vegas Shows Are Best For Kids?]
Some kid-friendly hotels include childcare and babysitting services. However, if you aren't staying in one that offers similar amenities, you can hire an in-hotel babysitter.
You may wonder if hiring an in-hotel babysitter in Vegas is safe. Using a legitimate company that screens its employees, such as Certified Nannies of America, is safe and will help ease your mind.
Your Las Vegas hotel can also provide some recommendations for in-hotel babysitting services.
Pre-planning and doing proper nanny research ahead of time is best if you plan to use an in-hotel babysitter so you don't make a poor last-minute decision.
6. Visit Attractions and Activities That Are Baby-Friendly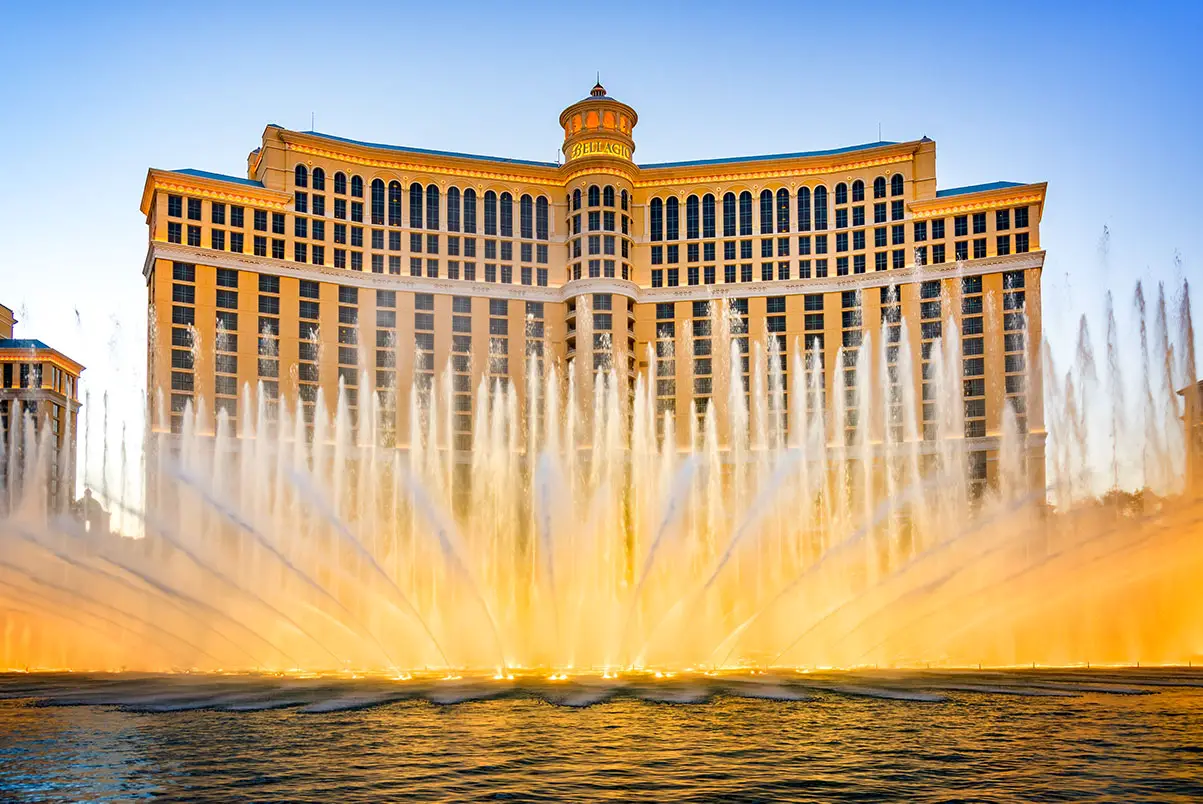 As a parent or guardian, you're also probably thinking about places you can get around easily with a baby using a stroller.
Additionally, you want to find attractions and activities that your baby will enjoy in Las Vegas. 
There are several options to consider taking your baby. These spots are also great for toddlers with plenty of energy, including:
Discovery Children's Museum
The AdventurDome Theme Park
Bellagio Fountains
Aquarium
Bellagio Conservatory and Botanical Gardens
A popular attraction for kids and families is the Discovery Children's Museum in Las Vegas, and this is a great place to take a baby since strollers are allowed on the premises. 
The Adventuredome Theme Park at Circus Circus hotel is another place you can consider taking a baby. You can even rent a stroller for your baby inside.
The Bellagio Fountains are a fantastic attraction for children, especially if you have a toddler since the dancing fountains are always attention-grabbing for little ones.
Another great spot to take your baby is the Aquarium, where sea creatures swimming can grab and keep their attention. 
Las Vegas has several aquariums and aquarium tanks located throughout The Strip, which you can visit and stop to admire with your baby. The top choice for most visitors is the Shark Reef Aquarium located at Mandalay Bay Casino and Resort.
Lastly, you can take your baby to the botanical garden at the Bellagio in Las Vegas, where the beauty of plants and flowers can capture their attention, and it is easy to navigate a stroller.
Avoid attractions that aren't stroller friendly, such as the High Roller. They will allow you to carry a stroller with you, but it must be folded up, and you need approval from management (source).
It can be a pain to ride the High Roller for 30 minutes without the baby being secure in their stroller, but at least it's good to know that they'll allow you to do so in case that is a must-see Las Vegas attraction on your list.
7. Take a Family-Friendly Bus Tour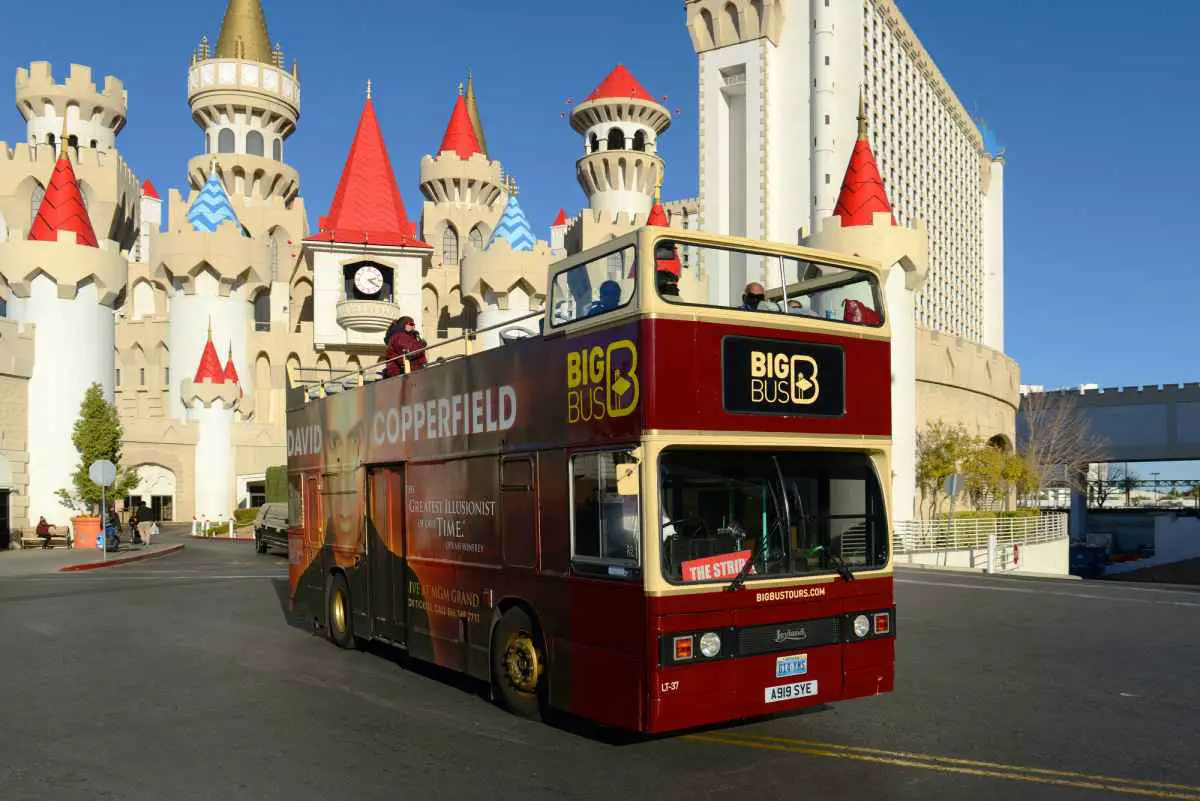 One of the best and most fun ways to explore Vegas with a baby while touring the city is the hop-on hop-off bus.
Infants are allowed on the hop-on hop-off bus, and you don't need to buy a separate ticket for them because they can sit on your lap.
If you want to see the entire city without worrying about walking it all with your baby, sitting on the top open-air level with your infant can offer an enjoyable time and great views. Plus, you can hop off the bus at one of several designated stops and hop on again when you're ready.
The hop-on hop-off bus also offers night tours. It allows you to enjoy the lights of the Vegas Strip without having to walk through large groups of people who may be drinking on the Strip.
8. Take Your Baby Swimming in a Kid-Friendly Pool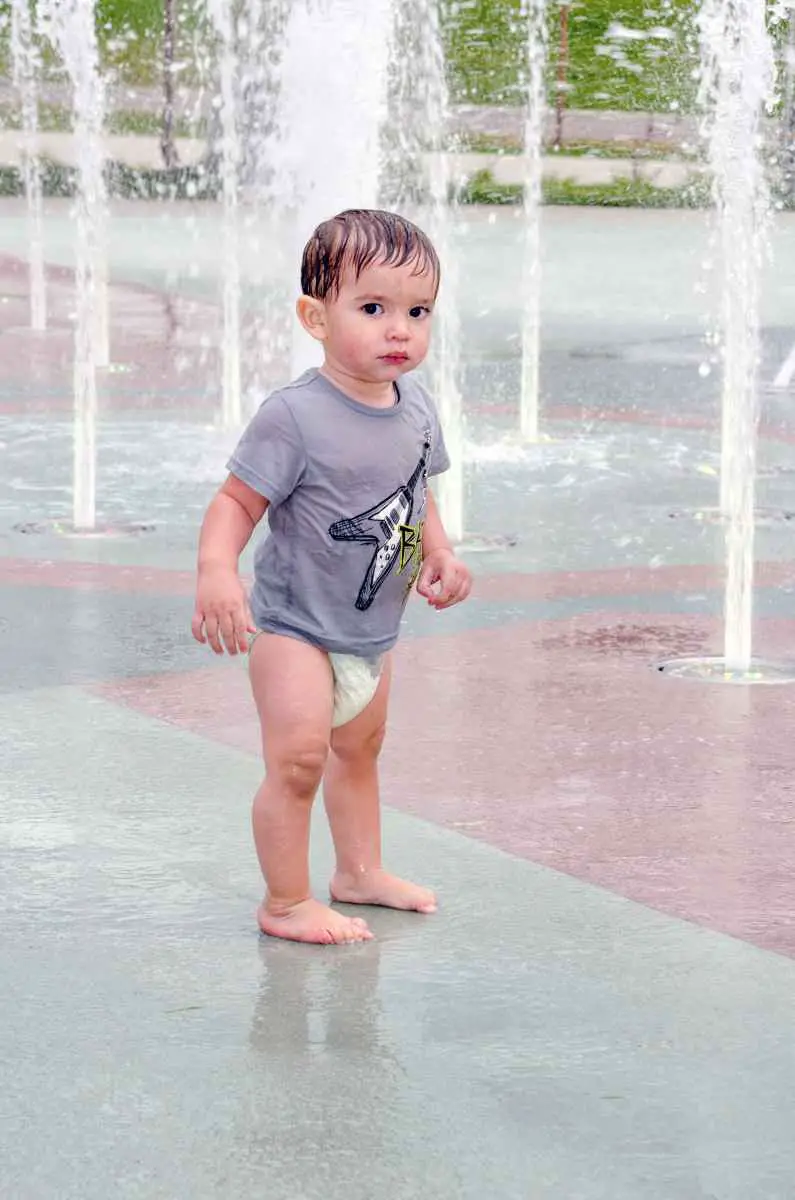 Enjoying the swimming pools in Vegas is a popular activity, especially if you're visiting during the hot summer months. There are various pools that are safe for kids and don't involve drinking and pool parties. 
The Splash Zone at Circus Circus is a great spot to take your baby swimming, and the splash pad area is especially great for kids who aren't yet old enough to enjoy the water rides and slides.
If you are looking for a pool that allows you to swim with your baby, consider Red Rock Casino and Hotel. This resort is an excellent option since Red Rock offers small pools you can choose from to lounge by and swim in.
9. Enjoy a Lake Setting in Las Vegas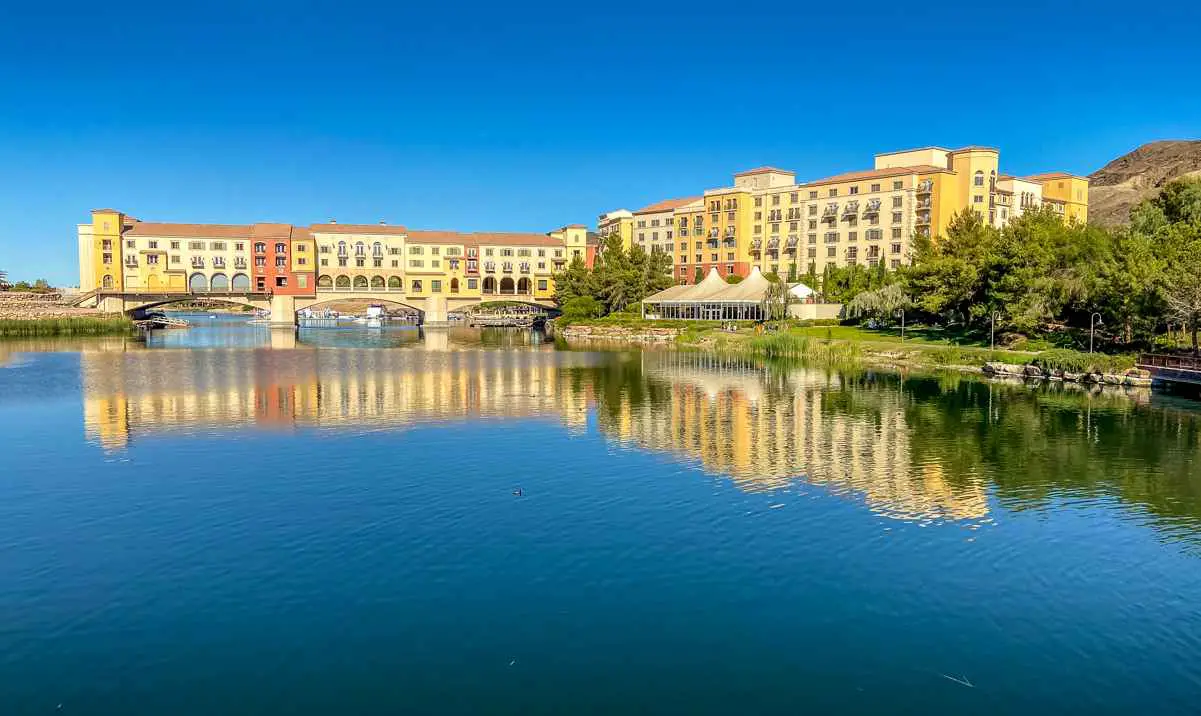 Lake Las Vegas is a fantastic place to check out with a baby and if you want to get away from the Strip. It's about a 30-minute drive from Las Vegas Boulevard and not too far away for a half-day trip.
It is a private lake with all types of shopping and dining around it, but also many open areas for your baby to move around.
The Westin hotel at Lake Las Vegas has a nice playground for active toddlers, and it's worth noting that they even offer babysitting services for guests if you decide to spend a night there.
Lake Las Vegas is very family-friendly and provides a different atmosphere than the Strip. They also host various events depending on the time of year you're visiting Las Vegas.
10. Use the Playroom at LVAC
If you need to take some time to get in a workout or take a fitness class, then a great spot to take your baby is the Las Vegas Athletic Club.
The Las Vegas Athletic Club offers day passes for you to explore the facility if you're visiting, including the Baby Room for ages six weeks and older.
There are several locations around Las Vegas to choose from. This will allow you to spend a few hours caring for your personal needs and health while your baby enjoys playing with toys and other toddlers.
Getting Around Vegas With a Baby – Conclusion
Plan well for lodging, transportation, and events when getting around Las Vegas with a baby.
Booking a car rental or using a car service is a good idea but walking around with a stroller is fine too. Book your hotel nearby your desired attractions to make it more convenient for you and reduce travel time throughout the day.
Stick with casual restaurants and outdoor areas for your food options. Find kid-friendly activities to enjoy with your baby, avoid going to casinos and loud shows, and use a babysitting service if necessary.