9 Best Las Vegas Hotels for Kids and Families (On The Strip)
(This article may contain affiliate links. If you click through and make a purchase, we will receive a small commission at no additional cost to you. )
Las Vegas has a lot of hotels that will work for families with kids, but not all Vegas hotels are created equal. The top choices have plenty to keep the whole crew entertained, from pools and water parks, to restaurants and activities.
If you're looking for a fun, kid friendly hotel for the whole family on your next trip to Vegas, be sure pick from one of the following best of the best Las Vegas hotels for kids!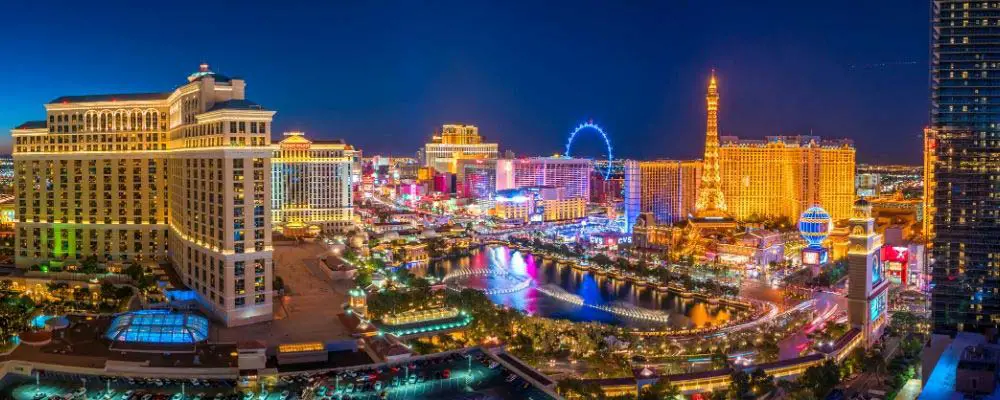 1. The Mirage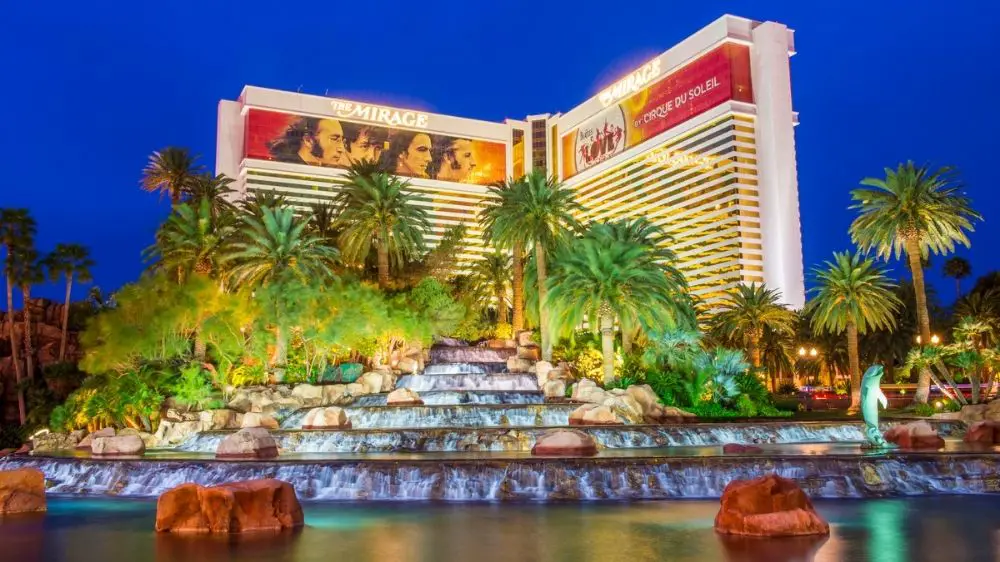 The Mirage Las Vegas offers both comfort and luxury at an affordable price. A stay at the Mirage is sure to make your family vacation one that you'll never forget!
Both adults and kids will find endless entertainment at the Mirage. With a giant tropical themed pool (one of the best in Vegas) filled with waterfalls and built-in water slides, the kids will have a blast splashing the day away.
There's also a smaller child-friendly pool area that's perfect for the littlest ones. With its lush tropical feel, the grounds at Mirage are a feast for the eyes!
This Las Vegas hotel has spacious rooms, and a family of four will be quite comfortable without feeling overly cramped. The guest rooms also have smart TV's and Wi-Fi for anyone who wants to stream movies or use the internet.  
The Mirage: On-site Attractions for Kids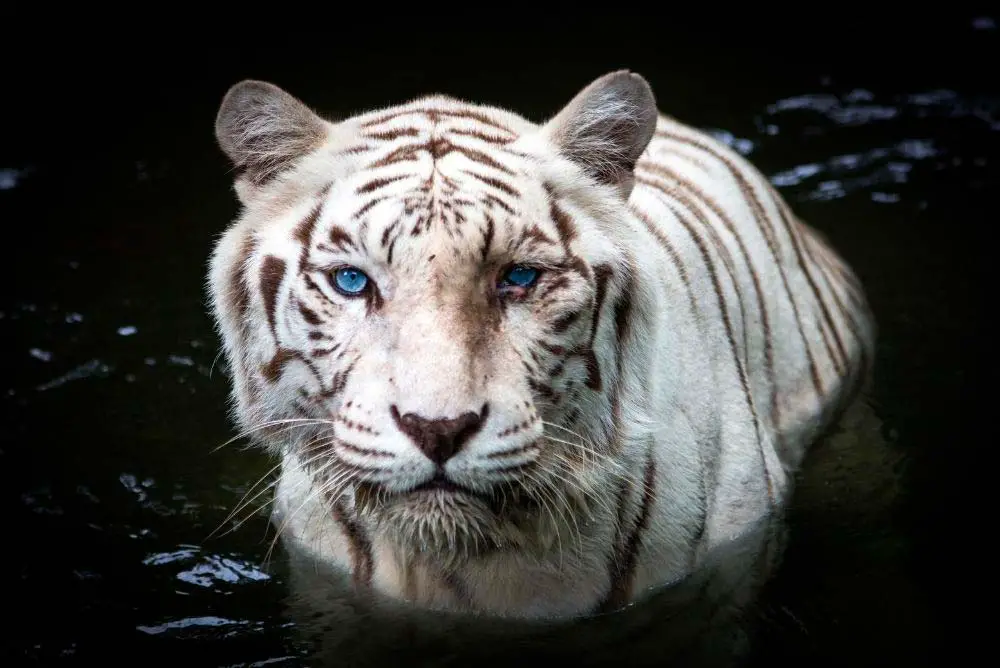 Update 2023: Siegfried & Roy's Secret Garden and Dophin Habitat has been permanently closed and the animals removed since the Hard Rock took over the property. It's currently unclear what the plans are for the future.
Adults and kids alike, will enjoy Siegfried & Roy's Secret Garden and Dolphin Habitat located on the grounds not far from the main pool. Here your kids can learn about dolphins and watch them play. You and the kids will even have the opportunity to take a swim with the dolphins, for an up close and personal experience.
Siegfried and Roy's Secret Garden is a Las Vegas animal habitat like no other. You will come face to face with some of nature's most exotic, majestic creatures! In addition to the dolphins, you will get to see large animals such as lions, tigers, panthers, and leopards. This is the place you can even see Las Vegas's famous white tigers!
In front of the hotel, you'll find the famous Mirage Volcano. This free attraction erupts and shoots fireballs four times every night, and is a staple on the Las Vegas Strip (aka Las Vegas Blvd). You can even book a hotel room with a view of the Volcano.
Another attraction at The Mirage sure to entertain the whole family is the huge aquarium in the lobby. Behind the front desk, you'll find one of the most amazing tropical aquariums in Las Vegas. 20,000 gallons of colorful saltwater fish. This tank is a true marvel!
Recommended: Download our FREE map of the Las Vegas Strip
Shows for Kids at The Mirage
If you're hoping to catch one of the several Cirque Du Soleil shows playing in Las Vegas, you're in luck! Not only does the Mirage have its own Cirque show, it also happens to be one that is especially family-friendly.
The Beatles Love by Cirque du Soleil is a fun show full of music, dancing, and acrobatics. Not to be missed!
Kid-Friendly Restaurants at The Mirage
With more than 15 restaurants on property, even picky eaters won't be disappointed. From fancy 5-star steakhouse dining, to burgers, fries and everything in between. You'll definitely want to check out California Pizza Kitchen while you're here.
The Mirage: Highlights for Kids
Pool
Waterslides
Siegfried & Roy's Secret Garden
The Beatles LOVE
2. Circus Circus Hotel & Casino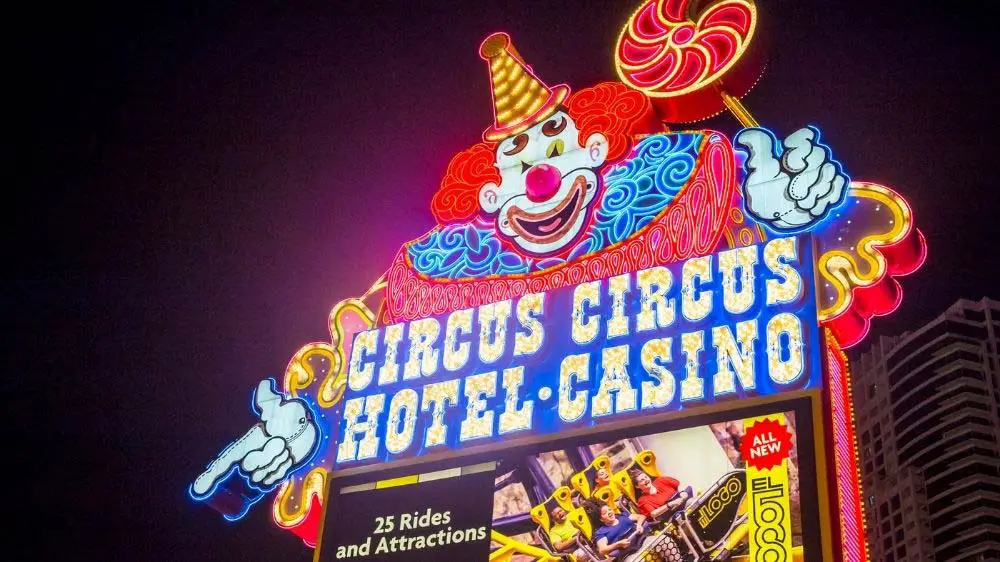 If you're looking for a family hotel in Las Vegas that was built from the ground up for kids, then Circus Circus Hotel & Casino is the place! The hotel is located on the north end of the Las Vegas Strip and has plenty to do and see for kids.
The entire hotel is circus themed, so you can imagine that it will instantly capture the attention of your children. There is quite a range of activities for the whole family at this resort.
Circus Circus: On-site Attractions for Kids
Splash Zone & Pool: At Circus Circus Las Vegas, you'll find the Splash Zone, which is great for cooling off on a hot Vegas afternoon. There's a 50 ft water tower with three amazing slides, pools, and a Splash Pad for all ages to enjoy! There is also a food truck called "Splash Snacks" that's perfect for kids of any age if they're feeling hungry or thirsty while having fun in the sun.
The Adventuredome: Imagine an entire indoor theme park with rides and attractions! Not just for the kids, the Adventuredome is a place for adults to get some thrills as well! There are 25 rides, activities, and attractions for all ages, toddler to adult.
The Midway: Next to the Adventuredome is The Midway. It is an indoor carnival midway full of classic carnival games, and a huge selection of arcade machines. With over 200 games to play, and prizes to win, The Midway has something for everyone! 
Shows for Kids at Circus Circus
Circus Circus is home to the world's biggest permanent circus! Featuring acts such as clowns, acrobatics, juggling, trapeze artists, and more. The circus acts are all free and perform throughout the day.
Circus Circus: Kid-Friendly Restaurants
As you might imagine, a resort called Circus Circus will have plenty of family-friendly dining options to suit any taste.
Westside Deli
Pizzeria Restaurant
McDonald's
Subway
Circus Circus: Highlights for Kids
Circus Theme Throughout
Adveventuredome
Carnival Midway
Spash Zone Pools
Free Circus Acts
3. Excalibur Hotel & Casino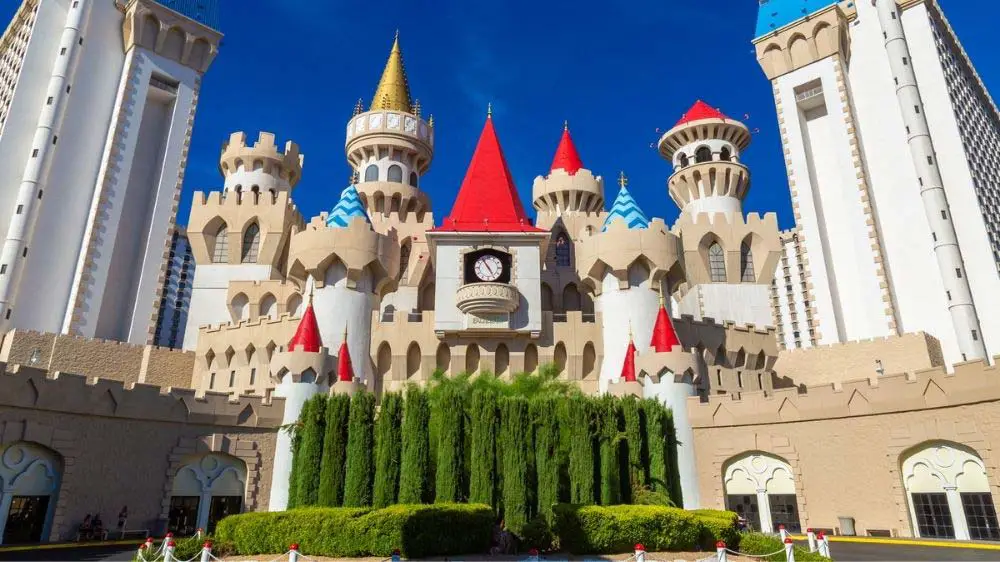 If you think your kids would enjoy staying in a castle, then the Excalibur Hotel & Casino might be just the place for you and your family. It's a medieval castle-themed hotel, right on the Las Vegas Strip.
The Excalibur conjures up heroic fantasies of the knights of King Arthur's round table.
Excalibur: On-site Attractions for Kids
Swimming Pools: The Excalibur hotel has four pools (one is 18 and up only) and a huge 30,000 sq. ft. outdoor pool deck set in a lush tropical setting. Young guests will especially love the hotel's water slide, while parents will enjoy the lounge seating area, bar and grill, and available cabanas.
Fun Dungeon: The whole family will enjoy the Excalibur's popular Fun Dungeon arcade. With over 200 classic and modern arcade games to play, plus several midway games where you can win prizes, you won't run out of things to do here anytime soon.
4D Movie Experience: Here you'll have the opportunity to experience movies in an all-new way with the 4D Ultimate Experience. You can now feel what it is like to be in a blockbuster film as these unique locations come alive through high definition 3-D projection and thrilling special effects that place you right at the center of action. It's more than just watching, this immersive theater will put all your senses to good use so prepare for some serious fun!
Kid-Friendly Shows at The Excalibur
Tournament of Kings: With knights and lords vying for the throne, this live-action production takes place in a 900 seat arena with audience members seated on all sides.
With pyrotechnics and special effects, it is an epic portrayal of centuries past as valiant knights ride mighty steeds to prove their chivalry while guests enjoy a hearty three-course dinner!
Excalibur: Kid-Friendly Restaurants
In addition to the Tournament of Kings dinner (above), Excalibur has another fun family dining option, not to be missed called Buca di Beppo. It features excellent Italian food in a uniquely themed restaurant. There are also plenty of other dining options here including:
Pizza Hut express
Krispy Kreme
Johnny Rockets
Popeye's Chicken 
Excalibur: Highlights for Kids
Medieval Castle Theme
Arcade games in the Fun Dungeon
4D Ultimate Experience
Tournament of Kings
4. Mandalay Bay Resort & Casino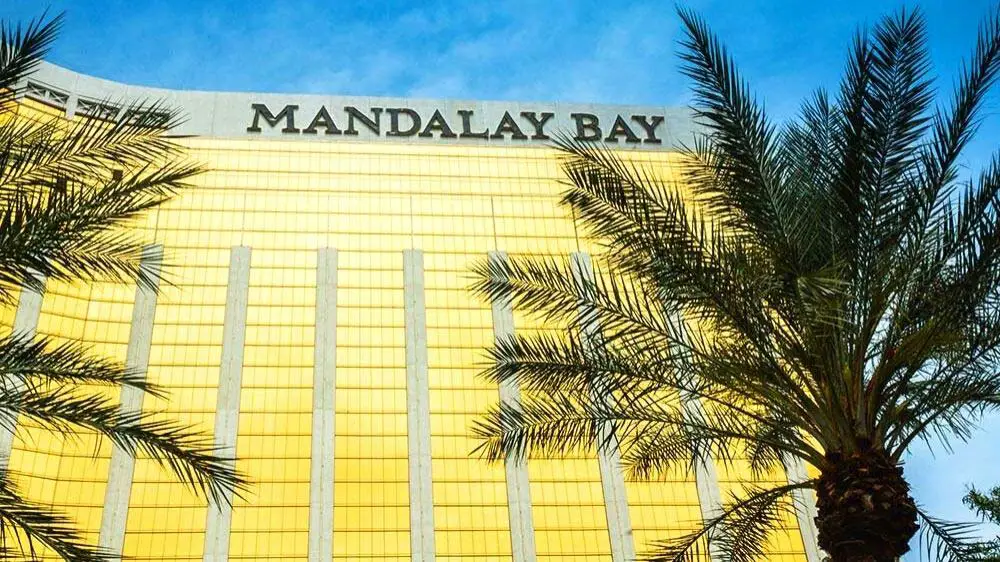 Mandalay Bay Resort & Casino is, without a doubt, one of the best resorts in Las Vegas for family fun. Located on the southern end of the Strip. Mandalay Bay has everything you need for a relaxing and fun family vacation.
There's no chance you or your family members will ever get bored staying here!
Mandalay Bay: On-site Attraction for Kids
Mandalay Bay Beach: Mandalay Bay Resort is home to the best swimming pool in Vegas (and that's saying a lot)! With over 11 acres of aquatic fun, and a huge sandy beach, you'll think you're at the coast rather than 277 miles inland in the middle of the Mohave Desert.
Featuring multiple heated pools, a large lazy river, and a 1.6 million gallon wave pool, I think it's safe to say that your days with the kids are planned.
Shark Reef Aquarium: Mandalay Bay is also home to Shark Reef, one of the most popular attractions in Las Vegas. You start out by walking through an ancient temple that's slowly sinking into the sea.
Before you know it, you're underground in the largest aquarium (1.3 million gallons) in North America, and surrounded by sharks! Shark Reef is home to over 2,000 animals!
Recommended Reading: The 10 Best & Biggest Aquariums in Las Vegas [Ultimate Guide]
Shows for Kids at Mandalay Bay
Mandalay Bay is where you'll find Michael Jackson ONE. It's a Cirque du Soleil show based around the King of Pop. An over-the-top production featuring visual performances, dancing, and acrobatics devoted to the late-great MJ. Both adults and children will love this show!
Mandalay Bay: Kid-Friendly Restaurants
Burger Bar 
Citizen Chicken and Bar
BBQ Mexicana
Subway
Slice of Vegas
Mandalay Bay: Highlights for Kids
Mandalay Bay Beach
Shark Reef
Michael Jackson ONE by Cirque du Soleil
5. New York-New York Hotel & Casino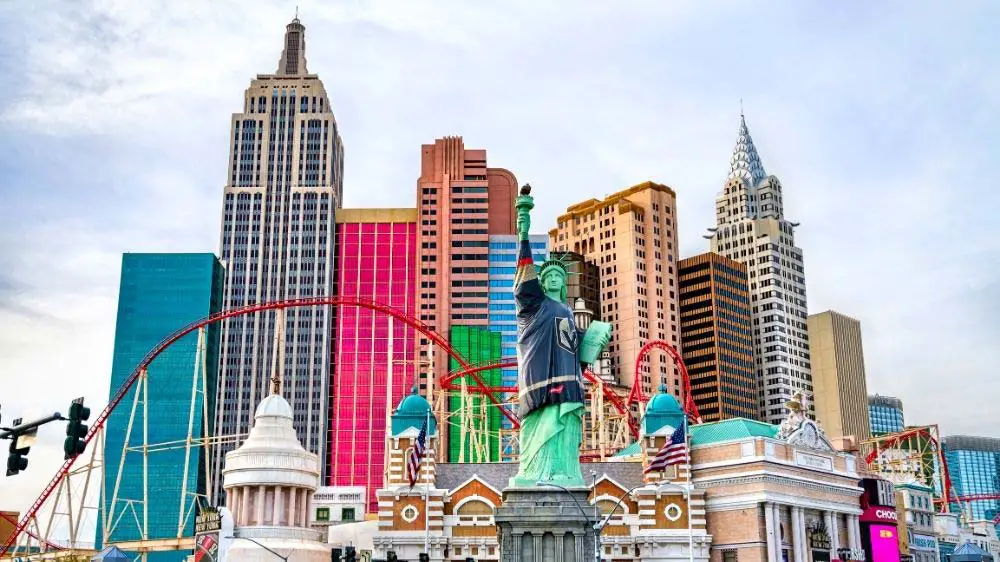 New York-New York Hotel & Casino is the hotel for all who want to take in the sights and sounds of New York City without ever having to leave Sin City. You can go on an adventure through NYC, without ever having to leave the Strip!
The entire casino is designed with one main theme in mind: Manhattan!
Between towering replicas of iconic landmarks like the Statue of Liberty and the Brooklyn Bridge, there are countless opportunities for family fun at this resort. On top of all that, it's located in one of the most popular areas of the Vegas Strip, with plenty to see and do nearby.
New York-New York: On-site Attractions for Kids
The Big Apple Coaster: The most exciting attraction for kids at this Vegas hotel is the Big Apple Coaster, located outside and on top of the resort itself. The coaster reaches a speed of up to 67 miles per hour, with multiple twists, turns, drops, and a loop the loop!
There's even an option to ride the roller coaster while wearing virtual reality goggles.
The Big Apple Arcade: The kids will love to test their gaming skills at the arcade. It's got both new and classic arcade games, along with Skee-ball and Air hockey.
The Pool: This family friendly hotel has a huge pool that is just right for the kids. The large deck provides a comfortable space to sunbathe and watch your children play. 
Shows for Kids at New York-New York
Terry Fator: Who's The Dummy Now – Terry Fator, the winner of "America Got Talent", will put a smile on your kids faces with his puppet show and comedic impressions. The whole family will enjoy this Vegas show!
New York-New York: Kid-Friendly Restaurants
Nathan's Famous Hot Dogs
New York Pizzeria
Broadway Burger Bar
New York-New York: Highlights for Kids
The Big Apple Coaster
New York City vibe
Terry Fator puppeteer, comedian and celebrity impersonator
6. Bellagio Hotel & Casino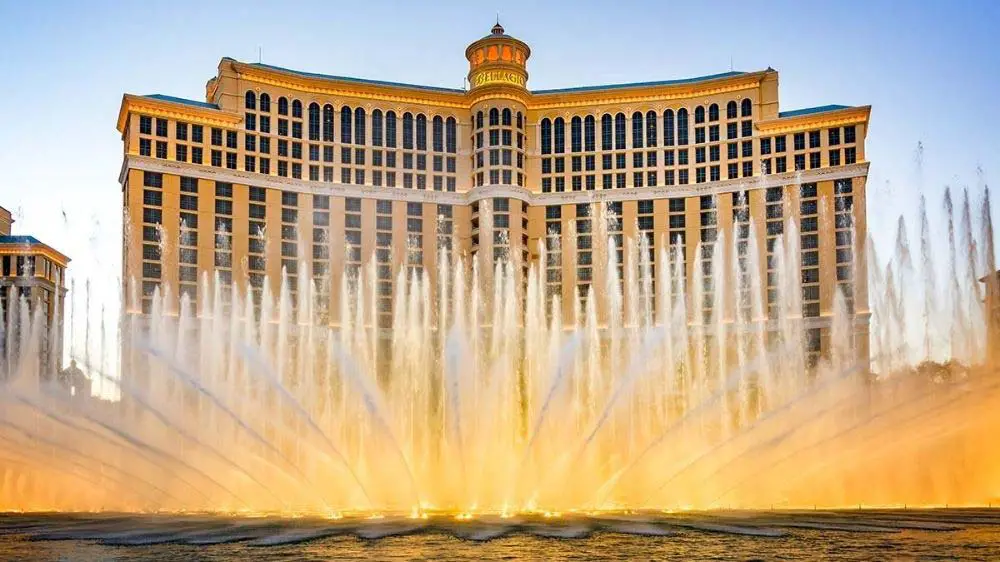 The Bellagio Hotel & Casino is a great place to stay if you're looking to experience both luxury and kid-friendly accommodations in Las Vegas. The Bellagio has been voted one of the best hotels in Las Vegas, year after year.
The Bellagio combines luxurious amenities perfect for adults, with a couple of features the kids will really enjoy.
Bellagio: On-site Attractions For Kids
Bellagio Pool: The Bellagio has five different pools set in a Mediterranean-styled courtyard and garden. As with every thing, the pool setting is more refined and upscale at the Bellagio, compared to many of the other hotels on the list.
Bellagio Fountains: The Bellagio is home to the Bellagio Fountains, the most well-known attraction on the Las Vegas Strip. Children and parents alike will be thrilled watching the fountains shoot into the sky along with music and lights! Every show is different so you'll never get tired of seeing the fountains in action. Check here for song list and show times.
Conservatory & Botanical Garden: Kids and adults won't want to miss the Bellagio Conservatory. The gardens are an indoor seasonal display decorated with thousands of flowers. The 14,000 square foot garden is full of enchanting displays and giant animatronics that is re-designed every time the seasons change. Beautiful!
Shows For Kids at Bellagio
The Bellagio's main production show is "O" by Cirque du Soleil. One of the most-highly rated Cirque shows of all time, "O" is an extremely visual show that uses acrobatics along with fire, air, and water (the stage is surrounded by water, and acts take place around, in, and above the water). Families will be sure to love this show!
Bellagio: Kid-Friendly Restaurants
Note: Due to its upscale nature, you will find less food options here for kids and picky eaters, although you can always find something at one of the following spots. The Bellagio, however, has a large selection of fine dining, as well as several restaurants with excellent views of the Bellagio Fountains.
Sadelle's Cafe (Breakfast, lunch, and dinner)
Quick Eats (pizza, burgers, shakes, etc.)
Bellagio: Highlights for Kids
Spacious rooms
Bellagio Fountains
Conservatory & Botanical Gardens
7. Luxor Hotel & Casino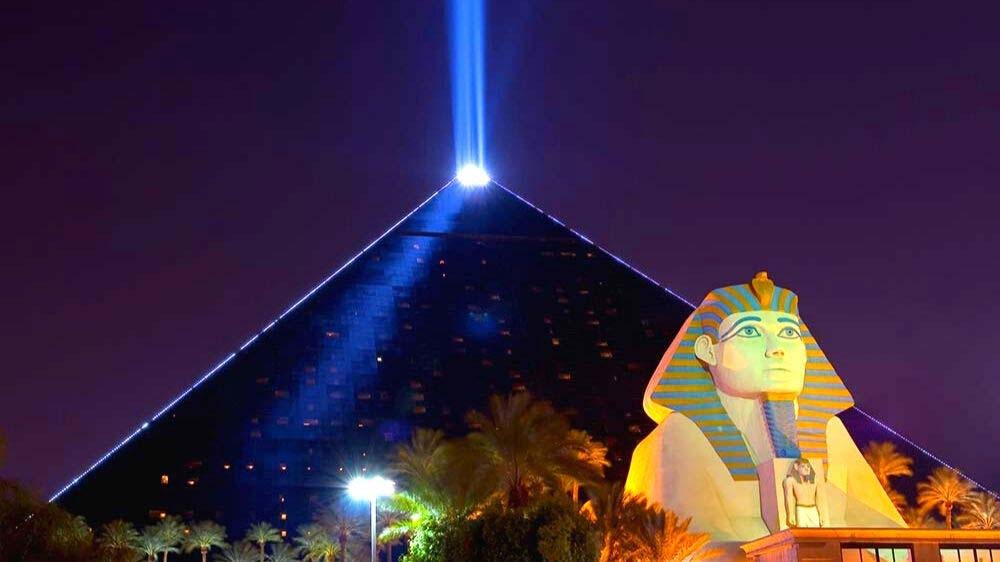 When travelling up and down the Las Vegas Strip, it's impossible to miss the giant pyramid shaped hotel, otherwise known as the Luxor Hotel & Casino. This 30 storied Egyptian-themed hotel is really something else!
What family with kids wouldn't want to spend their vacation staying in a pyramid? The Luxor is a solid family choice with several attractions and exhibits that will appeal to both to kids and adults alike.
Luxor: On-site Attractions For Kids
Luxor Pool Deck: The pool at the Luxor is made up of four separate sections of pool totaling 19,000 square feet! With plenty of room to play, and a great view of the pyramid against the desert sky, it's a great place to spend a warm day.
HyperX Esports Arena: If you've got gamers in the family, particularly teens, they'll love hanging out in the Esports Arena. They can either catch a public competition or rent a gaming station and play away!
Titanic Artifact Exhibition: The Titanic is one of the most historic and talked about ocean liners in history. More than 25 million people have seen this exhibit, which shows authentic artifacts from the Titanic wreck site as well as recreations of some famous rooms on-board. This educational experience will fascinate all ages!
Bodies…The Exhibition: This exhibition features real human bodies that are preserved and showcased in a unique way. The full-bodies, and individual organs, demonstrate a detailed, three-dimensional view of the bodily form rarely seen outside of a scientific laboratory.
The Luxor Sky Beam: The kids will be fascinated by the large beam of light shining skyward from the top of the pyramid at night.
Shows for Kids at Luxor
The Luxor resort has two shows that will be of interest for kids and families depending on their ages:
Blue Man Group: A Las Vegas classic! Watch as three blue, bald men rock your world with music, comedy and a few unexpected surprises. Great for all ages.
Carrot Top: Another Vegas original! Enter the weird world of comedian Carrot Top as he entertains you with his fantastic prop comedy. This one's probably best suited for the teens and older kids.
Kid-Friendly Restaurants 
Luxor Food Court (with many fast food choices)
Pyramid Café
Backstage Deli 
Luxor: Highlights for Kids
Staying in a pyramid
Blue Man Group
Esports Arena
Carrot Top (older kids and teenagers)
8. MGM Grand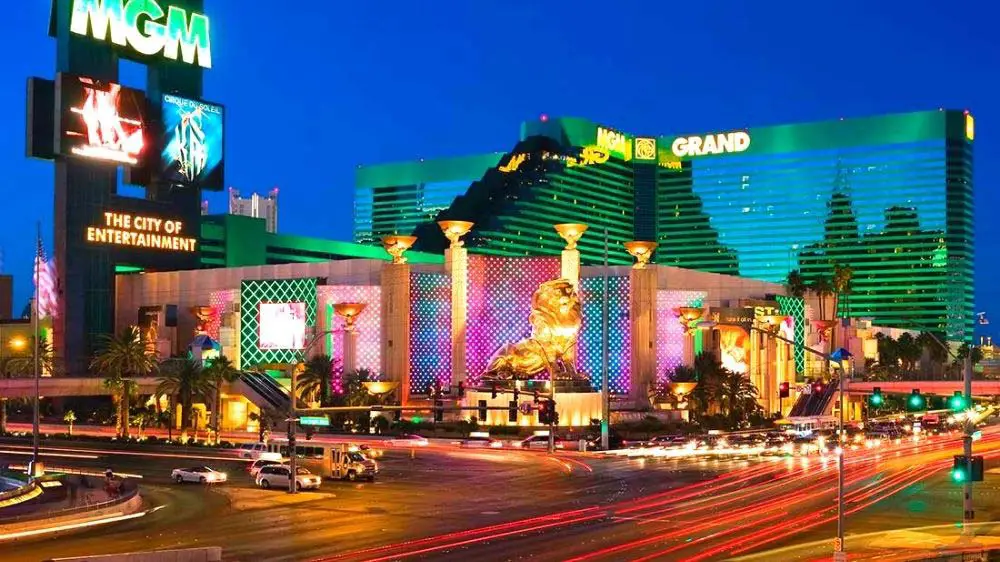 One of the largest hotels in Las Vegas is the MGM Grand Hotel. Your family will be dazzled by its sheer size and number of things to see and do at this resort! With a great Strip location, and one of the biggest and best pool areas in Vegas, your kids are sure to have a great time.
MGM Grand: On-site Attractions For Kids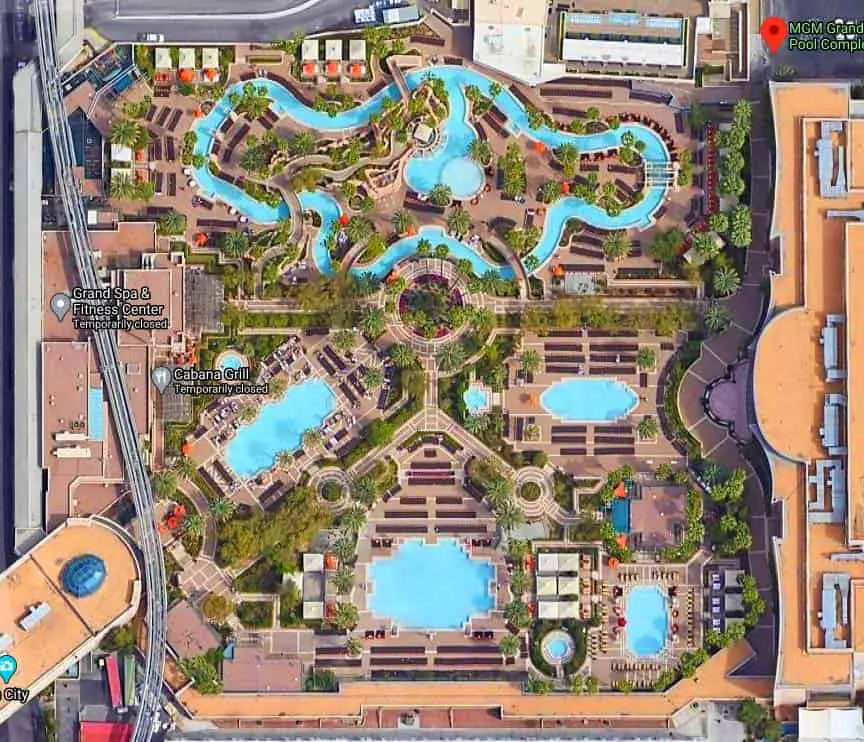 The Grand Pool Complex: The pool deck at MGM Grand is amazing and has over 6 acres of pools and waterfalls! You can even jump on a tube and float down the huge lazy river. One of the top pools in Las Vegas for kids, and mom and dad too!
The Hunger Games: The Exhibition: Take an interactive adventure through the perilous world of Panem, The Hunger Games: The Exhibition immerses guests in one of modern-day cinema's most captivating and celebrated stories. Unlike anything you've ever seen before, this exhibition is a chance to experience what it means to be part of the rebellion against tyranny!
Virtual Reality: Get transported into a virtual reality where you can explore, compete and fight together wirelessly with up to 8 other players. This all happens in an epic scale universe with hordes of the undead waiting to be slain by you and your teammates! Older kids (ages 13 and up) will have a blast!
Shows for Kids at MGM Grand
KA' by Cirque du Soleil: The MGM Grand is home to another of Cirque du Soleil's amazing shows. KA' shares the story of siblings who undertake a dangerous journey to fulfill their destiny. This show features martial arts, acrobatics, and pyrotechnics.
Jabbawockeez: A combination of pulsing music and dancing, this long-running show has been repeatedly voted as the most family-friendly show in Las Vegas.
David Copperfield:  A magic show of Vegas proportions, David Copperfield will amaze and entertain the entire family with his epic feats of illusion.
MGM Grand: Kid-Friendly Restaurants 
A resort of this size has an endless amount of dining choices. There's something for everyone! Here are a few child-friendly options.
The Rainforest Cafe
Nathan's Famous Hot Dogs
Bonnano's New York Pizzeria
Pieology
Johnny Rocket's 
MGM Grand: Highlights for Kids
Grand Pool Complex
Jabbawockeez show
Virtural Reality
David Copperfield magic show
9. Treasure Island – TI Hotel & Casino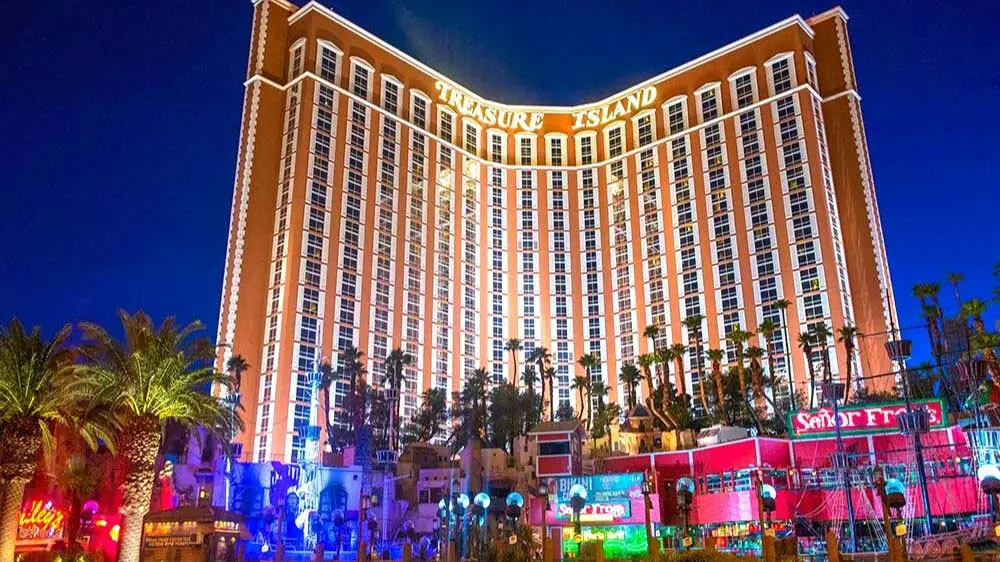 Treasure Island – TI Hotel & Casino is a great choice for a weekend getaway with the kids on the Las Vegas Strip. This budget and kid-friendly resort features comfortable rooms, and is in a prime location for nearby attractions.
While Treasure Island has some attractions of its own (see below), its top-selling point is that it is right next door or across the street from a bunch of family-friendly sights and things to do in Vegas, including; the canals at The Venetian, the Fashion Show Mall, and the Volcano at The Mirage, just to name a few.
There is even a free tram that will get you from Treasure Island to The Mirage in about 90 seconds flat, which is especially great for hot days and tired feet.
Treasure Island's On-site Attractions For Kids
The Pool: The Treasure Island pool isn't as big and fancy as some of the others, but it is child-friendly and makes for a great way to cool off after a family outing. There's also a kiddie pool for the littlest ones. Weekends can get a little crazy with larger crowds and DJ's spinning tunes.
Marvel Avengers Station: The Marvel Avengers Station is an interactive exhibit where you and your kids get to dive into the backstories of some of Marvels greatest superheros and villains. After you've assembled case files on each of the Marvel characters, you'll officially become a member of Avengers S.T.A.T.I.O.N. Fun for all the Marvel fans in your household.
Shows for Kids at Treasure Island TI
Mystere by Cirque du Soleil: It's hard to get away from a Cirque du Soleil show at any of the major hotels in Las Vegas, but honestly why would you want to! Mystere is another visual odessy from Cirque du Soleil that is both kid-friendly and entertaining for the whole family.
Treasure Island Kid-friendly Restaurants
The Coffee Shop (Breakfast & Lunch)
Senor Frog's
Pizzeria Francesco's
Treasure Island: Highlights for Kids
Marvel Station
Mystere
Canals and shopping at The Venetian across the street (be sure to take a gondola ride!)
Mirage Volcano
Is Las Vegas Safe For Families?
In general, Las Vegas is a very safe and welcoming place for family vacations. Vegas is a destination with a mix of family-friendly and adult only attractions. Fortunately, Las Vegas has done a good job of keeping the two fairly separate from one another other.
Proudly bearing the name "Sin City", Las Vegas used to have a bad rep when it came to family vacations. Back in the old days, Las Vegas was primarily a destination for adults, but it's nothing like that anymore.
While there are still plenty of adult only activities to be had, Las Vegas has remade itself over the last couple of decades into a kid and family-friendly travel destination with plenty of amenities to ensure a great time is had by all!
The majority of adult themed areas and attractions require admittance so it's unlikely for a child to wander in by mistake. Having said that, however, just walking the along the Strip or in downtown, it's likely kids will witness the occasional inebriated individual or scantily clad showgirl.
If you can live with that, then you're primed and ready to have a fun time in Vegas with your kids.
Recommended Reading: 44 Things to Do in Las Vegas for Kids & Families
Conclusion 
There you have it, the 9 best Las Vegas hotels for kids and families on the Las Vegas Strip! As you can see there are some amazing hotels to choose from. And the good news is that no matter which one of these Las Vegas hotels you choose for you next family vacation, you're bound to have a really great time with your kids!
Having trouble deciding between two or more Las Vegas hotels? Then head over to our Las Vegas Hotel Comparison Guide where we compare the most popular Vegas hotels head-to-head.
More Family-Friendly Las Vegas Articles