Why The Bellagio Lobby Is An Attraction All On Its Own
(This article may contain affiliate links. If you click through and make a purchase, we will receive a small commission at no additional cost to you. )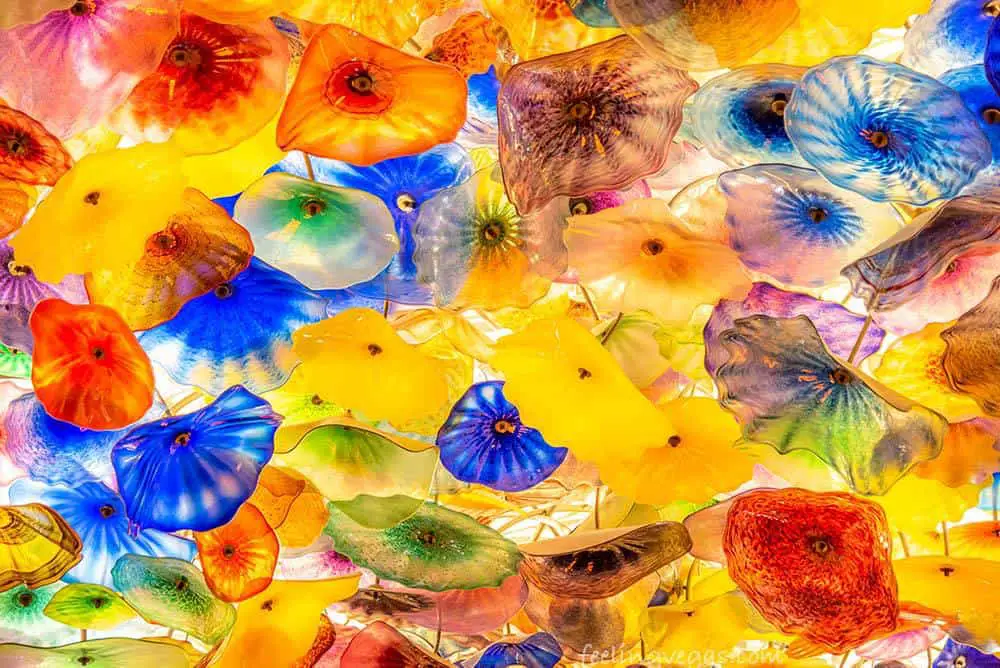 Are you wondering why everyone is telling you to stop by the Bellagio Hotel lobby while in Las Vegas? 
The Bellagio Hotel is one of the most beautiful and luxurious hotels on the Las Vegas strip, and it boasts a lobby that matches the rest of its beautiful aesthetic. Although it may seem like an odd tourist attraction to stop in a hotel lobby, you won't be disappointed when you walk through the Bellagio lobby. 
In this article, we are going to tell some of the beautiful things you can feast your eyes on when you walk through the Bellagio Las Vegas lobby. 
Compare and save! Check current Bellagio room rates at TripAdvisor!
Bellagio Lobby Ceiling Stops You In Your Tracks (Glass Ceiling)
The glass ceiling in the lobby at the Bellagio Hotel (MGM Resorts) in Las Vegas is not just any hotel lobby ceiling.
It includes an absolutely beautiful permanent art installation that will delight art lovers and is sure to capture the attention of anyone checking into or even just visiting this amazing Las Vegas hotel.
The Bellagio lobby ceiling features a huge hand-blown glass sculpture piece named "Fiori Di Como," made by famed artist Dale Chihuly.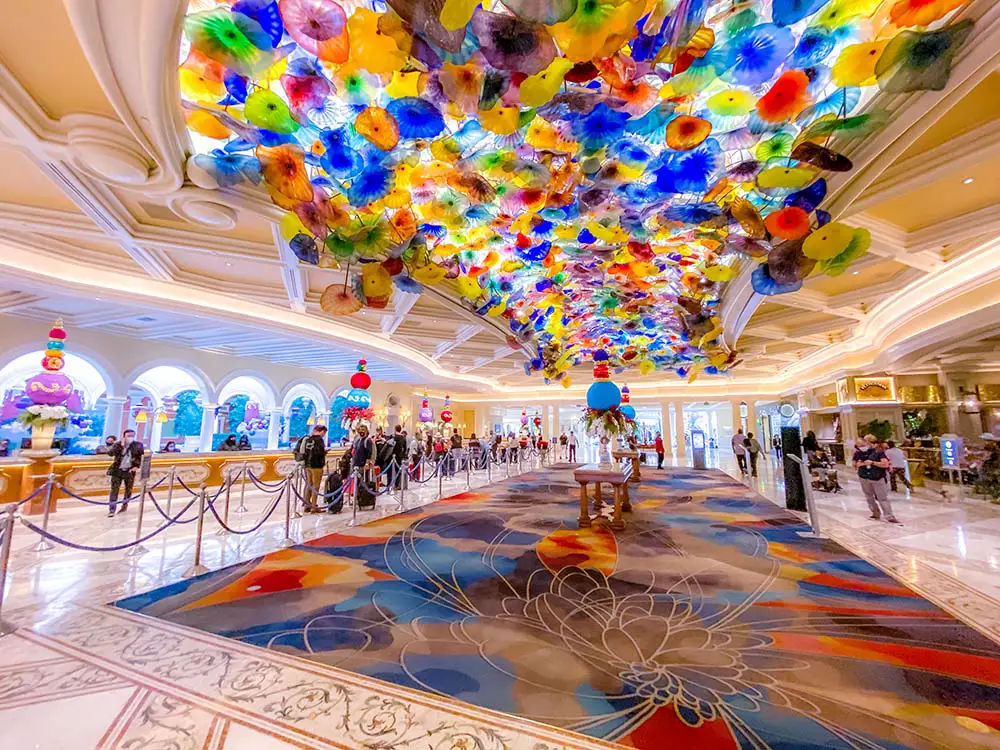 The piece is vibrant and hard to miss because it is made of over 2,000 brightly-colored glass flowers and weighs over 40,000 pounds. 
The brightly colored art piece covers 2,100 sq. ft. of the Bellagio lobby ceiling and cost $10 million to create.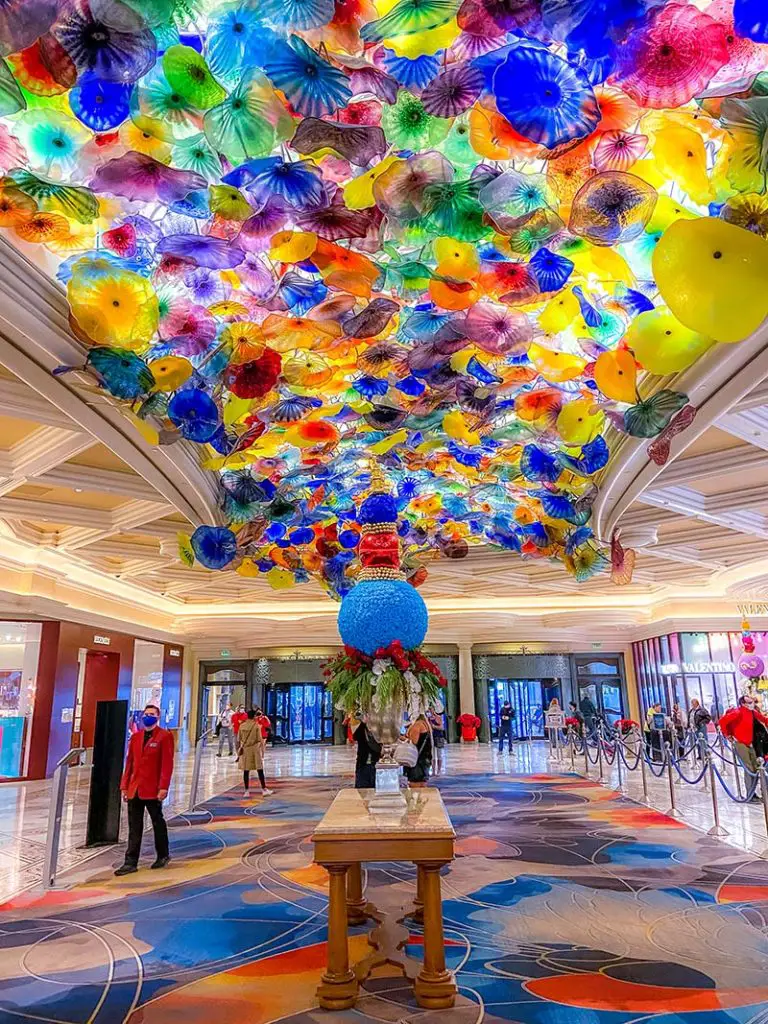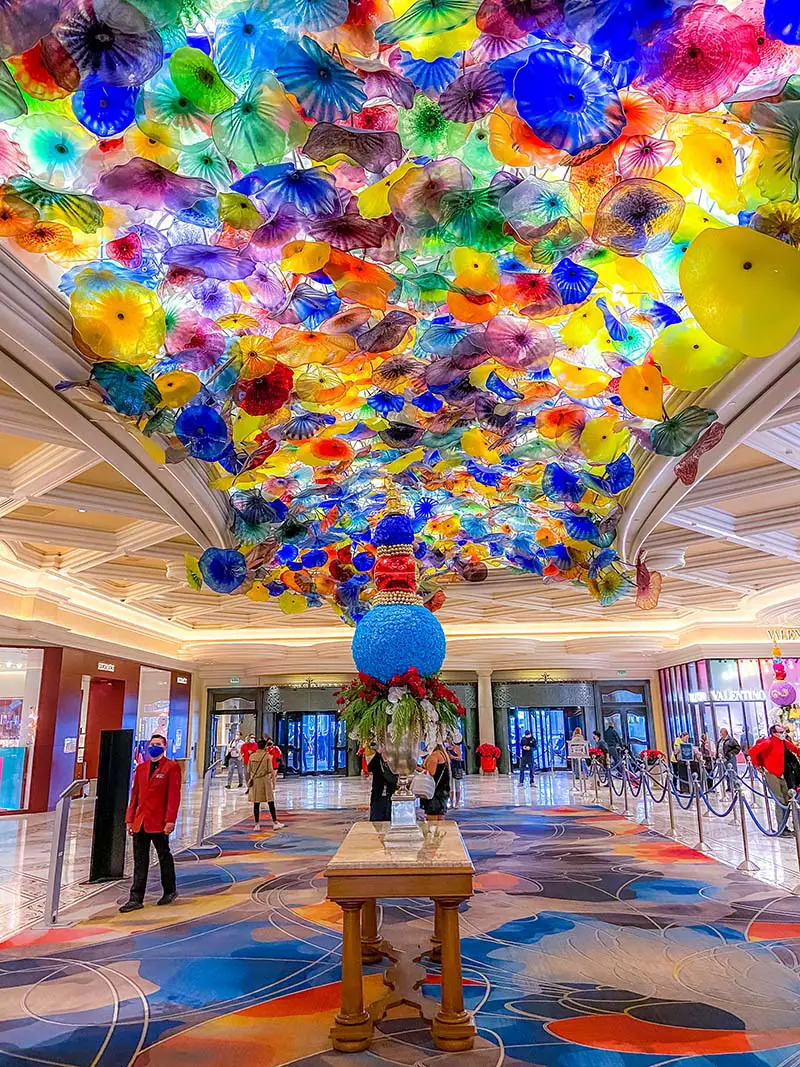 The Bellagio ceiling is a must-see stop for anyone visiting Las Vegas.
It also tops many lists of free things to do in Vegas.
Careful not to strain your neck trying to appreciate the beauty of this one-of-a-kind piece. 
Mosaic Horse Gives Disco Vibes (Bellagio Lobby)
Underneath the beautiful, colorful Dale Chihuly floral piece is yet another unique feature making the Bellagio lobby a fun introduction to this luxe hotel.
Here you will find the beautiful Bellagio Horse.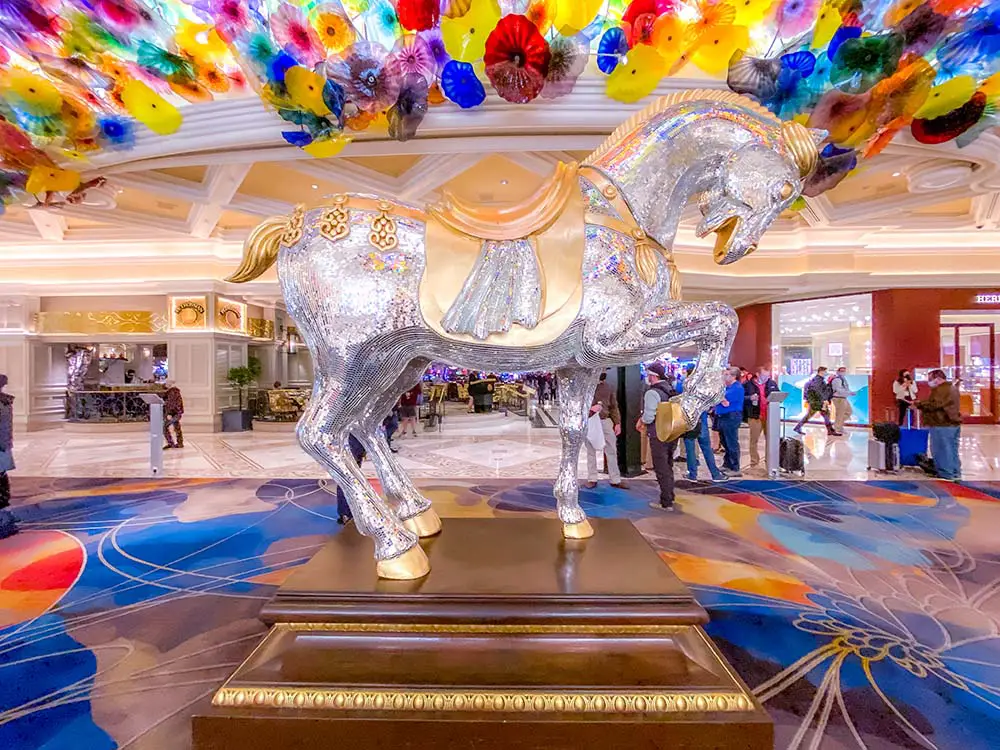 It's a silver and gold mosaic horse that is made of thousands of tiny mirrored tiles. 
The iconic mosaic horse stands over 8 feet tall and is made of small tiles that were applied individually by hand to create this beautiful statement piece.
This horse is sparkling and loud and so perfectly "Las Vegas" and definitely sets the mood for a party.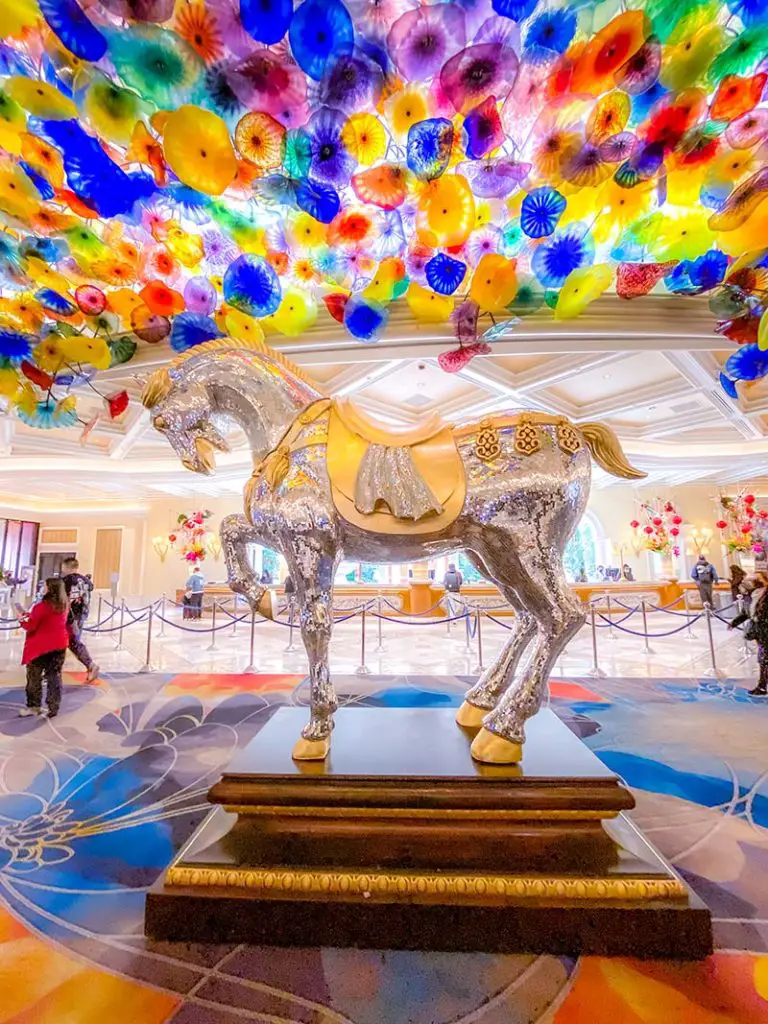 Guests love to stop in front of this iconic horse and take photos because it is truly larger than life and such a unique spot. 
The horse is not a permanent feature in the Bellagio lobby (it comes and goes), so you'll have to keep an eye out for one of its appearances throughout the year if you want to see it. 
Bellagio Conservatory: Ornate Glass Ceiling Brings The Outside In 
As you walk from the lobby to other parts of the hotel, including the casino, conservatory, and shopping areas, you can look up and enjoy natural light through the ornate glass ceiling sections.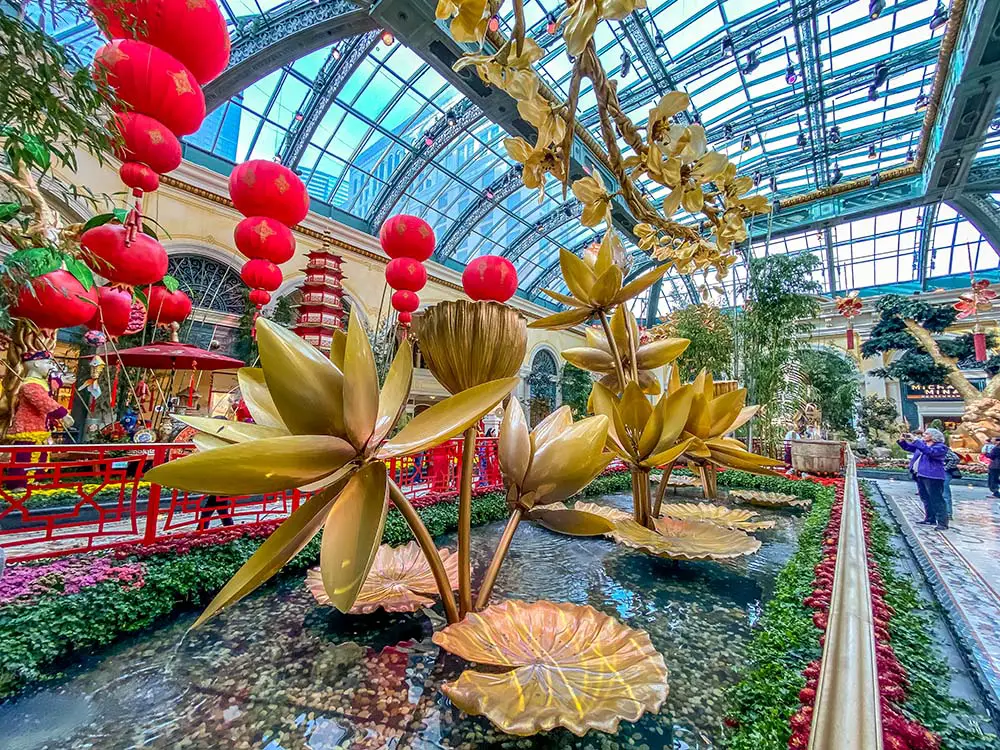 Found in the Bellagio Conservatory & Botanical Gardens (follow link to get the display schedule), the clear glass ceiling lets the light from the sunshine directly down into the botanical garden area.
The gardens themselves are not to be missed and change displays with every season.
This is a nice way to catch a glimpse of the outside world when so much of Las Vegas activities happen in windowless spaces. 
In keeping with much of the high-end, luxurious style of the rest of the hotel, the glass ceilings are curved in a dramatic archway and are supported by beautiful architectural details. 
Bellagio Lobby Map
Here's a map of the lobby and surrounding areas at Bellagio Las Vegas.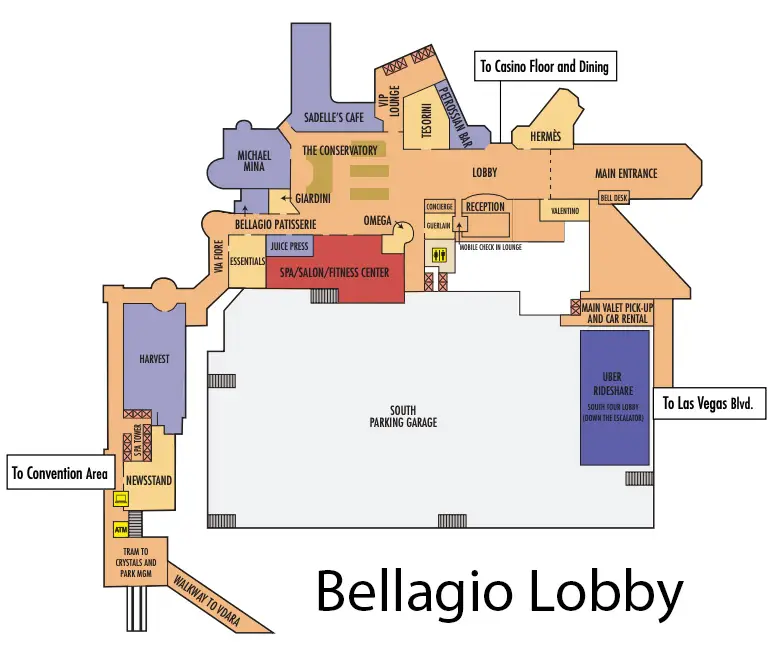 After coming in through the main entrance (via Las Vegas Boulevard), you'll find the vibrant floral glass ceiling directly in front of you (if you look up, that is).
The Bellagio registration desk is to your left, the casino is to your right, and the conservatory is straight ahead.
If you love fine art, then you might be surprised to learn that Las Vegas is home to some amazing art galleries and museums.
Find the best deals on Bellagio rooms and save big with TripAdvisor!
Bellagio Lobby – Final Thoughts 
The Bellagio Las Vegas lobby is truly a sight to behold. It is the epitome of luxury and beauty, with unique art and stunning architecture.
You don't want to miss an opportunity to walk under the brightly colored Dale Chihuly flowers, stop for a selfie in front of the mosaic horse, or take in the stunning glass ceilings. 
Find Out More About The Bellagio
References:
https://bellagio.mgmresorts.com/en.html
https://www.reviewjournal.com/entertainment/arts-culture/chihulys-art-blossoms-at-bellagio-and-beyond/