Do Bellagio Rooms Have…? (18 Things You Should Know)
The Bellagio has long been the pinnacle of luxury on the Las Vegas Strip, and if you're booking a room at this hotel, it would be nice to know what services and amenities you can expect to find in your room.
Will you find items like a refrigerator, hair dryer, wifi, or coffee maker? What about an iron or an in-room safe?
In this article, I'll answer all these questions and more about room amenities and services you can expect from your room as a guest staying at the Bellagio Las Vegas.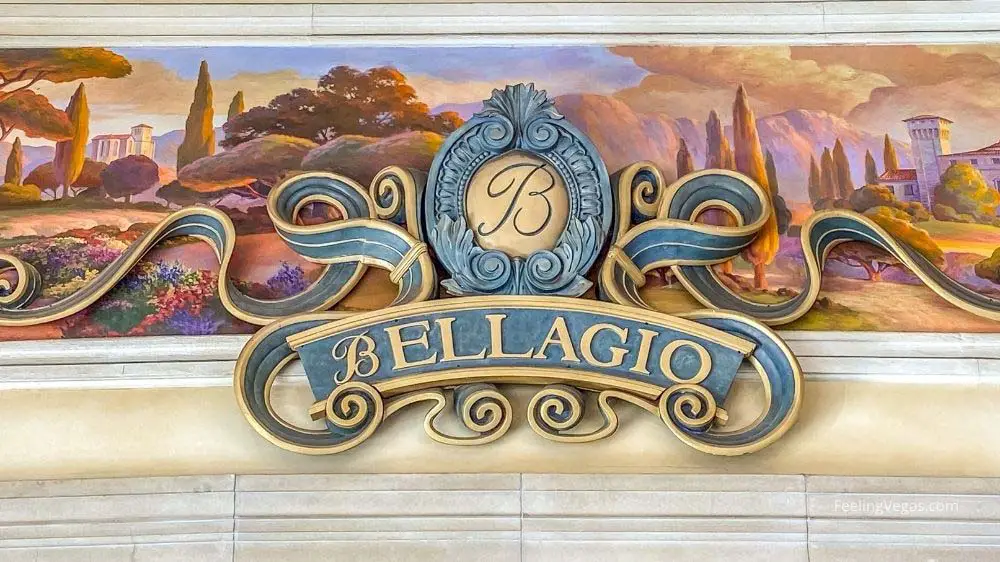 (This article may contain affiliate links, which means we might earn a small commission if you click and make a purchase. Thank you!)
Compare and save! Check current Bellagio room rates at TripAdvisor!
Do Bellagio rooms have refrigerators?
The humble refrigerator is top of the list of facilities for many guests. From loading the fridge with party supplies to keeping some snacks on hand, a fridge is essential in any Vegas hotel room. 
Fortunately, all Bellagio rooms offer a "generously stocked" mini bar inside a small refrigerator. The in-room refrigerator, however, is tiny and will only fit a few of your smaller personal items. There's no room for a six-pack of beer, for instance.
If you require a larger refrigerator space, contact the concierge before you check-in, and they may be able to provide a refrigerator for you. 
If you're opting for a Bellagio suite, the good news is that all suites come equipped with a refrigerator that's got more room for your own items.
The smallest suite on offer is the Salone Suite (853 sq. ft.) which has a small mini bar fridge. Many of the larger suites have a small kitchenette or wet bar with a good-sized refrigerator.  
Note: Beware of the stocked drinks and snacks found inside the mini-bar. If you indulge in any of these items, they will be billed to your room, and the prices are exorbitant.
Do Bellagio rooms have coffee makers?
The Bellagio hotel has a Starbucks located on the property and also offers in-room dining options, which include the delivery of coffee from Café Bellagio, which is open 24 hours a day.
Sadly, for those looking to make their own brew in their room, you're out of luck. The Bellagio does not offer coffee makers or kettles in any of the standard rooms or suites at the Bellagio.
For those who absolutely must have coffee before facing the world each morning, coffee makers are provided in the Bellagio Penthouse Suite and above.
Of course, if you're fortunate enough to reserve a Penthouse suite, you can also make use of the 24-hour in-room food service for all your coffee needs! 
RECOMMENDED: Cost to Stay at The Bellagio in Las Vegas (Low to High)
Do Bellagio rooms have microwaves?
None of the Bellagio Resort rooms or recently renovated "Premier" or "Stay Well" rooms offer a microwave as a standard facility. Some guests (parents with babies or guests with medical conditions) have had success requesting a microwave for their room, but this incurs an additional charge. 
If you're looking for a warm meal, it's recommended to order food directly from the 24-hour in-room services available at any of the Bellagio hotel rooms or suites. There are also a wealth of restaurants available (both inside the Bellagio and nearby) to suit every budget that are open 24 hours.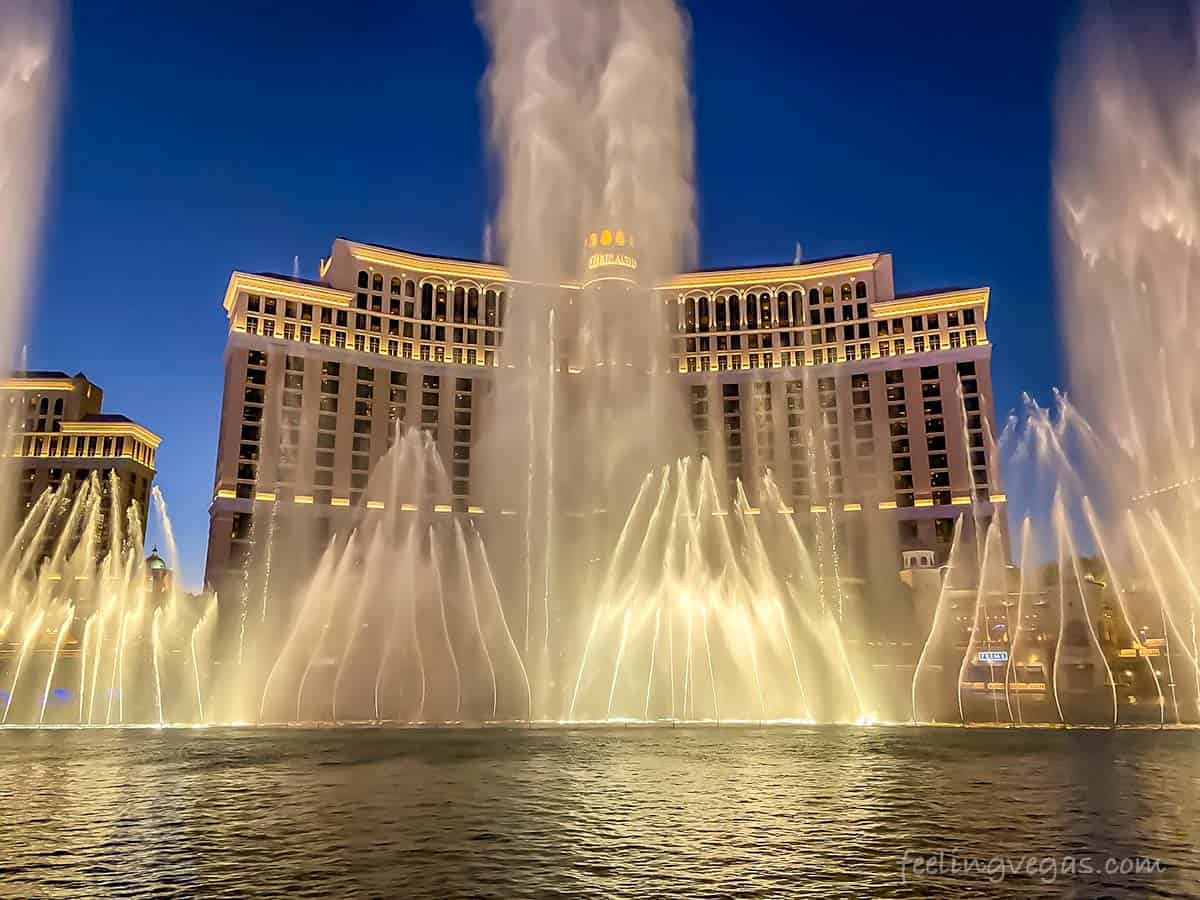 Do rooms at the Bellagio have hair dryers?
The Bellagio Hotel is accustomed to catering to well-heeled guests, and looking smart goes hand-in-hand with a stay at the luxurious hotel. Each of Bellagio's hotel rooms comes equipped with a hair dryer. 
Resort room bathrooms also have side-lighted bathroom mirrors, and the fresh "Premier" or "Stay Well" rooms benefit from 'his' and 'her' oval-shaped mirrors with built-in lights. The suites also come with a hair dryer and a lighted makeup mirror. 
Bellagio guests can also make use of the Bellagio Spa & Salon, which is open from 9 am to 6 pm each day and is available for barber appointments, haircuts, coloring, and nail services. 
Does the Bellagio have irons in the rooms?
Looking sharp and keeping your vacation attire wrinkle-free has never been easier when staying at the Bellagio. Although not stated on the room facilities list on the Bellagio website, guest services confirm that every room, including "Resort", "Premier", and "Stay Well" rooms, has an ironing board and iron. 
Additionally, the Bellagio offers exceptional guest services, and as a guest, the laundry service is available that can iron, wash, dry clean, or press any item of clothing for you. Simply get in touch with the concierge, and they will arrange the collection and drop off of garments and laundry services. Concierge services are available 24 hours a day.
RECOMMENDED: Do Bellagio Rooms Have Balconies? (Las Vegas)
Does the Bellagio have in-room safes?
The Bellagio caters to even the most discerning guest's needs and, of course, offers the utmost privacy along with exceptional security features in every room. Even the most basic "Resort" rooms on offer come equipped with keycard entry and have a laptop-friendly nightstand safe to secure guest belongings and valuables. 
For the recently renovated "Premier", and "Stay Well" rooms, each room has a built-in closet that houses a personal safe. The safe is free to use in all room options and is easy to operate. To use a safe in any of the Bellagio rooms, simply follow the instructions on how to set a security code and lock the safe. 
For guests that are lucky enough to "win big" in Vegas and have a bundle of cash they require storing securely, it's advisable to contact the Bellagio hotel concierge and arrange appropriate banking deposits or secure storage. 
Do Bellagio rooms have wifi?
Every room and suite within the Bellagio hotel and resort complex is equipped with 'free' wifi access. Upon check-in to your room, you are given an access code for high-speed wifi internet access. 
Wifi is one of the facilities that is included with the Bellagio resort fee. The resort fee is standard and is charged daily and added to your bill upon check-out. 
Guests can also enjoy wifi access throughout the Bellagio resort grounds, including at the pool and cabana areas and other locations of the resort. 
RELATED: Here, you can see the current resort fees charged by the Bellagio, as well as all other major Las Vegas hotels.
Does Bellagio have room service?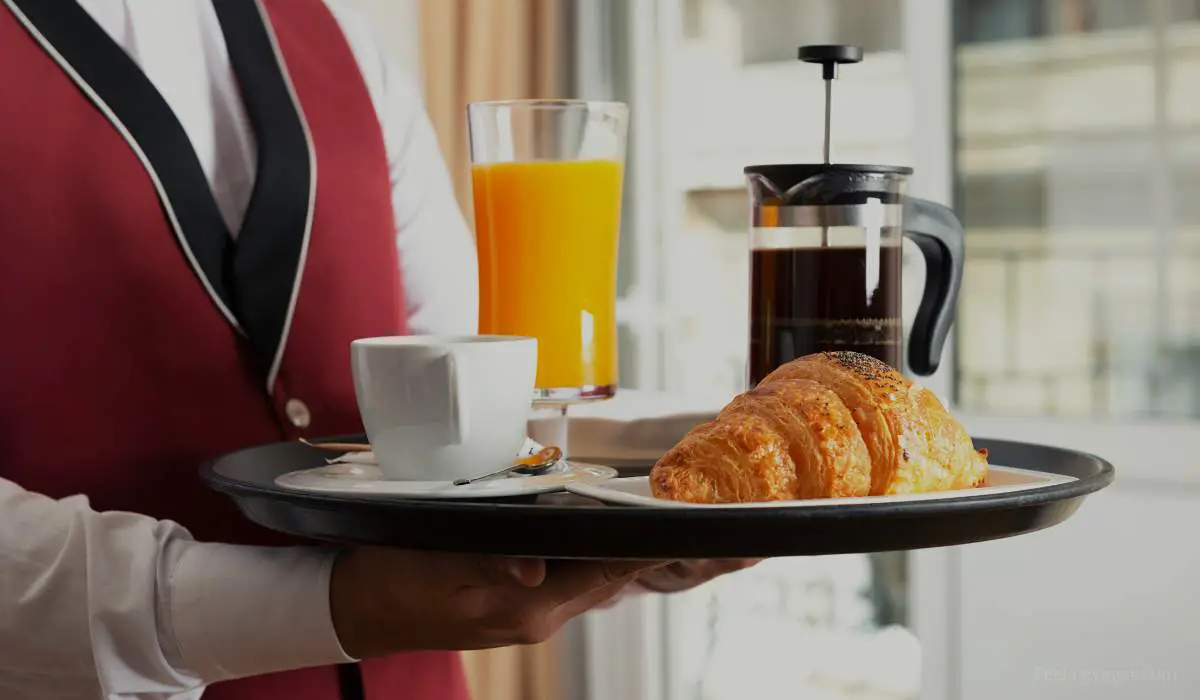 With some of the most favorable guest services on offer along the Las Vegas Strip, the Bellagio team provides exceptional in-room dining options and room service. 
There are two contactless service options available: hospitality service and dining services. Both are available as "Express" services 24 hours a day or as "classic services", available between the hours of 6 am and 10 pm. The "classic" service is effectively table service within your room, and there is a minimum order of $100. 
In-room dining services offer delivery from a dedicated menu. There are also cocktails, beer, wine, Champagne, and bottles of spirits available. Guests should note there is a $9.50 delivery charge (plus local sales tax) that will be added to any in-room dining order, and gratuities are not included in the bill.  
Do I need to provide a gratuity to the staff at the Bellagio?
Many of the services available at the Bellagio come billed with a 20% service charge added. This charge is shared between staff that operates the services you've used during your stay. 
While gratuities are not an expectation, all gratuities are greatly appreciated by any service staff working at the Bellagio. Tipping $1-2 for a service used at the resort will ensure attentive service by staff during your stay. Anywhere in the US, it is recommended to tip from 15-20% for meals, and this includes room service and in-room dining in hotels. 
RELATED: See our Ultimate Las Vegas Tipping Guide here.
Does Bellagio have adjoining / connecting rooms?
Whether you're planning a holiday occasion for the entire family or require special assistance close by to help ensure the perfect stay in Vegas, the Bellagio has exceptional customer service standards and can accommodate adjoining rooms.
Requests for connecting rooms are common and just require some advance notice as the amount of adjoining rooms available is limited. If you do require a connecting room, contact guest services, and they will do their best to accommodate you. 
Does Bellagio have ice machines?
Whether you're looking to keep the cocktails chilled in your room or simply rest your weary muscles after a long day exploring the Strip, guest services can provide a bucket of ice directly to your room. Ice machines are also dotted around the hotel that you can make use of.
If you do order ice from the concierge or in-room services (Available 24 hours a day), they can deliver ice directly to your room. Guests should note there is a $9.50 delivery charge (plus local sales tax) that will be added to any in-room dining order, and gratuities are not included in the bill.  
Does the Bellagio have smoking rooms?
The vast majority of the rooms and suites at the Bellagio are deemed non-smoking. There are only a few exceptions: the Bellagio Tower on the 19th floor and on the 33rd floor and above some rooms are smoking rooms. Suite and Villa accommodations can also be arranged to facilitate smokers for a fee.
Before lighting up a cigarette, e-cigarette, or any smoking device, guests should check the smoking policy of their room. ​​If you are found to have smoked in your room, a minimum deep cleaning fee of $500 for rooms ($1,000 for suites) will be charged to your hotel account. 
For smoking guests, the hotel and resort complex has allocated public areas where smoking is permitted. Guests can also ask the concierge or hotel staff where the smoking areas are located. Guests should also be aware that in accordance with Nevada State Law, smoking any recently legalized substances (you know what I mean) is not permitted anywhere on public grounds nor within the Bellagio premises. 
RECOMMENDED: Comparing Bellagio to other Las Vegas Hotels (Which is the best?)
What time is check-in at Bellagio?
The normal check-in time at the Bellagio is anytime after 3 pm. The hotel will, however, let you check in early once the room is clean and available. Unfortunately, the only way to guarantee an early check-in time is to request and pay for it at the time of booking.
Does Bellagio have early check-in?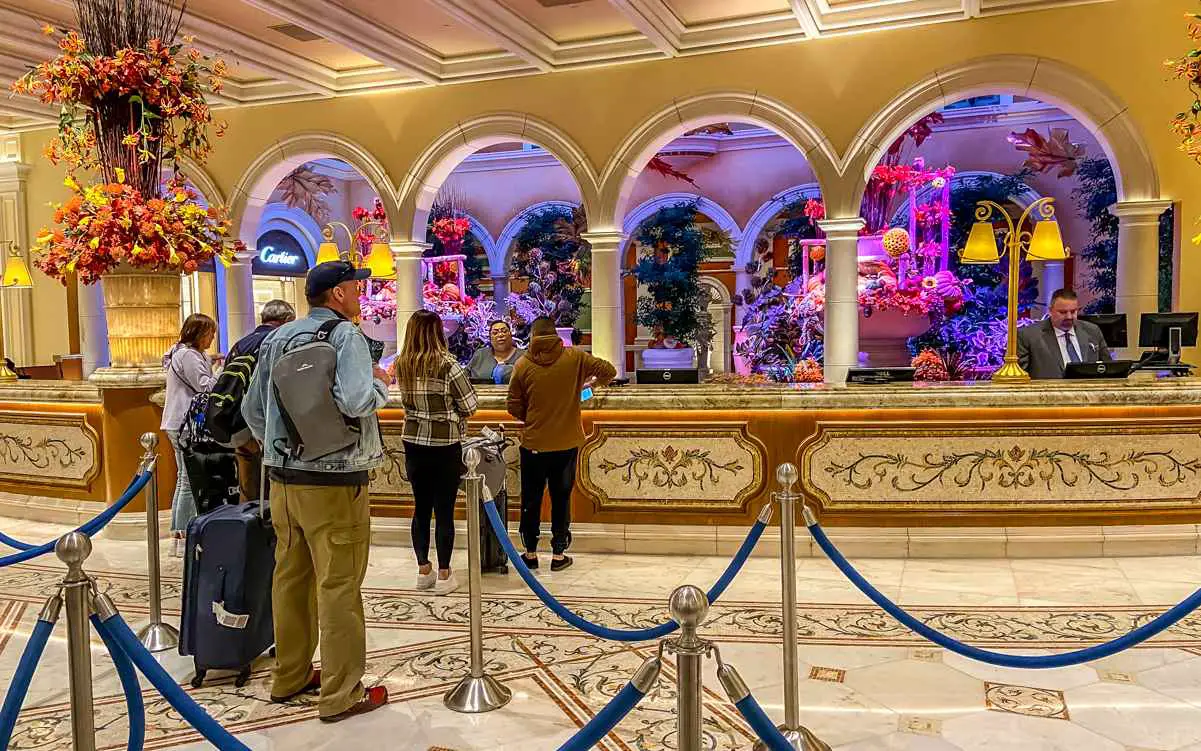 Yes, Bellagio Las Vegas does offer an early check-in option. With early check-in, you can get into your room between 10 am and 1 pm, depending on availability.
To receive an early check-in costs an additional $50 and is only available if you select the option to add an early check-in when you make the reservation.
What time is check-out at Bellagio Las Vegas?
Check-out time at the Bellagio is at 11 am. By this time, you must have yourself and all of your luggage removed from the room. If you aren't leaving Las Vegas right away, you can ask the Bellagio front desk if they will store your luggage so you can continue to have unencumbered fun until your departure.
You can find more options for storing your luggage in Las Vegas here.
Does Bellagio have a late check-out?
Bellagio can sometimes offer you a late check-out option. This, however, is entirely dependent on availability. If the hotel is booked up for the following night, late check-out may not be available to you.
Late check-out at Bellagio can extend the time in your room until 3 pm and is generally billed at 50% of your overnight room rate. For instance, if your room rate was $160 per night, you will be charged $80 for a late check-out.
RELATED: The Bellagio Casino: 21 Answers You Should Know (Las Vegas)
Can you keep the Bellagio Robes?
Inside every room at the Bellagio, guests will find some plush, comfy bathrobes featuring the Bellagio logo. While these robes are yours to enjoy while staying at the hotel, they are not free to keep. If you take a Bellagio robe home with you, you can be sure that your credit card will be charged.
If you'd like to purchase a brand new Bellagio robe to wear at home, you can do so by contacting the concierge at the front desk or visiting the Bellagio at Home Collection online.
Can you keep the slippers at the Bellagio?
In addition to the plush robe, every Bellagio room comes with at least two pairs of slippers. These branded Bellagio slippers are complimentary and free for you to take home with you.
Unlike the robes, the slippers at Bellagio can't be washed and, once worn, are not clean enough to be reused by other guests, so they are yours to keep.
Does Bellagio have free breakfast?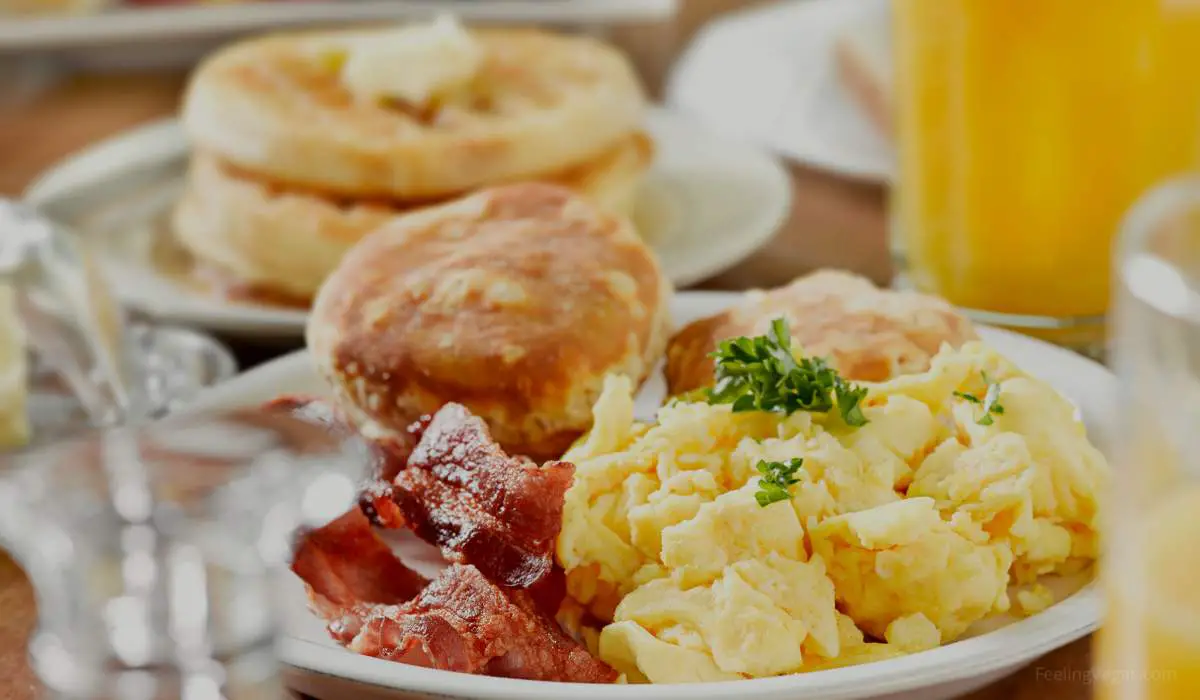 The Bellagio does not offer free breakfast with its hotel room reservations. There are, however, plenty of spots within the Bellagio and nearby to get a good breakfast, including Bellagio's own buffet.
Also, you may want to check out our article 9 Spots To Grab a Cheap Breakfast on the Vegas Strip. While the Bellagio may not include free breakfast, it's unlikely that you'll go hungry when you book a room at the Bellagio Las Vegas.
Find the best deals on Bellagio rooms and save big with TripAdvisor!
What's Included in a Bellagio Room – Summary
The Bellagio's range of rooms and suites are nothing short of amazing and are appointed with all of the modern facilities you would expect from one of the most stunning hotel and resort complexes along the Las Vegas Strip. 
Along with many of the recently renovated rooms and suites available at the Bellagio, guests can always enjoy exceptional customer service, 5-star rated services, and resort facilities that are sure to make for an unforgettable stay no matter what room you choose.