Bellagio Buffet: 12 Answers You Should Know (Las Vegas)
Anyone who is planning to explore the Vegas Strip will quickly work up an appetite, and there are literally hundreds of food venues and restaurants to choose from when it's time to take a break from the city that never sleeps. 
Bellagio's buffet is one of the most popular in Vegas and features an amazing variety of delicious food in beautiful surroundings. Let's answer the most important questions you'll have when eating at The Buffet at Bellagio.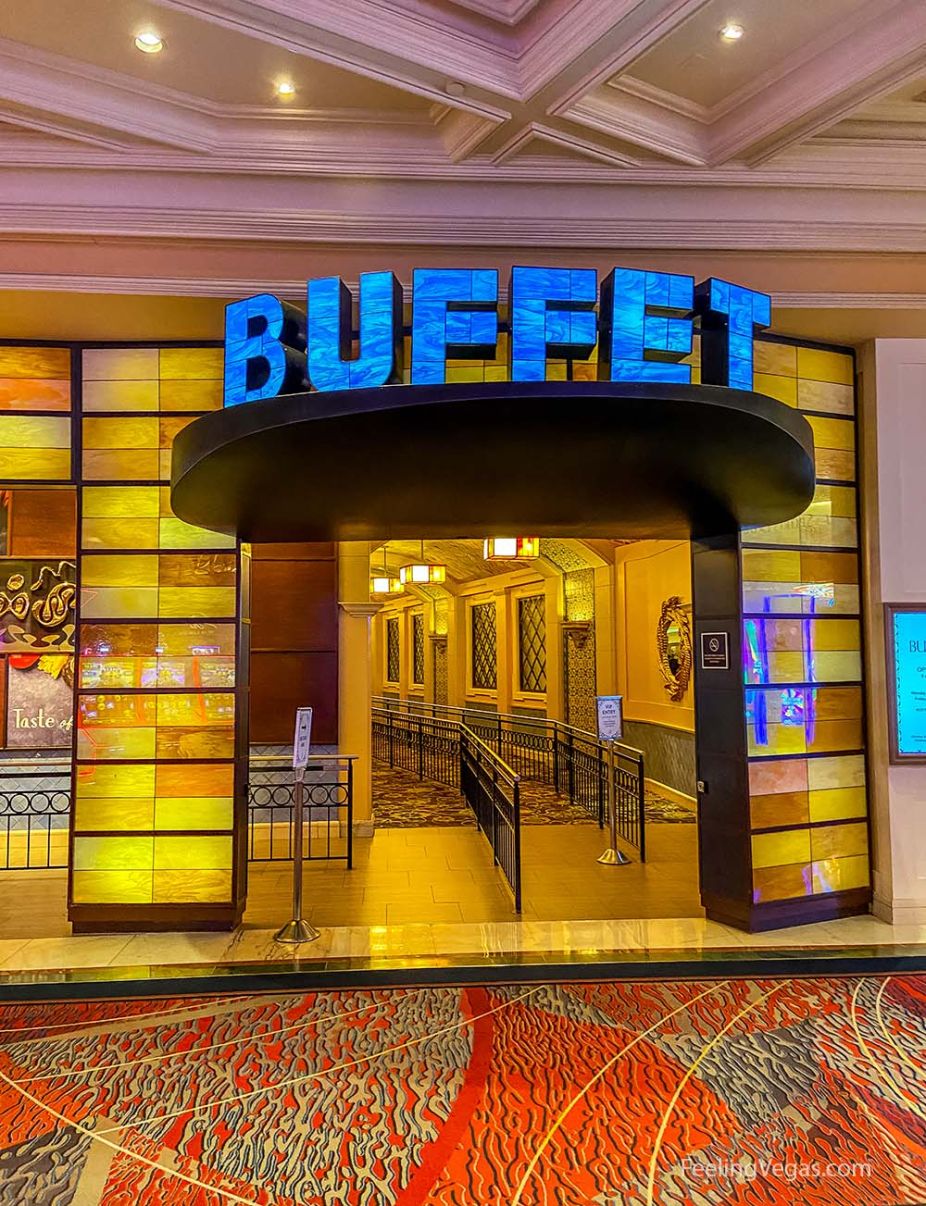 (This article may contain affiliate links, which means we might earn a small commission if you click and make a purchase. Thank you!)
Compare and save! Check current Bellagio room rates at TripAdvisor!
Does Bellagio have a buffet?
The Bellagio resort has a large buffet area located next to the "O" theatre called The Buffet. The easiest way to find the buffet from the hotel lobby as you come in the main entrance is to follow the path to the right through the casino past the Baccarat Bar. The buffet is located just before the Cirque Du Soleil store on the left-hand side. 
Bellagio's buffet is open to the public, and you do not need to be a Bellagio hotel guest to access the buffet. Just bring a big appetite! The buffet area has seating for 600 people alongside self-service food counters and live-cooking stations. 
Is the Bellagio buffet good (worth it?)
The Bellagio buffet is one of the most popular buffets in Las Vegas, and for good reason. First, most visitors flock to this ever-popular venue for the crab. Bellagio's buffet has carved a name for itself by offering a range of warm crab, cold split crab, and large spider crab legs, all included in the buffet. 
Arguably a close second reason that has avid Vegas buffet fans swarming the counters is the carvery and rotisserie meat section. Diners at the Bellagio buffet can choose from a range of prime cuts, including ribs, steaks, roast meats, and a range of dried and cured meats too. 
Besides surf and turf, there's also a wide range of favorite cuisines, including Italian, Japanese, Chinese, and American. There are also incredible desserts, not to mention excellent juices and bottomless sodas, plus deals for all-you-can-drink cocktails, beers, and wine. 
Bellagio buffet, how much?
Bellagio Buffet Brunch
Monday – Thursday (8-3 PM)
Friday – Sunday (8-3 PM)
Adults & Children Ages 12+
$44.99
$49.99
Children Ages 6 to 11
$22.50
$24.99
Kids 5 Years and Under
Free
Free
All You Can Drink
Beverage Package (2hrs)$24.99$24.99VIP Entrance$15$15The Buffet at Bellagio brunch pricing.

The Bellagio buffet is normally open for brunch and dinner, and the time you go depends on how much you pay for the buffet. 

The buffet is open during the day for brunch and costs $44.99 Monday to Thursday and $49.99 Friday to Sunday. Even at these prices, the Bellagio buffet is very popular and can get very busy. If you want to skip the queue, you can buy a VIP entry pass, costing around $15, from the Bellagio reception. 

Bellagio also offers dinner starting at 5 pm on Fridays for $66.99 or Saturdays & Sundays for $74.99

Bellagio Buffet Dinner
Friday – Sunday (5-9 PM)
Adults & Children Ages 12+
$66.99 (Sat & Sun $74.99)
Children Ages 6 to 11
$33.50
Kids 5 Years and Under
Free
All You Can Drink
Beverage Package (2hrs)
$24.99
VIP Entrance
$15

The Buffet at Bellagio weekend dinner pricing.

The Bellagio buffet is a great value for families with young kids, as children 5 years of age and under eat for free, and children between 6-11 years of age eat for half price! 

The all-you-can-drink package lasts for 2 hours and costs an additional $24.99 for as much house beer, wine, or specialty Bellagio bottomless cocktails as you can drink.

The buffet is also open during special holiday periods and hosts memorable dinner events, which tend to cost a little more than the standard buffet price. 

RELATED: Las Vegas Buffets (Currently Open!)

Bellagio buffet drinks (What and How Much?)

The Bellagio buffet offers a range of bottomless sodas that diners can top up themselves. This includes Coca-Cola, Coke-ZERO, Fanta, Sprite, and other popular soda flavors. Located beside the soda station is a coffee and tea station where you can make your own warm drinks too. 

Also included in the buffet price is a selection of freshly made juices, including orange juice, grapefruit juice, carrot juice, and watermelon juice. 

Then, there is the all-you-can-drink package, which lasts for 2 hours from the time of purchase and costs $24.99. Included in the package is a range of draft beer, house wine, and a range of cocktails, including Mimosas, Screwdrivers, Margaritas, and Bloody Marys. 

Do you need reservations for Bellagio buffet?

The Bellagio Buffet does not accept reservations and can get very busy during peak season, especially on weekends and special holidays. Most of the time, there will be a small queue where guests can expect to wait around 15-20 minutes (don't worry, it's worth the wait!). 

For guests who are keen to skip the buffet queue, contact reception or speak to buffet staff at the check-in counter, and they can arrange a VIP pass that allows you to skip the queues. The Buffet VIP pass costs around $15 per person per day. 

What time does Bellagio buffet open? (hours)

| Bellagio Buffet | Brunch Hours | Dinner Hours |
| --- | --- | --- |
| Monday – Thursday | 8 AM – 3 PM | Not available |
| Friday, Saturday & Sunday | 8 AM – 3 PM | 5 PM – 9 PM |

The Bellagio buffet is currently open every day of the week for brunch, and dinner service is available on the weekends (Friday – Sunday).

Is the Bellagio buffet open for dinner?

The Bellagio buffet is now open for dinner 3 nights a week on Friday, Saturday, and Sunday evenings. Dinner is available from 3 PM until 9 PM.

What do they serve at the Bellagio buffet (menu)?

The Bellagio has a range of cuisines to choose from and is famous for its live cooking stations that are located throughout the buffet area. 

Breakfast station 

Includes hot and cold breakfast options such as cooked breakfasts, a range of fresh fruit, yogurt, cereals, croissants, waffles, crepes, pancakes, and other pastry items. 

Hot food includes a range of eggs (fried, poached, hard-boiled, scrambled), bacon, breakfast sausages, hash browns, and much more. There's also a dedicated omelet station where you can choose fillings and have your omelet made while you wait. 

There's also a bagel, waffle, and pancake station. The bagels come with a selection of toppings to choose from, including cream cheese, capers, eggs, red onion, chives, cocktail onions, pico de gallo, and Scottish smoked salmon. The waffles and pancake toppings include crispy fried bacon, chocolate sauce, caramel sauce, whipped cream, blueberry jam, or raspberry jam. 

Toast station

The Toast Station is a unique feature of the Bellagio Brunch buffet and offers diners a range of different types of bread to choose from, including sourdough, wheat, white, and wholegrain bread. The station attendant can toast your bread however you choose. 

Bread toppings include a range of cooked eggs, crushed avocado, cream cheese, ricotta, sour cream bacon, prosciutto, Nutella, sprouts, capers, and a selection of diced fruits, including strawberries and bananas. 

Salad bar

Includes a range of pre-made salad options as well as a build-your-own salad section with a range of toppings, including green salad options, grated vegetables, red onions, cucumber, cherry tomatoes, hard-boiled eggs, crumbled blue cheese, cheddar cheese, mozzarella, pico de gallo, and garbanzo beans. 

You can choose from salad dressings like ranch, caesar, thousand island, balsamic, dijon, olive oil, balsamic, and olive oil.

Asian counter

Includes a range of classic Asian dishes such as fried noodle dishes, stir-fry with meat or vegetables, sizzling Szechuan with beef or chicken, pork buns, curry chicken buns, fried rice, steamed vegetables, bok choi, and other dishes. 

There's also a selection of sushi and make-your-own pho soup counters. 

Seafood station

There is a variety of hot and cold seafood dishes on offer, as well as assistants who can prepare fish or seafood dishes to your liking while you wait. At the seafood station, you'll find;

Mussels cooked in garlic and white wine
Chilean sea bass fillets
Seared salmon fillets
Oysters Rockefeller
Clams
Seafood pasta dishes
Shrimp cocktail 
Poke ahi

Meat Carving Station

For carnivores, you'll find Kobe beef, carvings of roasted ham off the bone, prime rib, strip steak, roasted chicken, lamb, venison, quail, and roasted duck. Sides include a range of roasted vegetables, bread, and a few different varieties of mashed potatoes.

Gravies and sauces include dark gravy, turkey gravy, horseradish, chili sauce, pepper sauce, dijon, and white sauce. 

Desserts and pastries

The Bellagio buffet is renowned for its amazing range of desserts and pastries that are made fresh throughout the day. There are popular favorites, including chocolate and peanut mini-tarts, pumpkin pie, pecan pie, lemon mini-tarts, apple pie, chocolate cake, cheesecake, panna cotta, chocolate mousse, creme brulee, cookies, donuts, pastries, as well as some sugar-free and gluten-free dessert options. 

There is also a gelato and sorbet station with a wide range of flavors and plenty of toppings that are sure to keep the sweet tooth in the family more than occupied! 

RECOMMENDED: The 5 Gordon Ramsay Restaurants You'll LOVE in Las Vegas

Does Bellagio buffet have king crab legs?

Crab legs are available at the Bellagio buffet, but only during dinner hours which are currently on Friday, Saturday, and Sunday evenings starting at 5 PM.

Does Bellagio buffet have lobster?

The Bellagio buffet does not serve lobster. The buffet does, however, serve up its famous king crab legs during the dinner hours on weekends.

How do you get a free Buffet at Bellagio?

There are a few ways that some thrifty Vegas visitors have found to fill their boots at the Bellagio buffet free of charge. Of course, the quickest and easiest way is to kindly ask your concierge while checking in to the Bellagio Hotel if there are any complimentary buffet vouchers available. 

If you have no luck getting 'comped' for a feed at the Bellagio buffet, you can always turn your hand to the slots. By signing up with MGM rewards, you can play and be rewarded for every dollar you spend and can (eventually) get 'comped' with everything from hotel and entertainment to dining, spa, and gaming, including the Bellagio Buffet. 

Another method is using third-party apps such as MyVEGAS, which is an online casino gaming app created by MGM Resorts. It's free to play, and as you keep playing, you accumulate points and can redeem them for certain items at MGM resorts, including the Bellagio Buffet. 

Bellagio buffet or Wynn buffet?

It would be very tough to call, which is better in the case of the Bellagio or Wynn buffet. Both offer extravagant dining settings and a vast array of delicious cuisine options. Both have a range of live cooking stations, and both are priced comparably. 

Currently, the one advantage that the Wynn has over the Bellagio is the dinner hours, as you can enjoy the full buffet dinner service at the Wynn every night of the week.  

RECOMMENDED: 15 Best Vegas Restaurants with Views of Bellagio Fountains

Bellagio Buffet: Summary

The Bellagio buffet is the perfect option for those looking to fill their stomachs for a reasonable price while staying on the Las Vegas Strip. Starting from a tad under $50, the Bellagio is a great option and offers diners an excellent range of cuisine and specialty dishes. 

From live-cooking stations to make-your-own dishes and a range of mouth-watering desserts, there's something for everyone at the Bellagio buffet!  

Don't wait! View current Bellagio room rates and book your stay today!

References:

https://bellagio.mgmresorts.com/content/dam/MGM/bellagio/meetings/bellagio-meetings-property-map.pdf