The 5 Gordon Ramsay Restaurants You'll LOVE in Las Vegas
(This article may contain affiliate links. If you click through and make a purchase, we will receive a small commission at no additional cost to you. )
For fans of the British celebrity chef Gordon Ramsay, Las Vegas is the ideal destination to sample more than one restaurant that carries his signature name and style. As one of the chefs in the world with the most Michelin stars, you're guaranteed a tasty and unforgettable fine dining experience at any of these Las Vegas locations.
The 5 Gordon Ramsay Restaurants you'll love in Las Vegas are:
Gordon Ramsay Hell's Kitchen
Gordon Ramsay Pub and Grill
Gordon Ramsay Steak
Gordon Ramsay Fish and Chips
Gordon Ramsay Burger
Keep reading and we'll take a quick look at each of these dining destinations. We'll see what each location is known for and what you can expect from each signature Gordon Ramsay dining experience.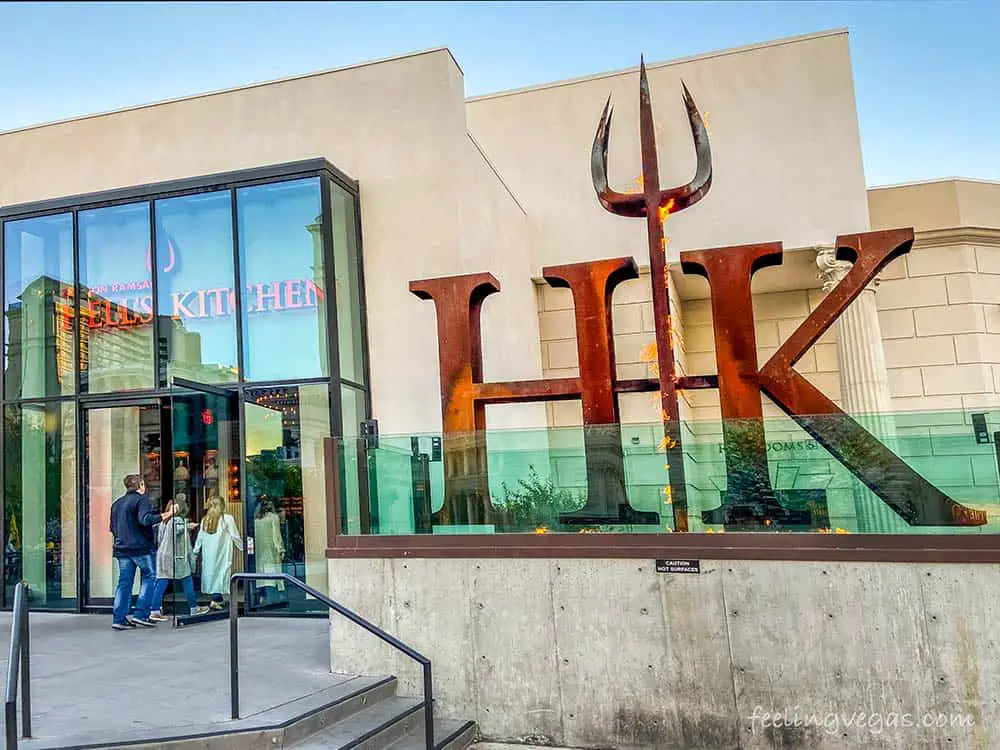 1. Gordon Ramsay Hell's Kitchen
For fans of Gordon's reality show cooking competition Hell's Kitchen, eating at the restaurant inspired by the show is an absolute must in Vegas.
It's located right in the heart of the happening Vegas strip at Caesars Palace. At Hell's Kitchen Las Vegas, you can taste the dishes you're used to seeing cooked up on your TV screen.
The decor of the restaurant echoes the set of the show, with the signature red and blue kitchen for each of the teams that compete in the reality competition. The menu and service will include lots of references to iconic moments from the hit series, including memorable quotes from Gordon and dishes that cannot be forgotten.
You can even find yourself watching episodes of Hell's Kitchen while eating in Hell's Kitchen restaurant. TV screens can be found staggered throughout the exquisitely designed dining room to give you a full, immersive Gordon Ramsay experience while you eat.
The famous Beef Wellington is a go-to pick for many visitors, but you really can't go wrong with anything you try off this amazing menu.
For an inside peek at the dining experience in Hell's Kitchen, you can check out this video on YouTube:
For more information about eating at Hell's Kitchen Las Vegas, as well as the menu and cost, see my detailed Hell's Kitchen article here.
2. Gordon Ramsay Pub and Grill
Also located in the world-famous Caesar's Palace is Gordon Ramsay Pub and Grill. This restaurant is designed to give you a full English gastropub experience.
If a great drink is a priority, the selection of over 99 beers will suit you perfectly. Many of these are imported from the United Kingdom and will give you the feeling of being in a pub across the pond.
You can also choose from an extensive and creative list of signature cocktails or from the wine list if that's more your style. The atmosphere is relaxed and friendly, with plenty of soccer games and other British favorites being broadcast on the TVs around the restaurant.
The pub food is just as much fun as the atmosphere itself. Expect to experience twists on standard English pub food. You can also order the Beef Wellington signature dish here, along with a burger, seafood, and other standard options. Of course, you can end your meal here with a signature Gordon Ramsay Sticky Toffee Pudding.
For a look inside what it's like to dine at the Gordon Ramsay Pub and Grill, you can check out this YouTube video here:
Check out my article here for everything you want to know (menu and prices) about eating at Gordon Ramsay Pub & Grill in Las Vegas.
3. Gordon Ramsay Steak
If you want to try a classic American steakhouse with a surprising British twist, look no further than Gordon Ramsay Steak. This restaurant is located in Paris Las Vegas and is a favorite for those looking for the unforgettably perfect steak dinner.
It's a more upscale dining experience when compared to the Pub and Grill, so don't forget to get dressed up and enjoy a fancy night out on the town.
Once you're seated in the expansive, beautifully designed dining room, you will be handed a menu that is all about the meat. The waitstaff will even come around with a meat cart to show you the different steak selections on the menu and guide you to the perfect meal for you.
Of course, you can find acclaimed Chef Ramsay's famous Beef Wellington featured on the menu here at Gordon Ramsay Steak as well.
For a look inside the dining experience, check out this YouTube video featuring an interview with the head chef Kevin Hee:
Check out my complete article about Gordon Ramsay Steak to see the menu and figure out what it will cost to eat here.
4. Gordon Ramsay Fish and Chips
If you're looking for a fun, casual, and distinctly British fast food experience, Gordon Ramsay Fish and Chips is perfect for you.
You'll find this Las Vegas restaurant center Strip at the LINQ Promenade. As you approach the Gordon Ramsay restaurant, you will spot the brightly lit, enormous fish with the design of a British Flag covering its body.
Inside this brightly colored establishment, you can find an exciting menu that offers more than just fish and chips. Choose a combo to get some lobster or shrimp mixed in with your fish and french fries.
The menu also comes with a selection of signature Gordon Ramsay dipping sauces. And if you're craving something sweet, don't worry–you can try the Sticky Toffee Pudding Pops available here.
Take a look at what a delicious order from Gordon Ramsay Fish and Chips looks like here in this YouTube video:
I've posted a detailed Gordon Ramsay Fish & Chips article here where you can see the complete menu of this classic restaurant.
5. Gordon Ramsay Burger
Last but certainly not least is Gordon Ramsay Burger. This destination is another immensely popular dining option in Vegas that will give you an unforgettable burger experience.
This Gordon Ramsay restaurant is located in the Planet Hollywood Casino and Resort on the famous Las Vegas Strip. Upon entering, you'll be met with an art installation that makes you feel like you're facing a wall of flames.
Inside, you'll find a mix of bar and table seating, giving this restaurant a more casual feel. The wait staff is ready to give you recommendations for a great meal. The Hell's Kitchen burger is a top choice, but you can choose from other exciting options like the Truffle Burger or the Blue Cheese Burger.
No matter what burger you decide on, you really can't go wrong here at Gordon Ramsay Burger. Your burger will take around twenty minutes to be prepared, as each burger is made fresh when the order is taken. You can also choose from other favorites like milkshakes or fries to go with your meal.
To join in on the dining experience and see what these burgers look like, check out this YouTube video below:
Take a look at the menu and dining options in my complete Gordon Ramsay Burger article here.
More Great Eats in Vegas
---
Sources: