Can You Get Food Delivered to a Hotel in Las Vegas? (Answered)
(This article may contain affiliate links. If you click through and make a purchase, we will receive a small commission at no additional cost to you. )
Visitors to Las Vegas often want to know if they can get one of the popular food delivery services such as Uber Eats, DoorDash, GrubHub, or Postmates to deliver to their hotel on the Las Vegas Strip?
This is a completely valid question for vacationers who want to enjoy the comfort of their hotel room for a meal or are looking to save some money instead of using hotel room service.
Food delivery services Uber Eats, DoorDash, GrubHub, and Postmates will all deliver to hotels on the Las Vegas Strip. The food may be brought directly to a hotel room or left at the front desk, but most food delivery services will ask to be met at a rideshare drop-off point outside the hotel.
Each delivery service has its own way of working when it comes to food deliveries to hotels in Las Vegas, and so do the individual hotels. Depending on which hotel you're staying at, delivery drivers might not even be able to get up the elevator to your hotel room door.
On top of that, each delivery person is an independent contractor, so a lack of consistency is to be expected.
Read on to find out the specifics of how each service works when it comes to getting food delivered to your resort hotel in Las Vegas.
Does UberEats deliver to Las Vegas Hotels?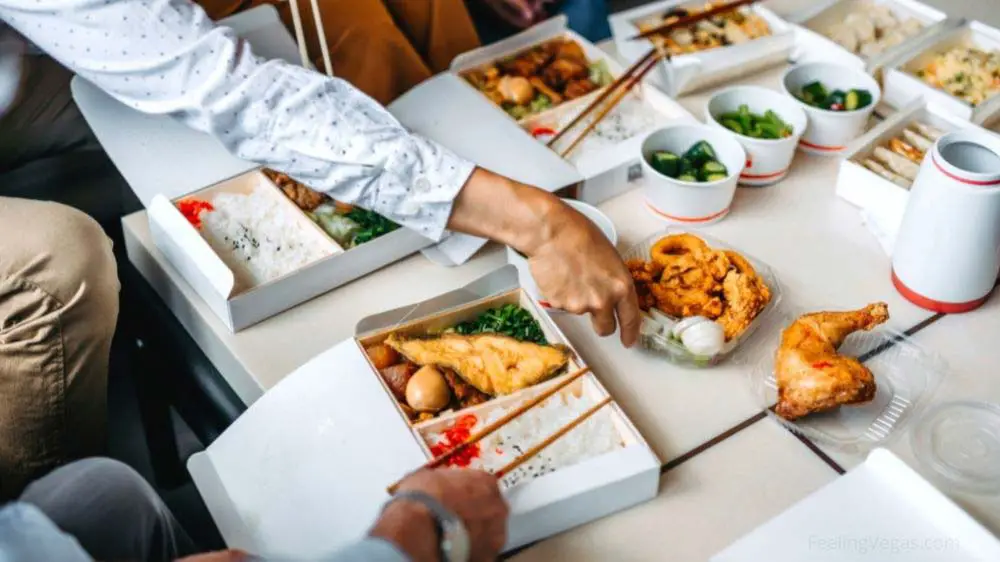 Yes, UberEats will deliver food to hotels on the Las Vegas Strip. Food delivery to a Strip hotel generally takes about 30-50 minutes, and depending on the hotel and driver, they may or may not be able to bring food directly to your hotel room.
UberEats will bring food from a wide variety of restaurants near the Vegas Strip. It tends to be one of the more popular takeout delivery services in Las Vegas. Uber Eats does, however, typically make you pick up the food from the driver at an Uber rideshare location in front of the hotel or the front desk.
Uber Eats has over 120 restaurants that will deliver to the Vegas Strip. Here are a few popular restaurants that you will only find on UberEats:
IHOP
Little Crown & Anchor British Pub
Peru Chicken
Pho Vietnam
SkinnyFATS
You can find every restaurant that can be delivered to a hotel on the Strip at UberEats here.
Does DoorDash deliver to Las Vegas Hotels?
Yes, you can order DoorDash for food delivery to a Las Vegas hotel. However, due to the difficulty in parking and the large size of many Las Vegas hotels, you should expect to meet your delivery driver either in the lobby or the rideshare area of the hotel.
DoorDash drivers get paid by the mile not the hour, so it is a best practice to ask them to meet you in the Valet area so they don't have to find a parking space. DoorDash can deliver to the room, but some drivers will decline to bring orders that far up due to the hassle.
Here are some popular local restaurants that are near the Strip and can be delivered by DoorDash:
Shinjuku Ramen
Archi's Tai Bistro
Cugino's Italian Deli & Pizza
Nacho Daddy
Rollin Smoke BBQ
For a full listing of DoorDash restaurants near the Strip take a look at their website here.
Does GrubHub deliver to Las Vegas Hotels?
GrubHub will deliver food from thousands of Las Vegas restaurants to your hotel on the Strip. GrubHub food deliveries will generally take 45-60 minutes and will be delivered to a rideshare pick-up area in front of your hotel.
GrubHub will bring you food from restaurants all over Las Vegas valley and will deliver to any hotel in Las Vegas. Typically, the driver will meet you in the taxi and valet area to give you your food.
GrubHub has over 4,460 restaurants delivering in Las Vegas. Take a look at some popular choices near the Las Vegas Strip:
P.F. Chang's
Chick-fil-A
Popeyes Chicken
Fresh Kabob
Teriyaki Boy Healthy Grill
You can see all the options on GrubHub's website.
Recommended Reading: 9 Best Cheap Eats on Fremont Street (Downtown Vegas)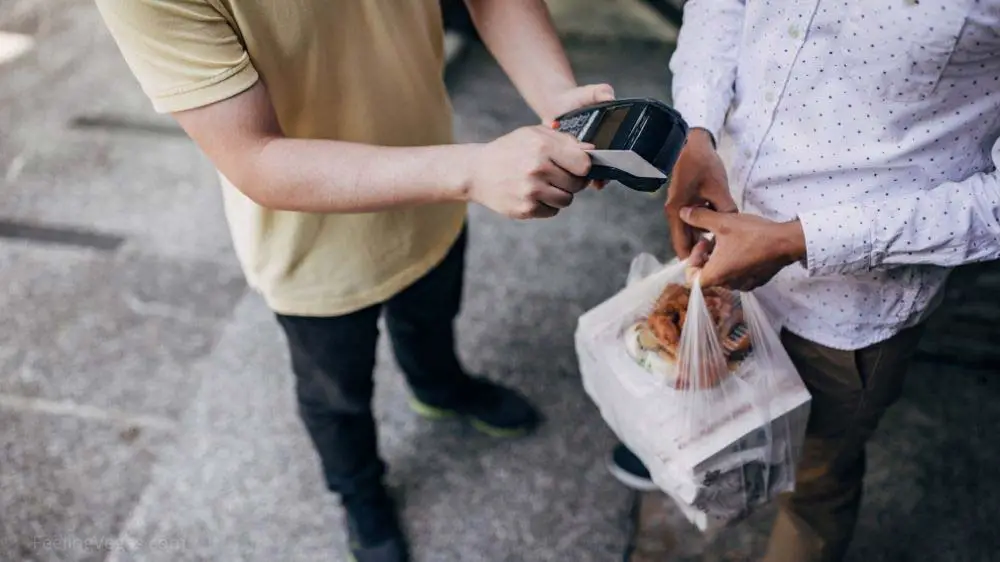 Does Postmates deliver to Las Vegas Hotels?
Yes, Postmates delivers to Las Vegas hotels on the Strip or anywhere else in town. Postmates will bring the food to your Las Vegas hotel 24/7 and will deliver it right to your hotel room door if allowed by the hotel.
Postmates is another popular food delivery service on the strip. Sometimes Postmates can deliver right to your room, but it depends on the hotel. Otherwise, they will leave the food at the front desk or ask you to meet them in a designated area.
Postmates has a wide variety of food options available to deliver. Here are a few popular choices:
Chef Kenny's Asian Vegan
Jaburritos
Spice Indian Cuisine
Sushi Hero
China Mama
Find a large variety of food delivery choices on their website here.
Food Delivery To Vegas Hotels – Conclusion
All of these food delivery services will absolutely bring you food to the Las Vegas hotel you are staying at, even if you are at a major strip hotel.
It is best to expect to go down to the valet area to get your food however, because many of these drivers cannot park in a permanent spot, and since they get paid by the mile or the delivery, not by the hour, it is not advantageous to them to spend time looking for parking and walking to drop off the food.
Drivers will appreciate you meeting them in the valet area, where there are temporary parking spaces designed for rideshare services. So be prepared to meet them that far in order to get your bite to eat.
And don't forget to tip.
Recommended Reading: Find Out What it Costs to Eat at Hell's Kitchen Las Vegas