What's In A Las Vegas Roll? (4 Places To Get One in Sin City)
(This article may contain affiliate links. If you click through and make a purchase, we will receive a small commission at no additional cost to you. )
The Las Vegas roll is one of the most popularly consumed forms of Sushi in Vegas.
If you're in Vegas and you haven't had a Las Vegas Roll, you've clearly done Vegas all wrong! (Don't worry, it's just more of a reason to go back!)
If you're bursting with curiosity to learn about this contemporarily unique form of cuisine, then this is the perfect place to be, to have all your questions addressed and answered!
Today, we'll be looking at the anatomy of the infamous Vegas roll – how it's made – and we'll also address some FAQs.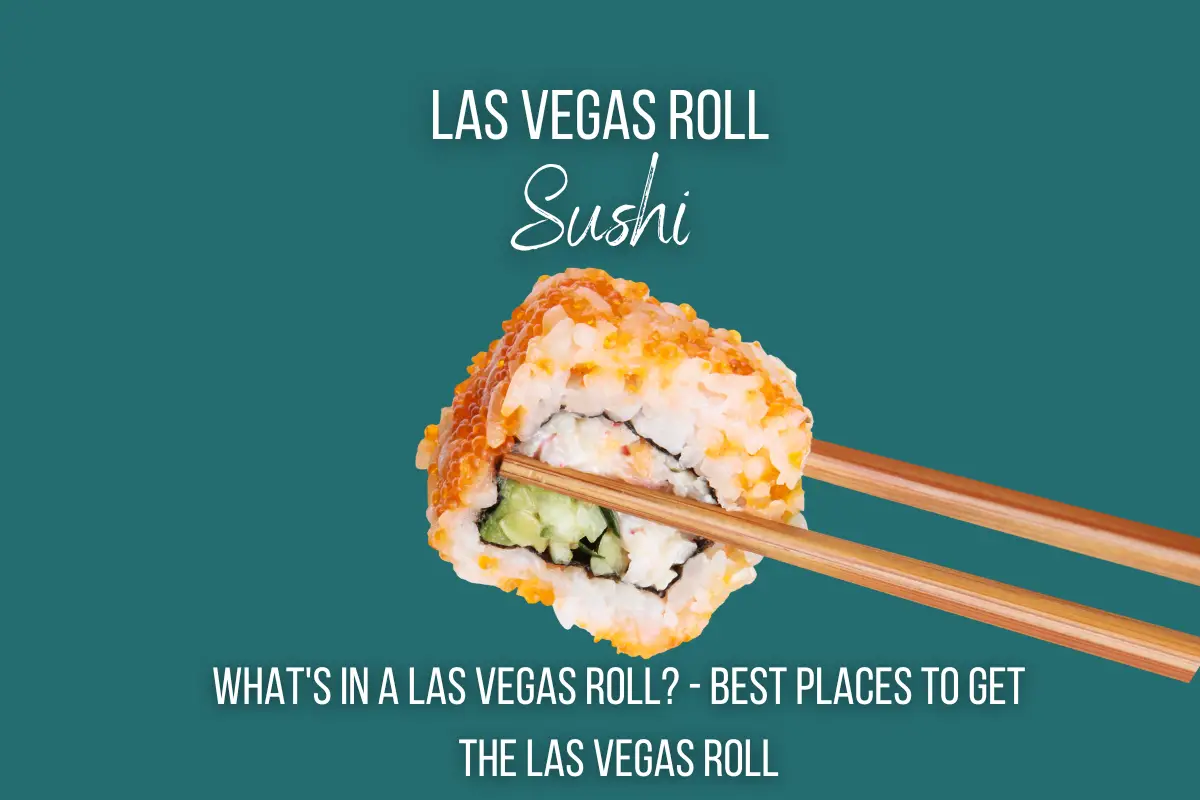 Las Vegas Roll – The Basics
Let's start with what this magic roll actually is, and what makes it so special?! We have the answers.
What Is The Las Vegas Roll?
Las Vegas rolls are a very popular choice from the renowned Japanese-American restaurant Benihana, which famously showcases and prides itself on its prestigious Las Vegas rolls.
Vegas rolls have an ambiguous origin, although Benihana is often given credit. The roll itself is a fusion Japanese-American sushi roll.
The name is derived from Sin City because the sliced roll's appearance is very similar to that of a poker chip; how thematic!
The filling in these famous rolls primarily consists of fresh ingredients, surrounded by sushi rice and then wrapped in dried pressed seaweed, also known as nori. To finish the roll, the nori is coated with the same batter that was used for tempura and is then deep fried.
For a more detailed list of ingredients within, keep reading to find out what goes into these rolls.
What Exactly is in a Las Vegas Roll?
The filling in a Las Vegas roll consists of cucumbers, avocado, cream cheese, salmon (this can be either raw or cooked), tempura-battered jalapeños (lightly fried), all wrapped in sticky rice, and finally, in nori. The entire roll is then coated in tempura batter and is deep-fried after being rolled.
Vegas rolls, however, have been changed up and vary across different recipes and restaurants, but they mainly tend to have the same base.
If you don't prefer some of the classic ingredients and would like to switch up your Vegas roll, you can always experiment and try adding some different types of seafood or vegetables.
Vegas Rolls Nutritional Quantities in 1 Serving: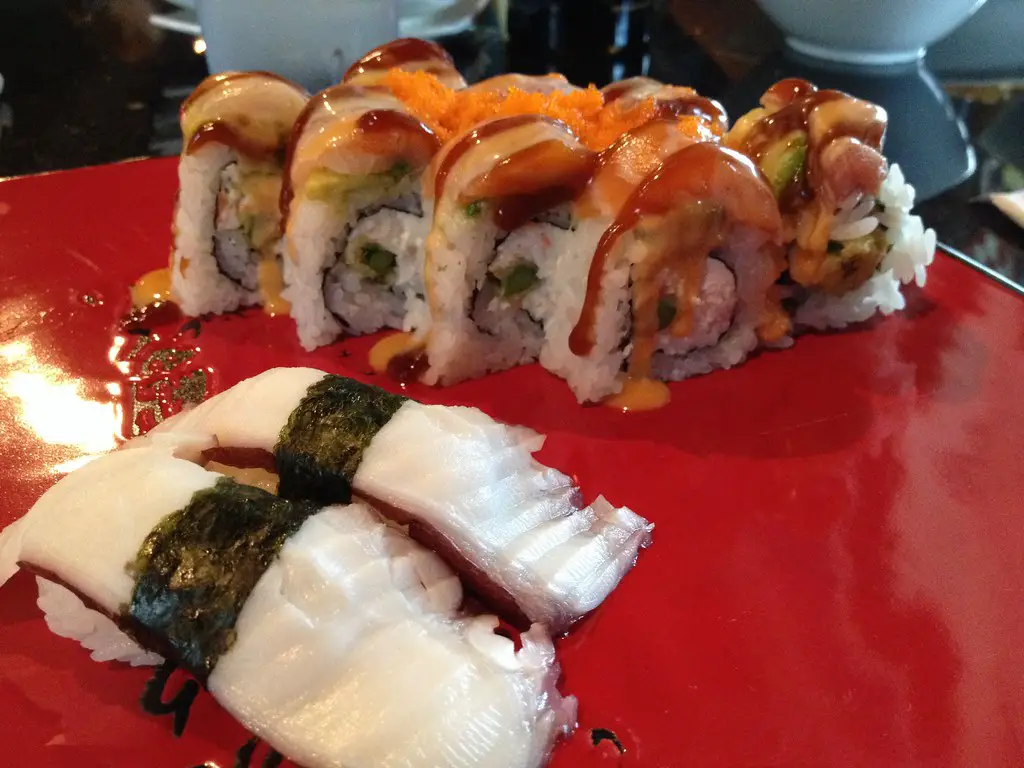 Photo:- Flickr Image
The total amount of fat within a Vegas roll serving is 32 grams (one serving equals 5 or 6 pieces). The dreaded carbs are 66 grams, with protein count being 19 grams, and overall calories coming up to 650kcal in one serving.
Las Vegas Roll Calories
The calorie count deserves its own dedicated section. Due to the nature of sushi – it is very normal for each individual to change ingredients within to cater to their tastebuds. This, however, can definitely prove to be difficult when gauging calories in an average Las Vegas roll.
It is true that Las Vegas rolls have a higher calorie count compared to other variations of sushi, primarily because they are coated in batter, deep fried, and almost always include cream cheese.
Now that we've covered the key features of a Las Vegas roll, we've selected our top 4 restaurants in Vegas to find the best versions of the legendary Las Vegas roll .
Best Places To Get The Las Vegas Roll (In Sin City)
This list is based on not just where to find Vegas rolls but also the highest rated, best located, and of course, best tasting Vegas rolls.
1. YU-OR-MI Sushi Bar
If you've got a day planned in the Arts District downtown, your best bet for sushi is to head to Yu-Or-Mi. They have an exciting sushi variety with loads of nigiri, varying classics as well as signature rolls, and the best part, shareable appetizers!
The menu also features a variety of vegan and vegetarian options. The Roulette Roll is what you're after if you specifically want Vegas roll-styled sushi.
Location: 100 E California Ave (google maps)
2. RA Sushi Bar And Restaurant
Photo:- commons.wikimedia.org
The Viva Las Vegas Roll is just what you need on a hot day in Vegas! The roll features rolled crab and cream cheese, topped with spicy tuna and crab mix, battered tempura, and coated in batter. It is beautifully garnished and comes with sliced lotus roots. Definitely, a must-try on our list!
You'll find RA Sushi Bar inside the Fashion Show Mall at 3200 S Las Vegas Blvd (google maps)
3. Sakana Sushi
Sakana Sushi is just as much for the locals as it is for the tourists. Located within close proximity to UNLV, it is often flooded by college students. It offers an excellent 4 piece Las Vegas roll selection.
Address: 3949 S Maryland Pkwy (google maps)
4. Benihana
I saved the best for last! If in Vegas, this one is a must-try. Benihana practically invented the Vegas roll! For the optimal experience, pair your Vegas roll selection with some junmai sake, which will definitely open up your pallet and enhance the flavorsome experience!
Benihana in Las Vegas has two locations:
3200 S Las Vegas Blvd inside the Fashion Show Mall (google maps)
3000 Paradise Rd inside the Westgate Las Vegas Resort (google maps)
Las Vegas definitely has a big list of specialty sushi restaurants, but if you're after Vegas rolls in particular, then these are the most recommended!
RECOMMENDED: Las Vegas Buffets (Currently Open!)
If you're having a midnight craving and realize you have all the ingredients you need to make Las Vegas Sushi rolls yourself, I've added an easy recipe below:
Recipe For Las Vegas Rolls
Here is the simplest Vegas Roll recipe; you'll be a pro after the first try!
Make Sushi Rice
Before starting anything, you need to prep the sticky rice. Since a significant amount of time goes into prepping, i.e. washing, soaking, cooking, and cooling of the rice, I'd recommend starting with the rice before everything else!
Creating the perfect Tempura Batter
Some quick and easy steps;
Tempura batter is luckily easier and faster to make compared to sticky rice. Start by beating the egg yolk in a bowl. The eggs don't need to be fluffy in consistency but need to be well-whisked.
Proceed to add flour (3/8 cup) to the egg-whisked bowl, alongside some corn starch (2 tbsp), baking powder (1/2 tsp), and curry powder (1/4 tsp). Mix well with the egg yolk.
After having mixed well, add half a cup of water to the mix and ensure the water is icy cold because your batter tempura's consistency depends on this! Add the water gradually while mixing, and your batter will be ready!
Prepping For a Las Vegas Sushi Roll
Start by slicing the salmon and avocado lengthwise. Do the same with your cream cheese, cut it into sticks, and proceed to scoop them out. Additionally, slice the jalapeños into quarters.
Proceed by heating the cooking oil for deep frying. Dip the jalapeño pieces into the batter.
Finally, fry the jalapeños until the batter has become crispy. Once this is done, set them aside on a plate and allow them to cool.
Rolling The Vegas Rolls
Finally, time to roll! It's okay to start this before your fried peppers have cooled completely. It is important, however, that the rice is cooled to near room temperature.
Place a sheet of nori on a bamboo rolling mat, ensuring the textured side is faced upwards. Gently spread the rice onto the nori with a rice paddle or even a spatula.
Proceed by arranging all fillings. Spread the cream cheese first by carefully scooping the sticks out of the tub. Then place the salmon, making sure the slices last the complete length of the roll itself. Do the same with the cut avocados and crispy jalapeños.
To roll the sushi, lift up the end of your bamboo mat closest to where you put the fillings. Ensure you are tucking and pressing the roll well while rolling, and delicately apply pressure once the nori meets. Gently press down to force out any excess air. This also has the added advantage of creating a tighter roll.
Frying The Rolls
When your Las Vegas rolls are prepped and ready, pour approximately half of the left-over tempura batter over them, making sure to coat each side of the roll, but don't worry if it's thin/uneven.
Reheat your oil and put the first roll in once the oil is hot enough. The roll should be halfway submerged in the oil. Once one side is cooked, flip the roll over to the other side. Once both sides of the roll are crispy you can remove it from the oil. Then, continue this process with the next roll.
Finally, plate your rolls after cooling down, pair them with a nice sauce such as unagi, sriracha, and mayo, and enjoy! 
I hope you found all you needed to know about the infamous Las Vegas rolls. They are definitely a unique variation within the sushi world and a must-have for all those who love sushi and who would like to try something decidedly Vegas!
RECOMMENDED: 8 AMAZING Las Vegas Tacos and Where To Get Them!