Can You Vape in Las Vegas Hotel Rooms? (What You Need To Know)
(This article may contain affiliate links. If you click through and make a purchase, we will receive a small commission at no additional cost to you. )
Las Vegas is known to be a place where anything goes, and we do mean anything. So when someone asks, "Can you vape in Las Vegas hotel rooms?" the answer is technically, "Yes."
But first, let's look at the "whys" and the "hows" of it all, so no one gets into trouble, shall we? After all, they may claim that "What happens in Vegas stays in Vegas," but fines and arrest records will follow you everywhere.
Rules Changed for Smoking in Las Vegas Hotels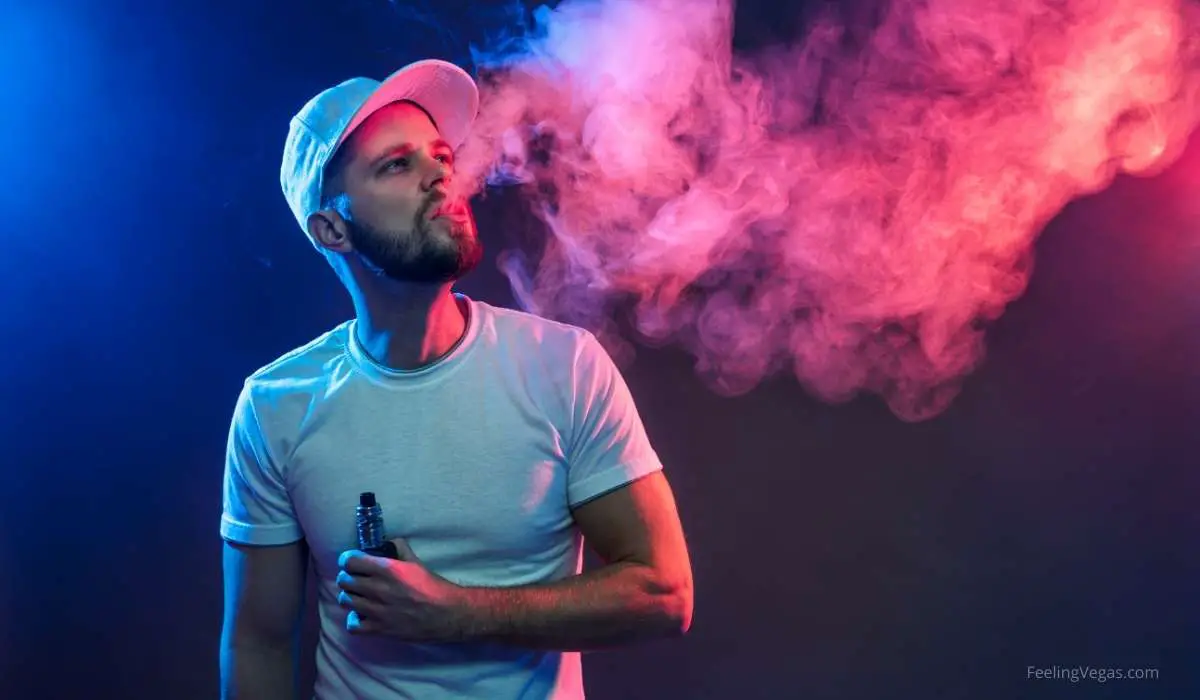 The reason that the rules on smoking and vaping in Las Vegas seem so conflicting may be that they have changed drastically since the signing of the Nevada Clean Indoor Air Act in 2006.
The onset of Covid in 2020 also changed some of the rules on smoking on Las Vegas casino floors, in clubs, most hotels, and other public places along the Las Vegas Strip. For example, in any place where masks were required, smoking and vaping was banned. Some places have since relaxed those hotel policies, but others have not. 
Is vaping considered smoking according to these rules? Yes, it is.
While it used to be true that you could smoke or vape practically anywhere in Vegas besides a non-smoking hotel room, Las Vegas hotels have had to crack down as the laws change. There are still smoking hotel rooms in Sin City, but strict rules about cigarette smoking and vaping could get you into trouble if you aren't aware of them.
The Nevada Clean Indoor Air Act for Smoking in Public Spaces
As mentioned, the Nevada Clean Indoor Air Act (NCIAA) was enacted in 2006 to protect both adults and children from secondhand smoke in most public indoor places and places of employment.
Places Where Tobacco Smoking, Vaping, and Smoking Marijuana is Banned
Today, there are many locations where smoking and vaping is illegal in Nevada. Some of the main places where this law banned smoking and enacted a firm no smoking rule includes but is not limited to these locations.
Movie theaters
Government-owned buildings and public places
Video arcades
Shopping malls and retail shops
Any bar, saloon, or tavern where minors under 21 are allowed
Indoor areas inside restaurants, even if they are in a casino
Inside any grocery store, drug store, or convenience store, even in video game areas
Child care locations that have five or more children
Anywhere on public or private school campuses, inside or outside
Any business or location where they have established their own no-smoking rules
Health care facilities
Places Where Use of Cigarettes and Vaping Devices is Allowed
Due to the exemptions that were put in place after the NCIAA became law, vape pens, cigarettes and tobacco products, e-liquid, electronic cigarettes, and other such substances are allowed in certain places, although marijuana may still not be allowed.
Private residences, even when the residence is used for business unless that business is a child daycare facility or health care facility.
Areas that are used for conventions during tobacco-related trade shows, as long as those areas are closed to the public.
Brothels and strip clubs.
Retail tobacco shops.
Completely enclosed space inside of saloons, bars, and taverns where minors under 21 are prohibited.
Casino gaming areas where minors are not allowed to loiter by law.
While smoking cigarettes and vaping is allowed on the gaming floor of casinos and areas where kids are not allowed, it is still banned from restaurants, bars where kids are allowed, hallways, elevators, bathrooms, break rooms, and other such public areas.
Casinos, hotels, and other businesses may also make their own rules about smoking and vaping. Many casinos have set up non-smoking poker rooms, and hotel management in many locations offers non-smoking hotel rooms.
Remember that the same rules apply to vaping as to smoking, so if it is not okay to smoke inside of your hotel room or any other area, then it is not okay to vape inside, either.
Also, it is not okay to smoke in hotel bathrooms in any non smoking area, including a nonsmoking room.
Can I Get Away With Vaping in Non-Smoking Vegas Hotel Rooms?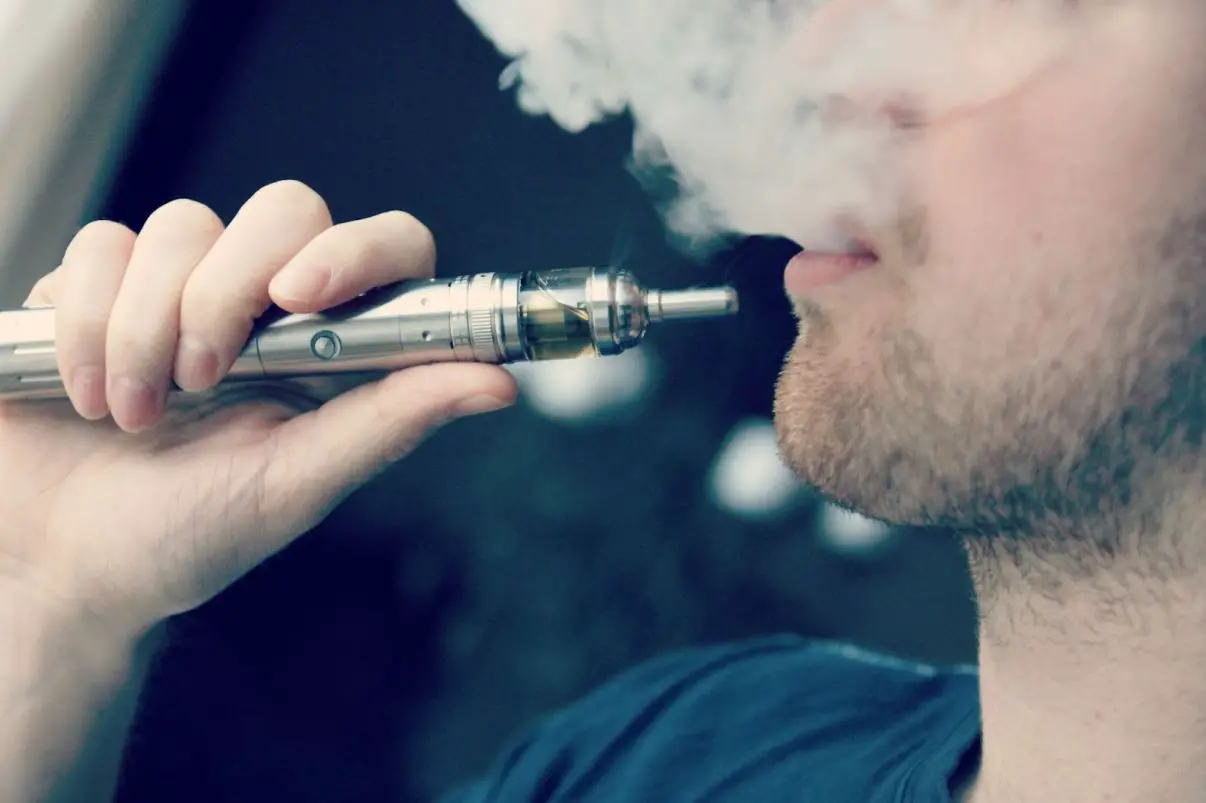 Photo:- Flickr Image
No. There is no vaping allowed in non-smoking rooms, and yes, they can tell. According to Las Vegas defense attorneys, smoking comprises any method of smoking tobacco products, vaping products – including e-cigarettes, vapes, hookahs, pipes, cigarettes, cigars, or any oral smoking device.
So, unless you are staying in a designated smoking room, then none of these are allowed.
If your Las Vegas hotel room is a non-smoking room and you decide to use any of these products, the management has the right to ask you to leave. They may also confiscate your vape set, e-cigarettes, or any other smoking and vaping products.
What is the Penalty if I get Caught Smoking or Vaping in a Non-Smoking Hotel Room in Vegas?
You might also get stuck with a hefty fine if you smoke in an area that a business has set aside as a non-smoking area. In MGM hotel rooms, where smoking is not allowed, they will bill you $500 for a deep cleaning fee if they detect smoking in your room. Those cleaning fees alone are enough to dissuade most.
If Vegas hotel staff smells the lingering odor of nicotine, the lingering smell of e cigarettes, tobacco smoke, or see other signs of smoking, they can add extra charges to your card even after you've left the hotel. Aside from the smell, smoking in your rooms could also trigger the smoke alarm system, fire alarm, and smoke detectors.
What If I Smoke in Prohibited Areas in Vegas?
Those rules are for places where it is technically legal to smoke, but the penalties can get much worse if you are caught smoking in areas where it is illegal. In Las Vegas, smoking in a non-smoking area is a misdemeanor that can cost you up to 6 months in jail and $1000 in fines.
Non Smoking Las Vegas Casinos and Hotels
For those who do not vape or smoke and wish to avoid casinos and hotels where it is allowed, there are a few places that are completely smoke-free. The following hotels are completely smoke-free as of 2022.
Delano Las Vegas
The Platinum Hotel and Spa
Wyndham Grande Desert Resort
Cancun Resort Las Vegas
Trump International Hotel Las Vegas
Renaissance Las Vegas
Marriott Vacation Club Grand Chateau
Hilton Grand Vacations – both on the Las Vegas Strip and Elara
Park MGM and Signature at MGM Grand
Vdara
Smoking or Vaping is Allowed at These Vegas Hotels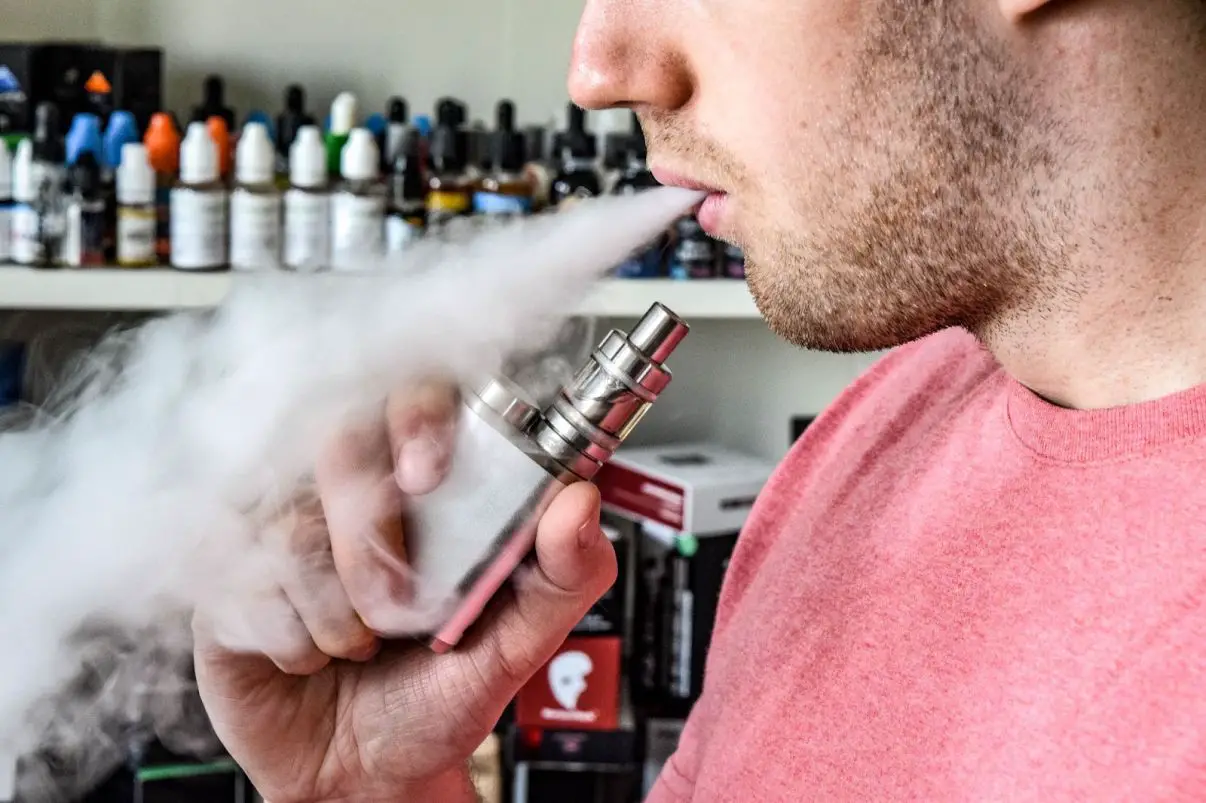 Photo:- Flickr Image
On the other hand, if you wish to smoke or vape at your hotel or casino in Las Vegas, there are hotels that cater to you, also. As of 2022, these locations allow smoking on the premises in places where it is legal.
Venetian Resort
Wynn Las Vegas
Tropicana Las Vegas
Treasure Island TI Hotel and Casino
Plaza Hotel and Casino
Tuscany Suites and Casino
Four Queens Resort and Casino Las Vegas
Downtown Grand Hotel and Casino
Planet Hollywood Las Vegas Resort and Casino
The Mirage
The STRAT Hotel, Casino, and Skypod
Caesars Palace
Conclusion
Vaping and smoking are allowed in some Las Vegas hotels and casinos. There are also places in Las Vegas where marijuana vaping and smoking are allowed (i.e., private residences). Weed is not allowed in casinos, hotels, and other public places, however. 
If you wish to stay in a hotel where smoking and vaping tobacco products and such is allowed, be sure to specify that you need a smoking room when booking online or by phone. 
I hope this post has helped answer any questions you had about vaping in Las Vegas. Feel free to browse our site for more informational articles about Sin City!
Recommended:
How To Choose a Hotel in Las Vegas (The Ultimate Guide)