Does Harrah's Las Vegas Have balconies?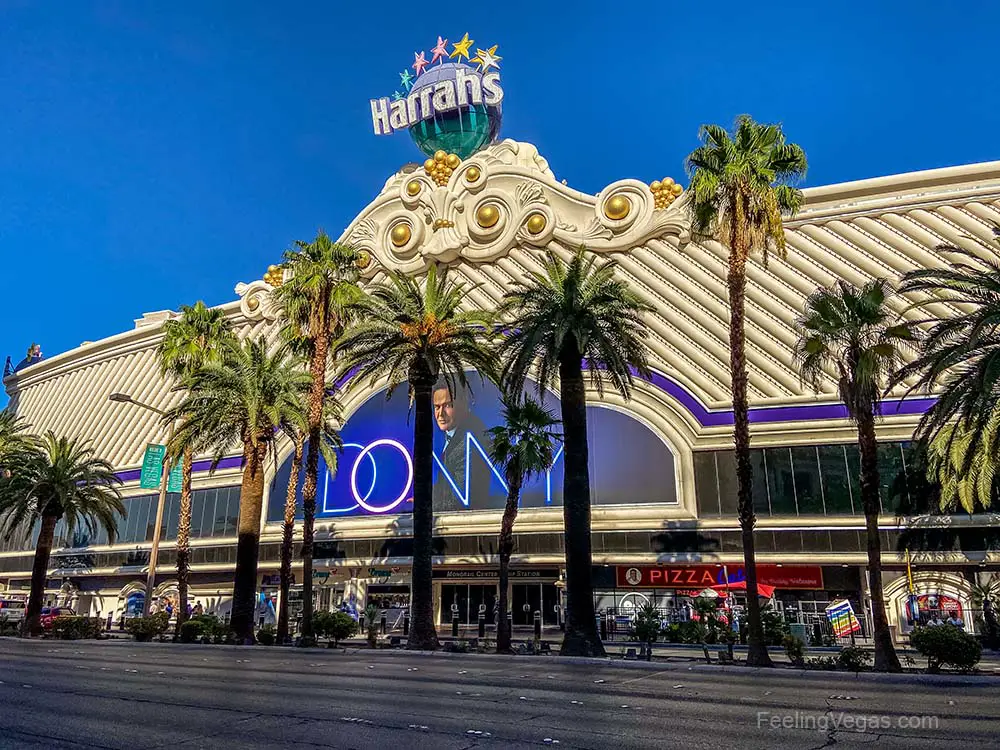 (This article may contain affiliate links, which means we might earn a small commission if you click and make a purchase. Thank you!)
All of the rooms at Harrah's Las Vegas offer climate-controlled air-conditioning and do not have accessible balconies or terraces. Instead, guests can enjoy outdoor resort facilities including a pool, swim-up pool bar, restaurants, and extensively landscaped grounds. 
So, while Harrah's doesn't have any balcony rooms available, this classic Las Vegas Strip hotel does have a lot to offer its guests.
Note: Las Vegas has very few hotels with a private balcony, but there is one really good choice and you'll find it in our article: Best Las Vegas Hotels with a Balcony or Terrace.
Compare and save! Check current Harrah's room rates at TripAdvisor.
What Types of Rooms Does Harrah's Las Vegas Have?
Harrah's Las Vegas Hotel and Casino consists of two tower blocks named the Mountain and Valley Towers. Let's take a look at some of the rooms these two Harrah's towers offer. 
Mountain Tower Deluxe Room
The newly-renovated Mountain Deluxe Rooms offer 280-square-feet of space and feature a queen-size bed, blackout curtains, a 55-inch HDTV, and a desk with a lockable built-in safe. The ensuite bathroom is well-appointed with a good-sized walk-in shower and a large vanity with a mirror. 
There are large (almost) floor-to-ceiling windows on one side of each room that overlook either the pool area or the Strip. In the Mountain Tower section, some of the pool-facing rooms have 'balconettes' but many visitors have claimed they are not accessible or cannot be opened. 
Valley Tower Deluxe Room 
At 340-square-foot, the Valley Deluxe Rooms are slightly larger in size compared to the Mountain Tower rooms and offer 2 queen beds or 1 king-sized bed. The rooms are a bit longer in floor plan and offer a somewhat larger desk space with a built-in safe, blackout curtains, and a wall-mounted 49″ HD TV. Deluxe rooms also get a rain shower in the ensuite bathroom.
The windows in all Valley Tower rooms are smaller than those offered in the Mountain Tower range of rooms, although they offer better views of the Las Vegas city area. 
Mountain Tower Junior Executive Suites
The 580-square-foot Mountain Junior Executive Suite has also been recently renovated and offers a stunning interior and plush furnishing promising a private and comfortable stay on the Las Vegas Strip. 
The rooms have panoramic views of the Vegas Strip and feature a separate living and bedroom space both with 55-inch HD TVs. The bed is a large king-sized bed and the attached ensuite bathroom offers a walk-in rain shower. 
Presidential and Penthouse Suites
Both the Mountain and Valley towers offer plush Presidential Suites for when you want to stay in style. The Mountain Presidential Suite offers 2 bedrooms and a living space spread over 1,500 square feet that has been recently renovated to feel modern and chic. The Valley Presidential Suite is slightly smaller at 1,200 square feet. 
Both Mountain and Valley suites offer large open living spaces, a wet bar and counter area for entertaining, and stunning views over Las Vegas. 
The Valley Penthouse Suite is the ultimate luxury pad spread out over 2,040 square feet and offers plenty of dining and living space with a double-sided ottoman and a full-sized bar.
The History of Harrah's Las Vegas
Established in 1973 as the Holiday Inn, the resort now hosts a hotel, casino, and entertainment facilities that have undergone numerous renovations until in 1992 it was renamed Harrah's Las Vegas after William (Bill) Harrah, the hotel and casino's late founder. Nowadays the resort is a premier hotel and casino located in the heart of the Las Vegas Strip. 
Harrah's Las Vegas hotel now has 2,542 rooms that have recently undergone a complete remodeling which was completed in June 2021 at a cost of over $70 million. The redesign and remodeling also included the resort ground and casino floor and included upgraded lighting internally and LED illuminated marquees to the north and south entrances. 
See all of our Harrah's Las Vegas articles here.
Find the best deals on rooms at Harrah's and save big with TripAdvisor!
Summary
There are plenty of great room options available at Harrah's Las Vegas, with every room being freshly-appointed and remodeled. Many of the suites and rooms on higher floors offer excellent views out over the Las Vegas Strip, however, no rooms available at Harrah's Las Vegas have accessible balconies or terraces.
RELATED: Does Harrah's Las Vegas Have An Airport Shuttle?
More From Feeling Vegas
Up Next: Compare Las Vegas Hotels
References: