Why Hotels in Las Vegas Are Cheap (Answered)
(This article may contain affiliate links. If you click through and make a purchase, we will receive a small commission at no additional cost to you. )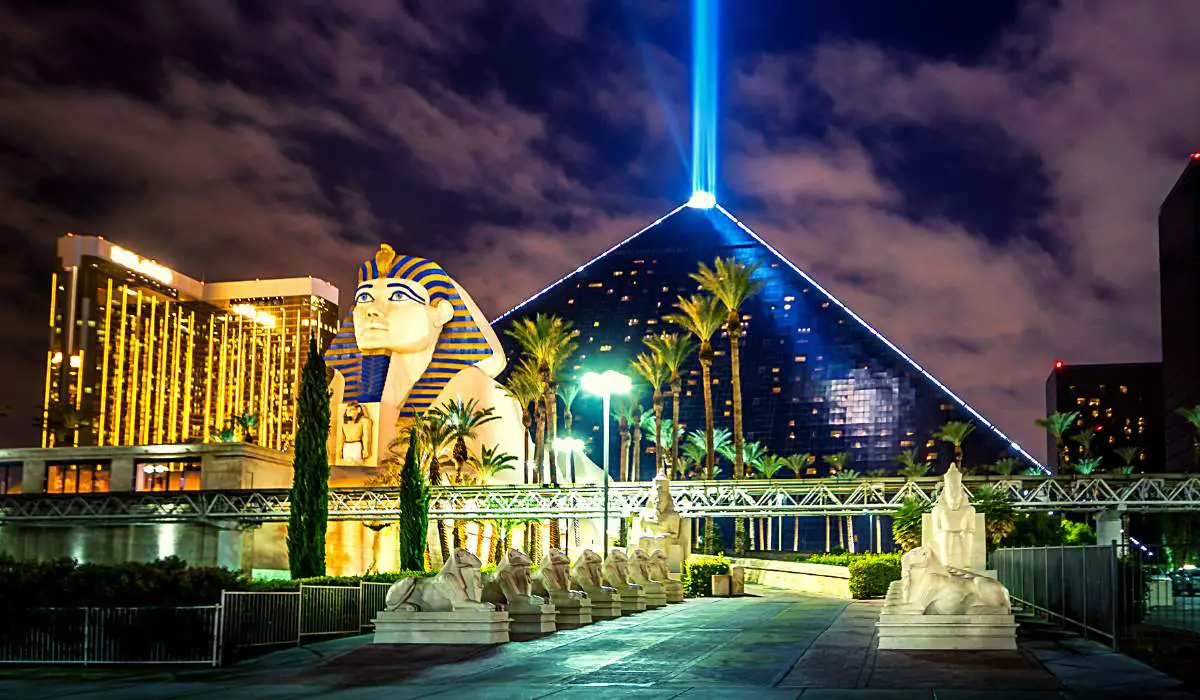 If you're planning a trip to Vegas and have spent any time researching hotel rooms, you may have been caught off guard by some of the cheap Las Vegas hotel room rates you've seen advertised. The truth is you will find that SOME hotel prices are very affordable in Las Vegas. Considering the popularity of the destination, this may come as a surprise.
Why are hotels in Las Vegas so cheap?
Hotel rooms in Las Vegas tend to be inexpensive because many hotels make their primary income on in-house entertainment in the form of casinos, restaurants, shows, and shopping rather than on the price of the room. In addition, quoted rates for Vegas rooms don't usually include the daily resort fee.
Let's look into this a bit closer.
The Secret Behind Las Vegas Hotels' Affordable Room Rates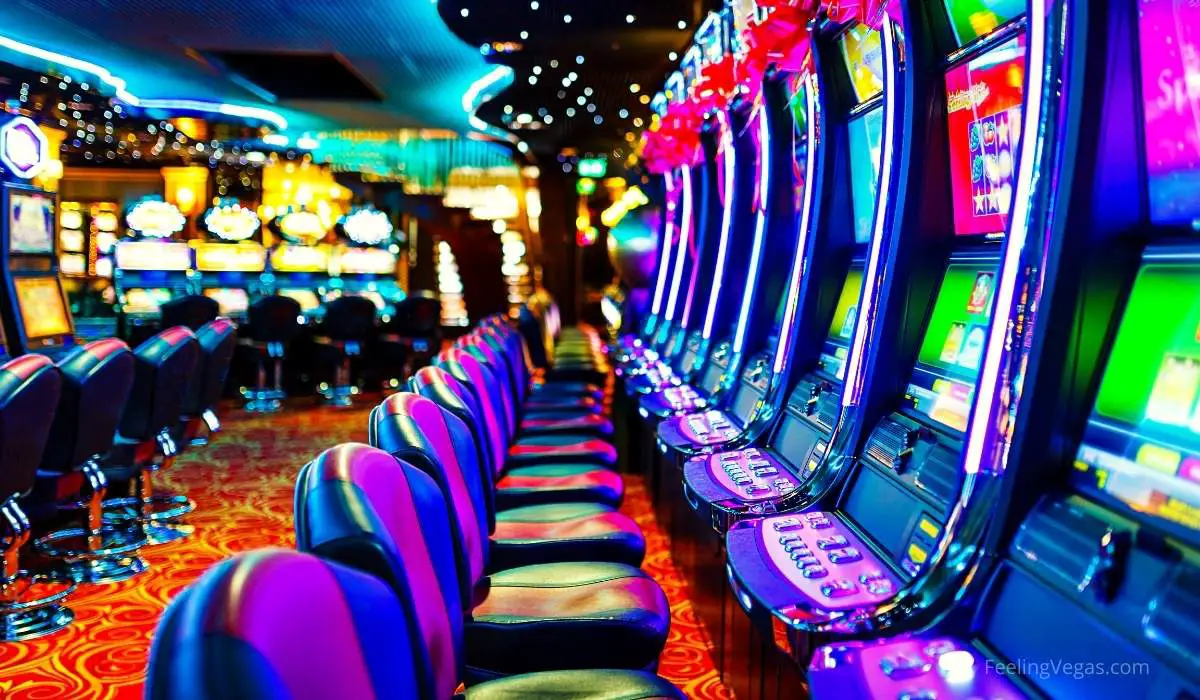 Las Vegas is a city with an economy based almost entirely on tourism, and tourists are incentivized to visit the city by keeping Las Vegas hotel rooms cheap.
Hotels in Las Vegas advertise inexpensive rooms because they want you to stay with them so you can take advantage of – and purchase – their other amenities. Some hotel and casino properties in Las Vegas can have low room rates and still make a profit.
Just the very fact that you will be gambling in their casino and spending money elsewhere on the property is enough to ensure that the hotel will be making money.
The secret to cheap Las Vegas hotel room prices is that it's an attempt to get you to spend even more money at the property. Of course, that doesn't mean you have to.
Some More Reasons Why Las Vegas Hotels Are Cheap
Now that you know the main reasons why you can find surprisingly affordable hotels in Las Vegas let's dig a little deeper into some of the other reasons.
Lots of Las Vegas Visitors Help Keep Hotel Rates Down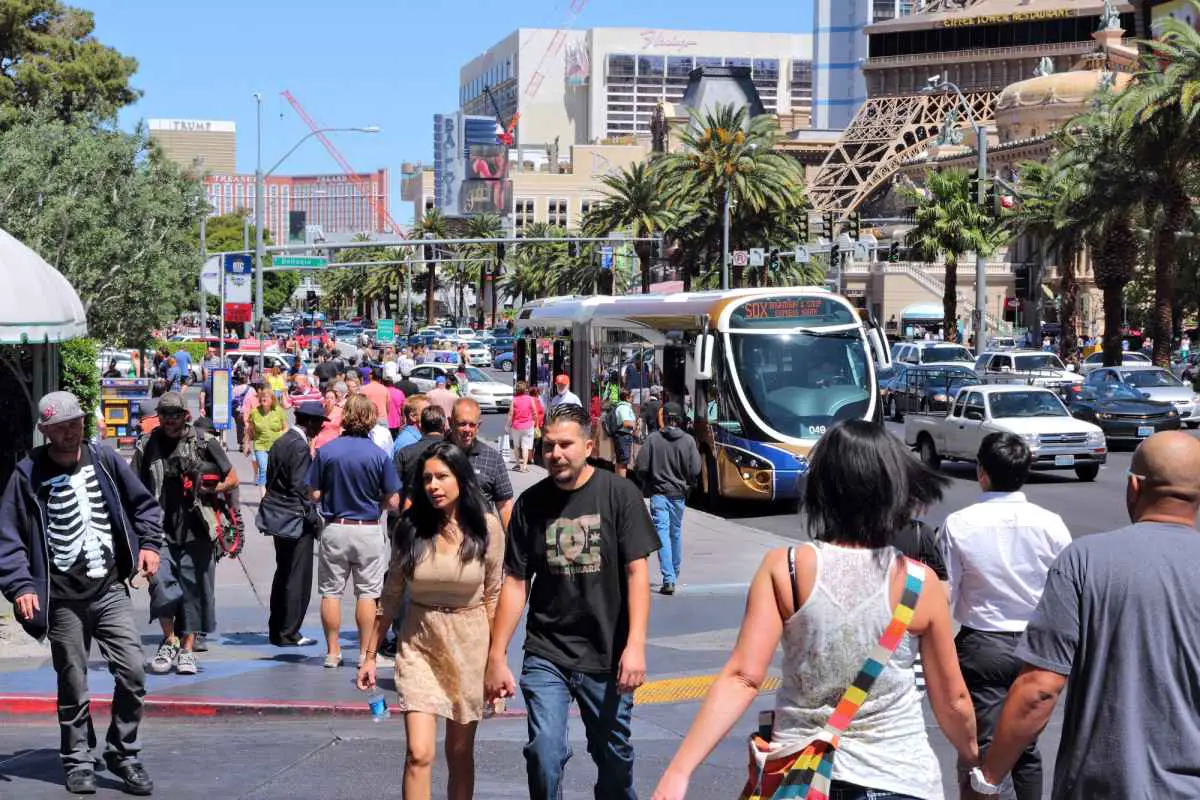 Las Vegas hotels do not need to worry about a lack of customers as this city is an extremely popular tourist destination. Prices can stay lower when business is steady.
The constant flow of travelers gives Las Vegas hotels the luxury of having a very high occupancy rate by hotel industry standards. By keeping the nightly room rates low and the rooms full, Vegas hotels are increasing the amount of money being spent inside their properties.
Interestingly enough, the problem some travelers may encounter when booking a Las Vegas hotel is that the more popular and less expensive hotels are likely to fill up quickly during busy periods. So, if possible, you'll want to make your hotel reservation several months before your scheduled arrival.
While planning a last-minute trip to Las Vegas is certainly doable, you may find that a big convention or other event is happening in town at the same time, which can make finding an affordable hotel more difficult as room rates can increase dramatically at times.
Las Vegas Vacation Packages Can Make Hotels Cheap
Travel packages that include both airfare and hotel also help to drive down hotel rates in Las Vegas. When you book a Vegas vacation package, you'll find rates are very competitive. Talk to a travel agent or go online and search for package travel deals to Las Vegas. You may get your flight and hotel at a great price.
A local Vegas travel operator that we recommend (Vegas.com) offers discount airfare and hotel packages.
Some of these package deals even include entertainment options. These may include shows or tours. Look at several different packages to find one that has the most items you prefer.
Competition For Guests Keeps Las Vegas Room Costs Down
Las Vegas has over 150,000 hotel rooms available in the city. The growing influx of tourists makes it easy for hotels and casinos to make money. However, competition among hotel companies is fierce.
As new investors build more hotels, the competition among the hotels for guests gets even greater. The winner in this scenario are the tourists as the hotels are always trying to offer lower prices and discounts to entice more visitors.
This is especially true when it comes to older Vegas hotel properties or those in good, but not the very best, locations.
When booking hotel rooms in Las Vegas, be sure to check several different hotels to find the best price. If the cost of your favorite hotel is higher than a few others, call and try to negotiate a better deal. You might get a price match.
On-Site Entertainment Makes Las Vegas Hotels Money
Las Vegas hotels are home to an endless variety of shows and entertainment that visitors are more than willing to spend big bucks on.
In Las Vegas, you can find something to do at any hour of the day or night. Tons of celebrities regularly perform in Las Vegas. Many people travel here just to see their favorite singer or comedian.
Large hotels in Las Vegas often have their own theaters and production shows. In fact, the biggest Las Vegas resorts have so much entertainment on-site that you will never need to leave. Everything you could possibly want or need is there.
And that is exactly the point. Guests who rarely leave their hotel property are guaranteed to spend their entire vacation budget (or most of it) in that one hotel property.
Multiple Sources of Revenue Keep Las Vegas Hotels Affordable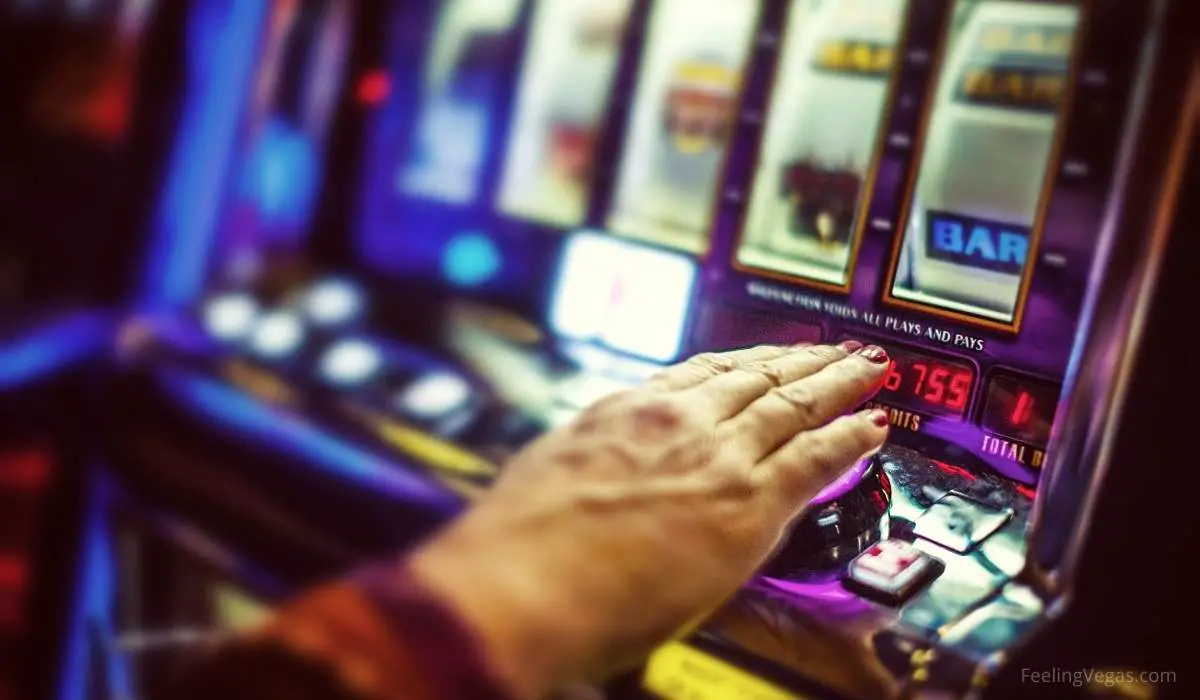 As we mentioned, hotels can often keep their nightly prices artificially low because they have multiple sources of revenue. Visitors may choose to stay at a specific hotel because of everything it has on offer.
Your hotel may also have a spa, fitness center, and pool. You can work off all the calories from the buffet at the fitness center and recover from a night out at the spa. A vacation just isn't complete without a dip in a luxurious heated pool, either.
You're likely to find restaurants and gift shops in your hotel as well. Every potential dollar spent at one of the onsite attractions is the number one reason many Las Vegas hotels can keep room rates affordable.
Pay attention to all the extras offered by your hotel or the businesses nearby. You are sure to find plenty of ways to both play and relax. You might even find a few free activities to do in Vegas.
Cheap Hotels on The Las Vegas Strip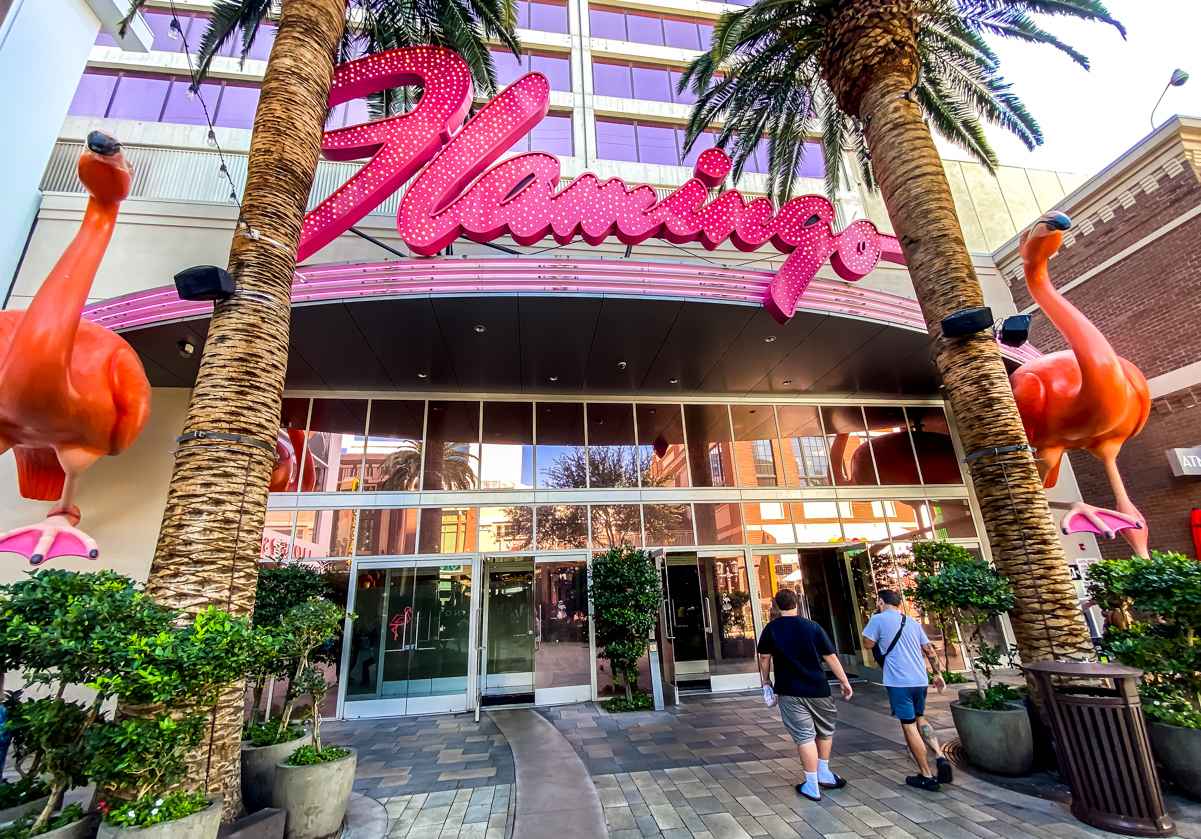 Just because a hotel in Las Vegas offers a cheap room rate doesn't mean that the hotel is second-rate. There are some very nice hotels in Las Vegas that can regularly or sometimes offer very inexpensive rooms.
Let me give you some examples of the recently advertised room rates of some of the cheaper hotels on the Las Vegas Strip.
These are just some examples of room rates during the middle of the week in the months of November and December. Of course, the room rates change throughout the year depending on the specific dates of your trip.
Also, remember that each of these Las Vegas hotels charges a daily resort fee on top of the advertised fee. See our resort fee guide for the up-to-date resort fees of each property.
Be aware that there are also hotel properties on the Las Vegas Strip that classify as "luxury hotels," and these are generally much more expensive. These include resorts such as the Bellagio, Wynn, and The Cromwell.
The cheapest you'll find rooms at these luxury locations starts at around $159, and they go up much higher from there.
ALSO SEE: The Flamingo Hotel: A bargain in the heart of Las Vegas
How Do Las Vegas Hotels With Cheap Rooms Make Any Money?
Now that you have a good idea why your Las Vegas accommodations can be so affordable, let's look at how these hotels make money. Knowing where your money goes when visiting Las Vegas can also help you prepare for your trip by thinking about the activities you may want to participate in.
Hotels can charge you a low rate for your room in the hopes you'll spend money on:
Gambling/ Casinos
Concerts
Stage shows
Eating at restaurants
Drinks
Onsite attractions
Parking fees
Vegas hotels can charge less for rooms when they are also making a profit on each one of these items.
Beware The Resort Fee: When The Cheap Price Isn't The Total Cost
There is also a darker reason why Las Vegas hotel room rates often seem relatively inexpensive but don't end up being as cheap as you first thought. Resort fees. A resort fee is an additional daily fee that is tacked onto the advertised room rate and provides access to wifi, fitness rooms, pools, and other amenities.
Resort fees can run as high as $45 a night in Las Vegas, and the reality is that there is no way to decline them. You will still be billed a resort fee even if you don't use any of the amenities. So, the room you got a "deal" on can end up being quite a bit more expensive once the resort fees are added on.
Here's an example:
Advertised Hotel Price
Resort Fee
Actual Price
$59
$35
$94 per night
plus taxes and fees
In the end, $94 still isn't a bad price for a decent room in a good location on the Las Vegas Strip, but it is quite a bit more than was advertised and can add up. It's sometimes even the case that the daily resort fee is higher than the daily room rate!
The only way to avoid resort fees is to choose to stay in a Las Vegas hotel without resort fees.
Some Tips For Saving Money on Hotels in Las Vegas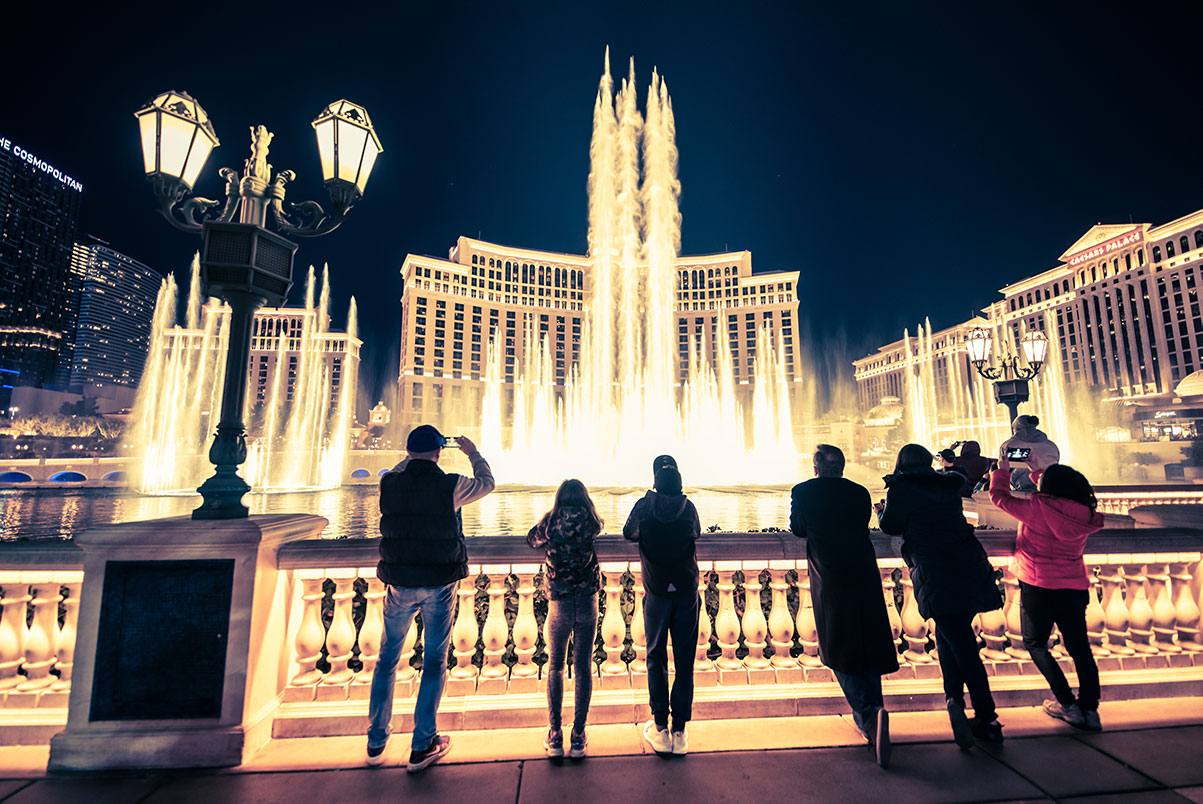 An affordable hotel is helpful on vacation. However, there are several ways to save money on a Las Vegas vacation. Take the time to learn about the different options at hotels in Las Vegas.
         Vegas Hotel Amenities
Many hotels have amenities and services that help you save money on your trip. A simple mini-fridge or coffee maker in the room reduces the amount of money you spend on food.
Your hotel may offer things like a complimentary breakfast buffet or a happy hour with snacks. Some hotels even have free shuttles that take tourists to their sister properties.
         Las Vegas Hotel Package Stays
If you are staying at a resort or casino, look at the different package pricing options. You can often include meals or entertainment on your bill. Travel agents can also help you book a trip that consists of a flight, tours, and accommodations for one lump sum.
         Choosing the Right Hotel Location
You can limit the money spent on transportation by staying in a Vegas hotel near your desired activities. You can stay in a hotel with a casino if your main goal is to gamble, for example. You are sure to find several entertainment options and restaurants near most hotels in Las Vegas.
         Sharing a Vegas Hotel Room to Save
If you are traveling with friends or family, consider sharing a room. Splitting the cost of a room can get you a nicer room for less than you paid if you each got a basic individual room.
There's so much to do in Las Vegas that it's unlikely that you'll be spending much time in your room anyway. You can even book a suite, which will have multiple sleeping areas, giving everyone plenty of room.
Conclusion
Some Las Vegas hotels are affordable due to the popularity of the destination and the competition in the area. Vegas resort properties are often willing to get you in for cheap and then encourage you to spend as much money as possible within the property.
Before booking your Las Vegas hotel, take some time to compare different hotel options. Check the hotel's website to find out more about amenities, prices, and entertainment. You can fit a lot of activities into a day in Las Vegas when you plan well.