How to Stay at The Bellagio for Cheap (Tips & Tricks)
(This article may contain affiliate links. If you click through and make a purchase, we will receive a small commission at no additional cost to you. )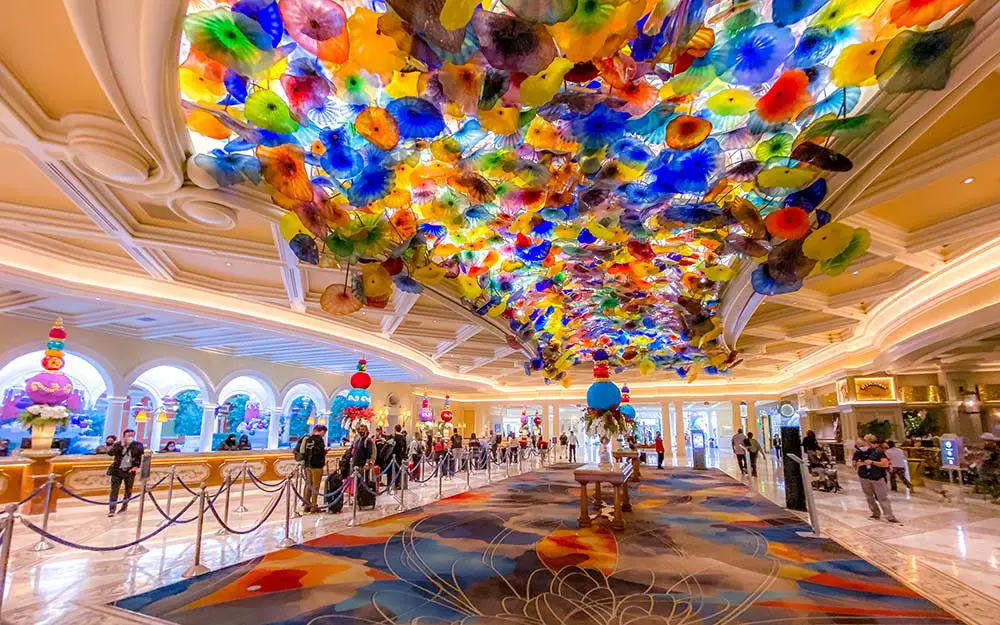 The Bellagio Hotel and Casino is famous along the Las Vegas Strip for its opulent hotel rooms and stunning resort grounds, but a night at the Bellagio doesn't come cheap.
Let's take a look at how to stay at the Bellagio for cheap and discover a few tricks to 'get comped' during your stay in Vegas! 
In the low season, you can ask your hotel concierge when you check in at the Bellagio if there are any complimentary room upgrades available.
Sometimes it's just that easy.
However, during peak season and during big events in Las Vegas, it's wise to book in advance to get the cheapest rates. 
Compare and save! Check current Bellagio room rates at TripAdvisor!
Book a Bellagio Room During The Low Season
While Las Vegas doesn't really have an "off-season" per se, there are definitely peak seasons and low seasons.
During peak season (November, February, and March), a standard Bellagio room costs around $185 per night during the week and up to $400+ per night on weekends and holidays. 
In the low season (July, August, and December), savings are to be had on standard room rates. You can find discounted room rates offered by most of the hotels along the Strip.
A quick check on a hotel booking website shows room rates as low as $157 per night (midweek) for a standard room at The Bellagio during the low season. 
Stay at The Bellagio Midweek to Save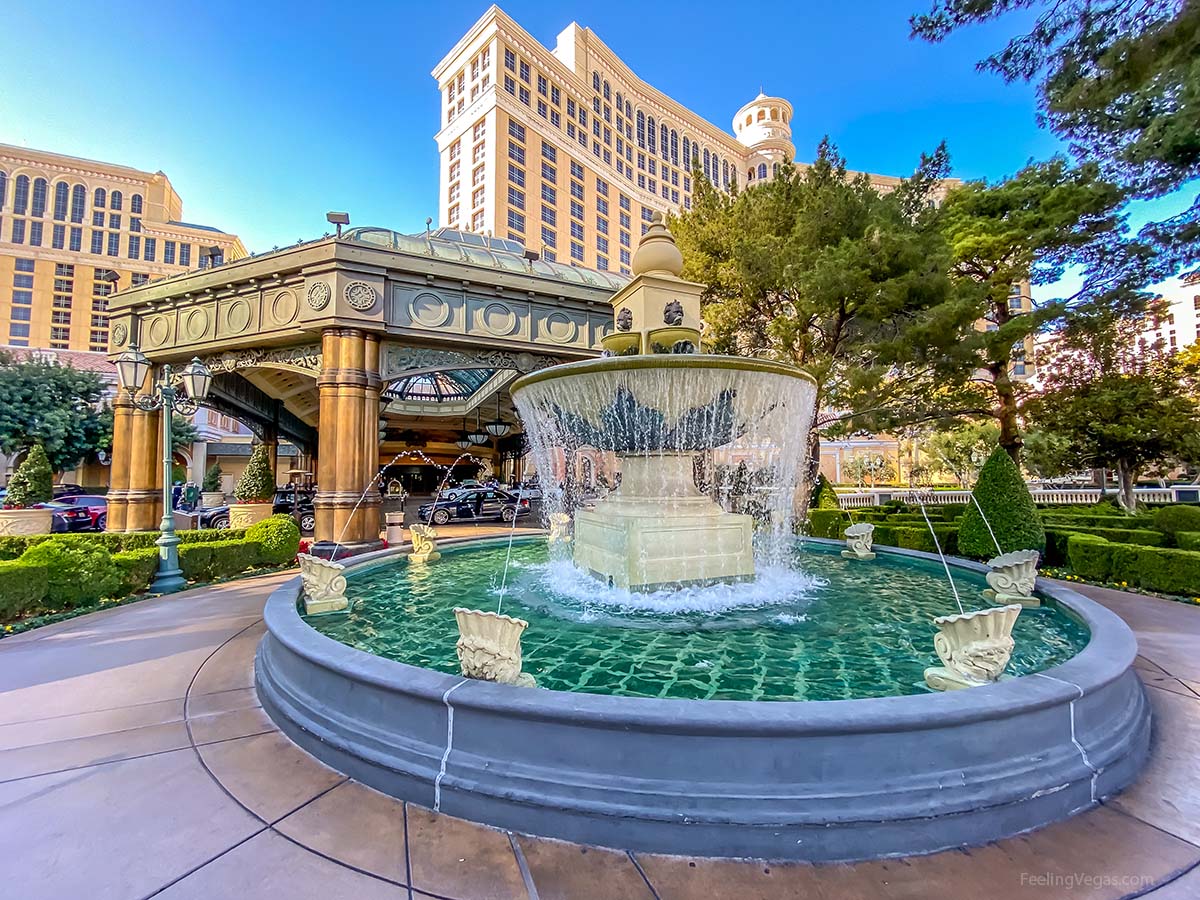 No matter what time of year you're planning a visit, if you want to stay at The Bellagio for cheap, the key is to book ahead and plan your stay for midweek (not including a Friday).
Midweek rates are considerably lower than weekend rates, and you'll have much more chance of getting 'comped' a room upgrade if it's less busy.
If you're worried you might not have as much fun in Vegas during the week, you'll want to read my article here. Las Vegas is a blast every day of the week.
Bellagio Resort Fees and How to 'Get Comped' 
Unfortunately, no matter when you stay at the Bellagio (or most any other major Las Vegas hotel), you'll need to plan to pay a daily resort fee.
Of course, the quest for most seasoned Vegas guests is finding ingenious ways of not paying the resort fees during their stay.
Like it or not, The Bellagio resort fee rates are some of the highest on the Strip, and this rate is added to your room rate whether you use the resort services or not. 
You can find the current Bellagio resort fee here.
The phrase 'getting comped' originated in Las Vegas, and it is basically about getting free stuff (complimentary) from your hotel.
This can be anything from a comped room upgrade when you check-in, free in-room drinks or champagne on arrival, to free tickets for shows, nightclub entry, or even (if you're lucky) waived resort fees. 
(Although most major hotels in town charge a resort fee, there are a few Vegas hotels without resort fees).
Experienced visitors to Vegas know the best way to 'get comped', which can be anything from flashing a smile to your concierge at check in to throwing down a serious wad of cash on the gaming floor (the most likely way). 
The bottom line here is that the more you spend at the Bellagio or other MGM-operated properties, the more likely you'll be given a freebie.
The way all MGM properties keep track of your spending (The Bellagio included) is when you use your MGM Rewards players card.
MGM Rewards and Express Comps at Bellagio
The Bellagio has its own version of a customer loyalty program called MGM Rewards (formerly called M Life Rewards).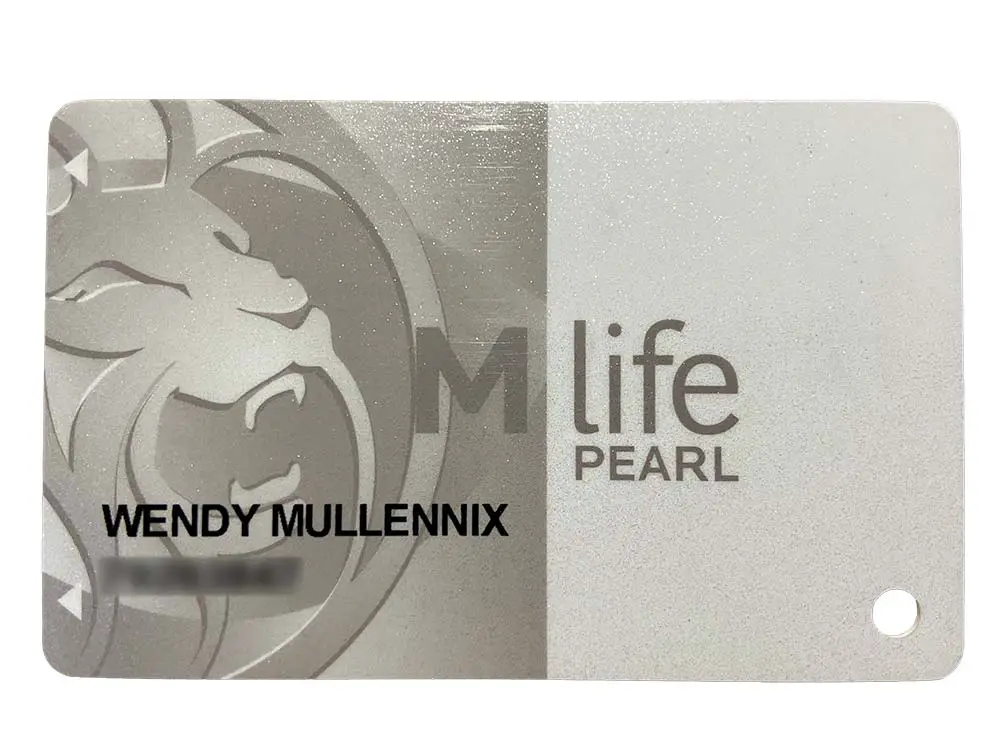 The way it works is you are issued a member card (you will put the card into the slot and video machines when you play), and you accumulate reward points the more you game. 
People with an eye for slots or video poker are on track to earn Express Comps, which according to the Bellagio website, is the fastest way to earn comps.
Once enough points have built up, you can redeem Express Comps for anything from hotel accommodations to dining at resort restaurants to entertainment vouchers and tickets to Bellagio shows.
Try The $20 Trick at Bellagio to Get a Free Room Upgrade
While the Vegas Strip has been famous for having some of the greatest magic shows on earth, there's a whole different type of sleight of hand being performed by hotel guests all up and down the Strip: The $20 trick.
Simply fold a crisp $20 bill between your credit card and ID card and hand it to the concierge during check-in.
Next, politely ask the Bellagio receptionist, "Are there any complimentary room upgrades available?". 
That's it!
Many guests claim the $20 trick works well for getting room upgrades, discounts on resort fees, and 'comp' (complimentary) services such as shows and meals for free, saving you tons of cash. 
There are no guarantees on the $20 trick, but you'll never know if you never try.
Find the best deals on Bellagio rooms and save big with TripAdvisor!
Staying at Bellagio For Cheap – Summary
Staying at The Bellagio doesn't have to break the bank. Staying midweek offers cheaper room rates and more of a chance of getting comped.
If you're planning to hit the gaming floor, make sure you sign up for the MGM Rewards program, and when all else fails, the $20 trick could be worth a shot! 
References: