7 Reasons Why Las Vegas Hotels Have Such High Occupancy Rates
Grand casinos, live music, and thrilling nightlife may just be the most anticipated aspects of Vegas, but the hotels are nothing short of stunning, to say the least.
The hotel resorts are just as practical as they are jaw-dropping, capable of housing thousands of guests simultaneously. Yet they are, surprisingly, almost always fully booked.
Hotels in Las Vegas have high occupancy rates of approximately 90% because of a growing influx of visitors. Year after year, tourists (42 million in 2019) flood the city in ever-increasing numbers. Even with over 150,000 hotel rooms in Las Vegas, there can still be a shortage of rooms in Sin City.
I'll elaborate more on why Las Vegas hotels have very high occupancy rates and share some of the most in-demand hotels in this article. So, keep reading!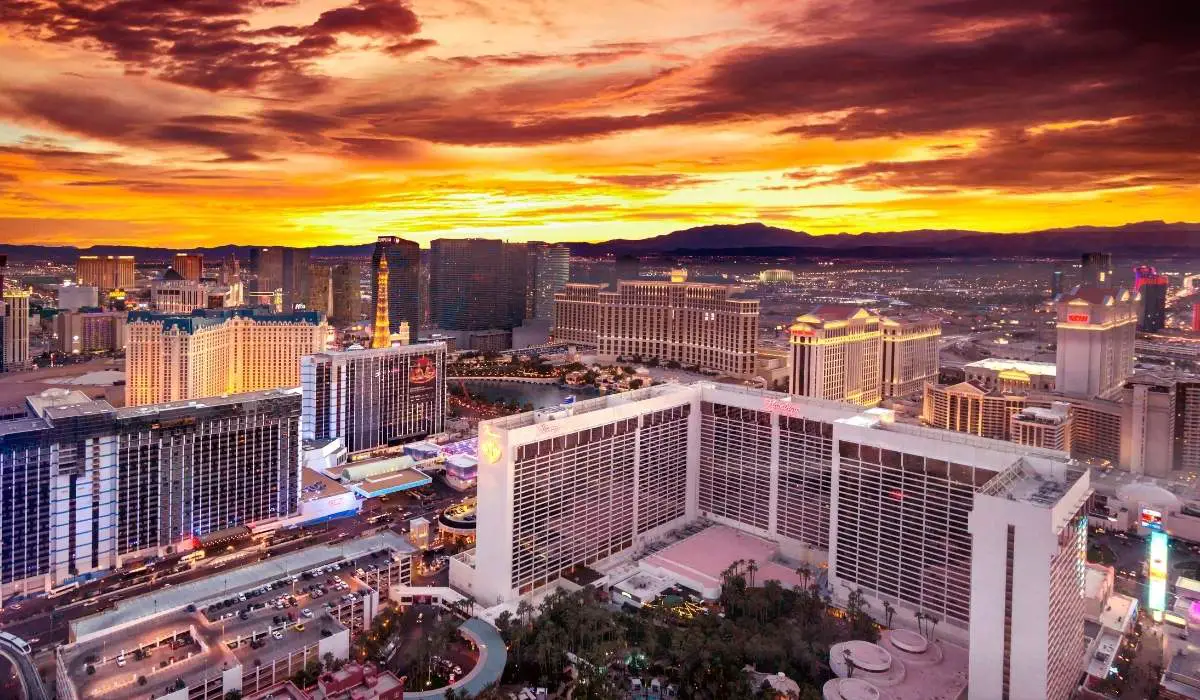 (This article may contain affiliate links, which means we might earn a small commission if you click and make a purchase. Thank you!)
What Does "Occupancy Rate" in The Hotel Industry Mean?
Before we jump into the reasons for Las Vegas hotels having such a high occupancy rate, it's important to define exactly what "occupancy" means when it comes to the hotel industry.
A hotel's occupancy rate is determined by the total number of rooms available and what percentage of those rooms are occupied at any given time.
The formula looks like this:
Number of Rooms Occupied ÷ Total Number of Rooms = Occupancy Percentage
For example, The Bellagio in Las Vegas has approximately 4,000 rooms available to be booked. If 3,600 rooms are currently occupied, then the hotel would have an occupancy rate of 90%.
Average Hotel Occupancy vs. Las Vegas Hotel Occupancy
The average worldwide hotel occupancy rate is between 50-80% (source). Las Vegas, on the other hand, has an average occupancy rate of 89.8%, with some individual years (2017) reaching as high as 91.3% (source).
This is a very high average occupancy rate for the hotel industry, and it goes to show that not many of the 150K+ Las Vegas hotel rooms are sitting around empty.
7 Reasons Why Las Vegas Has a High Hotel Occupancy Rate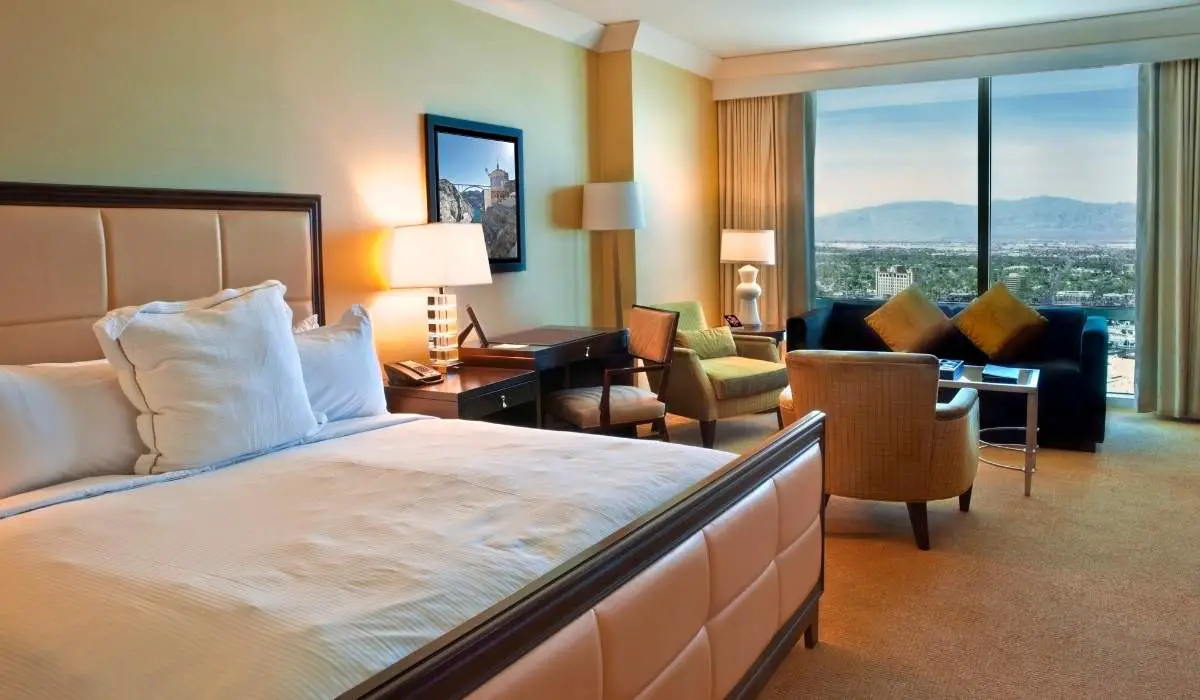 Since 2001, Las Vegas has experienced a steadily growing number of visitors each and every year (with the exception of 2020 & 2021 due to the pandemic).
This is highly remarkable because Vegas has over 150,000 hotel rooms, which is the largest number of hotel rooms of any city on the planet! So, if you're wondering why Sin City still has one of the highest occupancy rates, here are the biggest reasons:
High Las Vegas Tourism Rate
This is the primary cause behind Las Vegas hotels' high occupancy. When more tourists visit a city, there's a higher demand for accommodation, so hotel rooms book up quickly.
Vegas welcomed 32.23 million visitors in 2021. Prior to 2019, over 35 million people visited the city annually on average, peaking at 42.94 million in 2019.
Vegas ranks third in the U.S. in terms of cities with the most international visits, with 3.38 million foreign visitors in 2020.
Even many of the Las Vegas valley's 2.2 million residents enjoy spending a night or two in a room on the Strip or downtown from time to time, adding to the competition for hotel rooms.
Thus, hotel rooms in Las Vegas are always in demand.
Las Vegas Hotel Rooms With Close Proximity to Casinos
When someone mentions Vegas, gambling is probably one of the first things that'll pop into your mind. Las Vegas casinos are some of the best in the world, so wagering in them is one of the primary reasons people visit the city.
And since large casino companies have fused their facilities with hotels, why look for lodging options elsewhere?
The Bellagio, MGM Grand, Caesars Palace, The Venetian Resort, and many other Las Vegas resorts have thousands of hotel rooms just a stone's throw away from their casinos. So, plenty of serious gamblers spend a lot of time staying in the various casino resort hotel rooms available in Vegas.
Worldclass Shows in Las Vegas
Las Vegas isn't just for those interested in gambling. The shows in Vegas have come to rival some of the biggest and most well-known production shows on Broadway.
For example, most people wait years for a Cirque du Soleil show to come to their town. Las Vegas currently has six permanent and unique Cirque du Soleil shows performing nightly.
In addition to a dozen or so large production quality shows, Las Vegas is home to hundreds of other shows, both big and small. Comedy, magic, theater, you name it, Las Vegas has it.
Millions of visitors come to Vegas each year just for the shows.
Meetings and Conventions in Las Vegas
In addition to the regular tourists/vacationers, Las Vegas hosts dozens of large business meetings and conventions each year. Some of these conventions can bring in as many as 100,000+ extra visitors for a long weekend or week-long convention.
Believe me when I say that Vegas room prices go way up during one of these big shows, and the hotel occupancy rate is practically bursting at the seams. With a reputation for fun, and over 10.5 million square feet of convention space, it's no wonder Las Vegas is such a big draw for conventions.
It can make finding an empty room in Vegas a challenge.
Las Vegas Festivals and Concerts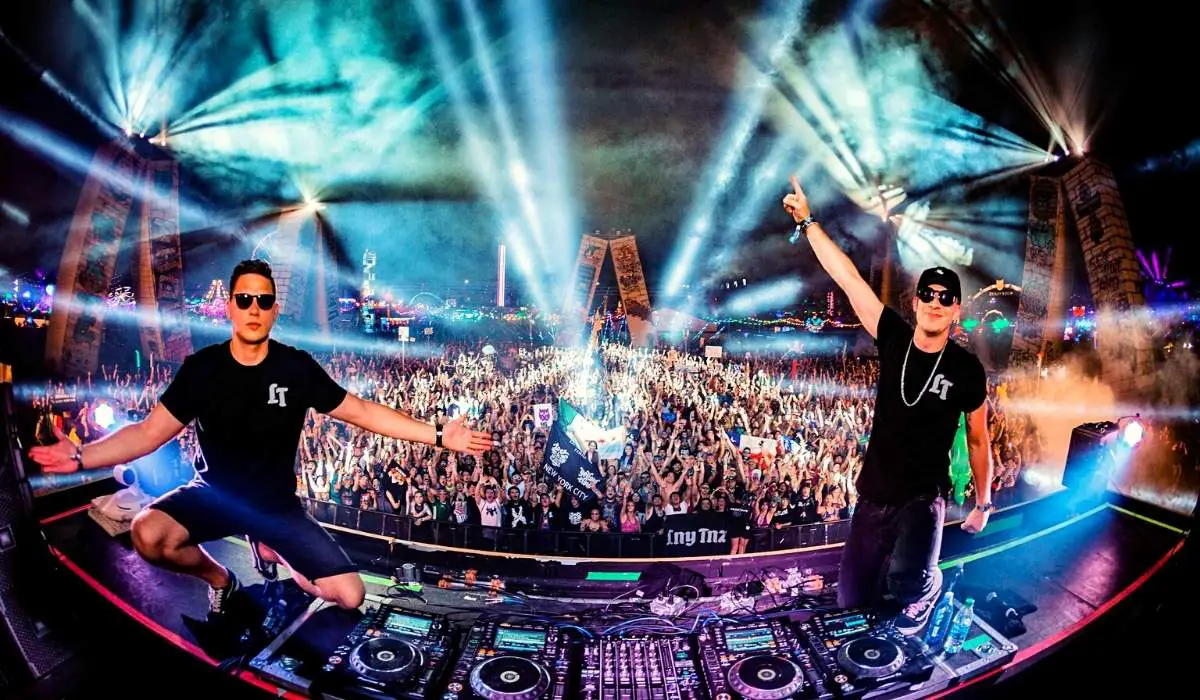 Another reason why hotel occupancy is always so high in Las Vegas is there is a constant stream of festivals and concerts happening at any given time in Sin City.
From music festivals to big-name performers and residencies, there is a concert or music event happening in Las Vegas practically every night, and people travel from all over to see their favorite band, singer, or show.
Sports in Las Vegas
Las Vegas has also recently exploded onto the professional sports team scene. It started with the National Hockey League (NHL) and the Las Vegas Golden Knights and has grown into NFL Football with the Las Vegas Raiders. Vegas is now even hosting Formula One racing events.
Every new sports team or sporting event adds thousands of people looking to book a room in Las Vegas.
Las Vegas During Holidays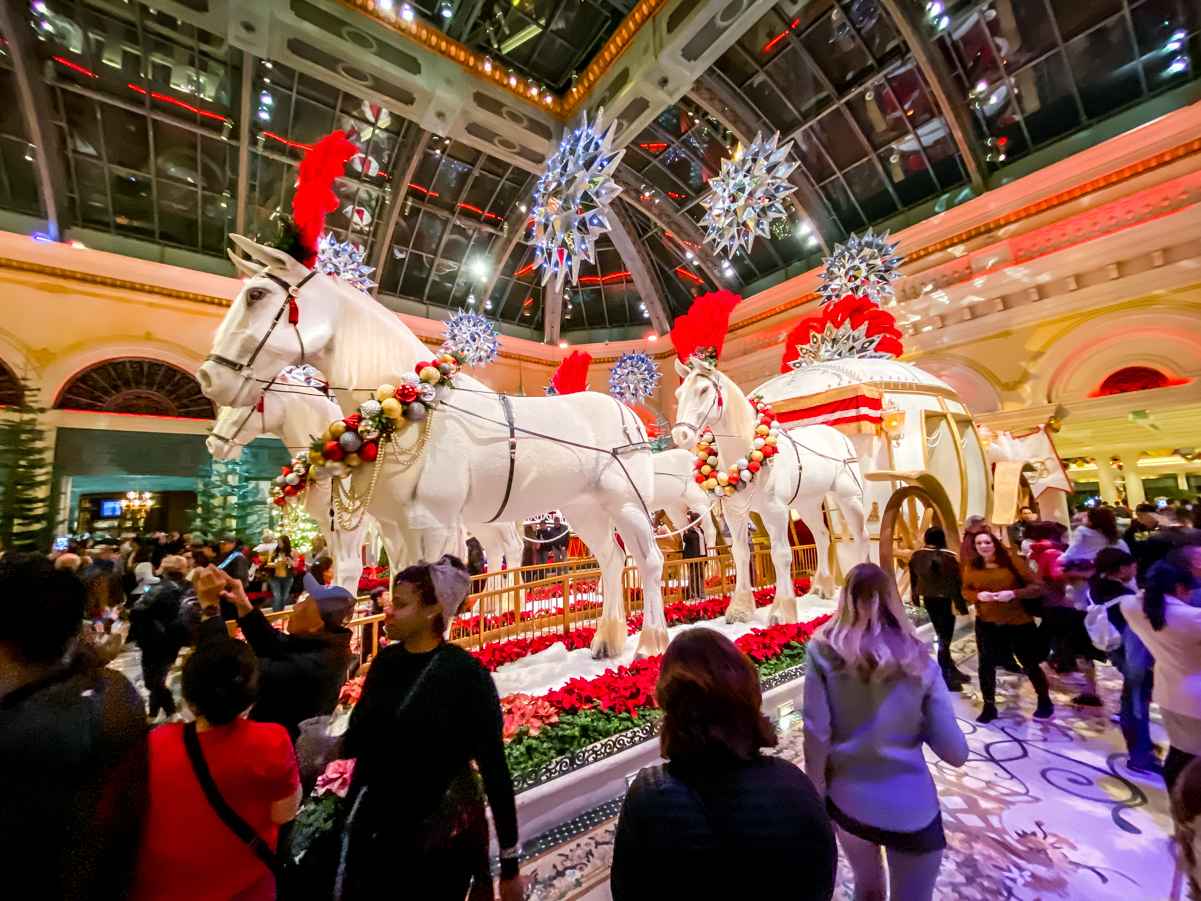 Holidays are another big draw in Las Vegas. It almost doesn't even matter which one. Christmas, Labor Day, Halloween, Fourth of July, New Year's Eve, Valentine's Day, you name it, each and every holiday brings a horde of visitors looking to find a hotel room.
Largest Hotels in Las Vegas & Their Occupancy Rate
There's never a dull moment in a typical resort hotel in Las Vegas. New guests are constantly checking in day and night.
All of these hotels combined can house hundreds of thousands of people simultaneously, but they are not all similar in size.
Some are just small and cozy enough for guests to have a quiet relaxing vacation in Las Vegas, while other Vegas hotels are so large they make the international rankings for overall hotel size.
Here are a few of the largest hotels in Las Vegas with the most available rooms:
The Venetian and Palazzo (7000+ Rooms)
The Venetian and The Palazzo are two connected sister resorts located on the Las Vegas Strip.
With over 7,000 rooms and suites between them, it is often considered the largest hotel in Vegas and the U.S. It is only second to the First World Hotel in Malaysia, which has 7,351 rooms.
Despite the staggering number of rooms, The Venetian and Palazzo resorts have always had high occupancy. In fact, just a year after its opening in 1999, the occupancy rate hit 97%.
Find out the difference between The Venetian and The Palazzo and which hotel you should choose here.
MGM Grand Las Vegas (6800+ Rooms)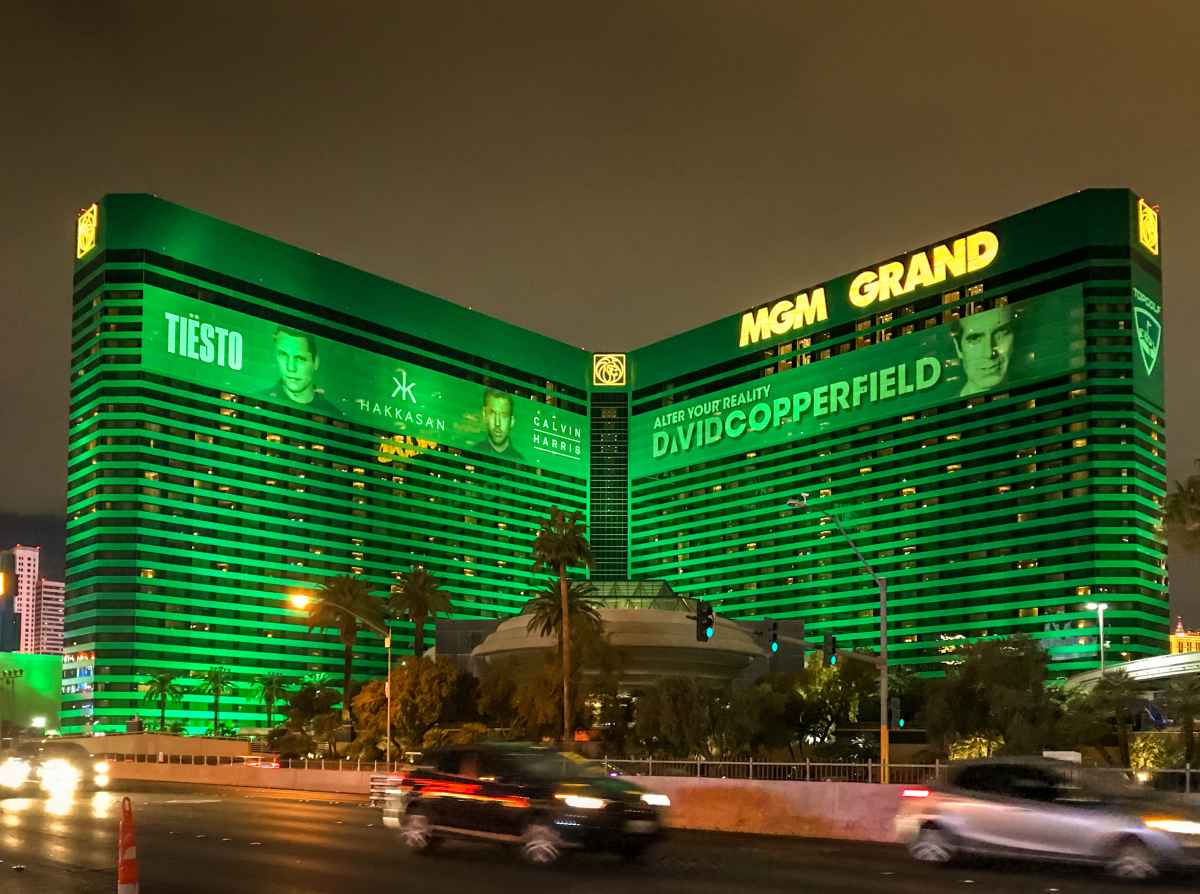 The MGM Grand's giant-sized resort is famous for its casino, but it's got plenty of lodging as well. MGM Grand's 6,852 rooms make it the 2nd largest hotel in the city and the 3rd largest in the world.
Moreover, all the rooms are housed in a single building (as opposed to separate hotel towers), making MGM Grand the biggest single hotel in Las Vegas.
The hotel has continually undergone renovations to keep things fresh and entice its guests. After a major renovation in 2019, the company reported a 91% occupancy rate. The value was also the same for each of the two prior years.
You may have heard that there are real lions at the MGM Grand hotel! To learn more about them, click on the link to read my article. [Are there Still Real Lions at the MGM Grand?]
Wynn Las Vegas & Encore Resort (4700+ Rooms)
Wynn was the first of the two luxury hotels to open in 2005, but Encore's construction began adjacent to it to celebrate Wynn's first anniversary a few years later.
Wynn has over 2,700 rooms, while Encore is just over 2,000. The resort is the 7th largest in the world and 3rd in the United States.
Like other hotels on the Las Vegas Strip, the resort is still recovering from the pandemic setback, but its occupancy rate in just the first quarter of 2022 is about 77%.
If you smoke and want to know whether Wynn has smoking rooms, click on the link to read my guide. I've also discussed where you can smoke other than in the rooms.
Mandalay Bay Resort (4400+ Rooms)
Mandalay Bay was officially opened in 1999. The facility covers 120 acres (49 ha), and its gold-colored windows extend 43 stories high.
There are actually three hotels on the same property:
Mandalay Bay, the biggest one with over 3,000 rooms
Four Seasons Hotel, present from the outset, has just 400+ rooms
Delano, Las Vegas, can receive over 1,000 guests simultaneously in her rooms
4,400+ rooms are available for lodging, making the resort the 9th largest globally.
Luxor Las Vegas (4,400+ Rooms)
Luxor is unique for its pyramid structure and multiple statues of Pharaohs and Egyptian history.
Having over 4,400 rooms, including 442 suites, ranks it 10th globally, just behind Mandalay resort in size.
I couldn't find much information about Luxor's occupancy rate, but as one of the most recognizable hotel and casino properties on Las Vegas Boulevard, it's safe to say that sits near 90%.
Luxor hotel is a good choice if you're going to travel on a budget. Wondering why Luxor is so cheap? Read my guide to learn more.
Conclusion
Hotels in Las Vegas are highly occupied year-round because of the exceptionally high tourist rate. Las Vegas's shows, concerts, sporting events, casinos, and conventions are all major contributors to the high demand for hotel rooms in the city.
The largest hotels in Las Vegas each house an incredible amount of rooms and aggressively compete for tourists heading to the city. Despite the jaw-dropping number of hotel rooms available in Las Vegas, the city still boasts one of the highest occupancy rates in the entire hotel industry.