Can You Wear Flip Flops in Vegas Casinos? (Answered)
(This article may contain affiliate links. If you click through and make a purchase, we will receive a small commission at no additional cost to you. )
You're booked and ready to head out to the gambling capital of the world, Las Vegas! But there's just one problem–you don't know what to wear to the casinos!
In the movies, women wear long evening gowns while men get suited up. You, on the other hand, would rather wear your flip flops. The only question is, can you?
Many Las Vegas visitors wear flip-flops in casinos during the day. In the evenings, however, Vegas casino guests generally dress up. While there is no rule against wearing flip flops in a Las Vegas casino at night, you most likely would look and feel out of place.
If it's your first time going to a casino in Vegas, it can be a bit overwhelming, especially if you don't know what to expect. Worry no more. All you need to do is read the rest of this article to learn what you should wear as well as the dos and don'ts in Vegas casinos.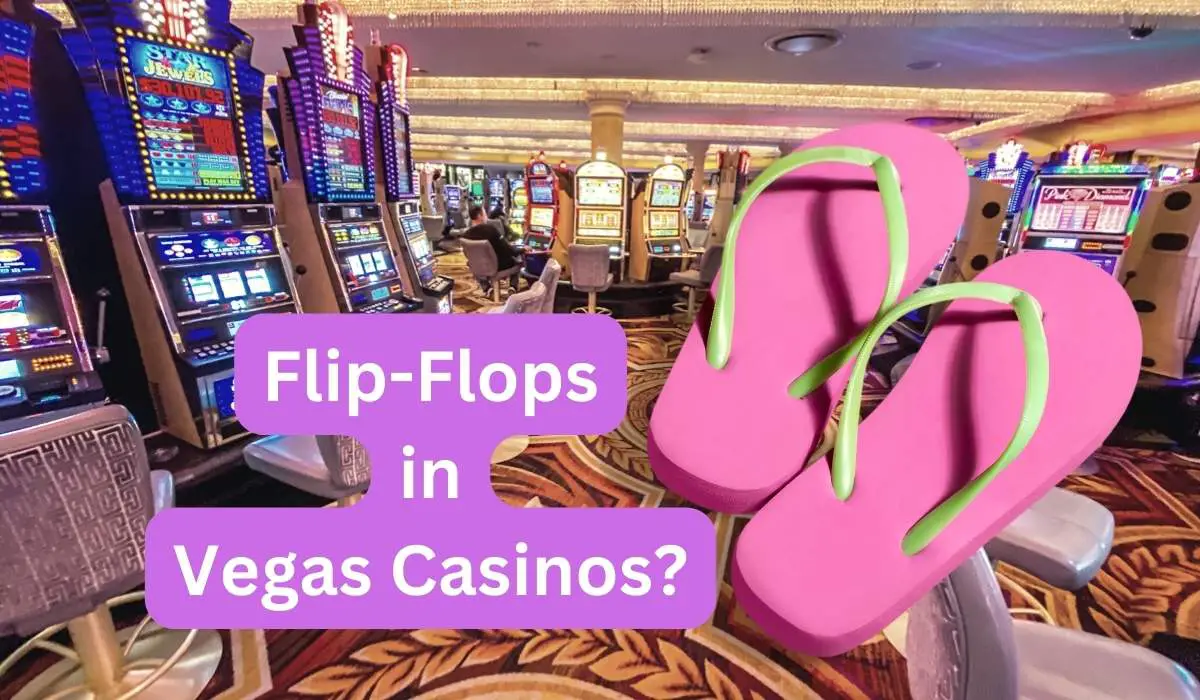 What To Wear in a Vegas Casino
Vegas casinos have a reputation for being glamorous and glitzy. In magazines and in the movies, all we see are fashionable people in elegant long gowns and tuxedos. But remember, Nevada can get quite warm. And oh boy, in summer, you'd definitely want to wear something breathable and light.
Also, Las Vegas is becoming more and more accepting of different cultures, which is why you will be allowed in many casinos no matter what you wear–even if you come in flip-flops and shorts.
However, while some casinos and nightclubs (the higher-end ones in particular) have a specific dress code, there is also an unwritten code about dressing up to play in a Las Vegas casino.
Las Vegas Casinos In the Daytime or Summer
During the day, casinos welcome guests to come in wearing casual clothes. Just make sure that you don't come in wearing a bikini top or a shirt with vulgar words or images on it, or you will be asked to change before you can enter.
Here are some attire ideas for the daytime:
For men:
T-shirt
Shorts
Jeans
Sports shirt with collar
Slippers or sandals
Sneakers
Loafers
For women:
Blouse or T-shirt
Shorts
Jeans
Sundress
Slippers or sandals
Sneakers
Flats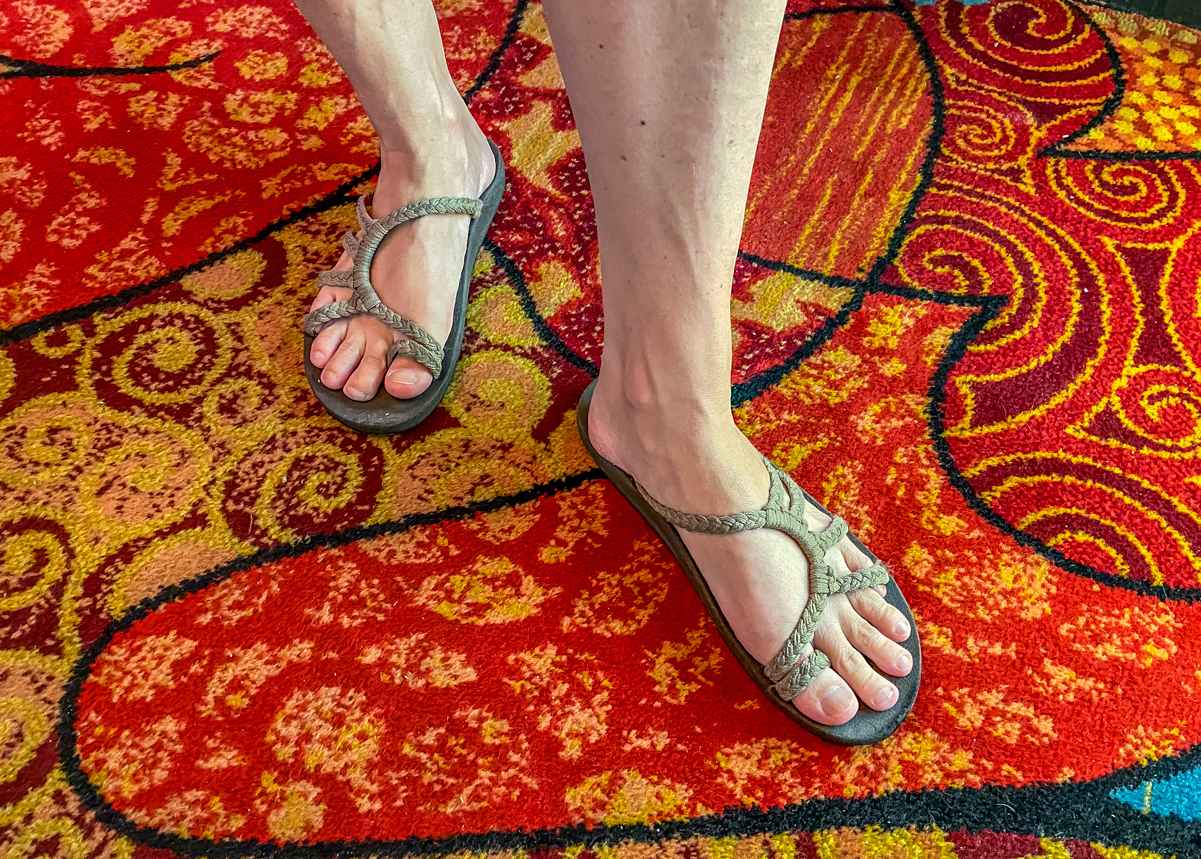 At Night
In the evening, casinos are a whole different story. This is the time to dress up. Dressing appropriately for a casino night typically means business casual or formal wear. To give you an idea, here is a list of some acceptable things to wear to a casino in the evening:
For men:
Tuxedo
Button-up collared shirt
Dress pants
Leather shoes
For women:
Cocktail dress
Long evening dress
High-heeled sandals
For more help deciding what to wear in Las Vegas, check out our Ultimate Guide to Dressing For Vegas.
Do's in a Vegas Casino
To make sure that you have a great time, keep in mind that there are certain behaviors that are expected among casino guests. Fail to do these, and you'll surely get disapproving looks from players at your table and even from the dealers themselves.
Here are some do's at Vegas casinos to keep in mind:
Do Dress Appropriately
The general rule of thumb for dressing up for a casino in Vegas is to dress to impress. So, if you don't know what the exact dress code is before coming, remember that it's better to be overdressed than underdressed. 
Many casinos may allow shorts, a T-shirt, and flip-flops, but in a few upscale places, this overly casual ensemble is a no-go, even in the daytime. So, if you want to be sure that you're dressed properly, try to check their website or read the casino rules ahead of time.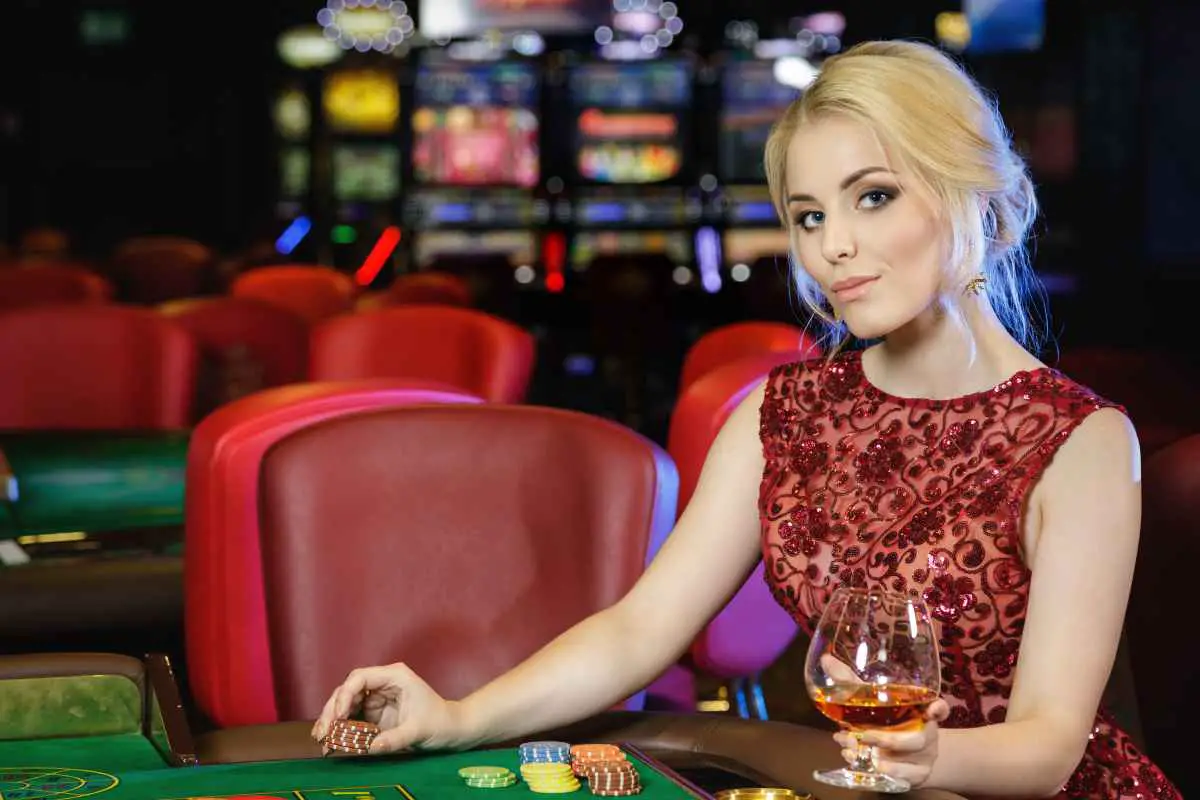 Do Know the Game Rules Before Playing
When you come to Vegas to play, it's expected that you know what to do. But aside from that, there are different rules per table and depending on what game you're playing. For example, one of the most important things to know before sitting at a table is how much the minimum bet is.
You wouldn't want to sit at a table where you're expected to spend more than you can afford.
The good news is many Las Vegas casinos offer gaming lessons so new gamblers can learn the ropes. For instance, the Luxor offers instruction for poker every day at 10 am and blackjack and craps at noon.
Do Be Considerate of Other Players
When playing, it's important to be considerate of other players and their experience as well. Know how to buy in and cash out your chips in a way that doesn't interrupt the game or drag the time before the game can start.
Definitely Know When To Stop
Don't fall into the gambling trap of spending more than you can afford. Establish a spending limit for yourself (aka how much you can afford to lose), and stick to it. Make it a memorable and fun experience instead of a problem that you will worry about later.
Some people do this by limiting how much cash they bring with them. This can help you stay on track, especially when the temptation to keep playing becomes too strong to resist. Remember that casinos are designed to keep you spending!
Don'ts in a Vegas Casino
Nobody wants to be escorted back to your hotel because you violated their rules or were acting inappropriately. Here are some ways to make sure that doesn't happen to you.
Don't Use a Cellphone While Playing
Part of casino etiquette is to stay off your phone while you're engaged in a game. Each player is expected to focus on the game and not allow anything that can distract you or the other players. When the stakes are high, tempers can be short. You wouldn't want to light anyone's short fuse.
Don't Ask the Dealer How To Play
When you sit down to play, you are expected to know how the game works. So don't ask other players or the dealer what to do or how to deal with your cards. You have to figure that out on your own.
Don't Get Drunk on the Casino Floor
If you are planning on drinking, go ahead! But make sure that you are able to stay level-headed the entire time you're on the floor. Nobody wants a guest who makes a scene, as that takes away from what should be a pleasant experience for others.
Final Thoughts
In general, flip flops and casual wear are acceptable in Las Vegas casinos during the day. In fact, most casinos welcome guests no matter what they wear. 
However, Las Vegas casinos have always had a reputation for being glamorous places where people dress to the nines, especially in the evenings. 
Still, nothing beats showing up on the casino floor in your best evening dress, just like they do in the movies. Ask any casino oldtimer, and they'd tell you it's part of the Vegas experience.