Can You Wear Shorts in Vegas Casinos? (Answered)
(This article may contain affiliate links. If you click through and make a purchase, we will receive a small commission at no additional cost to you. )
Vegas is an electrifying city, but its vibrant energy can overwhelm newcomers. This problem is especially prominent when guests wish to visit attractions like casinos but don't know the preferred dress code. For instance, can you wear shorts in Vegas casinos? 
You can wear shorts in Vegas casinos during the day. However, at night, especially if you wish to visit a flashy establishment within the casino, you may be denied entry if you're dressed casually. Knowing the specific dress requirements of the attractions you intend to visit is vital.
In this article, I'll share all you need to know about dressing up for Vegas Casinos while also throwing in some important dressing tips for your stay in Vegas. Let's get started. 
Dressing for the Casino
Las Vegas has undergone a phenomenal transformation over the past couple of years. 
Before, the gambling capital of the United States was a prime location for celebrities and corporate executives to kick back and enjoy the numerous recreational activities on offer. However, these days, Vegas has become everyone's playing ground. 
 Let's take a closer look at what to wear in Vegas casinos during the day and at night. 
Vegas Casino Daytime Dressing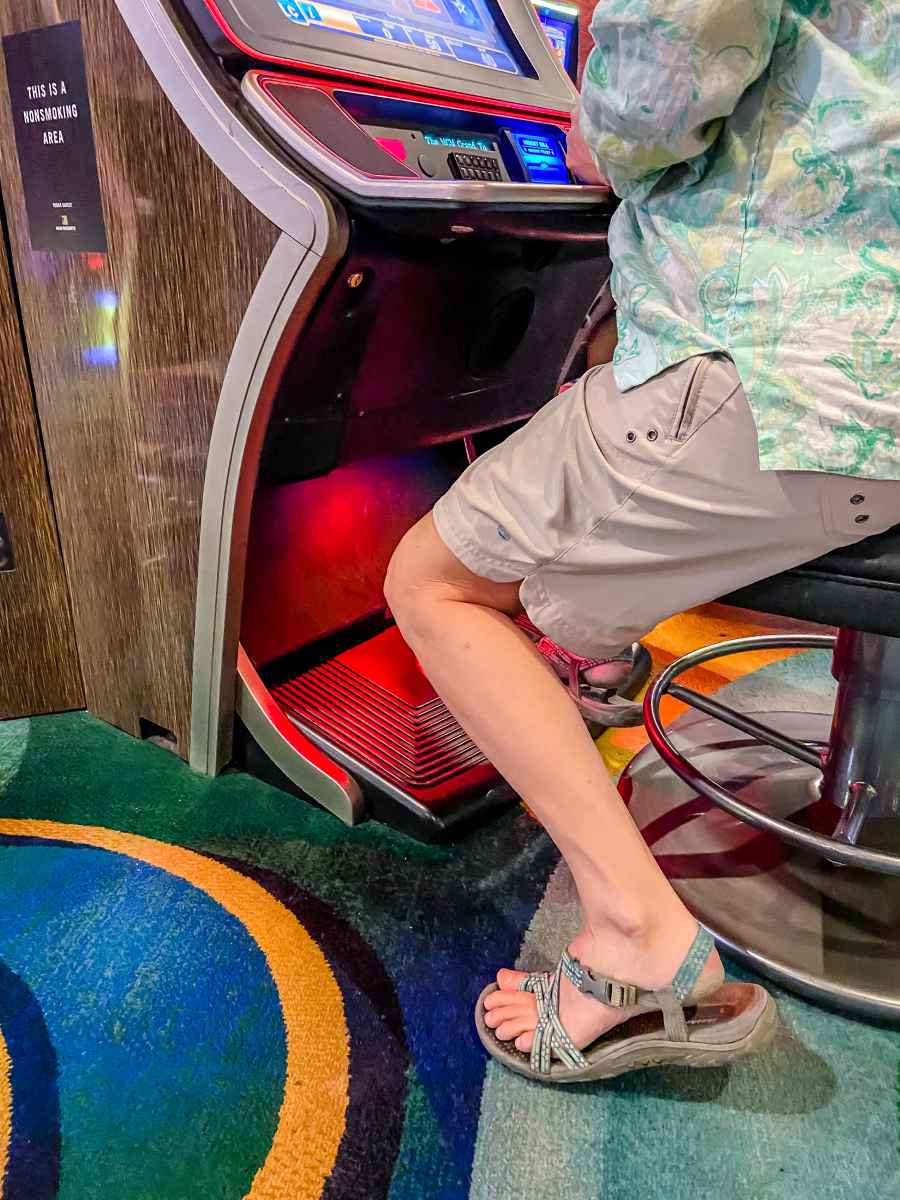 Many people trying their hands in Vegas casinos will don casual wear during the day. This is because casual clothes are comfortable and cool throughout the year, a look that regular casino-goers have embraced with time.
A resort casual style has official clothes like trousers,  jeans, slacks, dress shoes, flats, heels, dresses, skirts, blouses, and shirts under its umbrella. 
It may surprise you that informal clothes like shorts, t-shirts, open shoes, and athletic wear also fall under this category. Even the most elegant Vegas casinos accept patrons dressed down during the day.
There are a few caveats to this loose dressing standard. Establishments prefer that your clothes are clean and decent and don't have conspicuous graphics. 
Also, swimwear is prohibited within Vegas casinos. If you're just leaving a pool event, you'll need to change into appropriate wear or cover up your swimsuit with a loose tunic, sarong, or romper. Shorts are also suitable cover-ups for this purpose.
Vegas Casino Nighttime Dressing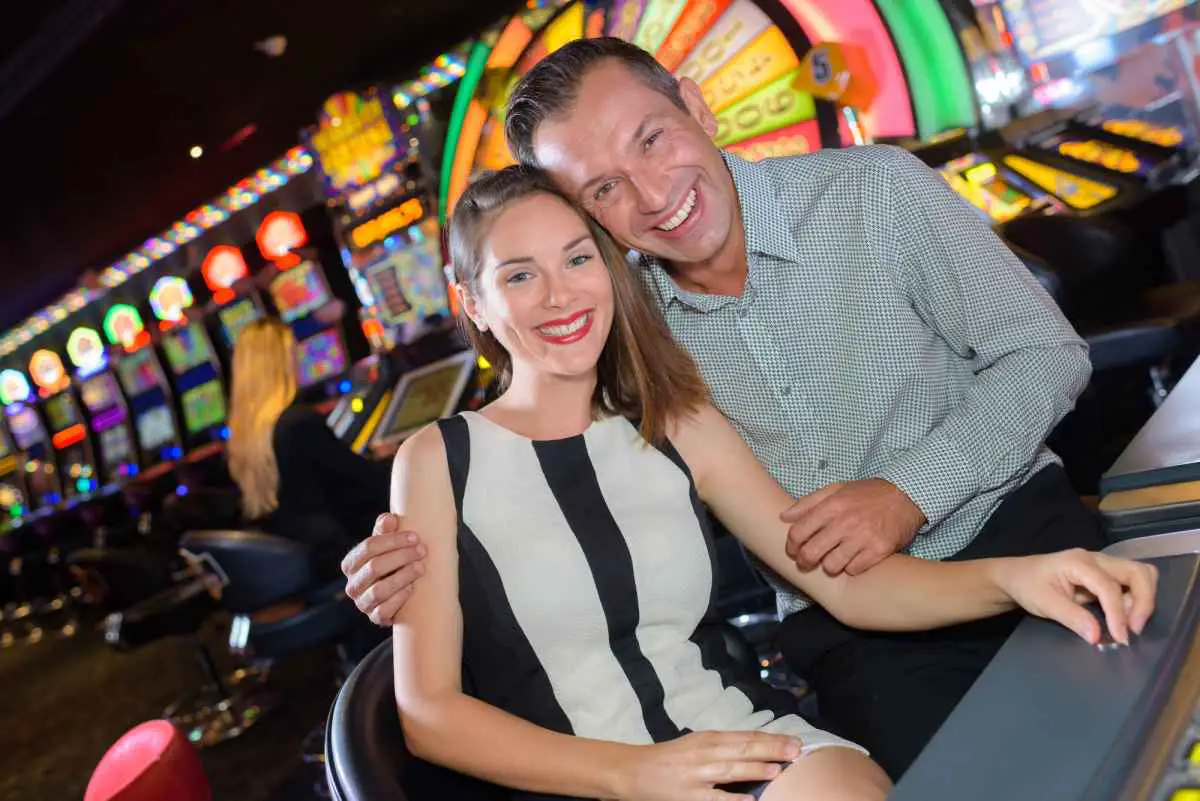 The wardrobe situation on Vegas casino floors changes quite dramatically when the sun goes down. 
While you might get away with wearing shorts and flip-flops on the casino floor, nightclubs and restaurants in the casino may not be equally accommodating. A business casual look is what's in at night in Vegas casinos.
Business casual incorporates collared and button-down shirts, slacks, dress pants, trendy, pressed jeans, blouses, skirts, gowns, cocktail dresses, and evening dresses. Following this guideline should be easy since you'll also need formal attire as you explore Vegas' night scene.
Breaking Down the Business Casual Requirement
If you're anything like me, you may wonder what the deal is about this clothing fuss. Today's Vegas offers a democratized entry into its various attractions, right?
The deal is that there's an unspoken rule in Vegas casinos that it's better to be overdressed than underdressed. Many bars, nightclubs, and restaurants that enforce strict dress codes are frequented by the rich and famous.
And if they're not rich and famous, they'll be keen on appearing attractive and leaving a positive impression that'll change that.
Since all these casino-goers will certainly be dressed to the nines, you should follow suit, literally. You can rock your t-shirt and shorts at the pool party.
Can You Wear Shorts in Vegas Casinos in the Summer?
Vegas can get hot in the summer, topping temperatures of 110°F (43.3°C). Winters can briefly get frigid, reaching lows of 28°F (-2°C). Las Vegas is geographically located in the arid Mojave Desert, which explains this wide temperature range.
Extreme heat is responsible for the preference for shorts during the day. Your itinerary probably involves a tour of The Strip and then a casino visit to culminate your Vegas experience. You probably don't want to wear jeans in Vegas during the summer, as they can be incredibly suffocating.
You'll be happy to know that the temperature outside isn't similar to the one on the casino floor. And this is the same case during the winter months. Air conditioning is typically sufficient, so you'll only break a figurative sweat in the casino. 
Vegas casinos have plenty of heat to warm those inside during winter, meaning you won't need to layer up excessively when indoors. Nevertheless, it may get overly cold when the AC does its job in the summer.
If it gets too chilly as you roll the dice, you can always wear a formal coat, sweater, or jacket above what you already have. Overcoats also work well if you want to dress up a collarless shirt.
Dressing conventions remain valid year-round in Vegas casinos. Still, it would be best if you prioritized comfort in whatever you do in Vegas. It doesn't make much sense to be a stickler for attire rules if you don't feel good about what you're wearing.
Additional Dressing Rules in Vegas Casinos
Here are a couple more clothes-specific dos and don'ts in Vegas casinos:
Swimwear: Swimsuits, swim shorts, swim briefs, trunks, tankinis, and bikinis are all acceptable for pool events hosted by Vegas hotels and casinos. Establishments have different rules depending on if the pool is family-friendly or exclusively for adults.
Hoodies: They're considered resort casual, so you wouldn't get side looks if you wore one in the casino during winter. However, some nightclubs, bars, and restaurants in casinos will prohibit entry if wearing one.
Hats: Like the case with hoodies, hats are acceptable under certain circumstances. To fit in, however, you may want to leave any headwear behind unless it has some religious significance.
Can You Wear Shorts in Vegas Casinos – Final Thoughts
Apart from formal establishments, Vegas is less stringent on clothing conventions than many think. This refreshing attitude has been carried on into casinos, particularly during the day. For the most part, you'll be able to wear shorts in Vegas casinos without trouble.
Of course, Vegas casinos aren't homogenous establishments. You'll need to consult the website of the one you're looking to visit for any casino-specific dressing rules.