Is It Cold Inside Vegas Casinos? (Las Vegas Casino Temperature)
(This article may contain affiliate links. If you click through and make a purchase, we will receive a small commission at no additional cost to you. )
People visit Vegas for different reasons, but whatever the reason is, they will inevitably end up inside one of the many casinos. You can stop at different tables and try your luck or find a game to test your skills. You may spend a long time inside a casino, so you should know the temperature inside so you can dress appropriately.
It is relatively cold inside Las Vegas Casinos, as the average temperature inside is around 68°F (20°C). It stays constant throughout the year, but the casino will feel colder during the summer when the temperatures are higher outside, and you wear fewer layers. 
In this article, I'll describe the temperature and feel inside Vegas casinos at different times of the day and in different seasons. I'll also give you tips on what to wear inside a casino and answer some additional questions you may have. 
The Average Temperature in Las Vegas Hotels & Casinos
Going to a casino is the quintessential Vegas thing to do. Even if you're not into gaming or gambling, you may want to visit a casino just to see what the fuss is about, and I can guarantee that you will have a lot of fun and potentially even win some money.
The most famous casinos in Vegas are the ones at Bellagio, The Venetian, ARIA, MGM Grand, Caesars, and many more. All these casinos are massive in size, so they can fit hundreds of people at a time. Understandably, the temperature inside should be kept as constant as possible and at a suitable level to ensure everyone feels comfortable.
However, it is difficult to maintain the desired temperature in such large spaces with so many people. Experimental evidence shows that the average temperature inside most Las Vegas casinos is between 65°F and 70°F (18°C and 21°C).
Here are some examples of Vegas casino temperatures:
MGM Grand: 65°F
Paris Las Vegas: 68°F
Excalibur: 70-71°F
Golden Nugget: 74°F
Gold Coast: 68°F
MGM Grand seems to be on the colder side, while Golden Nugget seems to be one of the warmer casino environments in Vegas.
Of course, these temperatures are not constant and will vary depending on the number of people inside and outside conditions. In general, casino engineers will try to keep the environment relatively cold because patrons can increase the temperature significantly, and the air may become too stuffy, making people uncomfortable and sleepy. 
How Cold Is It Inside Vegas Casinos During the Summer?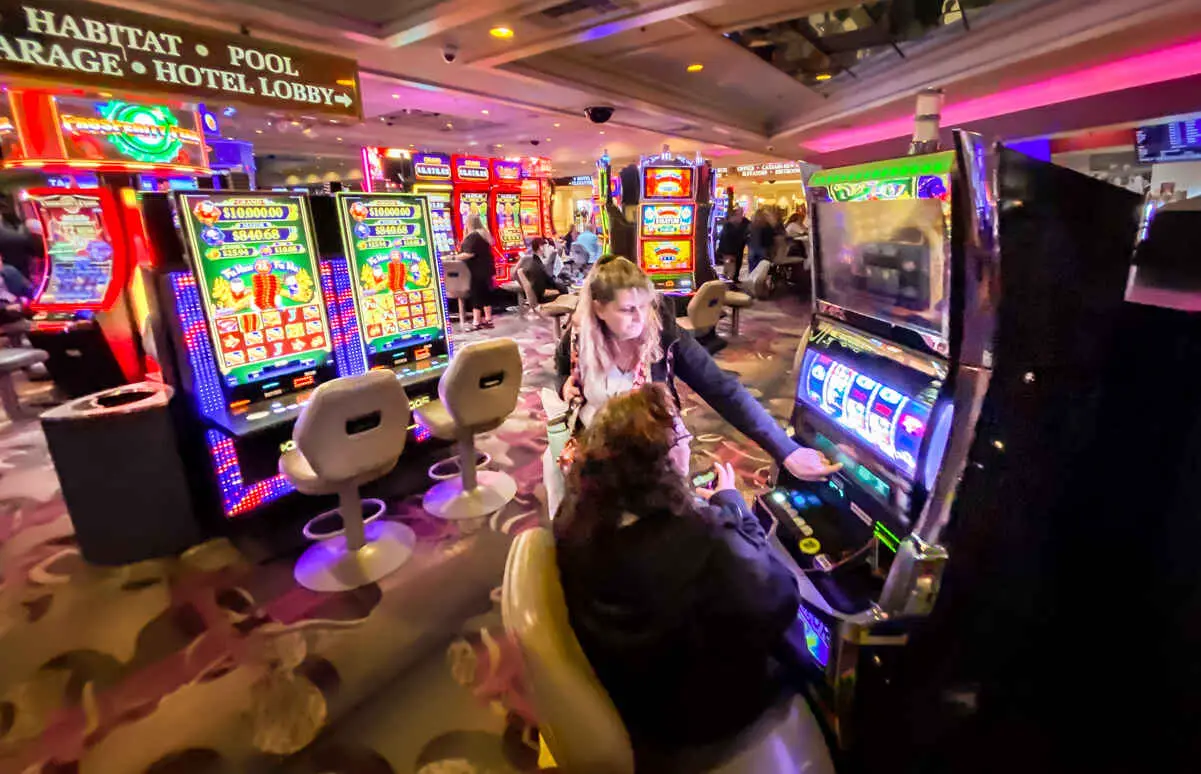 During summer, a casino's average 68° temperature can feel exceptionally cold because the temperature outside is much higher.
Although the air temperature remains the same throughout the year, the cold environment is more noticeable during the summer, so you may feel relief once you get inside. Still, at some point, you may start to get pretty chilly in your summer attire. Therefore, carrying a light sweater or jacket into a Las Vegas casino is always a good idea, even when it's scorching hot outside.
However, you may also experience monsoon weather in Nevada during the summer months. For more information, check out my other post, where I provide more info about Vegas during monsoon season. Believe me, pouring rain in plus 100-degree weather is an interesting experience.
As explained above, the target temperature inside casinos of between 65°F and 70°F (18°C and 21°C) stays the same during winter, but the indoor air feels warmer because it is much colder outside. You will notice the higher temperatures inside as soon as you enter, but after a while, you will get used to it and may eventually even feel a little cold if you're not appropriately dressed.
Also, the number of people inside a casino can make a big difference. The more people there are, the hotter it will be because the body temperature of humans affects the environment, even in huge casino spaces. 
Does It Get Colder at Night in a Las Vegas Casino Resort?
The temperature outside in Las Vegas is considerably lower at night due to our high desert location. This is especially true during winter. However, you may be unable to tell the difference if you're inside a casino because the temperature is supposed to stay constant.
Casinos are relatively cold, to begin with, so you may feel slightly chilly at all times, be it morning or evening.
If anything, you're more likely to feel colder in the morning since fewer people are occupying a vast space. You should prepare for these low temperatures before you enter the casino so that you can spend as much time as you want inside without getting cold or uncomfortable.
What To Wear Inside a Las Vegas Hotel & Casino
As you know by now, it can get pretty cold inside casinos, no matter the season or the time of day. If you plan to spend most of your day inside the casino, you should wear something that will protect you from the cold.
Even if you feel really hot outside during the summer and believe that the temperature inside the casino is perfect, you will eventually feel cold as you spend more time inside in lower temperatures.
I'm repeating myself here, but it's worth noting again that you should bring a light jacket or a sweater into a casino during the summer months to ensure you have an additional layer in case you get cold. You will wear more layers in winter, so you should be fine inside.
Do Las Vegas Casinos Have Dress Codes?
Most Las Vegas resorts don't have an official dress code or claim that the dress code is resort casual, which pretty much means you can dress however you feel most comfortable. You can wear jeans, t-shirts, shorts, jackets, or dresses. The only attire that is off-limits in a Las Vegas casino is swimwear or extremely revealing outfits that might make everyone else uncomfortable.
Speaking of swimwear, did you know some pools in Vegas stay open during the colder months? Check out my article about which pools are heated for guests when November rolls around. [Are Las Vegas Pools Still Open in November?] (Coming soon).
During the evening, it's recommended that you wear something slightly more elegant, like a nice dress for women and slacks with a shirt for men. However, you can wear anything you want as long as you stay within the general guidelines, so don't overthink it.
Are All Vegas Casinos Open 24/7?
While most restaurants, clubs, and exhibitions in Vegas operate for a limited number of hours every day, most casinos are open 24/7. You can enter a casino and play your favorite games whenever you want.
If you don't like crowds, you can visit late at night or early in the morning; the busiest times in a Las Vegas casino are usually between 12 PM and 9 PM.
Conclusion
In conclusion, while Las Vegas casinos may seem like a chilly escape from the scorching desert heat, the reality is that they are often kept at a comfortable temperature for visitors. While some casinos may be colder than others, most establishments aim to create a pleasant environment for their patrons.
Having said that, when you're wearing shorts and a T-shirt during the summer, it can start to feel pretty chilly if you're spending any amount of time in a Vegas casino, and carrying a lightweight jacket or sweater is likely a good idea.