Do Las Vegas Casinos Ever Close? Last Call in Vegas!
Las Vegas is a true 24/7 town and because of this, it's a great city for night-owls. There's plenty of late-night entertainment, from concerts to bars and casinos. Las Vegas, much like New York City, seems to never go to sleep. 
This begs the question: Do Las Vegas casinos ever close?
While some of the smaller Las Vegas casinos around town do close, all of the major casinos in Las Vegas are open 24 hours a day, seven days a week. While on The Strip or in downtown Las Vegas, you can find a casino open at all hours of the day or night. 
Read on to discover which Las Vegas casinos never close, what it's like inside a 24-hour casino, and an itinerary of activities to fill a day and night in Las Vegas.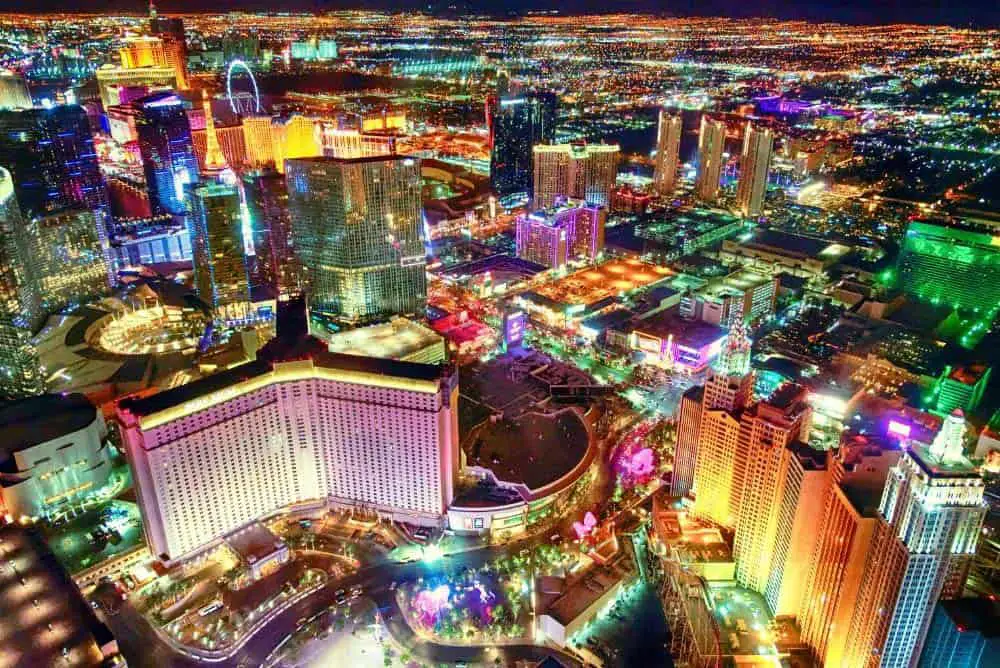 (This article may contain affiliate links, which means we might earn a small commission if you click and make a purchase. Thank you!)
Las Vegas Casinos Open 24/7
Located in downtown Las Vegas, the Golden Nugget is one of many that never closes. This casino is huge, with a 30 million dollar pool and a sprawling outside patio crowded with people playing table games all day and night. 
Located on the Strip, The Sahara boasts 600 gaming machines and 50 table games, as well as an "intimate" decor, with hanging chandeliers to boot. Classy and filled with entertainment value, you can come any hour of the night or day! 
The crown jewel of the Las Vegas Strip, the Bellagio is the epitome of class, luxury, and romance. In addition to a casino with every game imaginable, the Bellagio has the most famous poker room in Vegas. It's so famous that the Bellagio Poker Room even has its own website.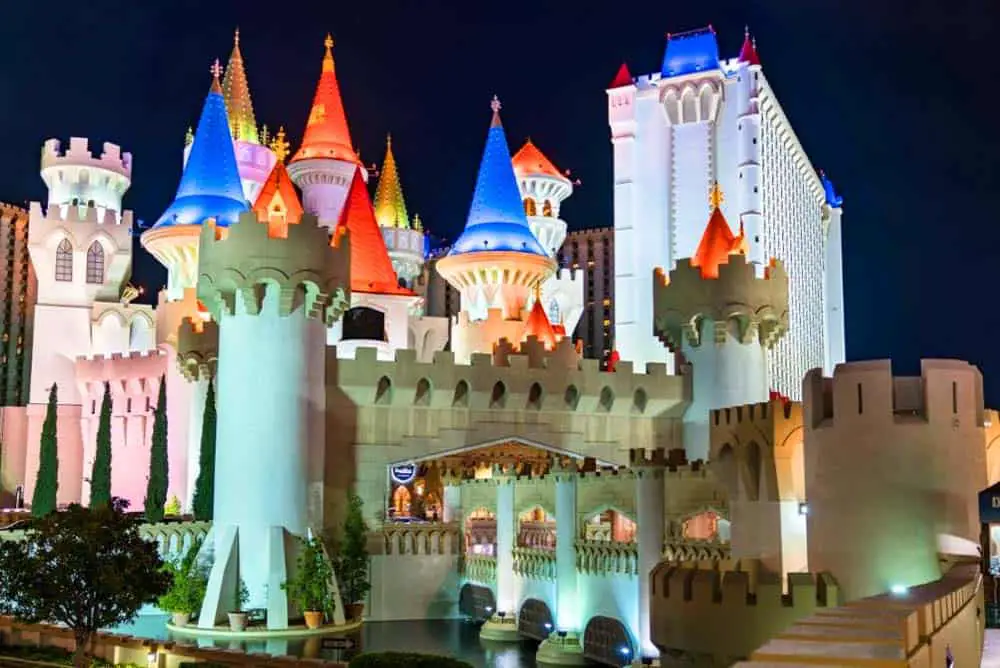 Have you heard of the casino that looks like a giant medieval castle on the Las Vegas Strip? That's the Excalibur! Hosting a race and sports book, the Excalibur is home to roulette, slots, keno, poker, Pai Gow poker, craps, and every other game you might want to play all night long!
Boasting 750 machines and 44 table games, it would be easy to play the night away at the Stratosphere. Luckily, you can, as this casino is open at all hours. Fans of 80s and 90s music can dance and sing along to live music in the evenings, and are just a hop, skip, and a jump away from the Stratosphere rides, which spin you high above the Las Vegas Strip. 
As huge and magnificent as the Roman Empire, Caesars Palace offers an amazing casino that is open anytime you're ready to play. Caesars Palace is also the casino with the most 1 million dollar slot machine jackpots of any casino anywhere in the world!
The Westgate is known for the many events they put on year-round, as well as their pro-football betting tournaments that attract sports fans from all over the country. With the casino floor measuring 95,000 square feet, this joint is fit for a full night of fun. 
Do casinos in Las Vegas cash personal checks? Find out in our article here.
What to Expect at a 24 Hour Casino in Las Vegas
Mornings
According to an experiential from The Vice, mornings in casinos are usually frequented by older people, who spend their time on electronic machines or eating a leisurely breakfast at one of the casino's restaurants or buffets. In the mornings, you'll typically find more regulars than tourists. 
For people who enjoy more challenging table games, this crew has got you covered. Older regulars are typically more experienced than newbie tourists. 
Afternoons
The casinos will typically have a range of people in the afternoon and are beginning to get busy. Alcoholic drinks with lunch are served, especially as the time ticks towards the cocktail hour. 
The noise level at the casino will be consistently increasing, as more and more people trickle in. If you're not a morning person, early afternoons still have lighter crowds. 
Evenings 
According to this casino and gambling aficionado, the most popular times at casinos correspond with dinnertime, from around 7:30-8:00 PM. If you like a crowd or like to play table games with a lot of players, this could be the right time for you. 
Remember to call ahead for dinner reservations if you don't want to wait. Expect live music, dancing, or events scheduled for evenings, increasing the noise level to the max. 
Nights
Casinos will have the most people from about 7:00-10:00 PM, and you might have to wait to get on an electronic slot machine or game. 
The casino is the most lively at night, with drinks flowing, the music playing, and noise at peak levels. You also have a better chance to hear live music or shows at this time. Crowds usually begin to disperse around 11:00 PM. 
Late Nights/Early Mornings
From midnight to the wee hours of the morning, 24-hour casinos will usually see the crowds thin out. This is the best time for night owls, or for those who don't want to waste time waiting for games or machines to open.  
How to Spend a Day and Night in Las Vegas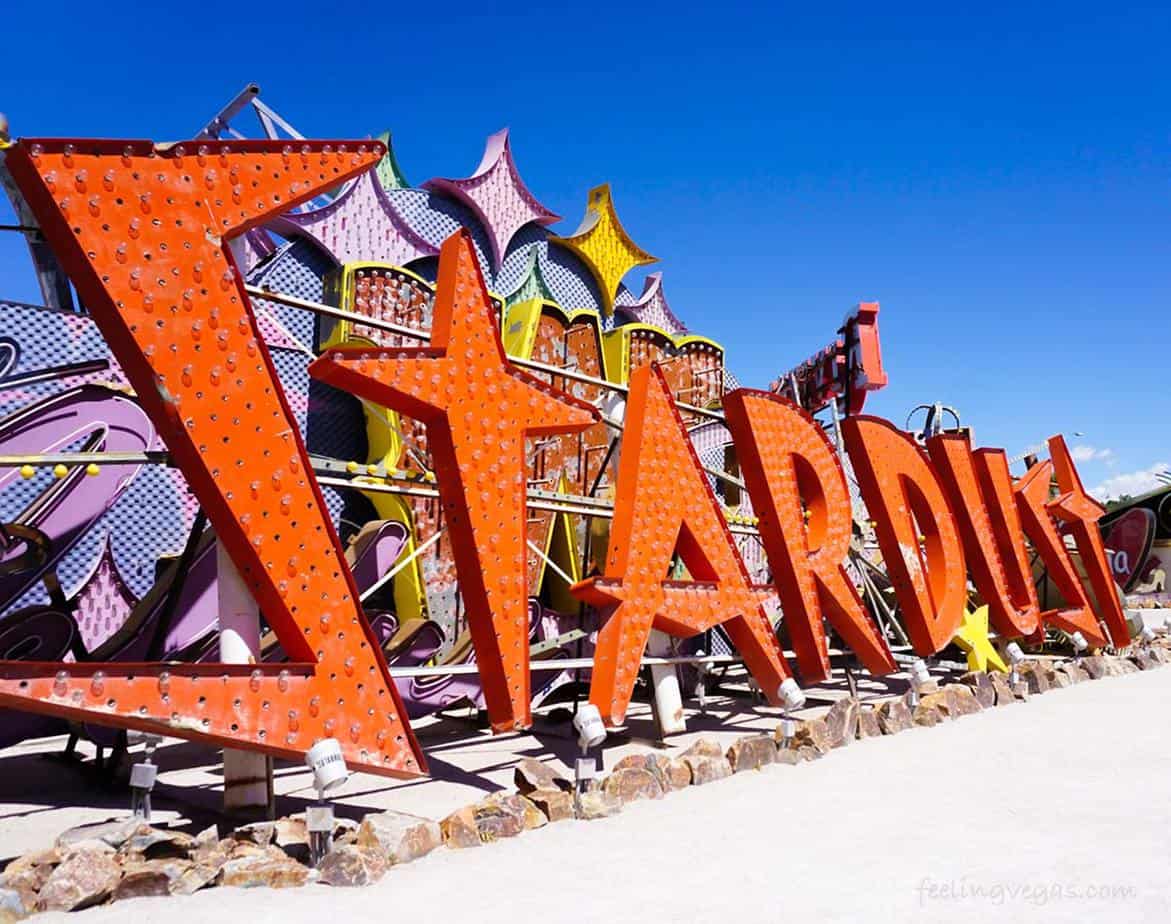 AM in Vegas
All good mornings start with coffee, and just because you're in Vegas doesn't mean you have to settle for a hotel-lobby cup. If you're staying toward the north end of The Strip, take a quick drive over to Sambalatte.
This hip coffee shop has a clean, modern feel, and serves picturesque lattes with stunning foam art. You can also grab a breakfast sandwich or scone made with sustainable ingredients. 
After breakfast, you have time to do some sightseeing. For a fun museum experience that is totally Las Vegas, head on over to the Neon Museum.
With signs from old-school Las Vegas, it's a fascinating time machine back to when Las Vegas was just getting started as a party city. Just remember to wear closed-toe shoes, as the museum wants to make sure you don't get cut on the glass exhibits. 
Do casinos in Las Vegas pump oxygen onto the gaming floor to keep you awake and spending? We tell you what you need to know in our article here.
AM/Early PM in Las Vegas
It's lunchtime, and you're hungry again. One of the best "underground" places to eat on The Strip is Secret Pizza, tucked away inside Cosmopolitan Hotel, on the third floor. Just follow the record-lined hallway and the smell of freshly-baked pizza. 
After lunch, take the time to see the expanse of the city by going up to the top of The Stratosphere! At 1,149 feet (350 meters), The Strat is the tallest free-standing tower in the United States. Though it's a little pricey to get to the top, the views from both the indoor and outdoor observation decks are stunning.
If you're feeling daring, you can take a ride on one of their Thrill Rides, which are just like regular fair rides, except over 900 feet (274 meters) off the ground. Just don't lose your lunch! 
PM in Vegas
To start the night of gambling, Planet Hollywood is the place to go – you'll see why when it's dinnertime. In the meantime, enjoy some table games or slots, or simply enjoy the movie-star-like experience. Planet Hollywood is self-described as the "epitome of glamour and excitement."
Just a note: this casino is not family-friendly, so be prepared to deal with dancers in lingerie. 
The food at Café Hollywood is the most highly rated, and you can choose from Italian, Asian, or good old-fashioned American diner food for dinner. 
After dinner, it could be time to move to one of the bigger all-hours casinos- just in case you feel like gambling the night away.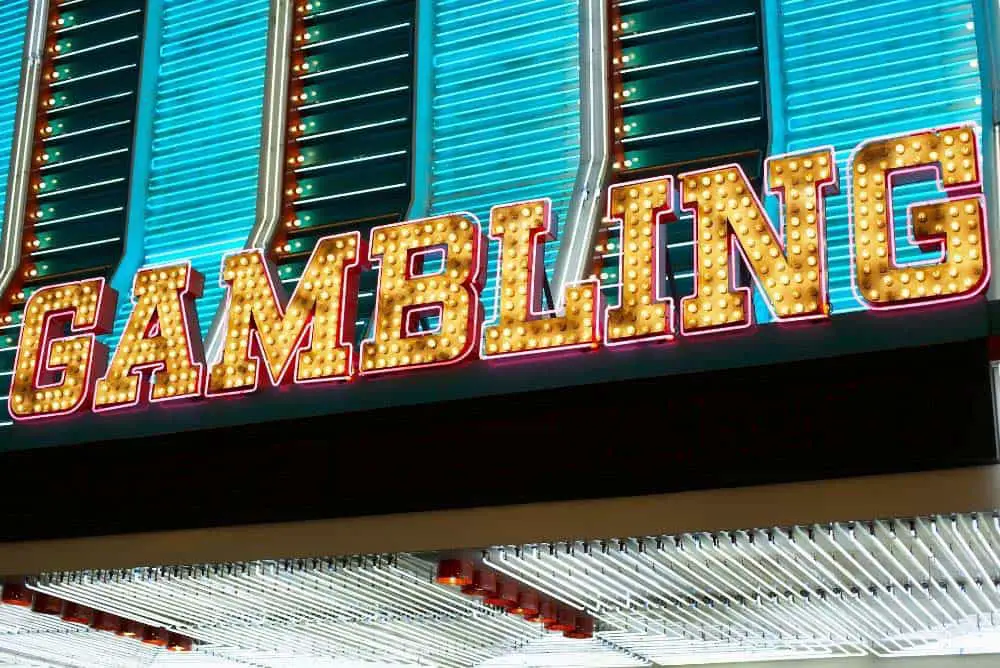 Late PM in Vegas
Why not the Westgate Casino? Open all night, and prides itself on having the best nightlife entertainment around. You can gamble, or take a break to attend one of the many events and shows put on.
They have live music in the early morning hours, and you can always take a break to lounge at their massive lit pool. 
Early AM in Las Vegas
It's time for breakfast again. This time, if you're up early enough (or late enough, depending on your perspective), you'll need to search out a 24-hour cafe.
Luckily, Blueberry Hill has got you covered. Indulge in their buttercream waffles, or maybe a plate of biscuits and gravy. With four off-Strip locations, it's worth the short drive.
Will casinos in Las Vegas take debit or credit cards? Find out in our article here.
Conclusion
Las Vegas is known as a 24-hour city, meaning there's always something open, night or day. In most cases, this includes casinos.
Many casinos throughout the city never close and are open all day every day, including weekends and holidays. 
If you're traveling to Vegas, call ahead or look online for the hours of the casinos you're planning on visiting, and time your arrival to suit your gambling needs. Early mornings are less crowded, while evenings are typically peak hours. 
Additionally, there are plenty of other activities to fill a day in the city before hitting the casinos at nighttime. Enjoy Vegas! 
More Vegas Casino Questions: