What Happens If a Foreigner Wins Big in Vegas? (Explained)
(This article may contain affiliate links. If you click through and make a purchase, we will receive a small commission at no additional cost to you. )
When you're in Las Vegas, anything can happen. Many people dream of winning a big jackpot in Sin City, but what happens when a foreigner wins a big prize?
If a foreigner wins a sizeable jackpot in Vegas, they must sign tax forms before receiving their payout money in cash, check, or bank wire. The winner must also show ID to confirm their identity. Depending on the size of the payout, various casino managers may also perform checks.
In this article, I'll explore what happens and the options available to a foreigner who wins a jackpot in Las Vegas.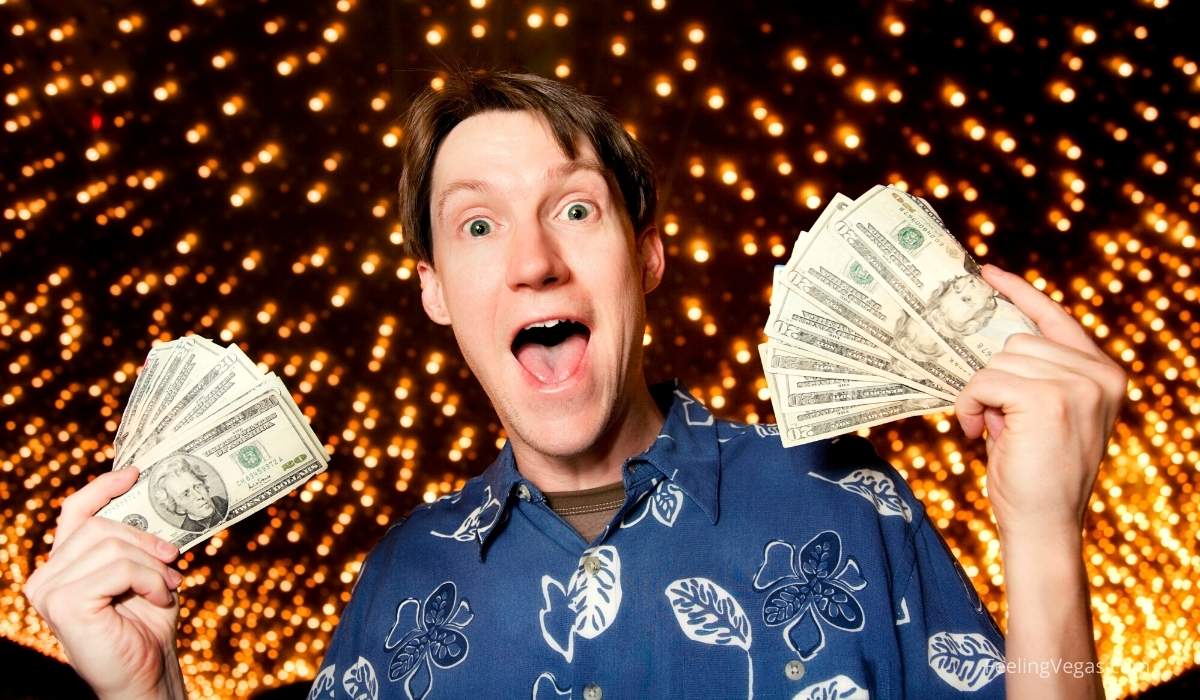 What if a Non-US Resident Wins Big in Las Vegas?
If you are a foreigner visiting Las Vegas and have won a jackpot playing at the casino, there is one important thing to know: you can legally claim your winnings without issue, although there may be some financial choices to make. Some casinos allow for a lump sum disbursement, while others may pay the prize in installments.
If you have won $5,000 from a single casino visit, for example, you would be able to submit an official claim form to receive your winnings as cash or via check.
Also, don't forget any taxes that may be due on your winnings.
Some Countries Are Exempt From US Taxes
Even foreigners must pay tax on their winnings. The US charges a 30% tax on casino winnings to foreigners as well as US citizens. However, depending on where you're from, you might get to skip US taxes.
The US has a treatise with some countries that exempt their citizens from the 30% tax on gambling. These countries are:
Austria
Belgium
Bulgaria
Czech Republic
Denmark
Finland
France
Germany
Hungary
Iceland
Ireland
Italy
Japan
Latvia
Lithuania,
Luxembourg
Netherlands
Russia
Slovak Republic
Slovenia
South Africa
Spain
Sweden
Tunisia
Turkey
Ukraine
United Kingdom
Keep in mind that if you're from any of these countries, you're still subject to any gambling taxes stipulated in your homeland's tax laws.
How Foreigners are Taxed in Las Vegas Casinos
In the case of table games, such as Blackjack and Roulette, the casino isn't bound to report your wins. The IRS still expects you to report the wins yourself, but you aren't forced to do it. The most likely reason is that table games don't have as many multipliers and aren't as likely to give you large sums of money.
However, if you win more than $1200 in a game with multipliers and progressive jackpots, such as Slots and Video Poker, then the casino will automatically generate a tax form. That's why a casino employee must unlock the machine before you can access your winnings.
Casinos in Las Vegas will issue winners a Form 1040-NR, a tax document that the IRS has created specifically for US nonresident aliens who need to report gambling winnings.
Can a Winning Foreigner Remain in the US?
What happens next for foreign winners is up to their immigration status and whether or not they want to remain in the United States. Generally speaking, winning a large jackpot in a Las Vegas casino has no effect on your immigration status or tourist visa.
If the foreigner is a national of another country, they are still subject to immigration laws in the U.S. For example, if the foreigner is a citizen of Mexico, they would need to meet U.S. immigration requirements to remain in the United States.
RELATED: Do Las Vegas Casinos Exchange Foreign Currency? (Explained)
5 Options for Foreigners Who Win a Big Prize in Vegas
There are many casinos in Vegas, but do you know why Las Vegas has so many casinos? I've discussed this in another article. Don't miss it.
There are many things that foreigners can do after winning the jackpot in Las Vegas. Whether they're looking to retire on their winnings, enjoy new experiences, or relax and take it easy, these options are only some of what's available.
1. Use the Money To Invest or Start Their Own Business
Foreigners can use their winnings in Las Vegas to invest wisely and create a long-term return on investment. One option is to invest in real estate. By purchasing property and renting it out, they can make good money for the rest of their lives.
Additionally, investing in businesses such as restaurants or nightclubs can be lucrative. With access to technology now more than ever, they can set up an online store or website as a great way to sell products without any overhead costs.
2. Claim the Jackpot and Move to Another Country
Moving to another country is a relatively easy option, as it doesn't involve investing your money. A foreigner can receive the prize in annual payments and live comfortably for a long time. 
Since they're already in the US, some foreigners may take the chance and try to get a residential permit to stay here.
3. Use the Money To Pay Off Debt or Other Financial Obligations
By using the money to reduce outstanding debts, Vegas winners can improve their financial situation and start living more comfortably. Plus, taking care of some pressing matters now rather than waiting until later will surely save them a lot of stress.
4. Travel Extensively, Experiencing New Cultures Each Time
Traveling and exploring are the most popular options among winners of large prizes in Sin City. Not only will this allow them to see many different parts of the world, but it will also help them learn about different cultures and how people live their lives.
5. Give Back and Contribute to Their Local Community
One final choice is donating part of their prize directly to their local community, whether that's supporting local charities or contributing funds towards projects like clean water initiatives.
Supporting these causes is a great way to give back and make a real difference while also enjoying the tax breaks and other benefits of donating to a qualified charity.
Conclusion
Many things can happen when foreigners win the jackpot in Vegas. One sure thing is that they're required to report their winnings and pay taxes on them, whether that's in the US or in their homeland.
Depending on the circumstances, the foreigner might be able to receive a lump sum and use the prize money to make life-changing decisions.