Do Las Vegas Casinos Exchange Foreign Currency? (Explained)
(This article may contain affiliate links. If you click through and make a purchase, we will receive a small commission at no additional cost to you. )
Las Vegas attracts visitors from all over the world. However, Las Vegas casinos operate using the American dollar, meaning international visitors may need to swap their home country's currency for the US dollar (USD) when visiting. 
Most casinos in Las Vegas will exchange foreign currency at the cashiers' desk, often with very low fees. Additionally, cash machines and ATMs are never in short supply when visiting Las Vegas, and these machines will accept many forms of worldwide bank and credit cards.
Read on for more tips on exchanging money in Las Vegas, how to exchange currency at a casino, and tips for international travelers planning on vacationing in Vegas.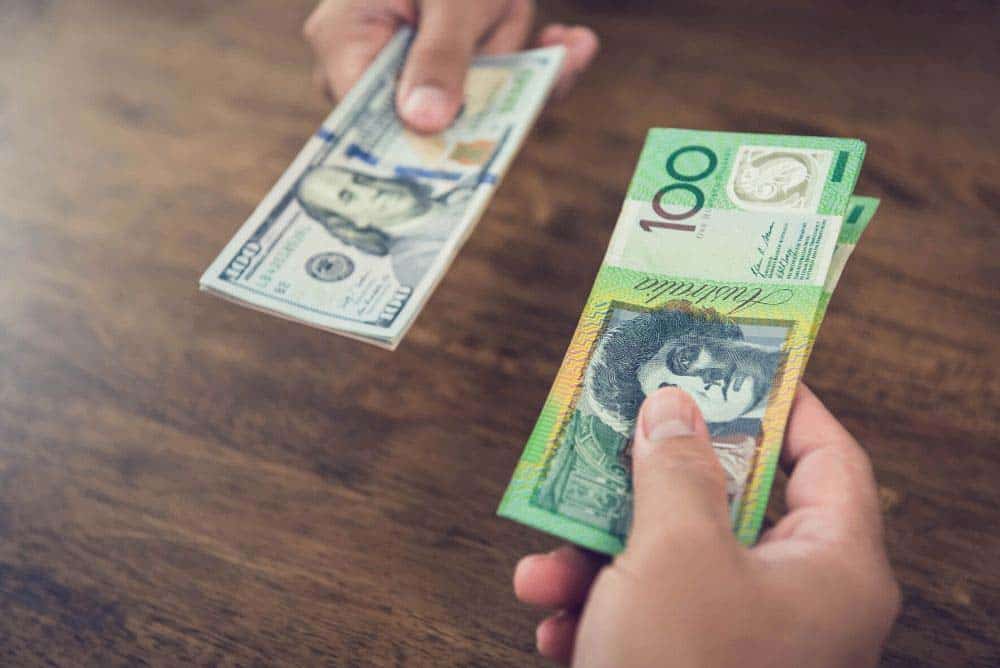 How to Exchange Currency at a Casino 
Many casinos in Las Vegas will exchange foreign currency. Noted examples are the Palazzo and the resorts operated by Caesars Entertainment. Just in case, make sure to phone ahead and ask the casino if they make currency exchanges and, if so, what currencies they support. 
When in a casino, just ask an employee to point you toward the cashier's window. There may not be many signs, as the casino doesn't want players to cash out too early. However, many friendly workers can show you the way. 
At the window, make sure to inquire about the exchange rate and fees. Some casinos offer to make the exchange for no fees, while others may require a little extra money. 
Don't walk away from the cashier's counter until you've counted your money. While exchanging currency at a casino in Las Vegas is very safe, mistakes can happen, and once you leave the counter, no adjustments will be made.
Note: Count your money before exchanging, calculate the number you are receiving using an online converter, and count the money you get back. Especially when handling large sums of cash, you can never be too careful! 
Do Las Vegas casinos take credit or debit cards? Find out in our article here.
Tips for Exchanging Money While in Vegas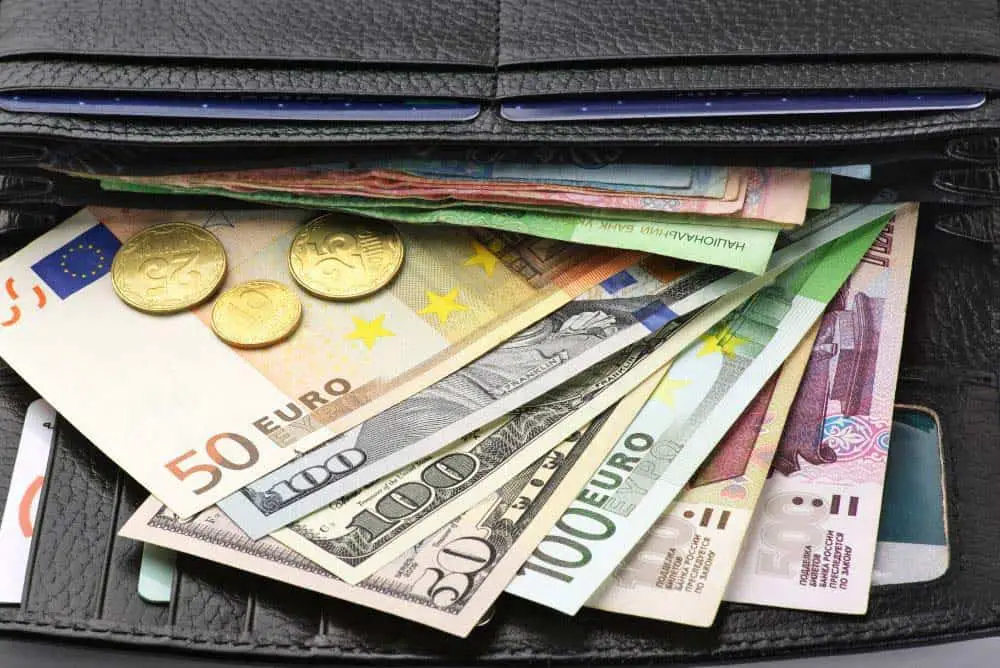 Before traveling abroad, check with your bank. Ask about your bank's rates on withdrawing money while out-of-country, so you won't be surprised by any high fees when using ATMs. 
If at all possible, try to exchange currency before coming to Las Vegas. If you can make the switch at your local bank back home, it will most likely be cheaper, with fewer fees to pay.
Make sure to check rates online for any foreign currency. Use an online converter to convert to the US dollar. This will help you calculate fees and make sure you're getting the right change! 
Call ahead to find banks in the area where you're staying and ask if they will exchange money – not all banks do. A Las Vegas hotel, especially near or downtown, should be near a bank that a front desk assistant can direct you to. 
If not a bank, a casino! Your second-best option from a bank is exchanging currency at a casino. The fees for doing so are often lower than an airport or hotel, typically because casinos want you to spend money there. 
Find the right ATMs. An ATM affiliated with your bank shouldn't charge fees to withdraw money. However, a different bank's ATM might charge a high fee, so avoid those if possible. 
Don't be fooled by the airport currency exchange. Typically an airport will charge much higher fees than a bank. While it's convenient, you might be missing out on saving money, as the extra money you're paying could be as much as 25% of the amount exchanged. This applies to currency bureaus, too. 
Skip the hotels, too. A hotel's exchange fee, like an airport's, will be much higher than a bank or a casino. Since many hotels have casinos attached or nearby, it shouldn't be a hassle to walk a little further in order to save money. 
Consider a 0%  foreign transaction fee credit card. When you're traveling abroad, a credit card is an easy way to avoid the hassle of physical money exchange. However, your card might process a fee when you pay for things out of the country. Most banks will offer a card that doesn't charge this fee, so check in with yours before your board your flight to Vegas. 
Find out how much spending money you should bring to Las Vegas in our article here.
Why Casino Rates are Lower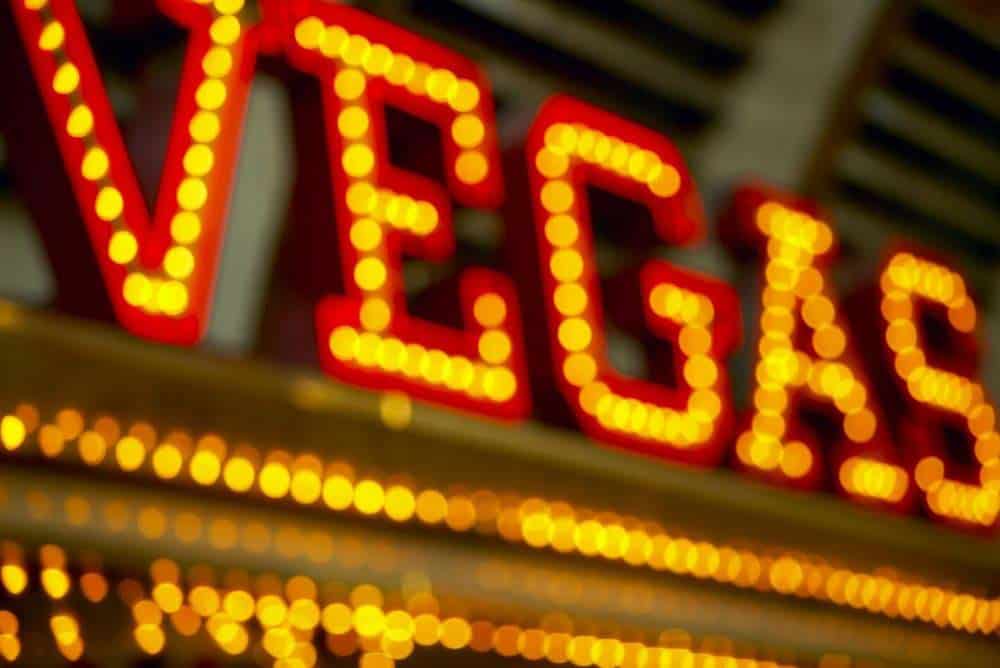 Casinos, as mentioned above, offer lower rates than a hotel or airport would for currency exchange. But why? 
Casinos want to get you into their establishment. With low exchange rates, hotel guests might be enticed to walk through a casino to the back, where the cashier cage will likely be. And once you're in a casino, the flashing lights, music, and signs proclaiming you can win big might draw you in to play.
Since casinos have a better chance of earning money than you do, they want you to play, and walking through the door is the first step. 
Additionally, international tourists spend more time and money in Vegas. Research has found that foreign visitors stay in Las Vegas longer and spend more on food, entertainment, and shopping.
It makes sense that casinos want to encourage international tourism and will be equipped to accommodate traveling abroad.  
Since Vegas attracts people from all over, casinos are well equipped to exchange currency. Your chances of a smooth experience are best at one of the larger casinos, where they are very practiced at exchanging money.  
What to Remember For an International Trip to Vegas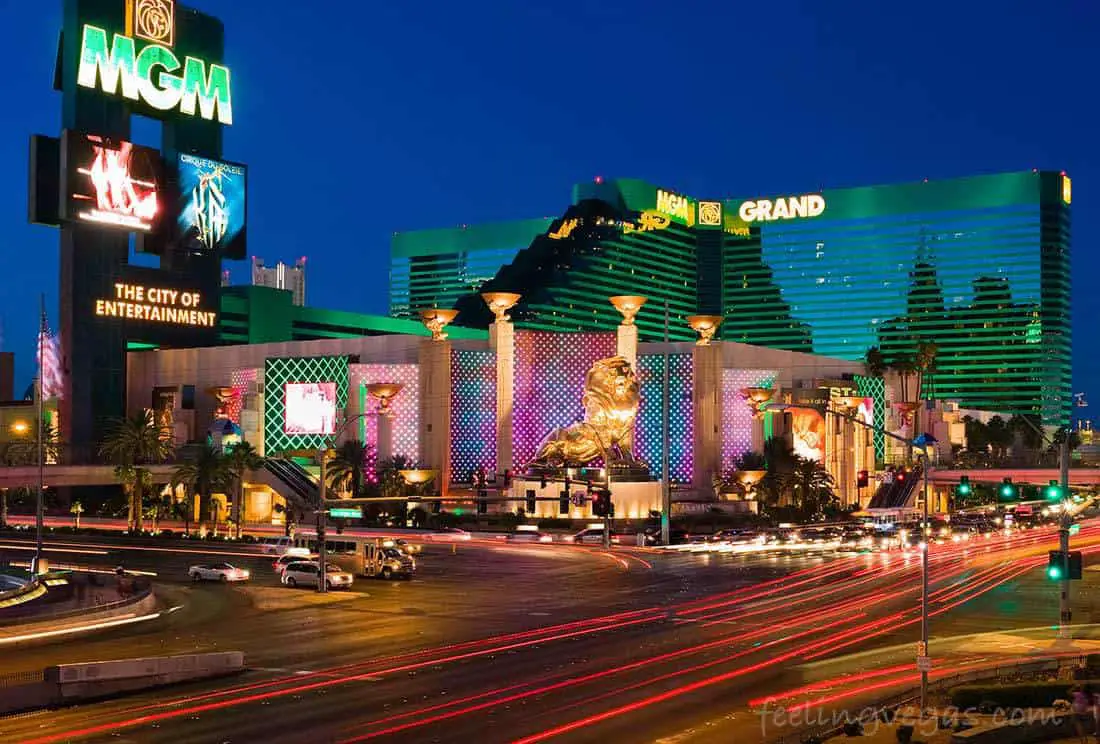 When traveling abroad, it's easy to forget all the differences between the United States and your home country. Here are a few key things to help your travel to Las Vegas be smoother and more enjoyable. 
Buy an adapter. Outlets for electronics vary in shape and size from country to country. Pick up a charger before leaving for Vegas, so you can use a phone, laptop, or hairdryer while visiting. Here's one that will work for Europeans, Asians, and Australians. 
Contact your phone company. International phone rates will vary from company to company. Call up yours, and ask about their rates or if you can activate international data. Additionally, you can buy a US SIM card for the duration of your stay. 
You might not need to rent a car. If you're staying at the strip, there are tons of restaurants, casinos, and hotels within walking distance. Additionally, a cab is never far away and can provide quick transportation if needed. If you do decide on a car, you should be able to get to the rental place via shuttle from the airport. 
Find out how to get around Las Vegas without a car in our article here.
Remember to tip! Always have a few American dollars on hand in order to tip the many people who will serve you on your stay. This includes waitresses at bars or restaurants, hotel workers who carry your bags, maids, and your guides. While tipping is not required, it is the social norm. You can find our Las Vegas Tipping Guide here, where we tell you when, who, and how much to tip in Las Vegas.
Double-check the rules. Unlike many other countries, the United States drinking age is 21 – and this goes for gambling, too. For most casinos, this means minors aren't allowed in bars or on the gaming floor. However, some casinos, like Circus Circus, are specifically geared towards families and have activities for everyone. Visit a casino's website before attending with kids. 
Do your research. There are tons of things to do in Las Vegas, from gambling to concerts to even great hiking just outside the city. Map out the things you want to see before you arrive so you aren't overwhelmed with all the choices. 
Conclusion
Las Vegas is a great destination for international travelers, especially those with an interest in gambling, concerts, or sightseeing. 
When spending money in Vegas, you're going to need American dollars. A casino is a great and generally low-cost way to exchange any foreign currency. The casinos are happy to do it and make it easy for you!
Remember to ask ahead about your bank's international fees and credit cards and a casino's exchange rates before traveling, so you can have a good time in America's favorite party city! 
If you're traveling from outside the U.S. to Las Vegas, you may want to know what happens when a foreigner wins big in Vegas. Find out here.
More Las Vegas Casino-Related Questions: