Red Rock Canyon in Las Vegas (Directions, Hikes, Stops & Tours)
(This article may contain affiliate links. If you click through and make a purchase, we will receive a small commission at no additional cost to you. )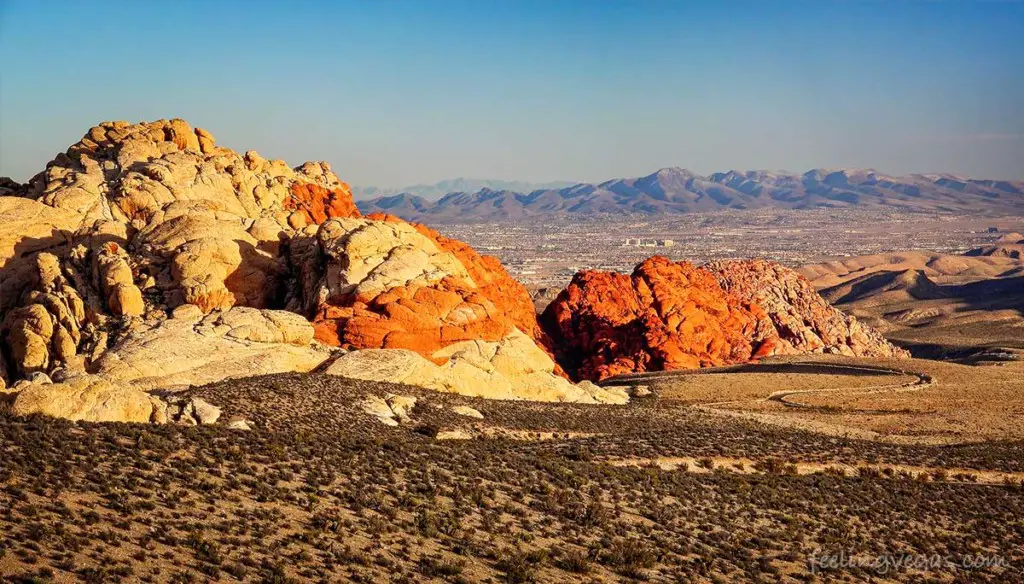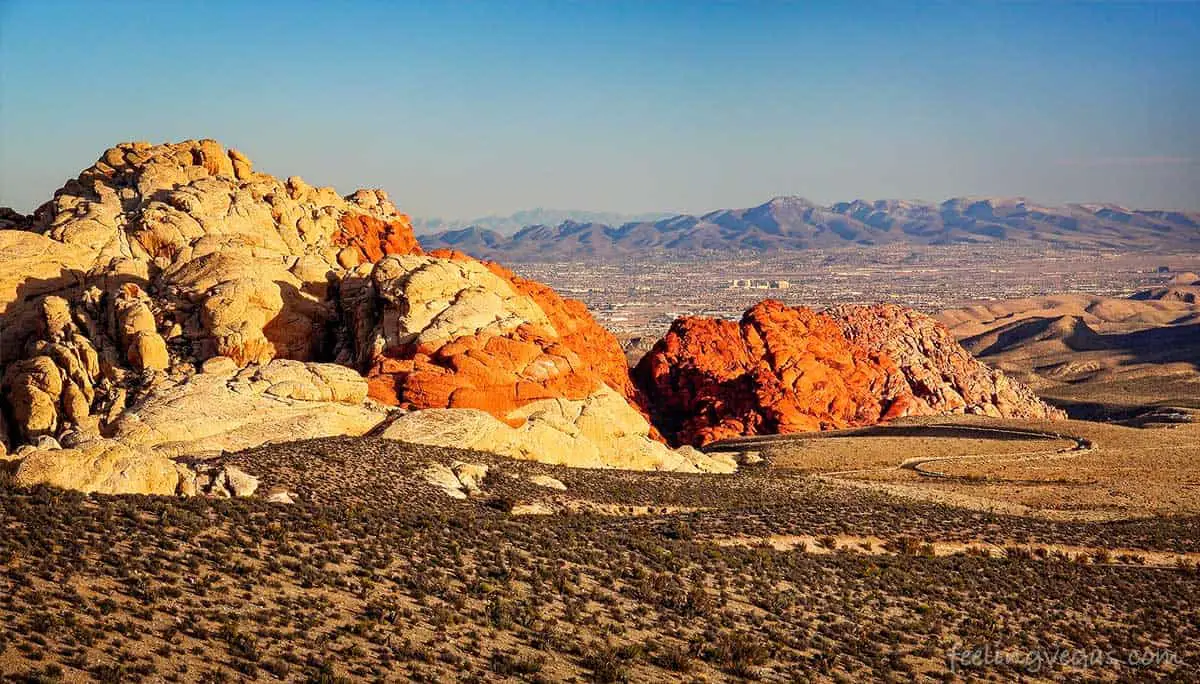 I love living in Las Vegas. The air, the atmosphere, the late nights of gaming and fun with friends, it is truly exquisite. There is another destination in Vegas that is fun, though. A more natural destination. It's called Red Rock Canyon National Conservation Area.
What are the best ways to get to Red Rock Canyon?
Red Rock Canyon lies about 15 miles southwest of the Las Vegas Strip. Whether you're driving west from the Strip or coming from the south you'll want to take SR159 to get to the park's entrance. If you don't have a car, other ways to get to Red Rock Canyon include taking an Uber or an organized tour from Las Vegas.
If you like nature and the great outdoors then this trip is one you should make a part of your Vegas adventure. There are several different ways to get to Red Rock Canyon and benefits to each route, direction or method of travel which I will go into detail below.
Need a Vegas rental car? Find the best deals on car rentals in Las Vegas (Discover Cars)
Red Rock Canyon in Las Vegas
First, what is Red Rock Canyon? Its full, official name is the Red Rock Canyon National Conservation Area. It was established as a national conservation area in 1967, and the canyon is visited by over 2 million people each year (source).
The park is located in the Mojave Desert near Las Vegas and the landscape is made up of vivid red sandstone rock formations as well as interesting geological features such as the Keystone Thrust Fault. Popular park activities include rock climbing, hiking, and biking. Native American petroglyphs can be seen in some areas and several sets of dinosaur tracks have been found, and are still being studied, by Paleontologists in the park.
The highlight to the park is a 13-mile looped scenic drive. So if you're not into hiking or it's hotter than you know what out there you can still enjoy the park from the comfort of your air-conditioned vehicle.
The first time I ever visited the park, years ago, I was amazed to see the Las Vegas skyline peeking out from behind some of the red rock formations.
On the Way to Red Rock
Las Vegas is the land of gambling dreams and shiny things. People come for the Strip, the clubs, the restaurants, the fun, and the entertainment.
But if you've been in Vegas a couple of days with all the lights, sights and sounds, it's almost a shock to the system when you realize that a beautiful and serene natural environment can be found this close to all that mayhem.
If you are driving yourself, there are a couple of different ways to get to Red Rock Canyon depending on where you're coming from and what you'd like to see along the way.
The first route is the more common one. It's the one you're most likely to take if you're coming from the Strip. I'll show you how to get there coming from the Strip and starting at the Red Rock Casino Resort & Spa (west of the Strip).
The second route starts off the I-15 south of Las Vegas. Coming from this direction you will get to see a few places that most people don't usually see while visiting Vegas. This route will show you some of the parts of Las Vegas that don't have anything to do with the more touristy areas of the city as well as allow you to see some different views of the canyons that most people who come to Red Rock don't normally see.
Note: Either route will get you there just fine no matter where you're coming from and in about the same amount of time, give or take a little bit. You may also just choose to skip all the places I'm going to tell you about and just head straight to the Red Rock Canyon scenic drive. It's entirely up to you, I just wanted to lay out some other points of interest or stoping destinations along the way so you can make a nice day trip out of it. Let's go!
(You can download the Red Rock Canyon Visitor Guide here).
How to Get to Red Rock Canyon from the Las Vegas Strip
Head north on Las Vegas Blvd (the Strip)
Turn left onto Charleston Boulevard
Charleston Blvd will turn into SR-159 / follow for 15 miles
Turn right onto Scenic Loop Dr & follow to Red Rock Visitor Center
Red Rock Canyon via Red Rock Casino, (Route #1)
This route contains many points of interest and places to visit that include lesser-known trails, some small springs, and a local club property in Vegas that like to do their thing out where there is more elbow room in the desert (ie. Soaring Club). Read on and see what might interest you in taking this route to Red Rock Canyon. You may just find the exact trip you were looking for.
Red Rock Casino Resort & Spa
One of the first major things you will see on this route after being on Charlestson Blvd/SR-159 for a bit will be Red Rock Casino. As far as casinos go in Vegas, it may not be one of the biggest. Heck, it may not even be one you ever heard of before you thought of taking this trip to Red Rock Canyon. However, Red Rock Casino is quite a big deal. It's a beautiful hotel and casino and worth stopping by if you're passing.
It is, in fact, one of the top luxury resorts in Las Vegas, it just doesn't happen to be on the Strip. The resort includes a movie theatre, a bowling alley, a kids' area, award-winning restaurants, a spa and meeting spaces. They also have an impressive place they call "The Backyard." It's 3 acres of pools, private cabanas and swim-up bars and gaming. They even have an island and a waterfall!
What would a Casino and Resort be without a Restaurant scene? Well, theirs is quite impressive. They have grills, steakhouses, a sushi place, and a buffet. They have just about every taste you can think of. This would make a great stop for lunch or dinner on your way to or back from exploring Red Rock Canyon.
Check out our article here for the Best State and National Parks Near Las Vegas.
Gunsight Ridge Las Vegas
The next stop on the route is a place called Gunsight Ridge. From here on out you are officially in Red Rocks National Conservation Area. This ridge is a place is for people who want to do a bit of hiking but don't want too much of a challenge.
If you plan on taking this hike, you'll be rewarded with a view of some of the Red Rock Canyon rock formations and of the Red Rock Detention Basin, which is a small lake to the east.
Las Vegas Soaring Club
You'll pass by the Las Vegas Soaring Club. This club is dedicated to flying anything that can be operated by remote control (RC). This includes everything from small model planes to helicopters to drones.
They pride themselves on being able to fly just about anything that can be radio-controlled. This club isn't for everyone, though. It only accepts new members by invitation. If you are interested, reach out to them before you visit.
If you're interested in RC flying then you'll probably also want to know about the rules for flying a drone in and around Las Vegas. Find out more in our article here.
Red Rock Campground
If you're interested in doing some camping near Las Vegas, the Red Rock Campground's beautiful location and nearby proximity to the Strip make it a perfect choice.
The campground at Red Rock hosts 53 individual sites for tent camping, along with 6 RV sites (no hookups). The campground is open from September to June each year but depending on the season you may need to reserve a spot in advance.
The campground is located approximately 3 miles from the Red Rock Visitor Center & Scenic Drive. There are plenty of activities available from the campground such as hiking, climbing, horseback riding, and biking. (website)
Calico Basin
The Calico Basin area has a series of several scenic hiking trails within the Red Rock National Conservation Area that run around the Calico Rocks, a spot popular with rock climbers. Both shorter and longer hikes are available. The Calico Basin is a beautiful area of desert landscapes and red rock. You can stop here and do some hiking or continue on SR159 until you reach the entrance to Red Rock Canyon scenic drive on your right.
The Red Rock Visitor Center and scenic drive are a fee pay area while the Calico Basin area is free.
If you choose to explore Calico Basin, here are some of the trails and points of interest you will find.
Red Spring: Desert Oasis
Try the short trail out to Red Spring where you'll walk on a wooden boardwalk trail. Along the way, you'll find Native American Petroglyphs. This pet-friendly hike is one of the few places around Las Vegas where you will find trees that change colors in the fall.
Calico Spring
On the peaceful hike across the Calico Basin is the Calico Spring. A natural spring where water finds its way up through the earth to provide fresh water to desert people, plants and animals.
Cannibal Crag
Even though this place sounds like it belongs in a fantasy book, it's actually a popular rock climbing destination with climbs for all skill levels. There's a nice view at the top if you can make it (website).
Ash Canyon Trail
Just past the Calico Basin, is the Ash Canyon Trail. This canyon is a smaller version of the Red Rock Canyon but still has its fair share of hiking trails.
Pink Goblin Pass
Pink Goblin Pass is a trail named for its rocky hillsides that feature a light pink color, but looks menacingly, kind of like a goblin. Not sure I see it, but it's still a beautiful hike none-the-less.
Red Cap Mountain
If you like a little more of a challenge, the Red Cap Mountain Trail would be a good one for you to try. It has a great view of the area once you get to the top. It's also called Red Cap because of the red rocks at the top of the mountain.
Calico Tanks Trail
This hike is probably one of the more popular ones in the area.  It can be challenging in some places, but most people can manage it. It's good for school-aged kids is a fun trail to bring your dog on. You should learn about this area before you take the hike because you could get lost here if you don't know what signs to look for (website).
Calico View
The Calico View Trail is a more popular hike here amongst the locals. There is a mix of reviews for this hike, but if you plan on going to the top, then you may have a challenge getting there. Make sure you bring lots of water as there is little to no shade along the way up, depending on the time of day you go. This is the top goal for those who start at the Calico Tanks Trail.
Basin Trail
The Calico Basin Trail is known to be popular for most hikers and rock climbers as it is an easy hike. There are a lot of large rock formations, so the Rock Climbers enjoy taking this trail often and getting different viewpoints of the Las Vegas strip.
Find out How to Get to All Three Rims of the Grand Canyon from Las Vegas in our article here.
How to Get to Red Rock Canyon Coming from I-15 South
I-15 heading south from Las Vegas
Take 160 W towards Pahrump
Turn right on SR-159 for 10 miles
Turn left onto Scenic Loop Dr & follow to Red Rock Visitor Center
Blue Diamond South (Route #2)
This Route, as stated before, is for those who want more of an experience that most people visiting Las Vegas won't see. This route isn't as popular because most people who travel this way are already leaving Las Vegas. They are missing out, though, because there are some interesting sights to see here!
Blue Diamond City
The city of Blue Diamond (pop. 209) is very small, but it does have a few things that may be worth a stop. If you would like to live close to Vegas but with a lower cost of living, then you might want to check out Blue Diamond. The town has a few shops and an Elementary School, but for the most part, it is a quiet little area.
One place of interest is a bicycle shop called Mcghie's Bike Outpost. Here you can rent mountain bikes or take a bike tour. They are known for the great service from their staff as well as high-quality rental bikes that are always kept in tip-top shape. Try exploring the nearby trail named Landmine Loop!
Blue Diamond also has two parks that are nice for a quick break. One of the parks is a skate park that all the local kids enjoy.
The last place of interest is Mountain Skills Rock Guides. They have people here who can teach and train you on how to rock climb from beginner levels all the way up to pro. If you don't know how to rock climb and would like to give it a try, they can help teach you what you need to know.
Wheeler Camp Spring Trail
Not too far past the city of Blue Diamond is Wheeler Camp Spring. There are not usually many people here, and it's quite an easy trail to hike or bike to the spring. The trail is horse-friendly so you may encounter riders on horseback.
Bonnie Springs
Bonnie Springs is actually made up of several small springs with Bonnie Springs being the largest. There are several easy to hike trails in this area as well as great views of the desert and of the other side of the valley. If you look real hard you may even be able to catch glimpses of the Strip from along some of the trails.
Lone Willow Spring
The Lone Willow Spring is the first of the springs that you'll notice on the way into this area. It's small, but it is quite a nice spot to stop and take pictures at.
The Point Spring
The Point Spring is surrounded by many trails and areas of rock that can make it hard to find, but rest assured, it is there. If you happen to find an impasse where three trails connect, then you aren't far from it. It has some great spots for intermediate level rock climbers as well.
Mormon Green Springs
The Mormon Green Springs are easy enough to find, but it will require a bit of a hike. Be sure to bring enough water as it can get quite hot out on the trail while trying to get there. The view at the end of the trail is quite rewarding though.
Spring Mountain Ranch State Park
Spring Mountain Ranch State Park is more widely known than most of the other attractions on the south side of the 159. It is widely regarded as the best place for a picnic in the whole area. It's been described as a "hidden gem".
The ranch was formerly owned by both eccentric millionaire Howard Hughes and German actress Vera Krupp. In addition to the natural beauty, you can explore some of the oldest buildings in Nevada on the property including a blacksmith shop circa 1860.
Hiking trails can be found throughout the state park and there is a wonderful picnic area with grills and tables to make for the perfect day trip.
The biggest attraction for this specific park are the Super Summer Theater Events. These theatre performances have taken place at the ranch since 1976 in an open-air pavilion.
There are also living history events designed to bring history to life so visitors can view the ranch as it may have looked at one time. These historical reenactments bring some of the past local characters and their stories to life. These events take place in the spring and fall (website).
First Creek Trail
This trail is an easy hike for most anyone who comes across it. If you are looking for a great time to have in a beautiful place without much of a struggle, then this hike is right for you. As easy as a hike as it is, it isn't really a trail that is appropriate for mountain biking.
It's about a mile and a half to the main waterfall at the end of the creek. There are many different trails that lead off from the main one, and it can be hard to keep track of the main trail if you don't do your research first. So, make sure you know where you are going or keep a map of the area handy with you, so you don't get lost on your way when trying to find the waterfall.
There is also quite a lot of parking area so you won't have trouble with overcrowding. This is a beautiful area for pictures, particularly near the waterfall when it is lush and green during the spring.
Mount Wilson in Red Rock Canyon, Las Vegas
Mt. Wilson is farther out from the main road to Red Rock Canyon, but it is still the main attraction of the area on this second route. Mt. Wilson is the highest peak made of sandstone in the Spring Mountain range. The mountain is accessible by hikers from the First Creek Trail.
Hiking to the top of this mountain is a difficult and strenuous trip. It often takes hikers multiple tries before making it to the summit
The best part of the mountain hike is the incredible view from the summit. The other distinguishable feature of this mountain is the intricate caves and caverns that can be found on in it. They are quite beautiful, so make sure to take pictures if you are one of the few to make it up there (website).
These are the Best Places for Stargazing Near Las Vegas – Find out here.
Oak Creek Canyon Trail
Oak Creek is a wide-open area with a lot of trails that go deep into the park.  This is one of the best places to hike and enjoy nature because of how many different directions you can head in. There is definitely no shortage of exploration here.
At the far end of the trails, you'll find Oak Creek Spring that usually has a good amount of water year-round. This is a large area, so make sure you bring lots of water with you when you go hiking here (website).
Fossil Canyon – Fossil Ridge Loop
Fossil Canyon Trail is a loop trail that takes you along the side of Blue Diamond Hill. Here you will find the canyon full of fossils from when the area was under the ocean. Ancient fossils include corals, sponges, and gastropods.
Beautiful views, fascinating fossils and a relatively short, easy hike make for a wonderful day. Fossil Ridge is also an interesting place to spot cactus. Along the hike you will be able to spot almost all the commons species of cactus that can be found in southern Nevada (website).
Cowboy Trail Rides – Red Rock Canyon Horseback Riding
Right after the Fossil Canyon Trail is an area where you can indulge in a classic western experience. Cowboy Trail Rides is a company specializing in horseback riding tours through the most beautiful areas of Red Rock Canyon. They specialize in 1-5 hour trail riding experiences.
If you always wanted to be a cowboy in the old west here's your opportunity. Even if you've never been on a horse their experienced guides will have you riding like an old hand in no time. Take a horseback riding adventure with Cowboy Trail Rides (viator.com).
Echo Canyon
Echo Canyon is an expanse of the Red Rock Canyon area that is south of the main attraction. This area is deeper and a little wider than some of the other canyon areas. It was discovered that the canyon produces an excellent echo when a person shouts into it. Therefore, this area was called Echo Canyon. Clever huh?
Skull Canyon
Skull Canyon was revered for a long time for being a dangerous area full of predators and prey. Wild birds of prey would take their victims here for protection in the high walls of the canyon to secure their kill. This place is known as Skull Canyon because all you find after an animal was eaten was the picked clean remains of their skulls. Beware those who enter.
Red Rock Canyon Visitor Center and Scenic Drive
Whew, there is a lot to do and see on the way to Red Rock Canyon! Once you've finally made it to the entrance of the 13-mile scenic drive be sure to stop by the park's visitor center for exhibits, information, snacks, and souvenirs. You'll even get the chance to see a desert tortoise close up!
After the visitors center head out on the 13-mile scenic loop road and remember to drive slow so you don't miss anything. There are a few trailhead spots to pull out on the drive if you're up for another hike. Or sit back, turn on the a/c and enjoy the view.
Click here to find the Best Car Rental Deals for Your Las Vegas Adventure!
Looking for cool things to do Off The Strip? We've got you covered in our article here.
Take a Tour to Red Rock Canyon from Las Vegas
What if you want to visit Red Rock Canyon while you're in Las Vegas but don't have a car? While I've heard that some visitors take a taxi or Uber out to the park, I can't help but think that's not the most enjoyable or inexpensive way to get to experience the park. I would suggest that you take a tour instead.
There are tours from Las Vegas that visit the park daily and take you to some of the side trip destinations that I've mentioned such as Spring Mountain Ranch State Park before taking you to the visitor center and around the scenic loop drive. If you're interested in letting someone else do the driving so you can fully relax and enjoy the journey, this tour to Red Rock Canyon from Las Vegas is a good choice.
Final Thoughts
Red Rock Canyon is one of the most beautiful natural areas in Las Vegas. Just remember that there are many stops along the way that can make the trip a little extra special and make for a full day of fun.
So now you know all the ways to get to Red Rock Canyon from Las Vegas. Enjoy your trip!
RECOMMENDED: Best Las Vegas Day Trips (Ultimate Guide & Map) – This is a complete guide and map showing all our favorite Las Vegas day trip destinations.