Tucked away in the stunning tan and red sandstone cliffs of Calico Basin lies a beautiful marshy grassland known as Red Spring. With the La Madre Mountains to the north, Turtlehead Peak and the Calico Hills to the west, and a desert ridge to the south, this area is only 30 minutes from the dazzling lights of the Las Vegas Strip.
Three springs feed the Calico Basin area: Ash Spring, Calico Spring, and Red Spring. The water from these springs runs year-round, giving life to the area's unique ecosystem.
The ash trees, cottonwood trees, honey mesquite, scrub oak, and rare saltgrass meadows depend on the springs water, supplied by the minimal rainfall and snow, to thrive. 
Maybe you're already planning a trip to Red Rock Canyon, or perhaps you are just looking for some quiet, natural beauty away from the Las Vegas Strip. If so, you will want to keep reading to see our detailed guide to visiting Red Spring in Las Vegas, Nevada.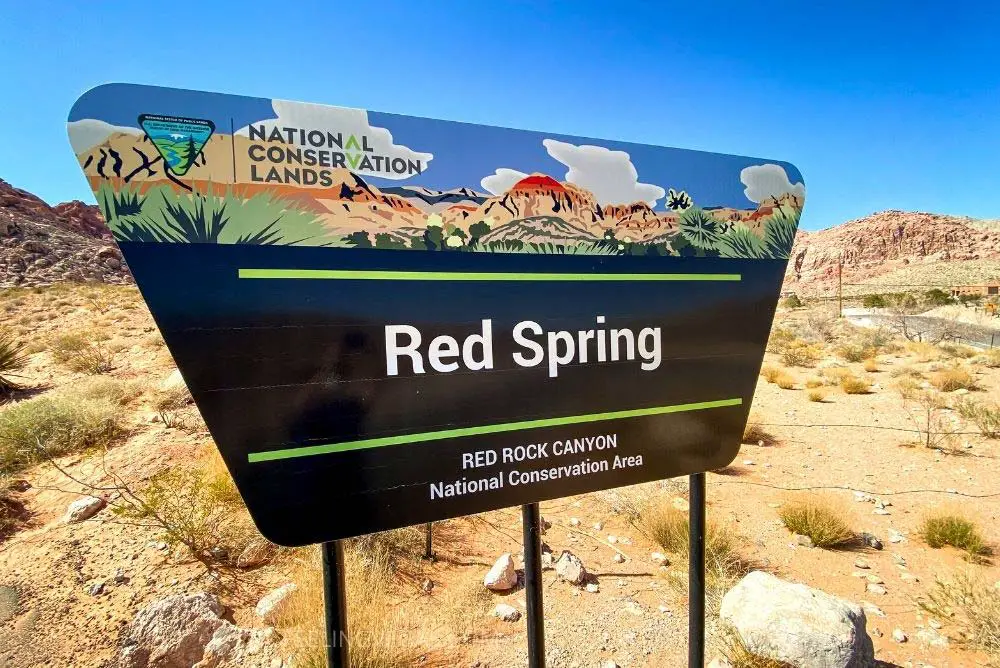 (This article may contain affiliate links and we may earn a commission if you make a purchase.)
The Red Spring area consists of a picturesque picnic spot and a short boardwalk hike to visit the natural springs. Let's talk about the Red Spring Boardwalk hike first, as it's the main reason visitors head to this area.
The Red Spring Boardwalk Hike:
The Red Spring Boardwalk Hike, also known as the Calico Basin Walking Path, is located in the Red Rock Canyon National Conservation Area, just west of downtown Las Vegas. The latitude/longitude is 36.146266, -115.419201, and you can find directions to Red Spring here on google maps.
Overview of the Red Spring Boardwalk Hike
Parking: Red Spring Trailhead offers parking and access to the picnic area and Boardwalk Hike Trailhead.
Hours: 6 am to sunset (the parking lot is locked after sunset; be sure to plan ahead)
Difficulty level: easy; wheelchair accessible
Length and duration: ½ mile round trip; the minimum hike time is approximately 30 minutes.
Facilities: There are four vault toilets available for use. There are two toilets across the parking lot and two toilets close to the picnic area. 
Water availability: You are not able to access water.
Cost: The picnic area, boardwalk, and parking are all free.
Originally built to protect the unique flora and fauna of the area, the raised boardwalk allows hikers to take in the unique beauty of the rare flowers, ancient petroglyphs, and sandstone formations, without damaging the meadows.
Walking the Red Spring Boardwalk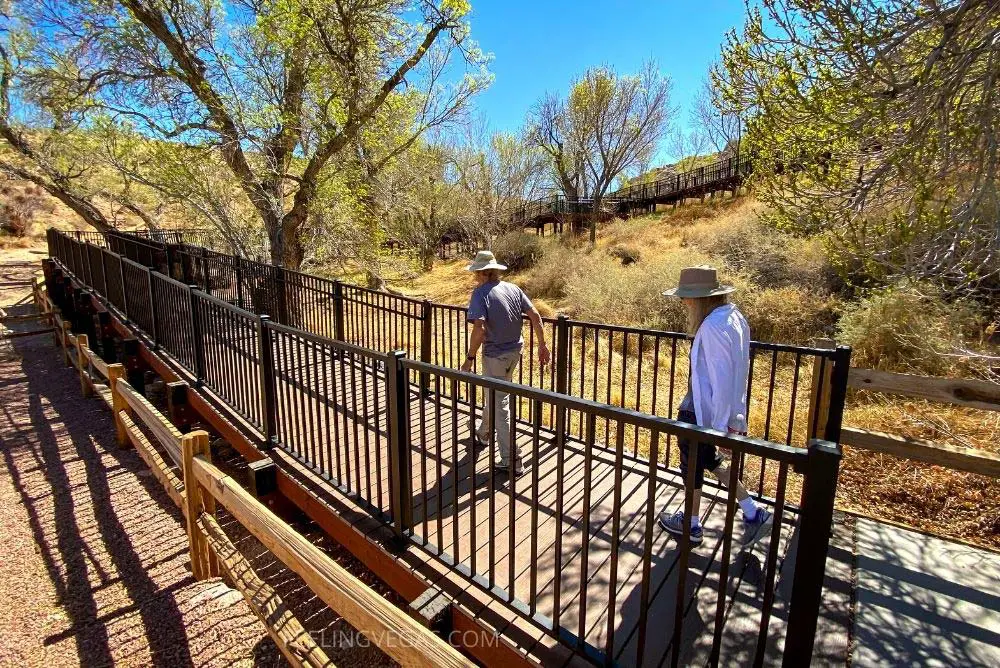 In truth, the "hike" is more of a walk, so you'll want to bring your whole family to explore the Red Springs Boardwalk; it's wheelchair accessible and kid-friendly. While short, the boardwalk is full of interesting and beautiful views, vibrant flora, wildlife, and a grassy meadow you don't expect to see in the Mojave Desert.
Begin your journey on the boardwalk at the trailhead next to the picnic area.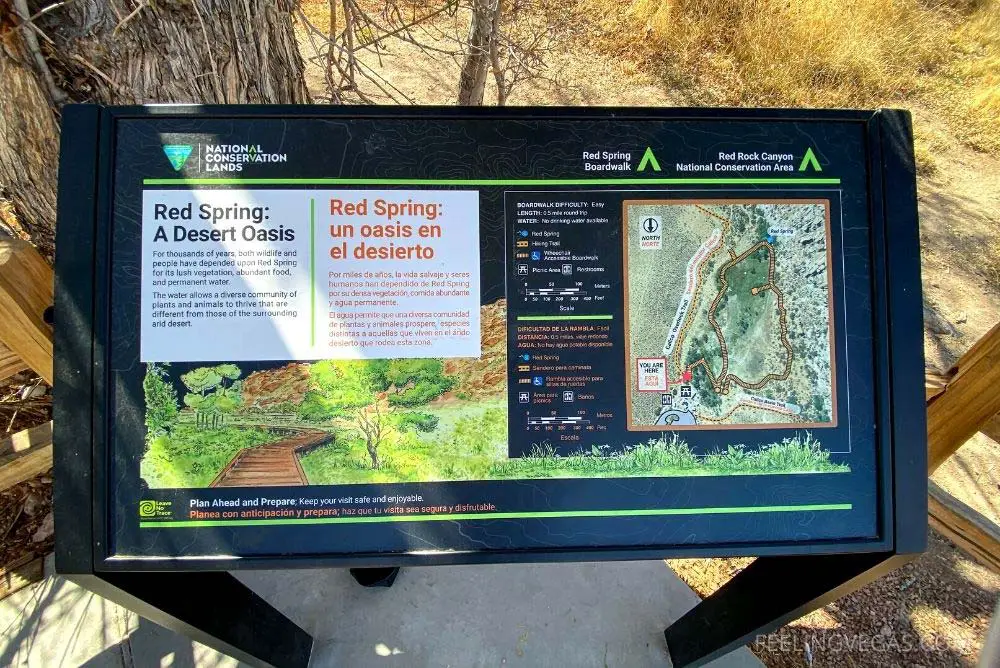 The looping boardwalk will lead you through the soaring velvet ash trees and around the marshy alkali meadow via switchbacks and wide paths, complete with benches so that you can relax and take it all in. 
If you are traveling with children or are running short on time, Red Spring is an excellent option as the hike will likely take you less than 30 minutes to complete. The boardwalk allows you to take in the incredible beauty of the Red Rock Canyon National Conservation Area without requiring you to hike many strenuous miles, or pay an entrance fee.
Recommended Reading: Seven Magic Mountains FAQ (Meaning, Location, Hours & Cost)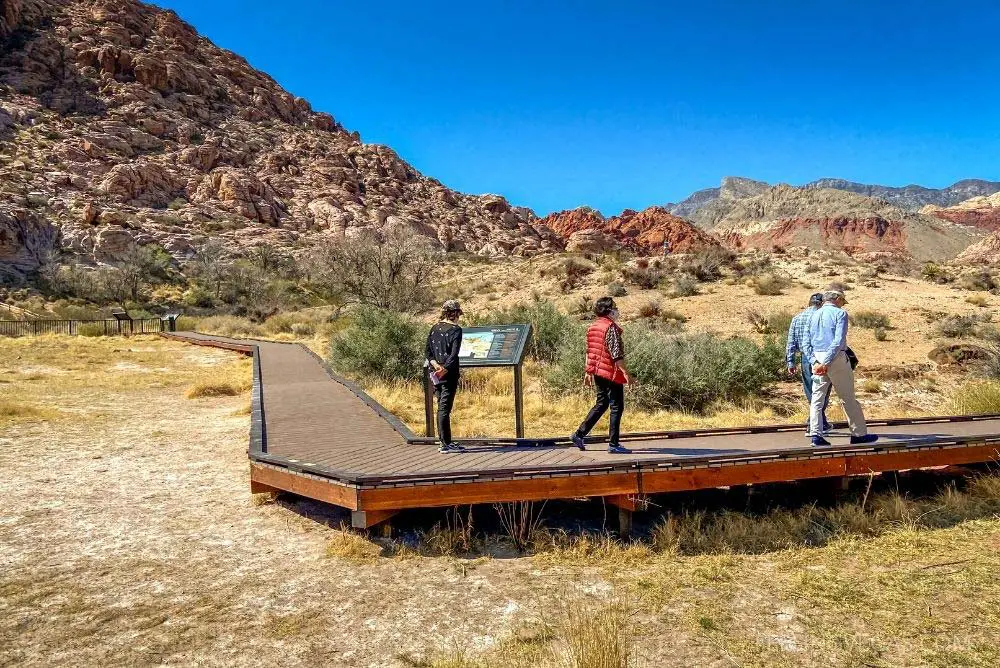 If an escape from the bustling, glimmering streets of Sin City is what you are looking for, Red Spring and the surrounding area offer just that. 
Red Spring Boardwalk Things to Know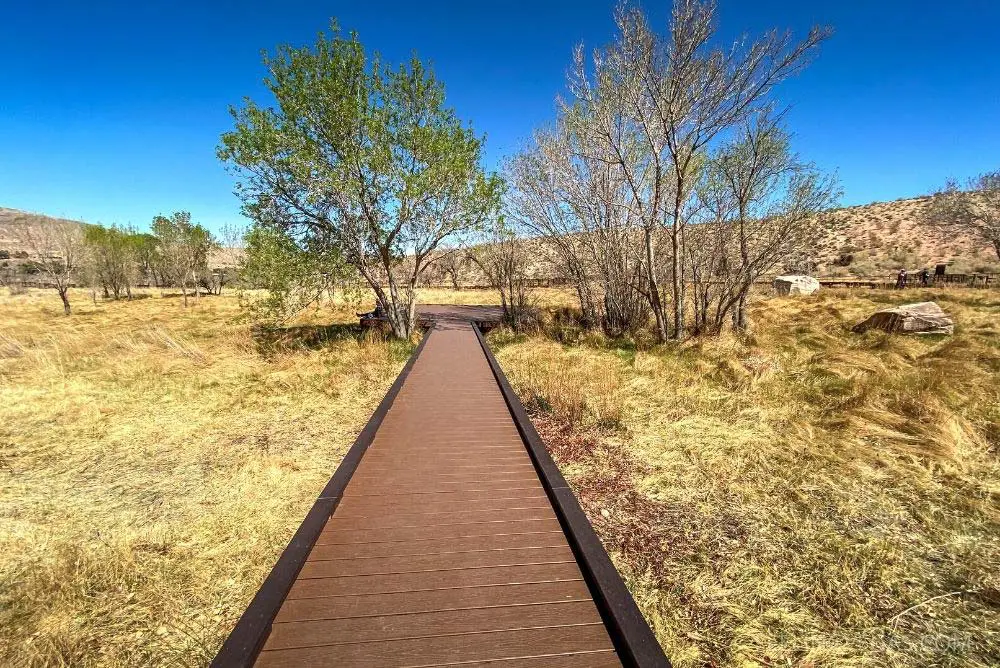 While hiking the half-mile boardwalk trail is considered easy, and is overall reasonably safe even for children, it's essential always to be mindful of your surroundings. Below are a few tips to make sure you stay safe during your visit:
Follow the seven principles of Leave No Trace while in the Red Rock area: be prepared and plan ahead, travel on durable surfaces, dispose or carry out any waste, don't take anything, limit campfire impact, be respectful of other visitors, and respect all wildlife. 
While the boardwalk is mostly level and easy to navigate, it is elevated, so make sure to watch your step.
The meadow is home to the rare Alkali Mariposa Lily and other delicate vegetation, so make sure to stay on the boardwalk.
The Red Spring Picnic Area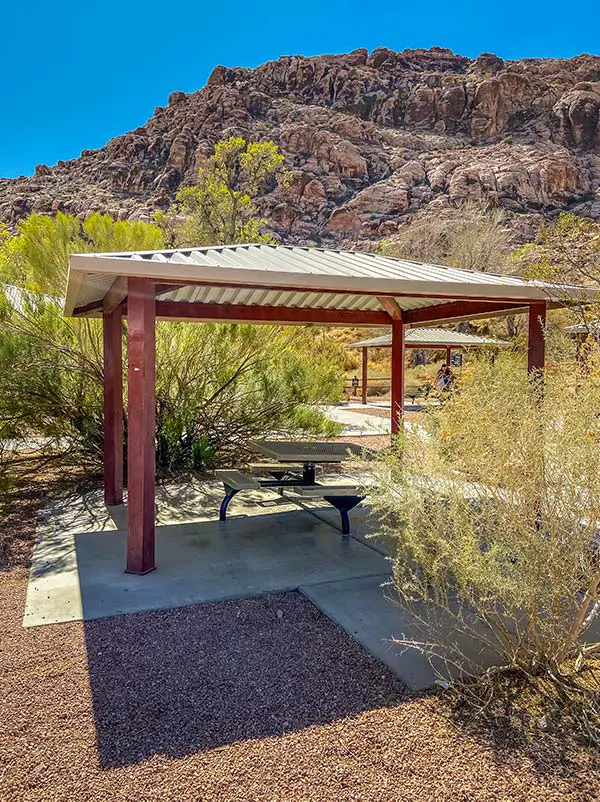 The Red Spring Picnic Area is at the base of the boardwalk trailhead, next to the parking area, and offers views of the surrounding red rock hills. As with the Red Spring Boardwalk Hike, the Red Spring Picnic Area does not require an entrance fee to visit.
Below is helpful information regarding the Picnic Area:
There is a group shelter with approximately eight tables, which can accommodate around 50 people. You must make a reservation and pay the associated fees to use the group shelter.
There are also several other covered picnic tables available for use that do not require a reservation.
There are metal barbecue grills and trash cans available for use.
There is no power or water available.
There are four vault toilets in the Picnic Area.
The Picnic Area is the perfect place to relax with friends or family before or after exploring the boardwalk. 
Things to Do Near Red Spring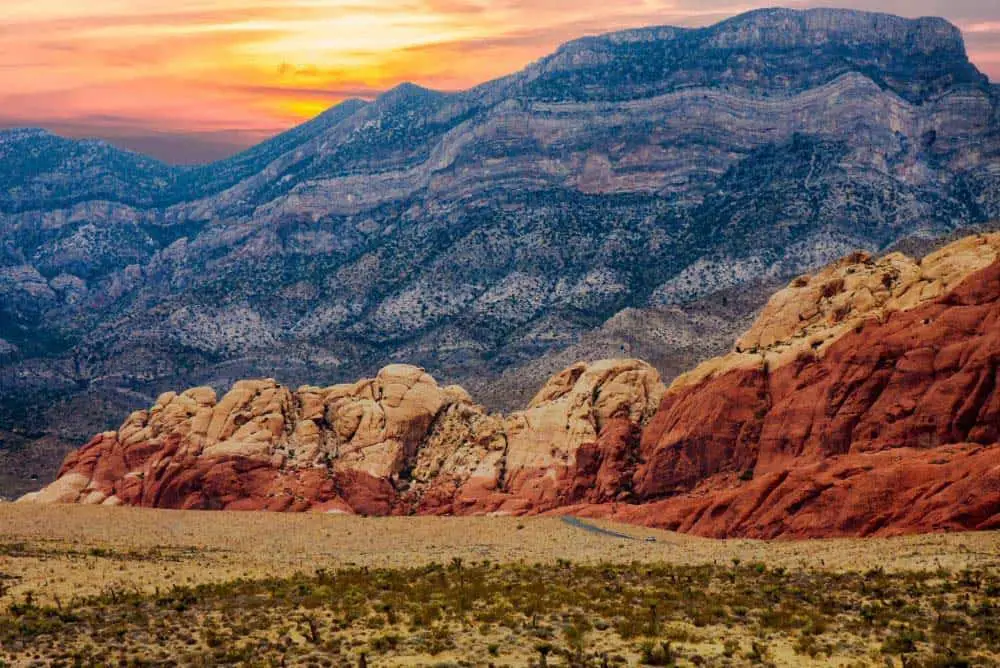 The Red Rock Canyon National Conservation Area is the ultimate park and playground for outdoor enthusiasts in the Las Vegas valley. There are over 70 miles of hiking trails that range from easy to difficult. Rock climbing is also very popular here and rock climbers have over 2,000 routes to choose from. 
You'll find plenty of trails for horseback riding, mountain biking, and road-biking located throughout the almost 200,000 acres making up the conservation area.
You can cruise along the Scenic Drive, explore the Red Rock Visitor Center, or take a guided tour of the area.  (Note: The Red Rock scenic drive and visitor center is a national park service fee area which costs $15 per car for a one-day pass).
The Red Rock Canyon Campground is located just three miles away. Here you can pop up a tent or relax in your RV after a long day of exploration. 
The list of activities is seemingly endless, with something for everyone. 
Recommended Reading: Best Places for Stargazing Near Las Vegas
Travel Tips For The Red Spring Area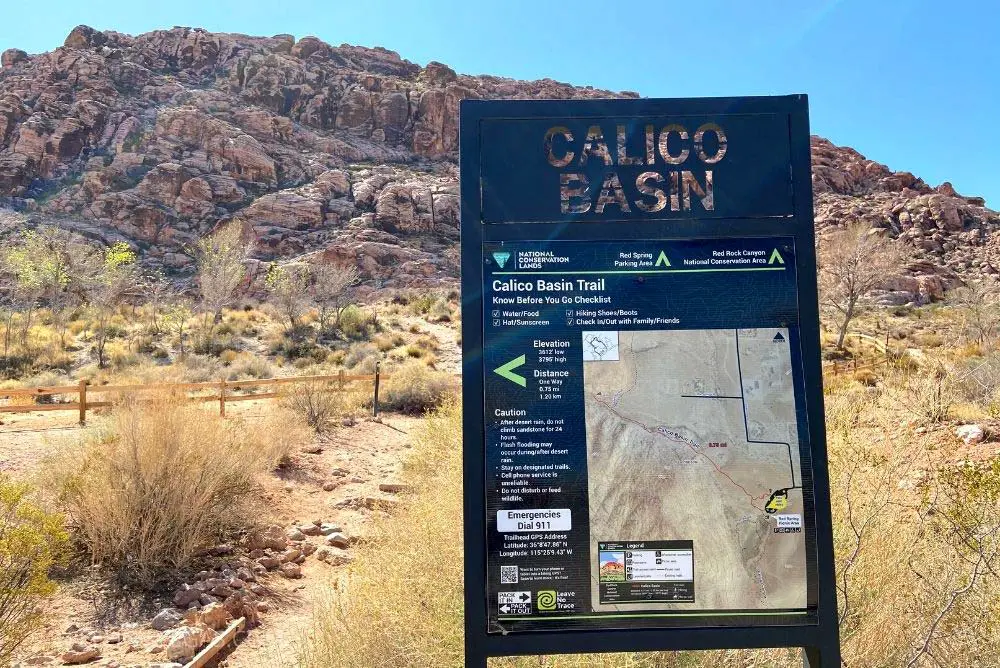 Red Spring Picnic area and boardwalk is located just a few minutes drive from the entrance to the 13-mile Scenic Loop Drive in the Red Rock Canyon National Conservation Area, just west of the Las Vegas Strip on State Route 159/Charleston Blvd. (google maps).
However, before you pack your picnic and hit the highway, you'll want to check out our list of helpful tips. 
Tip 1: Plan for Your Trip to Red Spring in Las Vegas, NV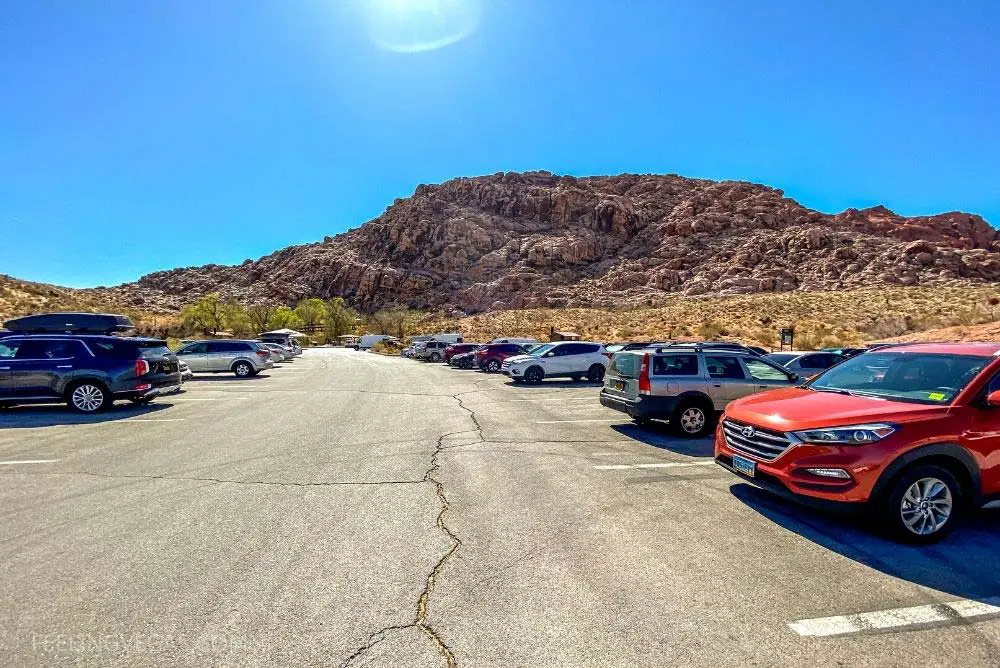 Trust us when we say that being prepared is the key to making the most of any hiking trip. Doing your homework can help prevent you from getting lost, missing out on must-see sites, being completely uncomfortable in the wrong clothes, and so much more!
Red Spring is located just ten minutes from the entrance to the Scenic Drive. That means a couple of things: 
You do not have to pay a fee to visit Red Spring, as you would to travel the 13 miles on the Scenic Drive.
That said, if you want include the 13 mile, looped, paved road on your adventure, make sure to plan for it by reserving your timed entry. You can find a complete list of fees here. 
The scenic loop drive is one of the best ways to see the beauty of Red Rock Canyon, and I highly recommend it!
Highlights of the Scenic Drive include:
An exceptional visitor center at the start of the drive offers an eye-opening glimpse into the area's distinct natural and cultural history. 
Breathtaking views of the red aztec sandstone hills and canyons
21 hiking trails, accessible from the parking lots and view points, to hike among the steep-walled canyons and rolling smooth sandstone ridges. 
Tip 2: Pack Wisely and Dress Appropriately When Visiting Red Spring
If you are an avid hiker, you know how important having the essentials on hand when out in the wilderness can be. While the Red Spring Boardwalk Hike isn't strenuous, you still want to make sure you are prepared. In late spring and early fall you can expect temperatures to be in the 90s, while summer can bring temperatures well over 100°F.
Wear comfortable shoes and proper attire. Layers are always a good idea. Take a look at the weather before you go. Pack plenty of water, sunscreen, and healthy snacks, and you should be set!
In Summary
Red Spring is the perfect spot for people of all ages to take in the abundant natural beauty found just outside of Las Vegas, from rare plants, to native american petroglyphs, to stunning views of the beautiful red rocks.
If adventure is what you are seeking, Red Spring and Red Rock Canyon Conservation Area has it all. 
Recommended Reading: Best Las Vegas Day Trips (Ultimate Guide & Map) – This is a complete guide and map showing all our favorite Las Vegas day trips.