A Visitor's Guide to the Las Vegas Strip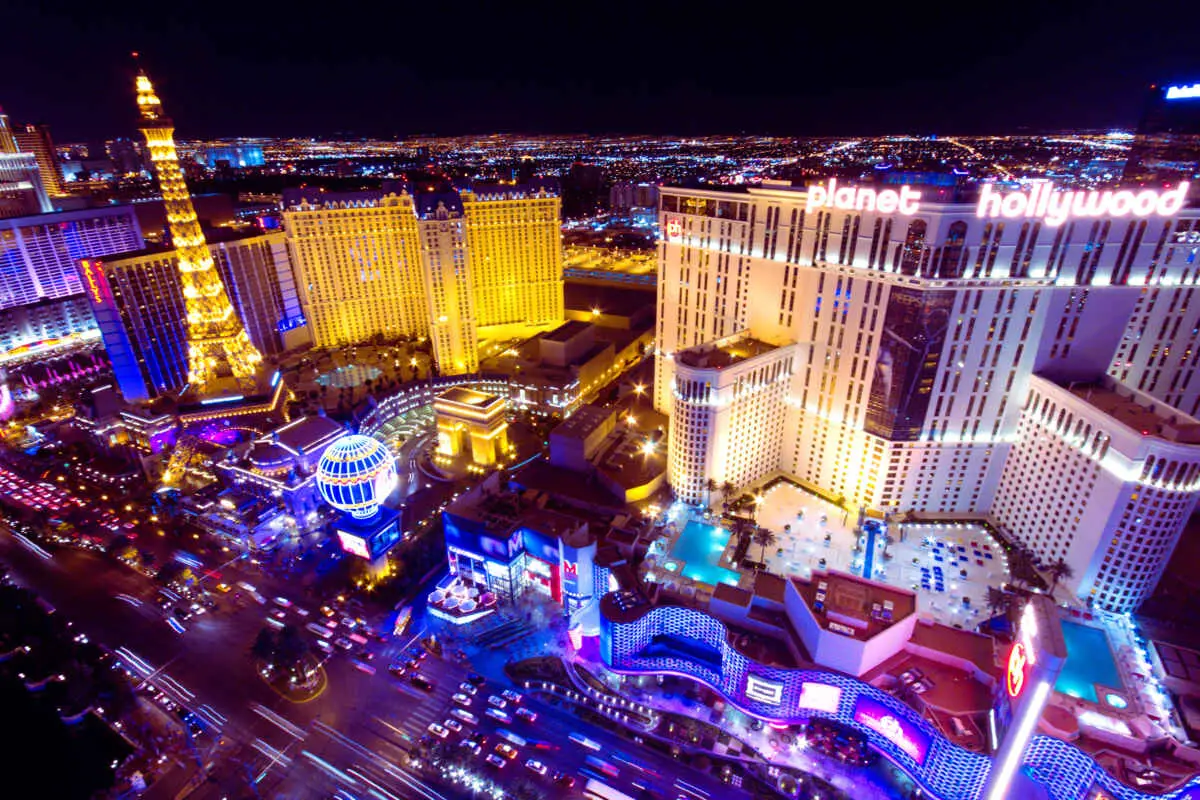 (This article may contain affiliate links, which means we might earn a small commission if you click and make a purchase. Thank you!)
The Las Vegas Strip, more formally known as Las Vegas Boulevard, has been synonymous with risqué and luxurious fun and adventure.
When you think of the fabulous Las Vegas city, you think of bright lights, mega-resorts, and casinos.
But there's so much more to the place that makes it appeal to the millions of people who visit this stretch of road in the desert.
From the history of the Las Vegas Strip to what you can do in the area, we present this full guide to this world-renowned tourist destination.
Understanding the Las Vegas Strip
Despite the name, the Las Vegas Strip isn't found in Las Vegas. However, it's still the centerpiece of Las Vegas and one of the most famous streets in the world that attracts millions of visitors a year.
Geographic Location
The Strip isn't actually in Las Vegas. In fact, it's outside the Las Vegas city limits and runs through the towns of Paradise and Winchester.
It runs north to south from the STRAT to the "Welcome to Fabulous Las Vegas" sign. The latter is found around 0.4 miles south of the southernmost entrance of Mandalay Bay, which is considered the southernmost casino on the Strip.
The Las Vegas Strip is divided into three major sections:
North Strip – This is the Sands Avenue/Spring Mountain area. It runs north from Wynn Las Vegas to The STRAT Hotel Casino and SkyPod.
Mid-Strip – This is found at the south end of Sands Avenue and reaches Planet Hollywood just before Harmon Avenue.
South Strip – This starts at Planet Hollywood and runs south to Mandalay Bay.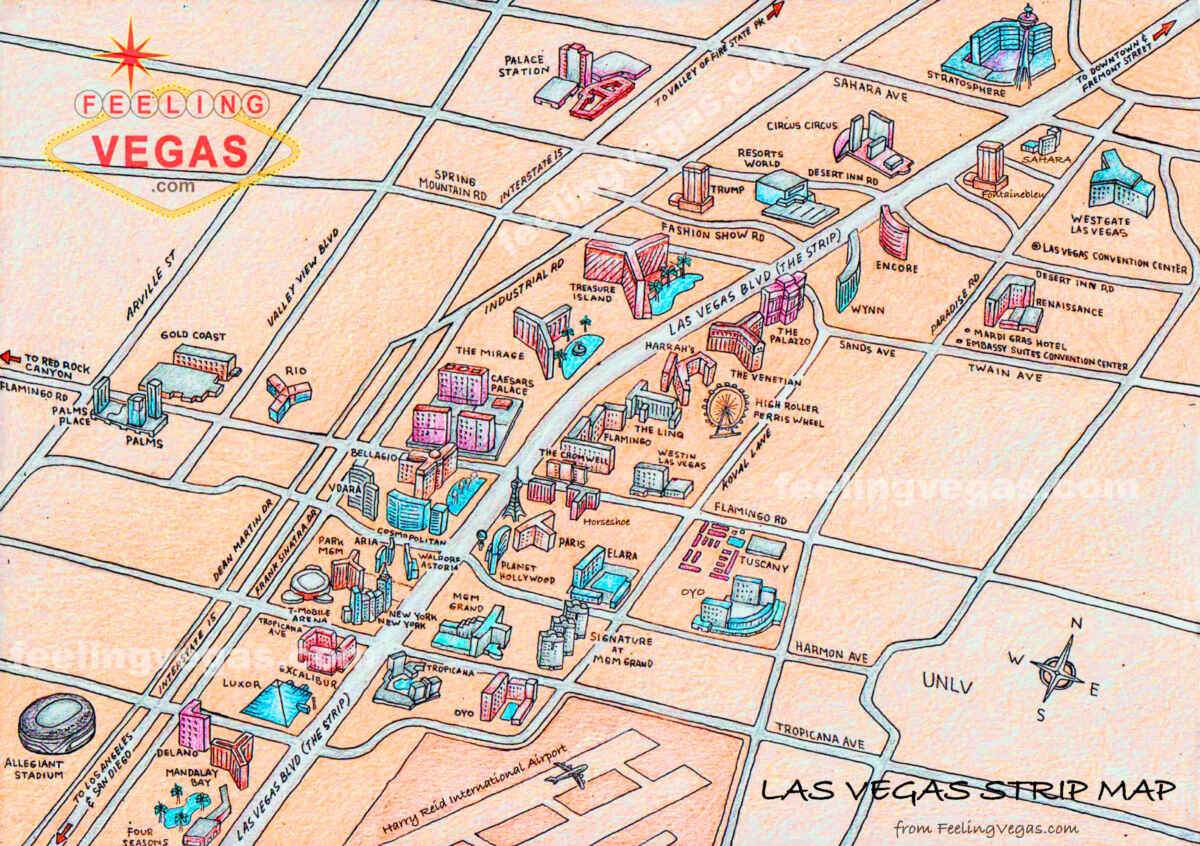 Features of the Las Vegas Strip
There are so many things to see on the Las Vegas Strip.
Resorts, hotels, and casinos are to be expected. However, you'll also see malls, theme parks, and rides.
For instance, Planet Hollywood Resort and Casino has more than 2,000 guest rooms and suites to choose from. There are also award-winning restaurants like Strip House and Gordon Ramsay Burger. The property even has a 64,500 sq. ft. casino.
If you don't want to be cooped up in a building, try the High Roller, the world's tallest observation wheel.
Each of the establishments on the Las Vegas Strip offers new fascinating experiences, so you'll never be bored.
Of course, there's also the "Welcome to Fabulous Las Vegas" sign at the south end of Las Vegas Boulevard that you should definitely take a picture with while you're here.
The Las Vegas Strip vs Downtown Las Vegas
People tend to have a blurred idea of downtown Las Vegas and the Las Vegas Strip. After all, they're very near each other.
Geographically, Downtown is also located on Las Vegas Blvd. It's just north of the area known as the Strip. Historically, Downtown was the original paradise for hotels and casinos. In fact, it's sometimes called "Old Las Vegas."
Differences in Atmosphere and Attractions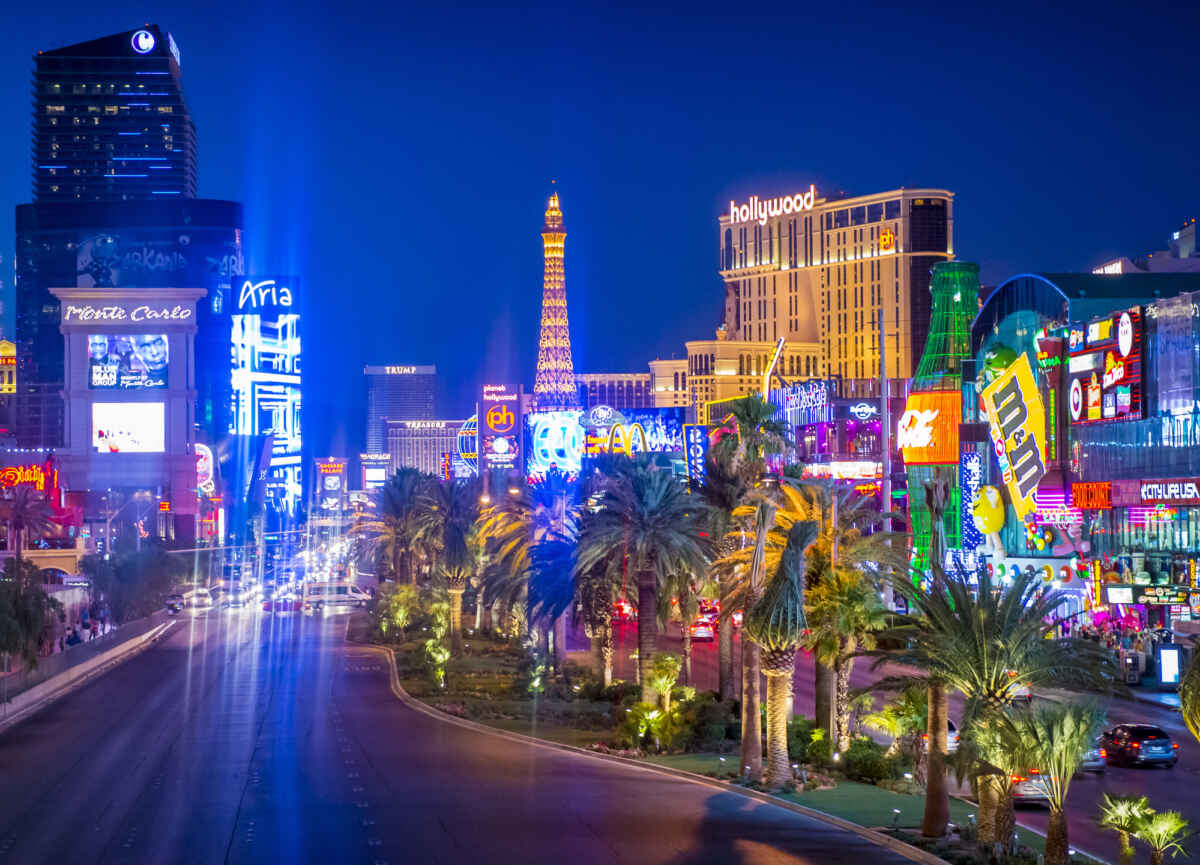 Downtown is the cultural center of the city. It has historical attractions like galleries, museums, and public art sites and generally feels more relaxed. You can enjoy the classic Vegas charm without the flashiness of the Strip.
However, don't count Downtown out if you're in Las Vegas to gamble! After all, Downtown has lower table minimums, slightly looser slots, and generally more player-friendly table odds than the Strip.
Fremont Street is the second most famous street in Las Vegas. The Fremont Street Experience is five blocks' worth of pedestrian-friendly attractions.
It's home to some of the first casinos in Las Vegas — like The Golden Nugget, Binion's Gambling Hall and Hotel, and the Pioneer Club.
Viva Vision is a must-see free light show at Fremont Street Experience. It's made up of 4.92 million LED lamps to show various light shows with high-resolution imagery and state-of-the-art sound.
Meanwhile, the Las Vegas Strip is where all the glitz and glamor are. It's where you'll find some of the most famous casinos, like MGM Grand, Venetian, and Bellagio.
You'll also find plenty of non-gambling attractions as well.
For instance, the Venetian has the Grand Canal Shoppes with gondola rides, opera singers, dancers, and living statues.
Thrill-seekers can also try extreme rides like Big Shot and X Scream at The STRAT. If that's not your thing, the observation deck will give you an amazing view of the Strip from over 1,000 feet in the air.
Differences in Accommodation and Dining Options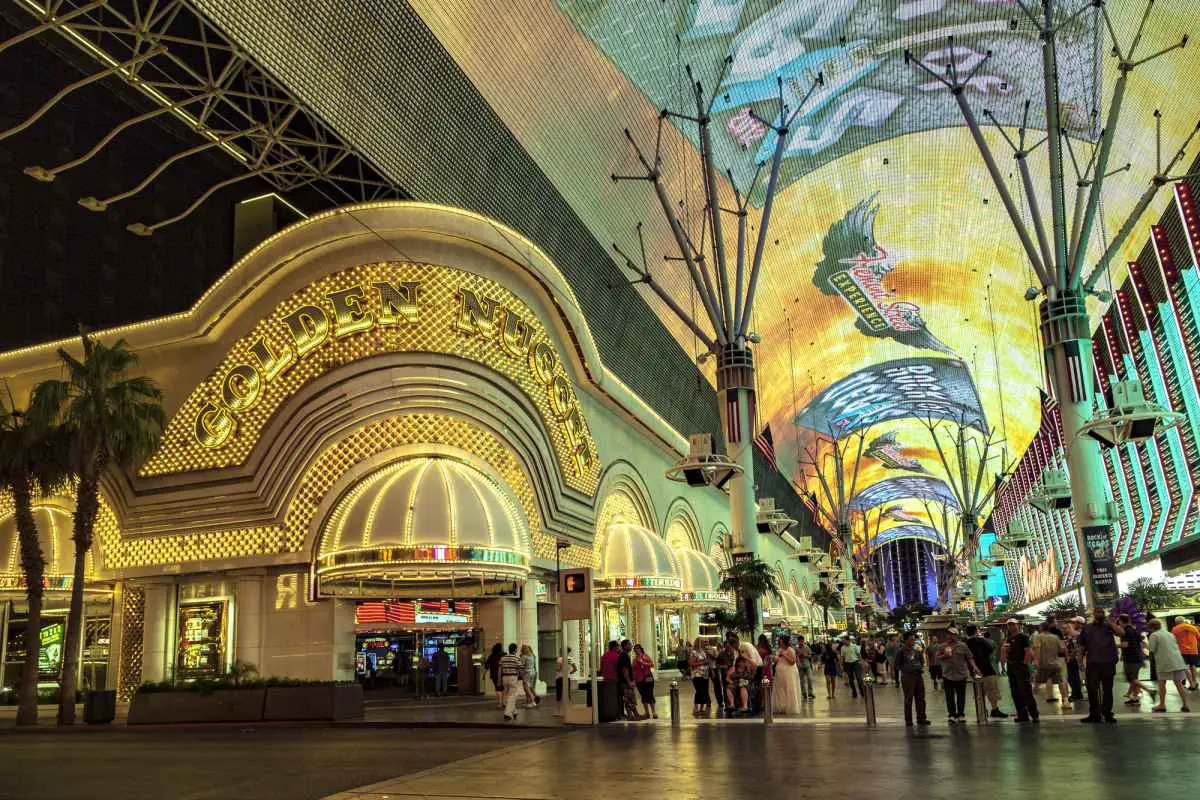 Other huge differences between Downtown and the Strip are the prices and ambiance of the accommodation and dining options.
Downtown is hands down cheaper. The rooms are less expensive but also less impressive than those on the Strip.
Resort fees are also 40-50% lower than those on the Strip. In fact, Binion's and 4 Queens don't have resort fees!
Unfortunately, you should choose your rooms well since live music from the pedestrian street below can be loud. The noise may keep you up at night.
Meanwhile, the Strip has more expensive and fancier rooms. Despite the price, we can't deny that their hotel rooms are part of the experience.
As for the food, Downtown has something for everyone, no matter the budget or taste.
For cheap, sit-down meals downtown, try Pizza Rock, Nacho Daddy, or Tony Roma's. If you want that unique Downtown Vegas vibe, go for Hugo's Cellar at 4 Queens or Binion's Steakhouse.
On the other hand, you'll need deeper pockets to get the full Las Vegas Strip foodie experience on the Strip. After all, you're in celebrity chef land!
Get some truffle and artichoke soup from Guy Savoy or sushi from Nobu Matsuhisa, both at Caesars Palace. Or, get some real Kobe beef at Wynn Las Vegas' SW Steakhouse.
Navigating the Las Vegas Strip

The Las Vegas Strip sees millions of tourists every year — which can make it confusing for newcomers to find their way around.
However, if you know what to expect on the Strip and the available transportation options, it'll be easier to enjoy your time.
Length of the Strip
If you're just considering the Strip proper, then the Strip's exact length is 4.2 miles.
This stretch of Las Vegas Boulevard sits between Mandalay Bay and the Stratosphere at the north end, starting at Sahara Avenue and ending at Russell Road.
Time Needed to Traverse the Strip
Las Vegas Blvd is very pedestrian-friendly, so you can walk the whole stretch if you want to. In fact, walking is a great way to immerse yourself in the experience.
Depending on your walking pace, you can walk from one end of the Strip to the other in 1.5 hours — assuming you don't take breaks.
If we're talking about how long you should stay to make the most of Las Vegas, we'd say five days should be the standard. However, three days may be enough for some newcomers.
Traffic Volume and Transportation Options
There are many different transportation options to get to, from, and around the Las Vegas Strip.
For instance, the Harry Reid International Airport is just 2 miles from Las Vegas Blvd, and most hotels are a quick 15-minute drive from the airport.
You can also try the Las Vegas Monorail, which offers group-exclusive discounts if you buy in advance. You can also choose between fare types — from one-way trips to unlimited-ride passes.
The trains here arrive every 4-8 minutes and stop at 7 different stations:
MGM Grand
Horseshoe/Paris Las Vegas
Flamingo/Caesars Palace
Harrah's/The LINQ
Boingo Station at Las Vegas Convention Center
Westgate Las Vegas
SAHARA Las Vegas
You can also try the Deuce bus as transportation option to get up and down the Strip or go to Downtown Las Vegas.
The Deuce bus runs between the south end of the Strip (sometimes reaching the Las Vegas sign and South Trip Transfer Terminal after midnight) and the Bonneville Transit Center.
You can also get taxis, rental cars, or ride shares from the Harry Reid International Airport.
If you want to go around the Strip in style, feeling like a VIP (and have the money for it), you can also reserve a limousine.
Of course, you can bring your own car. Self- and valet parking used to be free, but most resorts along the Strip now charge for parking. There are, however, a few places to get free parking on the Strip.
History of the Las Vegas Strip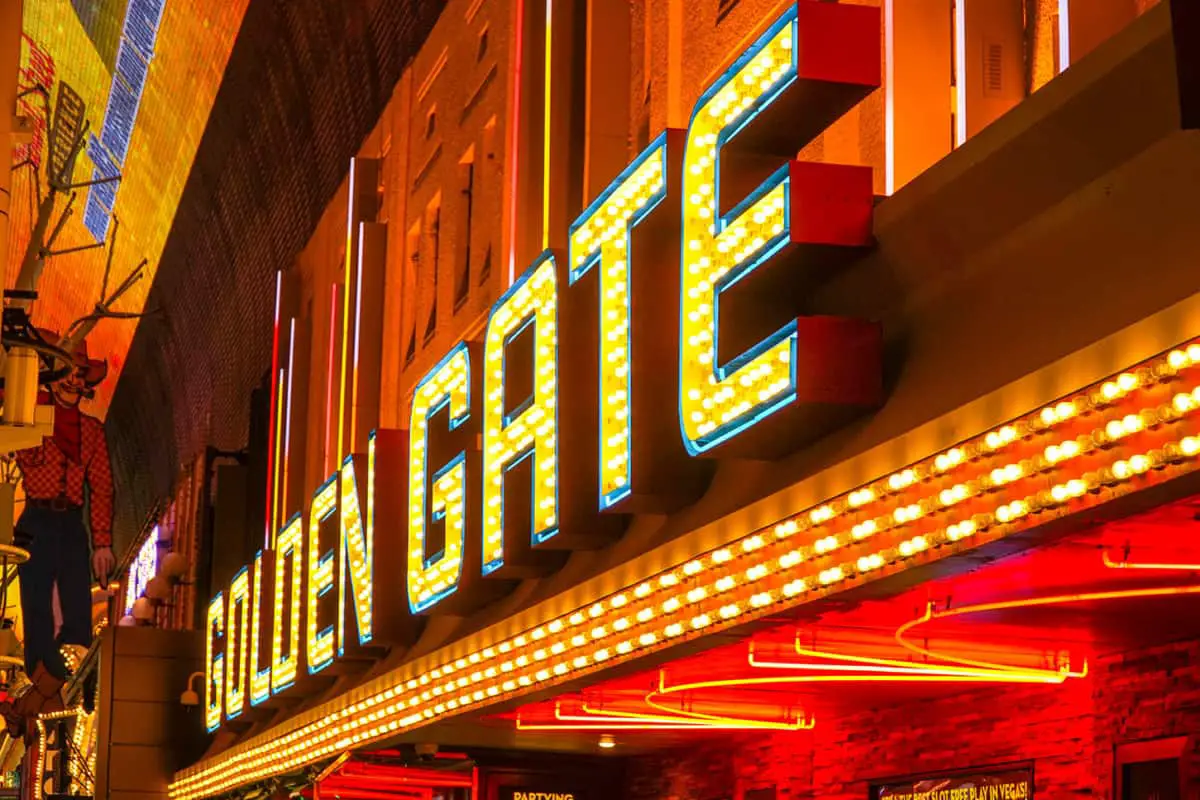 In this section, we'll be revealing the intriguing past of the Las Vegas Blvd. After all, it didn't start out as the fancy place we see today.
Origins and Naming of the Strip
Las Vegas was named in the early 1800s by Antonio Armijo. He was a merchant who led a small trade caravan to the valley.
The valley had natural springs and wetlands that made it a great stopover if you were traveling to nearby regions.
One of the men in his group, Rafael Rivera, gave the place the name "Las Vegas," which is Spanish for "The Meadows."
As for how Las Vegas started as a settlement, the Los Angeles and Salt Lake Railroad bought 1,800 acres of land in 1902.
Las Vegas was officially founded in 1905. In 1906, the first casino and hotel opened —it was originally named Hotel Nevada but is nowadays known as Golden Gate.
In 1930, the Hoover Dam construction project further caused an influx of workers to the Las Vegas Valley, all looking for jobs.
Those male workers went to look for a good time during their off-hours, which created a huge market for entertainment.
Evolution of the Strip
Gambling was made illegal in 1911. But when it was legalized again in 1931, Vegas was already on its way to becoming the gambling capital of the world.
The Strip was born in 1941, with El Rancho Vegas being the first business and resort to open. Big names like Caesars Palace, MGM Grand Hotel and Casino, and Flamingo popped up later on.
But the opening of The Mirage in 1989 paved the way for larger mega-resorts. The launching of the Mystere by Cirque du Soleil at the Treasure Island Hotel marked a transformation in Las Vegas Strip entertainment.
The 2000s saw the Strip become more expensive and expansive. Resorts like the Bellagio, Venetian, Palazzo, Wynn, and Encore set the standard for luxury.
Other attractions popped up, too, like Hershey's Chocolate World and the M&M Store.
Iconic Establishments on the Las Vegas Strip
From Las Vegas Strip casinos and resorts to malls and shows — there are so many things to do! Regardless of your age or budget, there's something you'll surely enjoy.
Below, we'll give you a quick rundown of the different establishments you should visit along the Las Vegas Strip.
Casinos and Hotels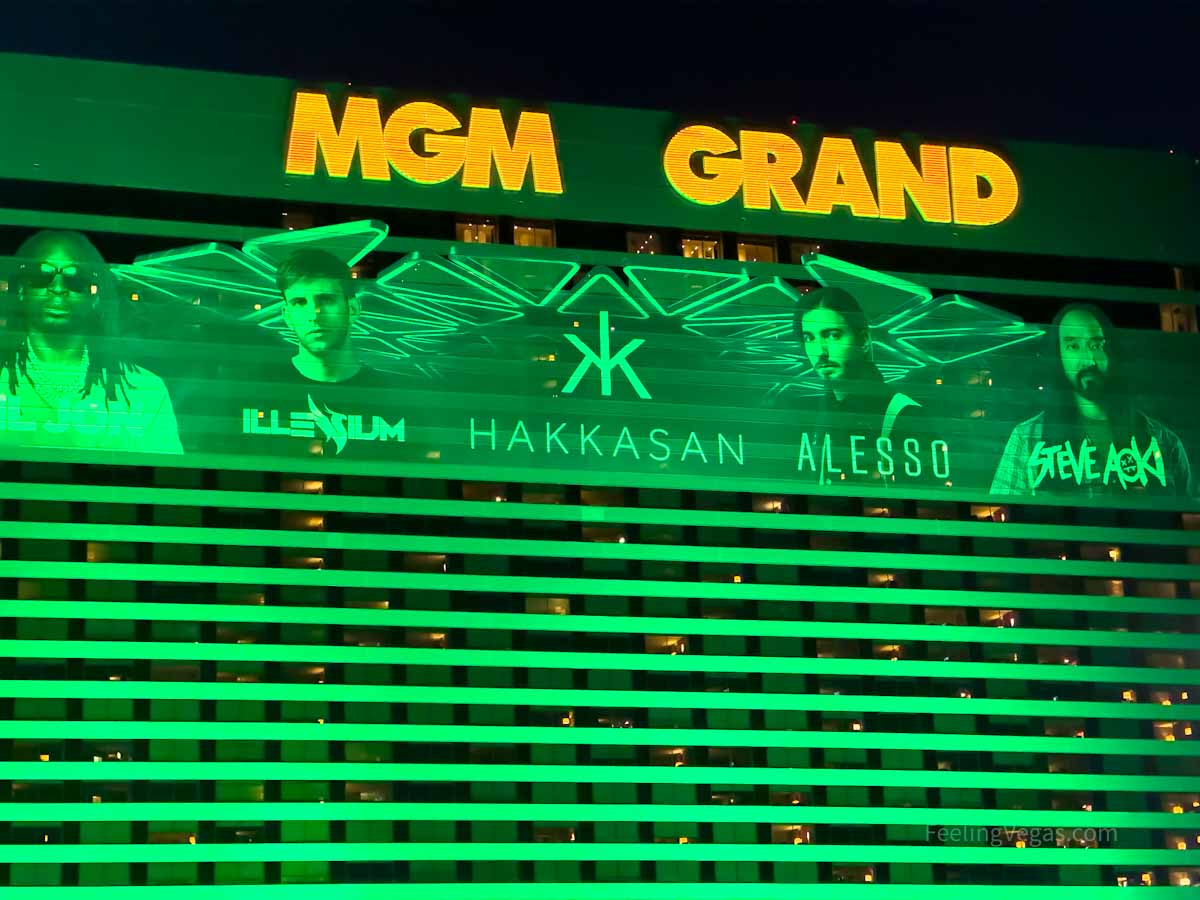 When you think of the fabulous Las Vegas Strip, the first things you'll think of are casinos and hotels — and you should! After all, the Strip built its name on them.
The first thing that should be on your bucket list is to experience the best Strip casinos, from the STRAT to the Four Seasons.
The Bellagio Hotel & Casino is world-famous for offering some of the best table games and live poker. Meanwhile, the legendary Caesars Palace is a classic Roman-themed casino that offers slots, blackjack, craps, roulette, baccarat, poker, and more.
Wynn Las Vegas is well-known for its poker room. Aside from that, it has high-limit salons, poolside games, and immersive sports books with up-to-date technology.
Of course, you'll need a place to stay as you're immersing yourself in the Las Vegas neighborhoods. So, why not explore the best hotels on the Strip while you're at it?
Most Las Vegas Strip hotels actually have their own casinos that can host thousands of guests. In fact, these establishments include some of the largest hotels in the world!
For instance, the MGM Grand has almost 7,000 rooms. Other large hotels on the Strip include Luxor, Venetian, and Aria.
Fun fact: Waldorf Astoria is one of the few hotels on the Strip that doesn't have its own casino.
Aside from table games, these hotel/casinos also have impressive pool complexes, dining options, entertainment, and stunning scenery.
For instance, the Wynn has its own Wynn Golf Club, which is the only golf course on the Strip. Not to be forgotten, the Bellagio Fountain show and the Eiffel Tower at Paris Las Vegas are still Vegas icons.
Entertainment Venues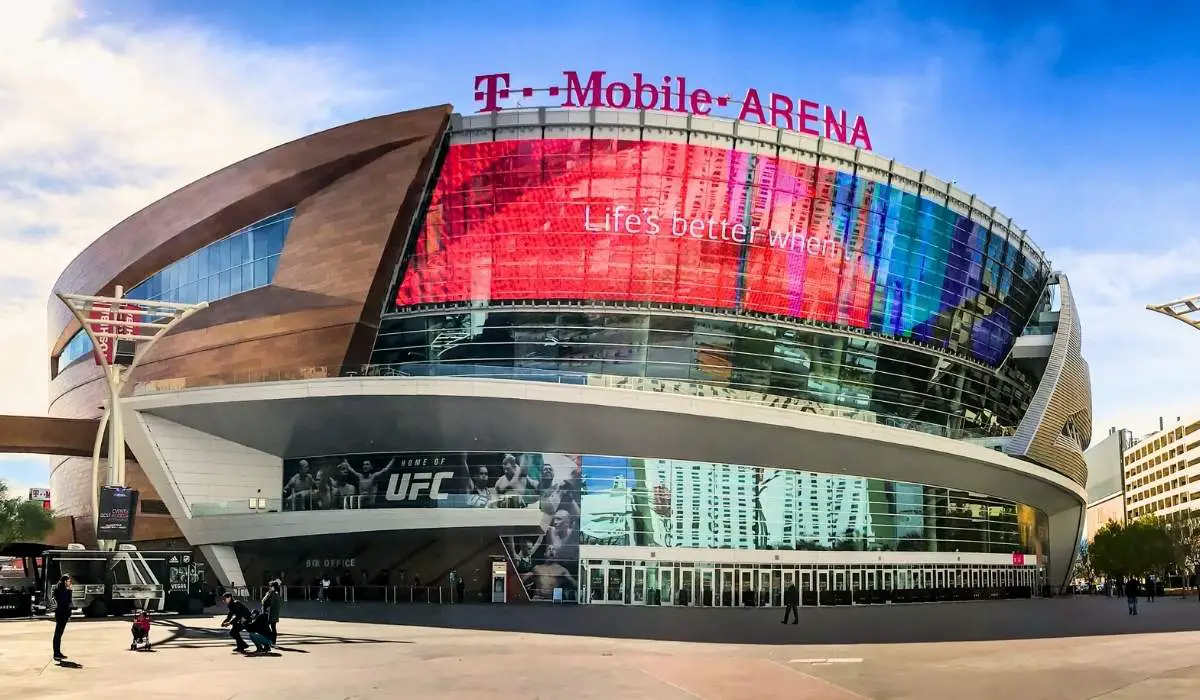 Not fond of betting your money? There's plenty more to do on the Las Vegas Strip!
For one, you can discover the top Las Vegas shows on offer. There are different types of shows, with a continuous flow of big names — some of whom have made Las Vegas their home base.
For instance, if you're a newcomer or can only see one show in Vegas, be sure to catch one of six Cirque Du Soleil shows. They perform in multiple venues, such as Mandalay Bay Resort, Bellagio, and MGM Grand.
If you want magic, Shin Lim's and Mat Franco's shows will leave you astounded.
But there's also so much to see outside of shows!
The Flamingo has a live pink flamingo habitat, Chinese pheasants, and koi ponds. Meanwhile, New York-New York has a roller coaster on top of the resort.
The Bellagio has dancing fountains perfectly choreographed to music and lights. This establishment also holds the Conservatory and Botanical Gardens, which has tens of thousands of flowers.
You can even have a helicopter night flight over the Las Vegas Strip! You can see the bright lights and the surrounding region against the backdrop of the night sky.
Shopping Centers and Restaurants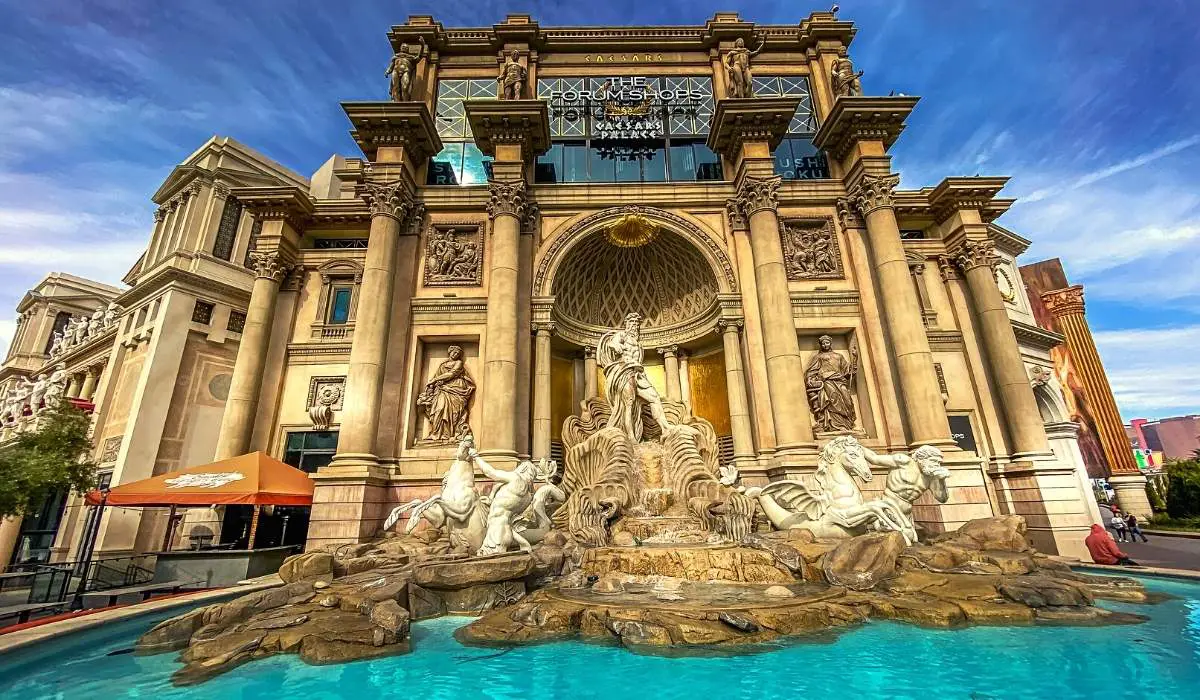 The Grand Canal Shoppes, Fashion Show Mall, and Miracle Mile Shops — these amazing malls on the Strip will make you want to shop 'til you drop!
The Las Vegas Strip is all about the high life, so why not take a look at its shopping centers and restaurants?
The Forum Shops at Caesars is also something to check out. You can find some of the best boutiques and couture collections. You'll also see more than a hundred specialty retailers like Gucci, Louis Vuitton, and Fendi.
If you want to get brands on a budget, then the North & South Premium Outlets are the place for you.
The LINQ Hotel & Casino gives guests direct access to the LINQ Promenade, a paradise for retail, dining, and entertainment.
Meanwhile, The Park Las Vegas is an outdoor dining and entertainment district near the T-Mobile Arena.
There are also so many other world-class restaurants to try.
Cipriani at Wynn serves classic Italian food, like baked tagliolini with ham and chicken spezzatino.
If you want something more fun, the New York-New York Hotel & Casino has Hershey's Chocolate World.
For a more laidback atmosphere, Sahara Las Vegas has Chickie's & Pete's Crabhouse and Sports Bar. Tacos El Gordo is also another option.
Frequently Asked Questions
The Las Vegas Strip is larger than life, so it can be hard to decide where to start! Learn more about this glitzy stretch of road here.
What Is the Las Vegas Strip?
The Las Vegas Strip, formally known as Las Vegas Boulevard, is world-famous for its resorts and casinos. It's the most recognizable street in the world.
This stretch of Las Vegas is also known for its larger-than-life entertainment, shopping centers, and restaurants.
How Long Is the Las Vegas Strip?
The Las Vegas Strip is 4.2 miles long. This stretch of land starts at Sahara Avenue at the north end and reaches Russell Road.
What Is the Difference Between the Las Vegas Strip and Downtown Las Vegas?
Downtown Las Vegas is the city's cultural center. It's more relaxed and has more of a classic Vegas vibe. Downtown also has cheaper accommodations, food, and table minimums.
However, it also houses some of Las Vegas' very first casinos. There are also must-see experiences, like Viva Vision on Freemont. In fact, Freemont Street is the second most famous street in the state.
Meanwhile, the Las Vegas Strip is what you think of when you hear "Las Vegas." This is where all the expensive hotels and casinos are.
These establishments offer top-of-the-line services to match their prices.
Aside from casinos, you can also find roller coasters, restaurants, and shopping centers on the Strip.
Why Is It Called the Las Vegas Strip?
The Strip was named by a Los Angeles police officer named Guy McAfee after his hometown of Sunset Strip in Hollywood.
It used to be called Highway 91.
However, McAfee drove through it so often that he began calling it "the Strip." He also referred to Highway 91 as "the Strip" so often to so many early Las Vegans that it eventually stuck.
What Are Some Iconic Establishments on the Las Vegas Strip?
The Las Vegas Strip has so many iconic establishments. Some examples are:
Wynn Las Vegas
Encore
Venetian
The Mirage
T-Mobile Arena
New York-New York
Conclusion
The moment you see the "Welcome to Fabulous Las Vegas" sign, you know you're in for a treat.
The Las Vegas Strip is home to the many resorts, casinos, and hotels that made it famous worldwide. However, it's also a great place to explore food, go shopping, and generally have a good time.
From big names like Planet Hollywood and Bellagio to adrenaline-inducing rides, there's something for everyone of all ages here!