Is Las Vegas a city or state? If you're an American this might seem like a silly question but if you're one of the billions of people living around the world the question may not be so obvious.
Las Vegas is a city in the American state of Nevada. Officially called the City of Las Vegas, it is located in the Southwestern part of the United States of America. It is the most populated city in Nevada state.
States in other countries often confuse me, and although Wendy and I have traveled internationally quite a bit, I must admit my ignorance of other country's state and provincial boundaries.
So I wrote this post to help clear up any confusion for people around the world as to what the distinctions are between the City of Las Vegas and the State of Nevada.
VEGAS Attractions For Less! Las Vegas doesn't have to be expensive → Get Deals
City of Las Vegas on Map of America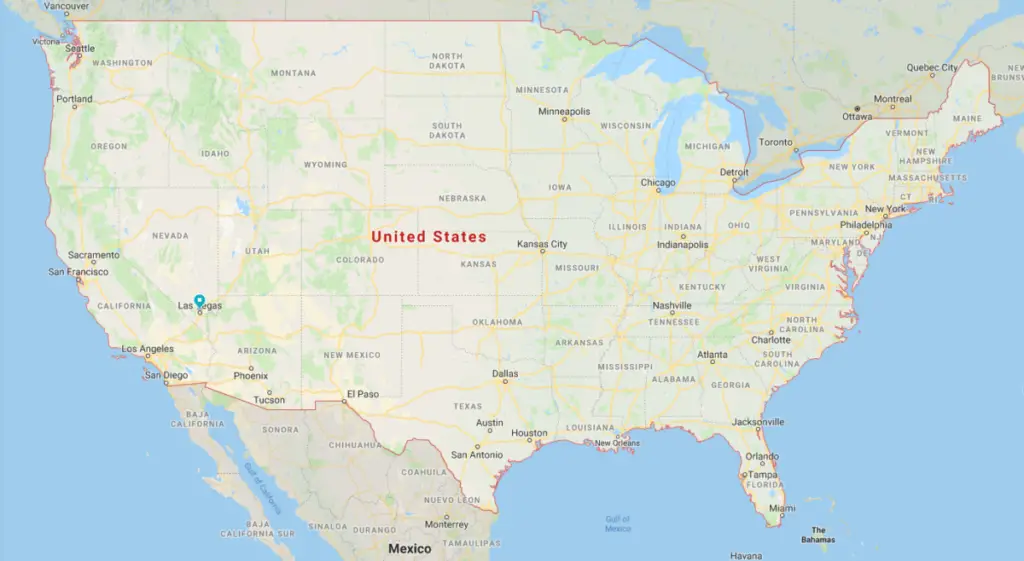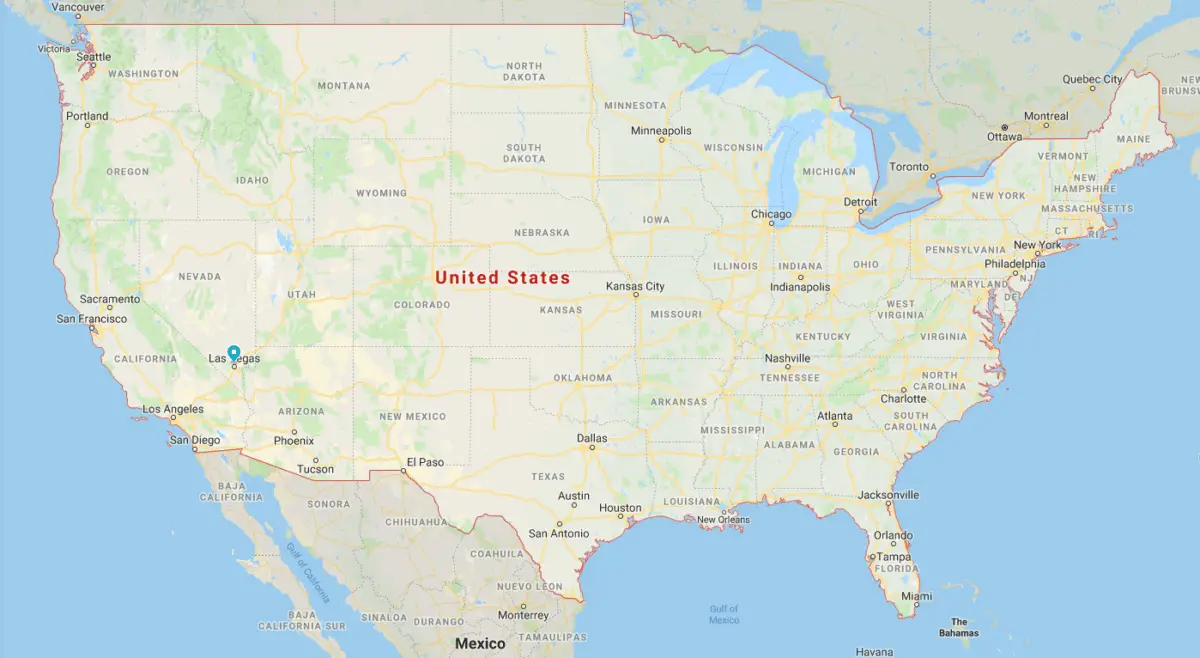 Las Vegas is Located in the State of Nevada
So what state is Las Vegas in?
Las Vegas is located in the state of Nevada. Nevada is a state found in the southwestern part of the United States. Las Vegas is Nevada's largest city in terms of population with 2.7 million people residing in the greater metropolitan area.
The United States of America is comprised of 50 separate states. One of those states is called Nevada. Nevada officially became a state in 1864 and is located in the southwestern part of the country.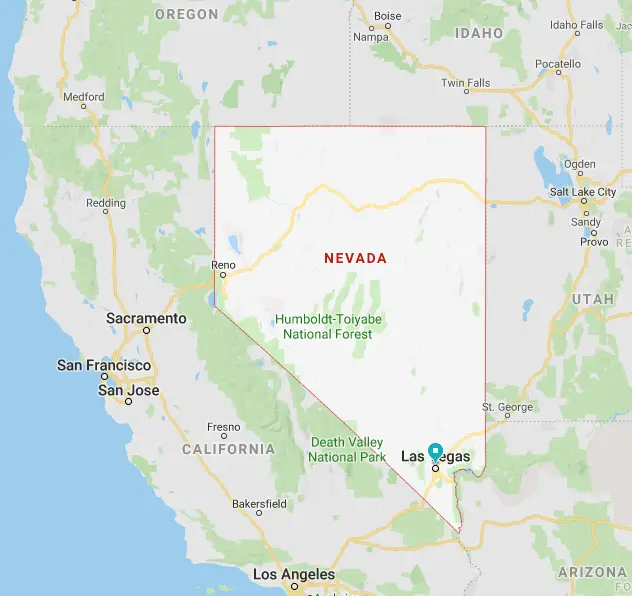 Nevada was home to the largest silver deposit ever found in the United States and is the countries largest producer of gold. Due to these rich deposits of ore, Nevada is nicknamed the "Silver State".
Nevada is in large part made up of the arid Mojave Desert (we share more about points of interest in the Mohave Desert in our article here). and the majority of the state is sparsely populated.
In addition, over 80 percent of the state is owned by the federal government. Having said that, Nevada is one of the fastest-growing states, in terms of population, in the country.
The City of Las Vegas itself is situated in southern Nevada. Near the borders of the states of California, Arizona and Utah.
Las Vegas in Spanish means "The Meadows" due to some natural springs in the area which created a few spots of grasslands that greeted travelers who had been traveling across the desert for days without seeing much more than dirt and rocks.
It must have seemed a bit like an oasis at the time.
What Las Vegas is Known For
Las Vegas is known around the world as a first-class resort city. Its main attractions are gambling, world-class entertainment, nightlife, shopping and fine dining from restaurants featuring internationally renowned chefs.
While Sin City has been known for years as an adult party playground, Las Vegas has slowly reinvented itself over the last couple of decades or so to become a travel destination with many family-friendly resorts and attractions all while maintaining its party atmosphere.
The Las Vegas Valley itself is the number one cultural, commercial and financial center for the entire state of Nevada.
Las Vegas is also a great starting point for an array of amazing nature and wildlife destinations. There are over 12 National, Local and State Parks all within a few hours drive from the city.
Valley of Fire State Park
Grand Canyon National Park
Death Valley National Park
Lake Mead National Recreation Area
Zion National Park
Bryce Canyon National Park
Red Rock National Conservation Area
Great Basin National Park
Clark County Wetlands Park
Joshua Tree National Park
Cathedral Gorge State Park
Mount Charleston National Recreation Area
Las Vegas is Made Up of More Than Just One City
Las Vegas Valley is an urban area in the Mojave desert surrounded by mountains. To the north are the Sheep Mountains, to the south are the McCullough Mountains, to the east are the Frenchmen Mountains and to the west are the Spring Mountains.
The entire Las Vegas Valley is commonly referred to as "Las Vegas". However, in reality, the Las Vegas Valley is actually comprised of three distinct cities and several townships.
| | | |
| --- | --- | --- |
| City Name | Population | Census Year |
| Las Vegas | 641,676 | 2017 |
| Henderson | 302,539 | 2017 |
| North Las Vegas | 242,975 | 2017 |
| Paradise (township) | 223,167 | 2010 |
| Enterprise (township) | 108,481 | 2010 |
| Winchester (township) | 27,978 | 2010 |
These numbers have probably grown significantly since the last census and current estimates put the population of metropolitan Las Vegas at over 2 million people (source).
Interestingly enough, the Las Vegas Strip, which is what Las Vegas is famous for, is not actually in the City of Las Vegas. The Strip itself is located in the unincorporated town of Paradise, Nevada.
Driving through town though you wouldn't notice any significant difference as you leave one city or township and enter the next unless you are a Las Vegas local. It just feels like one big city.
Is Las Vegas the Captial of Nevada?
While Las Vegas is the most populous city in the state of Nevada, it is not the state capital. The state capital of Nevada is Carson City which is located about midway up the state near Lake Tahoe and the border of California.
Even though the Las Vegas Valley is home to over two-thirds of Nevada's population, it was the area around Carson City where gold and silver were discovered in the 1850's.
It was the discovery of these resources that caused Nevada to become a state in the first place. So it makes sense that Carson City became the state capital.
Furthermore, at that time the area that would come to be known as Las Vegas was just a barren patch of hot arid desert and the first settlers were just beginning to enter the valley.
I've written an article about how Las Vegas first began, you can read it here.
*** Zoom Map Out to See More of Las Vegas, Nevada
How Many Las Vegas' Are There?
It might interest you to know that there are actually 4 different cities named Las Vegas around the world. Two in the United States, one in Honduras and one in Venezuela.
The other Las Vegas in the United States is Las Vegas, New Mexico (New Mexico is another state in America). It also got its name from the rich grasslands surrounding the area.
Although I think the New Mexico Las Vegas is more appropriately named, Las Vegas, Nevada is the place people immediately think of when you mention the name Las Vegas.
So now you know that Las Vegas is a city in the state of Nevada.
If you're interested in visiting Las Vegas, Nevada, USA you'll want to be sure and take a look at our Las Vegas Visitor Resource Guide here.
Related Questions:
Which time zone is Las Vegas in? Las Vegas is in the Pacific Time Zone. U.S. Pacific Standard Time, also known as PST, is Greenwich Mean Time minus 8 hours (GMT -8hrs). This is the same time zone as California and most western states in the United States.
How Did Nevada Get Its Shape? Nevada became a state before it was eligible under U.S. law. It used to be a much smaller territory but in order to help boost Abraham Lincoln's reelection campaign, the government took land from Arizona and gave it to Nevada so that Nevada could have access to the water in the Colorado River.
You may also want to read my article about drinking on the street in Las Vegas.