26 Unique Souvenirs from Las Vegas (and Where to Find Them)
(This article may contain affiliate links. If you click through and make a purchase, we will receive a small commission at no additional cost to you. )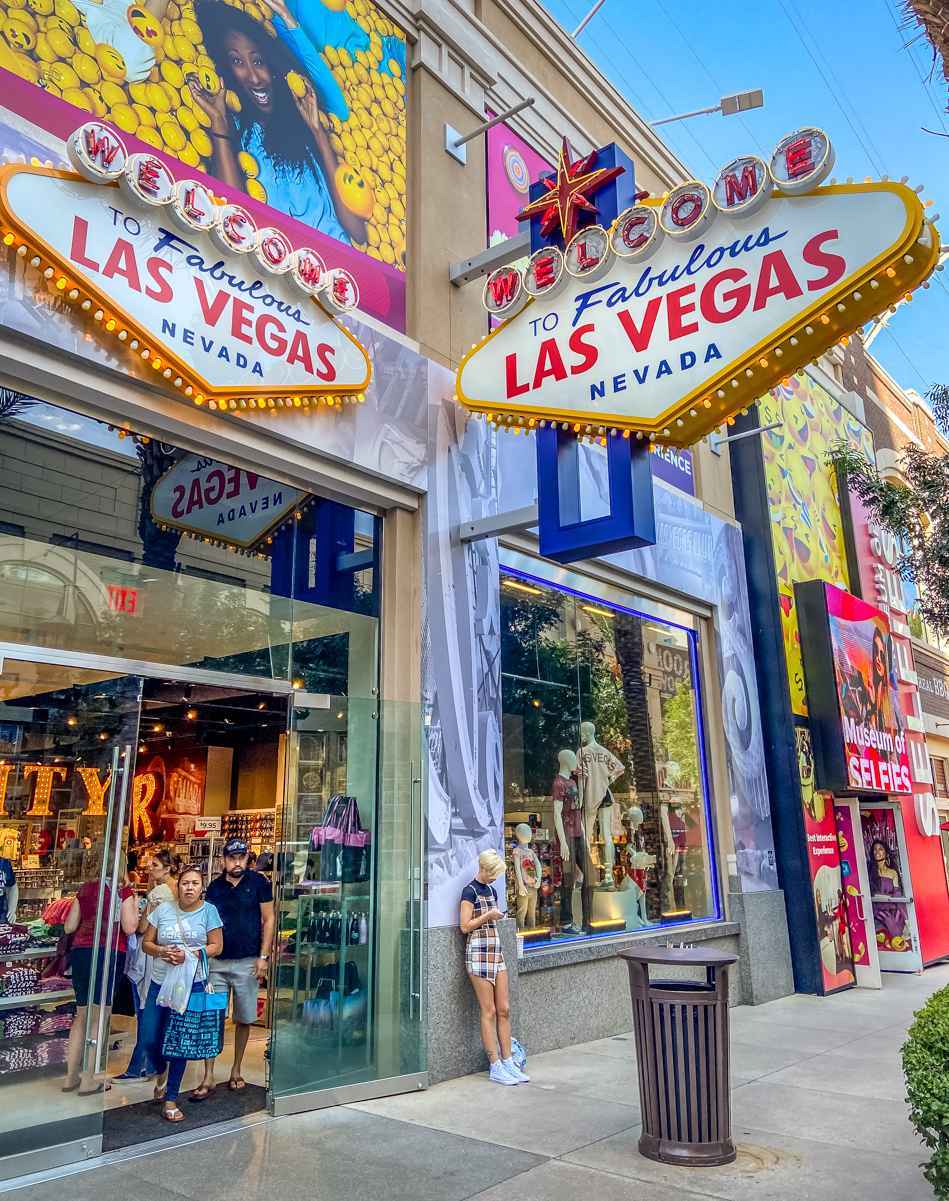 Las Vegas is an amazing place to visit, and like most travel destinations, there is a good chance that you'll want to take a cool souvenir home from your visit to commemorate your trip. You may even want to pick up a few gifts for family and friends. That being said, the same old boring souvenirs just won't do. Luckily I have the solution!
I've comprised a list of the 26 most unique souvenirs from Las Vegas and where you can find them.
The types of souvenirs available in Las Vegas are truly endless, and you will find some items that you cannot find anywhere else. The list is divided into a few key sections, including:
Gambling-related gifts
Delicious edible gifts
Handmade souvenirs and art pieces
Quirky souvenirs only found in Las Vegas
Finding a fantastic souvenir is not difficult in Las Vegas as the city is abundant in shops, museums, shows, and more that you can visit to shop for unique gifts. From a human jawbone business card holder to your own mini Welcome to Las Vegas sign, you certainly don't have to go home with the same-old, same-old! To make finding your unique gift easier, the 26 best souvenirs in Las Vegas are:
Gambling Related Gifts & Souvenirs from Las Vegas
A huge reason that many people visit Las Vegas is to enjoy some quality time with a one-armed bandit (Find out where you can still play coin-operated slots in Las Vegas in our article here)
There are countless casinos and top-of-the-line hotels in the area that you can visit to enjoy some slots, card games, and more. This is a big reason that many choose to bring home a gaming-related souvenir from Sin City. Here are a few great gambling-themed souvenirs:
1 – Custom Poker Chips

Bringing home chips from your favorite casino can be a great way to get a souvenir you love. However, these are worth money, and you usually want to cash them in at the end of the night so you don't lose out.
Do casino chips ever expire? Find out in our article here.
However, you can have custom poker chips made while in Las Vegas that are a great way to commemorate your trip, plus they also make a great gift.
The Spinettis Home Gaming Supplies company sells custom poker chips that you can purchase for a range of prices. These come in a variety of styles and start at as low as $39 for a standard 300-chip set with a case and cards.
However, you can upgrade your set with custom inlays, images, logos, personalized carrying cases, playing cards, and more by simply placing a custom order. Imagine having a poker night with the guys and busting out your own custom set of cards and chips from Vegas! Cool right?
2 – Collectible "Golden Nugget" Casino Chips and Dice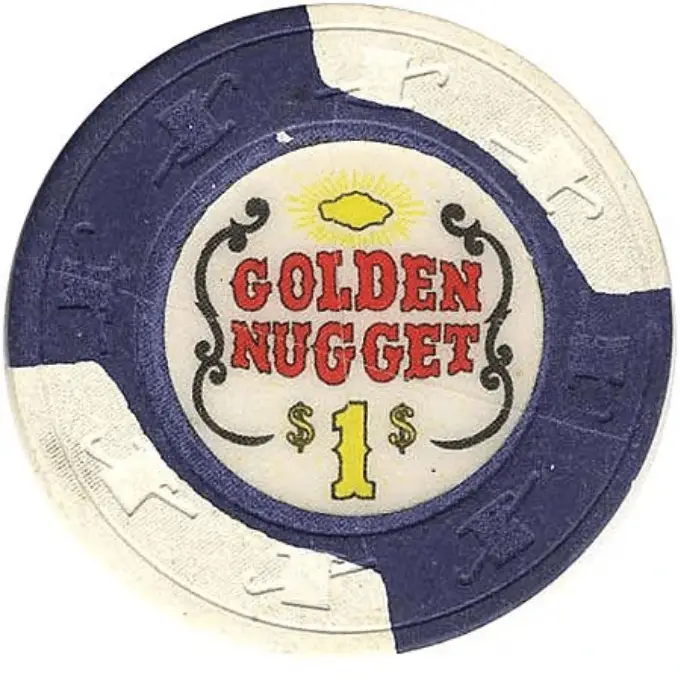 Also available at Spinettis Home Gaming Supplies (see above), you can find memorabilia from one of Las Vegas' first casinos. The Golden Nugget Casino was one of the very first casinos opened in Las Vegas, and finding a chip or a set of dice from this casino can be very difficult.
The shop offers collectible chips and dice from the 1940s, 50s, and 60s ranging in price based on their condition. You can also find modern-day dice sold here for just a few dollars, great for any gambling aficionado, and an extremely inexpensive little gift.
3 – $10 Silver Strike
Since Nevada is known as the Silver State, casinos began issuing Silver Strikes starting around 1992. These silver coins range in price from only a couple of dollars to $300, but the most commonly found Silver Strike was the $10 coin. These were popular amongst hotels because they would feature their logos, shows, restaurants, events, and more.
You will find that some casinos, like The Palms, Sam's Town, and the Four Queens, still mint commemorative tokens for special events and occasions.
Of course, you can still find vintage or antique pieces at several shops that are collectibles from the past. A great place to find a collectible Silver Strike coin is Spinettis Gaming Supplies, not far from the Strip.
4 –  A Very Dice Gift

As you may guess, in a city known for gambling, you will find a variety of dice-related souvenirs. Dice are an extremely popular theme in Vegas and one you will find at many shops. While many casinos offer branded dice, you can also find everyday items made using dice, making them more unique.
You can find a variety of vintage dice, fuzzy dice sets, or even cute dice clocks. The opportunities are endless, and these souvenirs usually make a great yet inexpensive gift that many would love.
A great place to find these dice-related souvenirs, as well as a ton of other items, is a souvenir shop, such as Bonanza.
Found on the north end of the Strip (Las Vegas Blvd & Sahara), Bonanza is billed as the World's Largest Gift Shop and is a Las Vegas tourist attraction in its own right.
5 – World Series of Poker (WSOP) Souvenirs

If you have someone in your life who loves gambling, they've probably heard of the World Series of Poker (aka WSOP), as this is considered the Main Event in the world of professional poker. While this competition is not for beginners and costs thousands just to enter, many would love a souvenir from the event as a keepsake. This can be especially true if you have a favorite player whom you follow.
A great place to find authentic memorabilia and products from the WSOP is at the Gambler's General Store. They sell decks of cards that were used in actual WSOP events. These sets come in decorative boxes and are available for purchase for around $30. The store itself has a great collection of other gambling-related souvenirs as well.
6 – The Chicken Ranch Token from Pahrump, Nevada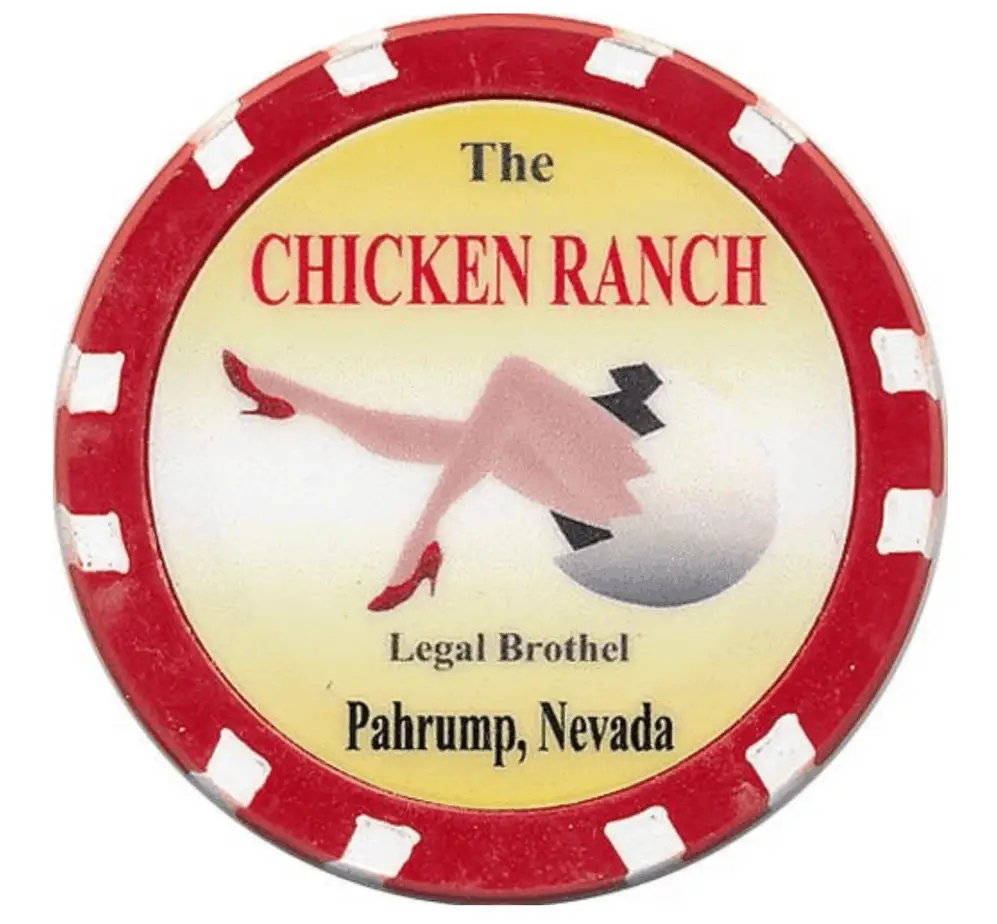 Ok, so maybe this one is not as gambling-related, but it definitely is unique to Las Vegas and something you will not find just everywhere. You may have heard that the state of Nevada is the only state in the U.S. with legalized brothels. The Chicken Ranch is one of these establishments, and in addition to the services they provide, they also have custom poker chips and other memorabilia that will make for a unique souvenir.
If you prefer, you can visit these establishments just to have a drink or look around without availing yourself of their services. One thing to pick up while you are there, however, is the unique collectible tokens that many of these businesses have. The Chicken Ranch has tokens for only $1.99 that you can get at the brothel itself or if you're too shy to visit, you can pick one up here on amazon.
Shop for your Las Vegas souvenirs online by visiting our Las Vegas Gift Shop.
Delicious Edible Las Vegas Gifts
When you're visiting the city that never sleeps, you'll quickly realize that there is an endless array of food to choose from. In fact, some of the most delicious food available anywhere is found in Las Vegas, and believe it or not, you may be able to bring some of these delectables home with you!
These edible souvenirs are the gift that keeps on giving (at least until you eat it all) and are a great present to bring home for those on your shopping list. Here are some of the best choices:
7 – JoJo's Jerky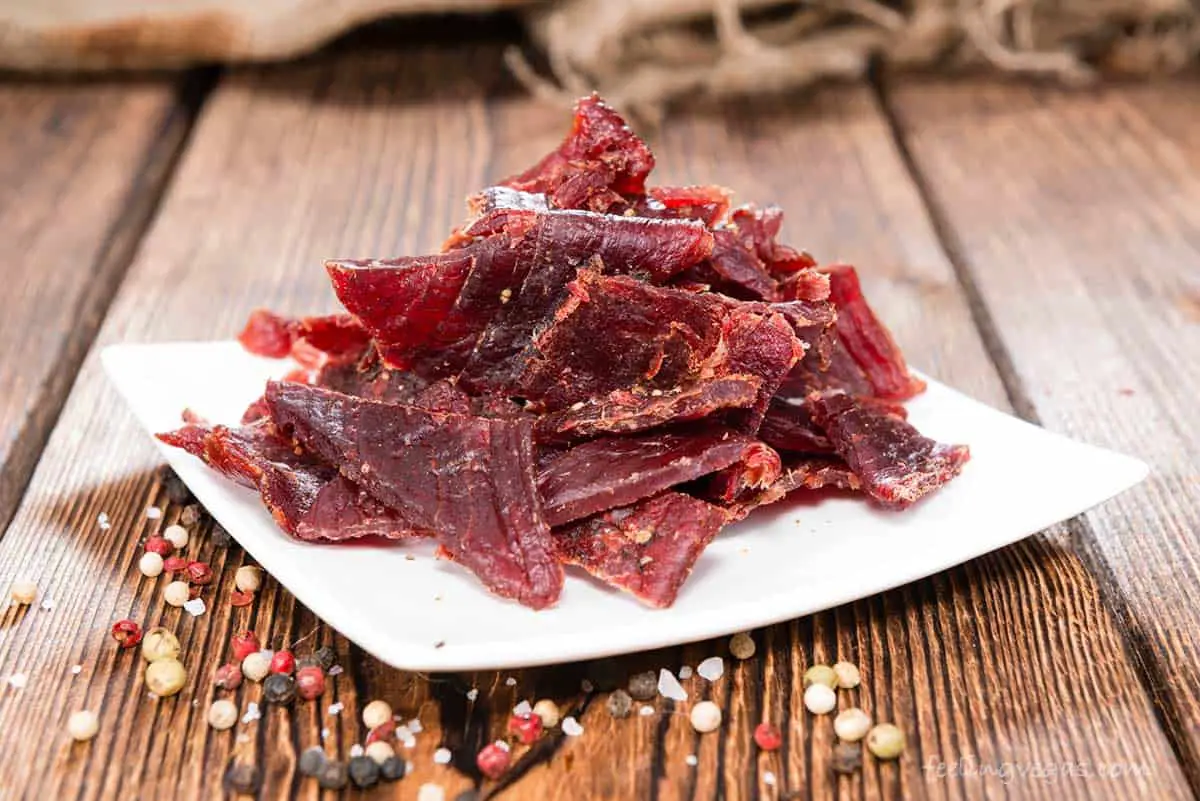 JoJo's Jerky has been in Las Vegas for fourteen years, offering preservative-free jerky. You will find delicious favorites, including vegan, keto, and even pet-friendly options. These are a great treat to take home with you as unopened jerky tends to last a long time and is easy to pack.
JoJo's has several other options for treats besides jerky, like sauces, rubs, peppers, and more, that you could pick up while visiting the shop. Not to mention, this is one of the cheapest souvenirs on our list, with most products coming in under the $10 mark. Great for any jerky lovers in your life or as a simple treat to take home with you after your stay. You'll find JoJo's at Container Park on Fremont Street in downtown Las Vegas.
8 – Bellagio Patisserie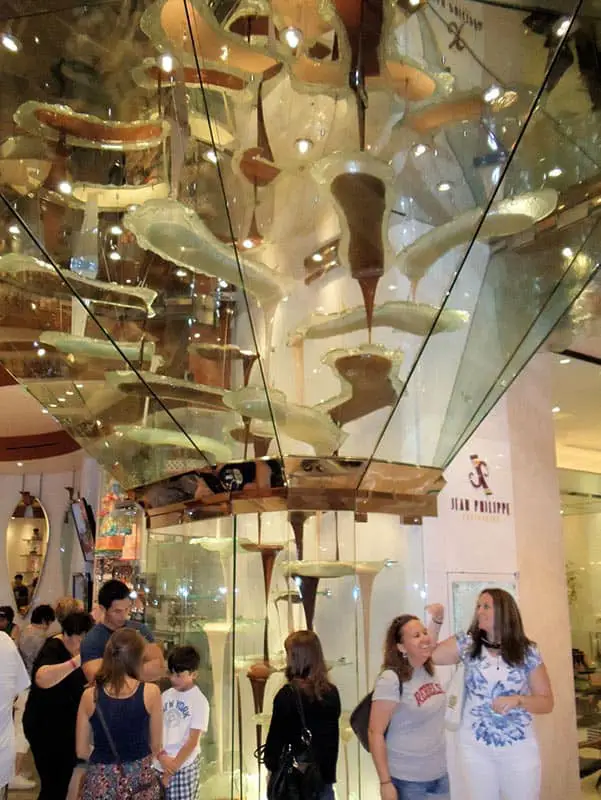 The Bellagio Patisserie is the key place to visit for top-of-the-line chocolates. In fact, when entering the shop, you will find a 27-foot-high chocolate fountain with over 2,000 pounds of dark, milk, and white chocolate pouring down from the ceiling. The Patisserie is known for its many exotic chocolate creations, but you can also find cakes, crepes, cookies, ice cream, and much more.
You can bring home a basket of the best samplings of patisserie. They allow you to create your own basket of options, or you can choose from their list of available gift baskets. These range in price from around $28 up to $120 or more. Regardless if you choose a more frugal option or a higher-end basket, these are extremely delicious treats!
Find out about other cool things to see, do and eat in our Bellagio Hotel & Casino article here.
9 – Ethel M Chocolates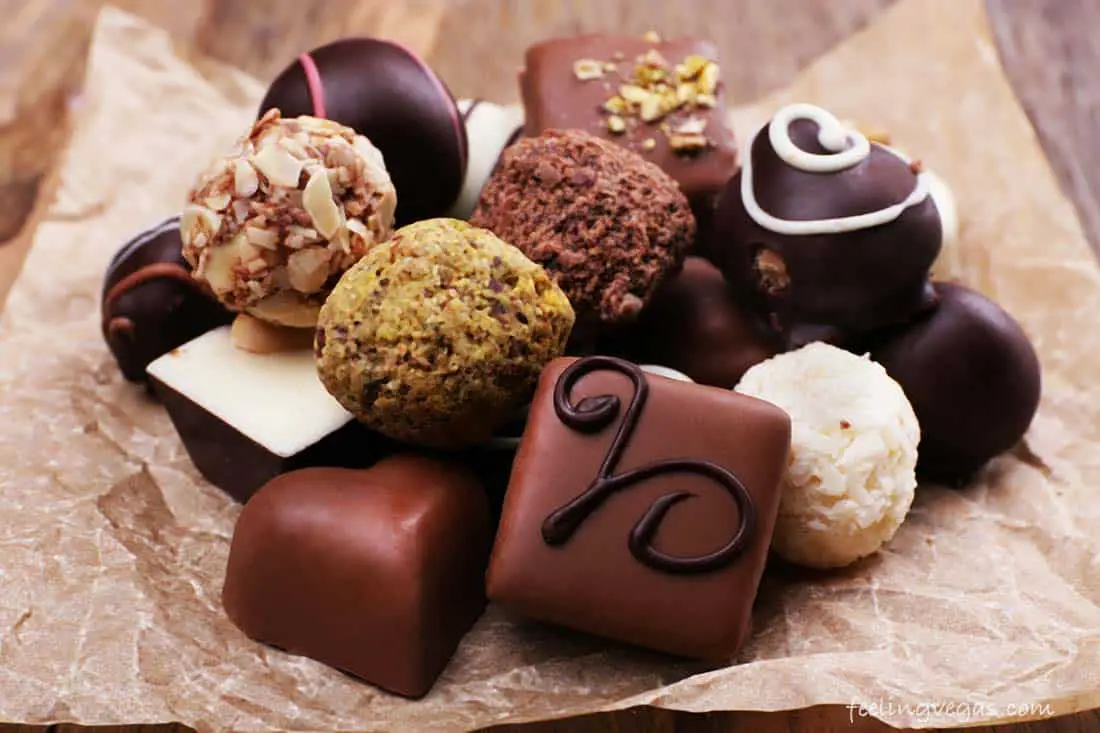 Here's another delicious option for chocolate lovers! Pick up your edible souvenirs at the Ethel M Chocolate Factory. While there you can take a tour of the factory, sample the products, and pick up some chocolate deliciousness to bring home with you.
The chocolate factory is a bit of a way off the Strip in nearby Henderson, but fortunately, you can also pick up Ethel M Chocolates in many of the stores around town as they are very popular and a city favorite. Perfect for gifts or to hide away in a secret spot at home that only you know about 🙂
10 – Nevada Whiskey at the Las Vegas Distillery
Is it really a trip to Las Vegas without a little alcohol? Take some lip-smacking good Nevada whiskey home with you from the Las Vegas Distillery. This delicious whiskey is milled, cooked, and fermented locally in the distillery, and each batch is its own work of art.
You can find the liquor at many of the local grocery stores in Las Vegas as well, but for the full experience, you should visit the distillery itself for a tour and a bottle. This is a good way to get a souvenir to take home while having a great experience during your vacation.
11 – Mothership Coffee Roasters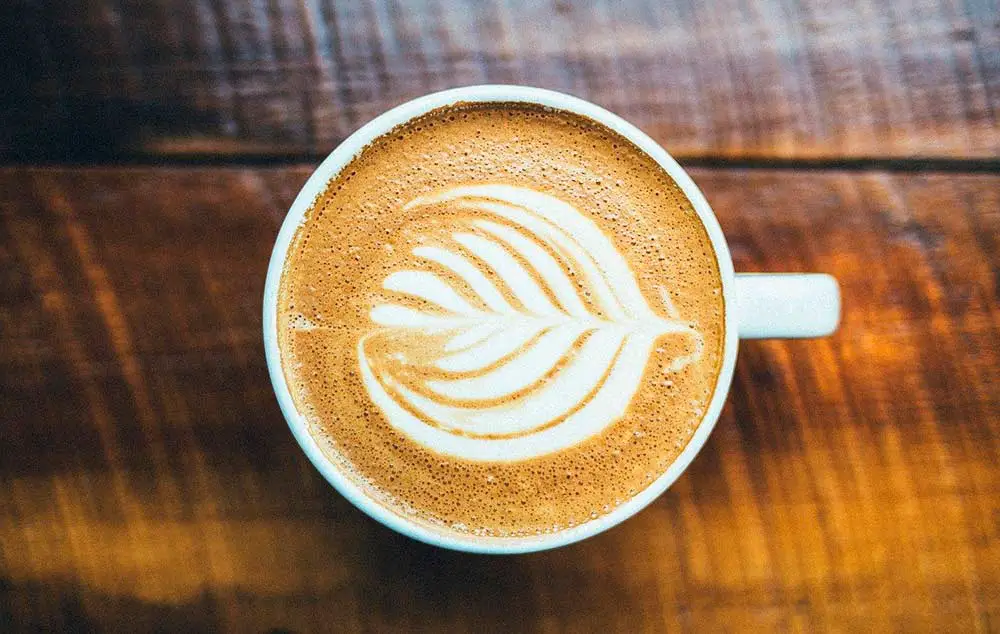 You will find the amazing Mothership Coffee Roasters among the abundance of strip malls in Las Vegas. This homegrown business offers some of the absolute best coffee drinks in the city and is a favorite amongst us locals.
You can grab yourself a coffee for the day and some in-house roasted beans you can take home with you.
12 – A Bottle of Vegas Golden Knights Wine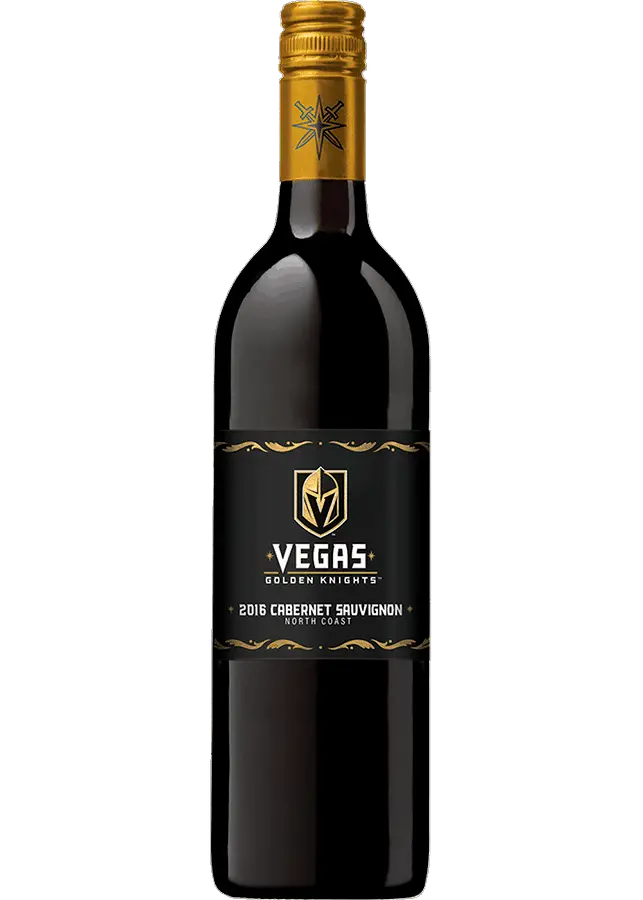 If you're a hockey fan, then you'll know all about the Las Vegas Golden Knights. We love our Golden Knights, and nothing says Las Vegas more than picking up some Golden Knight merchandise.
You can't go anywhere in Vegas without seeing the team logo on everything from jerseys to bumper stickers. You can easily find Golden Knights gear all over Vegas, and it makes a great gift for any fan of the hockey team. But if you're a Golden Knights fan AND a wine lover, you're in luck!
A delicious wine and a great keepsake for Golden Knights fans is the Vegas Golden Knights wine. This private-label wine is only available in Nevada and comes in both a fruity Cabernet Sauvignon and a Chardonnay for around $15 a bottle. This is unlike any of the team's other memorabilia, and you can pick up a bottle at any of the four Total Wine & More locations around town.
13 – Personalized M&M's at M&M's World Las Vegas

Who doesn't love delicious M&Ms? The M&M's World Store in Las Vegas can be found right on the Strip at the Showcase Mall and is a souvenir you can pick up while having a great time exploring the 28,000-square-foot store.
You can choose from practically every shade of the famous M&M candy, along with a variety of other options like pillows, hats, glasses, mugs, stuffed animals, and more, all featuring the M&M logo.
The best thing about visiting the shop is that you can create bags of M&M's that are personalized just for you, starting at only $19.99.
You can combine a personal message along with an iconic Las Vegas image (you can even use one of your own photos) and watch while your very own unique M&M's are printed right in front of you.
These are awesome for birthdays, gifts for the kids, weddings, you name it! You can even choose how you would like the candy to be packaged, making them a perfect Las Vegas gift for anyone in your life.
14 – Bouchon Bakery Macarons at The Venetian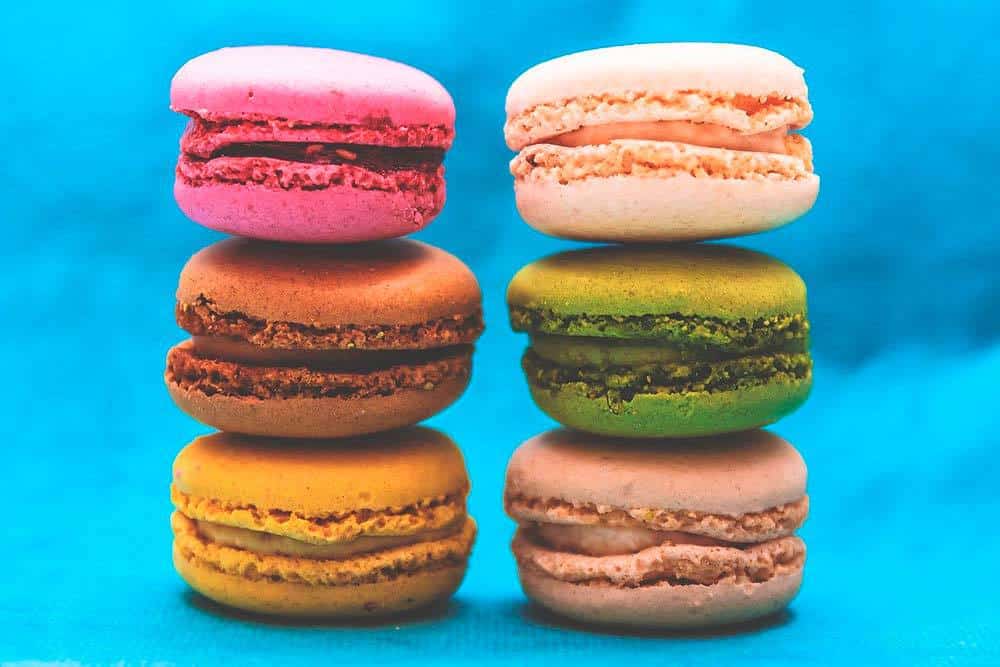 The Bouchon Bakery is run by famed chef Thomas Keller and is located inside the Venetian. The shop features a ton of delicious treats that you can enjoy, like eclairs, cheese Danishes, peanut butter cookie sandwiches, and much more. You can visit the shop for a wonderful treat for the day, but you can also grab some yummy macarons to take home with you.
The oversized macarons are perfect for bringing home. They come in beautiful packaging and make the perfect edible souvenir. The flavors available at the shop will differ depending on the season and when you decide to visit.
Handmade Souvenirs and Art Pieces
If you want to find something more heartfelt, there are several handmade souvenir options that you can choose from. Many cultural pieces are designed and sold in Las Vegas as well as unique offerings that you will not find anywhere else. If you want a true Las Vegas souvenir that will remind you of your trip, here are some great options:
15 – Native American Turquoise Jewelry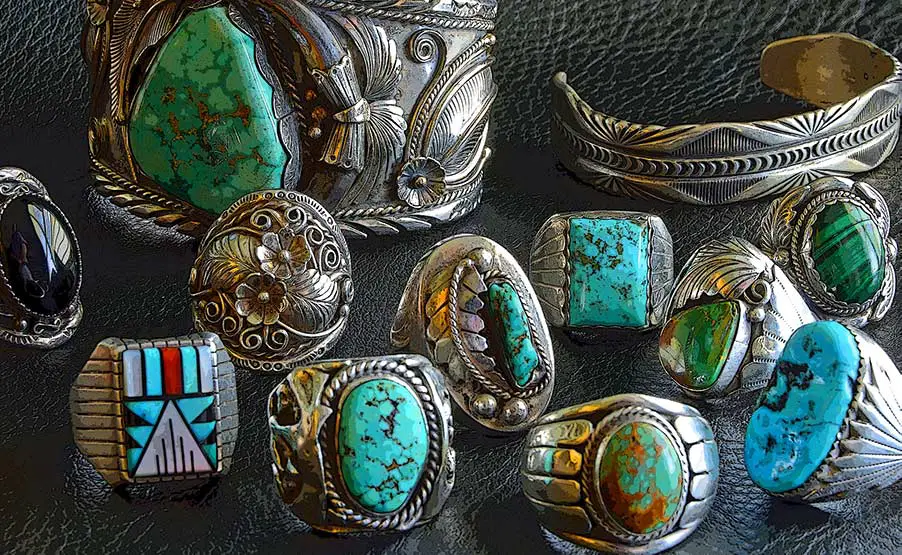 Las Vegas was originally home to many Native American tribes, and over 50,000 tribe members currently live in the Southern part of Nevada.
These Native American tribes design some of the most beautiful jewelry pieces you can find anywhere in the American southwest. Many of these pieces feature beautiful turquoise stone inlays.
Visit N8tiveArts in Boulder City for many beautiful Native American pieces, like their gorgeous turquoise bracelets. These pieces are made by a local artist using sterling silver found in Nevada and Boulder Turquoise inlays (turquoise with a brown streak). They have a large selection of turquoise jewelry to choose from, ranging in price depending on your budget.
16 – Sin City Gallery Las Vegas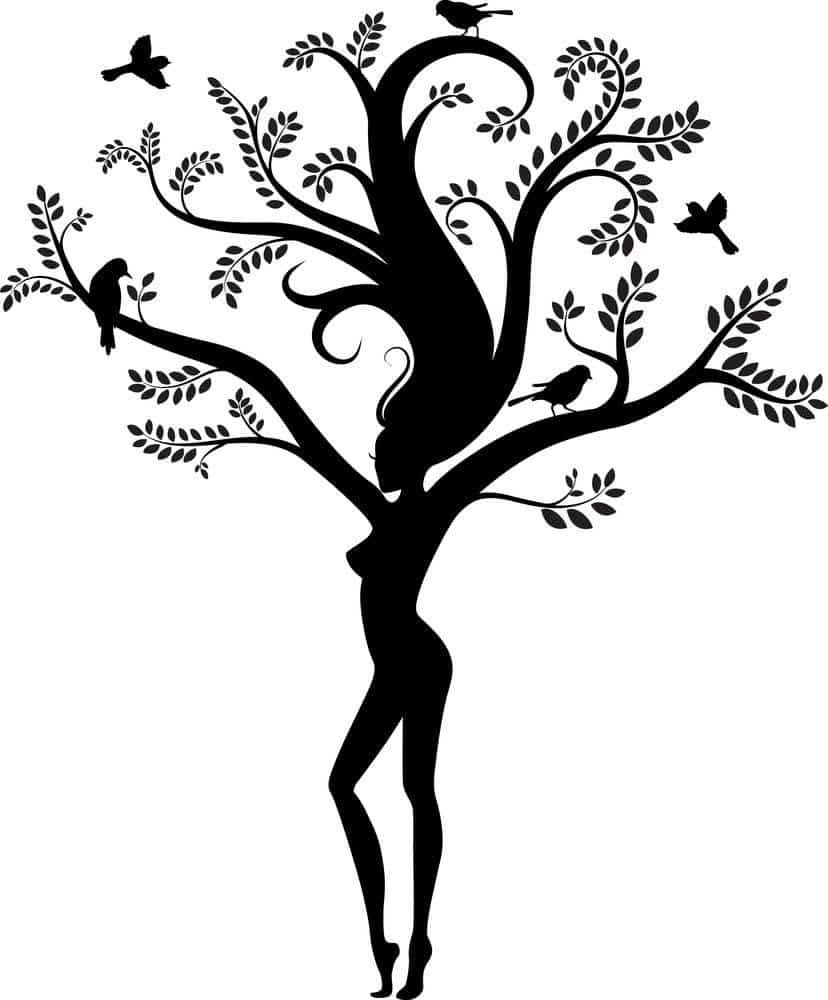 This is a beautiful art gallery that you can visit while in Las Vegas, which features different paintings, photographs, sculptures, and multi-media pieces each month. The artists at Sin City Gallery are hand-picked for the venue, and each month's show is different and truly one of a kind.
If you do plan to visit the gallery, you should note that these pieces are erotic-themed and are not suitable for kids or those who do not appreciate this style of art.
If you fall in love with a piece while you're visiting that you'd like to take home, great! Most of the art is for sale. Of course, depending on the artist and size of the piece, your costs will vary. However, these pieces are special as they cannot be found anywhere else and are great for someone who collects works of art.
17 – Las Vegas Fine Art Photography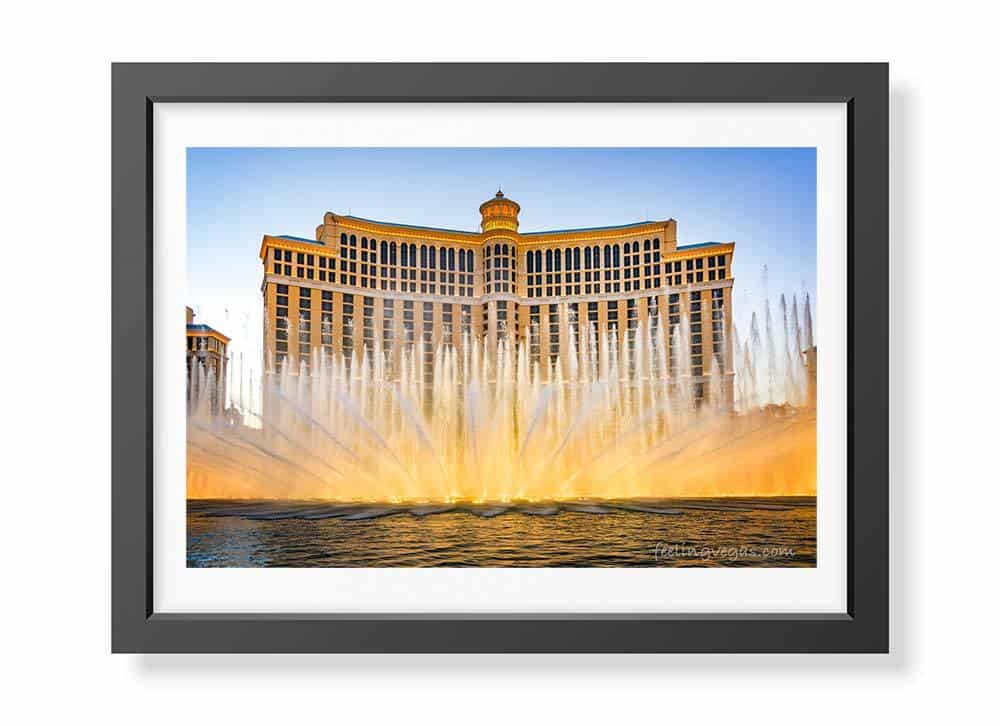 If you like fine art photography and you're looking for something that captures the essence of Las Vegas and the surrounding area, then you'll want to take a look at the photography of Bryan Mullennix. My husband Bryan is a professional photographer, and he's created a collection of Las Vegas fine art prints that can be shipped directly to you anywhere in the world.
These images are available framed or unframed and are printed on one of several different mediums, such as metal, wood, canvas, and more.
These photographs of iconic locations in and around Las Vegas will look great hanging on the wall in your home or office and will be a beautiful reminder of your time in Las Vegas.
18 – Bakery Inspired Handmade Soap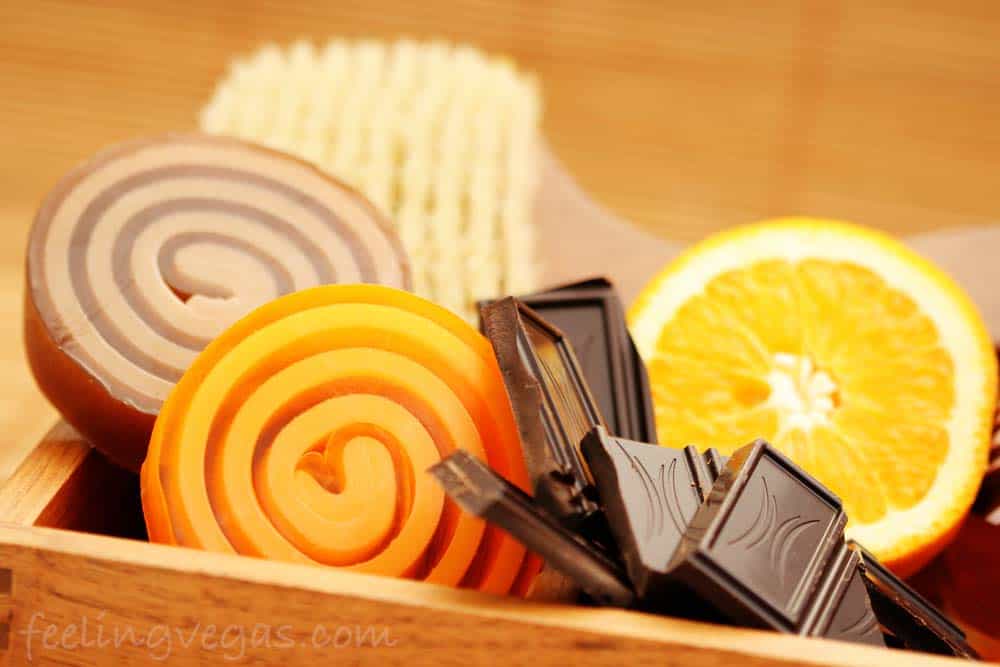 If you want something that is inexpensive yet distinctive to the city, how about bakery-inspired soap? Many of the soaps are designed to look like a bakery treat.
This is not something that many would expect to find in Las Vegas and is not only handmade and beautiful but also extremely useful. At Lola Soap inside Harrah's Las Vegas, you can find a huge variety of special souvenirs that you will not find anywhere else.
19 –  Club Tattoo in Las Vegas
If you want a souvenir that will last a lifetime, then getting a tattoo while you're in Las Vegas might be a great idea! People come from all over the world to get inked in Vegas. There are many high-quality tattoo artists and shops available throughout the city.
Whether you have a design that you have been considering for a while or you get a spur of the moment idea during your trip, a great place to get a tattoo is Club Tattoo, with locations at Planet Hollywood, LINQ, and The Venetian getting a tattoo done in Las Vegas will be the ultimate souvenir.
If you're seriously considering getting a tattoo while you're in Vegas, you'll want to be sure and read our article about tattoo pricing and the best tattoo parlors in Las Vegas. You can read the article here.
Quirky Souvenirs Only Found in Vegas
If you want to get souvenirs you will never forget, you can purchase something that is so deeply Las Vegas that you simply could not find it anywhere else. Here are some options that are extremely unique and quirky but, for the right person, will make the coolest Las Vegas souvenir ever.
20 – Light Bulb From The Welcome to Las Vegas Sign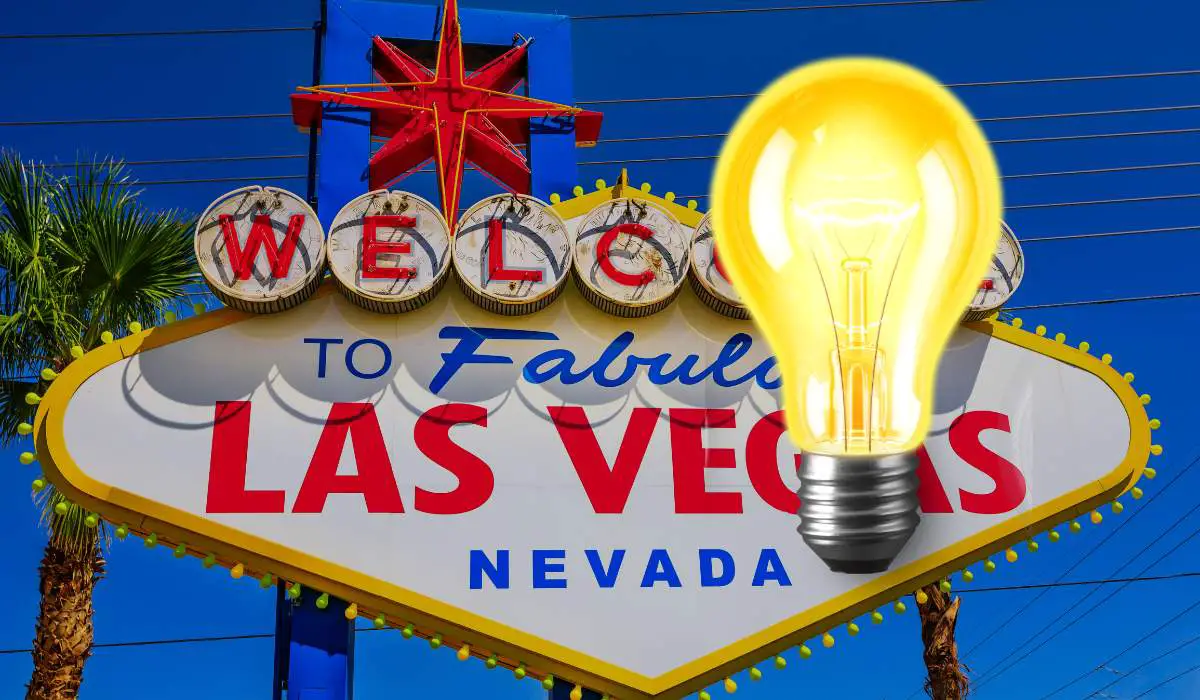 If you or someone you know is a serious Las Vegas enthusiast, then this next souvenir is not to be topped. You can get an official light bulb from the Welcome to Fabulous Las Vegas" sign.
That's right! Official Las Vegas Light will set you up with an actual light bulb that has been used in the famous Las Vegas sign. The light bulb comes in a decorative satin-lined black wooden box and includes a certificate of authenticity showing the serial number and the specific dates the bulb was used.
How cool is that?
21 – Elvis Las Vegas Jumpsuit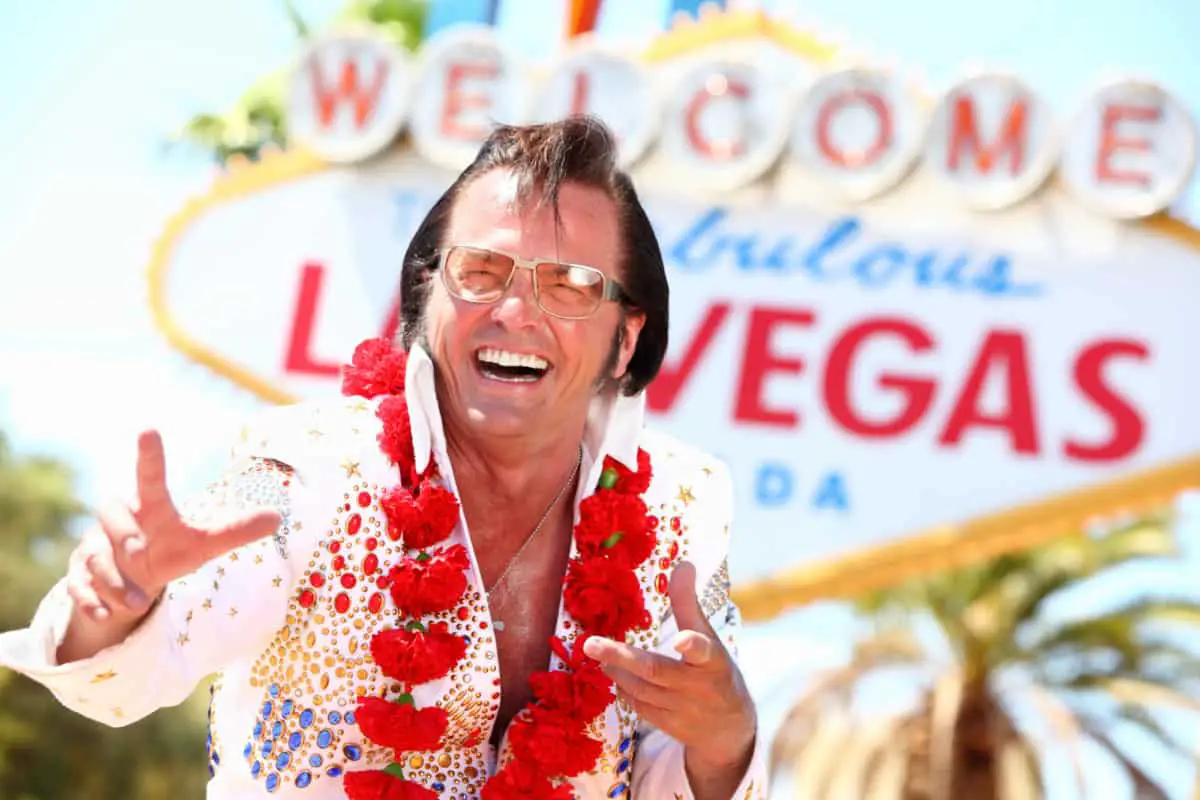 If you ever feel like channeling your inner Elvis Presley, look no further than a custom Elvis jumpsuit tailored to fit you perfectly. Elvis impersonators are abundant in the city but ask yourself how many do you have in your hometown? You could be the only one! Regardless, this outfit will definitely be a conversation starter at your next party.
A great place to pick up your custom-tailored Elvis jumpsuit is Show-off Las Vegas Costumes. The team at the shop will help fit you for your own jumpsuit and personalize your look with added accessories.
These aren't cheap knockoffs, these jumpsuits are the real deal! Fittings are by appointment only, so be sure to call or email first.
22 – Custom Las Vegas Showgirl Costume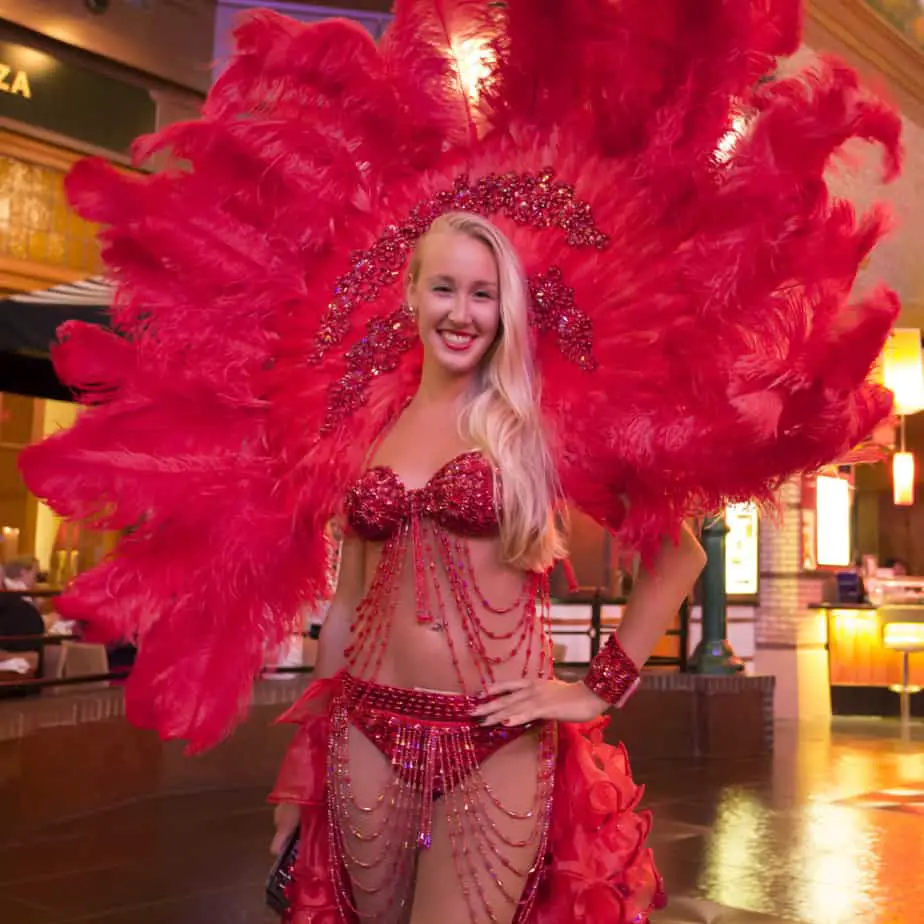 While you are at Show-off Las Vegas Costumes (see above), you can also pick up a showgirl costume for the woman in your life. They will help you choose the perfect, brilliantly designed costume that fits your style. Each showgirl costume features a beautiful plumed headdress.
Fans, bras, gloves, wings, tails, boas, necklaces, shoes, and much more. They have premade costumes available for you to choose from, or you can have a custom fitting done for the absolutely perfect piece. These costumes start at around $999, but you will be the perfect pair in your custom Las Vegas wear.
23 – Southwestern Desert Cactus From Las Vegas

While visiting the big city, it can be easy to forget that you are actually deep in the heart of the Mojave Desert. Nothing in this world says desert more than a cactus, which is a great souvenir to take home to remind you of your stay in the land that moisture forgot.
These are very hearty plants that can easily survive the ride home and live for years to come with proper care.
Take a trip to Cactus Joe's Blue Diamond Nursery to browse a selection of native cactus plants, Joshua trees, succulents, yuccas, and more. Potted cactus options start at around $9.99 and make the perfect Las Vegas souvenir.
Plus a trip to Cactus Joe's is a fun outing that will take you off the Strip and out into the desert surrounding Las Vegas.
24 – Jawbone Business Card Holder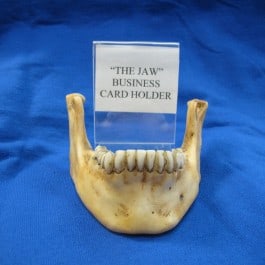 This is perhaps the #1 weirdest souvenir on my list and probably only works for a certain type of person. The Jawbone business card holder is a quirky and unique souvenir that you can take home with you from your stay in Las Vegas.
While this is one of the more peculiar items on the list, these business card holders are extremely popular (they've sold thousands of these).
The most interesting thing about these business card holders is that they are sold by the Clark County Coroner's Office and were designed after the CSI television show became such a success.
The Clark County Coroners' office has several items in its gift shop. You'll find hats, badges, shirts, scrubs, license plates, and mugs. The proceeds from the sales go to benefit the Employee Wellness Program at the coroner's office. With some of the things they must see, it sounds like a good cause!
The Jawbone is an extremely lifelike replica of the lower jaw and makes a great conversation starter or gift for doctors, dentists, or truly anyone who wants to add a little spooky to their office. Pick yours up in person while you're in town for just $20.
25 – Blue Man Group Drumsticks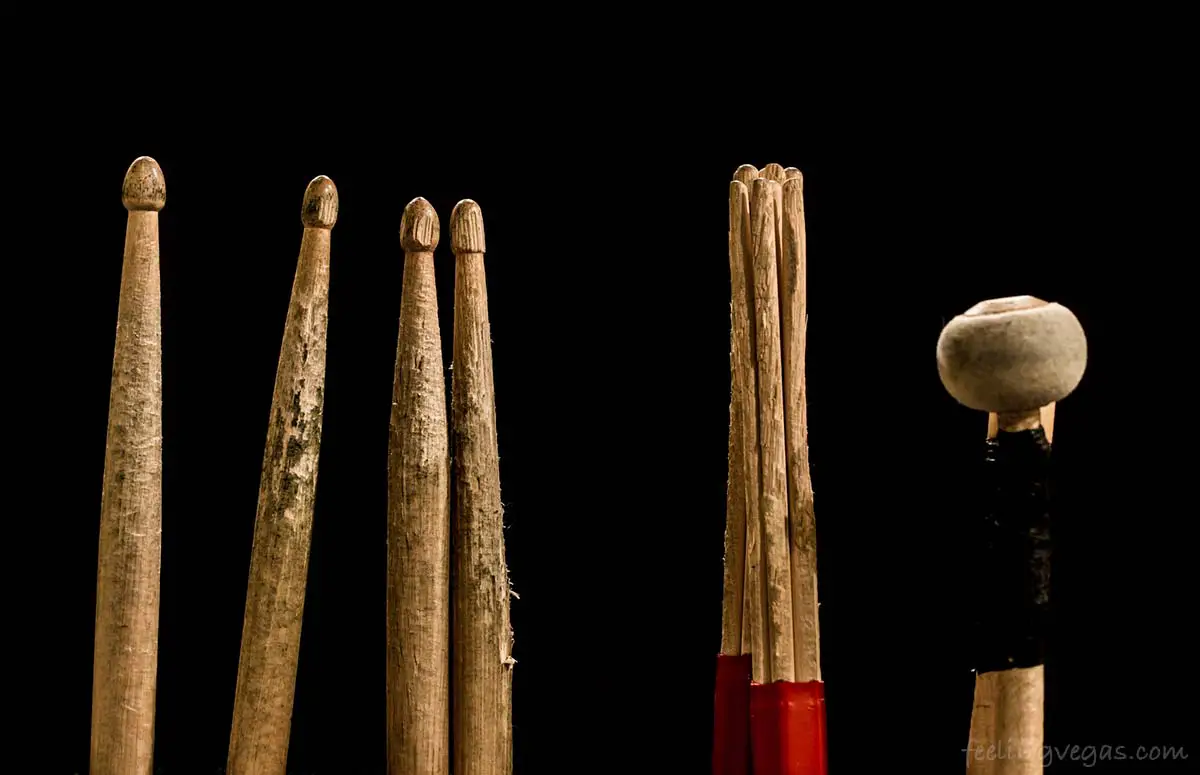 If you are familiar with Las Vegas, you know the city features some of the biggest and best shows in the country. One of the more unique shows is the Blue Man Group, which is also one of the most successful and longest-playing shows in Vegas. You can check out our article about seeing the Blue Man Group here on our website.
Going to see the Blue Man Group show is an awesome experience, and a way to make it even better is to bring home some Blue Man Group memorabilia!
One amazing souvenir you can pick up while at the show is a set of Blue Man Drumsticks for only $20.
The cast of the show is out front after each performance to meet the audience and sign autographs.
Just purchase your drumsticks before the show, and you can have them signed afterward, making them even more special. You can pick up Blue Man Group memorabilia in their Gift Shop, which you'll find in the Luxor Hotel.
26 – Mini "Welcome to Fabulous Las Vegas" Sign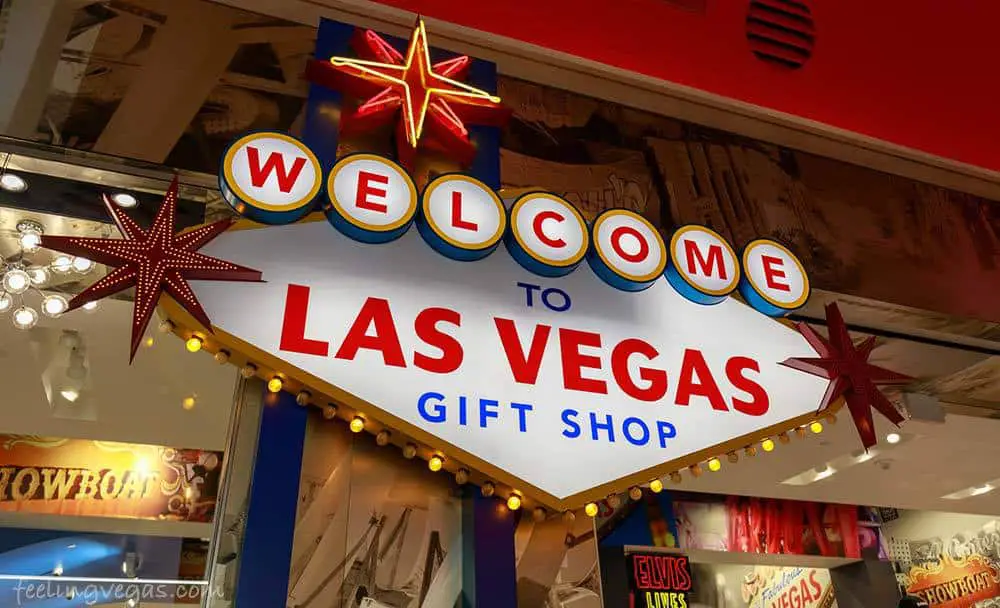 If you've visited the city before, you know one of the most memorable things to do is to stop by the Welcome to Fabulous Las Vegas sign. While stopping for a picture is a great keepsake, wouldn't it be great to have your very own sign?
Of course, most people can't bring a huge sign home with them, but they can fit a miniature "Welcome to Fabulous Las Vegas" sign into their luggage quite easily.
These signs are sold at the Welcome to Las Vegas Gift Shop (these stores are found in casinos and malls up and down the Strip) and are a huge seller as it is a great way to remind yourself of your vacation to Las Vegas. These mini signs are a great way to bring a little piece of Las Vegas home with you.
Where to Shop For Souvenirs in Las Vegas
The shops and locations mentioned above are great options when trying to find unique souvenirs to bring home from your Las Vegas vacation.
However, there is an endless number of shops available that you can visit and browse for yourself to find the perfect gift or keepsake. Here are some of the best Las Vegas souvenir shops to keep an eye out for that we didn't mention above:
If you like to shop, be sure to check out our other Las Vegas shopping-related articles below:
Find out about the 12 Best Shopping Malls on the Las Vegas Strip right here
If you found this article helpful, please SAVE THIS PIN to one or more of your travel boards on Pinterest. Thank you so much!