Costco Closest to The Vegas Strip (Location, Directions & Hours)
Costco is the ultimate one-stop-shop and a place that many of us have come to rely on, even when we're on vacation. Fortunately, there are several Costco locations throughout the Las Vegas Valley. But for convenience sake, what you really want to know is, Which Costco is closest to the Las Vegas Strip?
The nearest Costco to the Vegas Strip is a Costco Business Center about 6 miles away. The business center, however, does not carry everything a regular Costco does. The nearest full-sized Costco Warehouse to the Stip is about 25 minutes away at Saint Rose Parkway in nearby Henderson.
Read on to learn more about the three Costcos located near the Vegas Strip, what they have, how to get there, what hours they're open, and which one is the best to visit from Las Vegas Blvd.

(This article may contain affiliate links, which means we might earn a small commission if you click and make a purchase. Thank you!)
1. Costco Business Center on Martin Luther King Boulevard (M.L.K Blvd)
Las Vegas, Nevada, has several Costco wholesale warehouse stores available for locals, but finding a Costco location near the Vegas Strip has the additional benefit of allowing anyone with a membership vacationing on the Strip to enjoy easy access.
There are three Costco locations within a fairly short distance of The Strip in Las Vegas, Nevada. The closest is a Costco Business Center in downtown Las Vegas, which is about 6 miles from the Bellagio Hotel in the center of the Strip.
Many customers may not have shopped at a Costco Business Center before and may be unfamiliar with the differences. Its name aside, the Costco Business Center isn't just for businesses.
Open to anyone who is a Costco member, not just a business membership, the Costco Business Center has some of the same items as a typical store. You can get groceries, snacks, and more there, packaged as single servings to make it easier for businesses with employees.
For example, rather than giant bags of potato chips, you can purchase cases of individual-sized bags of Lays. They have massive cases of apples and oranges. There are cases of 16 oz (473 mL) bottles of Starbucks Frappuccinos.
In other words, the grocery items sold at the business center tend to come in large bulk packages (200 eggs anyone?) or large quantities of individual-sized snacks. Basically, things are packaged the way a business would want.
While you can still get some of the items you may be used to at a regular Costco, the business center location has fewer of these types of items.
The Business Center expands its inventory to offer products companies need, and dumps things they don't. You won't find clothing, books, or toys at the Costco Business Center.
They also don't have certain departments, like Optical and Hearing Centers or the food court. Some business centers will still have limited medications and first aid kits, though no actual pharmacy for prescription refills.
Instead, they have a much more extensive selection of snacks, beverages, produce, and anything you might find in a break room or a vending machine. Many prices are even lower than the regular stores, and you are less likely to run into a crowd there, which is really nice.
Unfortunately, they close earlier on weekdays than regular stores. Only a few have any alcohol (Vegas does but it's a limited selection), though you can sometimes find wine at a great price.
Address: 
222 S Martin Luther King Blvd, Las Vegas, NV 89106
Hours:
Monday – Friday: 7 AM to 6 PM
Saturday: 7 AM to 4 PM
Closed Sundays
Directions:
To get to the Costco Business Center from the Strip or wherever you are just click on this link on your phone (google maps) then click "directions" and you'll be able to get turn-by-turn driving directions that take you straight to it.
Is the Costco Business Center Worth a Visit?
The Costco Business Center is worth a visit if you're looking to purchase items in bulk and at a great price. The Business Center offers products primarily designed for businesses and has stock that cannot be found at Costco's traditional warehouses.
Even if you aren't a business owner, you can still have fun wandering around the Business Center and checking out its latest offerings.
Having said that, if you're looking to grab many of the items you're used to finding at your local Costco, you may be disappointed. If that's the case, I'd recommend driving a little bit further and hitting up one of the next two regular Costco Warehouse locations.
2. Costco Warehouse Henderson South (Our Top Recommendation)
The most convenient Costco to the Strip that will have everything you want is the new location in the southern end of the valley. Getting to this location from anywhere on Las Vegas Boulevard (the Strip) is as simple as taking one of the nearby on-ramps to Interstate 15 and heading south.
This is also a great location if you are heading in or out of Las Vegas via Interstate 15 (I-15). It's not too far off the freeway as is a fairly handy location for gas or food. It will take you about 25 minutes (13 miles) to get there from the center Strip area.
They have regular weekday hours and are open seven days a week. It is a great place to avoid the markups the Vegas Strip is infamous for. You can find a decent liquor supply, including wine and spirits at reduced prices.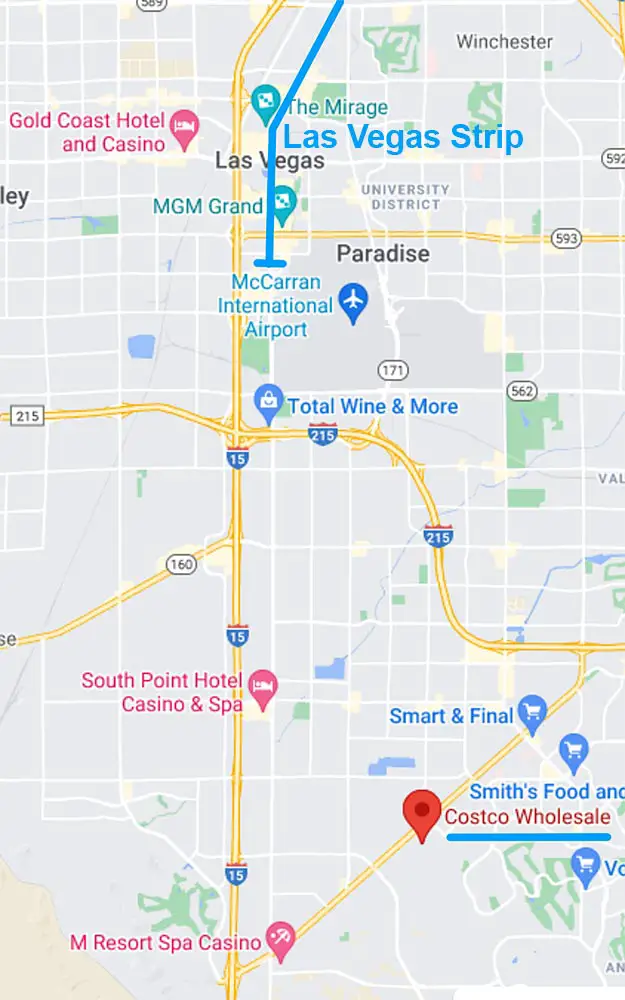 Address: 
3411 Saint Rose Parkway, Henderson, NV 89052
Hours:
Monday: Friday, 10 AM to 8:30 PM
Saturday: 9:30 AM to 6 PM
Sunday: 10 AM to 6 PM
Directions:
You'll find this location on the southern side of the valley. If you click the following link on your mobile device (google maps), google will take you there from wherever you're starting.
RELATED: Find out where the closest Walmart is to the Vegas Strip
3. Costco Warehouse in Henderson (East)
There is another Costco Warehouse on the southeast side of the valley. As the crow flies it is a few miles closer to the Strip (10.5 miles) than the Saint Rose location but it will take much longer to get there because you'll need to cut across town on a city road and deal with a whole lot of traffic lights or alternatively go way out of the way on the freeway.
But if you're headed to this side of the valley anyway (maybe to check out the Ethel M Chocolate Factory and Cactus Garden or headed to Hoover Dam) this would be a convenient stop.
Address: 
791 Marks St, Henderson, NV 89014
Hours:
Monday: Friday, 10 AM to 8:30 PM
Saturday: 9:30 AM to 6 PM
Sunday: 10 AM to 6 PM
Directions:
This Costco is located over on the southeast side of the valley just off the 515 freeway. Follow this link on your mobile device (google maps) and you will get directions that take you right to it.
Costco Gas Near The Las Vegas Strip
If you're looking to fill up your tank at a great discounted fuel price before heading back to California or parts unknown, Costco is the place to do it. You can get gas at all three of the Costco locations closest to the Las Vegas Strip.
The hours at each, however, are different:
Gas Station Hours at Costco Business Center
Monday – Friday: 6:00am to 7:00pm
Saturday: 6:00am to 5:00pm
Sunday: Closed
The Costco gas station at the business center location is open Monday – Saturday and closed on Sundays. So if you're planning to leave town on Sunday you'll want to fill up Saturday.
RELATED: Find out the best times to drive between Las Vegas and Los Angeles
Gas Station Hours at Costco Henderson (Both Locations)
Monday – Friday: 5:30am to 9:30pm
Saturday: 6:00am to 8:00pm
Sunday: 6:00am to 7:30pm
The gas stations at these two Costco locations are open seven days a week and have longer hours than the business center.
4 Best Ways To Save Money at Costco
Let's be honest, Las Vegas can be expensive. The closer you get to The Strip, the more you will see prices rising. Whether you live in the area or are just visiting, here are the best ways to save money at Costco.
Save Money and Buy Gift Cards
If you've ever visited a Costco anywhere in the country then you're probably aware of the area of the store that is filled with gift cards to various local restaurants and attractions. Well, Las Vegas Costcos are no different.
These types of cards are usually something along the lines of you buy a gift card worth $100 for just $75 giving you a 25% discount on a Vegas area attraction or eating establishment.
You can use them to give yourself a gift by saving money on something you want to do in Las Vegas anyway.
Note: The Costco Business Center location has a very limited supply of gift cards. The other two regular Costco locations will usually give you a better selection.
Learn the Secret Code
There is a fantastic post on Reddit by a Costco employee who shared the secret of the pricing list. Understanding it gives you a better chance of finding the best deals just by looking at the price tag on the item. By looking at the number the price tag ends in you will be able to find out if you're getting a better than normal deal. It goes like this:
If the price ends in -.99 it is the normal price that Costco has given the item.
If the price ends in -.98 it is the price that the original retailer/manufacturer laid down.
If the price ends in -.97 the item is on sale and has been marked down from the original price, whether that is from Costco or the retailer.
If the price ends in -.00 it is a markdown from the location's manager.
Rely on Kirkland
Kirkland is Costco's brand. There have long since been rumors that their generic products are not always the best price and that customers should be comparing it to name brands sold in the store, then comparing it to other stores to make sure they aren't being ripped off.
But according to an interview done by Insider Business, employees agree that Kirkland is almost always the cheapest available option. Whether that is due to the price itself, or more products at a more affordable rate per serving, you can usually assume Kirkland is the best bang for your buck.
Alcohol Without the Markup
This is also worth saying: you can get cheaper booze at Costco. Thanks to the laws in Nevada, Costco offers alcohol, including beer, wine, and spirits, without the expensive markup found in the shops and bars along the Strip.
That doesn't mean there is no markup at all. But according to sources who spoke to Delish, the average markup is just 14%, compared to the 50% elsewhere.
So you may want to hit up Costco when you first get to town so you can load up on booze and save some money.
Note: While the Costco Business Center has alcohol, they have a very limited selection. When I was there recently they only had two kinds of beer and one brand each of vodka, tequila, wine, etc. Either of the Costco Warehouse locations will have more options.
RELATED: Discover the Cheapest Bars and Happy Hours on the Las Vegas Strip
Final Thoughts
A quick trip to a Las Vegas Costco is a worthwhile stop when vacationing on the Las Vegas Strip. Stocking up on some snacks, food, and alcohol at the beginning of your Vegas trip will definitely save you some money over Strip prices.
In addition, Costco has the best gasoline prices in town and is an ideal place to fill up before heading out on the road to explore some of Las Vegas' best off-Strip attractions.
Related: Find out where the closest Walmart is to the Las vegas Strip