Best Times to Drive From Los Angeles to Las Vegas (Explained)
(This article may contain affiliate links. If you click through and make a purchase, we will receive a small commission at no additional cost to you. )
There's nothing quite like a road trip from Los Angeles to Las Vegas! Driving from L.A. to Vegas is a classic road trip experience, and it's a lot of fun to do with the family or a group of friends. But if you're driving from Los Angeles (or anywhere is southern California for that matter) it's important to get your timing right or your exciting road trip to Vegas will turn into a bogged down mess of traffic.
So, what's the best time to drive from Los Angeles to Las Vegas?
The best time to drive from Los Angeles to Las Vegas is to leave L.A. between 1 – 3 p.m. This will get you out of L.A. and on your way to Vegas quickly while avoiding rush hour traffic. Leaving Los Angeles during this time period will also get you to Las Vegas early enough to fully enjoy your evening in Sin City.
Keep reading to find out how long the trip is expected to last and what times and days are the best for a road trip from L.A. to Vegas.
How Long it Takes to Drive From Los Angeles to Las Vegas
Los Angeles is located in Southern California and is the largest city in the state and the second-largest city in the United States, just behind New York. It has a total population of almost 3,800,000 people, with the surrounding urban area having between 12,000,000 and 13,000,000 people.
The distance between Los Angeles and Las Vegas is not that great (you'll be traveling on Interstate 15 the majority of the way), but heavy traffic can make the two cities seem very far apart.
Based on what area of Los Angeles you're starting from, you'll have to travel between 260 and 320 miles by car. You can, of course, fly to Las Vegas from Los Angeles, but for this article I'm going to focus on the drive. According to google maps, driving to Vegas from downtown Los Angeles will take average of about 4.5 hours.
This, however, is a pretty optimistic timeline and is only accurate if you leave at the best time, encounter very little traffic and there are no accidents along the way. If you have that kind of luck, you're definitely headed to the right place 😉 🎰 💰
Los Angeles Traffic (What to Expect)
If you're a resident of Los Angeles then you know that there's no such thing as an uncrowded L.A. freeway. Los Angeles freeways are busy day and night and there's no guarantee that anytime is the perfect time to drive in L.A.
Accidents, day of the week, and local events all conspire to keep the traffic in Los Angeles as unpredictable as possible. That being said, you'll want to avoid starting your drive to Las Vegas during any of the known Los Angeles "rush hour" times. These times are:
Weekday Mornings 6 a.m. – 10 a.m.
Weekday Mid-day 11:30 a.m. – 1 p.m. (mini-lunch rush hour)
Weekday Afternoons 3 p.m. – 7 p.m.
Weekends are a mixed bag and tend to be busy throughout the day. The earlier in the morning you start your road trip to Las Vegas, the better.
The Drive Into Las Vegas
The Los Angeles freeway system is not the only traffic barrier you may encounter on this drive. Once you reach the California/Nevada border on Interstate 15, the first thing you'll see is the town of Primm, NV.
Primm is a small town about 40 minutes from Las Vegas but it's home to the first three sizable casinos you'll see in Nevada (Buffalo Bills, Whiskey Pete's & Primm Valley Resorts) plus some outlet shopping. After driving from L.A. and seeing nothing but desert for a couple of hours it's only human nature that every driver on the road will slow down to take a look causing a potential stop and go situation.
Generally the drive from Primm into Las Vegas isn't too bad but beware Friday afternoons, holiday weekends or large events happening in Las Vegas as these can make the 40 minute drive to Las Vegas much longer!
I mentioned earlier that the drive from Los Angeles to Las Vegas should take about 4.5 hours BUT it's not uncommon for the drive to take up to 7 hours at the worst times!
You'll want to do your best to start your trip at the times most likely to avoid many of these slow downs.
Best Time to Start Your Drive From Los Angeles to Las Vegas
Now that we've discussed the worst times to try and drive to Vegas from L.A., let's look at some of the best times to start your road trip.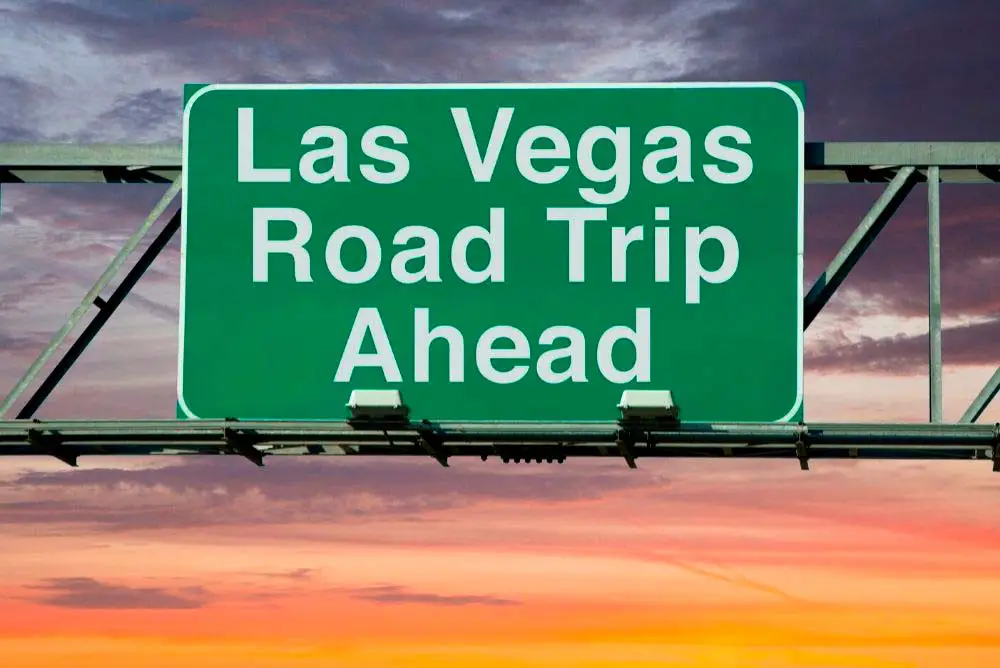 The Early Option (4 – 6 a.m.)
Getting an early start is always a good thing as far as traffic goes. Although Los Angeles is not a strict 9-5 city, it's very close and if you start your trip this early, you'll definitely beat the worst of the L.A. traffic.
If you take this option, you should have smooth sailing all the way to the Las Vegas Strip, and you'll arrive in Las Vegas between 8 – 11 a.m. (depending on any stops), which is a great time to arrive.
The important thing is to beat the L.A. traffic and you'll do it by getting a very early start. Since you'll be in Las Vegas so early and hotel check-in time won't be till 3 or 4 p.m. you can check out our article here to find out where you can safely store your luggage in Vegas so you can have fun until you're able to get into your room.
Should You Do It?
If you're a morning person and the thought of getting up early and getting on your way doesn't make you feel the least bit queasy, then this is a great option! Without a doubt you'll encounter the least amount of traffic on your drive to Las Vegas. Plus you'll be in Vegas early enough to still have most of the day to play!
The Mid-Day Option (10 a.m. – 1 p.m.)
You'll certainly avoid the morning traffic in Los Angeles. You may possibly hit the lunch-time mini-rush but this is still generally a good time to leave as far as Los Angeles is concerned as you'll avoid most of the worst traffic.
The best thing about this option is that even if you run into some traffic, or an accident on the road slows things down, you'll still arrive in Las Vegas plenty early and you won't feel rushed.
Should you do it?
Leaving Los Angeles at this time will have you in Vegas right around the time that your room will be available to check into. It'll also give you some time to relax, have dinner and get ready for a night out on the town.
The Afternoon Option (1 – 3 p.m.)
The most important thing here is to leave Los Angeles by 3 p.m. Some people will say to leave by 4 p.m. but traffic starts building after 3 p.m. and increases the likelihood that you'll run into a slowdown. Leaving town between 1 – 3 p.m. will ensure that you miss the lunch crowd and the afternoon rush hours.
You'll arrive in Vegas around 5:30-7:30 p.m., which is still early enough to get ready for a great evening in Las Vegas.
Should you do it?
This is the best time to head to Las Vegas from Los Angeles because you have enough time in the morning to pack before you leave, you avoid the majority of the traffic and have enough time to freshen up and get ready to go out in Vegas!
Time To
Leave L.A.
Quick Notes
4 – 6 A.M.
– Early start
– Less traffic (pre-morning rush hour)
– Most of the day to enjoy Las Vegas
10 A.M. – 1 P.M
– More reasonable time to leave
– Some lunch traffic possible
– Get into Vegas around the time your room is available for check-in
1 – 3 P.M.
– Best time to leave for most people
– Leaves L.A. before afternoon/evening rush hour
– Time to pack and prepare for the trip in the morning
– Arrive in Vegas in plenty of time to have a great night
7 – 9 P.M.
– Minimal traffic
– Good for the late-night party crowd
9 P.M. or Later
– Least amount of traffic possible
– Good for night-owls
– Great for having your first day in Vegas be a full day
Quick synopsis of the best times to drive to Las Vegas from Los Angeles
The Evening Option (7 – 9 p.m.)
Choosing this option will eliminate practically all the traffic but you won't get to Las Vegas until between 11:30 p.m. – 1:30 a.m. For some people this may sound like a bad idea but if you're coming to Vegas to go clubbing, many of the nightclubs don't really get going until around this time.
Bring something to nibble on while driving and be sure to pack your clothes inside the car so you can change and hit the party as soon as you get out of your car.
Should you do it?
This schedule only really makes sense only if you're heading to a late-night party or nightclub, otherwise – there's no point unless you just want to get in your room and get settled so you can start your vacation first thing in the morning.
The Late Night Option (9 p.m. or Later)
Although this is the late-night option, it'll actually turn into the earliest option possible, as you'll arrive in Vegas just in time to catch some z's and be able to hit the ground running first thing the next morning.
If sightseeing is your main objective in Las Vegas, then this could be an excellent option! You can get out early in the morning and hit some sights and attractions before the late night party crowd is even conscious.
This is basically the hardcore option though, as you'll be driving at night through the desert. Be very careful and respect all the traffic rules, since there are more policemen per car on the road at this time than during other periods of the day.
Should you do it?
Well… if you're a night owl, and your're determined to encounter the least amount of traffic between L.A. and Las Vegas, this could be the perfect option for you.
Best Days to Drive to Vegas From L.A.
Choosing the best day of the week to drive into Las Vegas from Los Angeles is about avoiding traffic. Making the drive to Las Vegas from L.A. mid-week (Monday – Thursday) will always be preferable to weekend driving.
While Vegas is filled with tourists every day of the week, the town swells in size even more on holidays and weekends. Friday is generally the worst day to drive to Las Vegas as it's the day of the week that most other people are trying to get into town as well.
If you're able, driving to Las Vegas on a Thursday and leaving on a Monday makes for a much easier drive than a Friday to Sunday trip.
Best Time to Leave Las Vegas on a Sunday
If you're schedule doesn't allow a mid-week visit to Vegas and you'll be driving in on a Friday and leaving on a Sunday, you need to know the best times to leave. What are the best times to leave Las Vegas to get back to Los Angeles on Sunday?
The best times to drive back to Los Angeles from Las Vegas on a Sunday are before 9 a.m. or after 6 p.m. You either need to get up and get out of Vegas early before everyone else starts leaving town or plan to spend the day in Vegas and begin your drive back to Los Angeles in the evening after 6 p.m.
Let me warn you in advance, driving out of Las Vegas on a Sunday is no joke. The 4.5 hour trip back to Los Angeles from Las Vegas can easily become an 8 hour trip or longer if you leave Vegas at the wrong time on a Sunday.
This goes double if the Sunday happens to be wrapping up a long holiday weekend!
Conclusion
And that's everything you need to know about driving to Las Vegas if you're coming from Los Angeles.
Personally, I think the best option for most people is to start around 2 p.m., as you'll have enough time to get ready in the morning, you'll avoid the worst traffic and you'll arrive in Vegas in time to relax a bit and fully prepare for the evening shows and late-night fun.
Related Topics You May Enjoy
Driving in Las Vegas (What To Expect – Plus Tips!)
How Bad is the Traffic in Las Vegas? (What You Need to Know)
FeelingVegas – Our Picks For Best Las Vegas Hotels 👍
Is it LOS or LAS Vegas? (Explained)
Sources:
LAist: Best and Worst Days to Drive on LA Freeways