How Many Uber (Lyft) Drivers are There in Las Vegas?
(This article may contain affiliate links. If you click through and make a purchase, we will receive a small commission at no additional cost to you. )
With annual visitors numbering in the millions, it only makes sense that as a Las Vegas local there ought to be a way to make a full or part-time living from the overwhelming number of tourists in this town.
One of the first ideas locals in Vegas usually have is to drive for Uber or Lyft. After all, these tourists need to get around somehow. So how many Uber and Lyft drivers are there in Las Vegas and can you make any money driving for one of these ridesharing companies?
There are 5,200 Uber and Lyft drivers registered in Las Vegas, Nevada although not all the drivers on record are currently active. The number of rideshare drivers in Las Vegas has grown dramatically in the last few years making it more difficult for drivers to earn a decent living.
In this article, I'll go into detail about the number of Uber & Lyft drivers in Las Vegas, their working conditions, salaries, and a few of the benefits and downsides to being a rideshare driver in Las Vegas. Keep reading to find out if becoming an Uber or Lyft driver would be a good way for you to make a living or some extra cash.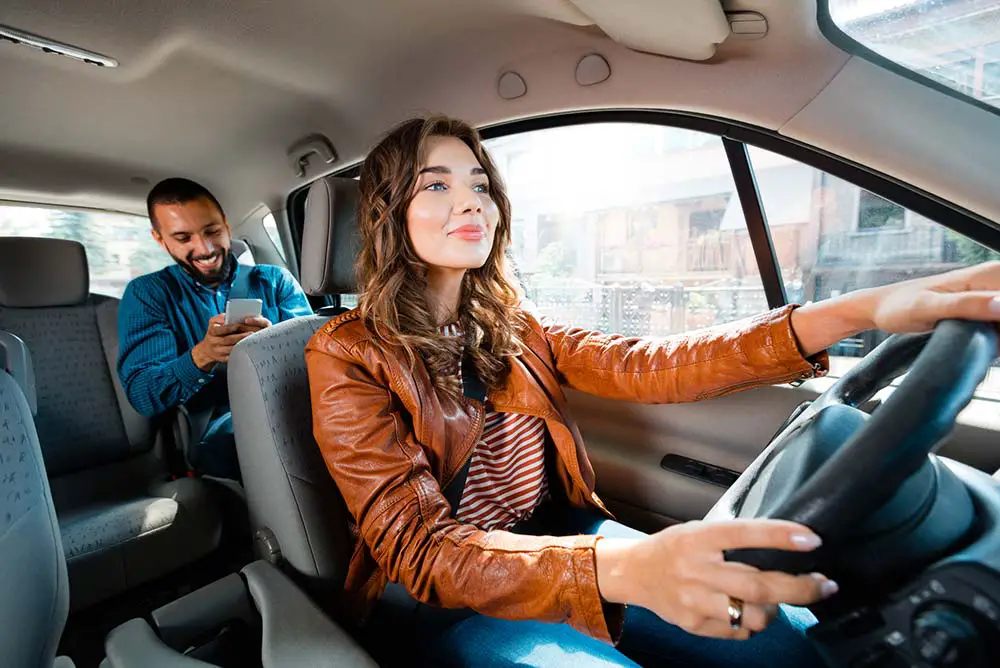 Are There Too Many Uber and Lyft Drivers in Las Vegas?
When talking about the exact numbers, I managed to learn that in 2018, there were around 5,200 registered drivers in the Clark County area.
Clark County, of course, is the southernmost county in Nevada, whose main city is Las Vegas. Clark County has a population of around 2,200,000 people and covers an area of 8,061 square miles, although outside of Las Vegas it's very scarcely inhabited due it being mostly empty desert.
The number of Lyft and Uber drivers (and revenue generated) has been steadily increasing since they started operations in Las Vegas in 2016, especially when compared to taxi drivers, whose revenue is steadily decreasing due to the influx of Uber (and Lyft) drivers.
As way of comparison in 2019, there were around 3,530 registered taxi cabs in the whole of Southern Nevada, but that number certainly gets lower once you limit it to just the Las Vegas area and take into account the increase of Uber drivers during recent years.
With so many drivers competing for the same business it goes without saying that revenue for all the drivers goes down. So yes, we may be reaching the point where there are too many Uber and Lyft drivers in Las Vegas. But it really depends on your needs and if you're looking for full-time or part-time work.
How Much Do Uber and Lyft Drivers Make in Las Vegas?
The number one question for potential Uber and Lyft drivers in Las Vegas is how much can I make?
On an annualized basis, an Uber or Lyft driver in Las Vegas can make in the range of $36,000 and $45,000 on average. Since this an average it is important to note that there are many rideshare drivers in Las Vegas who earn significantly less and a small percentage that earn more than $45,000 per year.
On top of those earnings, the Uber and Lyft ridesharing apps both encourage the tipping of drivers in Las Vegas, so there might be some extra income right there, if you're lucky to find a generous client and are friendly.
Declining Revenue For Uber and Lyft Drivers in Vegas
As far as the salaries go, however, the situation is changing for Lyft and Uber drivers. Namely, Las Vegas (outside the tourist corridors) isn't really a huge rideshare town.
Vegas is not that large, many people have their own cars, there's plenty of parking around town and it's nothing like large cities (think New York City) where everyone needs a cab or an Uber on occasion to get around.
The biggest area of opportunity for rideshare drivers in Vegas are in the tourist areas where thousands upon thousands of visitors need rides every day.
While Uber and Lyft drivers get to keep up to 80% of the fare collected, it's important to know that the income for rideshare drivers fluctuates from week to week and throughout the year.
Around Christmas time or during a big event in town, a driver can earn more than $100 a day, while at other times of the year – when the influx of people is not as high – the daily income can be around $25 or less (remember though that this might only be for a couple of hours of work, not a full 8-hour work day).
I think it's fair to say that there are becoming too many Uber and Lyft drivers in Las Vegas for the majority of drivers to make a good full-time living, although the opportunities of a profitable side-hustle may still be quite good.
Angry Taxi Drivers
Uber and Lyft rides are – as far as Vegas is concerned – known to be notoriously cheap when compared to regular taxi cabs. Cab fares tend to cost twice as much as regular Uber rides, which – although not terribly expensive – is still more than a ride should cost.
This explains why taxi drivers were very angry when Uber and Lyft moved into town and have been continuously calling for reformations of local legislation to help even out the playing field.
And true, it's not really fair. There are a lot of regulations and associated costs controlling the operation of taxi companies in the city and relatively little barrier to entry to become a rideshare driver. Compared to becoming a taxi driver, starting to drive for one of the ridesharing services is quite simple and inexpensive.
A new taxi driver has to attend orientations, get fingerprinted, have a complete background check and be in possession of an up-to-date health certificate. This all cost time and money, while all a potential Uber or Lyft driver needs to do to drive in Las Vegas is sign up on one of the apps and get a Nevada business license that costs around $200.
Pros and Cons of Driving for Uber or Lyft in Las Vegas
As with any job, there are some pros and cons to driving for either Uber or Lyft in Vegas. Let's take a look at some of these.
Pros
Flexible Schedule – Set your own hours and work as much or as little as you want. This is a really good perk all-round but particularly if you're looking for a part-time gig.
Independent Contractor – As an Uber or Lyft driver you are considered an independent contractor rather than an employee. This means you can deduct any associated business expenses when it comes to paying your federal taxes.
Nevada State Taxes – While we're talking about taxes, it's important to point out that Nevada has no state income tax. While this applies to any job or income you earn in Nevada, it's nice to know that it also applies to your earnings as a rideshare driver in Las Vegas.
Meet New People – If you're a people person, working with Uber (or Lyft) might just about be the perfect job. In Las Vegas you'll have the opportunity to meet, and chat up visitors from all over the world.
Cons
Insurance – As a driver for a rideshare company, your standard, personal auto insurance won't cover you while you're driving for a ridesharing service. Uber and Lyft provide some additional coverage but you'll want to double check with your insurance company.
Maintenance – Since you'll be driving your own vehicle, all the wear and tear, repairs, and maintenance will fall on your shoulders. In addition to the added expenses, the more miles you put on your car the less the car is worth.
Possible Late Nights – Las Vegas is a 24/7 town and you may find that the most profitable times to drive are during hours you'd rather not be working.
Meet New People – While you'll be meeting some of the finest people you've ever met, you'll also be meeting some of the worst. In Las Vegas that means you'll have the occasional loud, drunk, obnoxious tourist who causes problems then throws up all over your back seat. Fortunately, both Uber and Lyft have ways to help compensate you for these incidents and you'll also have the ability to block bad fares from future rides.
There are pros and cons to any job but it's up to you if any of these benefits or problems are make or break for you.
How To Become An Uber or Lyft Driver in Las Vegas
While becoming a driver for either Uber or Lyft in Vegas is relatively simple, there are still a few requirements and steps to take. These are:
Drivers must be at least 21 years old (minimum 3yrs. driving experience)
Have an up-to-date Nevada state drivers license and social security number
Drive a car that is no more than 15 years old (good condition & no salvage title)
Auto must be able to hold four-passengers
Complete a background check (clean driving record, no accidents or DUIs)
Must have qualifying auto insurance
As an independent contractor you will need both a local and Nevada State business license ($200).
Must have a smart phone that can use the Uber or Lyft apps.
That's about all there is to it if you want to become a rideshare driver in Las Vegas. There are a few things to do but it's mostly pretty simple stuff and it's a lot less than what you'd have to do to become a registered taxi driver.
Conclusion
Now you have a better idea about what it's like to drive for Uber or Lyft in Las Vegas, including salary and basic requirements as well as some pros and cons of being a rideshare driver in this town.
Although the field is getting more crowded, the general conditions are still good and an Uber or Lyft driver can earn between $36,000 and $45,000 per year, which is a solid income. If you add the bonuses and more work around the holiday period, Uber drivers can have a decent living in Las Vegas as the conditions allow it.
We hope you've found all the information you had been looking for and that this article was helpful enough. We advise you to keep following us for more of the same and see you next time!
Related Articles
Is it Hard to Find Work in Las Vegas? (Top Employers!) – Find out here
Is it Expensive to Live in Las Vegas? (Average Costs To Live) – Read article
How Much Do Dealers Make in Vegas? – Article here
Is Phoenix Hotter Than Vegas? – All You Need to Know!
---
Sources:
Strategy Analytics: Las Vegas Strung Out on Uber
Salary.com: Uber Drivers in Vegas
Las Vegas Review Journal: Tipping Through Uber
Business Know-How: Pros and Cons of Driving for Uber