Do Las Vegas Locals Go to the Strip? The Truth is…
The Las Vegas Strip…the stuff of legends! The place millions of tourists from all over the world visit each and every year. The gaming, the incredible nightlife, the amazing shows, so much fun, and yet one can't help but wonder what it would be like to live here?
After having spent several years or even their entire lives living near the Strip, are the locals just as excited as the tourists about spending time on Las Vegas Boulevard?
While some local Las Vegas residents frequently go to the Las Vegas Strip for work or the occasional evening out, the majority of locals visit the Strip just once or twice a year, and usually only when they have out-of-town guests to entertain. The Strip is too crowded and expensive for most locals.
Las Vegas locals prefer to congregate in more familiar off-Strip casinos and venues, but this isn't to say that locals don't go to the Strip occasionally. This guide will explore some of the more preferred attractions and venues frequented by Las Vegas residents, as well as some of the reasons that locals go to the Las Vegas Strip.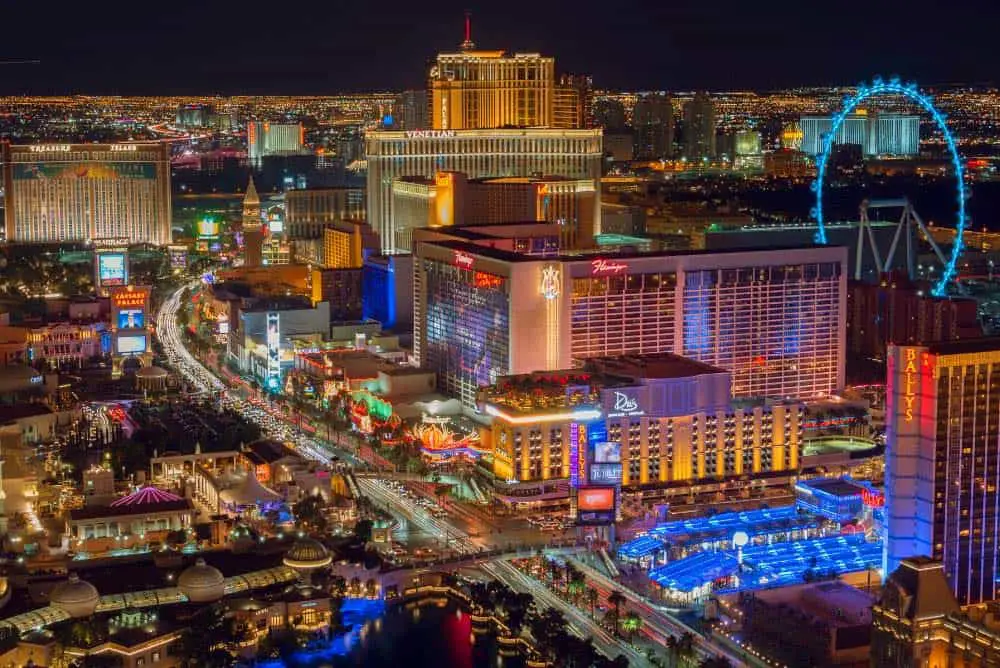 (This article may contain affiliate links, which means we might earn a small commission if you click and make a purchase. Thank you!)
What Brings Las Vegas Locals to the Strip?
Much like the rest of us when we are at home, visiting popular nearby tourist destinations is considered no big deal and are generally places that we go to only occasionally for special occasions. This mentality is the same for Las Vegas locals, just as it would be for Orlando, Florida residents in terms of going to Walt Disney World.
With this in mind, the Las Vegas Strip is a mecca for leisure, as well as employment opportunities. Here are some things that bring locals to the Strip:
Employment
The Las Vegas Strip is essentially the main tourist attraction within Las Vegas. Many of the casinos and hotels on the Strip are world-renowned, which creates many employment opportunities for Las Vegas locals.
The lure of working in a high-end casino, for which many have attractive pay and benefits, is a big draw for locals looking for work. 
According to the Las Vegas Convention and Visitors Authority, tourism in and around the Las Vegas Strip employs roughly 234,000 workers. This is a lot of jobs, and one of the primary reasons that many locals go to the Las Vegas Strip.
With this in mind, worker fatigue is likely a primary reason that many locals do not share similar feelings about the Strip when compared to tourists and frequent visitors. 
If you spent all week working somewhere, would you really want to go back there to spend your off-hours? I didn't think so.
But apart from work, there are locals, such as myself, who enjoy experiencing the Strip's entertainment every once in a while.
Since we don't work on the Strip, my wife and I look forward to playing tourist. Let's face it, Las Vegas is fun, and there is always something new to do. Hitting up the Strip makes for a perfect date night!
Check out 10 Romantic Things to Do in Las Vegas For Couples in our article here.
The Las Vegas Strip is also home to many events throughout the year, which are primary attractions for both visitors and locals alike.
Events
There are numerous annual events that are spread out across the greater Las Vegas area, yet there are also a few yearly events that bring locals to the Strip. 
The Rock 'n' Roll Las Vegas Marathon is held every November on the Las Vegas Strip. This marathon allows participants to run all along the Las Vegas Strip at night while being entertained by live rock bands all the way to the finish line.
The Strip is usually bustling with activity, but this event is perfect for taking an evening to see and hear all of the sights and sounds of this iconic stretch of road. 
New Year's Eve is nothing short of an extravaganza on the Las Vegas Strip, where non-stop parties, music, gambling, and revelry can easily rival Times Square in New York City. Locals do not have to bother with the exorbitant hotel prices on the Strip, which makes this a truly popular annual attraction.
Employment and annual events are one aspect of the Las Vegas Strip that brings in locals, yet there are also some local hangouts on the Strip that are popular year-round.  
Where Do Las Vegas Locals Prefer to Congregate? 
In a 2010 article on gaming research for the University of Nevada Las Vegas (UNLV), the author observed that neighborhood casinos differentiate themselves to better serve Las Vegas locals as opposed to tourists or the super-rich.
These venues are spread out across the Las Vegas valley, yet there are still some hangouts on the Strip that locals enjoy.
Local Hangouts on the Las Vegas Strip
Although Las Vegas locals tend to prefer more regional hangouts in Downtown Las Vegas, there are some venues on the Strip that see an even mixture of tourists and locals alike. 
The Chandelier, located within the Cosmopolitan on the Las Vegas Strip, offers locals a chance to relax from the busy action on the Strip with expertly-crafted drinks and a chance to socialize with friends and visitors.
Although this lounge is ultra-high-end, it provides locals a great spot to experience the best of the Strip nightlife without the elbow-to-elbow foot traffic. 
The Vista Cocktail Lounge in Caesars Palace is a popular destination for workers who need a nightcap after a busy day in the casinos. This bar has an atmosphere that is mixed between a laid-back lounge or a high-energy nightclub, depending on the vibe of the guests. 
Similarly, The Beerhaus Bar, located in The Park, between New York, New York, and Park MGM, has a more intimate and reasonably priced menu in contrast to most lounges and restaurants on the Strip. 
Most of these locations are tourist hotspots, but locals are prone to pop in on occasion as well, even though Downtown Las Vegas is the preferred local hangout.  
See why many locals prefer Fremont Street in Downtown Las Vegas to the Strip in our article here.
The Verdict: Why Do Las Vegas Locals Stay Away From the Strip?
Day-to-day life for Las Vegas residents is not a non-stop party on the Las Vegas Strip. Work, finances, and the hustle and bustle of life is not what tourists on the Las Vegas Strip are in town for.
The entire city can be an attraction for visitors, but the Strip is the primary epicenter for Las Vegas visits. Locals prefer more regional leisure activities in the Downtown area, especially since a large majority of them work on the Strip. 
Think about it. If you work in Yellowstone National Park five days a week, you are already enamored with all of the attractions and scenery; you constantly experience what visitors are in awe of.
Large crowds of people, especially in a party city like Las Vegas, can become tiresome, which makes local hangouts much more appealing. The vibe is slower and more lived-in; local hangouts do not make Las Vegas residents feel like they are at work. 
Although the Strip is fun at certain times, for Las Vegas locals, this area of 'Vegas' is essentially the epicenter that keeps the city thriving. The Strip is more of a business transaction to ensure economic prosperity instead of a place that inspires constant excitement and leisure. 
There is another more pragmatic reason that most locals avoid the Strip, and that is cost. Why pay $9 for a beer on the Strip when you can get one at a local casino for $1.50. Let's face it, things on the Strip just cost more.
Strip prices are fine when you're on vacation, but for day-in, day-out living it's just too expensive for locals to spend much of their time socializing on the Strip.
Find out if Las Vegas is a Good Place to Live for Families in our article here.
Conclusion
Las Vegas locals generally go to the Strip for two primary reasons:
Employment. A large majority of the Las Vegas population works on the Strip.
Occasional leisure. Although other areas of the city are more attractive to locals, the Strip is fun to take-in every now and again. 
A few venues on the Las Vegas Strip are attractive to locals, such as lounges and restaurants, but locals would much prefer to spend their time in areas of the city that do not frequently see large masses of tourists. Las Vegas has quite a lot to offer regionally. 
You'll Love These Articles as Well