The Average Electric Bill In Las Vegas (Sharing My Energy Bills)
(This article may contain affiliate links. If you click through and make a purchase, we will receive a small commission at no additional cost to you. )
Every time I've moved, whether it was to a new state or just across town, I've always wondered with some apprehension what the electric bill would cost in the new place.
Moving to Las Vegas, there was a big question mark because I knew we'd be running the air conditioning non-stop for part of the year and I'd heard scary rumors of people having $700 electric bills. Yikes! Now that I've lived here for several years, I have a pretty good understanding of what to expect and I can help you answer the question: How much does the average electric bill cost in Las Vegas?
The average electric bill in Las Vegas is $135 a month with residents paying $0.10698 per kilowatt hour. Energy bills can be higher or lower depending on many factors including type of home and individual usage. NV Energy in Las Vegas offers customers an "Equal Pay" plan to keep electric bills predictable throughout the year.
I've written this article to help you figure out how much the average electric bill costs in Las Vegas using my personal information and actual electric bills, so that you can get a sense of just how much your energy bill will be in Las Vegas. Keep reading to find out all the details.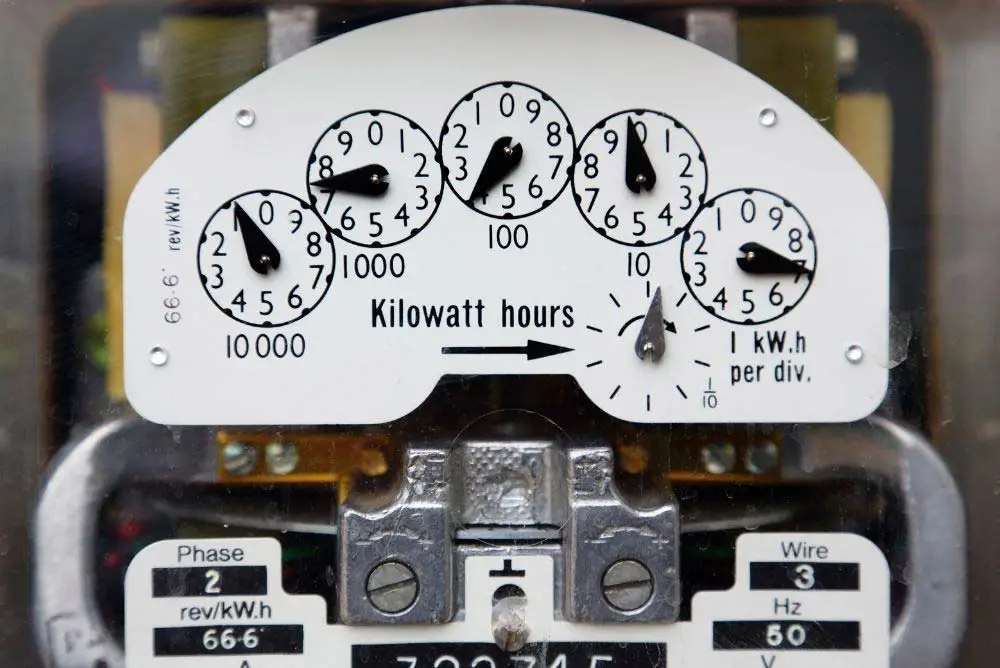 Is Electricity Expensive or Cheap in Las Vegas, Nevada?
Electricity in Las Vegas is cheap when compared to many areas of the country. In fact, Las Vegas's energy prices have fallen by 14% since 2009. This is due to an increased use of renewable energy resources such as solar and hydroelectric power.
As I mentioned earlier, the current rate for residential electricity in southern Nevada (including Las Vegas) is $0.10698 / kWh. Compare this to the overall range of rates in the U.S. of $0.0837 to $0.3734 and the electricity rate in Las Vegas is looking pretty good!
Not knowing what to expect when we moved to Las Vegas from the Pacific Northwest, I was pleasantly surprised to find that our energy bills here were less expensive overall. Sure, the bill jumped up quite a bit during the summer months but fell significantly during other times of the year (see my bills below).
According to Move.org Nevada as a whole ranks #12 on the states with the cheapest utilities in the country. When it comes to electricity specifically, the average electric bill of $135 in Las Vegas is just slightly higher than the U.S. average of $110.
This is pretty amazing when you consider just how hot the summers are in Vegas! Summer days average temps well into the 100's with many days over 110°F.
Where Does Las Vegas's Electricity Come From?
The majority of Las Vegas's power comes from several natural gas power plants located in Clark County (the county Las Vegas is located in). Altogether these plants produce over 3,900 megawatts of electricity.
In recent years, Las Vegas has been getting more and more of its electricity from renewable solar applications. These consist of both large solar arrays and individual solar systems placed on the roofs of homes and businesses.
Does Hoover Dam Supply Electricity to Las Vegas?
The Hoover Dam does supply electricity to Las Vegas, but not very much.
While it would make sense that one of the world's largest hydro-electric dams would provide large amounts of energy to Las Vegas, the truth is that Vegas doesn't get much energy from Hoover Dam.
Although Hoover Dam creates about 4 billion / kWh of power every year, it only adds approximately 355 megawatts to the southern Nevada power grid annually. The majority of the energy produced by the dam gets used by California and Arizona.
Basically, even though Nevada owns half the energy produced by the dam, the state can make more money by selling the energy to California instead. Nevada can make its own energy for cheaper using other means.
Specifics Of My House That Affect Energy Usage
Alright, now it's time to get to the good stuff, my actual NV Energy bills! But before we look at the bills, I need to share with you the specifics of my house so that you can have some basis of comparison for your own situation.
| Type of Home | Sq Footage | Stories | Pool |
| --- | --- | --- | --- |
| Single Family House | 1,476 | Single Story | Yes |
Our house specifics
We live in a single family home built in 1965 on the east side of Las Vegas. Three adults (my wife, myself and my adult son) and two dogs occupy the home. The house is one story and is 1,476 square feet.
In addition to the size of the home and the number of occupants there are a number of things about the house that effect our electric usage. First, and probably the most important is that the home has been completely redone.
Updates To House
In 2010, the house was taken down to the studs and rebuilt. So while the bones of the house might be from 1965, the guts have been updated. Here's a list of the things that were updated that I believe are affecting our energy bill in a positive way:
New wiring and electrical box
Updated insulation
Double pane windows installed throughout
New air conditioner and air handler
The newer insulation, double pane windows and more energy efficient air conditioner should all have a large positive benefit over an older home with none of these updates.
Swimming Pool and Above Ground Hot Tub
Although the house has been updated in a way that is definitely saving us energy, there are a couple of things I want to point out that I think make our household use more energy than some other households.
The first one is the in-ground swimming pool. A pool will, without a doubt, cause an increase in the electric bill. Sources I looked at estimate the electricity usage of a pool to be between $50 and $150 a month but from my estimates, it seems like we are paying no more than $30 a month or so for the pool pump.
We just have a single speed pump that isn't terribly energy efficient but because of this awesome device, we only need to run our pool pump 3 – 4 hours a day instead of the 8 – 12 hours recommended by most experts.
We also have an above ground hot tub which is heated all the time. I've estimated that this is costing us somewhere around $20 a month to use and keep heated.
So altogether, the pool and hot tub are running us maybe $50 a month to operate. I may have even over estimated this.
Work From Home
The second thing that increases our energy bill is that we work from home. That means that in addition to all the extra computer power, lights, etc. we use throughout the day, it also means that our heating and cooling electric costs never get a break.
If we left the house each morning for work, and returned again in the evening, we would adjust our thermostat temperature to be slightly warmer or cooler than what would be comfortable if we were at home. Our energy costs would be less during the day because the house was empty.
Since we're home most of the time, we have to keep the house at a comfortable temperature all day and night long.
My NV Energy Bills (Winter, Spring, Summer & Fall)
Okay, so with that out of the way let's get to our Las Vegas NV Energy electric bills. Below you'll find a bill for each of the four seasons. I've chosen the months of October (Fall), January (Winter), April (Spring), and July (Summer) because each one of these months illustrates the extreme of the season.
I'm showing you the full bill, front and back (minus our personal information) so you can see everything. I've highlighted the most important areas in red that shows the energy usage for that specific month.
Average Electric Bill In Las Vegas in Fall (2019)
This is our NV Energy electric bill for the month of October. Fall in Las Vegas is really nice. The weather has cooled off from the blazing hot temperatures but it's still nice. The average daytime temp is 83°F, while the low at night is around 46°F.
Fall in Las Vegas is a season where we don't have to use much cooling or heating. This saves a lot of energy and our electric bill is quite low. You can see our "current charges" for the month are just $99.14. That's the amount of electricity we are being billed for the month.
There are a couple of things showing on this image. First you can see the service date (Sept 27th to October 28th). Second you can see all the fees and service charges. Notice that rate and fees changed in the middle of the month. NV Energy regularly updates fees and rates. Some went up and other down. Overall, NV Energy has been pretty regularly dropping the rates over the last decade.
Note that even though our bill was $99.14 we are being billed $108.00. This is because of the "Equal Pay" program which I'll explain in detail further below but for now the most important number to note are the "current charges".
Average Electric Bill In Las Vegas in Winter (2020)
Next up is our electricity bill for the month of January. January is the coldest month in Las Vegas with an average daily high temperature of 59°F and an average nightly temp of 28°F.
The most important thing to note here is that we have natural gas heat. Even though our heat is provided by gas, it's central heating, so our air handler is still working to blow warm air throughout the house which is using electricity but it's not working nearly as hard as when the weather gets warmer and the A/C is running.
Another thing I should mention, is that during the winter we keep our thermostat set to around 70°F during the day. It can get a little cold in the rest of the house but since I'm spending a lot of time in my office during the day, I use a small electric space heater to keep that area a couple of degrees warmer.
It's interesting to see here that our electric rate per kilowatt hour (kWh) changed again. This time it went down to $0.10963. You'll see on the rest of our bills that it changes a little every month based on the cost for NV Energy to generate the electricity.
Average Electric Bill In Las Vegas in Spring (2020)
Spring is another time of year when the weather's so nice in the Las Vegas Valley that we don't need much, if any, heat or air conditioning. Here's our bill for April.
There's not much more to say about that. The bill is back down to around its lowest point again.
Average Electric Bill In Las Vegas During Summer (2020)
Here's the one you've been waiting to see! Our summer electric bill for July, which is the hottest month of the year with an average daily temperature of 107°F and average nightly low temp of 67°F.
Here you can see that the current charges jumped up to about double what we'd been paying for the other months of the year (also compare the cost per day). When the temperatures get this hot in Las Vegas our air conditioner is running off and on 24/7.
As far as where to set the thermostat during the summer, I think people in Las Vegas are of one of two minds. First, there's the crowd that sets the thermostat to around 80°F and turns on all the ceiling fans. Then there's the crowd that prefers the household temperature during the summer to be in the low to mid-70's. Guess which one of these groups has a high electric bill?
My household is definitely in the first group. In summer, our thermostat is set permanently to 80°F, day and night, and we have ceiling fans in every room. When we were first moving to Las Vegas, a realtor told me that keeping your thermostat set around 80 with a ceiling fan running was the best way to stay cool without blowing up your electric bill, and she was absolutely right!
Year Round Las Vegas Thermostat Settings For Energy Savings
These are considered to be the idea thermostat settings by season in Las Vegas. These settings will balance your need for comfort while protecting your pocketbook.
| Season | Ideal Thermostat Settings For Las Vegas |
| --- | --- |
| Summer | Set thermostat to between 77 – 80°F and turn on the ceiling fan for the room you're in. |
| Fall | Same settings as summer as there will still be occasional hot days. |
| Winter | Set thermostat to 67 – 70°F during the day and turn it down to 65 – 66° at night. |
| Spring | Same settings as winter as there will still be some cold mornings. |
Obviously, these are just suggestions. The thermostat police won't show up at your door. However, if you deviate too far from these settings, particularly during summer, you'll feel the pain when your electric bill shows up in the mail.
Electric Charges Month By Month
I want to show you one last table that gives a pretty clear picture of our electric usage and bill amount month-by-month throughout year, so you can get an idea of what you'll be paying for electricity in Las Vegas annually.
Month
Kilowatt Hours
(kWh)
Monthly Charges
January
844
$110.04
February
792
$103.99
March
811
$106.17
April
787
$100.55
May
1,126
$138.10
June
1,444
$173.40
July
1743
$203.72
August
1,665
$195.12
September
1,133
$149.76
October
728
$99.14
November
763
$103.01
December
923
$121.87
Total:
12,759
$1,604.87
This table really shows which months have a big increase in kilowatt hours used due to hot weather, and the effect those months have on our electric bill.
Las Vegas Electric Costs Per Square Foot and Estimating Your Homes Energy Bill
Now that we have all the numbers for our home we can figure out what we are paying in electric costs monthly per square foot. If we take the total annual dollar amount that we pay for electricity in Las Vegas ($1,604.87) and divide that by the total square footage of our house (1,476), and then take that number and divide it by 12 months, we'll have the amount we pay for electricity per square foot on an average monthly basis.
$1,604.87 ÷ 1,476 = $1.087 (average cost per square foot annually).
$1.087 ÷ 12 months = $0.091 (average monthly electric costs per square foot).
So now that you know we pay $0.091 per square foot each month based on the specifics of our home and energy usage, you can use this number to get a rough estimate of how much you will pay on average per month based on the square footage of your home or apartment.
Note: This is just a rough estimate and can't possibly take into consideration the differences in individual homes, insulation, energy saving appliances, lifestyle, thermostat settings, etc.
Call NV Energy For An Estimate
There is another way to estimate a homes monthly energy usage! If you're thinking about buying or renting a home or apartment in Las Vegas, give NV Energy a call (702) 402-5554 and give them the specific address of the home you're considering.
They can provide you with an estimate of your monthly bill based on the last 12 months of energy usage for that particular home. It, of course, won't be entirely accurate based on lifestyle differences between the occupants but it will keep you from getting any big surprises when your first bill arrives.
NV Energy Equal Pay Program
Now let's talk about NV Energy's Equal Pay Program. This program essentially allows you to pay the same amount every month so that you can avoid getting hit in the summer with much higher bills.
This is an optional program that you can request at any time but you have to make sure it's set up as you won't be a part of this program automatically. I recommend starting it as soon as you begin your service, which by the way you can do either by phone (800) 331-3103) or online via NV Energy's website.
The program works by having you pay a slightly higher amount most months when your energy usage is lower so that you can build up a bill credit that applies to your bill when your energy usage goes up.
NV Energy will make automatic adjustments to your monthly equal pay a couple of times a year to make sure that you're paying the correct amount.
These adjustments will either go up or down based on your energy usage over the last several months. You can see in our April bill above that our equal pay amount changed from $108 a month to $128 a month because we had been using more energy lately.
Final Thoughts
Moving can be is stressful, and not knowing what to expect when it comes to how much you will be paying on average for electricity in your new Las Vegas home is just one more thing to worry about.
Hopefully, I've provided you with some good information and ways to gauge your Las Vegas electric bill. Thankfully, the cost of electricity in Las Vegas is among the cheapest in the country. If you can manage to keep from cranking the A/C all the way up during the summers, I think you'll find your electric bill to be quite manageable.
Related Posts (Living in Las Vegas)
Sources: