Mandalay Bay vs. Delano: Which Is Better? (Las Vegas)
So, you've decided that Mandalay Bay is your destination of choice for your Las Vegas trip. But then you spot, tucked away in the corner of the same resort property, the luxury all-suite hotel, the Delano. They both sound so good, but now you need to decide between them. Mandalay Bay vs. Delano which one is better?
Mandalay Bay is the better choice if you want a resort that has entertainment, attractions, and a large casino floor all rolled into one. On the other hand, you will want to choose the Delano if you want access to all that Mandalay Bay offers with an extra degree of luxury.
The table below summarizes some of the main features of each hotel.
Category
Mandalay Bay 
Delano
Standard Suite Price
From $94 average/night 
From $134 average/night
Resort Fees
$39 per day

$39 per day
Parking Fees
Self-Parking: $15 daily
Valet: $26 – $30 daily
Self-Parking: $15 daily
Valet: $26 – $30 daily
Location
Southern end of the Strip
The south end of The Strip
Major Shows
– Michael Jackson ONE by Cirque du Soleil
– The House of Blues
Access to all Mandalay Bay shows
Pools
– 3 full-size pools
– adults-only pool
– 1.6 million-gallon wave pool
– Sandy beach and lazy river
– 1 pool exclusively for Delano guests
– Use of Mandalay Bay Beach
Nearby Attractions
– Shark Reef Aquarium
– Concerts on the Beach
– Mandalay Bay Events Center
– Bathhouse Spa
– Plus access to all Mandalay Bay attractions 
Mandalay Bay and Delano: Comparing the basics
(This article may contain affiliate links, which means we might earn a small commission if you click and make a purchase. Thank you!)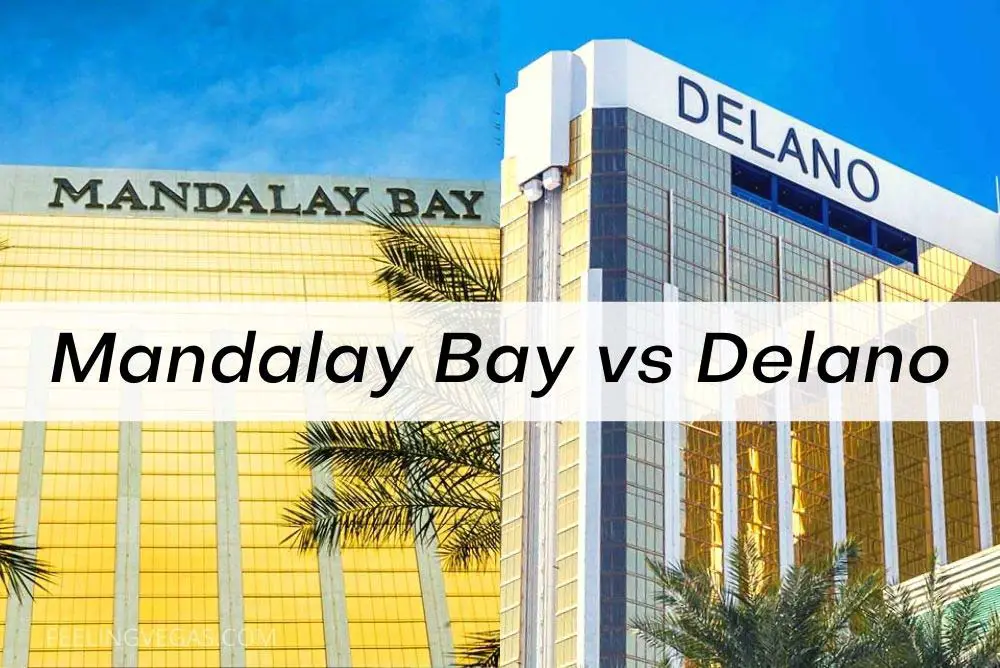 Name: Mandalay Bay
Address: 3950 S Las Vegas Blvd
Casino Floor: 135,000 sq ft.
Year Built: 1999
Number of Rooms: 3,209
Name: Delano Las Vegas
Address: 3940 S Las Vegas Blvd
Casino Floor: Shares Mandalay Bay casino
Year Built: 2003
Number of Rooms: 1,117
Looking at this table, you're probably thinking there are more similarities than differences. So, you're really going to need more information to choose between them. Well, let's take a closer look.
Mandalay Bay vs. Delano — How Do They Compare?
The Delano is a boutique all-suite hotel with the type of amenities you'd expect from a high-end stand-alone hotel, like restaurants, a pool, spa, and gym. It's not a casino resort, which is what distinguishes it from the Mandalay Bay. 
The Delano will be a little quieter, and more exclusive with some upgraded amenities for just a bit more money per night.
Since, the Delano forms part of the larger Mandalay Bay property, and there's easy covered access between them. It's probably a 3-minute walk from the Delano to Mandalay Bay's casino. Delano guests are free to use the amenities of Mandalay Bay, so you're never far from the excitement.
With that overview out of the way, let's get into the details.
Comparing The Standard Suites at Mandalay Bay and Delano
Since the Delano is an all-suite hotel, it's sensible to compare the resorts' standard suites. So, let's see:
Mandalay Bay
Delano
Elite King Suite:
– 683ft² (63.5m²)
– King bed
– Floor-to-ceiling windows
– 42''(107cm) LED TV
– Double sinks, stone countertops, soak tub, and separate glass-enclosed shower
– A spacious seating area, sofa, and two chairs
– Wifi
– Desk, media hub and charging points
– Minibar with snacks and drinks at a cost
– Max guests, 4
Delano King Suite:
– 725ft² (67m²)
– King bed
– Floor to ceiling windows in the living room and bedroom
– 55" (140cm) LED HDTV in living room, 46" (117cm) LED HDTV in bedroom
– Marble and granite surfaces, double sinks, soak tub, separate glass-enclosed shower, and TV
– Separate living room seating
– Wifi
– Desk 
– Minibar with snacks and drinks at a cost
– Media hub and charging points
– Half bathroom
– Max guests 5
Comparing the standard suites at Mandalay Bay and The Mirage
As you can see, the Delano suite seems to offer just that little bit extra in size and overall amenities.
The separate bedroom and living room, and the half bathroom give it a more premium feel.
The floor-to-ceiling windows give both suites a light, airy ambiance which compliments their fresh, modern decor. Mandalay Bay opts for a palette of blues with bursts of green for its stylish feel. On the other hand, the Delano relies on white, with a touch of grey for its contemporary look.
If you want a separate bedroom and living area at the Mandalay Bay, you'd have to step up to the One Bedroom Penthouse Sky View Suite. 
Although you'd get 1050ft² (97.5m²) of space with seating for ten, and a half bathroom, prices start at $148 per night. However, that includes complimentary access to some facilities at the spa.
But, unless you're planning daily Spa visits or intend entertaining in your room in numbers, the extra cost may not be money well spent.
On balance, if you stick to the entry-level suite, the Delano looks like an excellent deal compared to Mandalay Bay's offering.
Dining (Mandalay Bay vs Delano)
There's no point comparing the range of eating options at these two hotels because the Mandalay Bay easily outstrips the Delano.
It has about thirty restaurants, cafes, and bars to choose from. They offer a variety of cuisines to suit all tastes and budgets. Whether you want a quick bite or a more relaxing meal to linger over, you'll be well covered. 
You'll even find some famous chefs here, like Wolfgang Puck serving up Italian at his restaurant, Lupo. Or, the stylish French bistro, Fleur, that bears the name of Hubert Keller.
So, staying at the Delano, you'll have access to all this, but also to its own dining options.
There's a coffee shop called 3940, as well as at Della's Kitchen, providing breakfast and lunch. Franklin lounge bar in the Delano's lobby is a comfortable spot for drinks, cocktails, and snacks.
The jewel, however, is Rivea, on the 64th floor, giving stunning views from its perch at the top of the Delano's tower. It's French and Italian dishes are the offerings of acclaimed chef Alain Ducasse.
So, if your stay is short, the Delano's on-site options should more than cover your needs. For a more extended stay, you may want to make the short walk over to Mandalay Bay.
Shopping at Mandalay Bay and Delano
For shopping, Delano's needs are catered to by The Shoppes at Mandalay Place. 
The entrance to Mandalay Place is right near the point at which you enter Mandalay Bay from the Delano. So, easy and convenient.
Casino vs No Casino
You'll already appreciate the Delano has no casino. 
However, the short walk from its lobby to Mandalay Bay brings you out into the 135,000 square foot casino area. On your way, you'll pass the Mandalay Bay's sportsbook and poker room, so they're probably closer than if you stayed at Mandalay Bay itself.
Entertainment at Mandalay Bay vs. Delano
Again, Manadaly Bay has a lot to offer in terms of entertainment, while Delano does not. But, the walk between the two hotels takes you right past the Mandalay Bay's main attraction, Cirque du Soleil's Michael Jackson ONE. 
Also, the distance from the Events and Convention Centers is probably about the same, whichever property you stay at.
If you're all about relaxing by the pool, Delano guests have exclusive use of its own pool. Because of the exclusivity, it's a more relaxing atmosphere than Mandalay Bay's pool area. There are also cabanas for hire to enhance your poolside experience.
The Mandalay Bay pool area is called Mandalay Bay Beach and it is one of the best pool areas in all Las Vegas. This aquatic playground encompasses 11 acres of pools and sandy beaches, including a lazy river and wave pool!
If you think you'll be missing out on this spectacular pool by staying at Delano, then think again. As a Delano guest you will have full access to everything at Mandalay Bay Beach.
Can't resist trying out the wave pool or floating down the lazy river? Well, as a Delano guest, you'll be further away from Mandalay Bay's pool complex than if you stayed in one of its rooms. However, it's only, a 10-minute walk, so unless you plan to visit several times a day, it's not a real hardship.
What Else?
Of course, in keeping with the exclusive feel the Delano strives to cultivate, the hotel has its own entrance and lobby. As it only has 1,117 suites, compared to the Mandalay Bay's 3,309 rooms and suites, check-in may be less congested. 
The Delano also has its own valet parking and is closer to the car park, which serves both hotels.
Conclusion
As you've gathered, there's not much disadvantage to staying at the Delano rather than the Mandalay Bay. 
Your choice will ultimately turn on whether you like to be in the thick of the Vegas atmosphere. If so, go with the Mandalay Bay. 
If you prefer to have a calm, spacious retreat with a separate bedroom and living room, then the Delano will be the perfect fit. But you'll still have easy access to all the fun.
Other Las Vegas Hotel Comparisons
Compare a few of these other popular Las Vegas Hotels below or check out all of our hotel comparisons here.
Mandalay Bay vs Bellagio: How to choose? – Article here
MGM Grand vs. Mandalay Bay: Which Is Better? – Read it here
Mandalay Bay vs. Mirage: Who does it better? – Find out here
Mandalay Bay vs. Luxor: Which to choose? – Find out!
Sources: