Paris Las Vegas vs. Caesars Palace: Which Is Better?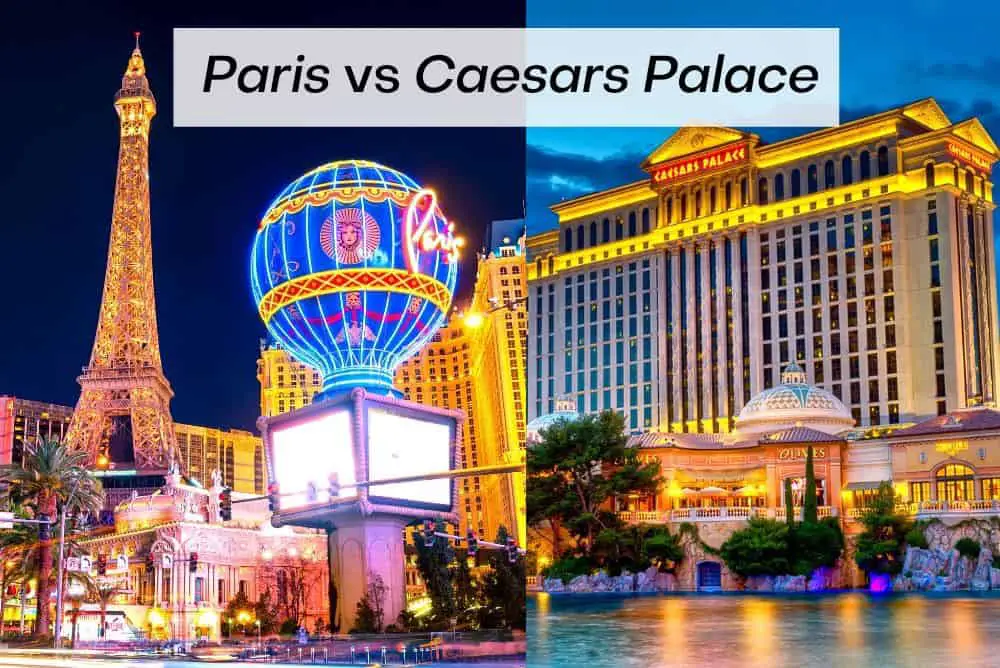 (This article may contain affiliate links, which means we might earn a small commission if you click and make a purchase. Thank you!)
Paris Las Vegas and Caesars Palace are two of Las Vegas's most recognizable casinos. Between the Eiffel Tower of Paris and the massive size of Caesars, these casinos cannot be missed when driving down the Las Vegas Strip.
Without a doubt, a stay at either Paris or Caesars will be an iconic Vegas experience. Having said that, they are quite different from each other, and you may find that one is a better choice for your Las Vegas vacation.
A stay at Caesars Palace will give you a classic Las Vegas experience with its over-the-top architectural displays, a large number of restaurants, and endless entertainment options. While a stay at Paris Las Vegas is your best choice for a smaller, more exclusive resort with an excellent Strip location.
Here is a chart comparing the highlights between Paris Las Vegas and Caesars Palace:
Name: Paris Las Vegas
Address: 3655 S Las Vegas Blvd
Casino Floor: 95,263 sq ft.
Year Built: 1999
Number of Rooms: 2,916
Name: Caesars Palace
Address: 3570 S Las Vegas Blvd
Casino Floor: 124,181 sq ft.
Year Built: 1966
Number of Rooms: 3,960
It can be said that Caesars Palace is to Las Vegas what the Empire State Building is to New York City: an icon. Upon entering Caesars Palace, you'll feel as if you just stepped back in time to the peak of the Roman Empire.
Paris Las Vegas is like, well, Paris! A Parisian-styled resort that offers perhaps a somewhat more intimate and luxurious resort stay. Both resorts are Las Vegas staples, and in this article, we'll dive into the details to help you narrow down your choice. 
Comparing Paris Las Vegas & Caesars Palace Room Rates
Caesars Palace is a Las Vegas classic and is often one of the first hotels/casinos that comes to mind when thinking about a trip to Las Vegas. The popularity of Caesars Palace is immense, with visitors, celebrities, and the uber-rich alike. Even though the price for a base room starts at around $85, the rooms can range upwards of $40,000 per night–essentially an entire year's salary for the average American!
These exorbitantly expensive rooms are legendary, but it's great to know that everyone can afford to experience a Caesars Palace stay if they wish. A stay at Caesars Palace is an opportunity to experience Las Vegas at its finest!
In comparison, Paris Las Vegas is a much smaller, more intimate property overall. What it lacks in size, however, it makes up for in style! As you enter the property, you can't help but notice the giant replica of the Eiffel Tower shooting into the sky.
When you walk into the casino, you'll see that the legs at the base of the tower actually come into the casino! A very cool effect! Paris Las Vegas is considered to be a top choice for a romantic getaway.
A typical base rate for a standard room at Paris Las Vegas starts from $49 per night, with rooms ranging up to roughly $438 per night. The rooms are European and romantically styled to give you the feeling that you are actually staying in the City of Lights, with the bonus of the Las Vegas Strip right outside the door!
So comparing the standard room rates, it's apparent that Paris Las Vegas is the less expensive option.
Resort Fees at Caesars Palace & Paris Las Vegas
Resort fees are additional daily fees added to your room rate for use of resort services, including fitness centers, business centers, wifi, and even swimming pools. The fee must be paid even if you aren't planning to use any of these amenities.
Resort fees are becoming increasingly common in resorts around the world. Almost every major property in Las Vegas charges a daily resort fee. These fees change quite regularly in price (usually going up), but as of this writing, Paris and Caesars both charge a resort fee of $52.10 a day, including tax.
Caesars Palace vs. Paris Las Vegas Parking Fees
Self-parking fees at both properties are $18 per day
One good thing about parking fees at both of these resorts is that your daily fee is good for both properties since Paris Las Vegas is managed by Caesars Entertainment. Once you've paid a parking fee for the day at either property, you can then park for no additional fee at any other Caesars Entertainment-operated property in Las Vegas.
Excellent Location on The Strip for Both Caesars & Paris
Caesars Palace and Paris Las Vegas are not far from one another, and getting from Caesars Palace to Paris Las Vegas is roughly an 11-minute walk. This puts both resorts in the busy and energetic middle section of the Las Vegas Strip.
It's in this area of the Strip (between Flamingo Rd and Tropicana Ave) where you'll find the highest concentration of casinos and attractions and is the best pedestrian area on the Strip. Be sure to download our FREE Las Vegas Strip Map so you can see the area I'm talking about.
How Do The Casinos Compare: Paris vs Caesars Palace
Paris Las Vegas's casino has over 95,000 square feet of gaming area and more than 1,700 slot machines and table games. By comparison, Caesars Palaces' casino has over 124,000 square feet of casino floor. Both casinos will provide you with all the gaming you can handle and are very comparable. (source 1, 2)
Paris & Caesars Dining Comparison
The Paris Las Vegas has a selection of diverse dining experiences, from high-end French cuisine to steaks, Italian, or even hearty comfort food in the form of burgers. You will easily find a satisfying dining experience. You can even dine at the Eiffel Tower Restaurant and catch a great view of the Strip and Bellagio Fountains while you eat.
Caesars Palace will literally blow your mind as to the number of restaurants and places to eat. From fine dining at celebrity-owned restaurants like Gordan Ramsay's Hell's Kitchen to casual fare and everything in between. You'll never go hungry at Caesars Palace!
Caesars Palace & Paris Las Vegas Shows
When it comes to entertainment choices, there are very few resorts in Las Vegas that can compare to Caesars Palace. Through the years, countless headliners have performed and taken residencies at the Colosseum, which is the most popular entertainment arena in Las Vegas. 
The roster of stars is constantly changing, yet you can currently catch Rod Stewart, Sting, and Adele in their current residency shows. This aspect of Caesars Palace is a tourist attraction in and of itself, with large crowds frequently converging on the resort to see their favorite music stars and various shows/events. 
Caesars is also home to the show Absinthe. An exciting showcase of artists and performers sharing displays of acrobatics, strength, and flexibility in their always amazing and sometimes dangerous acts. This large production-quality show plays every night of the week.
Paris Las Vegas is a smaller affair when it comes to on-property entertainment and shows, yet Paris does host a couple of popular Vegas shows. Anthony Cools' show is a puzzling yet hilarious mixture of comedy and hypnotherapy, while Bat Out of Hell – The Musical is a wild ride featuring starry-eyed lovers from different backgrounds.
Each resort's roster of shows frequently updates, yet in terms of star power, Caesars Palace is by far the bigger entertainment venue. 
Pools: Garden of the Gods vs. Soleil
Caesars Palace has a pool area fit for the Gods. The Garden of the Gods Pool Oasis at Caesars Palace is a Roman-infused paradise of lush scenery and spacious swimming. With seven different pools to choose from, each with its own distinct vibe, the pool area at Caesars Palace is a visual feast for the eyes as well as the senses.
By contrast, the pool at Paris Las Vegas is called Soleil. A single large pool with an amazing location you can't get anywhere else. The pool is located at the base of the Eiffel Tower, giving you a view with a European flair.
Paris and Caesars are both beautiful pool areas but based on pure visual appeal, I think I've got to give this one to Caesars. The Garden of the Gods is just amazing!
Shopping & Attractions: Paris or Caesars Palace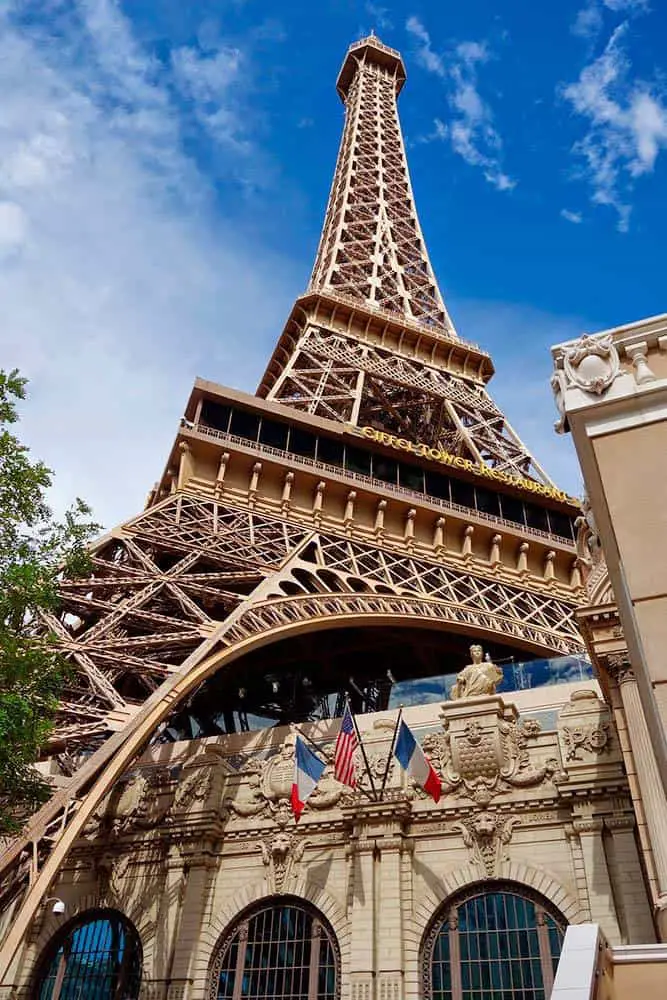 The Eiffel Tower Viewing Deck at Paris Las Vegas is incredibly popular and a must-see attraction. That, however, is the only major attraction at Paris. Don't get me wrong, you can walk a few feet out onto the Strip and be surrounded by Las Vegas attractions, but this is the main attraction on the property itself.
This, however, gives Paris a little bit of a quieter, more exclusive feel to come back to once you've been out of the Strip.
As for shopping, Paris Hotel has Le Boulevard at Paris. With over a dozen shops carrying designer shoes, jewelry, clothing, treats, and cigars, you'll have a nice time strolling through this small shopping area.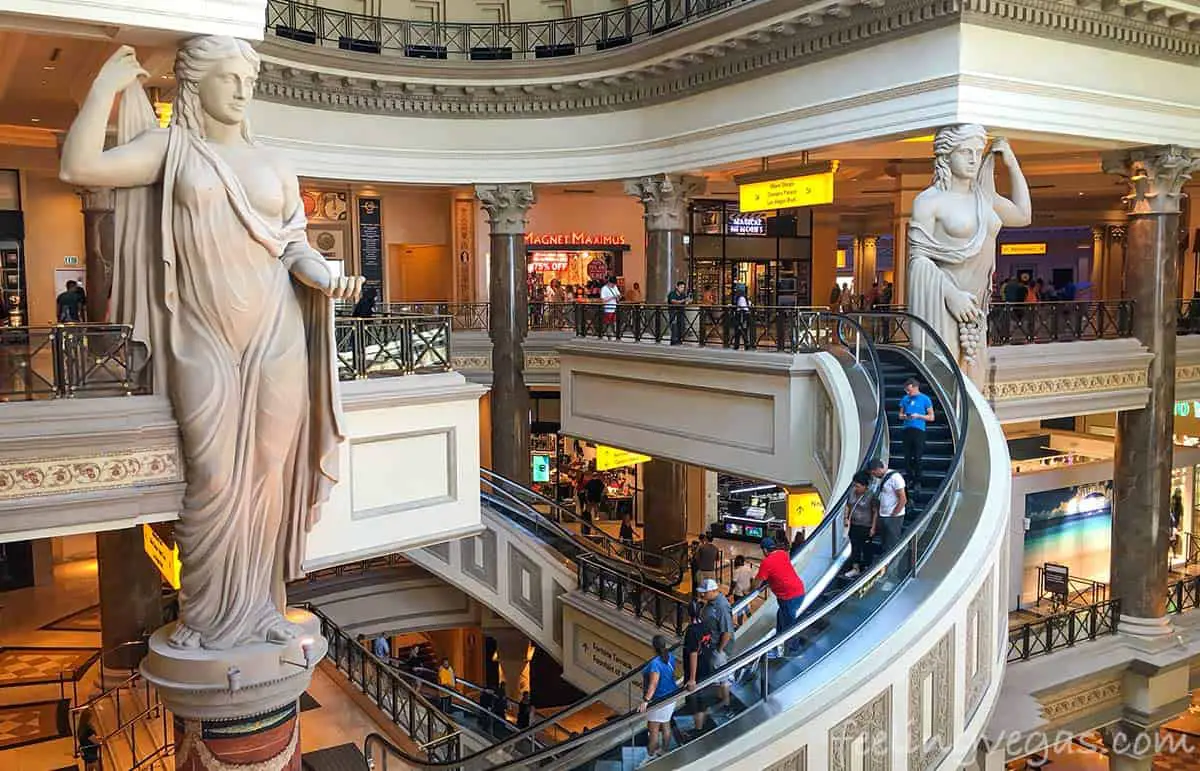 Caesars Palace, on the other hand, is a massive property when you include the Forum Shops. The Forum Shops is a huge indoor mall that's part of the property. Like the rest of Caesars Palace, the shops are authentically styled with a Roman architectural theme and is home to 160 high-end stores, restaurants, and attractions.
One of these attractions is The Fall of Atlantis.
The Fall of Atlantis is an animatronic show that plays at the top of every hour and tells the story of the fall of the fabled city. It uses fire and pyrotechnics to dazzle the eyes, and even has a huge dragon!
When it comes to the attractions found at each resort, it's no contest. Caesars Palace takes the cake!
Conclusion
So, Paris Las Vegas vs. Caesars Palace, which is better? It really comes down to the type of Las Vegas vacation you're wanting to have. Based on each resort's great location, you'll thoroughly enjoy your stay at whichever hotel you choose.
For the star power and overall popularity of what makes Las Vegas such an amazing city, a stay at Caesars Palace is definitely a great choice. It's big and over-the-top, just like Las Vegas!
For a smaller, more exclusive experience or a romantic getaway, Paris Las Vegas is your place.
Have a great trip!
Other Las Vegas Hotel Comparisons
See our complete Hotel Comparison Guide here, or check out these other comparisons of Las Vegas Hotels.
Paris Las Vegas vs. Treasure Island: Which Is Better? – Find out here!
Paris Las Vegas vs. MGM Grand: Which to choose? – Article here
Paris Las Vegas vs. Bally's: Which to choose? – Find out now
Caesars Palace vs. Bellagio: The Better Las Vegas Choice? – Read here