Caesars Palace Pool: 22 Things You Should Know (Las Vegas)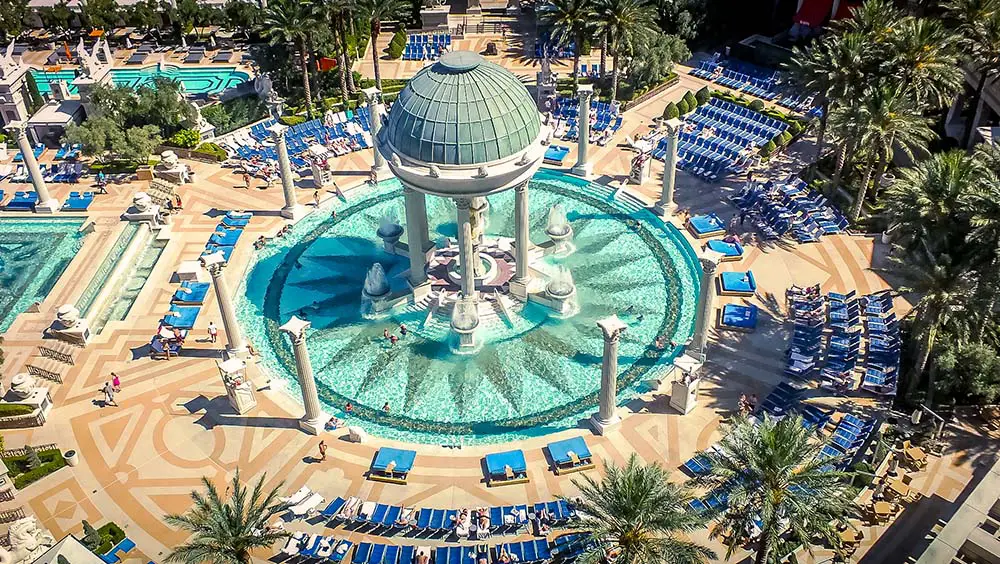 (This article may contain affiliate links, which means we might earn a small commission if you click and make a purchase. Thank you!)
Are you looking for the ultimate poolside escape where you can enjoy the best that Las Vegas has to offer and stay cool? 
At the Garden of the Gods Pool Oasis located at Caesars Palace in Las Vegas, you can enjoy over 5 acres of luxurious poolside fun at 7 different pools, 4 swim-up blackjack tables, and several bars. You can relax by a different pool at Caesars Palace Las Vegas every day of your stay.
With beautiful grounds and Roman-inspired architecture, guests at Caesar's Palace can enjoy all of the beauty that Garden of the Gods Pool Oasis has to offer. Lounge in one of the many relaxing cabanas or daybeds, or splash around in the pool with your family, the options are endless. 
Keep reading to learn everything you need to know to make the most of your time at Garden of the Gods Pool Oasis at Caesars Palace.
Compare and save! Check current Caesars Palace room rates at TripAdvisor!
Does Caesars Palace have a nice pool?
Caesar's Palace has one of the nicest pool areas in Las Vegas. With Instagram-worthy scenery, plenty of sun, and lots of different pools to suit every mood, it's a great place to escape the Las Vegas heat. 
Named Garden of the Gods Pool Oasis, the Caesars Palace pool deck has over 5 acres of pristinely manicured grounds and boasts 7 different pools. There is a pool for each day of the week or whatever mood strikes your fancy as well as luxurious cabanas and even has swim-up blackjack. 
The grounds at the Pool Oasis are all Roman-esque complete with gorgeous white and aqua colors throughout, dramatic Roman columns, and mosaic-tiled pools. The entire complex will make you feel like you've been transported to a real magical oasis right on the Las Vegas strip. 
How many pools does Caesars Palace have?
The Garden of the Gods Pool Oasis at Caesars Palace has 7 unique pools for guests to enjoy at their leisure. There is a pool for every mood so you can relax and enjoy yourself. 
The 7 Caesars Palace pools are:
Temple Pool – The main pool in the center of the Pool Oasis is as beautiful as it is relaxing with the sculptures, fountains, and towers galore. Take a selfie at this pool and everyone will know exactly where you are.
Venus Pool and Lounge – This 21+ pool has an exclusive feel and a European flair. It gives adult guests a place to lounge away from the hustle and bustle of the rest of the resort. 
Fortuna Pool – If you want to gamble but can't get out of the pool, you don't have to! At this pool, you can swim right up to one of 4 blackjack tables and try your luck. 
Neptune Pool – Located right next to the Temple Pool, Neptune is the largest and rowdiest pool in the entire Pool Oasis. If you want to be right in the hub of the fun, this all-ages pool is a great choice. 
Apollo Pool – This small pool is a best-kept secret because it's tucked away in one of the corners of the Pool Oasis. It is a great place to go if you're looking for a quiet, more intimate environment to lounge with a book or relax in the water. 
Jupiter Pool – The family-friendly mecca of the Pool Oasis is the best place to head if you will be swimming with little ones. With food and drink available for purchase and inexpensive cabana rentals, you can make a fun day for the whole family at the pool.
Bacchus Pool – This pool is the ultimate in exclusive, VIP vibes. Named after the Roman God of wine, this pool feels luxurious and expensive. It used to be limited to VIPs and celebrities, but it is open to the public if you're willing to pay. 
Is Caesars Palace pool free for hotel guests?
The entire Garden of the Gods Pool Oasis is free to every Caesars Palace guest as well as guests staying at the Nobu Hotel. When you stay at Caesars Palace, you are granted access to the pool for everyone staying in the room plus one guest for each day of your stay. 
There is a limited number of free seating options at each of the pools, so guests of both hotels can choose to upgrade to a daybed or cabana for an additional charge. 
If you are not staying at either Caesars Palace or Nobu, you will have to pay a reservation fee to access any of the pools at Garden of the Gods. The reservation requires that you book a lounge chair, cabana, or other seating, and gives you all-day access to the pools. 
Is Caesars Palace pool open to the public? (Can anyone go to Caesars Palace pool?)
Caesars Palace's pool is one of the few high-end pool complexes on the Strip that is open to the public. Anyone is welcome to come and enjoy what Garden of the Gods Pool Oasis has to offer even if you are not staying at Caesars Palace. 
There is a reservation fee required for all non-hotel guests to access the pools. Anyone is welcome to make a reservation by booking a lounge chair or cabana. Prices start at around $50 per person to use the Caesars Palace pool. Reservations can be made directly on the Caesars Palace hotel website or by calling the concierge at 702-731-7280.
Note: If you pay to reserve a spot at Caesars pool, you will need to make sure that you show up by 11 am or you will forfeit your reservation.
RELATED: Best Pools in Las Vegas for Non-Guests: The Tourist's Guide
What is the best pool at Caesars Palace?
With 7 unique pools to choose from at Garden of the Gods Pool Oasis at Caesars, it's hard to decide which pool is the best. Many guests choose to visit each of the pools throughout their stay at Caesars before deciding which one is their favorite. 
Each Caesars Palace pool is expertly designed to appeal to different moods and guest preferences. Whether you're looking for a party, a quiet afternoon, or to bring the casino outside, there is something for everyone. 
It's important to remember that 3 of the pools (Venus, Fortuna, and Bacchus) are off-limits if you are visiting Caesars with young children, but there is plenty of fun to be had at the other 4 pools with kids in tow. Adults can enjoy all 7 pools at their leisure and choose from chill, relaxing vibes or a high-energy party mood. 
Although you can't go wrong with any of the pools in Garden of the Gods, most guests enjoy the Temple Pool and Neptune Pool the most. The Temple Pool is the ultimate place to see and be seen. Guests love to take selfies in front of the iconic statues and fountains while they bask in the sun.
These two pools are right next to each other and represent quintessential Caesars Palace and make sure you're right in the middle of all the fun. This all-ages pool area has all the fun Roman architecture that Caesars is known for, the party vibes to keep the Las Vegas energy high all day, and plenty of direct sun to get the perfect tan. 
Caesars Palace Pool Map
Here is a map showing the layout of the pools and cabanas at Caesars Palace.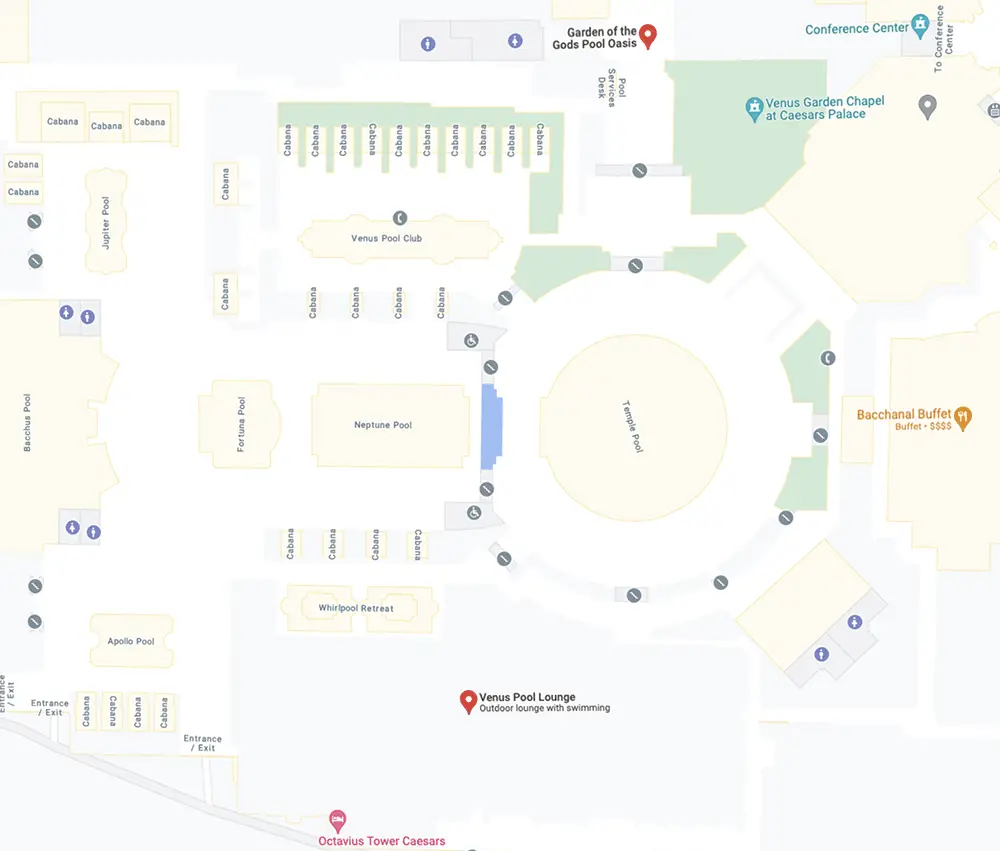 You can see from the map that each of the distinctive Caesars pools is located within short walking distance from each other so you'll easily be about to enjoy all of the pools no matter where you set up for the day.
Which tower at Caesars Palace is closest to the pool?
If you know you are going to be spending a lot of time at the pool during your stay at Caesars Palace, you definitely want to stay in either the Palace Tower or Octavius Tower. These towers can be found on either side of the pool area, so you can easily access it. 
The Palace Tower was recently renovated, so you can enjoy a beautiful, new room without breaking the bank. The Octavius Tower is slightly closer to the pools, but it is home to much more expensive rooms. It has some of the most expensive suites in Caesars Palace, so this is the tower you want if you're looking for luxury. 
Check room rates at Caesars Palace
Is Caesars Palace pool kid-friendly?
As with most of the pool complexes in Las Vegas, there are some areas of the Caesars Palace pool oasis that are kid-friendly and others that are not. The only pools that you cannot go to with children are the Venus Pool, Fortuna Pool, and Bacchus Pool. All 3 of these pools are 21+ all the time, so children are not allowed. 
The Jupiter Pool is the best choice if you're looking for a kid-friendly pool at Caesars. Families love Jupiter because it's smaller and quieter than the rest of the complex and it's tucked away in a secluded corner of the pool area.
The Jupiter Pool also has fun games for the whole family and kid-friendly floats available. Families can enjoy the pool, lounge in some of the less expensive cabanas and daybeds, and enjoy food and drinks from the nearby snack bar. 
Many families also choose to visit the Neptune Pool because it is the largest pool in the Garden of the Gods pool complex and is the center of all the fun. 
It's a great option for families with older children because kids over 13 can be in the pool unsupervised and kids under 13 just need at least one parent in the pool with them. Neptune is a fun choice if you want a party atmosphere that is family-friendly, it's the best of both worlds. 
Why is Caesars Palace pool so cold?
The pools at Caesars Palace are kept cool in the hot summer months to help guests get some relief from the dry Las Vegas heat. With triple-digit temperatures common, a nice dip in a cool pool is often a great way to refresh. 
Does Caesars Palace have a heated swimming pool?
All 7 of the pools at Caesars Palace are heated. The pool staff keeps an eye on the outside temperature and adjusts the water temperature accordingly to ensure that it is refreshing but not so cold that it's off-putting to guests. 
Does Caesars Palace have an indoor pool?
Just like most of the other pools in Las Vegas, all of the pools at Caesars Palace are outdoor as part of the 5 acre Garden of the Gods Pool Oasis. 
RELATED: The Best Indoor Pools on The Las Vegas Strip
Does Caesars Palace have hot tubs?
There are a few hot tubs sprinkled throughout the Caesars Palace Pool Oasis. The great thing about the hot tubs at Caesars is that they stay open throughout the year, so you can enjoy them no matter what time of year you are visiting Las Vegas. 

Do you have to pay for a chair at Caesars Palace pool?
All of the pools at Caesars with the exception of the Bacchus Pool have free lounge chairs that are available to guests. 
There are limited quantities of free lounge chairs, however, and they are available on a first-come, first-served basis. If you want to get one of the free chairs, it's recommended to get there early to grab one because they get taken quickly each day. 
How much are drinks at Caesars Palace pool?
Drink prices in the Caesars Palace pool area are pretty steep, which is standard for most Las Vegas pools. Depending on whether you are drinking beers or a fancy cocktail, prices can range from $10-$30. Beers start around $10 and mixed drinks are $15-30 depending on what you order and the size. 
RECOMMENDED: Are Drinks Free in Las Vegas Casinos? (Yes! If You Know How)
What's on Caesars Palace pool menu?
There is one snack bar located in the Caesars Palace pool area called "Snackus Maximus". They have a wide variety of food options available for poolside ordering, including flatbread pizzas, sandwiches, nachos, tacos, and even sushi. 
Can you smoke at Caesars Palace pool?
Smoking is prohibited in the Caesars Palace pool areas. This rule is the same across all Las Vegas hotel pools due to a Southern Nevada Health District mandate that no smoking be allowed in any pools.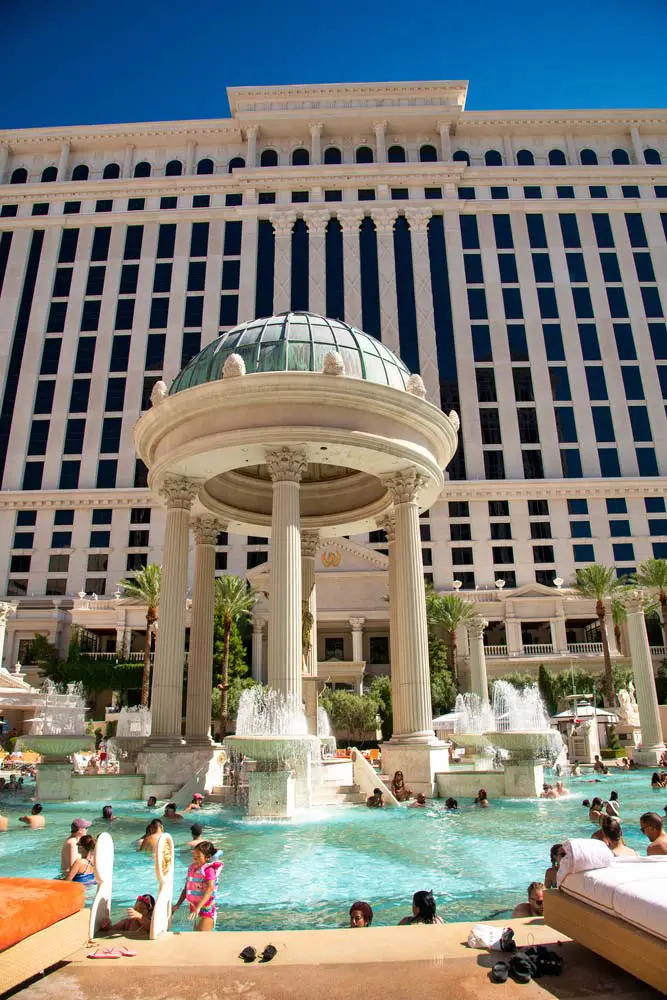 Does Caesars Palace have a European pool?
The Venus Pool at Garden of the Gods has a very European flair. It is one of the fancier pools in the complex and gives guests the feeling of being whisked out of Las Vegas and onto an exclusive European resort. The Venus Pool Club is an adults-only escape for guests to relax and enjoy the zen vibes. 
Does Caesars Palace provide pool towels?
There are free towels available at all 7 pools at Caesars Palace so you don't have to worry about bringing your own.  
Towels at the Caesars pools are typically color-coded by pool so it's easy for staff to tell where you got the towels from, but you can take them with you from pool to pool throughout the day. Just make sure to return your towels when you're done for the day. 
What are Caesars Palace cabana prices?
Cabanas are a great way to splurge on a luxurious poolside experience for yourself and your significant other, family, or group of friends. The pool cabanas at Caesars Palace will hold a max of 8 people and come with 2 lounge chairs, a couch, a TV, cooling fans, a safe, a fridge, and more. 
The cabana prices at the Caesars Garden of the Gods pool area vary quite a bit. Prices are based on the time of year, day of the week, and whether it is a holiday weekend or if there is a special party or event going on (specifically at the adults-only pools). 
Cabanas at any one of the pools at Caesars Palace can range in price from $200-$1000+ for the day. If you rent one during the off-season or mid-week, you might get lucky and score a premium location cabana at one of the nice pools for an inexpensive price. 
Does Caesars Palace pool have a DJ?
There is not a regular live DJ on the schedule at any of the pools at Caesars Palace. Pools like the Neptune Pool and the Venus Pool do have a party vibe where they play the latest in hip hop and house music. 
Occasionally, DJs will do pop-up events at some of the adults-only pools at Caesars Palace so check the website to see if there are any events coming up during your stay. 
Does Caesars Palace have pool parties?
Although the Caesars Palace Garden of the Gods pools don't have scheduled pool parties each week or each month, they do keep the party going in some of the more resorts popular pools like the Temple Pool, Neptune Pool, and Venus Pool. The vibe at the Neptune Pool, specifically, is always rowdy and fun. 
Caesars Palace does, however, host pool parties and events around big holiday weekends or when high-profile DJs are in town, so it's important to check the schedule to see if there is one coming up. 
Is the pool at Caesars Palace open year-round? (Open in the winter?)
The entire Garden of the Gods Pool Oasis is open at full capacity from March to October every year. During the season, all 7 pools are open 7 days a week for guests to enjoy. 
Between November and February, Caesars keeps just one pool and all the hot tubs open for guests who are brave enough to jump in during the off-season. 
What time does Caesars Palace pool open and close? (Pool Hours)
Garden of the Gods Pool Oasis at Caesars Palace pool hours are Monday-Thursday from 9 am to 6 pm and 9 am to 2 am Friday-Sunday. The Venus Pool offers an exclusive Night Swim from 7 pm to 1 am during the summer season for adults to enjoy late-night fun at one of the most luxurious pools in Las Vegas. 
Find the best deals on Caesars Palace rooms and save big with TripAdvisor!
More Las Vegas Pool Guides:
Source: