9 Michelin Star Restaurants in Las Vegas (1,2, & 3 Michelin Stars)
In the culinary world, earning even one Michelin star is a massive accolade for any restaurant as it proves that the restaurant serves fantastic quality food. The last time the Michelin Guide rated Las Vegas restaurants was when it produced its 2008-2009 guide. The guide sold very poorly and is the reason Michelin stopped rating Vegas restaurants.
However, many of the Las Vegas Michelin-rated restaurants are still serving delicious food in upscale settings and are very much worth your visit.
Here are the 9 Michelin star restaurants in Las Vegas:
This article will take an in-depth look at why each of these restaurants has achieved Michelin star status and why you will want to give them a try when visiting Las Vegas.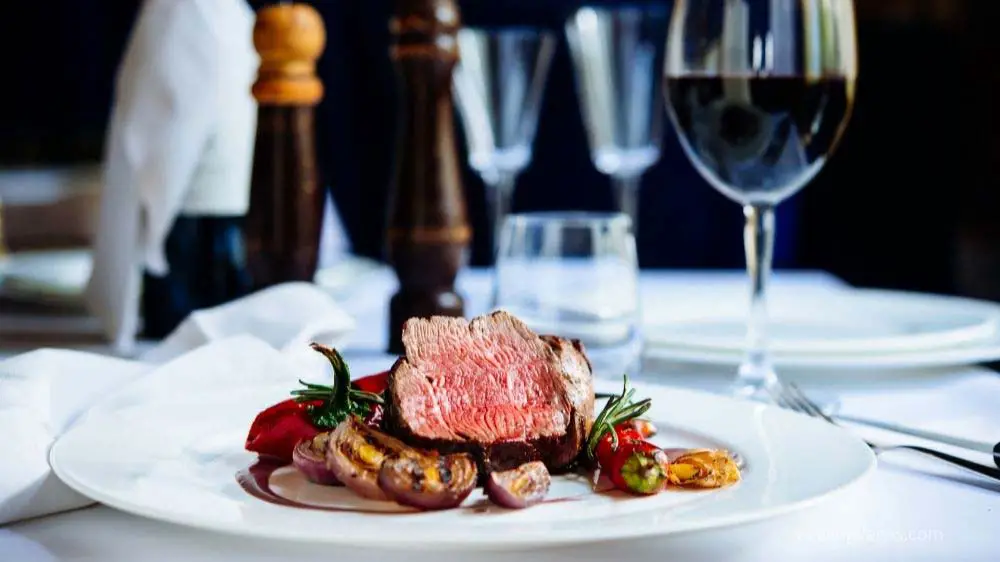 (This article may contain affiliate links, which means we might earn a small commission if you click and make a purchase. Thank you!)
(1-Star) Michelin Star Restaurants in Vegas
Although it's the lowest Michelin rating, a one-star rating is no less a fantastic accomplishment and certainly something for which to strive if you're a restaurateur. This rating means that the restaurant offers high-quality dining and is in the top ranks of restaurants worldwide.
Let's look at Las Vegas's 1-star Michelin restaurants.
1. Aureole
Chef Charlie Palmer founded the first Aureole restaurant in New York City in 1988. Aureole saw so much success that Chef Palmer decided to open another one in Las Vegas. The Vegas Aureole is in the famous Mandalay Bay hotel on the Las Vegas Strip and serves New American cuisine with fresh, hand-selected seasonal ingredients.
Their unique take on New American cuisine is creating French and American classic dishes in an innovative way.
A notable feature of this renowned Las Vegas dining restaurant is the four-story wine tower that contains well over 50,000 bottles. In full view of the guests, servers, known as "wine angels," dramatically climb the tower to retrieve bottles of wine.
Aureole's popular menu choices include the Alaskan Halibut, Prime Filet of Beef, and Wagyu Ribcap. (top)
2. Le Cirque
You can find Le Cirque in the opulent Bellagio Hotel. As its name suggests, this restaurant has a festive yet classy circus theme, with its ceiling resembling the inside of a colorful circus tent.
Specializing in fine French cuisine and previously overseen by the late owner Sirio Maccioni, Le Cirque has very high standards but a welcoming and casual atmosphere.
Dining at Le Cirque is a treat for the senses. The grand, multi-colored dining room is a feast for the eyes, while the bold menu with its creative dishes and extensive wine list tantalizes the taste buds.
The most-ordered dishes at Le Cirque include the citrus glazed veal cheek, potato-crusted sea bass with red wine reduction, and the sauteed foie gras. (top)
3. Michael Mina
Michael Mina is another Michelin restaurant located in the Bellagio and is arguably the best place for seafood in the city. Las Vegas is landlocked, but Michael Mina flies in fresh seafood daily to create their signature dishes of lobster pot pie, hot charcoal-grilled shellfish, and caviar parfait.
The restaurant has an international influence and features the best French, Japanese, and Mediterranean seafood dishes. It has also recently introduced seasonal New American tasting menus.
At an extra cost, wine pairing is included with the tasting menu, which features Michael Mina's signature dishes. The seasonal menu changes often, and there is always an exciting and delicious addition.
This restaurant is an excellent choice if you love seafood. Fair warning, however, if you are not a seafood fan, you might have difficulty choosing a suitable dish as most contain fish. (top)
4. Wing Lei
Wing Lei may only be a one Michelin star restaurant, but it is the first Chinese restaurant to ever earn a coveted Michelin star in the USA.
Dining at Wing Lei in The Wynn is a luxurious experience with its lavish gold decor that takes its inspiration from classic Chinese jewel boxes. There is a massive golden dragon in the dining hall, and the walls are decorated in bold, oriental patterns.
Wing Lei specializes in Shangai, Cantonese, and Szechuan cuisine, and favorites include wok-fried Maine lobster and Imperial Peking duck. All their menu dishes boast the perfect balance of flavors and, while the portions are small, guests savor every bite.
The beautiful presentation of the Imperial Peking duck is a highlight at Wing Lei as it is similar to how Chinese royalty would receive the same dish. (top)
5. DJT
Ensconced in the lobby of the Trump International Hotel, DJT is a well-loved Vegas restaurant and an exceptional American steakhouse. Dining takes place in the spacious hotel lobby or inside the restaurant, which has impressive marble columns and an eggplant color theme.
Exquisite cuisine is served throughout the day, and the restaurant is well-regarded for both its mouthwatering steaks and its unique cocktail offerings. (Breakfast menu | Lunch & Dinner menu)
Favorite dishes at DJT include Chinese braised short ribs and carrot-ginger soup. (top)
6. L'Atelier de Joel Robuchon
A direct translation of L'Atelier de Joel Robuchon is "Joel Robuchon's workshop," and this premier eating establishment is where the chefs prepare groundbreaking and daring cuisine right in front of their guests.
Known as the "Chef of the Century," the late Joel Robuchon's inspiration for this restaurant was international tapas-style dining, and this has certainly been realized. Guests have the opportunity to try several bite-size chunks of gourmet cuisine at a fraction of the price compared to Joel Robuchon's more expensive establishment.
The most popular menu dishes at L'Atelier de Joel Robuchon are the turbo fillet with baby leeks and buttery shellfish sauce, and the tartes.
L'Atelier de Joel Robuchon is far less formal than its 3-star Michelin-rated counterpart and is located in the MGM Grand hotel. (top)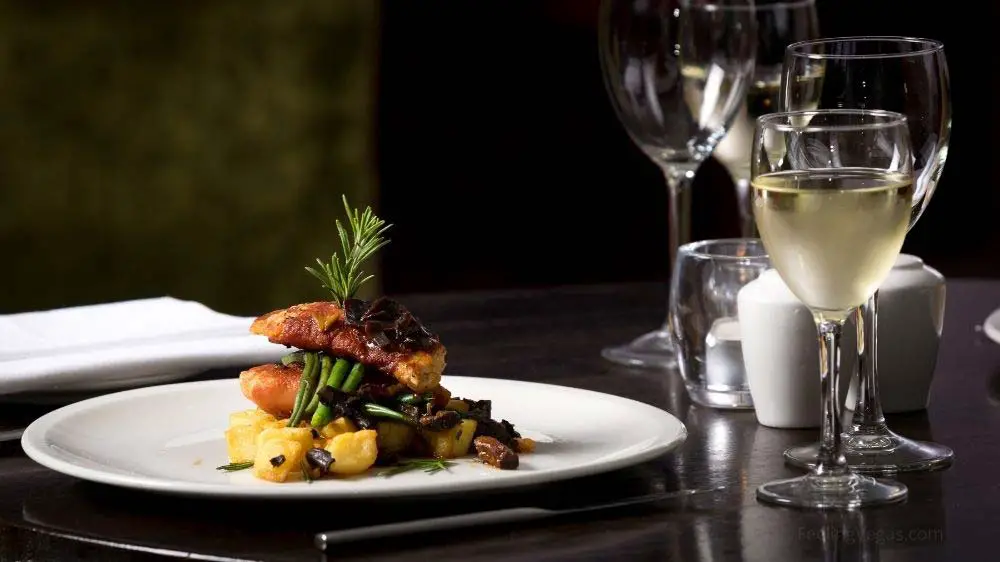 (2-Star) Michelin Star Restaurants in Sin City
Two Michelin stars are difficult to achieve by most restaurants, and earning this rating is the feather in the cap for any chef. It demonstrates that the restaurant's cooking is excellent, and it is definitely worth making a reservation.
Let's look at the 2-star Michelin restaurants in Las Vegas.
7. Picasso
Located in the luxurious and well-known Bellagio Las Vegas hotel, Picasso is Chef Julian Serrano's brainchild, and its patio has a fantastic view of Bellagio's world-famous fountains. It is decorated in a unique French and Spanish style with original Picasso paintings on the wall.
As one of the more cost-effective Michelin-star dining experiences in Vegas, Picasso is an excellent option if you're on a budget but want to try haute cuisine.
Guests at Picasso enjoy their extensive range of Spanish wines and the seasonal truffle menu that can be eaten in all four courses. The roasted loin of Colorado lamb is one of their most popular menu items and comes with their iconic rich potato mousseline. (top)
Related: 15 restaurants in Las Vegas with a view of the Bellagio Fountains
8. Restaurant Guy Savoy
Restaurant Guy Savoy is an elegant French restaurant situated in Caesars Palace.
The highly-rated French cuisine is complemented by the romantic setting, offering a view of the Paris Las Vegas Eiffel Tower. Guy Savoy is known as one of the world's top chefs and owns another restaurant in Paris by the same name, which won La Liste's exclusive honor of being the best restaurant globally.
To ensure that guests get the most out of their fine dining experience, the restaurant doesn't allow its employees to wear perfume, and flowers are not permitted in the restaurant.
They are well-known for their excellent wine pairings and highly personalized service. It is tough to get a reservation at Restaurant Guy Savoy, but you will love the fine dining experience if you are lucky.
Favorites at Restaurant Guy Savoy include the black truffle soup, A5 Japanese wagyu beef, and the Muscovy duck breasts. (top)
(3-Star) Michelin Restaurants in Vegas: The Highest Michelin Star Rating
The highest Michelin star rating is the 3-star rating. This rank is extremely difficult to achieve, and the dining establishment must clearly show that its cuisine is exceptional and deserving of this prestigious accolade.
Let's look at the only 3-star Michelin star restaurant in Las Vegas.
9. Joel Robuchon
As the only 3-star Michelin star-rated restaurant in the city, Joel Robuchon can be considered the top restaurant in Las Vegas. Joel Robuchon has similar restaurants scattered throughout the world, and they have cumulatively earned him an impressive 31 stars.
It is highly exclusive, has only 12 tables, and its prix fixe menu will cost you just over $400 per person taxes excluded.  However, you will likely remember the extraordinary dining experience for the rest of your life.
The restaurant serves fine French cuisine with a unique flair, and the food presentation is second to none.
The dining room is decorated in an Art Deco theme featuring a garden terrace, marble floors, crystal chandeliers, and an intimate atmosphere conducive to one of the best fine dining experiences you could ever have.
Winning the Wine Spectator's Grand Award, Forbes Five Star, and AAA Five Diamond accolades, the restaurant is a once-in-a-lifetime experience.
The must-try dishes of Joel Robuchon include the Pommes Puree and L'oursin.
The Pommes puree is essentially Fine French cuisine mashed potatoes that are melt-in-the-mouth soft and decadent.
L'oursin is an ornamental sea urchin parfait with ferric lobster gelee, orange sea urchin, and cauliflower cream. (top)
Final Thoughts on Michelin Rated Restaurants in Las Vegas
While Vegas has many exceptional fine dining establishments beyond those mentioned above, these nine are the only Las Vegas Michelin star restaurants in the city.
A Michelin star rating of 1, 2, or 3 guarantees an amazing dining experience you won't soon forget.
More Eating in Las Vegas Articles