13 Crazy Vegas Desserts & Where to Get Them! (Best Treats in Vegas)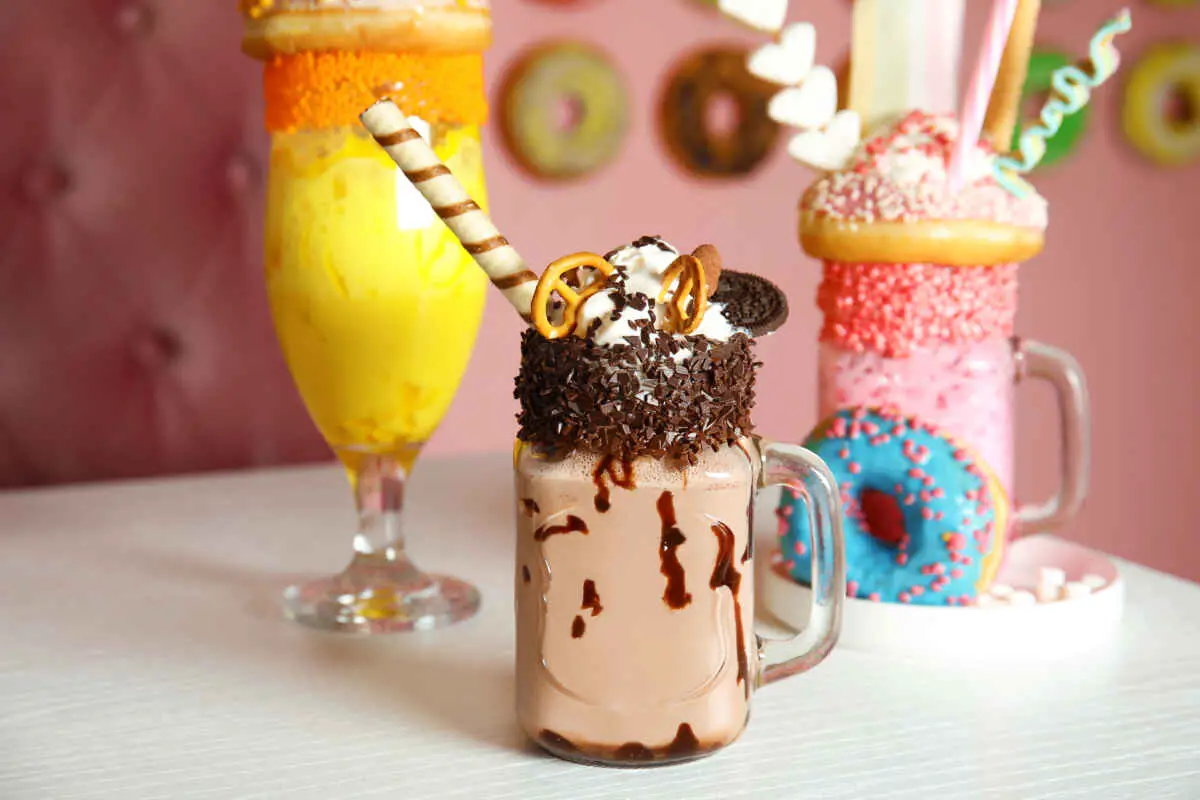 (This article may contain affiliate links, which means we might earn a small commission if you click and make a purchase. Thank you!)
Indulging in a sweet treat or two is a must-have experience when visiting a city like Las Vegas. Known for its extravagant and over-the-top experiences, Vegas is home to everything from towering milkshakes to massive ice cream sundaes. The dessert options in Vegas are nothing short of crazy.
Some of the craziest desserts you can get in Las Vegas include crazy shakes, a cheesecake challenge, a 24-layer chocolate cake, a giant fortune cookie, decadent donuts, and a banana cream pie recipe that uses three pounds of bananas. 
In this article, we've rounded up 13 of the most outrageous and delicious desserts that are sure to satisfy your sweet tooth and leave you in a sugar coma. Get ready to indulge in the wildest Vegas desserts!
1. Cappello Fedora at Sinatra Inside Encore (Yummy Desserts)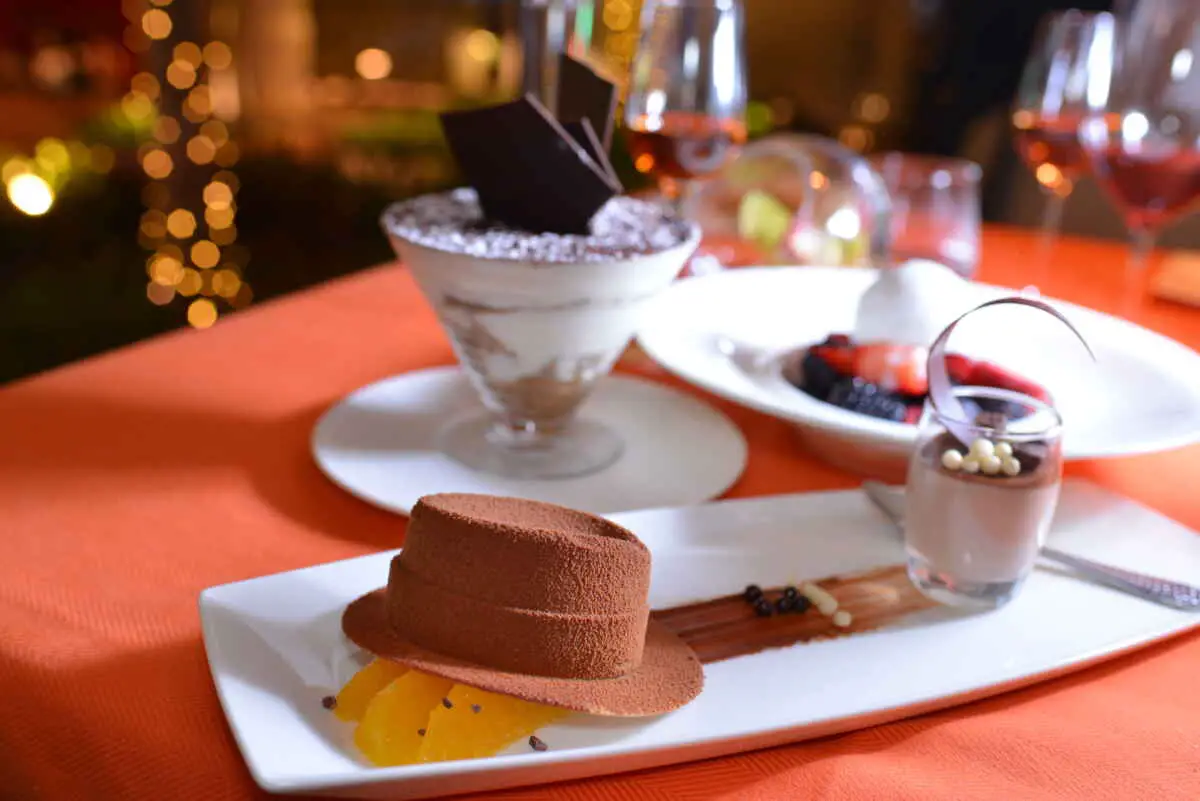 This dessert isn't just for Frank Sinatra lovers. You can enjoy this fedora-shaped Valrhona dark chocolate mousse at the end of a delicious Italian meal at Sinatra.
This delectable dessert is as delightful as it is distinctive, served amidst a backdrop of Frank Sinatra-inspired decor and memorabilia, accompanied by the soothing sounds of swing music and the warmth of cozy fireplaces. The treat also comes with a side of honey panna cotta, made with Jack Daniel's.
Not only is the mousse delicious, but it's also adorable.    
Dress code: Women are expected to wear dressy attire, and men must wear collared shirts. No open-toe shoes. 
Important to know: No children under five are allowed, so leave the kids at home for this one.  
Website: Sinatra (Encore at Wynn Las Vegas)
Address: 3131 Las Vegas Blvd South, Las Vegas, NV 89109
2. Oh My Birthday Cake Oreo Donut at Donut Bar 
Any donut you get at the Donut Bar in Las Vegas could be considered outlandish, and they're always coming up with new flavors and innovative ways to make donuts. So far, one of their best concoctions is their Birthday Cake Oreo Donut, where they stuff a full-size Oreo into the dough before baking. While at the Donut Bar, check out their other offerings to see what looks good!  
Tip: If you don't want to arrange all of your foodie explorations and sightseeing on your own, I recommend booking a tour. This downtown Vegas Sightseeing & Foodie Tour from Viator is a great choice. 
Dress code: None 
Important to know: Donut Bar sells out of things pretty regularly, so try to get here early. Donut Bar also sells coffee from Stumptown Coffee Roasters out of Portland, Oregon. 
Website: Donut Bar (near Fremont St. Experience)
Address: 124 S 6th St #140, Las Vegas, NV 89101
3. The Cheesecake Challenge at Guy Fieri's Vegas Kitchen
For some dessert lovers, it's not enough to simply enjoy a sweet treat, you have to get a sense of accomplishment out of it. Enter the Cheesecake Challenge at Guy Fieri's Vegas Kitchen, which is a must-stop spot for food lovers in Vegas.
RELATED: For more information about the most iconic Vegas restaurants, check out my article on what food Las Vegas is best known for. 
This dessert features a mountain of cheesecake topped with potato chips, pretzels, and hot fudge. 
Dress code: Casual 
Important to know: Groups of 14 or more need to call ahead or fill out an inquiry form, and they're offered a different menu, so keep that in mind if you're traveling in a large group. 
Website: Guy Fieri's Vegas Kitchen (The LINQ Hotel)
Address: 3535 S Las Vegas Blvd, Las Vegas, NV 89109
4. Giant Fortune Cookie at Tao Asian Bistro in The Venetian 
Dining at Tao Asian Bistro at The Venetian is an incredible experience already, as the cuisines of China, Japan, and Thailand are combined and presented in unique and delicious ways. However, you can make your visit even sweeter by getting the Giant Fortune Cookie at the end of the night.
RECOMMENDED: For more information about the dining options in The Venetian, I recommend reading my guide to the 19 best restaurants in the Venetian Palazzo. 
This dessert is a massive fortune cookie stuffed with white and dark chocolate mousse and topped with fresh fruit, all with a fortune inside. 
Dress code: Smart casual, no shorts or ripped jeans. 
Important to know: The fortunes inside the giant fortune cookie are usually a bit risque, so maybe opt for something else if you're dining with your boss or grandma. Additionally, Tao only makes 100 of these giant fortune cookies every day, so they may sell out by the end of the night. 
Website: Tao Asian Bistro (The Venetian)
Address: 3377 S Las Vegas Boulevard, Las Vegas, NV 89109
5. Banana Cream Pie From Emeril's New Orleans Fish House 
You have to really love bananas for this one, as the recipe for this pie uses three pounds (1.4 kg) of bananas. With that in mind, all banana lovers will be in heaven with this delicious, creamy pie with decadent chocolate flakes and whipped cream on top. 
Before you enjoy the pie, you can enjoy some Creole dishes with a twist at Emeril's New Orleans Fish House. The specialty here is seafood, but if you're not a fan, there are plenty of chicken and pork dishes to choose from.
If you're more of a "drink your dessert" kind of person, the wine list at this restaurant received Wine Spectator magazine's "Best of Award of Excellence" award. 
Dress code: Smart casual, no beachwear. Men cannot wear sleeveless shirts. 
Important to know: Valet is available. 
Website: Emeril's New Orleans Fish House (MGM Grand)
Address: 3799 Las Vegas Boulevard South, Las Vegas, NV 89109
6. Any of the Crazy Shakes at Black Tap Craft Burgers & Beer at The Venetian
For the most extravagant and over-the-top milkshake of your life, head to Black Tap Craft Burgers & Beer at The Venetian and order one of their Crazy Shakes. Here are just some of your options: 
The Cakeshake with a vanilla-frosted rim, a slice of funfetti cake, a colorful sprinkle of rainbow sprinkles, a dollop of whipped cream, and a cherry on the top (pictured above on the left).
Brooklyn Blackout with a chocolate-frosted rim, mini chocolate chips, scrumptious brownies, a dollop of whipped cream, and a generous drizzle of chocolate sauce (pictured above on the right).
Bam Bam Shake with a rim coated with vanilla frosting, topped with fruity pebbles cereal, a fruity pebbles rice crispy treat, a strawberry-flavored pop tart, laffy taffy candy, whipped cream, and a cherry on top.
Strawberry Shortcake features a frosted rim coated with vanilla, cake crumbles, a delectable ice cream bar made with strawberry shortcake, a twisty pop with pink and white colors, whipped cream, a drizzle of strawberry sauce, and a cherry on top.
Sweet 'N Salty boasts a frosted rim with a delicious blend of chocolate and peanut butter, adorned with chocolate gems, peanut butter cups, pretzel rods, chocolate-covered pretzels, a dollop of whipped cream, and a generous drizzle of caramel and chocolate sauce. 
And I have to show you one more. The Churro Chaco Taco Shake…
If you're hungry for real food before you get the sugar rush of the century from one of these desserts, you can enjoy classic American eats, including burgers, salads, wings, chicken tenders, sandwiches, and french fries.  
Dress code: Casual dressy. 
Important to know: If you prefer your milkshakes to be a little less wild, Black Tap also offers classic flavors like chocolate, vanilla, strawberry, peanut butter, cookies and cream, and coffee. 
Website: Black Tap Craft Burgers & Beer (The Venetian)
Address: 3355 S Las Vegas Blvd, Las Vegas, NV 89109
7. 24-Layer Chocolate Cake at Strip House
If you love chocolate cake as much as I do, and too much is just never enough, you may have met your match in the 24-layer chocolate cake at Strip House, featuring luscious chocolate cake, chocolate filling, and a French semisweet chocolate ganache topping. This cake is so good it was named the best chocolate dessert in America by the Food Network. 
For dinner before, you can try one of the delicious steaks, the Faroe Island Salmon, Cold Water Lobster Tail, Miso Sea Bass, or one of the craft salads.  
Dress code: None
Important to know: The cake feeds 8-10 people, so make sure you visit with some fellow chocolate lovers! 
Website: Strip House (Planet Hollywood)
Address: 3667 Las Vegas Blvd S, Las Vegas, NV 89109
8. Cereal Milk White Russian at Milk Bar in the Cosmopolitan 
Any dessert from the Milk Bar in Las Vegas is a great choice for a fantastic dessert, but my recommendation is the Cereal Milk White Russian. You're in Vegas, so why not get your dessert with a little bit of alcohol in it, too?
Milk Bar is one of the most famous dessert spots in Vegas and was established by award-winning chef Christina Tosi. While there are other Milk Bar stores throughout the United States, the Vegas location is the only one with this alcohol-infused shake. 
If you're in the mood for something else, you can build your own pint (473 ml) of ice cream or choose from some of these other menu items: 
Brown Butter Chocolate Chip Crunchy Cookie Shake 
Red Velvet Cheesecake Cake 
Birthday Cake Truffle (pictured above)
Milk Bar Pie 
Cornflake Chocolate Chip Marshmallow Cookie 
Blueberry & Cream Cookie  
If you're heading to The Cosmopolitan to hit up Milk Bar, here are some things you need to remember:
Dress code: Resort attire is required, no hoods or hoodies. Shoes are required. 
Important to know: Milk Bar also serves various coffee drinks, so if you're not in the mood for a full-on dessert, you can still get a jolt of energy from a cup of joe. 
Website: Milk Bar (The Cosmopolitan)
Address: 3708 Las Vegas Blvd S, Las Vegas, NV 89109
The Cosmopolitan is also home to the Chandelier Bar, which serves craft cocktails and features a good wine selection. The bar is divided into three levels, with the first level being a casino lounge. For more information, check out my post about the Chandelier Bar's menu, opening times and dress code. [Where Is the Chandelier Bar in Las Vegas? (Things To Know)]  
9. "Hit Me" Chocolate Cake at Catch in the Hotel Aria 
Any dessert that encourages you to hit it before you eat it has to be crazy, and this cake at CATCH restaurant in the Aria Hotel, wants you to do just that. The cake is four layers tall, featuring a layer of fudgy brownie, a layer of chocolate cake, a layer of dulce de leche ice cream, and liquid Klondike, which is a frozen white ganache dipped in chocolate.
If you hit the top layer hard enough, this top layer will spill over and cascade down the other layers. See what I mean in this video:
Before you start hitting any cake, though, you'll be able to enjoy Asian-influenced seafood dishes, sushi, and steaks, such as the Truffle Sashimi and the CATCH roll. 
Dress code: Business casual 
Important to know: Children must be at least six years old to be allowed in the restaurant. Anyone under 21 isn't allowed in the restaurant after 10:00 p.m. 
Website: CATCH (ARIA)
Address: 3730 S Las Vegas Blvd, Las Vegas, NV 89158
10. Titanic Sundae at Carmine's Italian Restaurant
Carmine's, located at the Forum Shops at Caesars, is well-known for its delectable, family-style Italian cuisine and an impressive selection of wines. However, dessert enthusiasts are particularly drawn to the restaurant for its signature dish, the Titanic Sundae.
This family-style dessert boasts six generous scoops of ice cream, accompanied by fresh strawberries, pineapple, and caramelized bananas, all resting on a bed of decadent chocolate cake and topped with chocolate wafer straws. 
Dress code: None 
Important to know: The Titanic Sundae is meant to be a family-style dessert shared amongst approximately six people, so don't expect to master this behemoth on your own! 
Website: Carmine's Italian Restaurant (Forum Shops at Caesars)
Address: 3500 S Las Vegas Blvd, Las Vegas, NV 89109
11. Mint Chocolate Doughnut From Saint Honoré Doughnuts & Beignets
All of the doughnuts at Saint Honoré are decadent and delicious, but the craziest has to be the Mint Chocolate one. This brioche doughnut is glazed in a chocolate ganache, topped with a mint Oreo Chantilly cream, and then sprinkled with Oreo crumbles. As if that weren't enough, a 24-karat gold flake Oreo is added on top to give the doughnut some extra shine.  
If you're more of a fruit dessert person, the Raspberry Beret doughnut is a close second in terms of craziness. The doughnut is adorned with luscious strawberry icing, filled with creamy Bavarian filling, and topped with fresh raspberries, mini cream puffs, and a delightful raspberry Chantilly cream.. 
If you have dietary restrictions, this shop also sells vegan and gluten-free doughnuts. Thirsty? Opt for a selection from the coffee menu, serving Intelligentsia Coffee or a yummy, handcrafted milkshake.   
Dress code: None 
Important to know: Doughnuts from Saint Honoré usually sell out pretty quickly, so you'll need to get there early. If doughnuts aren't your thing, you can check out the beignets, which are 100% made from scratch and in the French Quarter style. 
Website: Saint Honoré Doughnuts & Beignets
Address: 9460 W Flamingo Rd, Las Vegas, NV 89147
12. Mt. Fuji Dessert at Sweets Raku (with Ice Cream)
Sweets Raku offers some of the most unique Japanese and French-style desserts found anywhere. You can even watch the chefs make your dessert as you sip on a glass of wine from their extensive selection. 
The Mt. Fuji is a sponge cake with chestnut paste, chestnut cream, cinnamon cookies, and a side of Hennessy ice cream. The result is a dessert that is just as pretty as it is delicious. 
Dress code: Smart casual
Important to know: If you want a savory treat with your dessert, you can choose from a selection of cheeses, caviar, quiche plates, and a prosciutto plate. 
Website: Sweets Raku
Address: 5040 Spring Mountain Rd, Las Vegas, NV 89146
13. 20-Layer Peanut Butter Chocolate Cake at Lavo at the Palazzo 
This towering cake features twenty layers of Devil's Food Cake made with high-end Valrhona chocolate and peanut butter Mascarpone, and if that's not enough, you can choose to have it paired with peanut brittle too. 
Not only will you be able to enjoy this lavish dessert, but you'll also enjoy the ambiance of Lavo, which has a lounge, dining room, and an outdoor terrace that overlooks the Strip. For dinner before dessert, indulge in the venue's delicious Italian fare.
I suggest ordering the famous One Pound Meatball, which is Lavo's most well-known dish and features sixteen ounces (0.45 kg) of imperial Wagyu with Italian sausage and veal with whipped ricotta.  
Dress code: Casual dressy
Important to know: Not only does Lavo have a great dinner and dessert menu, but it's also well-known for its weekend brunch. If you're in Las Vegas over the weekend, be sure to give it a try! For more brunch ideas, check out my article on the buffets in Vegas that have been reopened post-pandemic. 
Website: LAVO Italian Restaurant (The Palazzo)
Vegas Address: 3325 Las Vegas Blvd S, Las Vegas, NV 89109
BEFORE YOU GO: Check out these 8 MGM Grand Restaurants You're Sure to Love
Crazy Desserts in Vegas – Final Thoughts
Las Vegas is a city that always amazes, and its over-the-top desserts are no exception. From towering milkshakes to decadent cakes, there's no shortage of sweet treats to indulge in.
Whether you're a local or a tourist, these 13 crazy desserts are sure to satisfy your sweet tooth and leave you with unforgettable memories. So next time you're in Vegas, be sure to check out these dessert spots and enjoy some of the city's most outrageous sweets.