9 Spots To Grab a Cheap Breakfast on the Vegas Strip
(This article may contain affiliate links. If you click through and make a purchase, we will receive a small commission at no additional cost to you. )
There are few things better than hitting the Vegas Strip, where you'll be surrounded by some of the world's most incredible attractions, casinos, and entertainment. However, you might not be able to fully appreciate the morning sights on the Strip until you've powered up with a good Las Vegas breakfast.
Today we're skipping the brunch buffet and featuring the 9 top spots to grab a cheap breakfast on the Vegas Strip:
La Salsa Cantina
Blondies Sports Bar & Grill
Eggslut
The Cereal Killerz Kitchen
48th and Crepe
Ocean One Bar and Grille
Backstage Deli
Cabo Wabo Cantina
Denny's next to the MGM Hotel
It's no secret that food on the Vegas Strip can be pretty pricey, but these affordable breakfast options may surprise you. When you find yourself on the Vegas Strip next, be sure to try out these delicious yet cheap breakfast spots.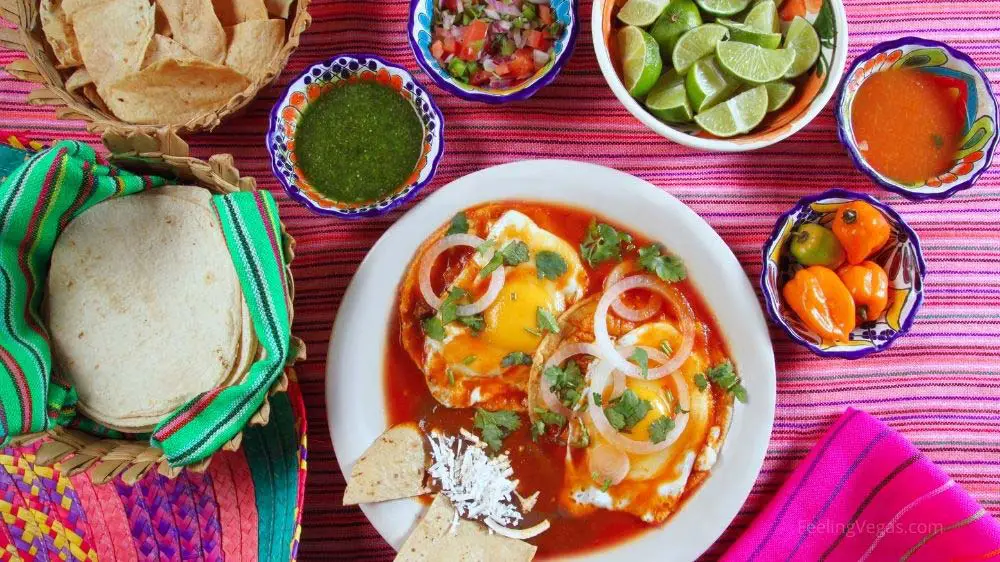 1. La Salsa Cantina
La Salsa Cantina is well-known for its Mexican flare and its incredibly cheap breakfast menu.
The rumors are true; this Las Vegas restaurant has hands down one of the cheapest breakfast options on the Vegas Strip, with almost all of their affordable meals being under $10!
Almost hard to believe, their 2 Eggs Any Style option that comes with ham, bacon, or sausage, along with corn or tortillas AND potatoes, is just under $5.
You can add in one of their breakfast drinks with a price like that, and your bill will still be under $10.
A fun fact is that La Salsa Cantina doesn't use microwaves, and they only provide fresh products. You can get a good cheap eat easily knowing that your food is fresh and tasty!
La Salsa Cantina is located in the Miracle Mile Shopping Mall (google maps) and is open from 8 am-10 pm during the week, and they close an hour later on Friday and Saturday.
See the full La Salsa Cantina's MENU here.
2. Blondies Sports Bar & Grill
Unique and well-known to the Las Vegas Strip is the affordable breakfast spot, Blondies Sports Bar & Grill.
Being a sports bar, this may not be everyone's ideal breakfast scene. However, they do offer excellent breakfast prices.
Their bar is packed with over 60 TV screens so that you won't have to miss a minute of your favorite sports game. You're also impressively served by waitresses in cheerleader uniforms.
For an affordable price, especially for the Vegas Strip, you can buy their 2 Egg Breakfast for just short of $6. Don't worry; it comes with more than just two eggs. You can also expect bacon or sausage, as well as potatoes. 
Blondies is known to have delicious breakfast specials that you can catch for as cheap as $3, so keep your eyes and ears open for that.
Although not breakfast, their Happy Hour is a great experience as well. It takes place during the week from 3-6 pm or 9 pm-12 am. Regulars attend not only for the reduced prices but for the vibrant environment and sports games!
Blondies Sports Bar & Grill (google maps)is open from 8 am – 1 am during the week and until 2 am on Fridays and Saturdays. You can locate them inside the Miracle Mile Shops at Planet Hollywood.
Check out the full Blondies breakfast MENU here.
RELATED: Las Vegas Restaurants with views of the Bellagio Fountains
3. Eggslut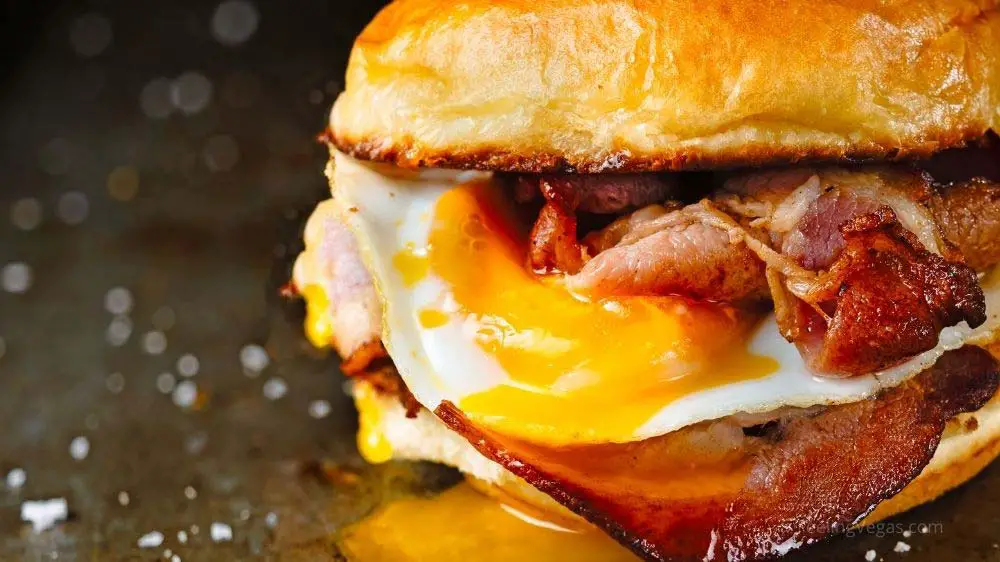 As a breakfast lover myself, I have a deep love for eggs. If this is true for you, get ready to have your socks knocked off with this next cheap breakfast spot called Eggslut. Does this breakfast nook describe you?
Impressively, most of their sandwiches are under $10. You can buy your breakfast sandwich for $9 and can expect eggs (of course), bacon, and cheese packed between its warm brioche buns.
This egg-y experience is a grab-and-go, ideal if you have to grab a quick breakfast on your way to the pool or one of Vegas's awesome day tours.
If you'd like to sit and eat, there's a 20-person counter available. However, I wouldn't bargain on one of those being open. Instead, grab one of the tables outside of Eggslut or somewhere else around the Cosmopolitan.
On arrival, you may encounter a long line; however, this proves how good the food is. Don't worry about waiting too long to get your food, though, as the line typically moves very quickly.
If you have a love for eggs as much as I do, the bit of a wait is worth the taste, and so are its aesthetics. Make sure to bring your camera along for a foodie Instagram pic!
Eggslut is open from 7 am for you early birds and closes at 1 pm during the week and 3 pm on weekends.
You can locate Eggslut (google maps) on the second floor of The Cosmopolitan.
See the full Eggslut MENU here.
4. The Cereal Killerz Kitchen
If your definition of breakfast is a bowl of cereal instead of the typical "English" breakfast, then The Cereal Killerz Kitchen may be just what you're looking for.
Offering over 100 different cereal options, they give you the freedom to get creative and build your own cereal bowl or milkshake. This cereal bar is a cereal lover's dream destination! They also offer iced coffee, waffles, and a sweet waffle taco.
The Cereal Killerz Kitchen keeps its prices low, and almost all of its products are under $10. You can get a cereal bowl made up of three different cereal options of your choice for around $5, or you can pick the five option one for about $7. There are also various milk options available for an additional charge.
There's no better place to allow your sweet tooth to run wild than at The Cereal Killerz Kitchen in Sin City. For the prices that they offer, you can gain an experience and a fun, colorful breakfast at the same time.
A fun fact is that Cereal Killerz has a competition running where you can eat a massive bowl of cereal made up of all of their various cereal options. It's mixed with a gallon of milk, and you need to consume the whole thing within a specific time limit.
You'll have to pay $30 to compete, but if you win, they'll give you your money back, throw in a T-shirt, and your photo will go on their wall. Not mentioned as a prize on their website, but you'll also have just experienced 130 different kinds of cereal all at once – that's a pretty decent prize if you ask me.
You can locate The Cereal Killerz Kitchen in the Miracle Mile Shops (google maps), and they'll be open from 10 am until 9 pm during the week and until 10 pm on Friday and Saturday.
With them only opening at 10 am, you may have to wait a bit before your cereal breakfast, but with them closing at 10 pm, it means that you'll be able to eat cereal for breakfast, lunch, and supper!
Visit The Cereal Killerz Kitchen MENU here.
RELATED: Cracker Barrel Near the Las Vegas Strip (2 Locations!)
5. 48th and Crepe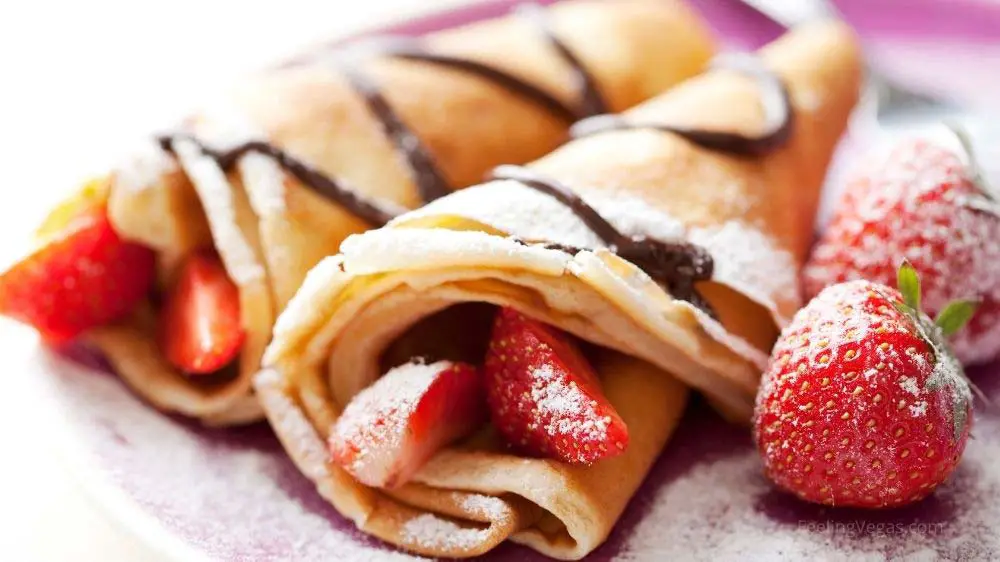 Another great breakfast spot that sees customers coming back time and time again is 48th and Crepe. As the name alludes, this restaurant offers French Cuisine and all things delicious. Customers greatly recommend them for their generous portion sizes.
Their breakfast menu offers a variety of options with few over the $10 price range.
You can buy their Healthy Breakfast for just over $9. It has egg whites, mushrooms, pesto, spinach, and tomatoes.
You'll find their Bacon and Egg selection at a similarly low price of just under $10. You can expect top-quality bacon, eggs, cheese, and Crème Fraiche, which sounds very tasty.
For those of you who desire something sweet to start your day, they offer waffles and crepes, both under $9. You can also throw in a coffee for just over $3.
You can locate this restaurant inside New York-New York Hotel & Casino (google maps), at the end of the charming Village Street Eateries food court.
They're open daily from 8 am-2 pm.
See the full 48th and Crepe MENU here.
RELATED: Find out what it costs to eat at Hell's Kitchen in Vegas
6. Ocean One Bar and Grille
Ocean One Bar and Grille is where it's at. Here you'll find more than just one or two excellent breakfast deals.
Whether you want to have a healthy breakfast, sweet breakfast, or a classic breakfast, you'll be happy to know that you won't spend more than $6 for any of them.
They're famous for their Ocean One Egg Sandwich. This beauty is a croissant with eggs, cheese, and ham. It also comes with potatoes. You get all of that, and you won't be spending over $6!
They also have omelets available, which are a little more than $6 but no more than $9. If you enjoy a bit of a kick in the morning, I recommend their Tex Mex Omelet, which comes with chili, cheese, potatoes, and toast.
Something else I'm sure you'd like to know is that they offer 3-for-1 cocktails all day, along with well-priced beers.
The "wow" doesn't stop there. Ocean One Bar and Grille also offers a lunch menu that doesn't go above $5. I've never seen so many $4.99 items on one page before in my life! 
Now you know why I said Ocean One Bar and Grille is where it's at.
Before you rush out to grab their unbelievable deals, note that they're only open from 11:30 am during the week, and 11 am on Sundays.
This restaurant treasure is the ideal place to grab yourself a cheap breakfast if you've overslept and missed the breakfast menus at most of the other restaurants that line the Vegas Strip. They close at 9:30 pm every night.
You can find them at the Miracle Mile (google maps) in Planet Hollywood.
Check out the complete Ocean One Bar and Grille MENU here.
7. Backstage Deli
This little gem is known for its sandwiches, but there's a decent breakfast menu as well.
Located just off of the Casino Floor in a corner of the Luxor Hotel (google maps), Backstage Deli makes for a convenient quick break from your gambling spree without having to go out onto the Vegas Strip.
Of course, convenience comes with a bit of a price. You can expect to pay $10 for their A Lil Bit of Everything breakfast, slightly more expensive than our previous breakfast options but still pretty affordable for Las Vegas.
Your plate will be full enough that you could share; however, you probably won't want to do so. This breakfast boasts eggs, bacon or sausage, cheese, an everything bagel, and tater tots.
They offer excellent service and have the friendliest staff to serve you from Wednesdays to Mondays from 10 pm-2 pm.
See the full Backstage Deli MENU here.
8. Cabo Wabo Cantina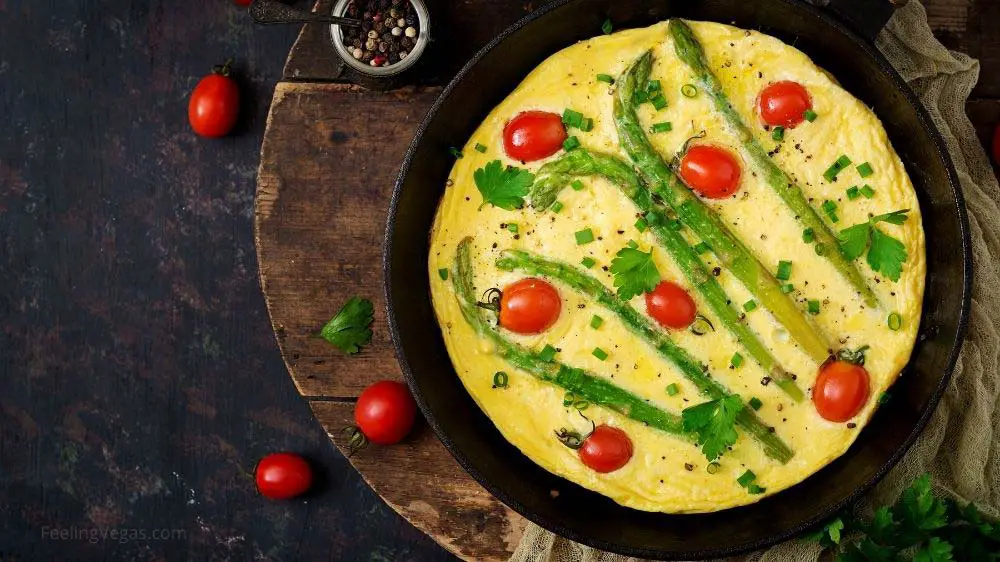 A well-portioned, cheap breakfast on a deck overlooking the Bellagio Fountains on the Vegas Strip may sound too good to be true. Thankfully, this place exists, and it's called Cabo Wabo Cantina! Their website promises great food and a great vibe!
This Mexican venue offers live music and two breakfast options for just under $10. However, if you are on a limited breakfast budget, I recommend that you start your day out with coffee at home because your breakfast plus your coffee will see you over the low price of $10.
Your first cheap breakfast choice is their Veggie Omelet, filled with peppers, cheeses, mushrooms, tomatoes, onions, and spinach.
For the no-veggie option, you can get the Classic Cabo Breakfast which comes with eggs, bacon, sausage, or chorizo.
The breakfast menu is available from 8-11 am, and you can find Cabo Wabo Cantina in the middle of the Vegas Strip, right outside Planet Hollywood (google maps).
Please note that if the weather is poor and you'd prefer to sit inside, you must book a reservation first.
Visit the full Cabo Wabo breakfast MENU here.
RELATED: Did you know you can get food delivered to your Las Vegas hotel?
9. Denny's Next to the MGM Hotel
Although you can find Denny's in many cities and countries, you'll also conveniently find one located right on the Vegas Strip for travelers that enjoy new experiences but not unfamiliar food.
Denny's is where you know what you're going to get without any local surprises. They also offer a relatively cheap breakfast selection.
Although not unique to the Strip, it's a popular Vegas breakfast stop that'll typically leave you waiting in a long line if you don't get there before 9:30 am. However, you won't have to wait very long to get your food once you've ordered it.
Denny's has affordable breakfasts for the whole family. If you enjoy pancakes to start your morning, then their new Choconana Pancake Breakfast for under $8 will blow you away!
If you'd prefer not to have your sugar levels spike too high, then I'd recommend one of their breakfast favorites, their Grand Slamwich. This packed meal is under $10 and contains scrambled eggs, sausage, bacon, ham, mayonnaise, and cheese grilled onto the bread.
If you can't choose whether to get pancakes or a classic breakfast, then have both with their well-known "Build Your Own Grand Slam." This breakfast gives you the freedom to pick what you want from four different items. This grand breakfast is just over $7!
There are four Denny's on the Vegas Strip, so you won't miss it. One that is well-recommended by the locals is the Denny's next to the MGM Hotel (google maps). They are open 24hrs, so you can start breakfast as early as you'd like.
Take a look at Denny's breakfast MENU here.
Now you know my favorite spots for a cheap breakfast on the Las Vegas Strip. Time to chow down!
RELATED: Discover the best breakfast and brunch buffets in Vegas