The 6 Best Las Vegas Dinner Shows (Delicious Vegas Fun!)
(This article may contain affiliate links. If you click through and make a purchase, we will receive a small commission at no additional cost to you. )

Two of the many things Las Vegas is known for are its incredible entertainment and dining options. Therefore, what could be a better Vegas activity than a dinner show that combines both of those things together? Enjoying an evening at a Las Vegas dinner show is an absolute must, but you might have trouble choosing which one to attend, so I've created a list of the six top dinner show experiences in Las Vegas.
Here are the 6 best Las Vegas dinner shows:
Mayfair Supper Club
Tournament of Kings
Marriage Can Be Murder
Alibi Las Vegas
Lake of Dreams
The Ultimate Variety Show
These fine Las Vegas establishments offer both great food and excellent entertainment at the same time. In this article, we'll explore what each of these world-class dinner shows offers to help you figure out which dining show experience is the right one for you.
Looking for the ultimate Vegas show experience? Check out the calendar of concerts and festivals coming to Las Vegas!
1. Mayfair Supper Club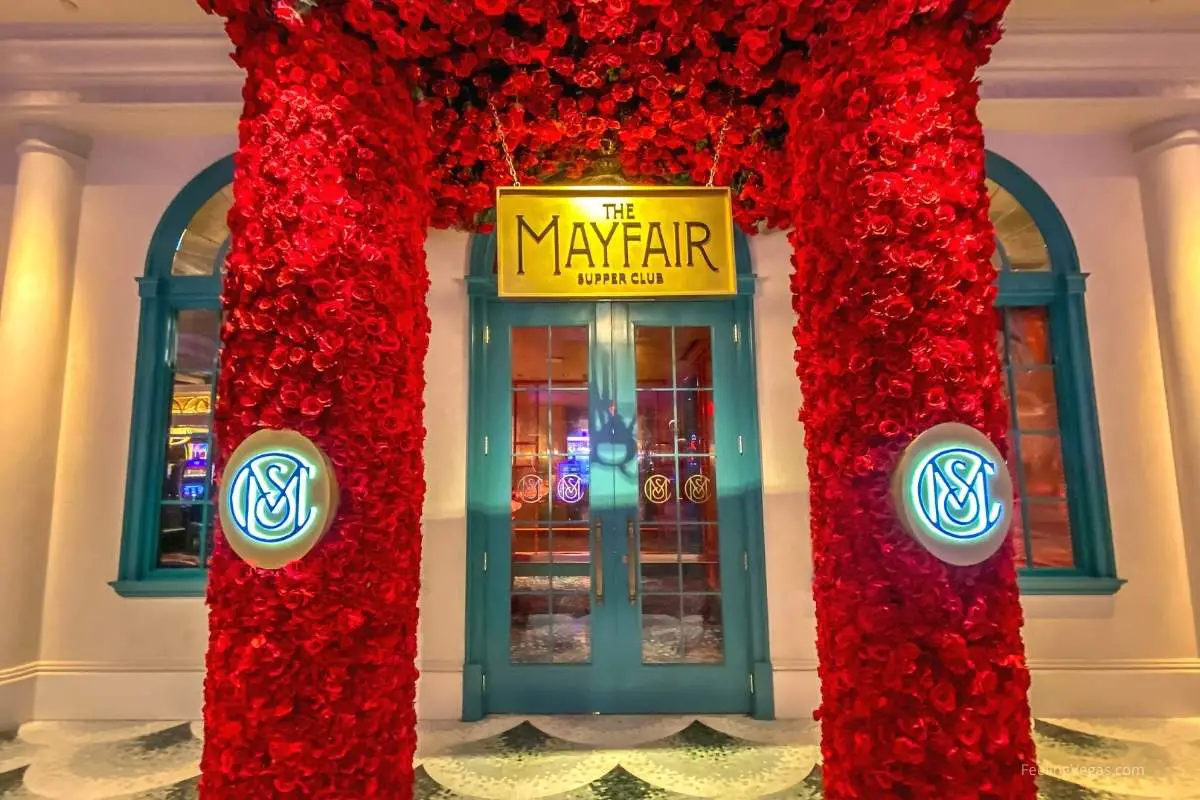 Located at the world-famous Bellagio, the Mayfair Supper Club is all you could ask for when it comes to fine dining, socializing, and entertainment. Upon entrance, guests are fully immersed in a bygone era of glamor and beauty, transporting them back to Las Vegas' golden age.
When you come to the Mayfair Supper Club, you'll be experiencing something special. With the world-famous Bellagio Fountains in the background, be prepared to be overwhelmed by complete sensory delight. Every aspect of the design, dining, entertainment, and music is geared toward your enjoyment.
Along with the Bellagio Fountain show that takes place every fifteen minutes to half an hour and entertainment inside the restaurant itself, the Supper Club serves some of the highest quality food in Las Vegas.
From the Wagyu and caviar hand roll to the filet mignon with truffle sauce and a selection of delectable desserts, the food is as unforgettable as the entertainment.
The party only continues after the sun sets with Mayfair After Dark on Fridays and Saturdays- when the supper club converts to a late-night lounge. Musical acts and performers play until 3 am, and a late-night dinner is offered until 2 am.
On Sundays, the club converts to a swanky jazz club for Jazz Sundays. Enjoy dinner while a live jazz band and singers serenade the dining room. Original renditions of songs from the Great American Songbook are performed, making for a smooth and elegant experience.
In line with the Mayfair Supper Club's elegance, business casual attire is required. Elegant and dressy for the ladies, collared shirts and polos for the gentleman. They don't permit shorts, sports apparel, tank tops, and open-toe shoes.
Reservations are required. Click here to book yours now!
RELATED: 15 Best Vegas Restaurants with Views of Bellagio Fountains
2. Tournament of Kings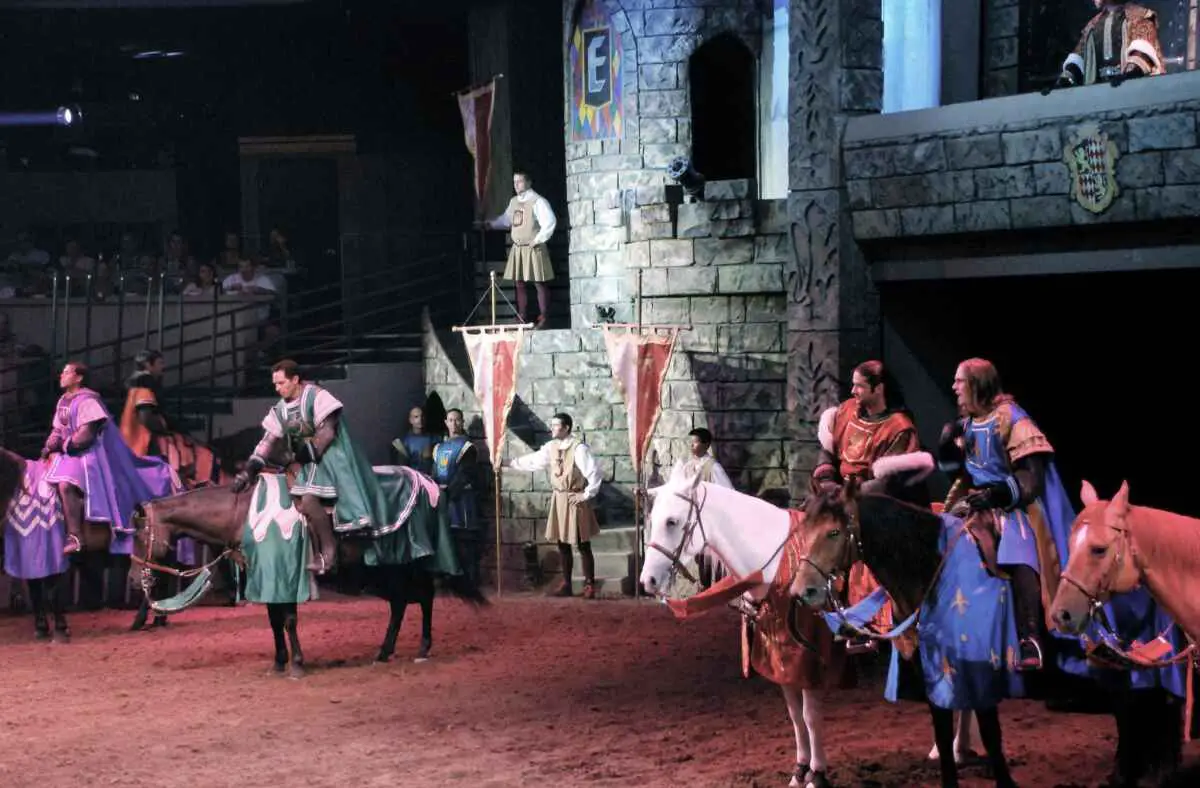 The Tournament of Kings is considered one of Las Vegas's most popular dinner show experiences. It's a live-action production adapted from the tale of King Arthur — complete with horses, special effects, costumes, and song and dance.
Audience members are transported back to the middle ages in an epic story of knightly courage and betrayal, plus a hearty meal.
In the 9,000 square foot (836.13 sq m) King's Arthur Arena, guests are seated in sections representing different countries. This way, they can cheer on their respective sides during the show. Medieval performers engage in various lively competitions, including a horse race, jousting, sword fighting, and gladiator-style battles, while audience members root for their champions. It's suitable for all ages, so it's the perfect evening for families.
There's even an appearance by Merlin — the fabled medieval wizard and King Arthur himself. During the dinner, King Arthur and his knights eat along with the audience at a round table in the middle of the arena.
The food consists of a three-course feast: roasted cornish game hen, red bliss potatoes, corn on the cob, fresh biscuits, and an apple dessert. They also offer gluten-free, vegetarian, dairy-free, peanut/pine nut allergy, and vegan dining menus.
For an authentic touch, audience members eat using their hands, just like real lords and ladies would have back in the middle ages. You can find this show at Excalibur Hotel & Casino right on the Las Vegas Strip.
Get your tickets here! (Vegas.com)
3. Marriage Can Be Murder Dinner Show
Marriage Can Be Murder is a multi-award-winning experience — the number-one comedy show in Las Vegas and, according to Ivory Star Productions, the longest-running Vegas dinner show currently in production.
In this show, audience members participate in a classic whodunnit — sorting through clues to solve a mystery alongside a hilarious cast. Created by husband and wife team Eric and Jayne Post, this interactive murder mystery is filled with laughter, puns, pop-culture references, and delight.
If playing detective in an interactive murder case full of comical shenanigans sounds like a good time, this may be the show for you.
Cleverly, the suspects are actors planted among the diner guests. As the night unfolds and more clues are discovered, you may find that who you're sitting next to might not be as innocent as you thought.
Guests are sometimes assigned audience participation roles within the comedy — such as doctor or pallbearer. But you can be as involved or as uninvolved as you want.
The show changes every month with a new cast, theme, and killer so that audience members can come back again and again for a unique experience every time. The show has a host of devoted fans, some of whom have been going back for years.
The dinner is a three-course meal, including dishes like Fowl Play, Dead Meat, or Meatless Mayhem. Guests are seated at banquet tables — the feast begins with salad, warm rolls, and entree choices of chicken, beef or fish, and cheesecake for dessert. There are vegetarian options as well.
There are three ticket choices: regular, V.I.P., and R.I.P., which includes 15 minutes of fame: and participation in the show. It's a two-hour-long experience that ends with the murderer's reveal.
Marriage Can Be Murder is a pop-up performance, meaning it pops up on certain nights inside Hennesy's Tavern in downtown Las Vegas. Follow @bestdinnershow on Twitter for the latest date announcements.
Click this link to buy tickets!
4. Alibi Las Vegas
Alibi Las Vegas is a show that is like nothing else on this list — it offers a whole new take on the dinner theater experience. Taking interactive theater to a whole new level, participants embark on a walking scavenger hunt, discovering clues in a unique story and experiencing comedic acts along the way.
Comedians will offer participants clues and puzzles to solve with their team, guiding them to the next character and destination. Part show, part game, part tour, part dinner, this show has it all.
The shows' many stages are the streets and locations of historic downtown Las Vegas — the restaurants, bars, and shops. This succeeds in immersing participants in Las Vegas in the coolest ways possible. Even locals will make discoveries about their city they never knew before.
This show is perfect for couples, solo tourists, bachelor and bachelorette parties, groups looking for a team-building exercise, and adventurous locals. Up to 10 group members can participate in the show at a time.
The comedy sketches are performed by some of the best comedians Las Vegas has to offer. According to the show's website, they're 50% scripted and 50% improv, making for a new, hilarious experience for each show's audience.
Along the way, the comedians will serve you food and drinks. There are options for alcoholic and nonalcoholic beverages, and lunch is served at a handpicked downtown restaurant.
The tickets are all-inclusive. The price covers the 2.5-hour-long show, plus a souvenir photo, food, drinks, and a take-home gift to remember the adventure long after you leave.
Showtimes are every single Saturday during the year, and there are multiple shows throughout the day, but they sell out fast.
Click here to book your experience now!
5. Wynn's Lake of Dreams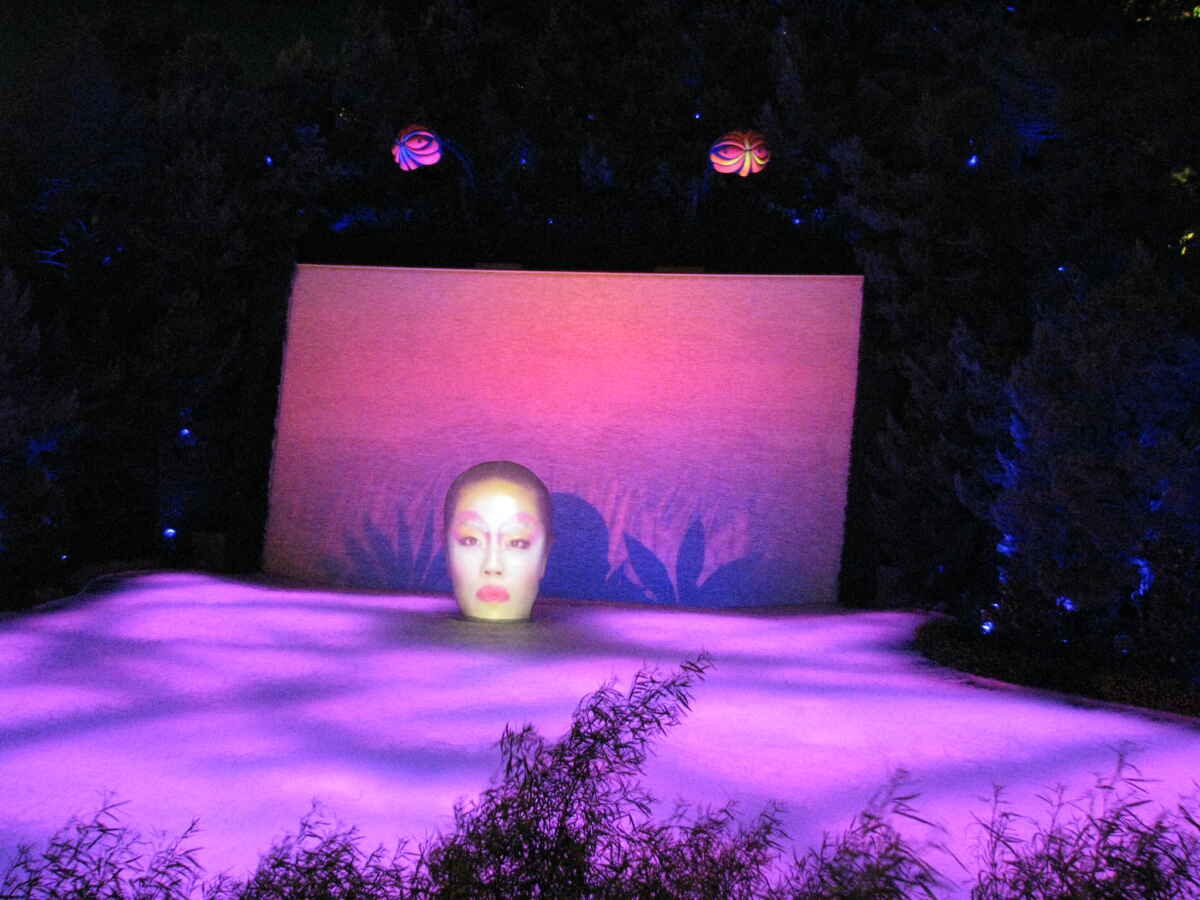 The Lake of Dreams show at Wynn Las Vegas is a magical experience — a multi-media spectacle consisting of explosive colors, puppetry, state-of-the-art sound, and lighting.
The backdrop for the performances is a 45-foot by 90-foot (13.72-meter by 27.43-meter) waterfall that flows into a three-acre lake, an 11-story mountain, and 1,500+ pine trees colored by lights throughout the show.
The visuals are designed by Emmy-winning director Kenny Ortega, production designer Michael Curry, and lighting designer Patrick Woodroffe. So when you attend this show, you know what you're seeing is state of the art.
The show itself is free and takes place every 20 minutes, starting at 7 pm and running until 11:30 pm. It features a variety of fantastic musical performances utilizing the venue's extraordinary technology, such as the famous Singing Frog — a giant singing amphibian built with advanced robotics.
The best way to enjoy the show, however, is by watching it while having a fine dinner on the patios at either Lakeside or S.W. Steakhouse. Both restaurants provide excellent views of the show. Rated four stars in the Forbes travel guide, the SW Steakhouse is known for its delicious prime rib steaks, Wagyu, sea scallops, and more.
Lakeside, also rated four stars, is named for its prime location in watching the Lake of Dreams. The restaurant also serves the freshest seafood around, caught by family fishermen in Hawaii and flown in daily to the Wynn in Las Vegas.
Make a reservation here at either Lakeside or S.W. Steakhouse for a fine dining experience combined with the Lake of Dreams show.
6. The Ultimate Variety Show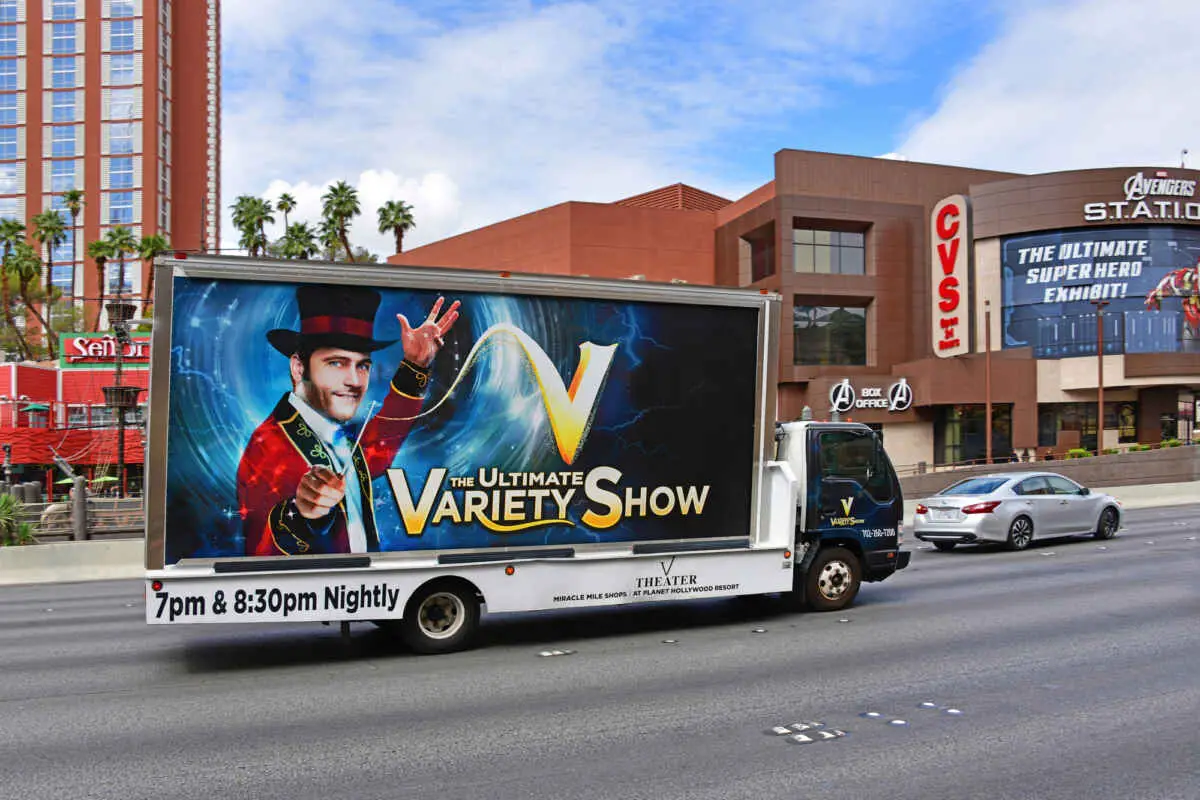 The Ultimate Variety Show is unmissable if you're going to Las Vegas. This performance has repeatedly been voted one of the best shows in Vegas. It features seven high-energy acts and daredevil stunts rolled into one show. There are a dozen rotating acts, so there's a different performance each night. You never know which act will come up next.
The acts are given by world-class performers from all around the world. Performers have been featured on shows such as America's Got Talent, I Can Do That! And other talent shows. There's something for everyone at this event — jugglers, gymnasts, acrobats, roller skaters, comedians, and more. It's perfect for all ages.
This show is unique because it displays some of the most outstanding performances from around the globe, all on one stage. Before the ultimate variety show, acts like these were most often used as transitions during the set and costume changes for other Vegas shows.
David Saxe, the show's producer, wanted to change that. His creation was a huge overnight success. Now, the Ultimate Variety Show is one of the most popular events in Las Vegas.
Held at the V Theater at Planet Hollywood Resort & Casino, the show occurs nightly at 7 pm and 8:30 pm. You have a choice between general admission tickets or V.I.P. seating tickets.
Unfortunately, this is the only show on this list that doesn't include dinner during the show. However, the show offers a dinner upgrade that includes V.I.P. show seating and the option to eat dinner before or after the show at a featured restaurant inside Planet Hollywood, all for a single price.
All dinner options are available at checkout. Click here for tickets!
RELATED: Is V The Ultimate Variety Show Worth It? (Know Before You Go)
Top Las Vegas Dinner Shows – Conclusion
There you have it! A list of the dinner shows in Vegas you won't want to miss. Whether you're looking for thrills, excitement, laughs, or a fine dining experience with a show, Las Vegas doesn't disappoint. In Vegas, you can eat and be entertained at the same time!
Additional sources: