Is V The Ultimate Variety Show Worth It? (Know Before You Go)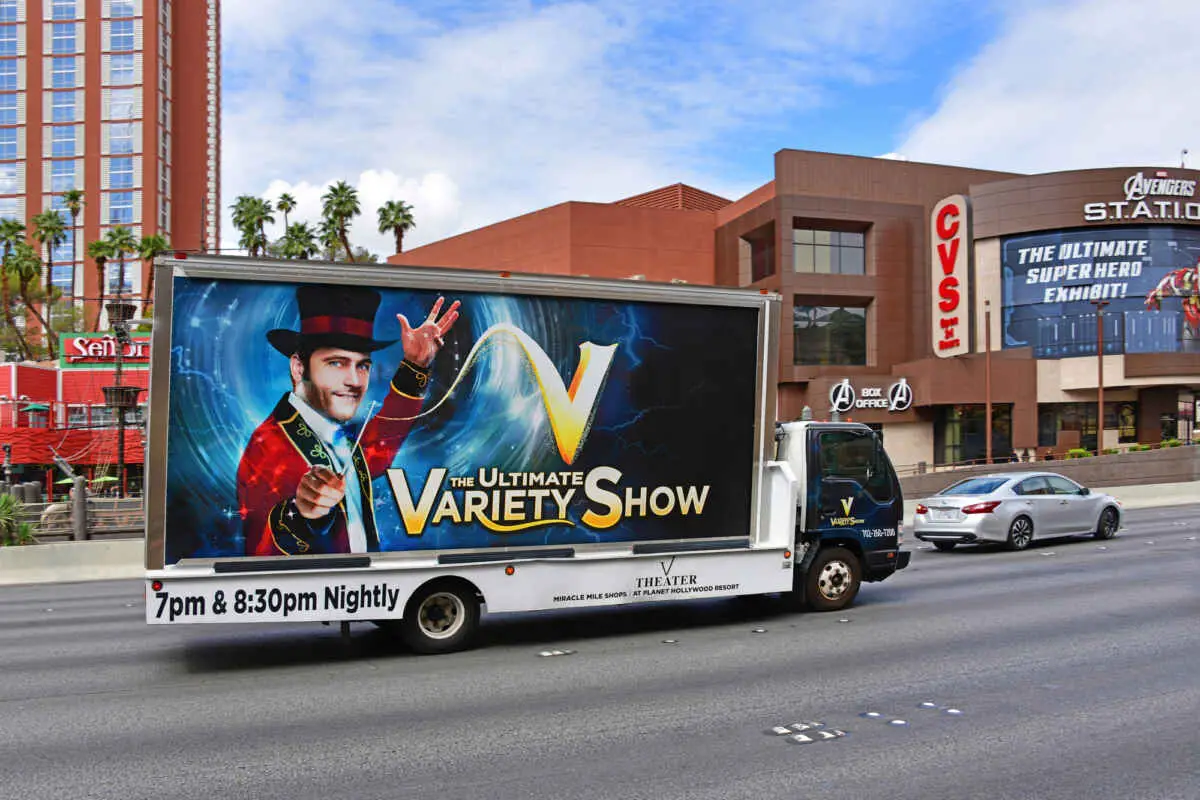 (This article may contain affiliate links, which means we might earn a small commission if you click and make a purchase. Thank you!)
Vegas is a city known for its lively nature, colorful atmosphere, and the fact that it's essentially one big inclusive party of people looking to enjoy life. With that in mind, it's safe to say that V – The Ultimate Variety Show perfectly captures the spirit of the city. While the performances are undoubtedly very entertaining, the same can be said for most vegas shows; so is V – The Ultimate Variety Show really worth it?
The V – The Ultimate Variety Show is worth it. The ticket prices are some of the lowest in the city, and you'll get to enjoy a wide array of performances from all over the world. You'll essentially get seven shows rolled into one, so there's a lot to take in during the 60-minute performance.
To learn more about what makes V – The Ultimate Variety Show stand out from the rest of Vegas shows and worth the ticket price, make sure to read on.
Below, I'll take you through a more in-depth review of the performance, exploring both its strong points and the elements that can be improved moving forward. So, if you're making your Vegas itinerary, consider adding V – The Ultimate Variety Show to it as you learn more in the following sections.
Review of V – The Ultimate Variety Show: What's Good and What Could Be Better
What sets V – The Ultimate Variety Show apart from other flashy and entertaining Vegas shows is the fact that it truly offers something for everyone. Between the multiple talents performing from around the world, it's safe to say that no audience member will go home without experiencing at least a few performances they really enjoy.
The all-encompassing nature of this show can be considered both a pro and a con, though. For example, while it's easy for families and friend groups to find a compromise by going to watch The Ultimate Variety Show, where everyone will find something to enjoy, if you're looking for a specific type of performance or a themed show, you probably won't find what you're looking for in this show.
So, even though from an objective point of view, the talent and performances you'll enjoy by watching V – The Ultimate Variety Show justifies the ticket price, the answer to the question "Is it worth it?" is still a subjective one.
The Nature of the Ultimate Variety Shows
Unlike other Vegas shows based on a specific theme, V – The Ultimate Variety Show is a classic "variety show," meaning you will see different acts that have no direct connection with each other than the fact that they are entertaining. Think vaudeville.
The show is perfect for those who get bored easily, as the lively, fast-paced atmosphere created by the performers doesn't leave room for one dull moment. On the flip side, those trying to enjoy a quieter, more laid-back experience would likely prefer a slower-paced performance (though that's a bit difficult to find in Vegas).
Another great thing about V – The Ultimate Variety Show is that it's a show the whole family can enjoy, as there are no age restrictions. The show time of 7 PM is pretty reasonable, too, so you can turn your viewing experience into a fun family night out.
V – The Ultimate Variety Show is hosted on the premises of Planet Hollywood Resort & Casino (inside the Miracle Mile Shops), which is located right on Las Vegas Boulevard (aka The Strip), which means that if you're out and about exploring the main attractions in the city, you won't have to go out of your way to get to the venue.
Moreover, I need to give credit where credit is due: V – The Ultimate Variety Show has put a very creative spin into your run-of-the-mill Vegas entertainment and considering the tough competition out there, that's no easy feat.
Whether you like comedy, magic, or exciting stunts, you'll find what you're looking for and more in this one-of-a-kind Vegas show. Moreover, the talent performing here, as mentioned previously, comes from a wide array of cultures and backgrounds, so you'll be delighted to view performances you have likely never even seen before.
Ultimate Variety Show Run Time
On the flip side, though, you need to keep in mind that this wide array of performances is constricted by a 1-hour time window (which is the runtime of the show). So, at times, the show might feel busy and overwhelming, and many audience members are left wanting more by the end of the show.
While most visitors choose Vegas exactly for its busy, fast-paced nature, it's still something to keep in mind.
Tickets for V The Ultimate Variety Show
I briefly mentioned that ticket prices for V – The Ultimate Variety Show are relatively affordable, and I'll expand more on that in the last section of this article. However, don't let this bit of information confuse you into thinking that the performance will be anything but top-tier. You can even splurge on VIP tickets (which, obviously, cost hundreds of dollars) for that luxurious experience.
Having regular non-VIP tickets, however, won't diminish your enjoyment of the show. Alcoholic and non-alcoholic beverages are also served at the venue; however, they're not included in the ticket price and need to be purchased separately. 
Unfortunately, the same can't be said for food as it's not sold at the theater. Moreover, outside snacks and beverages are strictly prohibited, so if you plan to watch the show, don't come into it starving. At least the short runtime works in your favor here, as you won't have to go hungry for more than an hour.
While on the topic of tickets, I want to take the time to urge you to book them as soon as your Vegas visit is set in stone. That's because the sooner you book, the better your seats and the cheaper they'll be. This can be especially important if you're planning to visit the city during peak season.
Ultimate Variety Show Venue & Seating Chart
Another pro I want to mention about the show is that the venue (V Theater) is extremely clean, and the staff is always careful about sanitization. This is especially important if you're going to watch the show with babies or toddlers who, as any parent knows, like to touch everything in sight before promptly putting their hands in their mouths.
Aside from being clean, the venue is also reasonably comfortable, featuring a stadium-style setup, and 500 padded seats. This means that everyone can get to enjoy the show without any obstructions, which is a huge plus in my book.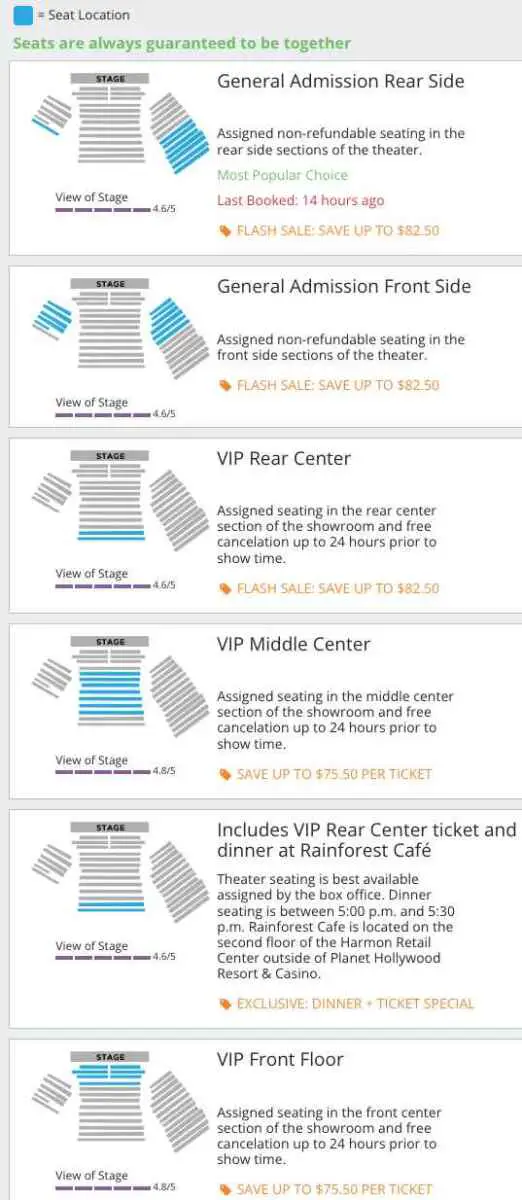 The location, as mentioned, is extremely convenient and you won't have to search around for hours to find it, even if it's your first time in the city. With that said, keep in mind that the theater isn't as new as some other venues around the city – this means that some seats might be a bit sunken or show slight signs of wear. However, since they're still reasonably comfortable, I wouldn't consider this a major drawback.
Temperature-wise, the venue is temperature controlled for comfort, however, note if you're visiting during the hot summer, you may actually want a sweater or light jacket to keep from getting too cold.
Another element you might want to consider is the lack of legroom you're likely to experience in the venue. Since the seats are placed so close together to maximize the theater's capacity, taller people often have difficulties getting comfortable due to limited space.
By now, I've mentioned VIP tickets a couple of times, and you might be wondering, "Are They Worth It?". I'd say if you have the money to spare, VIP tickets do contribute to an overall better experience, and they are only marginally more expensive than general admission tickets (more on ticket prices down below). 
There are really no bad seats in the venue since you'll be able to see the action no matter where you are. VIP seating, however, is center stage, offering the convenience of looking at the stage head-on.
Moreover, VIP tickets allow you to cancel your reservation up to 24 hours before the show starts, so you can afford to make an early booking without risking losing your money if you don't ultimately end up going.
Note: One of the VIP ticket packages even includes dinner at a nearby restaurant prior to the show.
12 Different Ultimate Variety Show Performers
I briefly mentioned the types of acts you can expect to enjoy at V – The Ultimate Variety Show; however, I haven't covered nearly as much as there is to say about the show itself. For example, you can expect to see around a dozen different performers at each show, all stunning the audience with different skill sets including,
Magic
Comedy
Acrobats
Athletic performers
and more!
Between each number, a comedian comes out to make the transition a bit smoother and more enjoyable. 
Again, considering that there are 12 different performances to enjoy and only an hour to enjoy them in, be prepared for a wild ride and try to be as present as possible to take the whole thing in.
V – Show Development
By now, you probably know what type of atmosphere to expect from V – The Ultimate Variety Show, and true to its lively nature, the crowds in the audience can get a bit rowdy as well. However, I've heard audience members complain that the performance starts a bit slow, and I think I agree with the sentiment.
Don't get me wrong, it's normal for shows to ease their audience into the performance they're about to enjoy. However, since the timeframe is so constricted, the development and ending of V – The Ultimate Variety Show seem to be disproportionately busy compared to its beginning, which is why some viewers believe the whole thing could be organized a bit better. 
With that said, I understand that shows like this can't start the performance with a death-defying stunt off the bat, so re-arranging the whole structure isn't as easy as audience members like me make it out to be. That's why I wouldn't consider this a major con, so take my complaints with a grain of salt.
Enjoyability of V The Ultimate Variety Show
If it hasn't been obvious thus far, I believe V The Ultimate Variety Show is one of the most entertaining shows in Vegas – its collection of talents and performances is genuinely unparalleled. However, if you have clear niche preferences, you might get a bit uninterested in some of the numbers.
After all, that's the risk showrunners take when crafting a performance that aims to cater to everyone – audience members will feel more invested in some parts of the show than others. However, I still don't think there's a dull moment during V – The Ultimate Variety Show. That's because even though, during some time stretches, you might be indifferent to the craft of the performer, you'll still be in awe of their talent.
V – The Ultimate Variety Show: Ticket Prices
It's finally time to get into the nitty gritty of V – The Ultimate Variety Show's ticket pricing. I've repeatedly mentioned low ticket costs as a pro throughout this article, but how much exactly can you expect to spend on the show?
Both Viator and Vegas offer tickets priced as low as $47 (VIP tickets start around $57), which considering the context, are pretty affordable. However, keep in mind that if you're anything like most audience members, you'll feel compelled to spend an additional $20 or $40 on drinks, so make sure to budget for any unforeseen expenses as well.
I singled out Viator and Vegas because these sites usually offer the lowest ticket prices you can find for most Vegas shows. If you're in a pinch, you can obviously buy your tickets from the venue itself; however, be prepared to pay almost twice as much as you would if you were to shop on one of these websites.
Either way, unless you're paying for a VIP package, the show is relatively affordable – yet another reason that makes it well-suited for a fun family outing. After all, you get to enjoy a performance that captures the essence of Las Vegas without breaking the bank.
Conclusion
V – The Ultimate Variety Show, true to its name, is a fascinating exhibition that includes a little bit of everything, so if you're looking to enjoy a quintessential Vegas experience, I believe the ticket price is worth it.
It's a great value and one of the best variety shows in Las Vegas.
There'll be no dull moments while watching the performance; each number is exciting in its own way. Moreover, considering the ~$50 price point, which is exceptionally affordable for Vegas, you'll feel confident that you're getting your money's worth.
So, if you're ever in the city, make sure to add V – The Ultimate Variety Show to your list of Vegas shows.