Luxor Parking Fees 2023 (Plus Parking Tips & Tricks)
(This article may contain affiliate links. If you click through and make a purchase, we will receive a small commission at no additional cost to you. )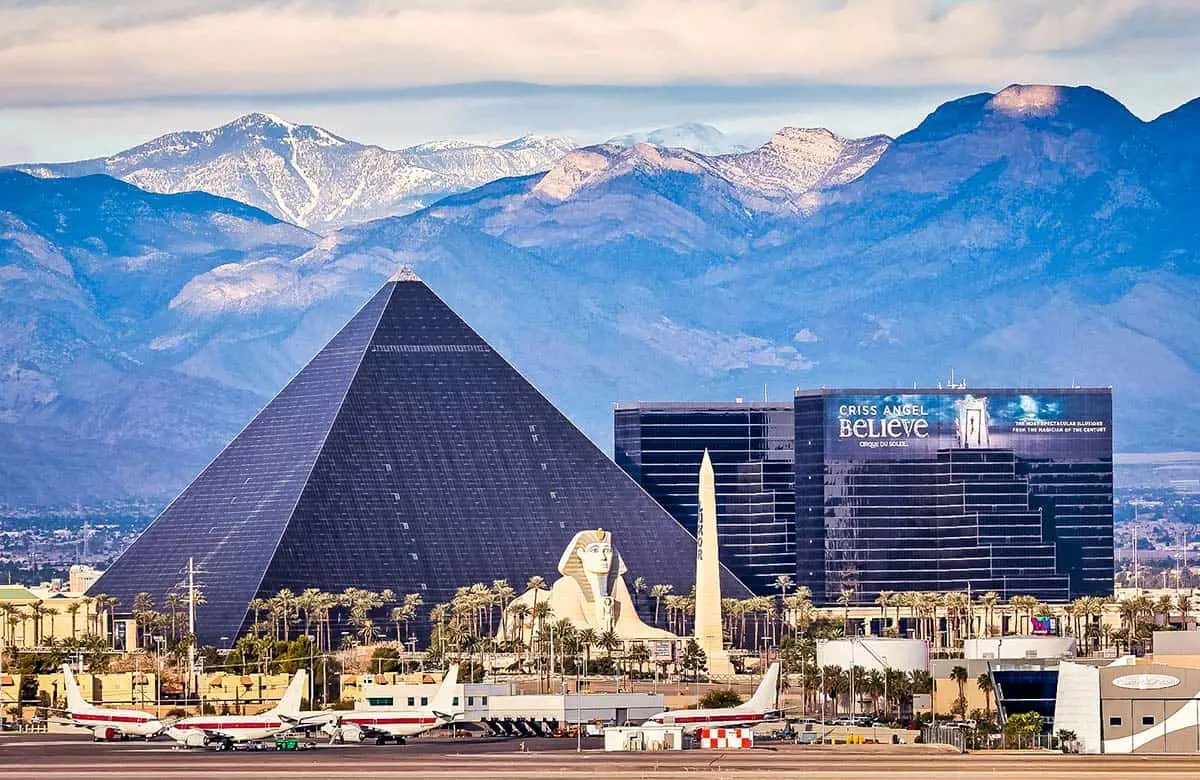 With most Las Vegas hotels on the Strip now charging for parking (Boooo!), it's important to know the cost when choosing your destination. In this article, I'll provide you with the current Luxor parking rates and tell you everything you need to know about parking there.
Self-Parking Fees at Luxor Las Vegas:
Monday – Thursday
1st Hour – Free
1 – 4 Hours – $15
4 – 24 Hours – $18
Every additional day (24 hours) or part thereafter – $18
Friday – Sunday
1st Hour – Free
1 – 4 Hours – $20
4 – 24 Hours – $23
Every additional day (24 hours) or part thereafter – $23
Keep reading to learn about tips to reduce or eliminate the fee, valet parking fees, and how to get free parking at the Luxor.
Compare and save! Check current Luxor room rates at TripAdvisor.
Luxor Parking Fee in 2023
The Luxor Hotel & Casino is a large, black pyramid structure that sits on the southern end of the Las Vegas Strip. You can't miss it! It's 30 stories high, sits on 120,000 square feet of property, and has 4,407 guest rooms making it the 8th largest hotel in the world.
Oh, and there's a giant Egyptian sphinx sitting in front of the hotel. See, I told you you wouldn't miss it 🙂
Thousands of people visit the Luxor Hotel every year, so as you can imagine, the demand for parking is high.
Let me tell you about the types of parking spots and services available at Luxor Las Vegas, the parking rate, and give you an easy way to find the parking area. Most people like to park in the self-park area so let's start there.
Self Parking Fees at Luxor Las Vegas
First, if you're staying for under an hour, parking (self-parking) at the Luxor is free. This, of course, isn't very practical as not many people are going to spend less than an hour here. So you'll want to know what the fee is before you commit to paying for parking.
Again, this is the cost for self-parking at the Luxor:
Hours Parked
Mon – Thurs
Parking Cost
Fri- Sun
Cost
1st Hour
Free
Free
1 – 4 Hours
$15
$20
4 – 24 Hours
$18
$23
Each Additional 24hours
$18 each day
(or part thereafter)
$23
(Self-parking rates at Luxor Las Vegas).
Almost everyone visiting the hotel or casino has to pay parking fees. I say "almost" because there are exceptions which I'll explain soon enough.
Garage at Luxor Hotel (Self Park )
Luxor's parking facility is a two-storied structure that connects to the main hotel building. The parking garage can be found behind the casino at 3900 Las Vegas Blvd South. This address will take you to the Luxor itself, then you can look for and follow the "Self-Parking" signs.
Better yet, here are the precise directions to the parking garage itself on google maps. (If you click the link on your phone, it will show you to the exact garage location on google maps, and you can hit the "directions" button, and it'll take you right there).
The hotel and casino parking garage no longer has any parking attendants. As you enter the parking garage, you'll need to take a ticket from the kiosk. Hold onto this ticket because you don't want to pay the fee for losing it, and you'll need it to get out again.
Important Tip: Don't leave the ticket on your dashboard. It's not required that you display it, and leaving your ticket behind allows anyone who "takes" (eh-em, yes, I mean "steals") your car to easily leave the parking garage for the price of the parking fee. Not cool!
(FYI, this is not generally a problem as the parking garage is quite safe overall, but it does happen on occasion, and it's better to be safe than sorry).
On the second level of the parking garage, you'll find a walkway that extends over the pool and leads into the hotel itself.
(source)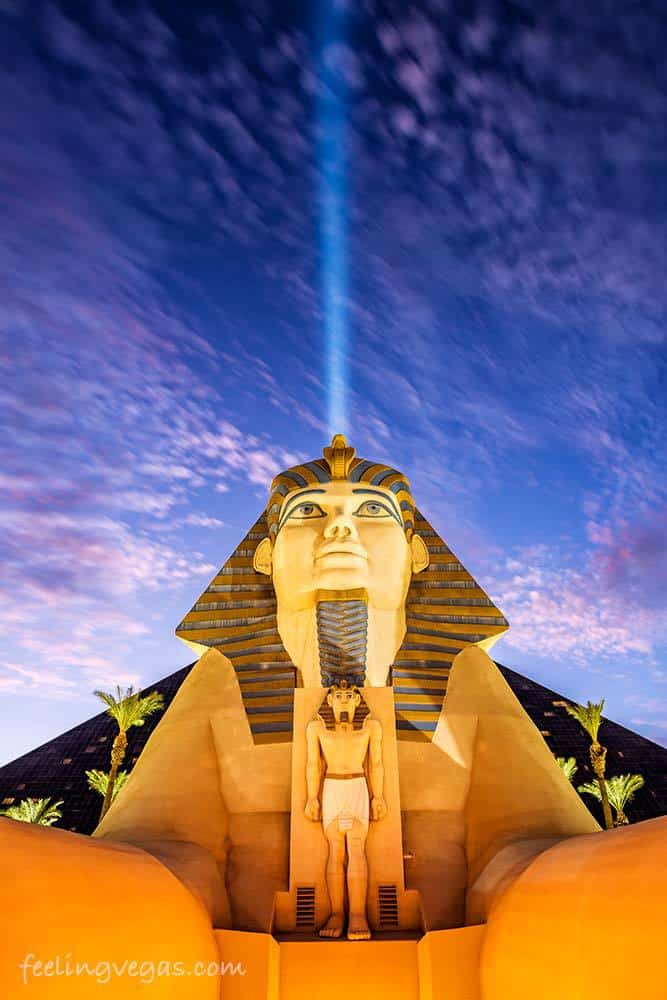 Tips for Self-Parking at Luxor
Here are some vital points to keep in mind if you plan on self-parking when you visit the hotel or casino.
If you're staying at the hotel, always keep your hotel room key (i.e., keycard) on you, as you need it to access the parking garage and avoid paying a fee.
Hotel guests, have access to all self-parking facilities for the 24-hour parking fee (so $18 a day is added to your bill) until the day of check out. This includes in and out privileges, so you can come and go as much as you'd like.
Parking rates may increase as a result of special events within and near Luxor.
Do your best not to lose your ticket. Luxor's parking authorities may put you through a lengthy videotape search to check how long your car was parked.
If they can't figure out how long your car was parked in the garage, you'll have to pay a lost ticket fee of at least $30.
How to Get Free Parking at Luxor (MGM Resorts)
The Luxor issues players cards to its regulars and hotel guests called "MGM Rewards" cards. The cards are free at any MGM property, just visit the "Players Club" desk inside the hotel. It only takes a few minutes to get one.
These cards serve as MGM Resorts Players' Cards and come in various tiers, depending on how much money you spend in the casino. The following tiers are entitled to free parking: 
First-timers, newbies, and low-rolling customers are mostly on the entry-level Sapphire tier. They don't get free parking, or at least not after spending over an hour in the hotel parking structure. 
So if you gamble a fair bit, you may be high enough on the tiers to be entitled to free parking.
Having said that, if you're like me and not much of a gambler, there is another way to get free parking at all the MGM properties up and down the Strip. It's easy, and we show you how to do it in our article and video here.
How to Pay for Parking at Luxor
When you're ready to leave the property, Luxor makes paying your parking tab pretty simple. As you return to the parking garage from the hotel/casino, be on the lookout for the parking kiosk machines.
You simply insert your parking ticket into the machine and pay by credit card. On the way out of the parking garage, you will need to insert your ticket into a machine at the gate. Once it verifies that you've paid, the gate will open, and you're on your way!
Paying for parking stinks, but at least they've made it fast. No waiting in a line of cars to get out of the parking structure while the guy in front of you tries to dig enough change out of his ashtray to pay.
Note: If you're staying in a room at Luxor, you can skip the kiosk and just use your room key to get in and out of the parking garage. Your daily fee will be automatically added to your room bill.
Valet Parking at Luxor Las Vegas (Fees & More)
As expected, valet parking is more expensive than self-parking, even without the cost of tipping the valet driver. You should always tip when dropping off and picking up your car. It's just good karma!
(Check out our Las Vegas Tipping Guide here to find out how, when and how much to tip when you're visiting Las Vegas).
Gold, platinum, and noir members of the Rewards loyalty program get free valet parking. Pearl members and lower don't get to enjoy complimentary valet parking.
Valet Parking Rates at Luxor
Day of Week
Luxor Valet
Fee
Monday – Thursday (Weekdays)
$35
Friday – Sunday (Weekends)
$40
Location of the Valet Parking Area at Luxor
Entering the Luxor off the Las Vegas Strip, you should see the valet parking area right in front of the hotel. It's right by the large Sphinx I mentioned before, so you can't miss it. This google maps link should get you there.
Facts to Remember About Valet Parking at Luxor
As a hotel guest, you have access to all valet parking facilities until the day of check out.
Don't forget to tip your valet. The average tip for a valet is about $5, though you can tip whatever you like. 
If you're not staying at the hotel, you can pay your valet parking rates by presenting your credit card at the kiosk. If you are a guest of the hotel, the fee will be added to your bill upon checkout.
Free Parking Near Luxor Las Vegas
If you consider Luxor's parking costs too pricey, you might want to look into other alternatives. Unfortunately, there isn't really any free parking available near Luxor.
There are, however, still some great free places to park in other areas of the Strip. We've written an article with a complete list and map of free places to park on Las Vegas Blvd.
Luxor Oversized Parking
Unfortunately, Luxor does not offer oversized parking. The parking garage clearance at Luxor is just 8 feet 10 inches (source). Don't attempt to park a tall vehicle here.
If you're driving an RV or other oversized vehicle, please see our article about the Best Places to Park an RV in Las Vegas.
Find the best room deals at Luxor and save big with TripAdvisor!
Conclusion
Luxor's rates for parking may appear expensive, but they are competitive when compared to other prominent hotels and casinos on the Las Vegas Strip. 
Either way, spending $20-$23 on parking for up to 24 hrs is money you don't have for something else that's much more fun, like catching a Carrot Top show at the Luxor.
Your best bet is to become an MGM Resorts Rewards member on a high than entry level tier if you're a gambler or following our tip above showing you how to get free parking without being a gambler. Either way, the Luxor is a fun casino full of games, shows, and food I know you'll enjoy.
The Cost to Park at These Popular Sin City Hotels & Casinos