Parking Rates at Aria Las Vegas in 2023 (Self-Parking & Valet)
(This article may contain affiliate links. If you click through and make a purchase, we will receive a small commission at no additional cost to you. )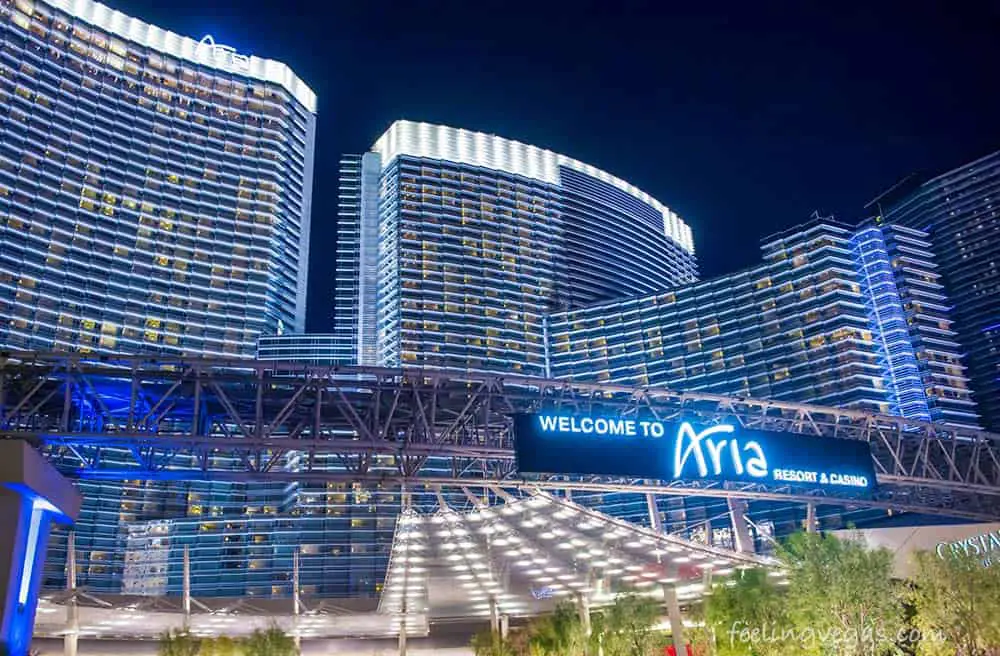 The Aria Resort and Casino in Las Vegas is the tallest structure in the CityCenter urban complex area. Owned by MGM Resorts, visitors to Aria will enjoy luxurious travel at its best. Like most hotels on the Las Vegas Strip, however, the Aria Las Vegas does charge for parking.
So, what are the self-parking rates at Aria Las Vegas?
1st Hour – Free
1 – 4 Hours – $15
4 – 24 Hours – $18
Every 24 hours after or part thereof – $18
Aria has some of the highest prices on the Strip due to its luxury status. Don't worry, though; you'll be able to save some money on parking with the tips found in this article.
Compare and save! Check current ARIA room rates at TripAdvisor!
The Aria Las Vegas
As one of the most upscale buildings in all of Las Vegas, Aria combines unique architecture and stunning views to create a dazzling visual experience for its guests.
The suites are as lovely as you can find anywhere. The AAA Diamond rooms allow you to see the entire city from your floor-to-ceiling windows!
The Aria also has the famous Jean Georges Steakhouse to chow down on top-notch cuisine within a short walking distance from the hotel. You can also enjoy Carbone, an Italian-American restaurant that has food for all tastes.
Since there are so many amenities found in and around the Aria, you can probably imagine that parking might be at a premium. The good news is that ample self-parking and valet parking are available throughout the resort.
Parking Fees at Aria Las Vegas (Self-Parking)
| | |
| --- | --- |
| 1st Hour (0 – 60 minutes) | Free |
| 1 – 4 Hours | $15 |
| 4 – 24 Hours | $18 |
| Every 24 hours or longer | $18 |
Self-parking rates for guests at ARIA.
If you decide to park your vehicle at the Aria for only an hour, you won't have to pay a fee at all. But seriously, though, nobody stays on the Strip for 60 minutes or less!
(Note: Nevada residents are able to park at Aria for the first three hours for free).
That being said, the self-parking costs aren't as bad as you might think. Compared to parking garages in other major cities, the Aria is a great place to park.
Almost everyone who parks at the Aria will have to pay since they're likely going to spend more than an hour. 
However, you can save money through memberships and other benefit programs and even find some free parking nearby. Stay tuned to find out how you can slash the prices when you park at the Aria.
The Self-Parking Garage at Aria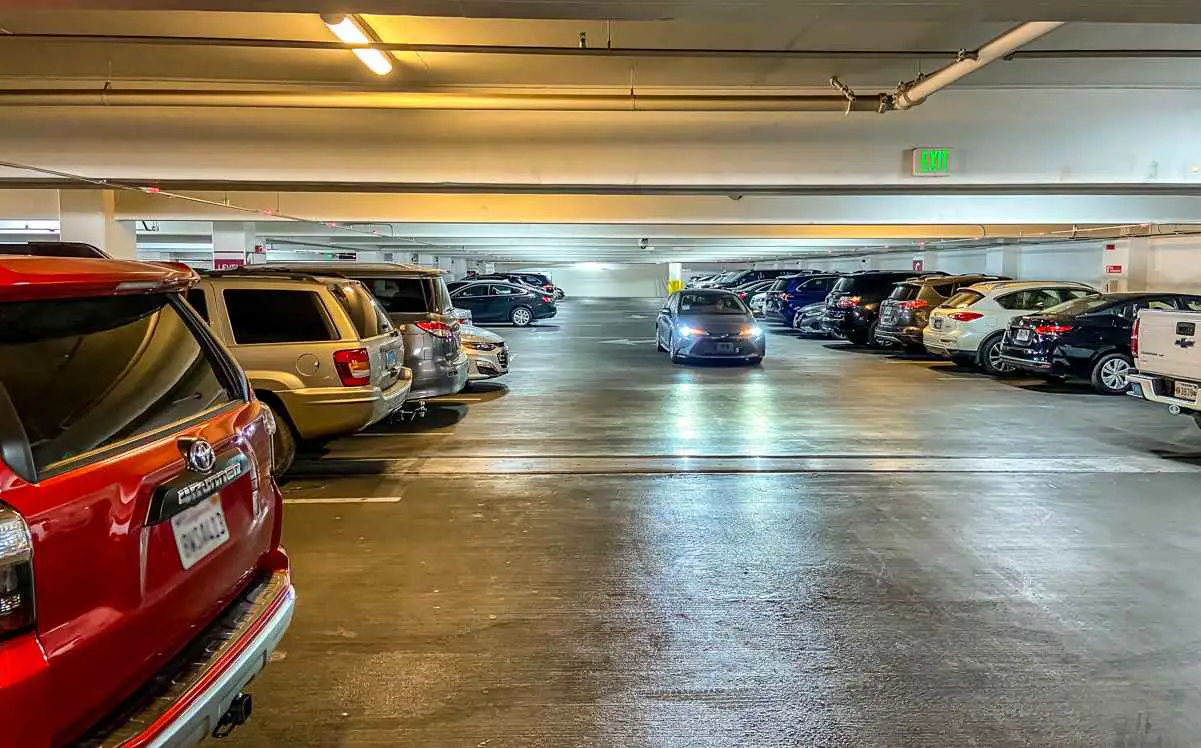 If you want to park your vehicle at the Aria parking garage, follow these instructions:
Take the City Center Place street (aka W Aria Place) when coming from the Las Vegas Strip. 
The entrance is at the end of this street, which runs between the Waldorf Astoria and Crystal Shopping Mall on either side of it.
Address: 3730 S. Las Vegas Blvd, NV 89158, United States
The best way to ensure that you get there on time is to plug the address into Google Maps, Waze, or another GPS mapping app. Try to arrive a bit earlier than you want in order to have extra time to park. The garage can be a bit crowded at times, and it can take longer than you think.
Keep in mind that self-parking prices are subject to change during events and special holidays throughout the year. Make sure that you call (702) 590-7111 and confirm before you come to the garage if you're on a budget.
Note: Place your ticket out of plain view so people walking by don't get tempted to take it for themselves. This tip is essential when leaving your vehicle in any parking garage. Your best bet is to take your ticket with you.
Tips for Self-Parking at Aria as a Hotel Guest
The following section lists the essential facts you should keep in mind when using Aria's self-parking services if you're a current guest of the hotel:
As a hotel guest, Aria will charge your parking fees directly to your room bill. As a guest, you can come and go throughout the day without incurring additional charges.
You'll need your room key to gain access to the parking facilities.
You can still use the parking garage until 11:59 PM on the day of check-out.
Tips for Self-Parking at Aria as a Visitor (Non-Hotel Guest)
Here are a few tips if you're not staying at Aria but want to park in their self-park garage:
Make sure to hold onto the printed ticket you get when entering the garage. Losing your self-parking ticket would mean they have to run video checks in order to determine how long your vehicle was in the garage.
If the above method doesn't work, Aria will charge you a $30 flat fee for lost tickets.
Self-parking rates are subject to change when a special event is ongoing. Not usually a problem, but it does occasionally happen.
You can't fault the hotel if there are no parking spaces available. The Aria is right in the middle of one of the busiest spots on the Strip, so the garage can fill up pretty quickly at times. It's recommended that you show up early if visiting for an event to make sure there is parking available.
How to Get Free Parking at Aria
Fortunately, you can get around the parking fees if you're an MGM Rewards member. Among many other benefits, you'll be able to enjoy self-parking without spending a penny extra.
Self-parking is part of the package deal for members who have reached Pearl, Gold, Platinum, or NOIR status. Even better, Gold, Platinum, and NOIR members also get valet parking free of charge.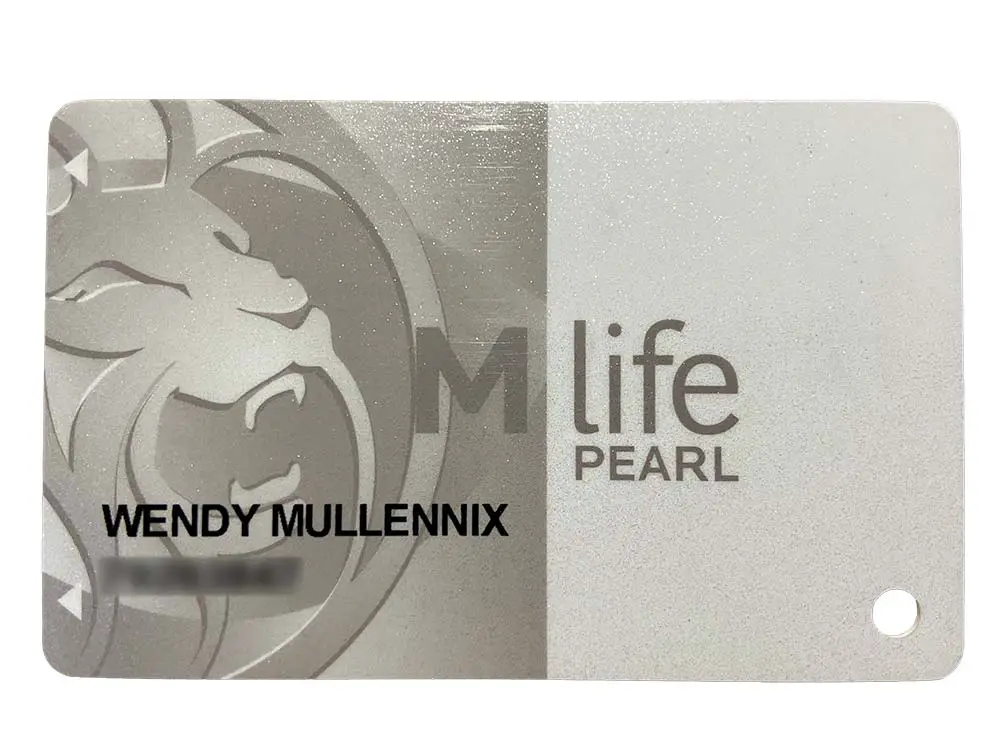 Combining the MGM Rewards program with the MGM Rewards Mastercard will also automatically upgrade you to free parking status (Pearl level). Just scan your rewards card to validate the parking whenever you are ready to leave the garage.
We show you how you can combine the two cards in order to get free parking at all the MGM-owned properties in Las Vegas in our article here.
This free parking solution works for both locals and visitors, but visitors need to plan ahead a bit. We outline everything in the article linked above.
Without any membership service, you'll have to pay to self-park beyond one hour.
How to Pay for Parking at Aria
When you're driving into the parking lot, you'll have to take a ticket from the gate. On the way out of the hotel, you'll pay your parking fee at an automatic kiosk before heading to your car. These kiosks are generally found inside the hotel on the way to the garage or just after entering the garage from inside.
All you have to do is slide the ticket into the kiosk machine, and it'll automatically record your total on the bill. Slide a credit or debit card, and you'll be good to go! Use your paid-for ticket in order to exit the gate when leaving the garage.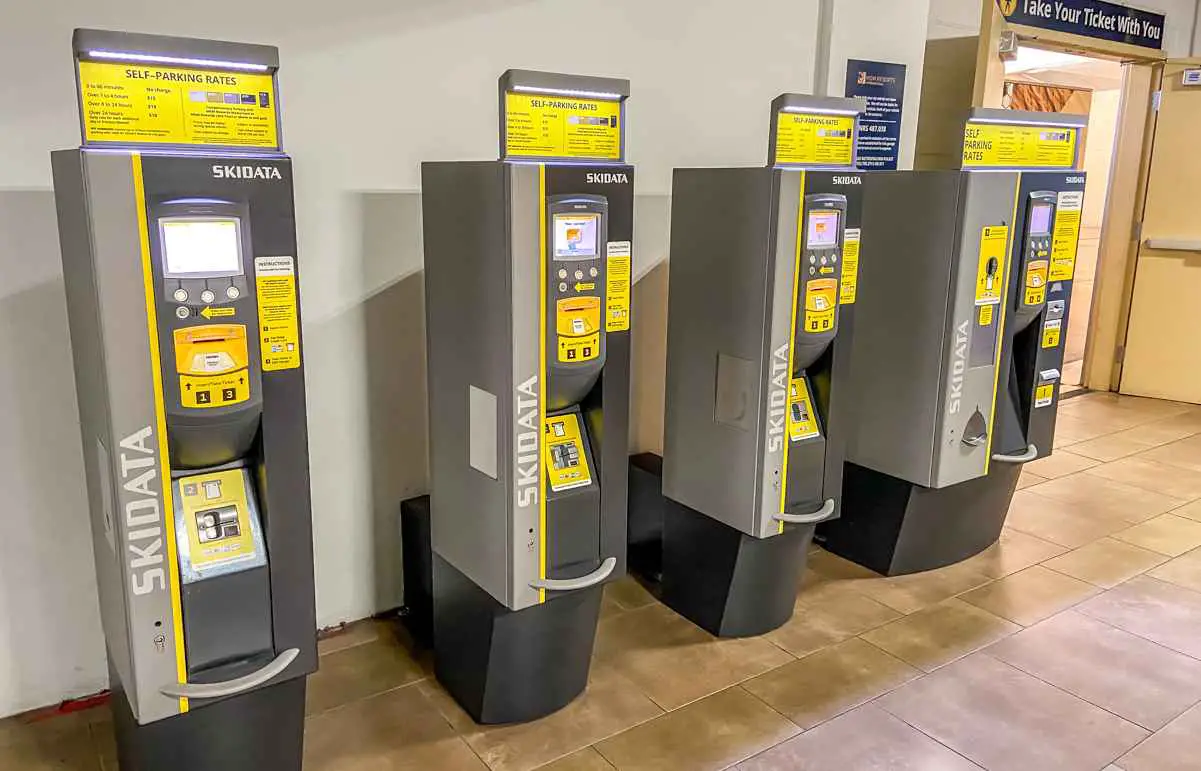 If you have any questions or concerns, there are usually employees stationed near the exit gate who can help you if needed.
Valet Parking Fees at Aria Las Vegas
Valet parking costs more money than self-parking anywhere you go. Having a service that automates your parking without having to do any of the work is quite convenient, especially in a busy city like Las Vegas.
Keep in mind that the prices listed below are the base costs, which means they don't include price hikes during busy times of the year. They also don't include a tip for the valet driver. A tip isn't required, but it's commonplace.
(Check out our Las Vegas Tipping Guide so you'll know when who and how much to tip for services in Las Vegas)
Here are the current valet parking prices at the Aria in Vegas:
ARIA Valet Parking (Monday – Thursday):
0 – 2 hours – $21
2 – 4 hours – $25
4 – 24 hours – $30
Every 24 hours after or part thereof – $30
ARIA Valet Parking (Friday – Sunday):
0 – 2 hours – $25
2 – 4 hours – $30
4 – 24 hours – $35
Every 24 hours after or part thereof – $35
Free Parking Near the Aria Las Vegas
Sometimes you can luck out when the place you want to go has another property nearby that offers free parking. If you don't want to pay the additional money that it costs to park at the Aria, you can park nearby for free. In the case of Aria, I have one nearby suggestion:
The Shops at Crystal: 3720 S. Las Vegas Blvd, NV 89158, United States (google maps) The Shops at Crystals offers free valet parking only as there is no self-parking option here. It's about a 3-minute walk to Aria from the valet parking area.
Please note that the free parking at The Shops at Crystal is only available during normal store hours. There is no overnight parking available.
(We've created a list and map of all of the free places to park on the Strip, and you can find it here)
Find the best deals on ARIA rooms and save big with TripAdvisor!
Parking Rates at Aria Las Vegas – Conclusion
The Aria has some of the best views and entertainment in Nevada. 
This upscale resort and casino is fun and offers a real taste of luxury. You can choose either self-parking or valet to park easily and securely. Parking shouldn't be a concern for you if you're on vacation.
Here are some of the key takeaways from the article:
Self-parking is free for the first hour; Prices increase to $15 and $18 after
Valet parking ranges between $21 to $35, not including a tip
There is a free parking option near the Aria at The Shops at Crystals (business hours only)
You can enjoy free self-parking as part of the MGM Rewards membership
The membership also offers free valet parking for Pearl, Gold, Platinum, and NOIR members
When you stay at Aria, you'll be able to enjoy their suites, nightclubs, restaurants, and many more amenities.
Parking Rates at Other Popular Las Vegas Hotels & Casinos
Sources: