Does ARIA in Vegas Have a Complimentary Breakfast? (Answered)
(This article may contain affiliate links. If you click through and make a purchase, we will receive a small commission at no additional cost to you. )
A common perk of staying in a nice hotel anywhere is that the guests often receive a free breakfast. This is would be a huge plus for many Vegas hotel guests, especially considering breakfasts in some Las Vegas resorts can get pricey. Where does Aria Resort & Casino fall in this respect – does it offer a complimentary breakfast?
The Aria in Las Vegas does not offer a complimentary breakfast as part of its amenities. However, hotel guests at Aria do have a large amount of breakfast restaurant options within a range of prices.
In this article, I'll go into detail about some of the menu items and prices of breakfast options available at Aria. So, if you're planning to spend a few nights at the Aria, be sure to keep reading.
Compare and save! Check current ARIA room rates at TripAdvisor!
If No Free Breakfast, How Much Is Breakfast at Aria?
Unfortunately, Aria doesn't have a free-breakfast option among its numerous amenities. In this hotel (as is the case with most resorts on the Vegas Strip), you pretty much have to pay for everything. However, Aria does offer a wide variety of restaurants ready to suit everyone's needs. 
Therefore, there's no one general price for breakfast at the Aria – some are more expensive than others depending on where you decide to order your meal. 
Before March 2020, Aria was famous for its buffet. However, the aftermath of the COVID pandemic meant closing the buffet first temporarily and then permanently. There's still some good news, though. Aria has replaced the buffet with the Proper Eats Food Hall.
The food hall adds even more choices to the restaurants with breakfast options currently operating at the Aria (and there are many options to choose from).
Right now, breakfast options at Aria in terms of their cultural origin can be:
Thai
American
French
Italian
Spanish
To the most important question now: what about the prices?
Luxury Breakfast Options at ARIA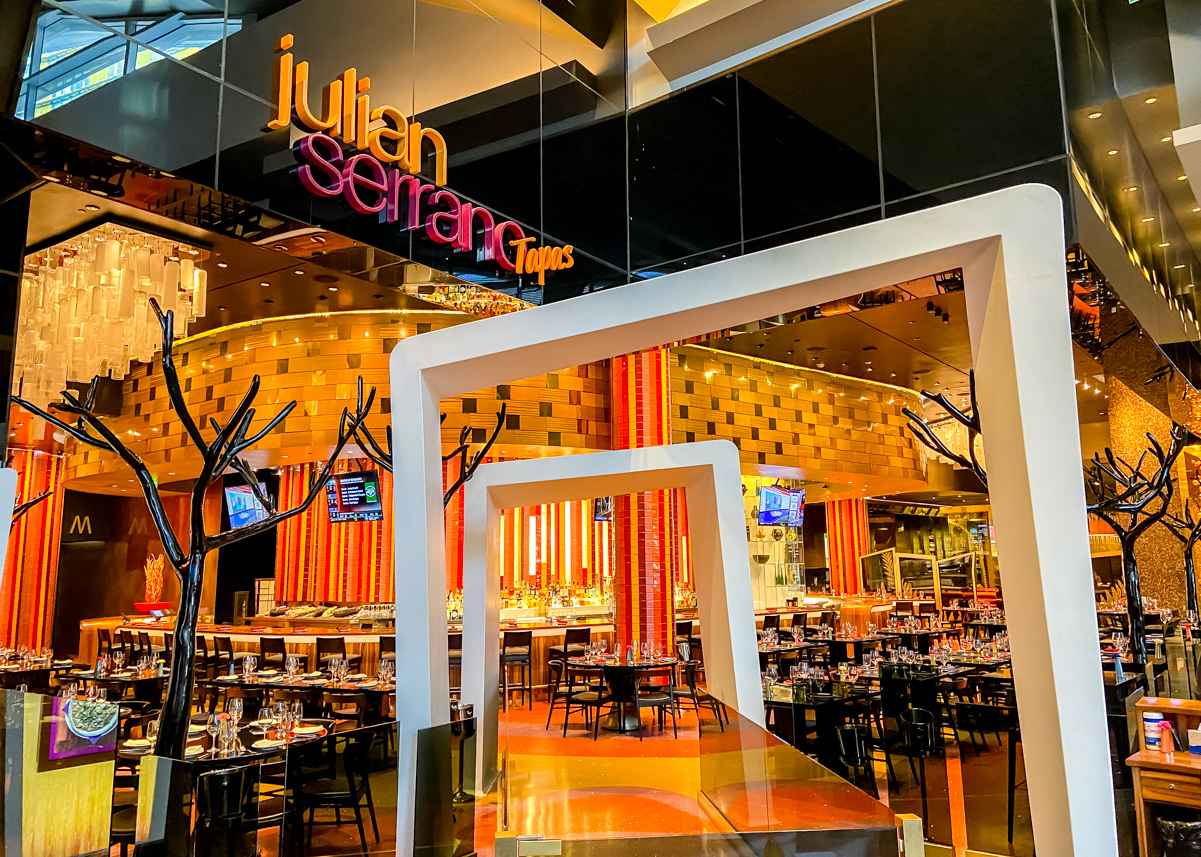 Both Bardot Brasserie and Julian Serrano Tapas are quite limited when it comes to the number of days when they offer brunch options, but you can hardly surpass the experience. 
Bardot Brasserie offers anything from pastry baskets (for $11) to salads ($16) to caviar ($296/30 g). 
On the other hand, Julian Serrano Tapas is definitely closer to lunch and dinner options, but if you're a fan of late breakfast, you can enjoy:
Soups and salads (around $17)
Vegetables (around $19)
Seafood (around $23)
Meat (the most expensive is a roasted suckling pig at $380)
Mid-Range Breakfast Offers at ARIA
| | | | |
| --- | --- | --- | --- |
| Restaurant | Option | Days and Hours | Price range |
| Din Tai Fung | Brunch | Mon-Thu 11 am – 10 pm, Fri-Sun 11 am – 11 pm | $11 – $13.50 |
| Salt & Ivy | Breakfast | Mon-Sun 6 am – 11 am | $14 – $34 |
One of the most famous Thai food restaurants at the Aria is certainly Din Tai Fung, with its high-quality authentic Thai cuisine. This is another place where you can get late breakfast, so – no hurry. 
Din Tai Fung offers a wide variety of pork dumplings, and you get 10 per portion. The price is reasonable for these delicious treats and ranges from $12.75 to $13.50. 
Other than dumplings, you can get:
Vegetables
Buns
Fried rice
(Noodle) Soup
Fried Noodles 
Rice Cakes
Salt & Ivy specializes specifically in breakfast and lunch, and some of the prices reflect that. Not counting side dishes, the cheapest breakfast option you can get at here is Irish Steel-Cut Oatmeal for $14. 
On the other hand, the most expensive dish is their specialty: Steak and Eggs, with a price tag of $34. 
Their breakfast offer includes:
Signature dishes, such as waffles or sandwiches
"Classics," like eggs and bagels
Side dishes
Fresh fruits
Omelets
Pancakes
Low-Price Breakfast Places at ARIA
| | | | |
| --- | --- | --- | --- |
| Restaurant | Option | Days and Hours | Price range |
| Posh Burger | Breakfast | Mon-Sun 8 am – 11 am | $12 – $100 |
| ARIA Patisserie | Breakfast | Mon-Sun Open 24 hours | $7 – $18 |
Based on the price range, I can't really say that Posh Burger's breakfast options are that posh. In this sense, posh is more connected to all the amazing ingredients you get in these burgers. 
Although you can see in the table above a price of $100, it's important to mention that only one item on their menu costs that much, and it's their "posh royale burger" (a suitable name, I'd say). Other dishes, however, are around $17, with the most expensive one (super deluxe wagyu steak burger) costing $26.
There's a specific breakfast menu also, which, apart from burgers, includes:
Burritos
Bacon, egg, and avocado sandwiches
Sausage, egg, and cheese sandwiches
Egg and cheese sandwiches
Lastly, ARIA Patisserie is the least expensive restaurant on our list, with the cheapest item on the menu costing only $7, and it's fresh pineapple (which some wouldn't really count as breakfast, but hey, it's their menu). 
They also offer omelets that are available anytime from 6 am to 2 pm, so you have plenty of time to have one of those if a pineapple isn't enough. Omelet offers they offer include:
Ham and cheese ($16)
Vegetables ($15)
Egg white ($17)
Bacon ($16)
If you're staying at the Aria and you don't mind heading out on the Strip for breakfast, check out my article 9 Cheap Spots For Breakfast on The Strip.
Some Hotels In Vegas Offering Complimentary Breakfast
As I mentioned earlier, you can definitely find some hotels in Las Vegas that have a complimentary breakfast. Most are smaller hotels located off the Strip.
Some hotels offering free breakfast in Vegas are:
Note: The offers from these hotels for free full and continental breakfasts are always changing, so make sure to check with the specific hotel before you book to make sure that they do still, in fact, offer complimentary breakfast.
Also, keep in mind that while may see some Las Vegas hotel websites saying that they include breakfast, it may only be for those that have purchased certain tier upgrades, so in the end, the breakfast isn't really free, but it is part of a package. I know for a fact that this is the case with The Venetian Resort.
Find the best deals on ARIA rooms and save big with TripAdvisor!
Does Aria in Vegas Have a Complimentary Breakfast – Final Thoughts
Aria Hotel and Resort is one of the most visited hotels in Las Vegas. Its luxurious and modern design just draws people to it. However, while some Las Vegas hotels may offer a complimentary breakfast included in their amenities, Aria isn't one of them.
That said, Aria has many restaurants offering breakfast or brunch options at varying price points and types of cuisine.